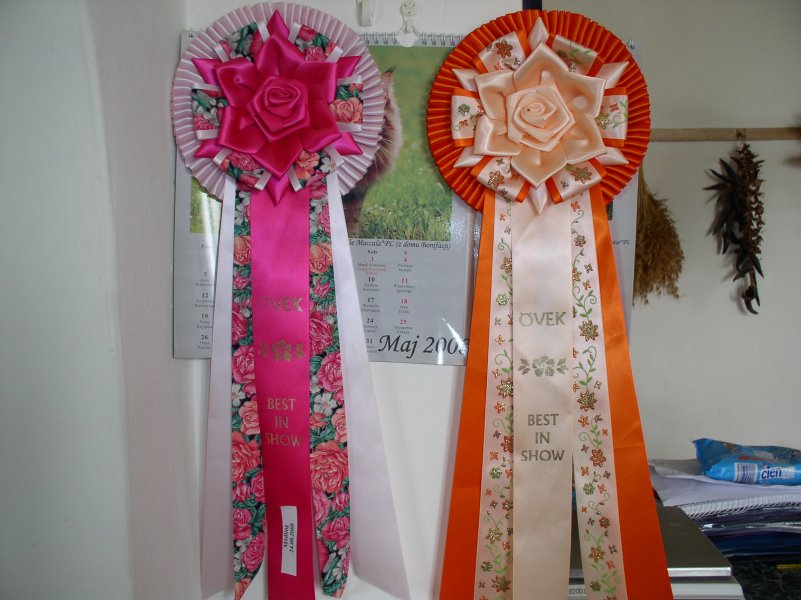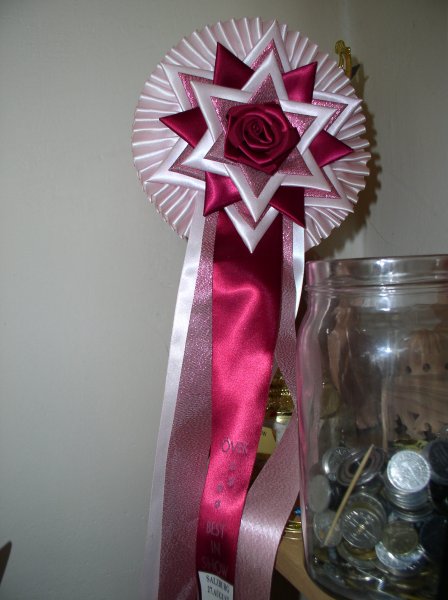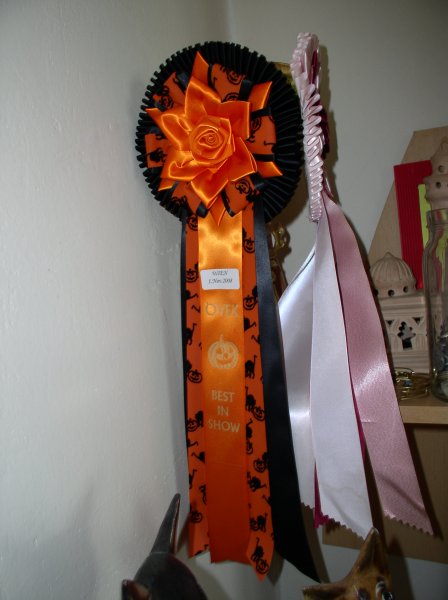 Kokardy ktoré vyhral Otello v r 2008
Výstava Nitra 29/30 novembra 2008
Show Nitra 29/30 of november
Otello won BOB 1 on sunday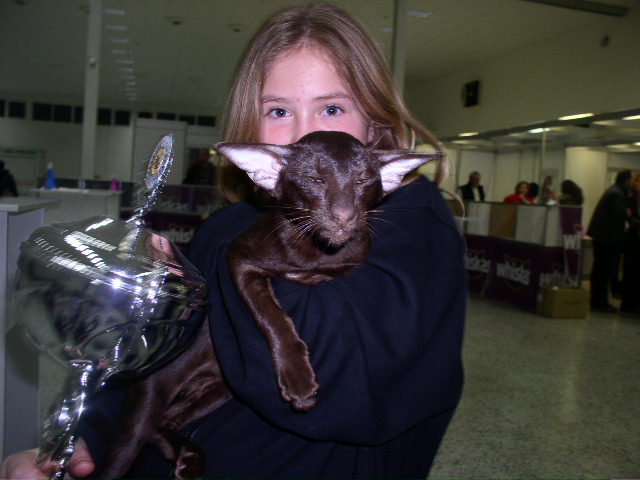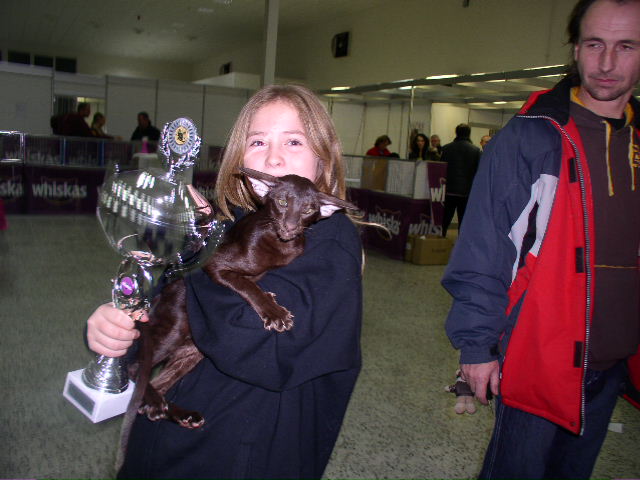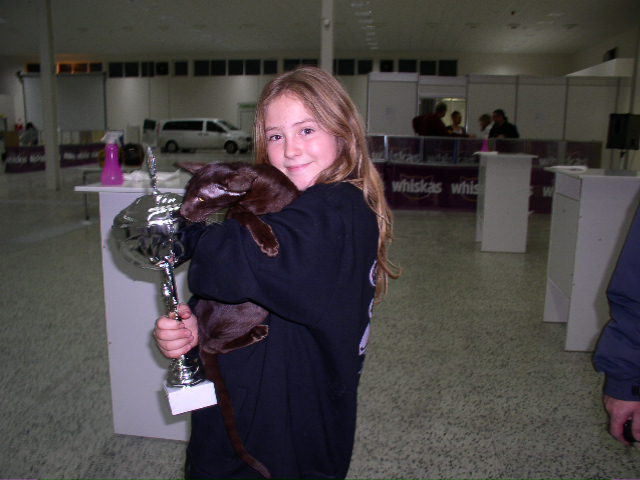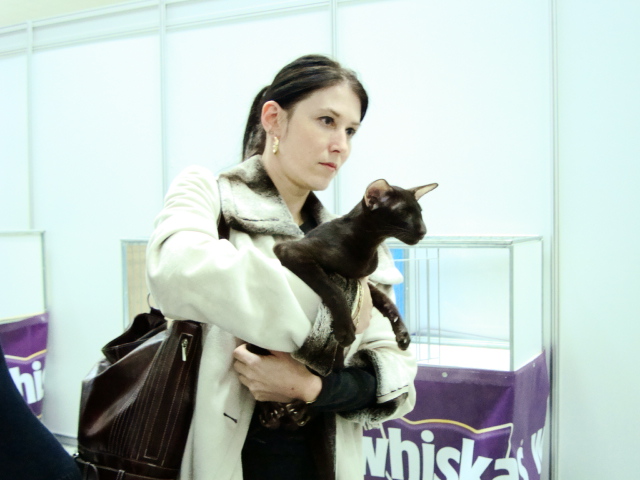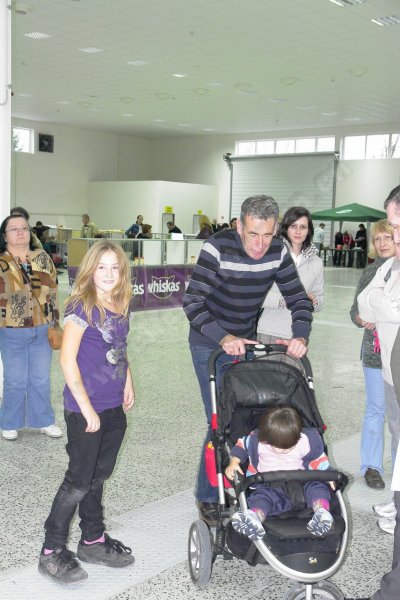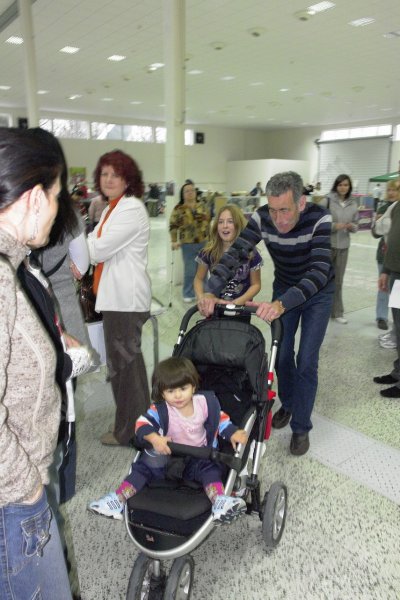 Zamirka, Alessia and Ad
Mirand´s boy Naruto won BIS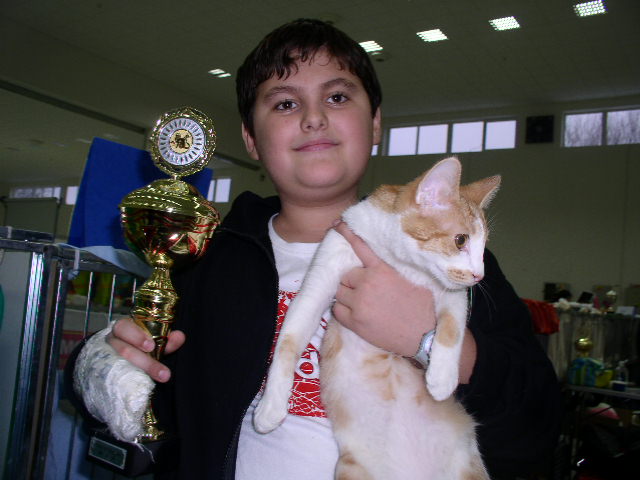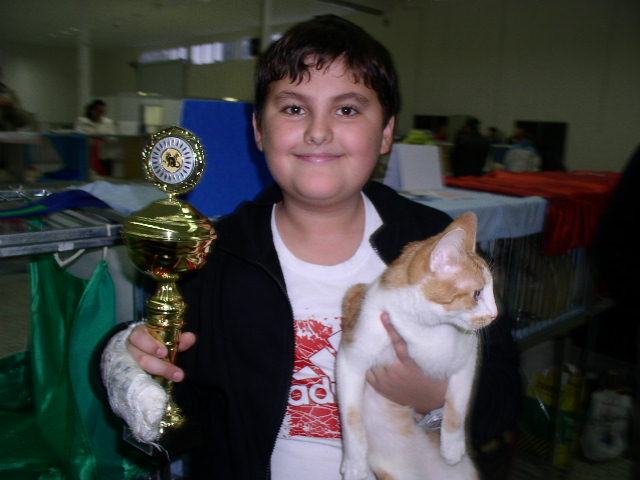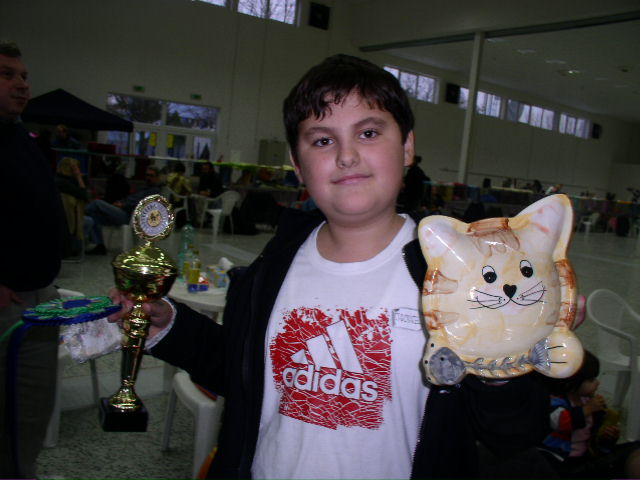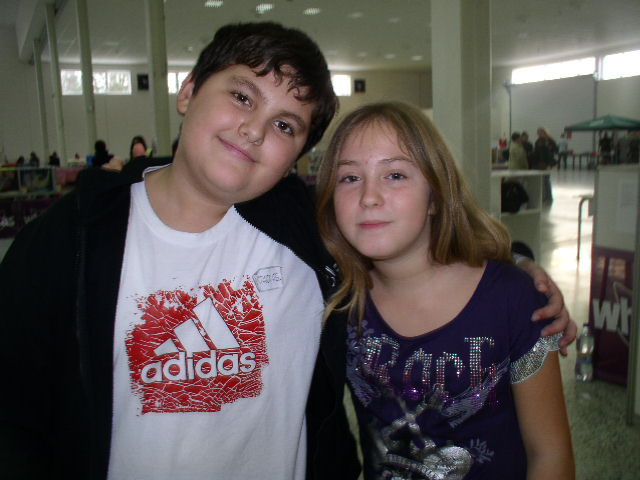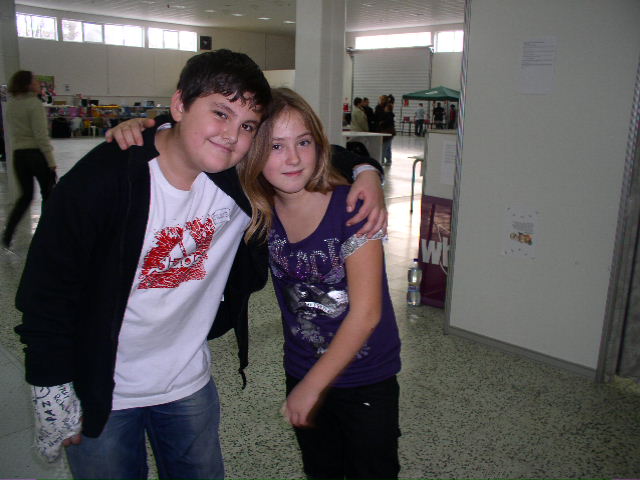 Happy kids, both won on sunday show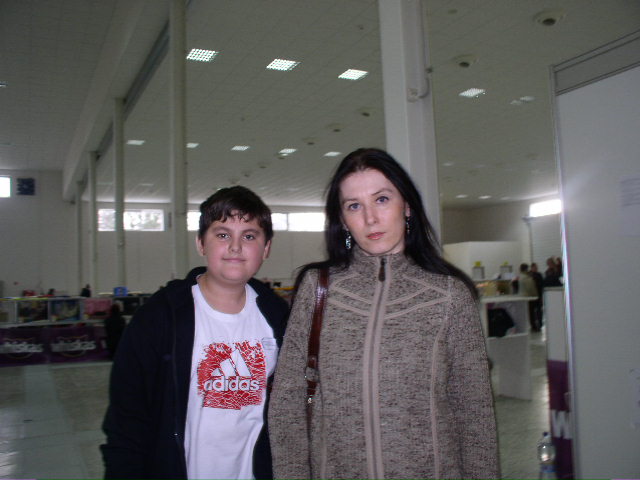 Mirand and mummy, both very tired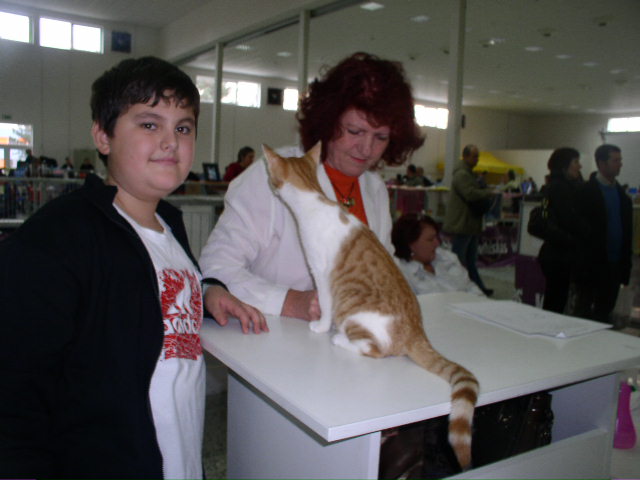 Naruto judged by slovenian judge Mrs Tatjana Malgaj Beccari, she loved him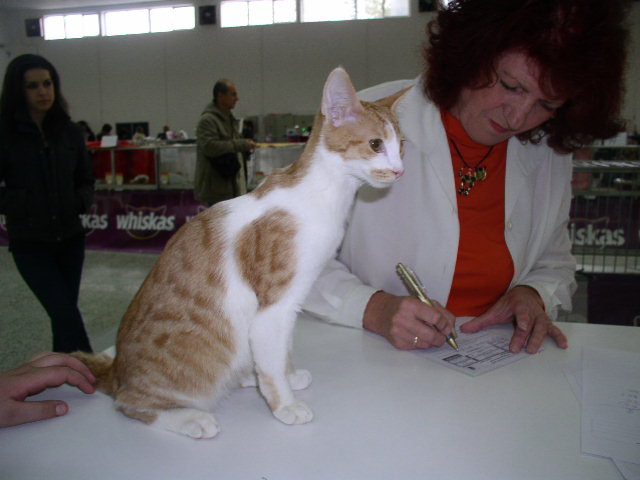 Naruto is 7 mths old very elegant guy, classic carrier. Is very possible that he will be used for my future breeding
program to work
with orientals, naturally after legal permission of FIFe :-) Orientals need new blood, thats sure.....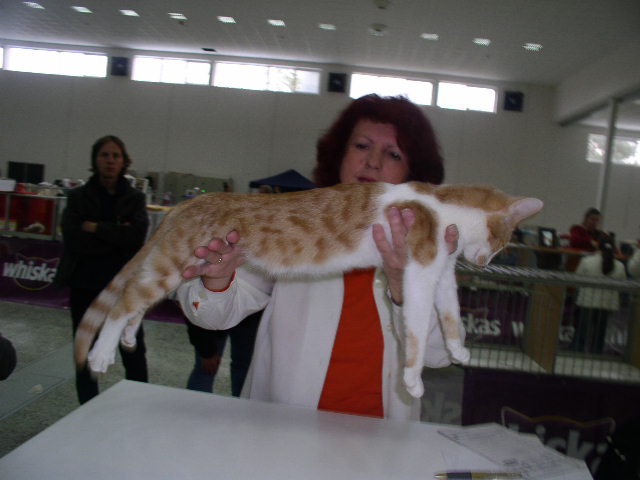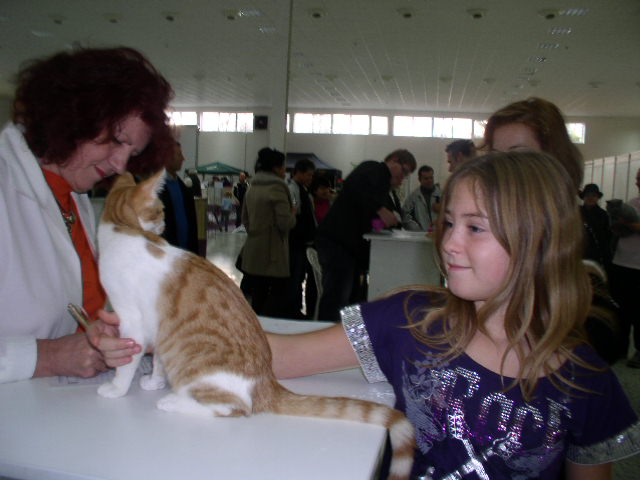 Alessia and Naruto while judged. I don´t like cat shows that is no secret information :-) But I am very happy
because
my kids love them and we spend really nice time together in company of friends.
Some pictures from sathurday :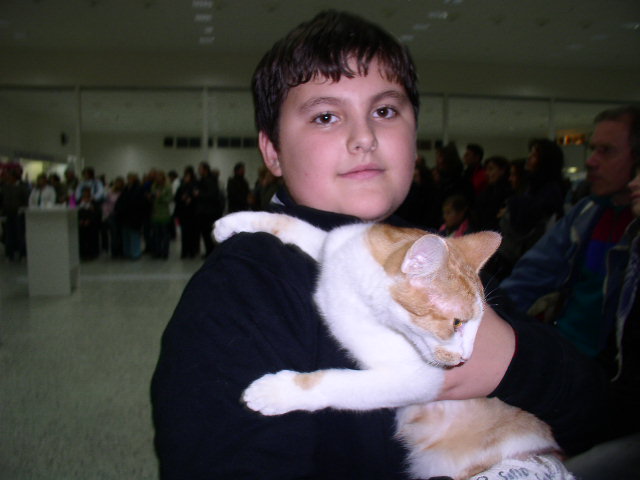 Mirand showing Naruto in best in show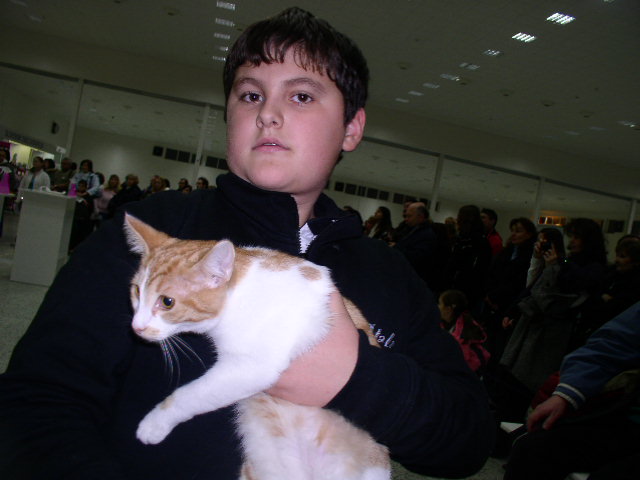 Naruto -7 mths old domestic male son of Ugly Betty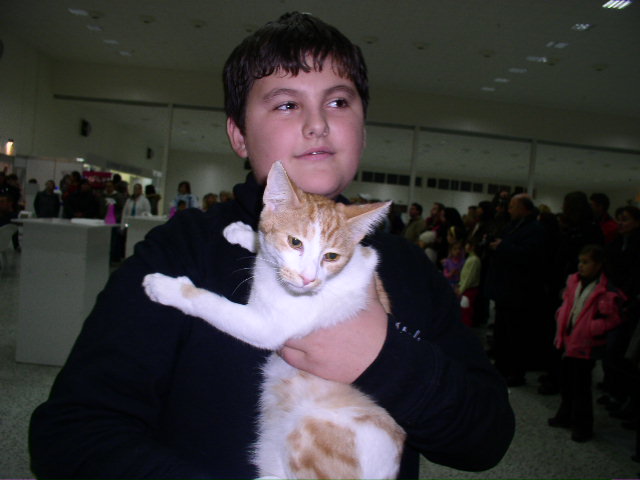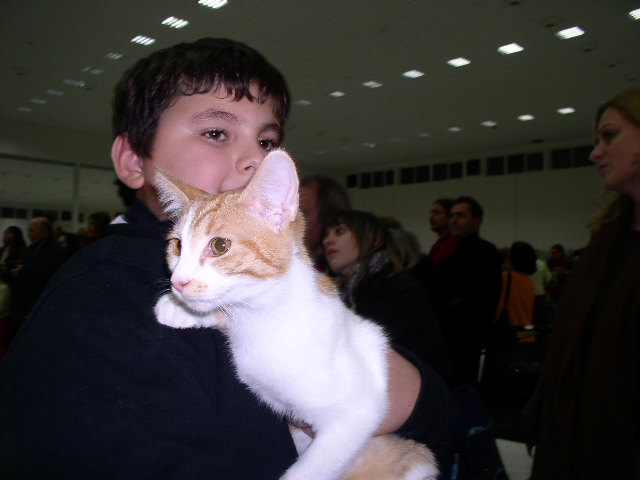 Výstava Wien, 1.11 2008
Show Wien, 1.11 2008
Otello won again, some pictures here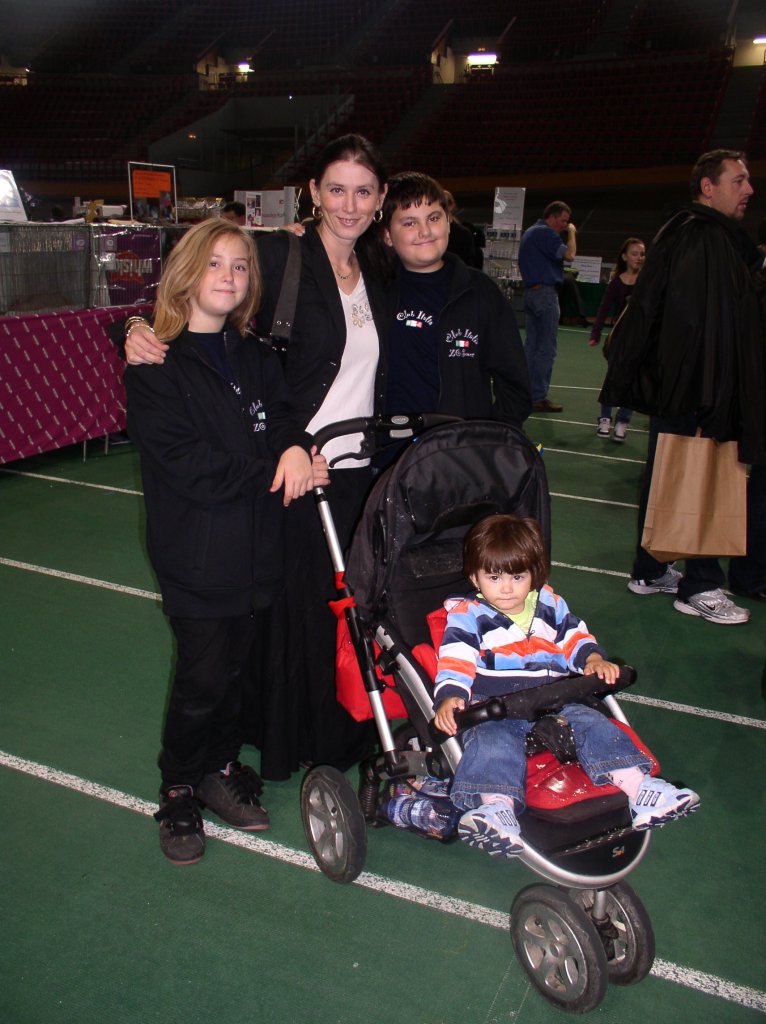 Exhibitors from Club italia waiting for best in show.Zamira was eating all the time :-)))))
Alessia,Mirand,Zamira and mummy
Some pictures from Felis Hungarica, many thanks to Laca !!!!!!!!!!!!!!!!!!!!!!!!! More on Felis Hungarica web site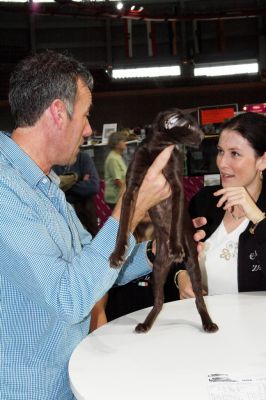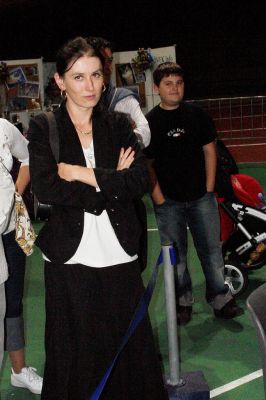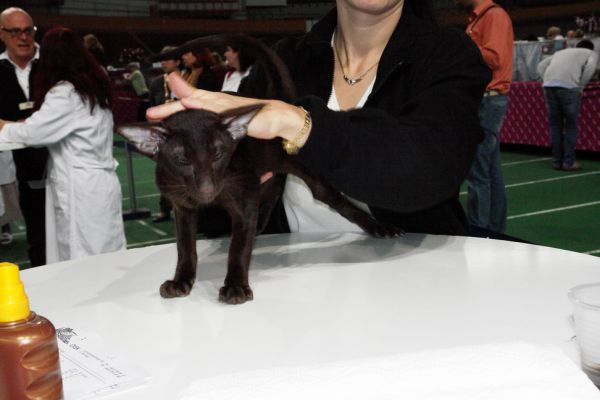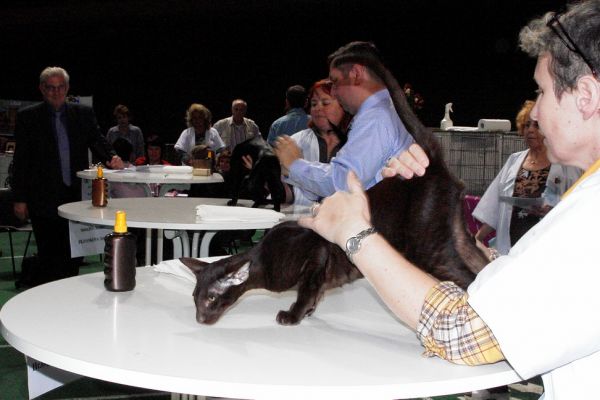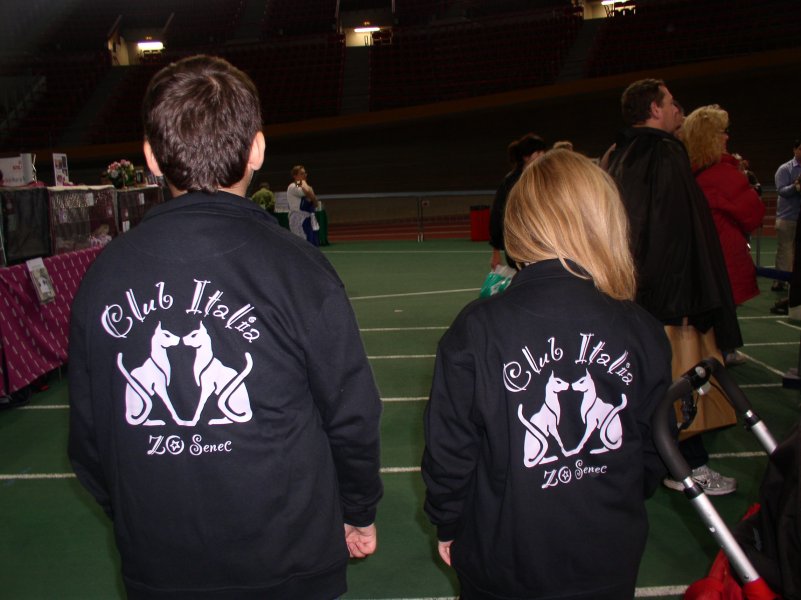 Our new " felpa invernale " Thank you Mauro and Antonio !!!!!!! Kids loved them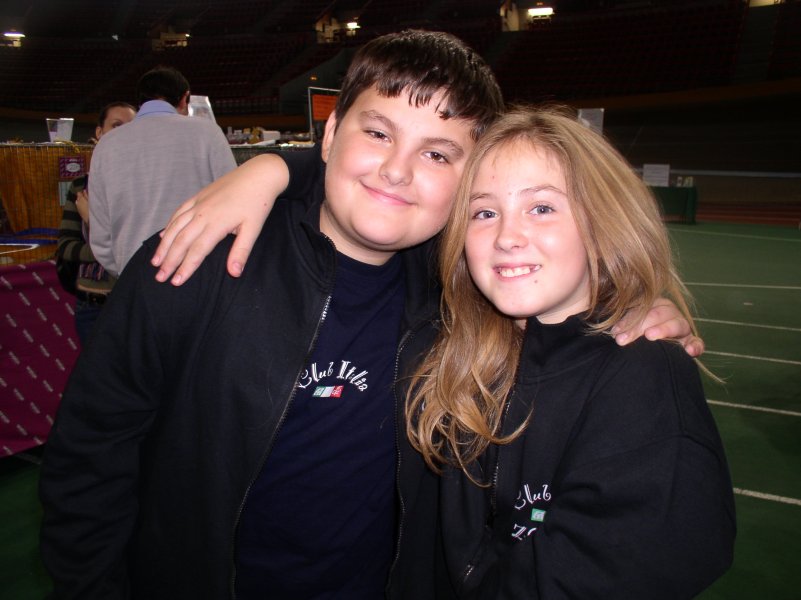 Best friends, Alessia and Mirand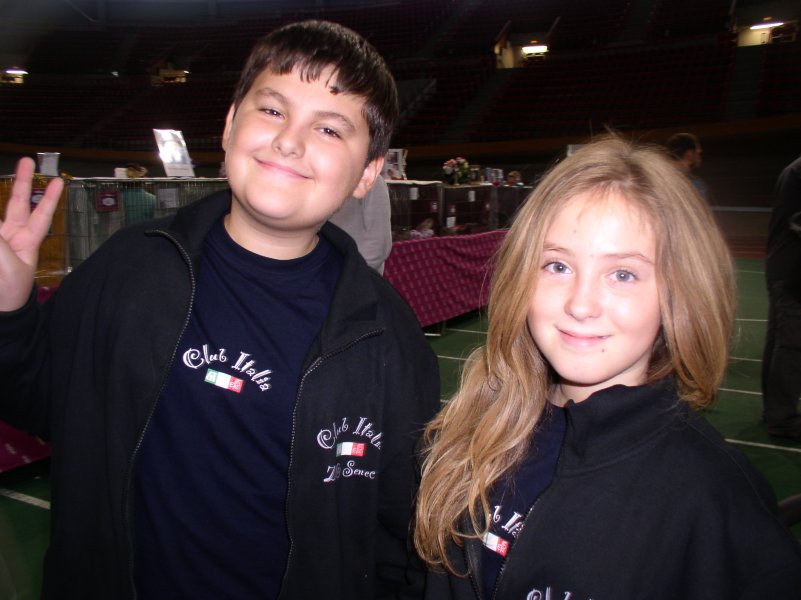 Fully dressed in club italia :-))))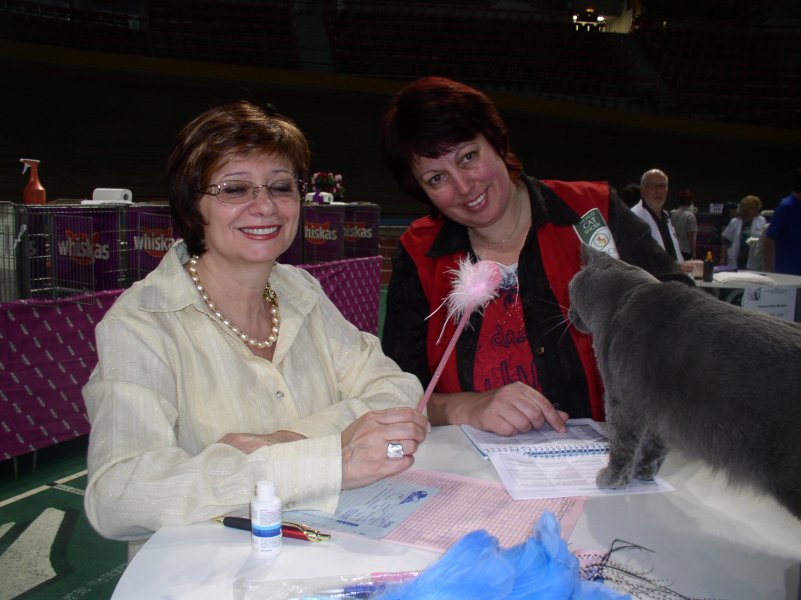 Our angel Laura with her student judge Lenka Venclikova from CZ. And also, many thanks to lenka which took care
of our
Otello for two weeks and helped with his transport to WS in Lisboa where we couldn´t fly because of small baby
Zamira and
kittens at home which need our care....
Thank you Lenka
World show Lisboa 2008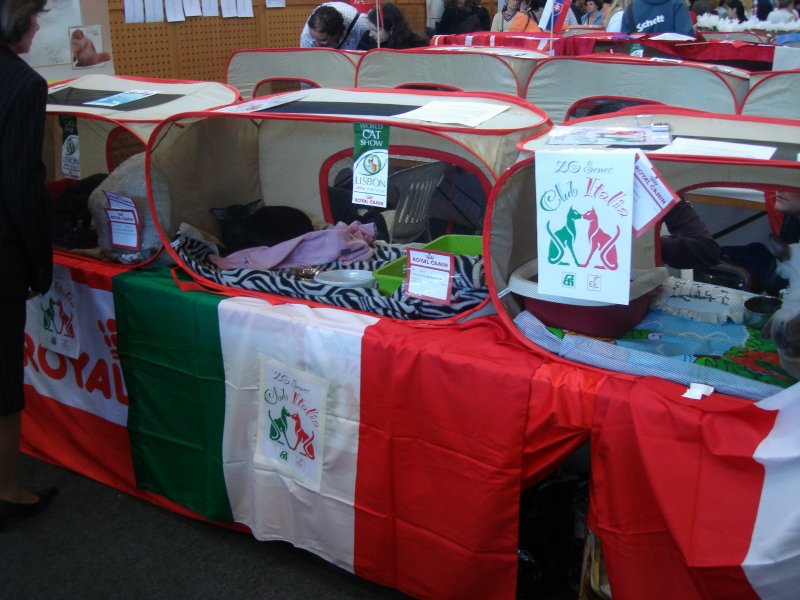 WS Lisboa - ring of our members ZO Senec Club italia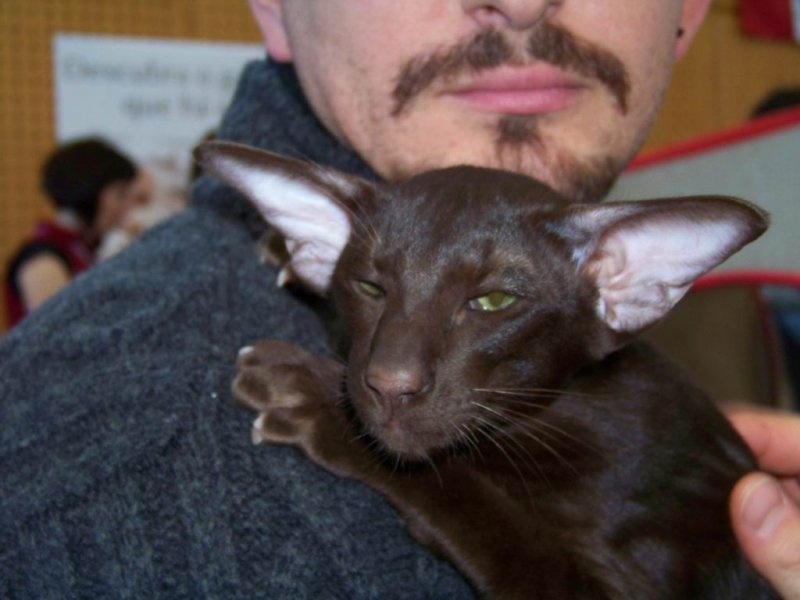 Otello and Simone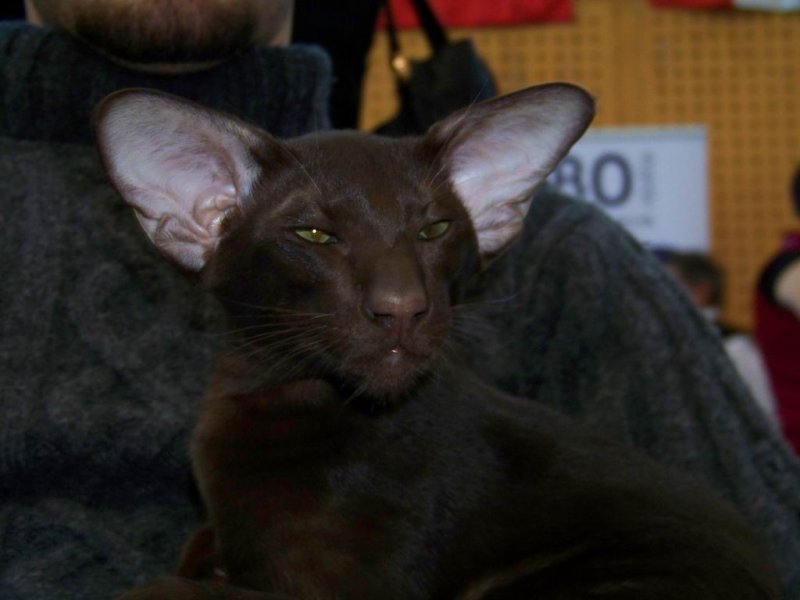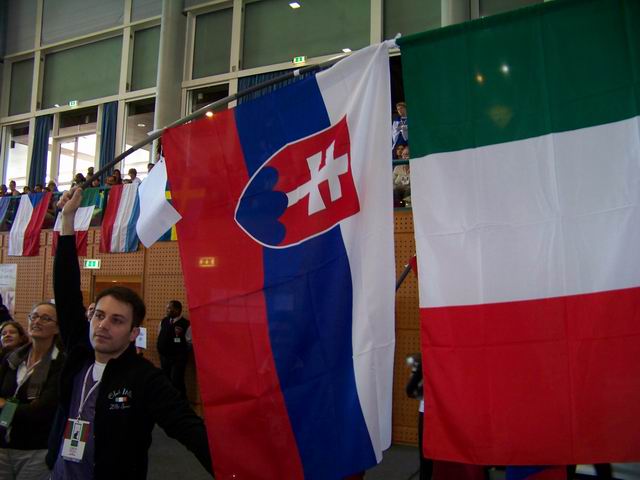 Both - slovak and italian flags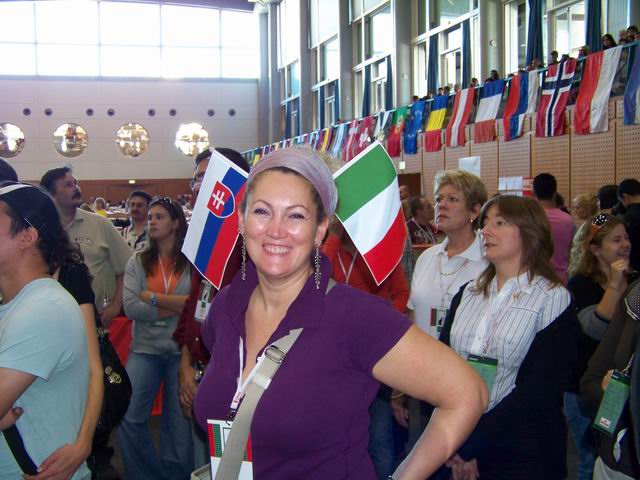 My creative member :-)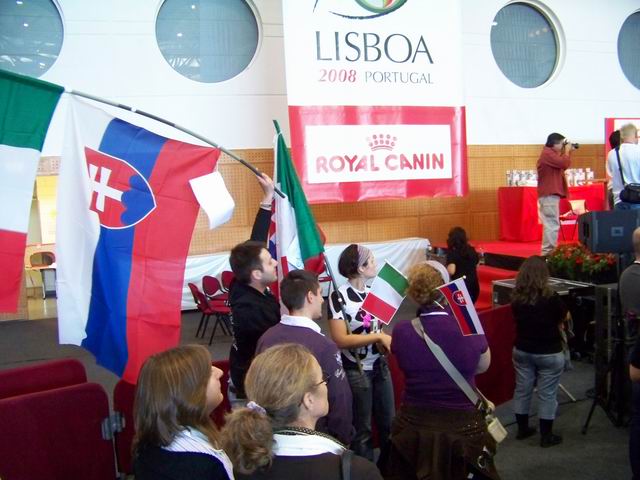 under podium
Výstava bratislava, september
Show bratislava, september
Otello was showed both days, on sathurday BOB4 and on sunday BOB2.
He was showed 7x till now and 7x Best
Some pictures from this show :
Happy guy playing with Mr FIFe
Otello judged by Mr Ad de Bruijn
Otello,mummy and Mirand MANY THANKS FOR THESE PICTURES OF OTELLO TO INGRID BUTYKOVA
And here are few pictures coming from Felis Hungarica, many thanks to Laca for these pictures, they are LOVELY !!!!!!!!!!!!!!!!!
Laca was very proud about this special picture, maybe some message..................
Otello and Romana which became his personal steward in Bratislava both days during the Best of Best
Romana showing Otello in BIS
Výstava Modling Rakúsko
Show Modling Austria
I showed Otello both days and he get both days BIS. Otello in now
Junior Winner
get this title in 3 weeks only!!!!!!!!!!!!!
Some pictures from this show :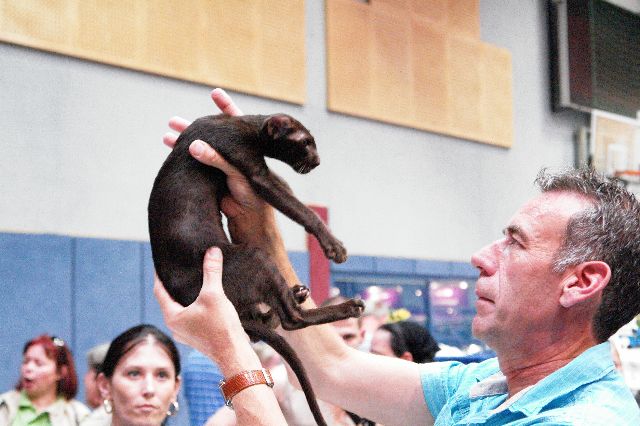 Many thanks for this lovely picture to Judit and Laca from Felis Hungarica !!!!!!!
More pictures on Felis Hugarica web site - Gallery On the picture is Otello judged by
Ad de Bruijn.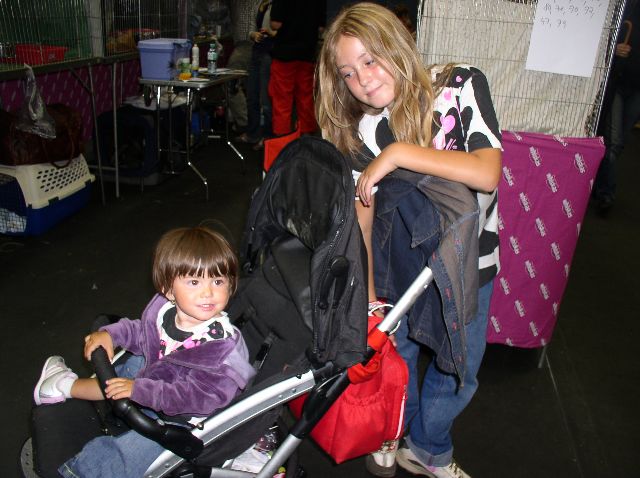 Alessia and Zamira in our cow T- Shirts of Club Italia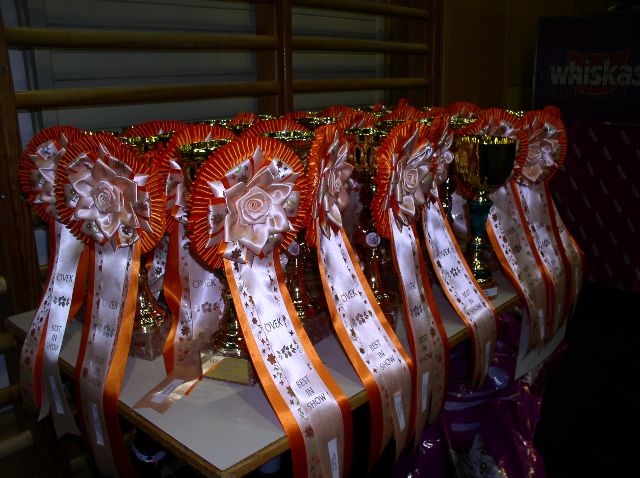 Cups ready for BIS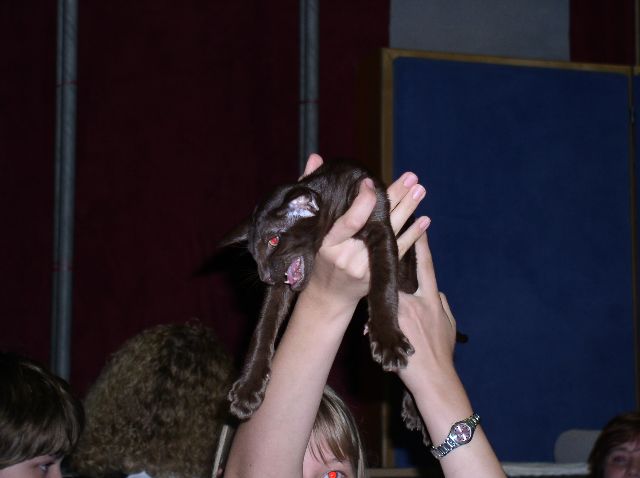 And Otello won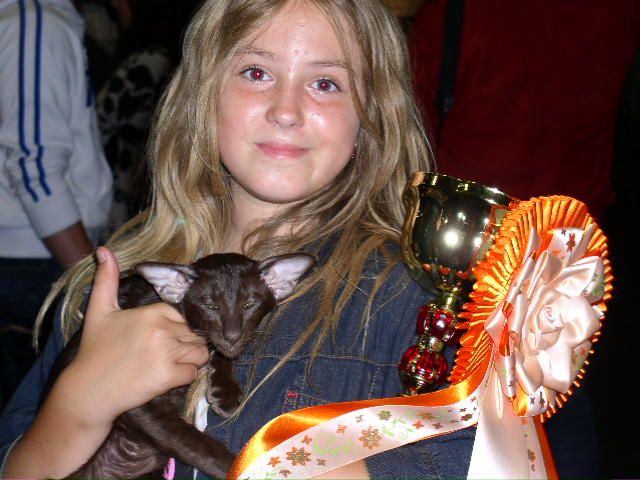 Otello and Alessia - sathurday show - BIS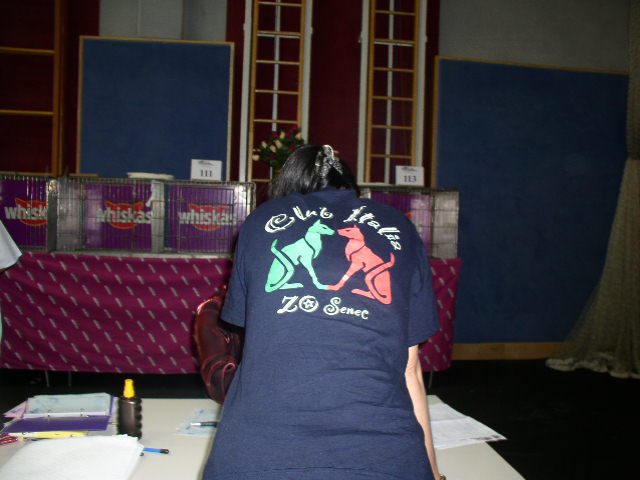 Sunday show, other model of T-shirt Club Italia which I am proudly wearing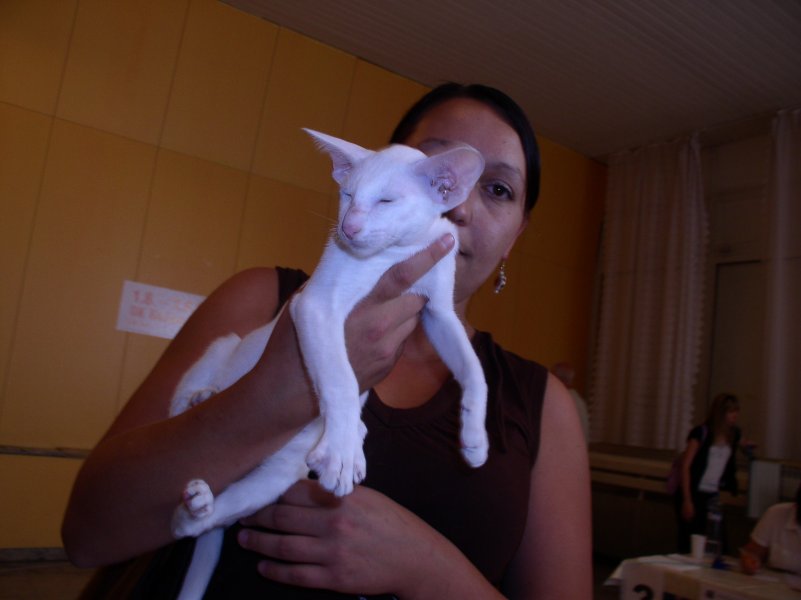 Alessia, LMB, Otello and mummy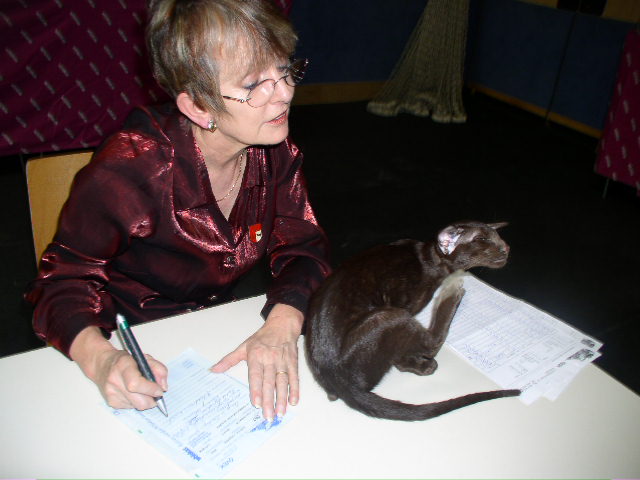 LMB having Otello served, Otello showing that his ticks treatment was not working well :-)))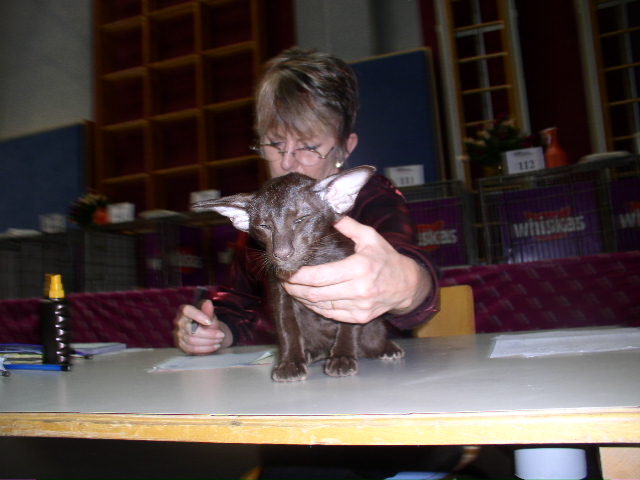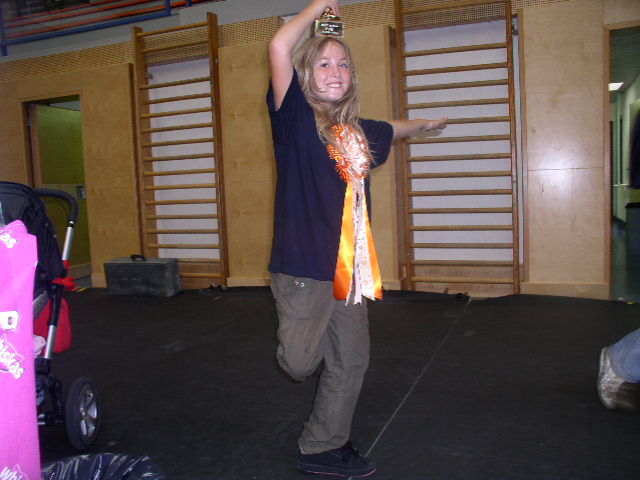 Some creations and pictures done by Chris Kappel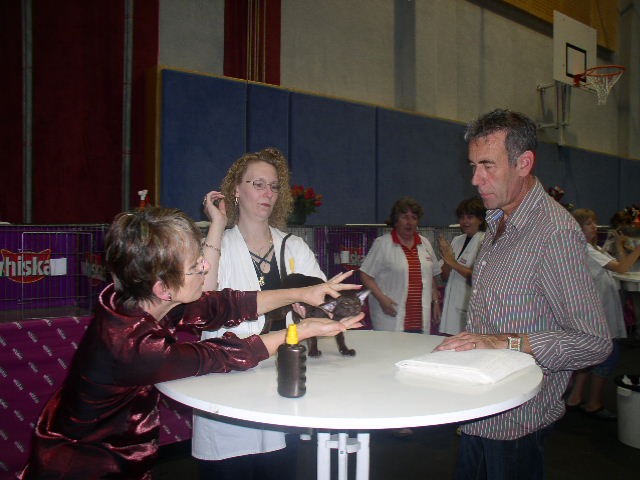 Otello checked in best by Ad and LMB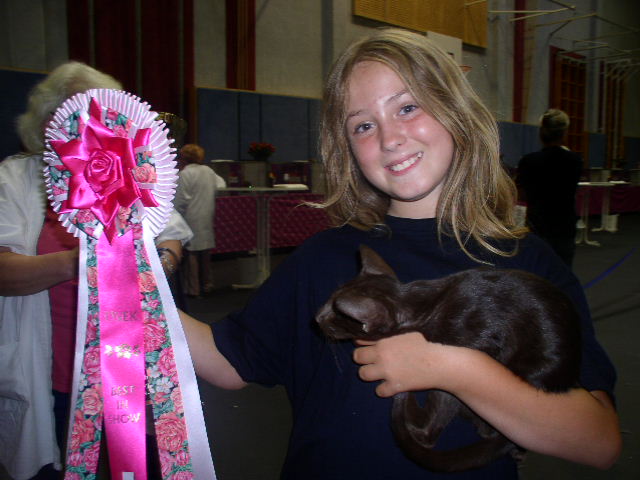 Proud Alessia with our new baby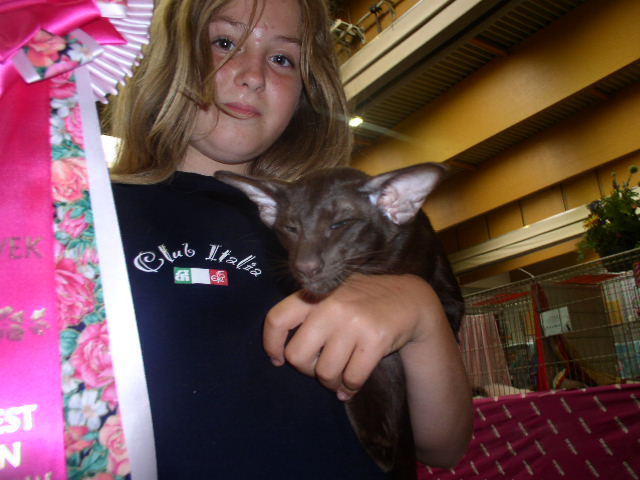 And here he is, tired but Junior Winner, Otello D´Oltremare,
congratulations to Otello and Simone - his breeder
***************************************************************************
Výstava Ostrava 17.8 2007
Show Ostrava 17.8 2008
I showed only Otello and he get 3rd BIS on his 3rd show in classe 3-6mth.
Some pictures from show :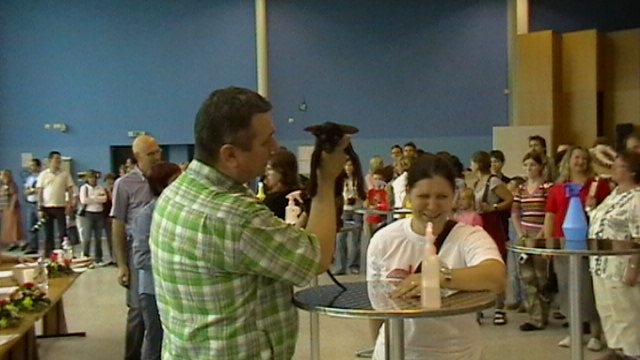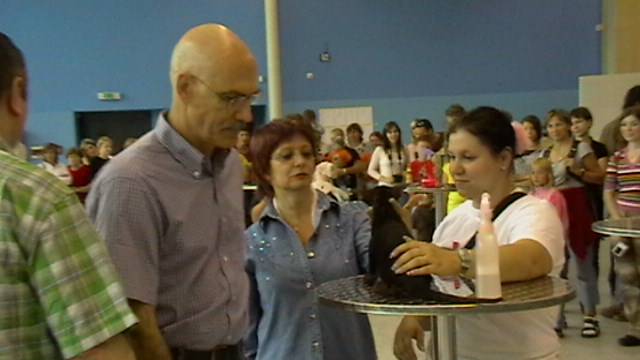 Mr Coste and Laura Burani checking up Otello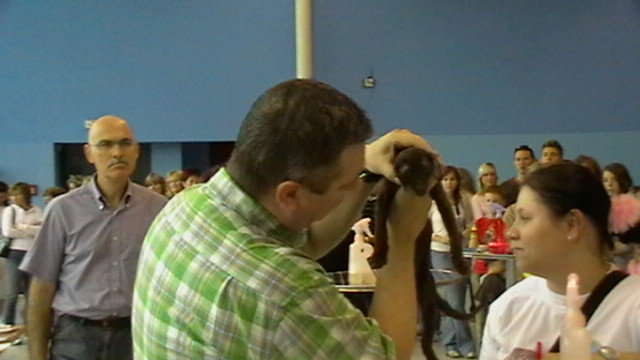 Eric controlling ears size which cannot be longher than face :-)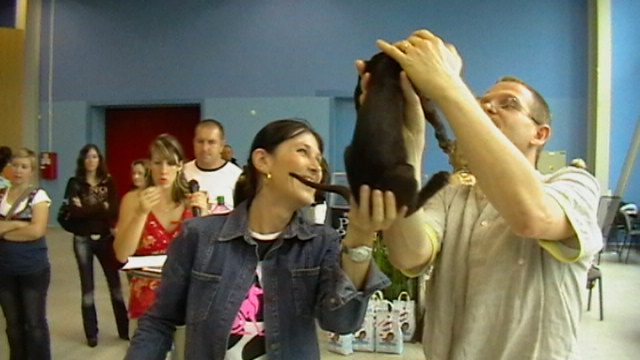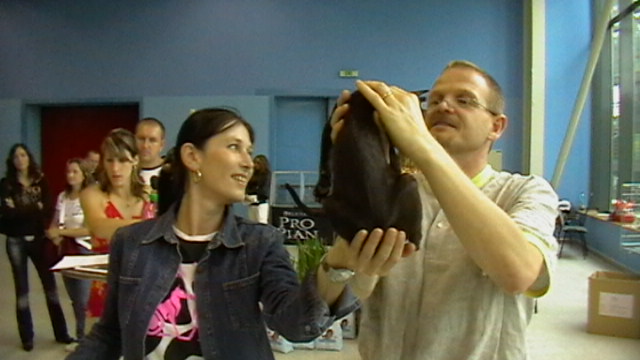 Mr Calmes was not judging cat IV only came to check the star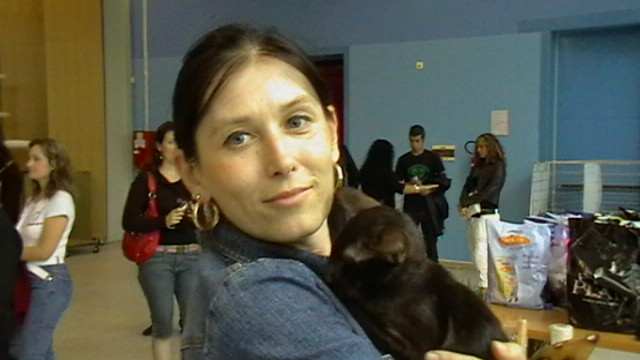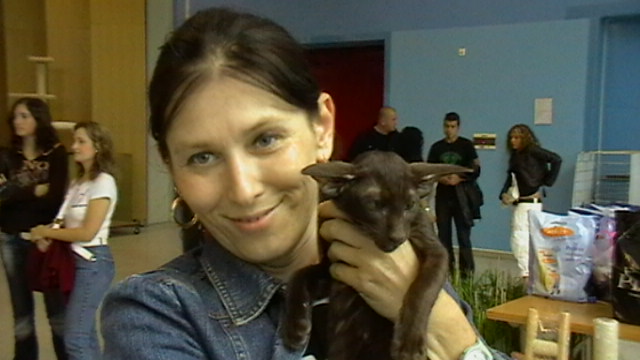 After Best in show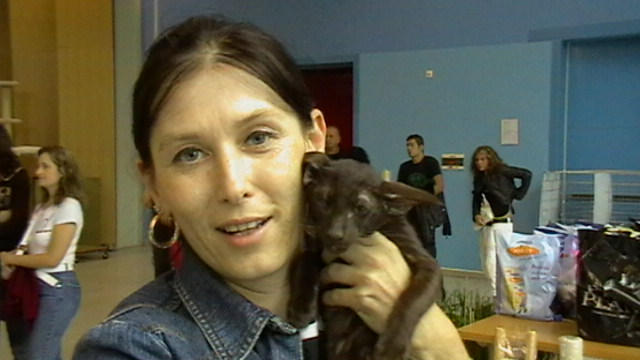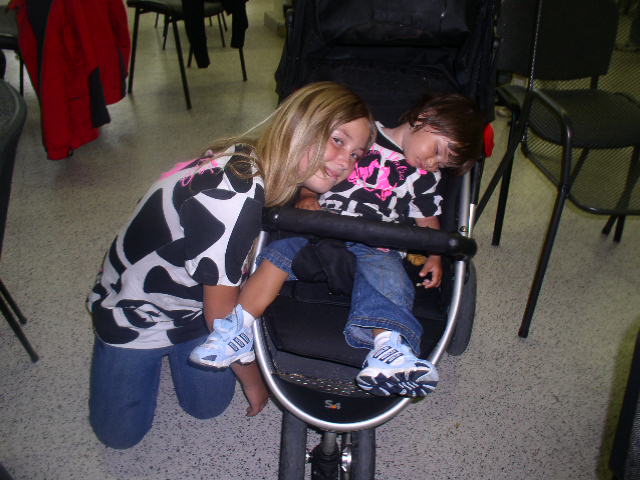 ********************************************************************************************
Výstava Bratislava 9/10 augusta 2008
Show Bratislava 9/10 of august 2008
I showed my new male Otello with Simone and also his brother both NOM
on both days,
Otello was BOB 1 on sathurday and BOB 2 on sunday.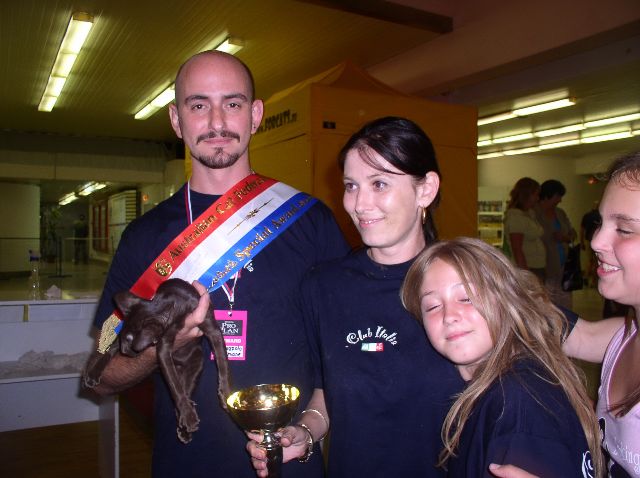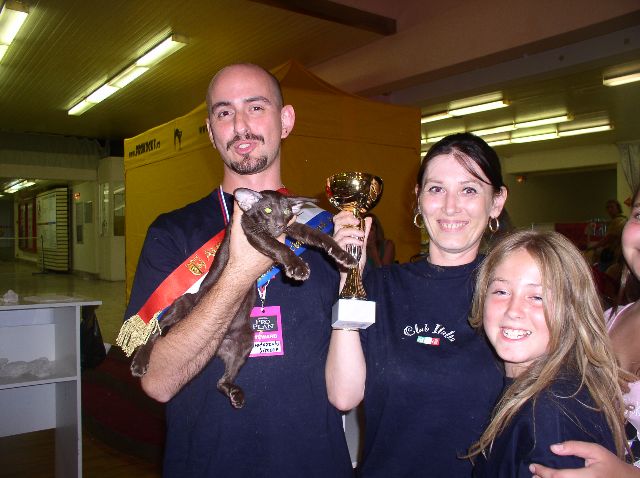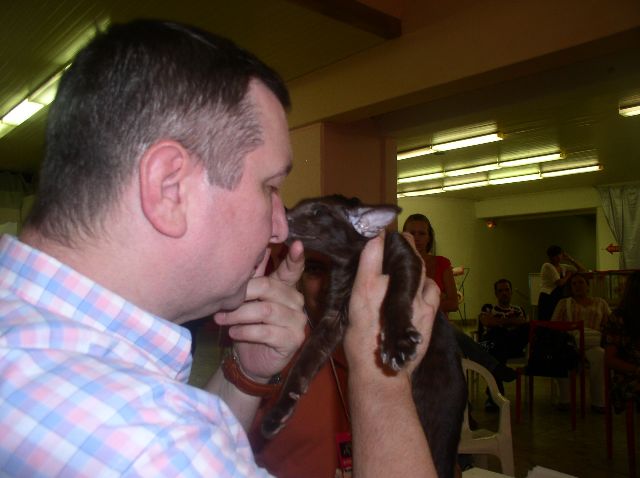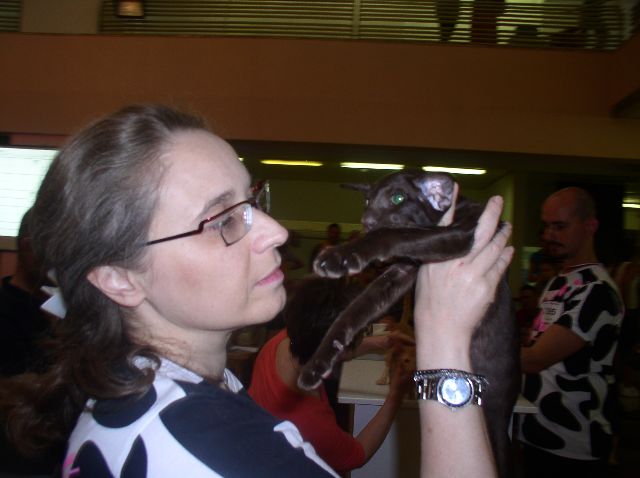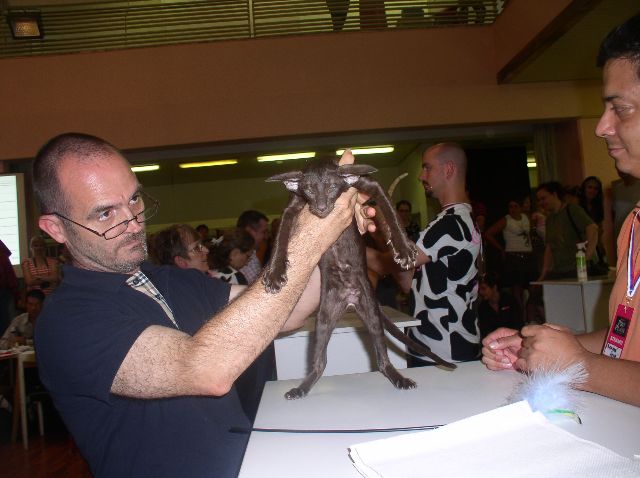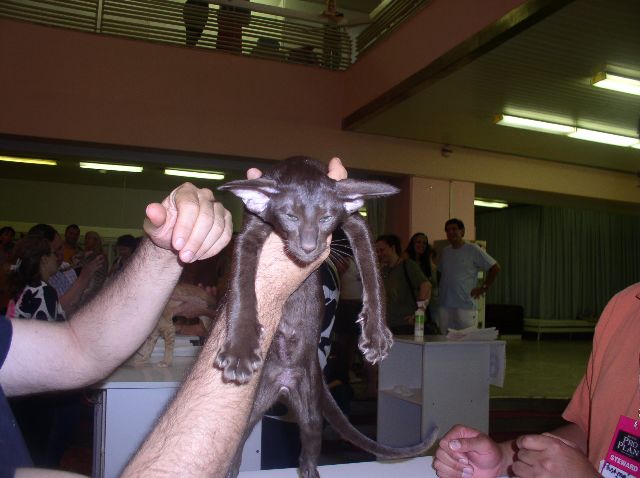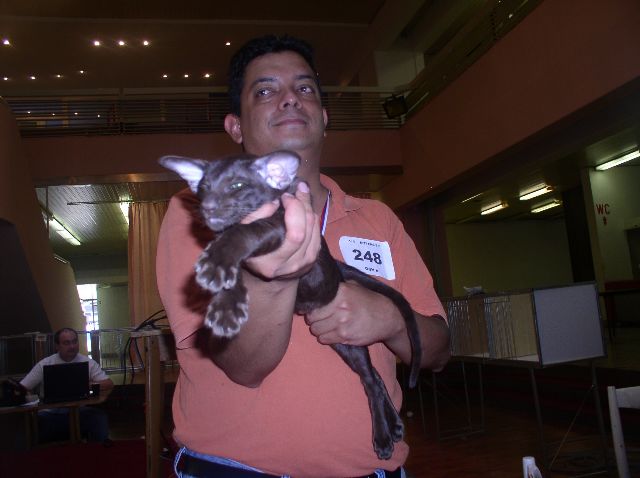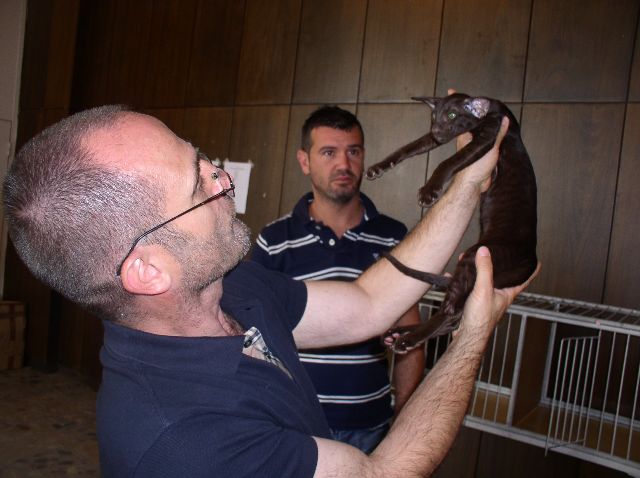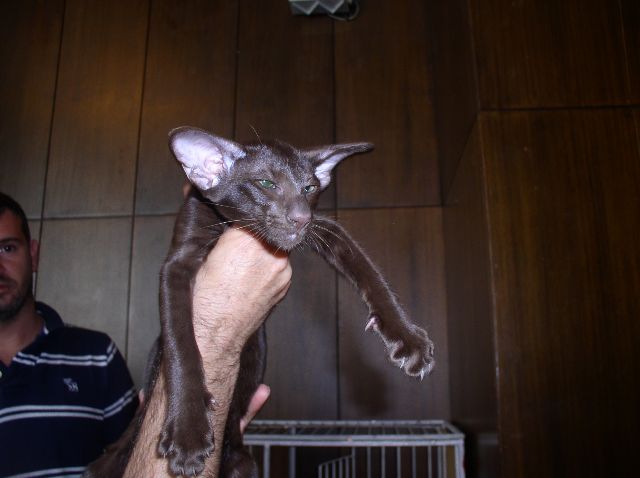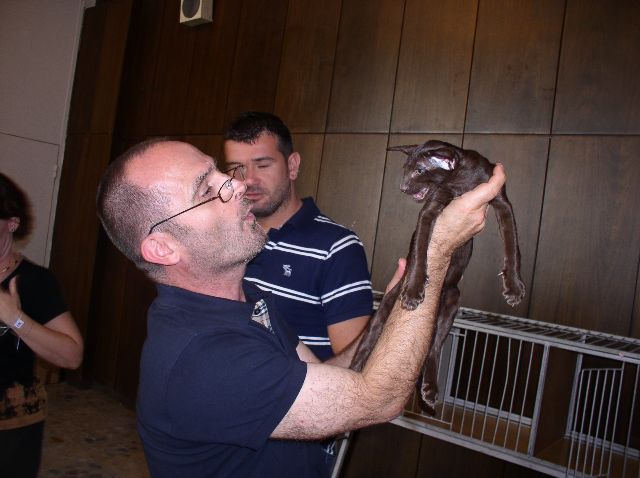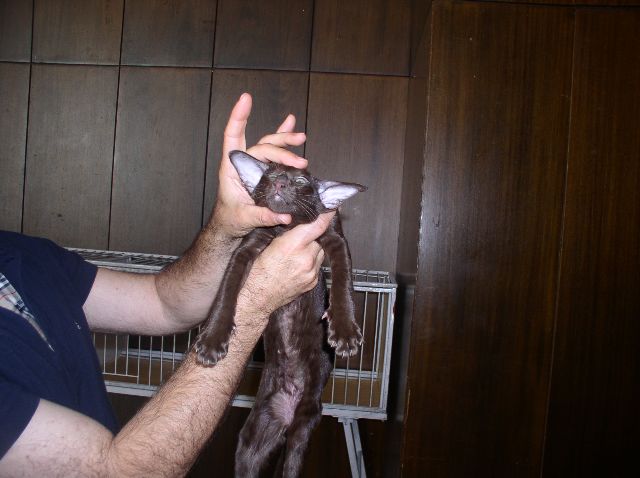 Some pictures from show where were also members of my new club Italia ZO Senec and I am sooooo
proud of my members.They came with beautiful cats.ABY male Neo of Chiara parodi was BOB 2 on sathurday and he was also BIS on sunday, her female WW 06 Solarian Maya was BIS on sunday,RUS kittens of our members Mauro and Antonio get also nomination,DRX of Laura Manunta had special price on our show and we had really special time together...just have a look at pictures :-)))))))))))))))))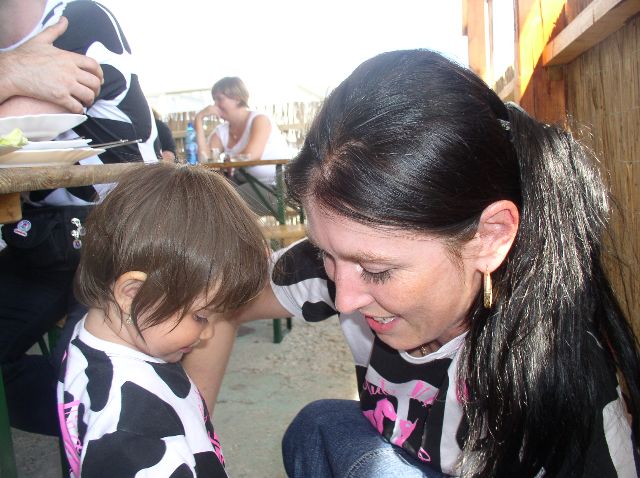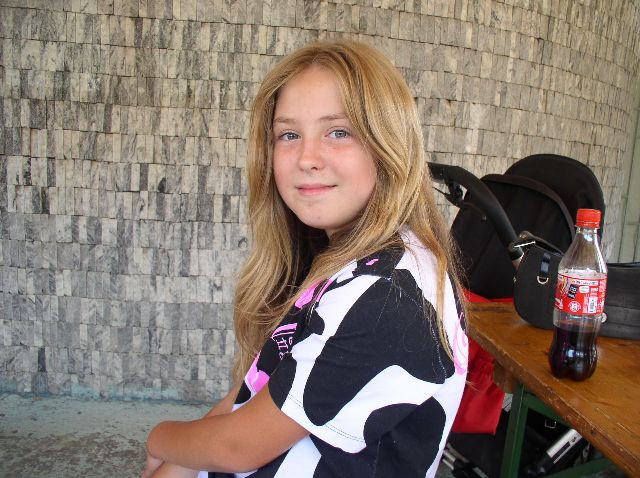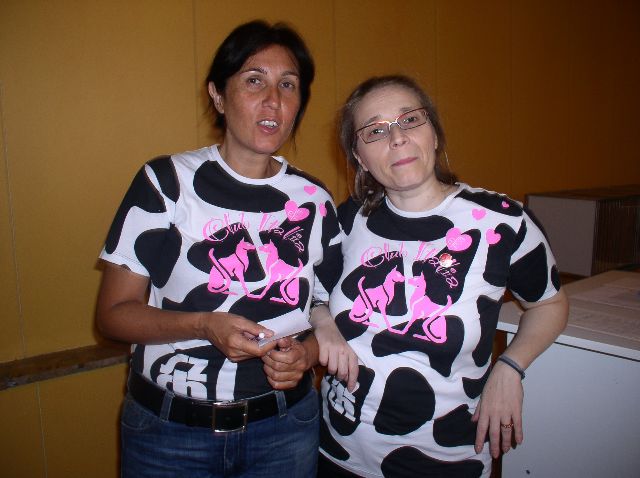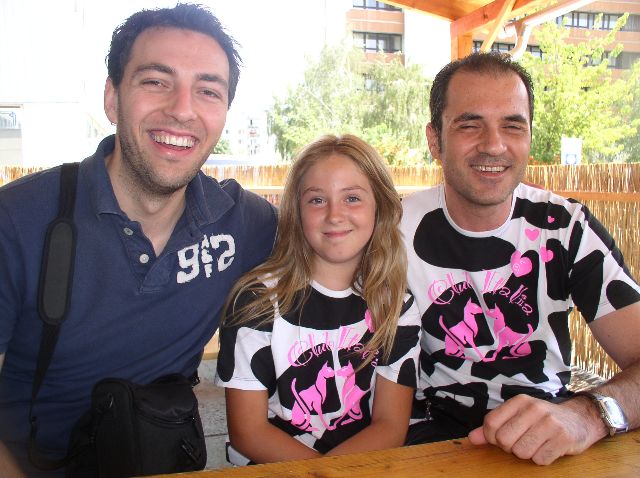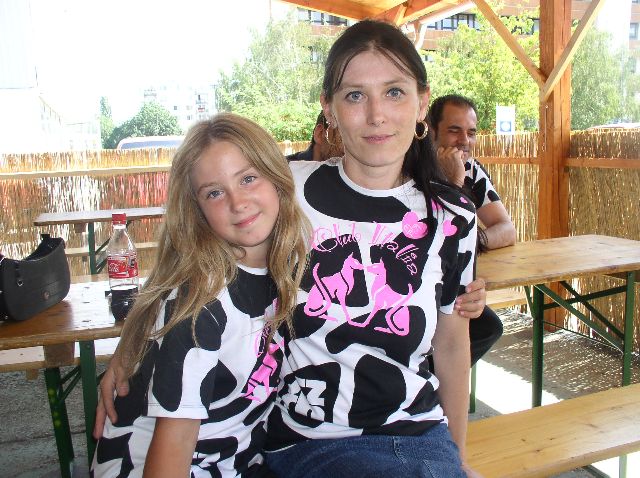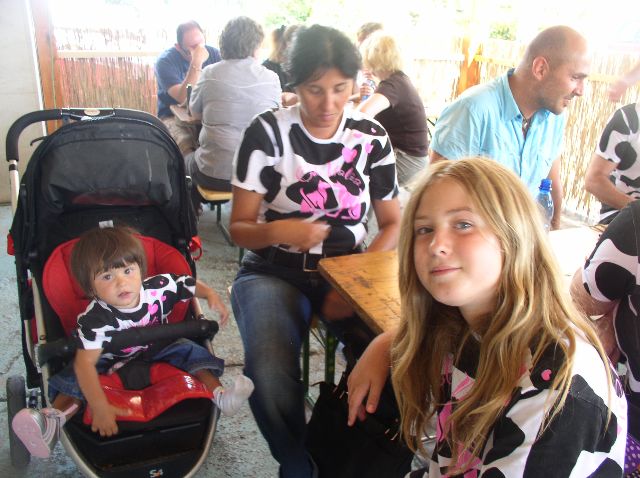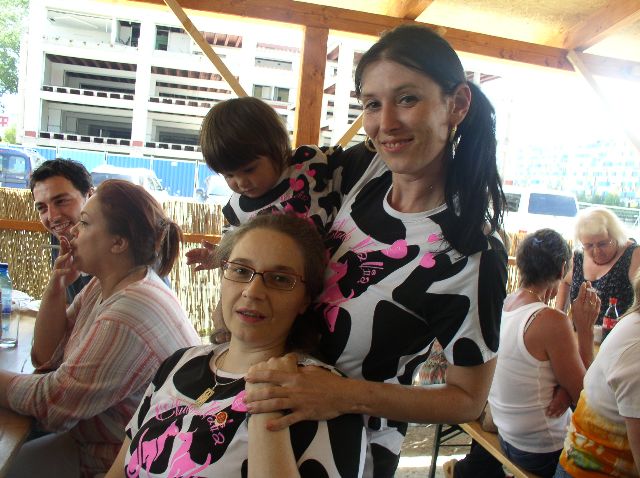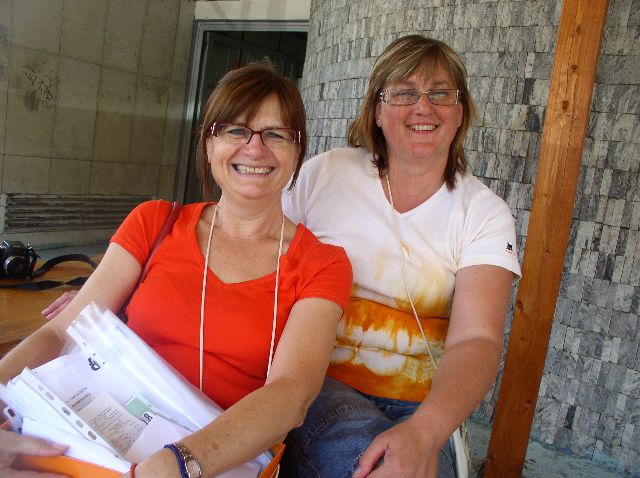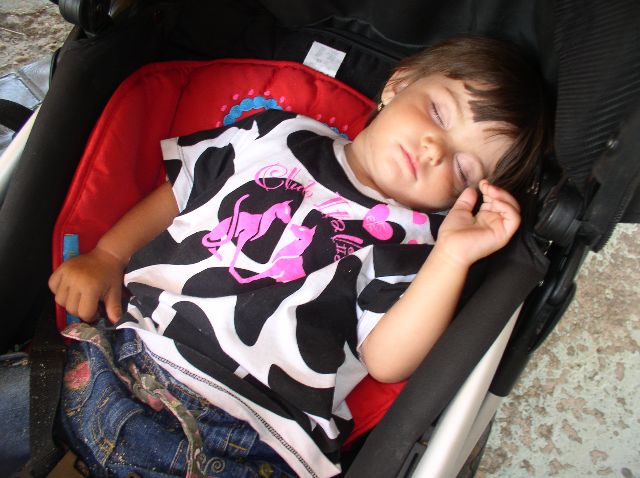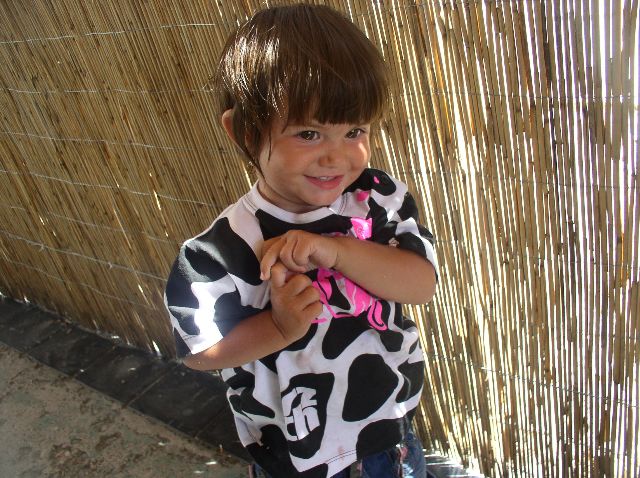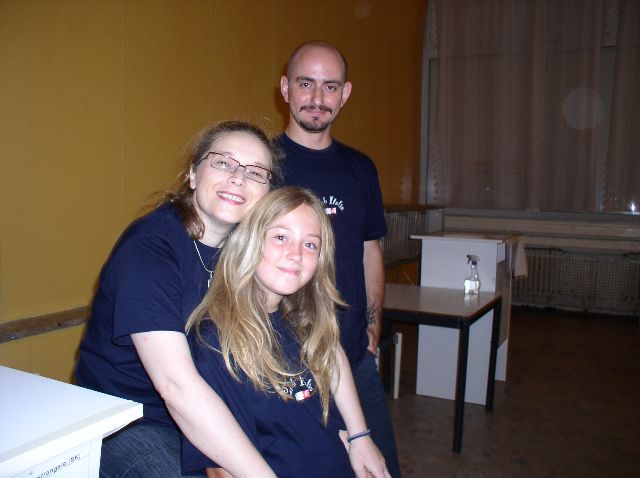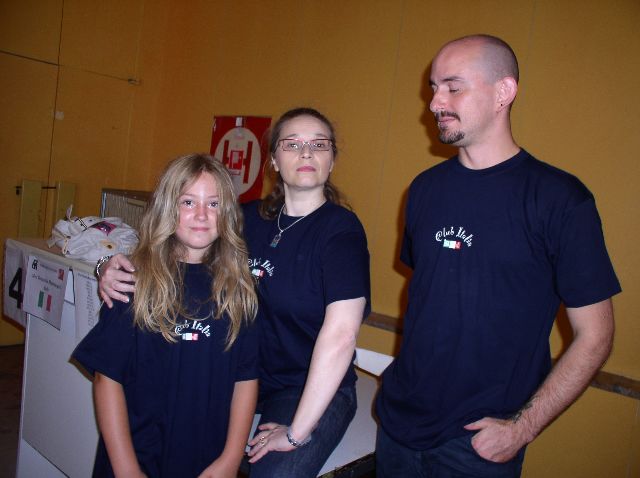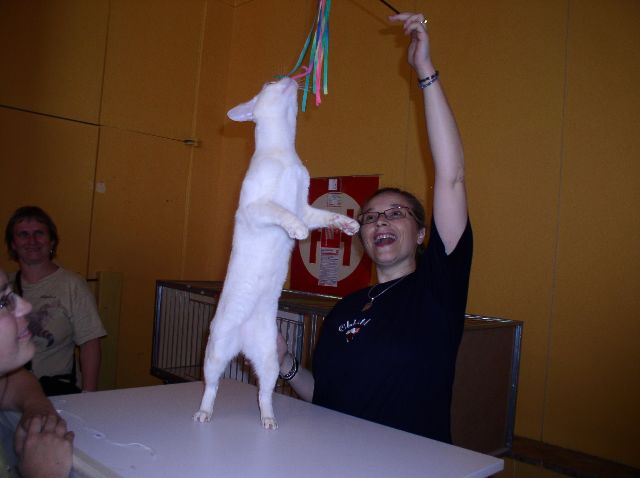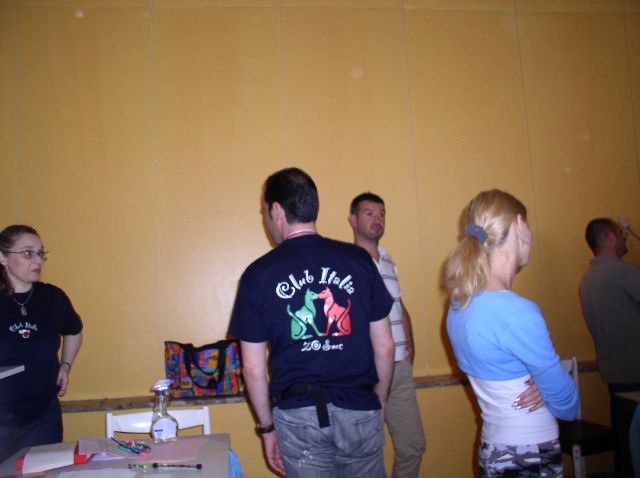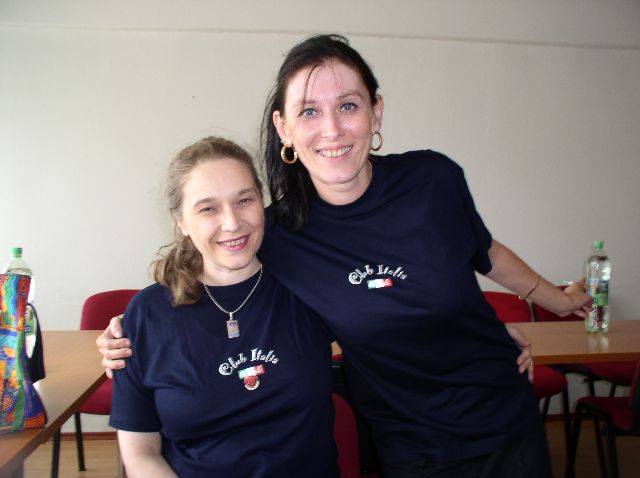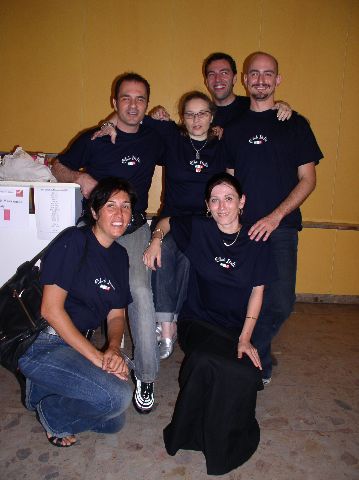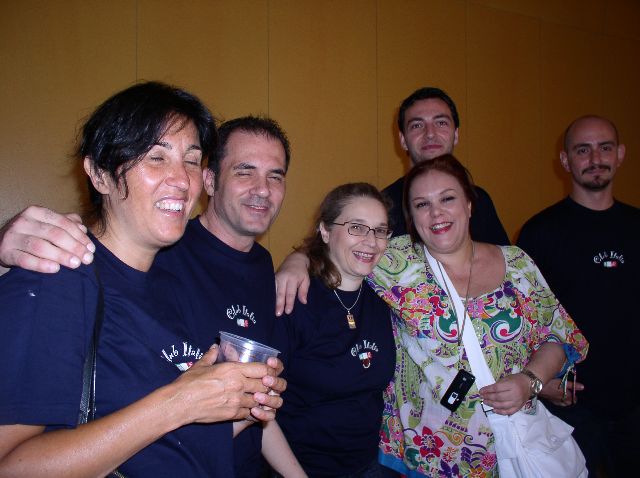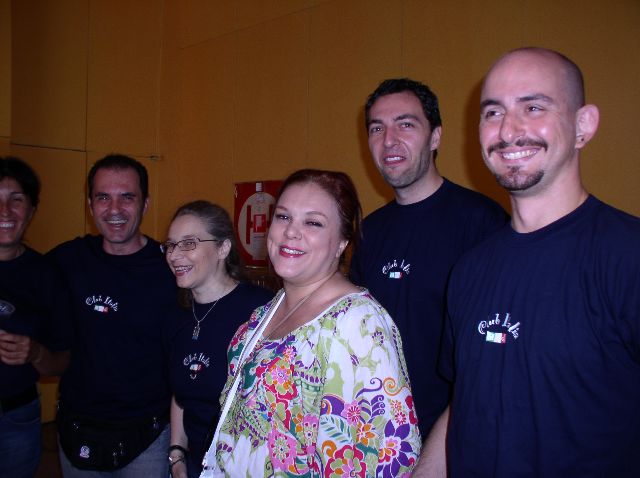 *****************************************************************************************************************************************************************
Výstava Gyor 5/6 april 2008
Show Gyor 5/6 april 2008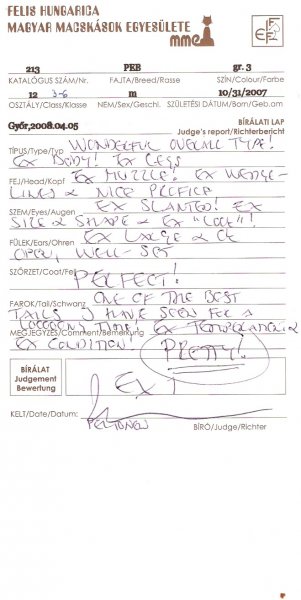 Judging report of our Maugli - Martii Peltonen
Dňa 5.4 2008 sme sa zúčastnili na výstave v madarskom Gyori s kocúrom Maugli Del Iris PEB d. Maugli bohužiaľ nemohol byť nominovaný ani zvíťaziť nakoľko je peterbald ešte stále neuznané plemeno. Kocúra posudzoval švédsky posudzovateľ Martti Peltonen ktorý je chovateľom plemena SIA/ORI a tomuto plemenu a peterbaldom rozumie. Boli sme zvedaví na jeho názor a presne z tohto dôvodu sme Maugliho do Gyoru priviezli. Dostali sme krásny posudok, Martti bol z nášho kotíka doslova nadšený a jediné čo mu vytkol je slabšia bradička ktorú si kotík zabudol v Petersburgu :-) Kocúrika som zároveň ukázala ostatným posudzovateľom, pani Thee Friškovec a panovi Stevnovi Johnsovi ktorí sú spolu s Marttim členmi komisie FIFe aby zvážili či je kocúrik typický predstaviteľ tohto plemena a môže byť predstavený delegátom na FIFe GA v máji 2008. Kotík zodpovedá štandardu a dostali sme OK. Bude predstavený na GA !!!!!! kde sa bude hlasovať o plnom uznaní plemena peterbald .Veľmi si ceníme že náš kocúr dostal túto možnosť, bude to samozrejme aj reklama našej stanice a ruskej stanice Del Iris. Ponúkame niekoľko fotiek z výstavy :
We showed our peterbald male Maugli Del Iris on hungarian show in Gyor on 5th. april 2008.Unfortunately, peterbald is steel pre-recognised breed and our boy couldn´t be nominated for Best in Show. We brought him for two reasons. In Gyor was judging swedish judge and breeder of SIA/ORI Mr Martti Peltonen and I was curious to know his opinion about my naked boy. Martti loved Maugli and found only one fault on him - boy forgot his chin in St Petersburg. :-) Anyway Martti said that Maugli is beautiful cat and I am very happy .
We also wanted show him to other FIFe judges and members of commission for breeds and standard. As they need one excellent typical
representative cat of this breed for GA ( full recognition of peterbald cats) So also Mrs Thea Friskovec and Mr Steven Johnes sow him and YES, Maugli will be showed to delegates on FIFE General Assembly. We are very proud and grateful for this opportunity. It will be also nice publicity for our cattery and cattery Del Iris from Russia.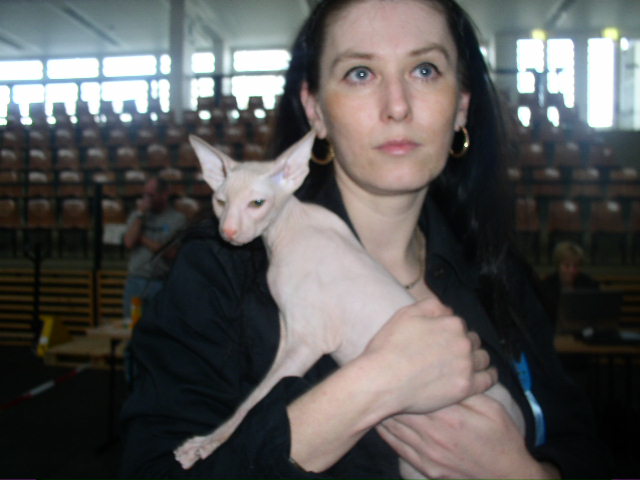 Maugli and mummy in show hall - Gyor 5.4 2008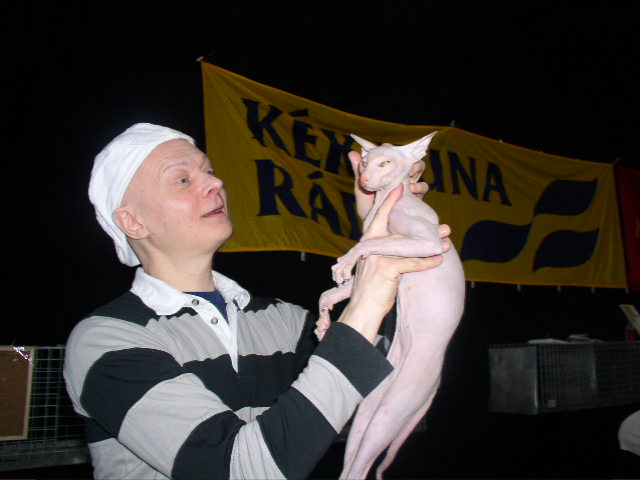 Maugli and his judge Martti Peltonen in Gyor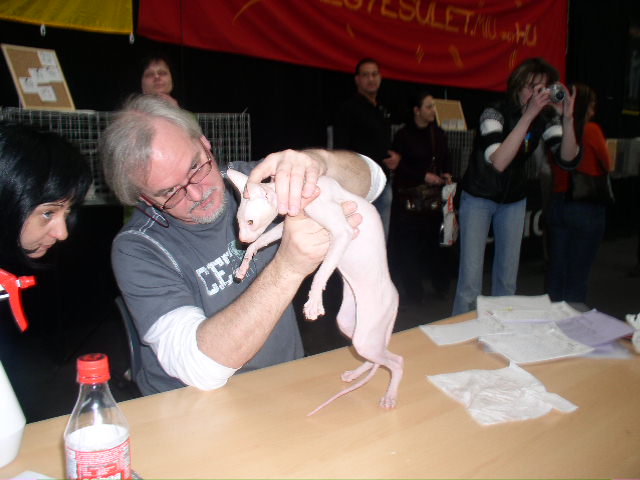 Maugli, Thea Friškovec and Steven Johnes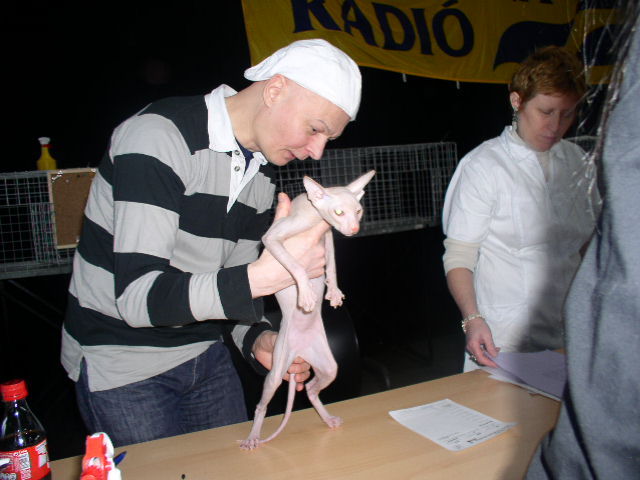 Maugli and Martti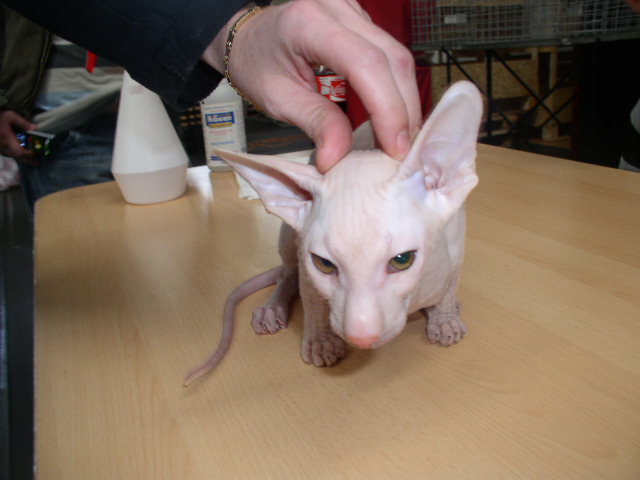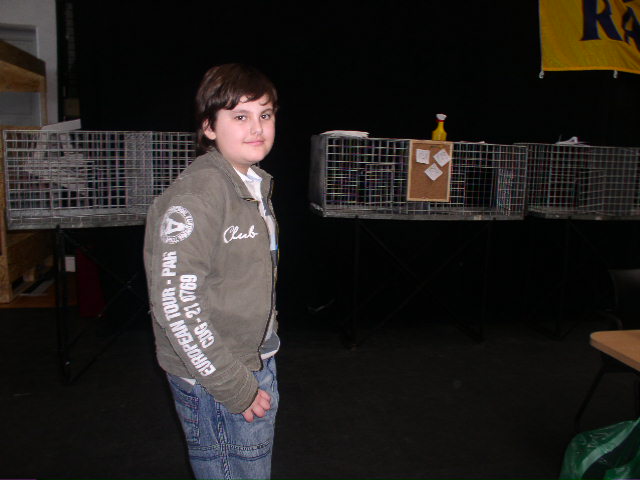 Young exhibitor- Mirand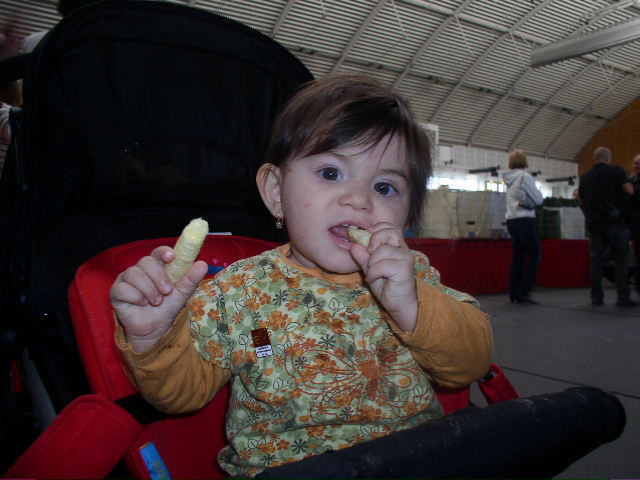 Other young exhibitor - Zamira - have a look FIFe logo on her T-shirt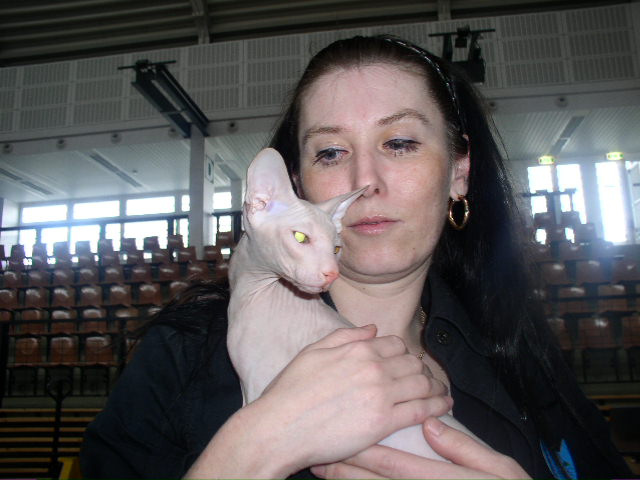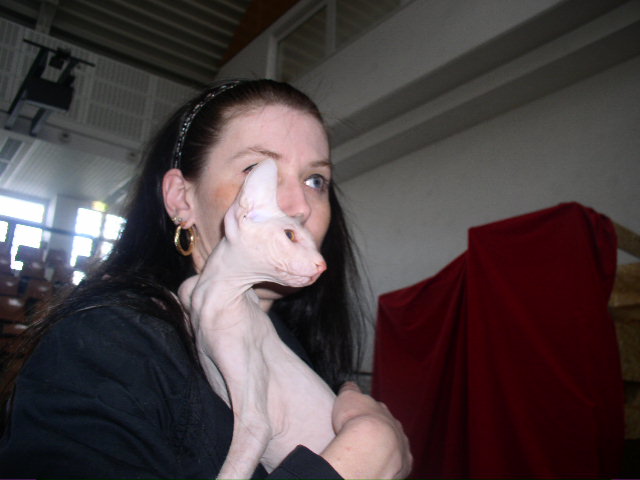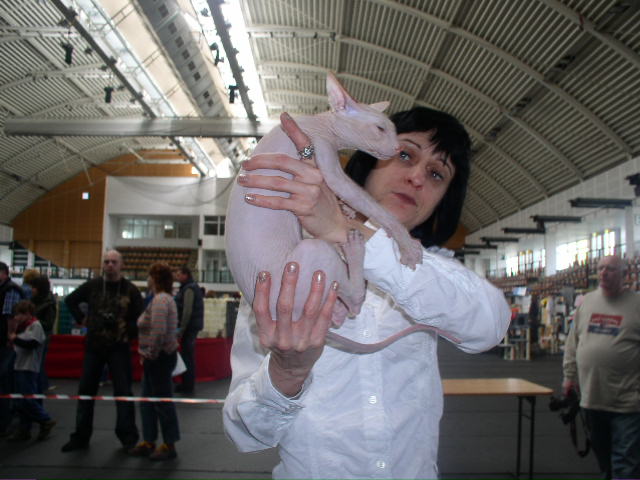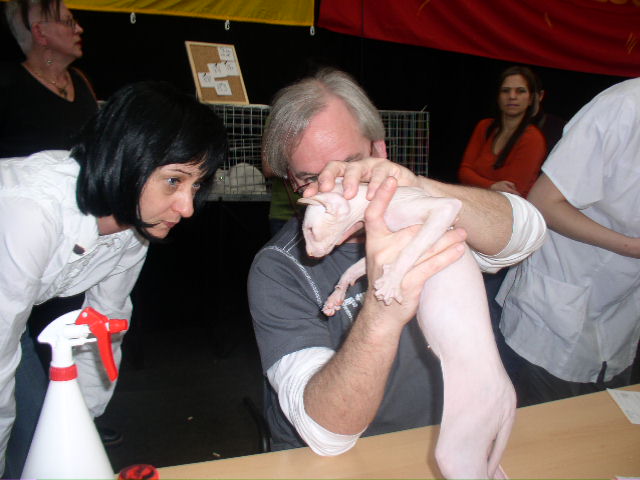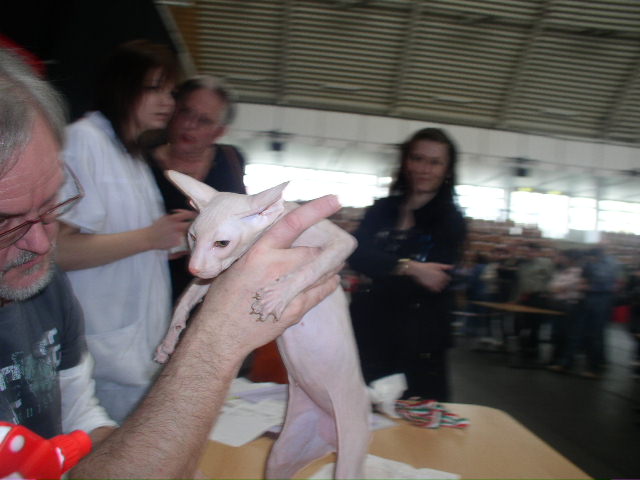 ***************************************************************************************

Výstava Bratislava 26/27 januar 2008
Show Bratislava - 26/27 january 2008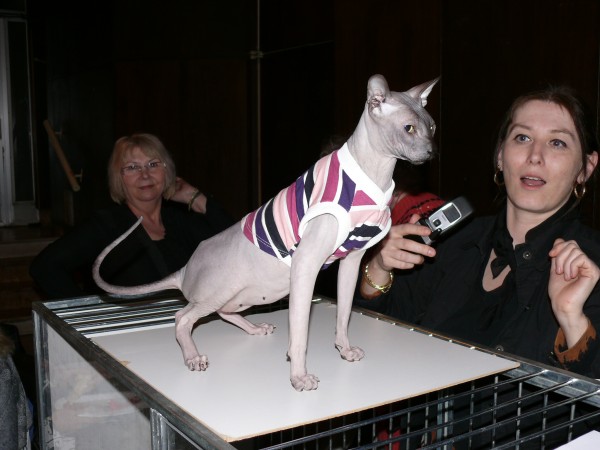 Foto: Lenka Venclíková
Peterbald Čuník dostal svoj prvý CAC - breeding point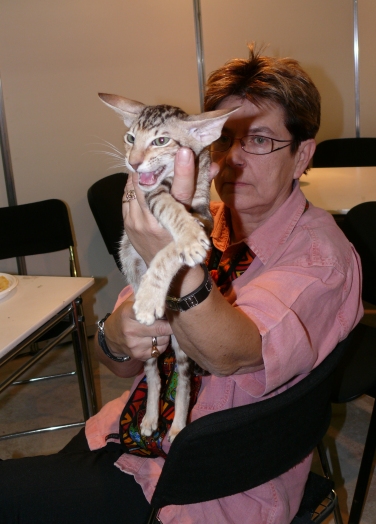 foto: Lenka Venclíková
Svetová výstava mačiek, pani Anette Sjodin, prezidentka FIFe nám predvádza pri fotení
nášho nového kocúra Narcisa ktorý práve pricestoval z Talianska
Mrs Anette Sjodin, president of FIFe with our new boy Narciso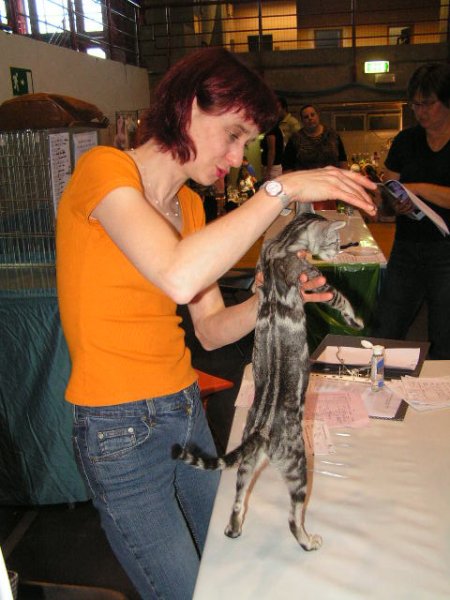 Foto: Lenka Venclíková
Naša Sunny na výstave v Parme
Sunny, show in Parma, Italy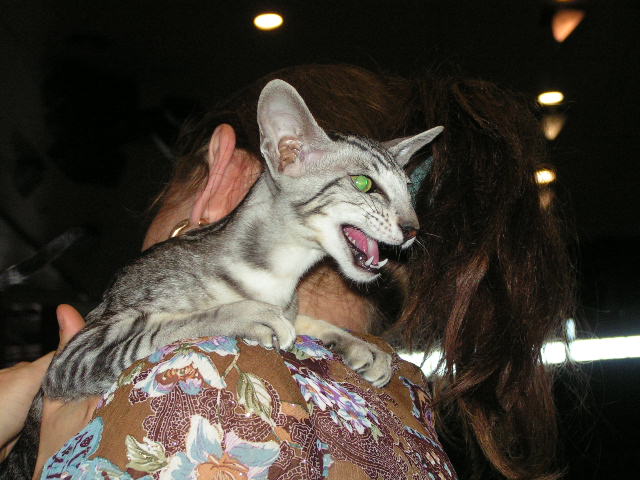 Foto: lenka Venclíková
Sunny- Parma - Taliansko 2006 Bola to fantastická výstava,v sobotu som po odjazdeni 1200km celý deň stewardovala,večer som padla za vlasť.Ráno sme zaspali, ale nedeľa už bola v pohode :-) Celú výstavu som sa tešila na daľších 1200 km smerom domov. Audina fičala ale ja už som mala dosť.Zaprisahala som sa že odteraz už len lietadlom !!! Cestou späť sme sa stavili u Susi v Lido di Venezia,napapkali sme sa v reštaurácii špecializovanej na morské príšerky a v noci sme sa odplavili do Venezie. Bol to úžasný výlet len som sa cítila vyčerpana. Nečudo,zistila som že v tom čase som už bola tehotná. Lido di Venezia je prekrásne a dúfam že sa v tomto roku dostaneme k Susi na pár dni i s deťmi,Mirand s Alessiou si more určite užijú :-) Ja si užijem Zamirku :-)))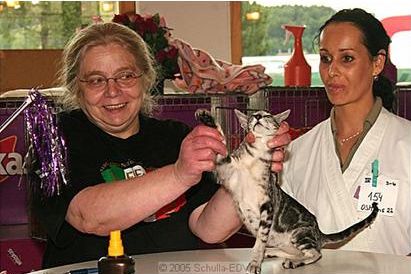 Foto: Ovek
Sunny - show in Linz 2006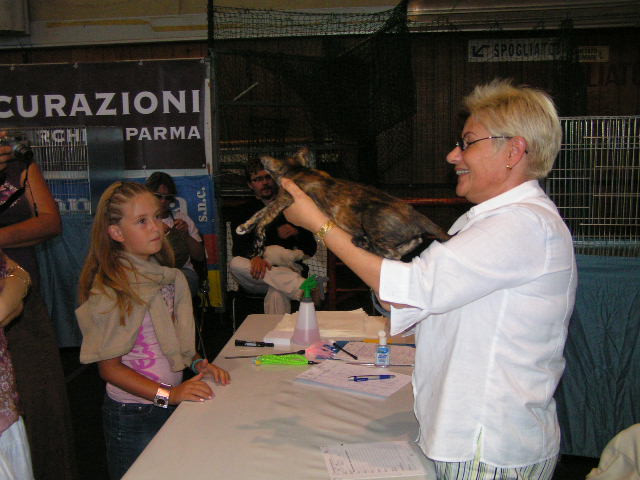 Foto: Lenka Venclíková www.burmilla.snadno.eu
Ja, Dunja a pani Gina Grob v Taliansku, Parma 2006
Me, Dunja and mrs Gina Grob judging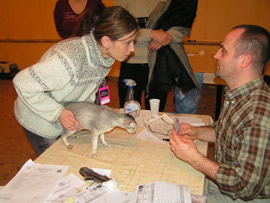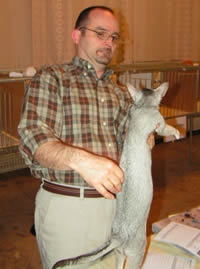 Gianfranco Mantovani judging our Silvie OSH ns 25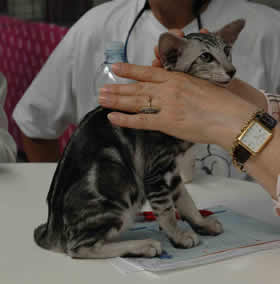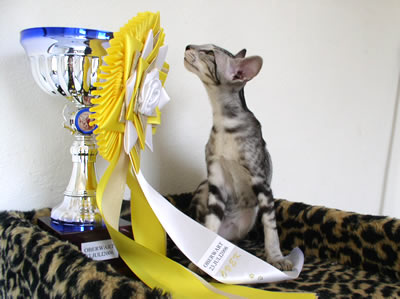 Foto: lenka Venclíková
Stephe Bruin judging our Sunny - Oberwart 2006 Best in Show 3-6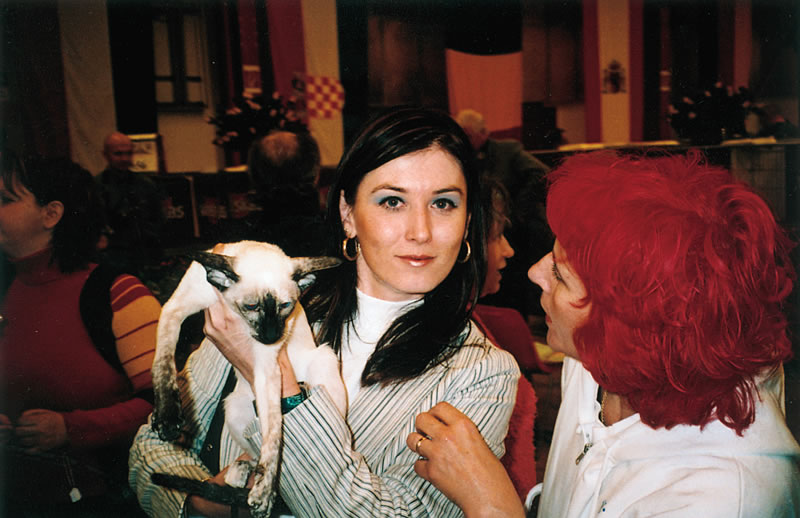 Mum, Susi and Tortie on WS 05 Austria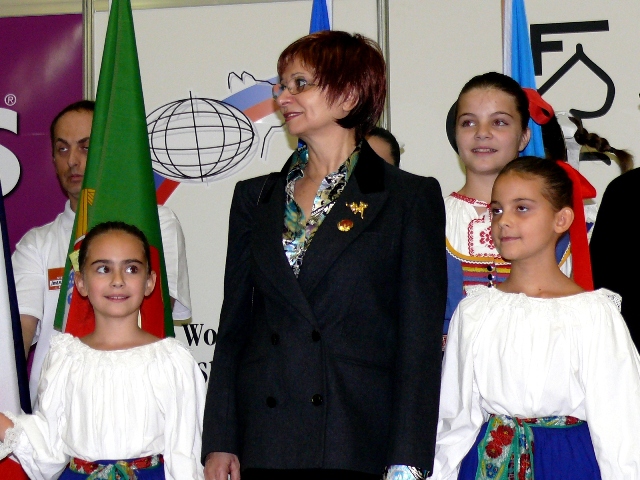 Laura on the World Show - Bratislava 2007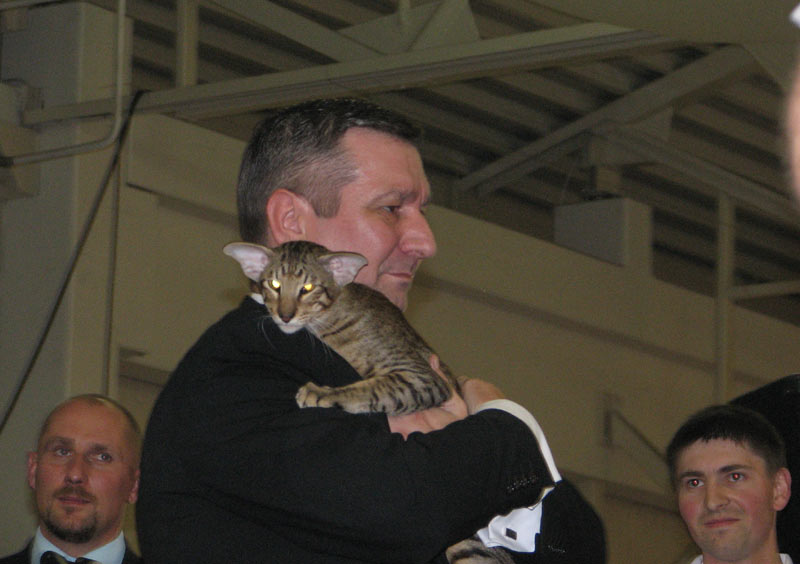 Foto: www. gattinata.pl
Mr Eric Reijers with WW 06,07 Michelangelo D´Oltremare on the World Show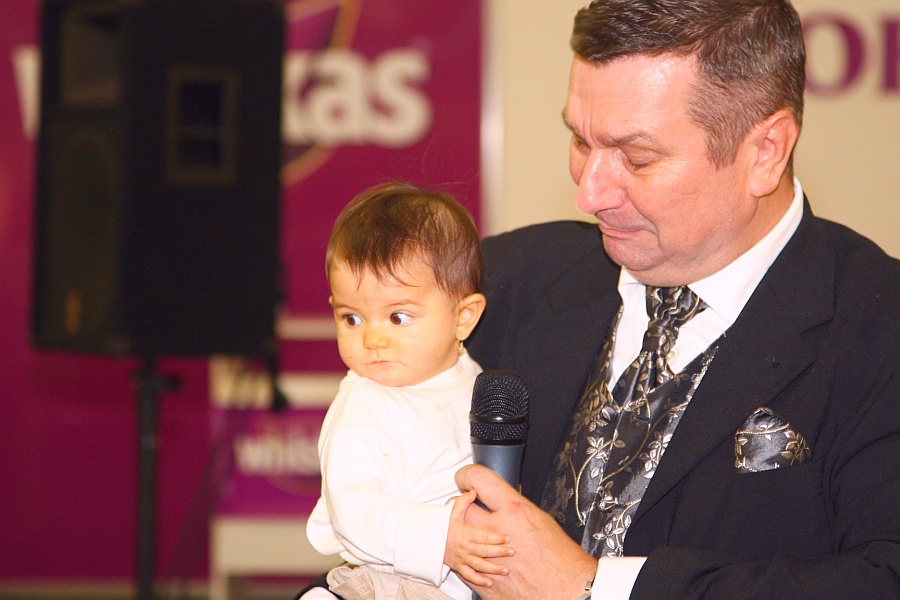 Foto: www.bri.pl
Moja sestrička Zamira a pan Eric Reijers sa práve chystajú uvádzať Best in Show na Svetovej Výstave mačiek
My little sister Zamira and Mr Eric Reijers on the panel of World Show 07 in Bratislava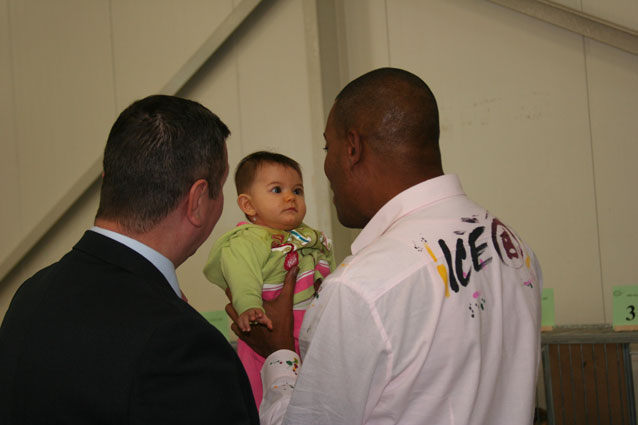 Eric Reijers, Zamira a strýko Lee. Tak to vyzeralo ked mama odbehla, Eric nám ukradol kočík a jazdil s ním po obrovskej hale.
Zastavil sa až pri stole kde posudzoval strýko Lee. Medzi posudzovaním si urobil menší " break "
Eric Reijers, Zamira and uncle Lee Selassa during the World Show 2007 in Bratislava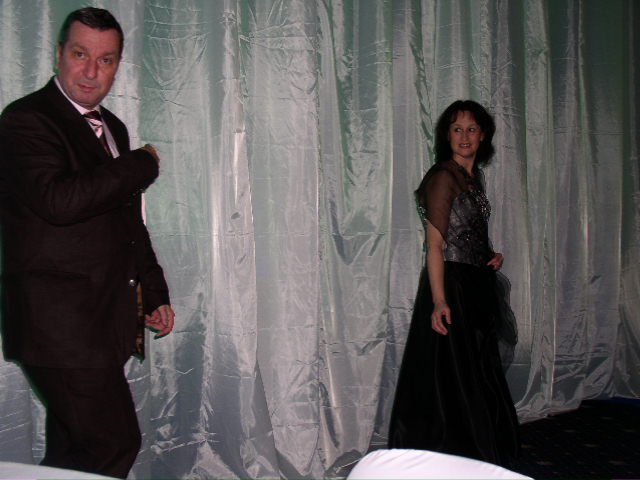 A predsedkníčka SZCH, riaditeľka Svetovej výstavy pani Soňa Ivanková spolu s panom Reijersom - generálnym sekretárom FIFe
na gala večeri.
SZCH president Mrs Soňa Ivankova and FIFe General secretary Mr Reijers on gala dinner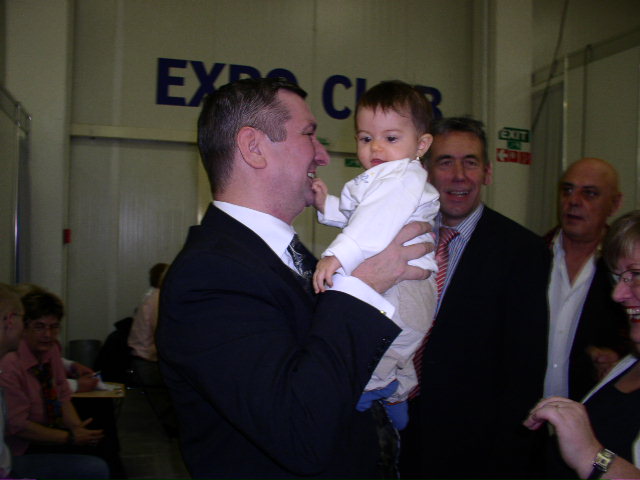 Mr Reijers, Zamira and Mr Ad de Bruijn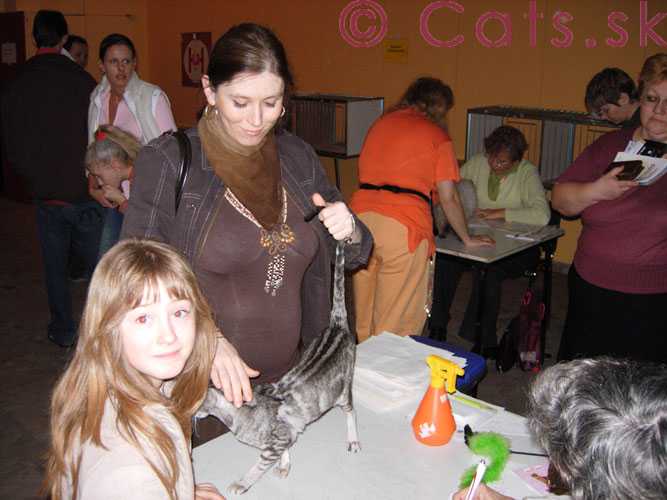 foto: www.cats.sk
Moja mama a ja na výstave v Bratislave v marci 2007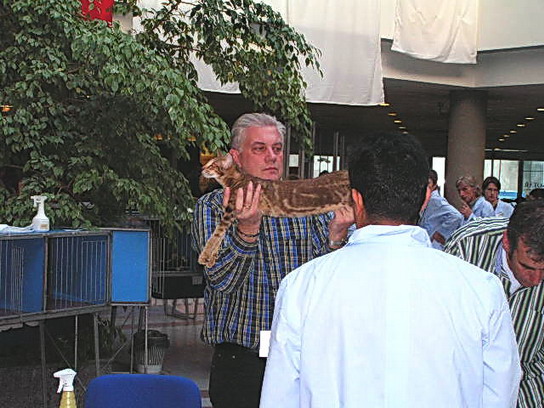 Mánička sa vystavuje v Brne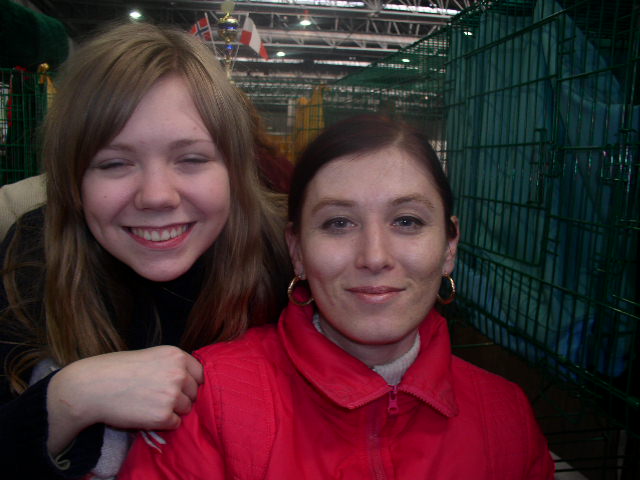 with Ania in Warszawa - january 2005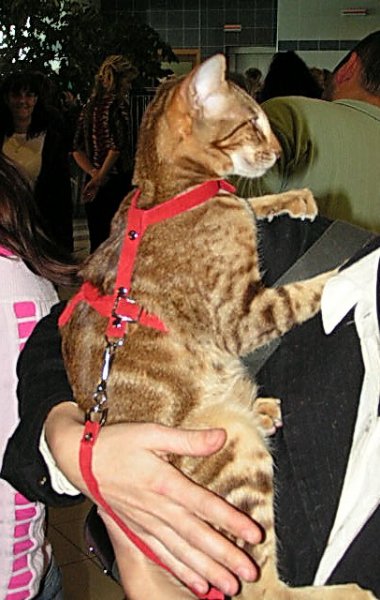 Mánička v Brne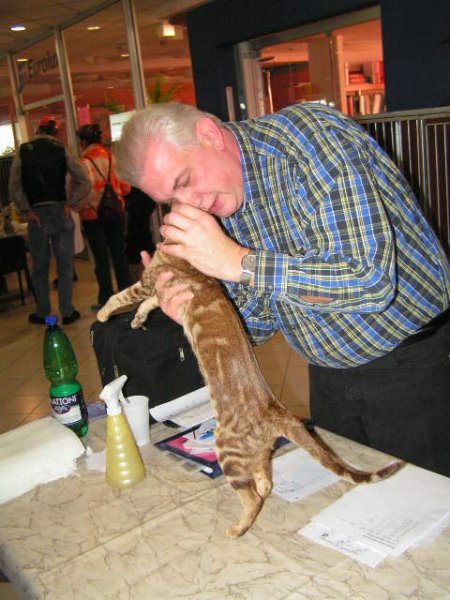 Mánička a Mr Sagurski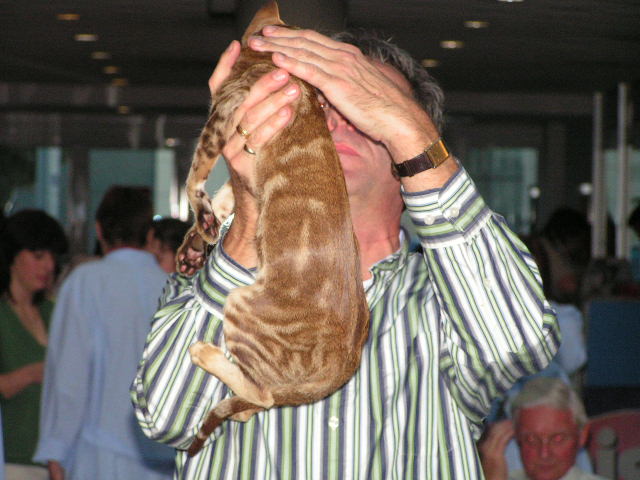 Mánička a Mr Ad de bruijn