SHOW ŽILINA 7.11 2009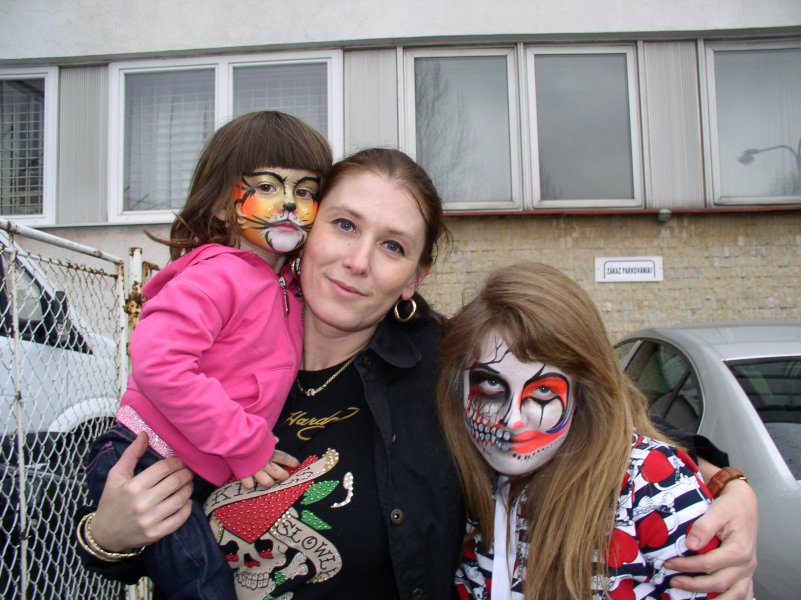 Our 4 mths old domestic kitten Adi was send home as absent because was not neutered yet. Adi was showed week ago in Vienna judged by Ad de Bruijn and in BIS checked by: Eric Reijers, Stephe Bruin, Lee Selassa, Kveta Mahelkova,Lilly Anciau and all these judges were voting for him, won in males also over female. So, one must choose shows well, because judges had no problems with our domestic being not neutered and show organisators also in all Ovek shows and all SZCH shows excluding Zilina ...Because ALL show organisators in OVEK and SZCH knows FIFe Rules.. simple as that???
I opened FIFeRules and here we have :

SHOW RULES

3.4 Admission to Shows
Cats must have the tips of the nails cut before arrival at the show hall.
Admitted to shows are:
– tattooed cats.
Not admitted to shows are:
– lactating queens
– pregnant queens
– de-clawed cats
– deaf cats
– cats with docked tails
– cats with cropped ears
– unneutered house cats aged 10 months or older.

Ok I am only exhibitor but show organisator MUST know FIFe rules, strange that organisator of this show has no clue about such a basic rules, also Mr Kurkowski should reed FIFe rules which change each year after GA :-) Funny or sad. Anyway, going to send official protest again club ZO Žilina, asking money back, asking official exuse from this club and want some pennalty from SZCH for this show organisator.We are not going to pay, we must work to get money.. And none is going to pay delusion of my 10 y old child, JUUST SAD and SHAME....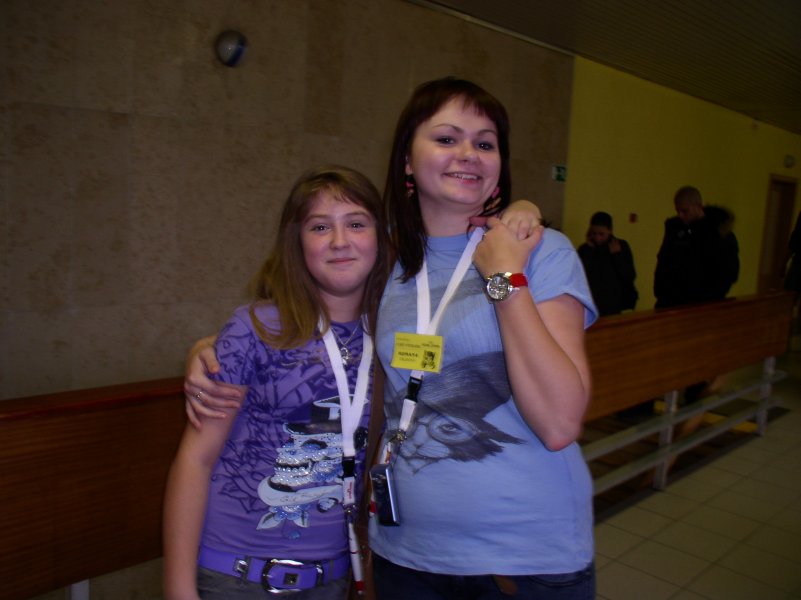 Náš 4 mesačný domáci kocúr Adi bol vyhodený z výstavy ako absent pretoze mačiatko nebolo ešte vykastrované. Adi bol vystavený milulý týždeň na výstave vo Viedni, posúdený Ad de Bruijnom a zvíťazil. V BIS ho videli : Pan Eric Reijers, Stephe Bruin, Kveta Mahelkova, Lee Selassa, Lilly Anciau a zrejme tento fakt nikomu neprekážal pretože vyhral jednohlasne dokonca porazil i mačku. Z toho vyplýva že vystavovateľ si musí dobre vyberať výstavy, pretože na žiadnej výstave Oveku ani SZCH okrem Žiliny neprekážalo že vystavujeme nekastrované mačiatko. Najviac ma pobavil fakt ked sa k mojej 10 ročnej dcére postavila organizátorka výstavy ktorá si dala námahu a prišla k stolu ked jej mačiatko posudzoval pan Kurkowski a zvučným hlasom cez dva stoly kričala že nás nemali pustiť ani cez prejímku a musí to povedať veterinárom. Dufam že si jej veterinári prinesú prístroj USG aby vedeli skontrolovať aj mačky :-)))) Proste OVEK pozná pravidlá FIFe a všetci organizátori výstav v SZCH poznajú pravidlá FIFe
organizátorka žilinskej výstavy ich nepozná. Nabudúce nebudeme riskovať a budeme hlásiť tam, kde ovládajú FIFe show rules..........
otvorila som si FIFe Rules a tu ich máme"
3.4 Admission to Shows
Cats must have the tips of the nails cut before arrival at the show hall.
Admitted to shows are:
– tattooed cats.
Not admitted to shows are:
– lactating queens
– pregnant queens
– de-clawed cats
– deaf cats
– cats with docked tails
– cats with cropped ears
– unneutered house cats aged 10 months or older.
Pre tých ktorí anglicky nevedia, na výstavy nemožu íst mačky domáce nekastrované 10 mesačné a staršie....
Ja som obyčajný vystavovateľ a nieje mojou povinnosťou ovládať všetky FIFe show rules. Tie ale MUSI ovládať organizátor výstavy.
, taktiež posudzovateľ mačiatka pán Albert Kurkowski. Pravidlá sa každoročne po FIFe GA menia, treba sa vzdelávať :-)) Neviem či to je smiešne alebo smutné, skor smutne.Nikto neodškodní moje 10 ročné dieťa ktoré vdaka nevedomosti alebo zákernosti niekoho iného muselo prežiť také sklamanie :-((( Bohužiaľ, i o tom sú výstavy.......
Some more pictures from this show :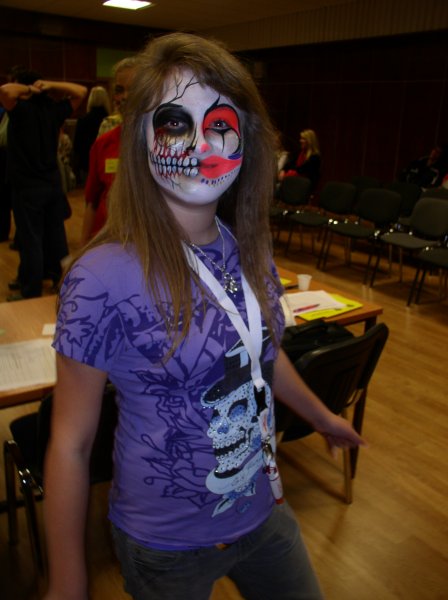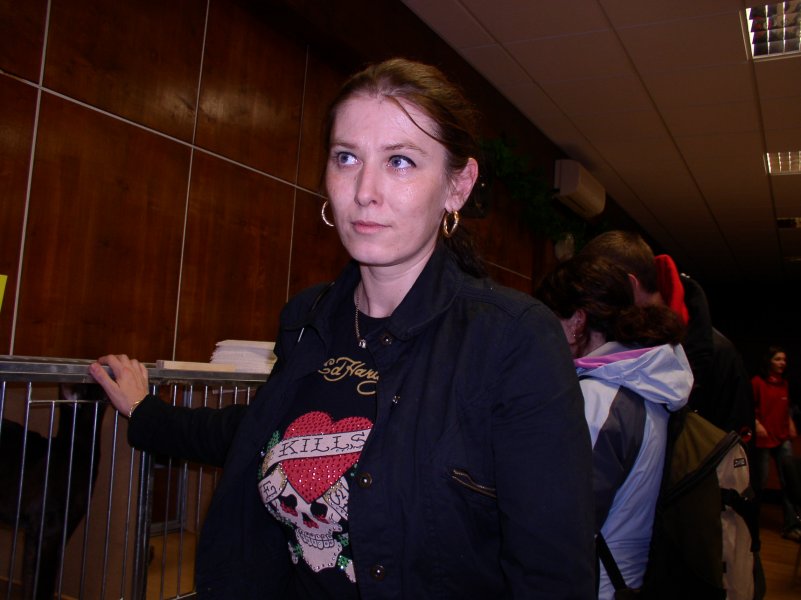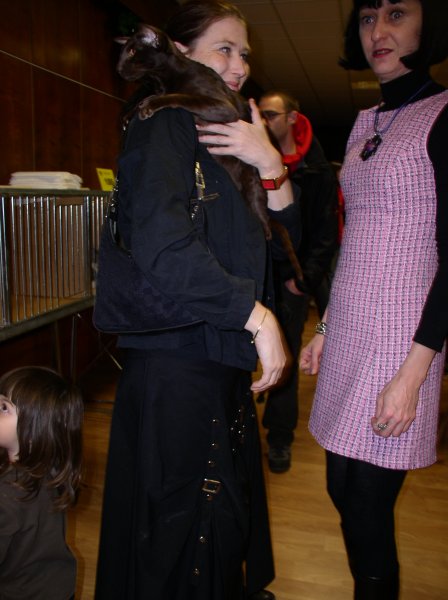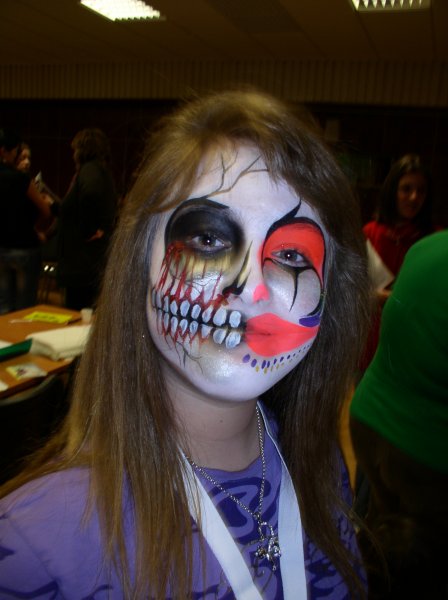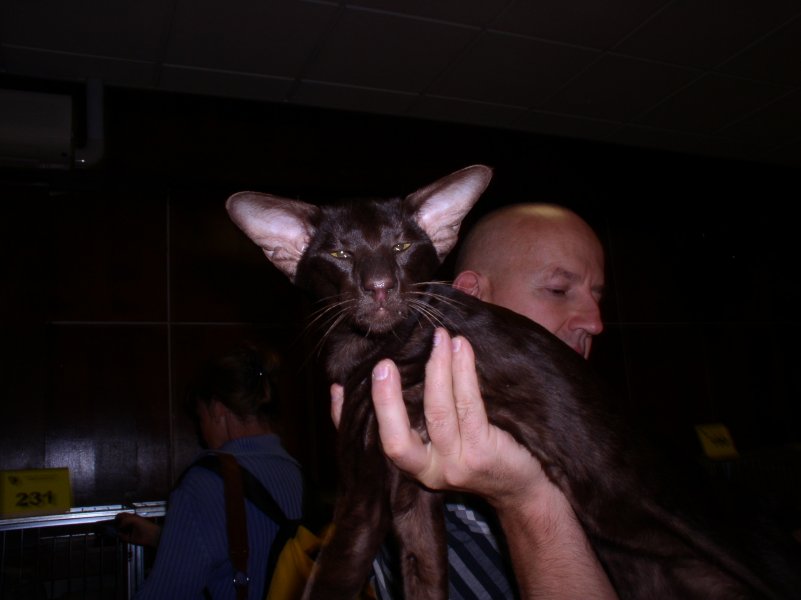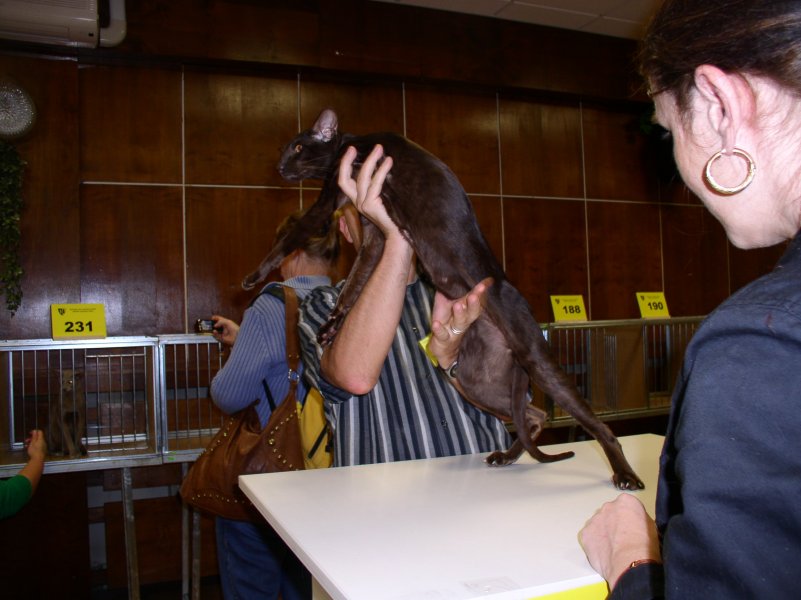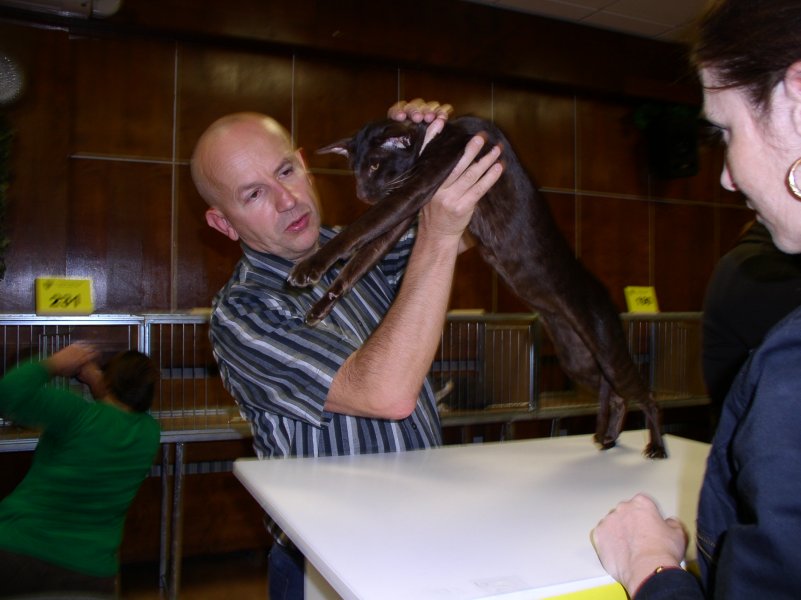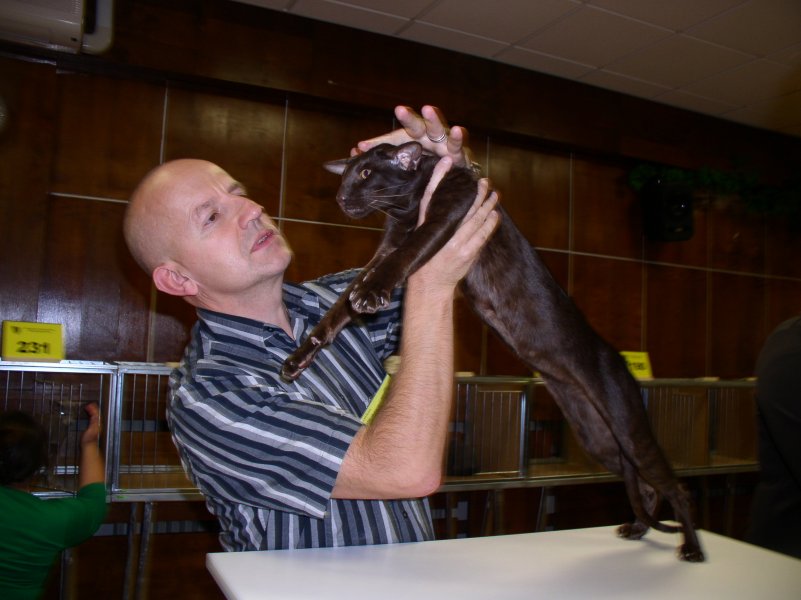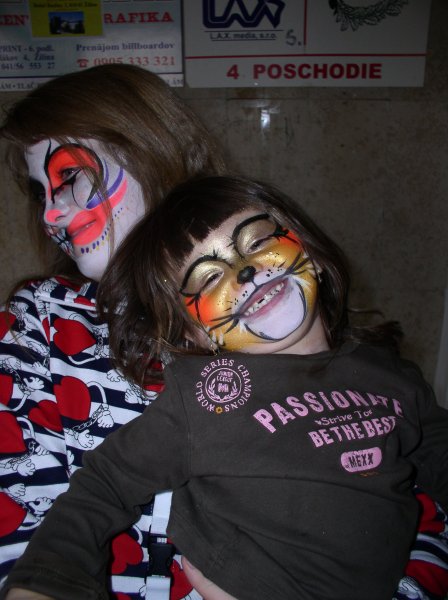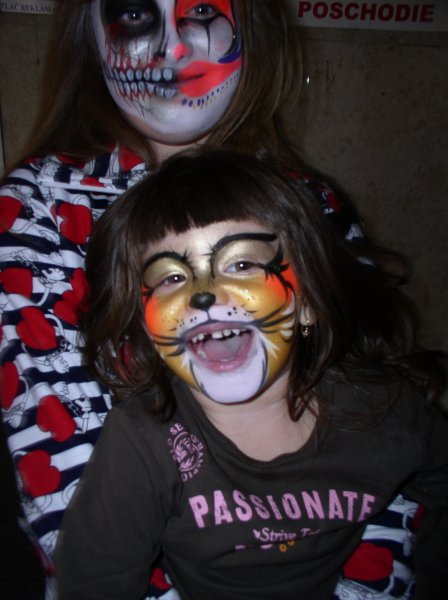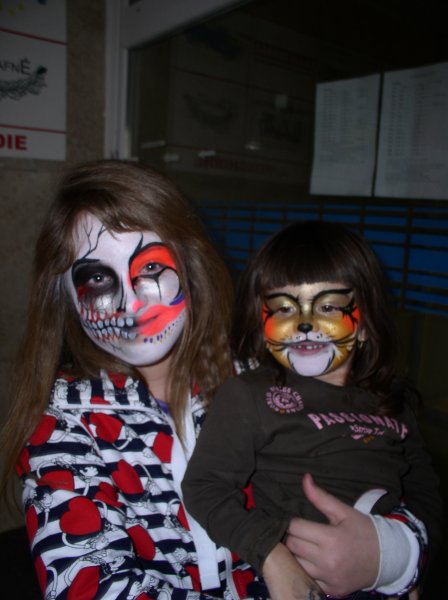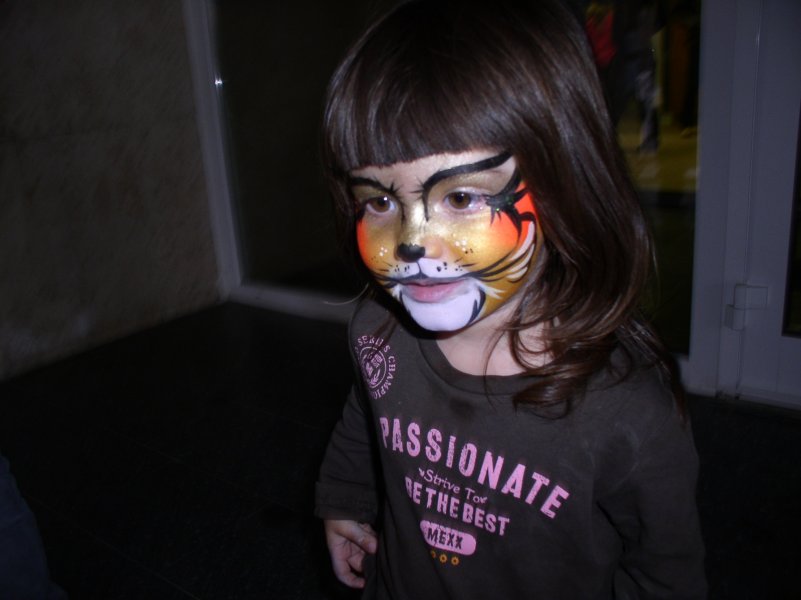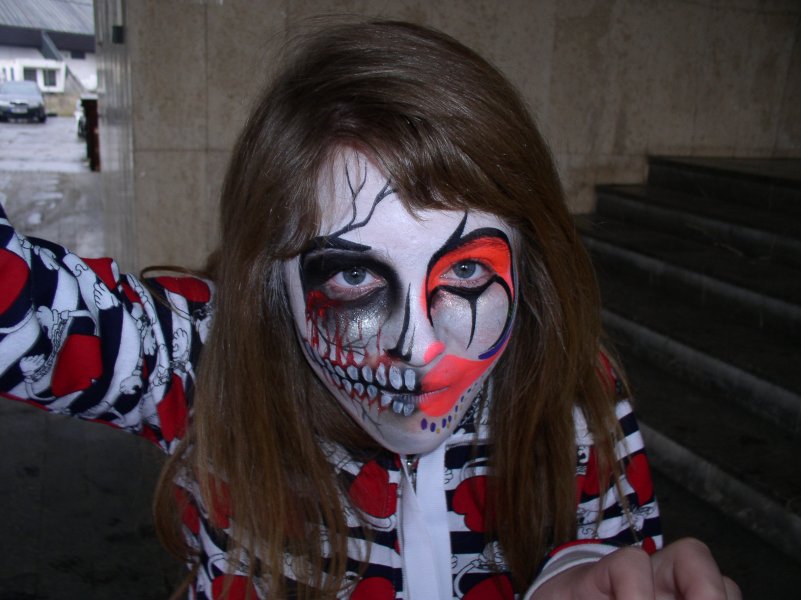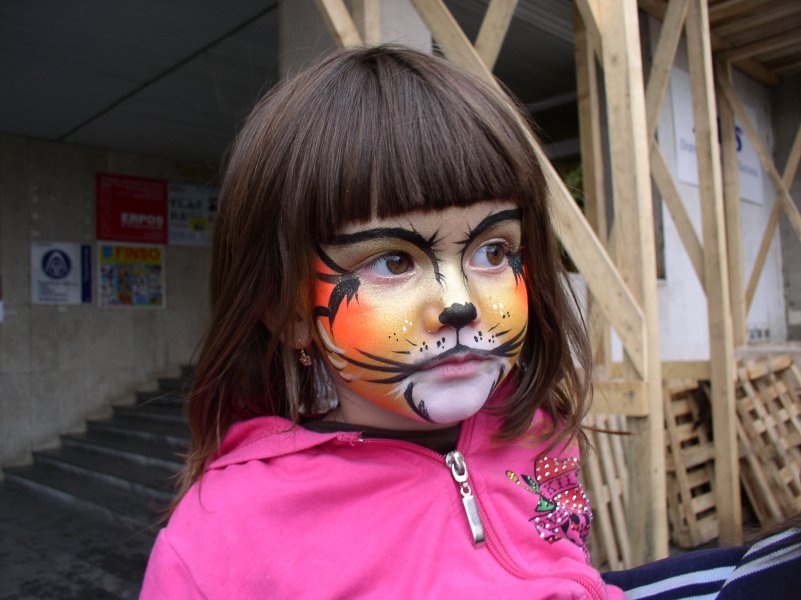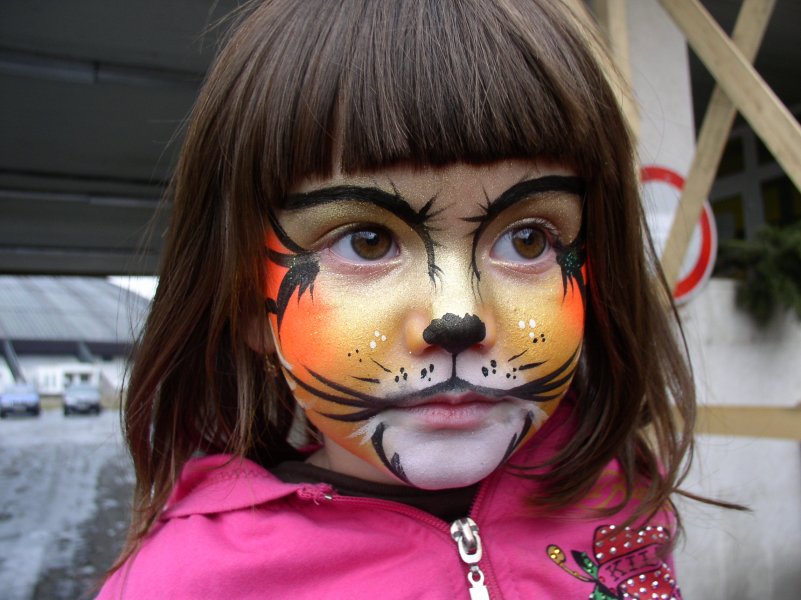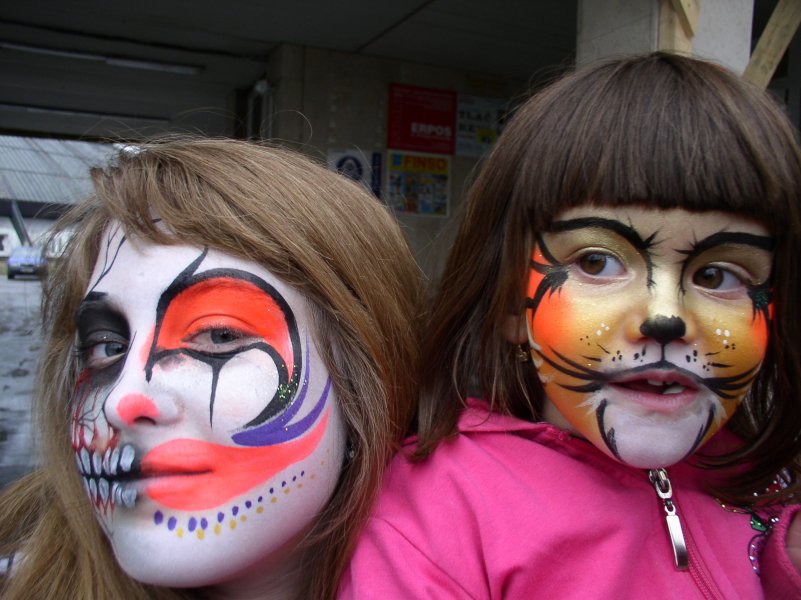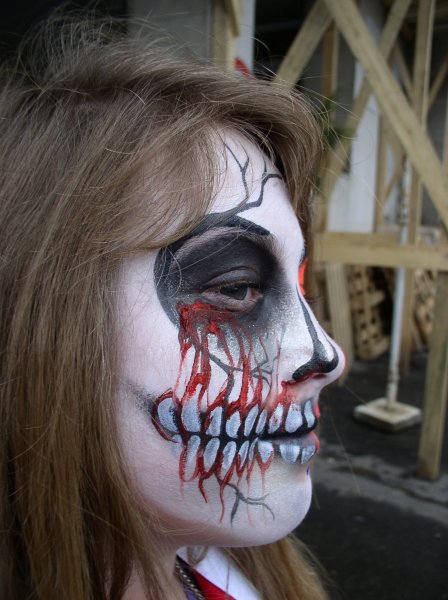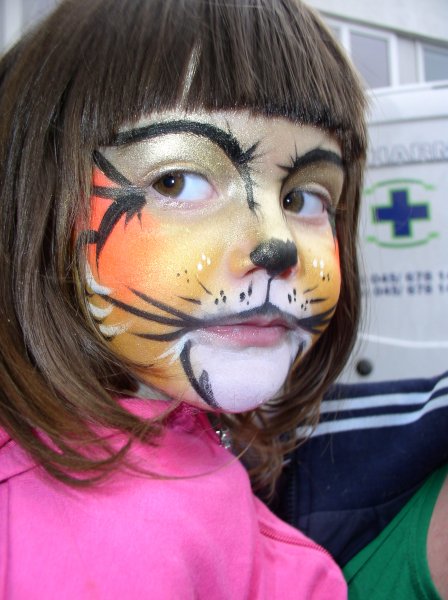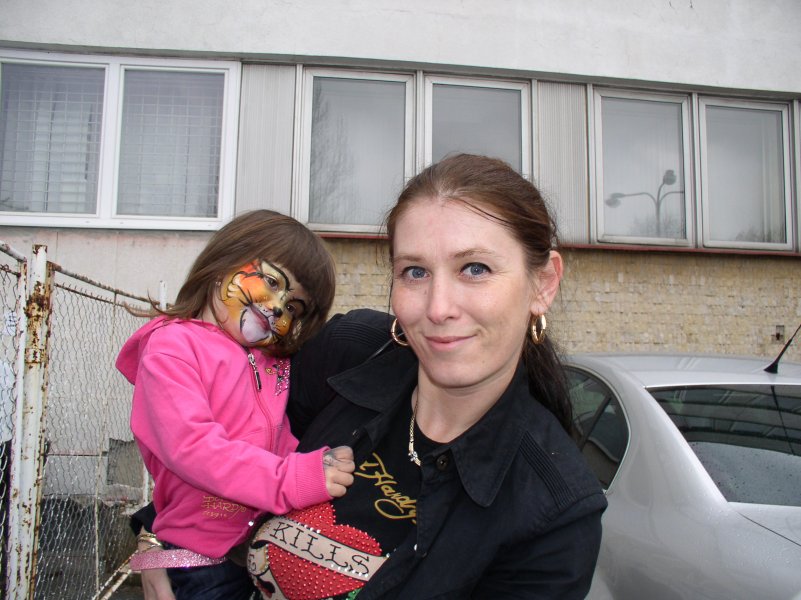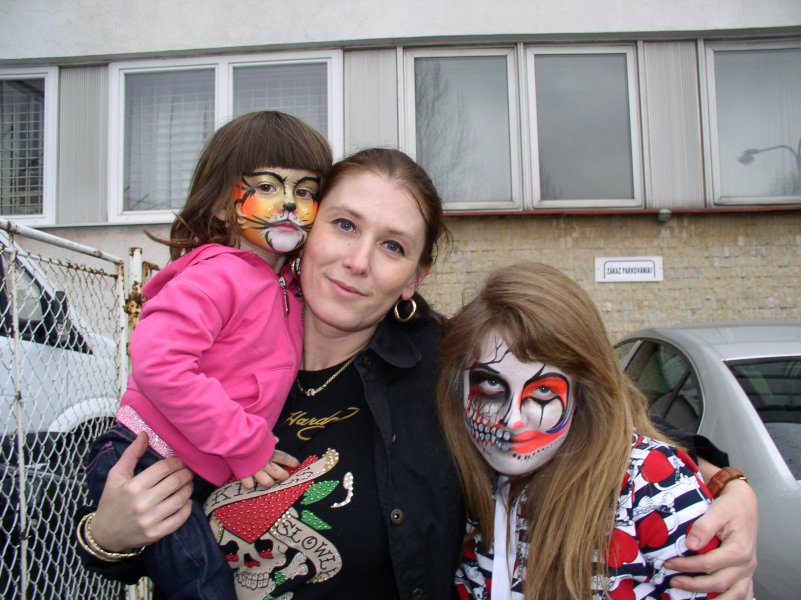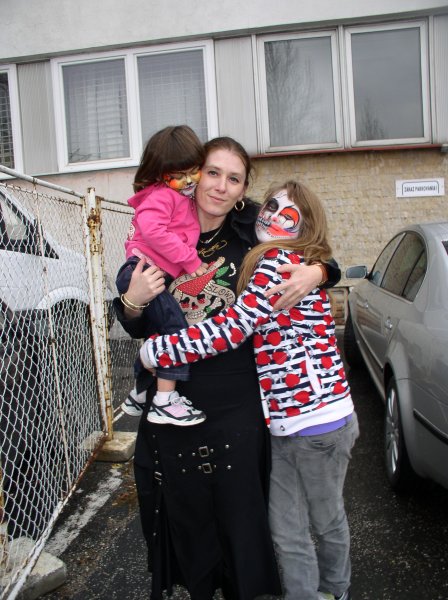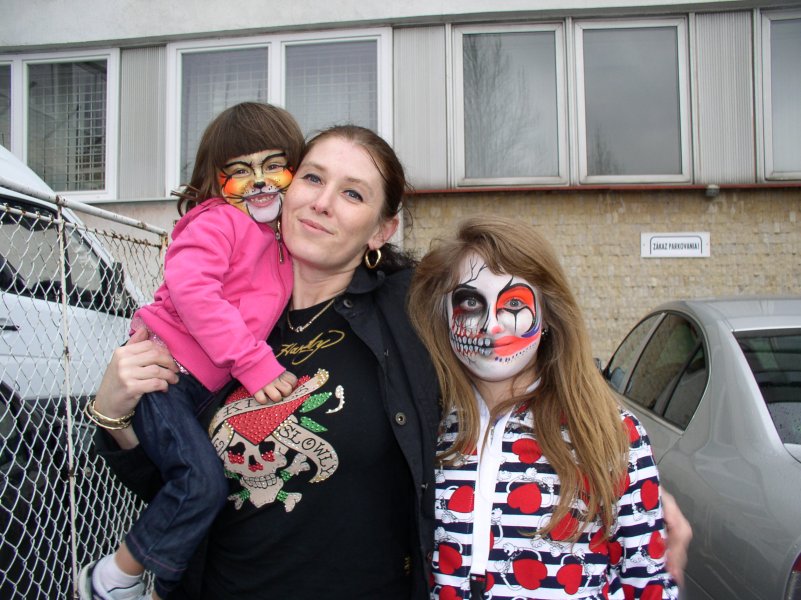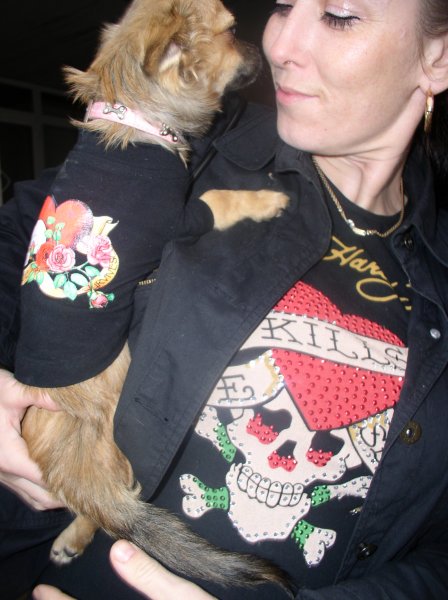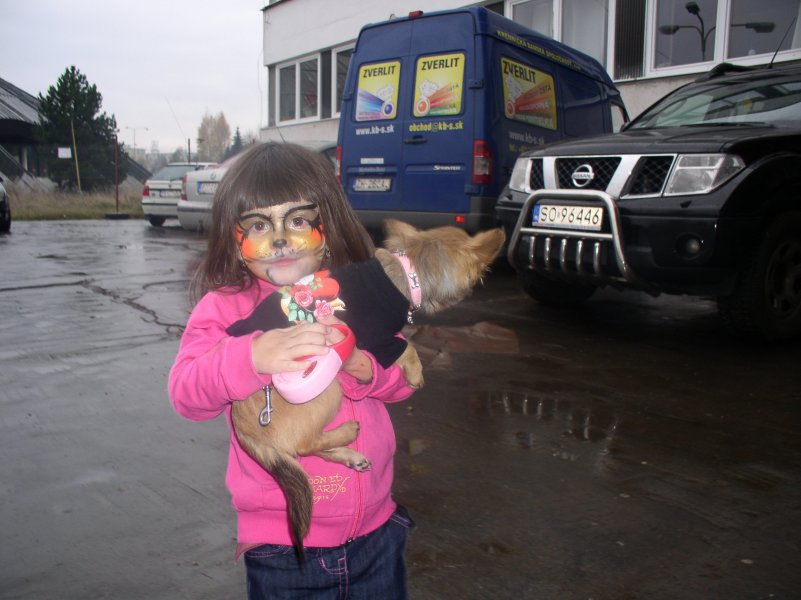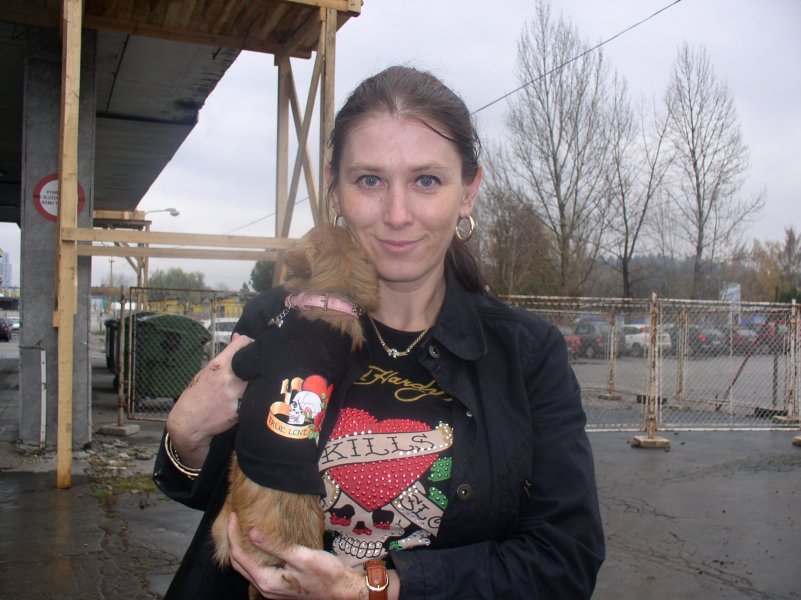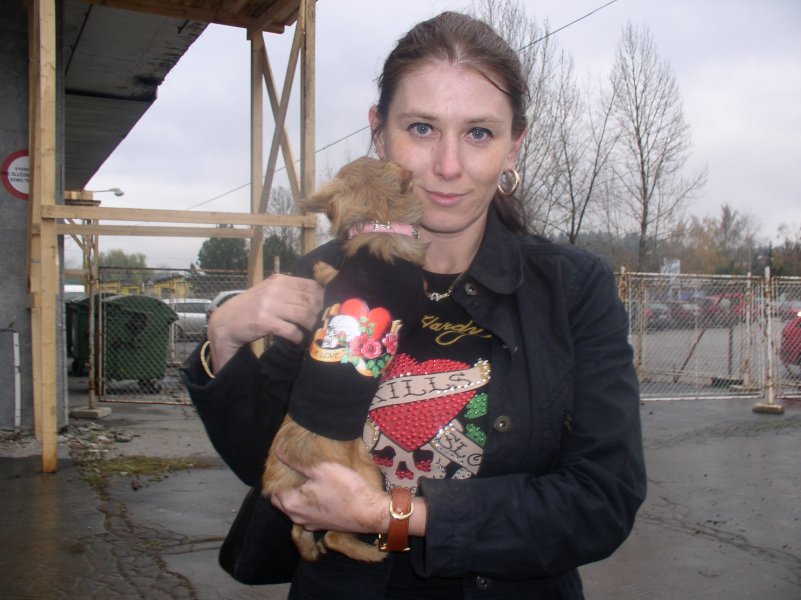 Show Vienna 31.10 2009
We showed our domestic male named Oom Eric Loves Me and boy won in big concorention, there were two very nice adult domestic boys and one female and our boy was the Best !!! :-) His owner, my daughter Alessia was very proud of Eric. Judges loved his beautiful tabby marbled markings with white. I believe, when I sow him first time I was in love too :-)
Here are few pictures from this show :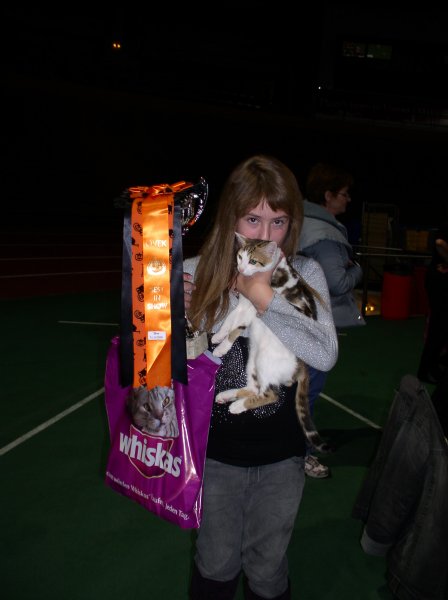 Alessia a Eric po BIS, dostali veľmi aktuálnu kokardu...a veliký pohár, to by si
organizátori na SK mohli brať kľudne príklad...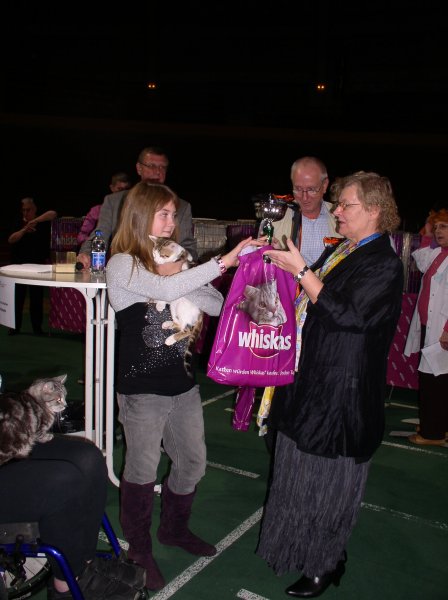 Lisi Steinhauser, presidentka rakúskeho Oveku odovzdáva ceny za BIS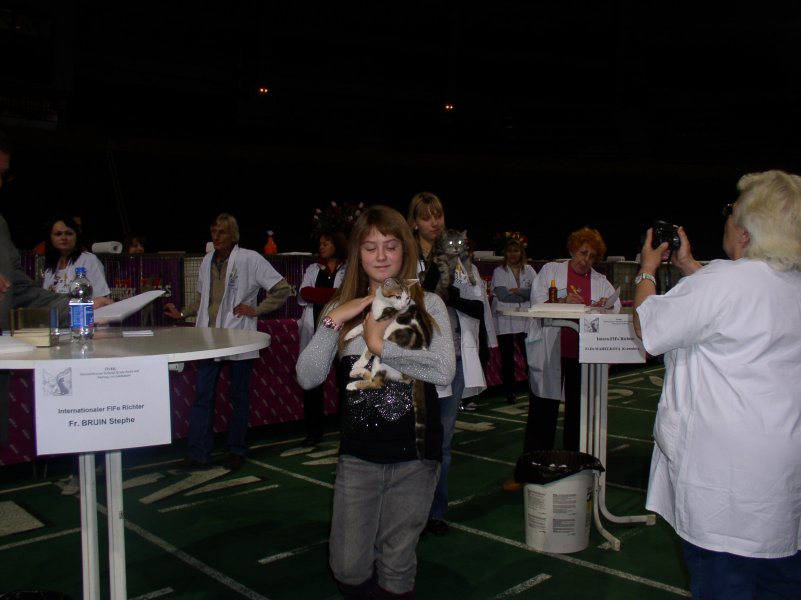 Alessia pozuje rakúskej fotografke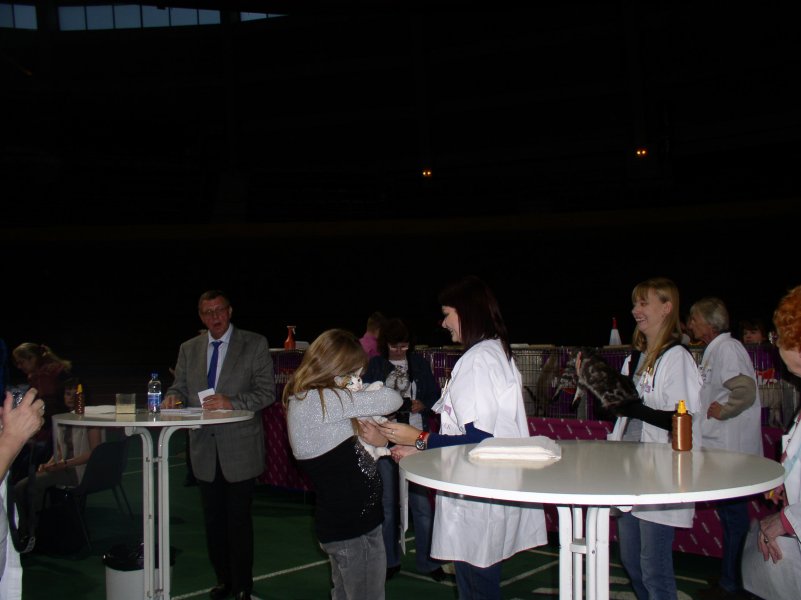 Romanka, náš skoro osobný steward odovzdáva Ericovej mamine :-)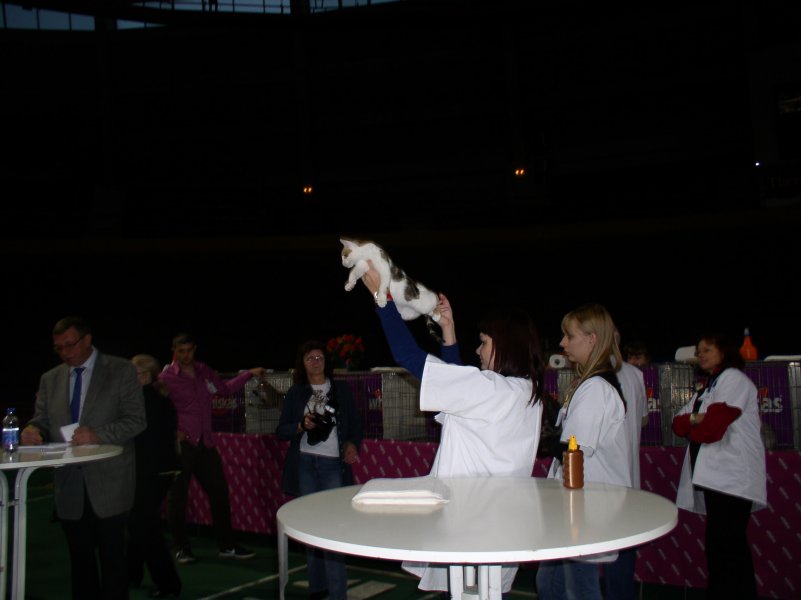 A tu je víťaz, Ericova prvá výstava a hned obrovský úspech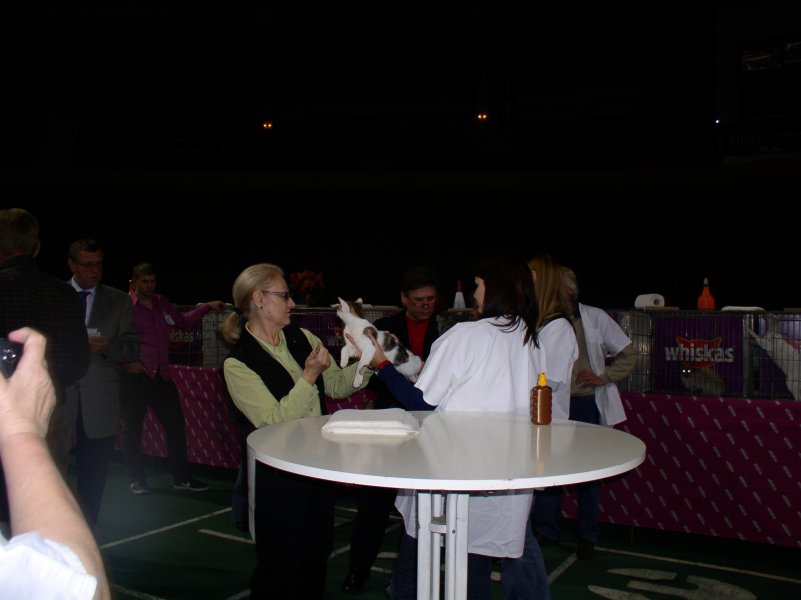 Stephe Bruin si obzerá nášho miláčika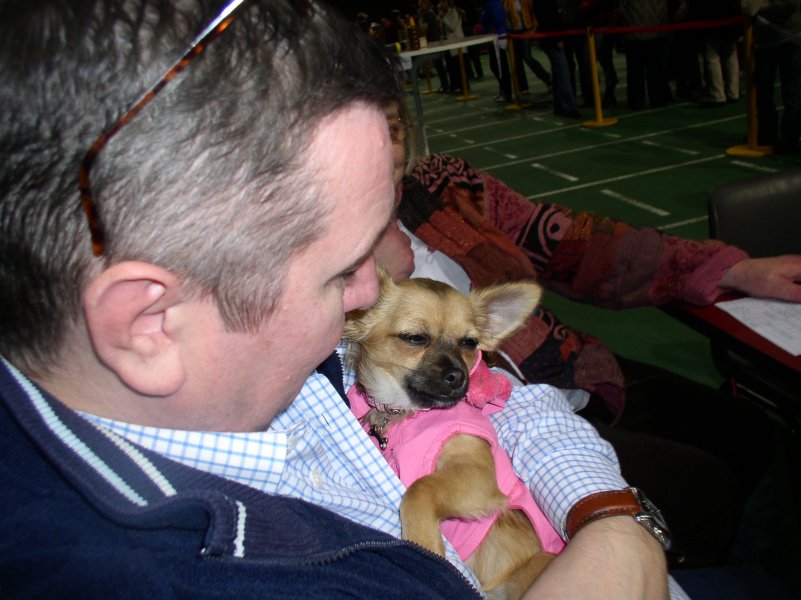 Eric, generálny sekretár FIFe si skoro adoptoval našu Lujzku, nakoniec sme ju nedali ale aspoň ho poriadne umyla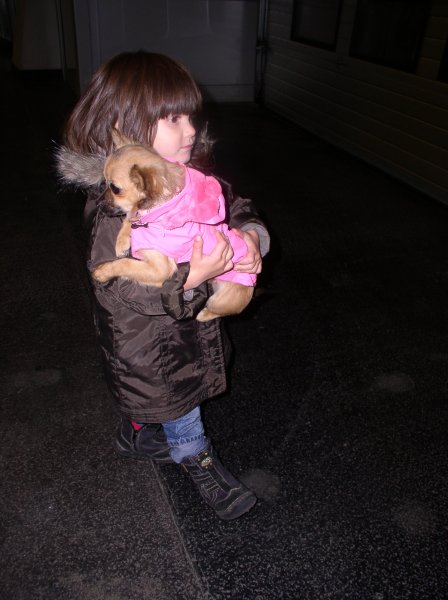 Zamirenka chodila poctivo venčiť Lujzku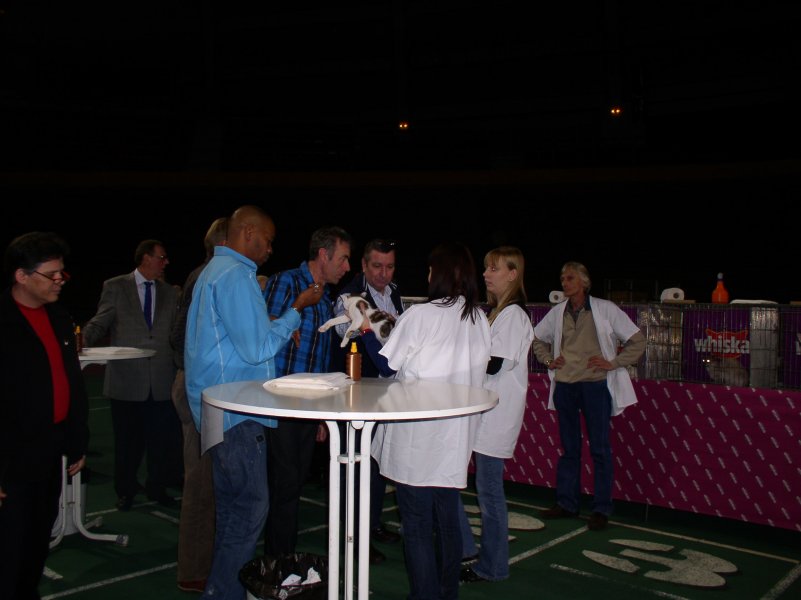 posudzovatelia si obzerali Ericov pattern, Ad bol unesený, ved sme to vedeli ked sme meno vyberali :-)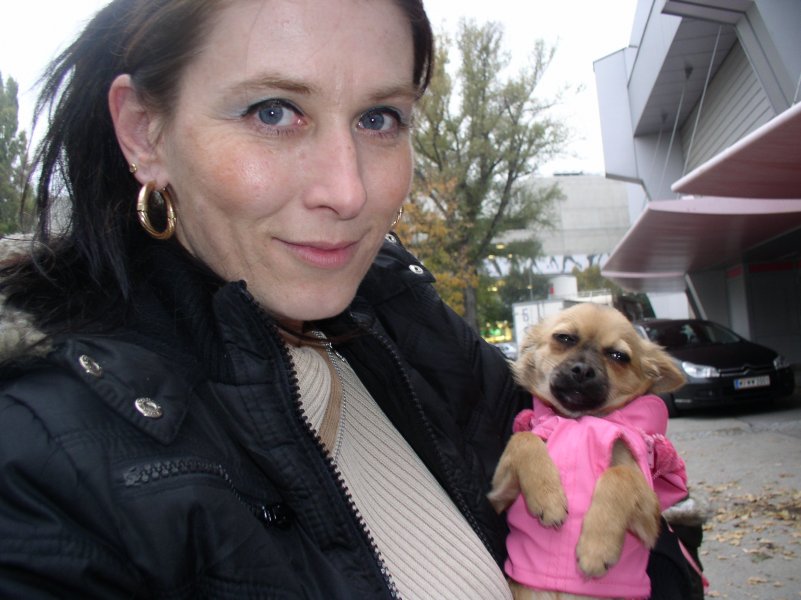 Lujzka, prestávka medzi posudzovaním a Best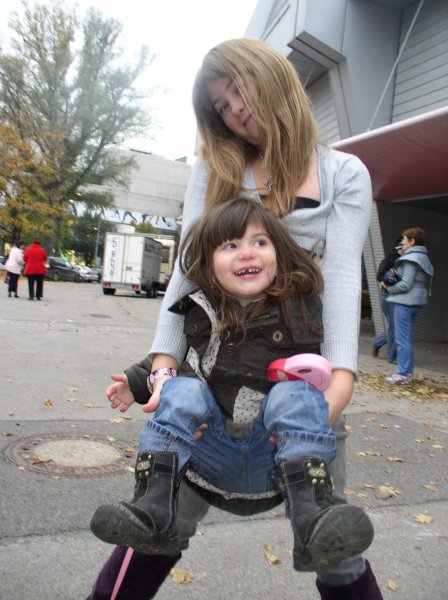 Deti využijú každú voľnú chvíľu, nezabudli blbnúť ani na výstave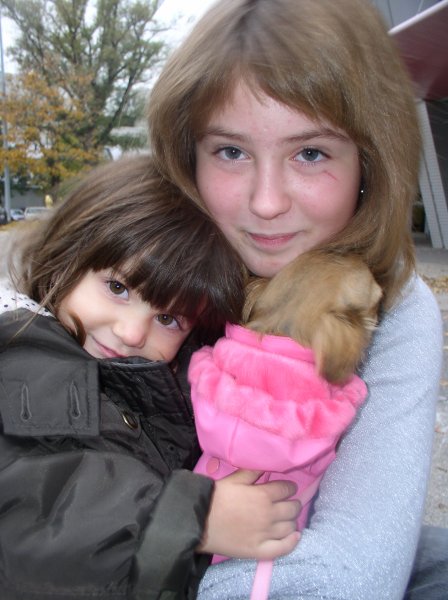 Mamine lásky :-)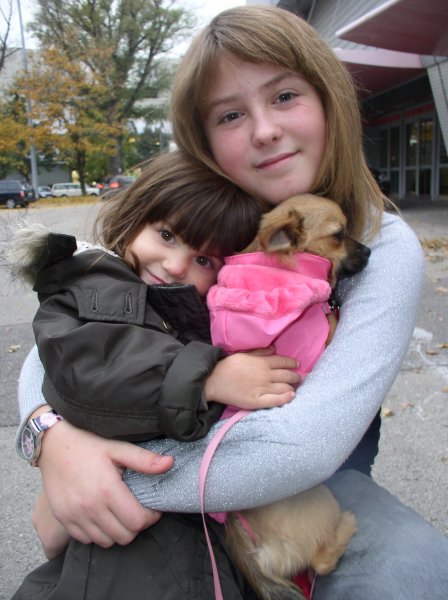 Mamina princeznička, Zamirka miluje výstavy, celý deň si nesadne ani na chvíľu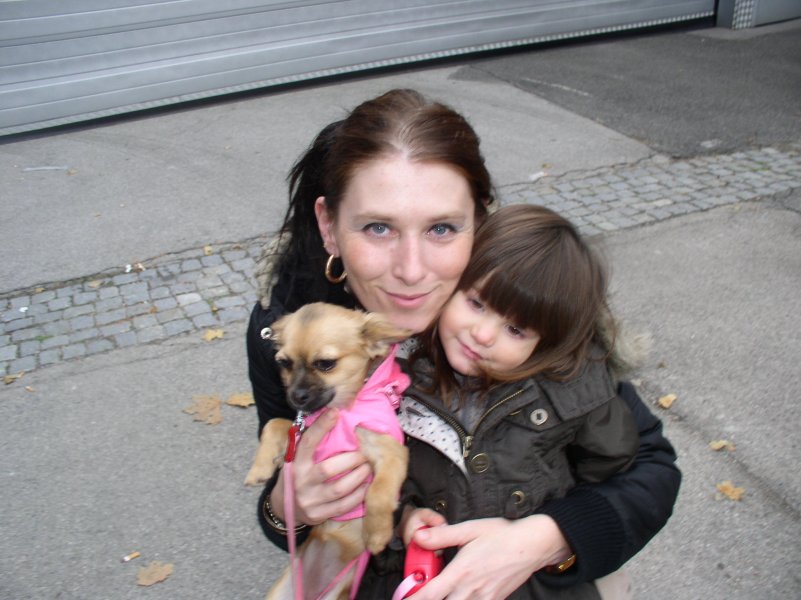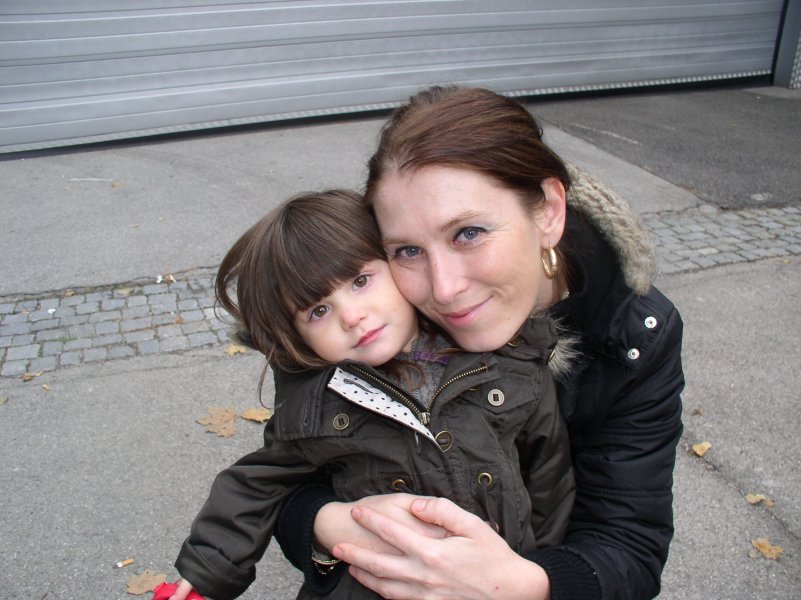 No nie je nádherná ??? :-))) maminka veľa ľúbi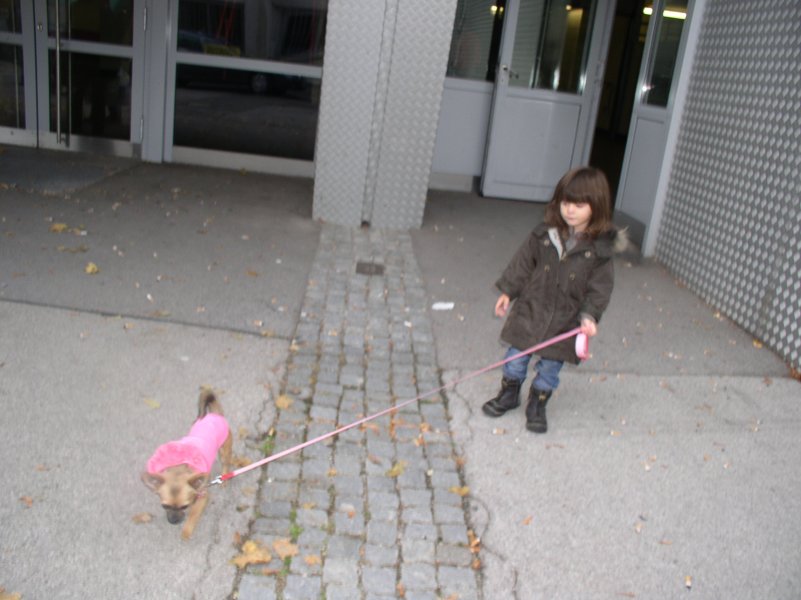 Zamirenka venčí Lujzku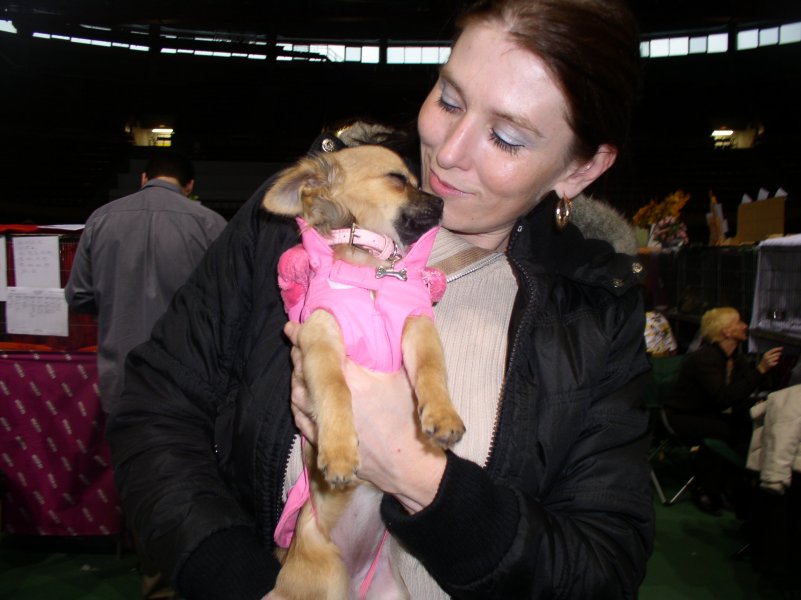 Lujzke je celkom jedno kde sa nachádza, podstatné že ju mamina nosí na rukách, doteraz sme nosili len Zamirenku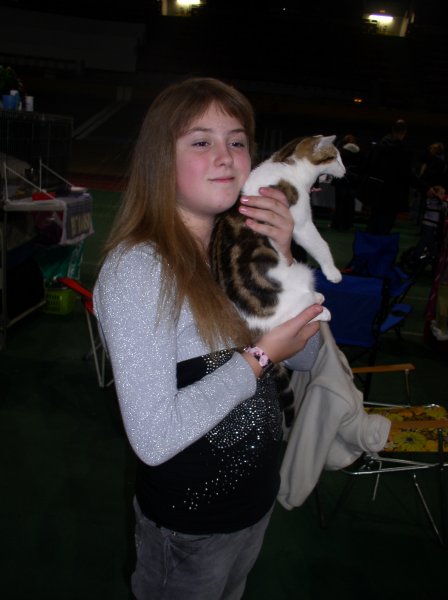 Ericsa práve zobudil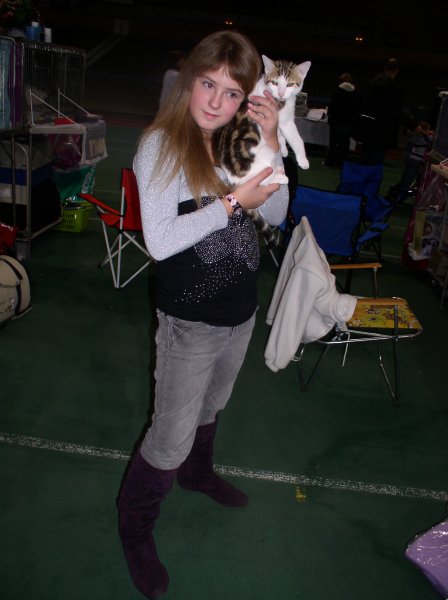 Mamina slečna a Eric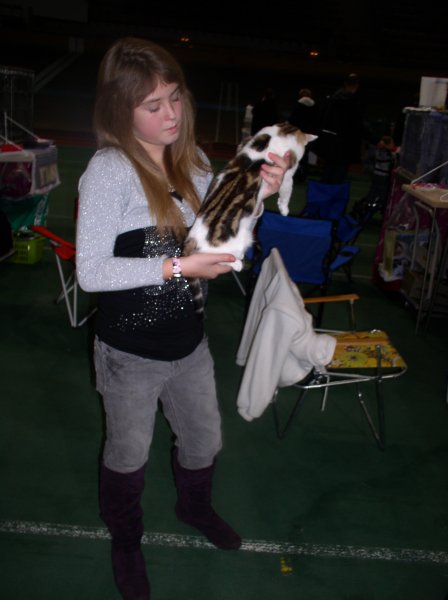 Alessinka pozuje s Ericom, pozrite na tú nádheru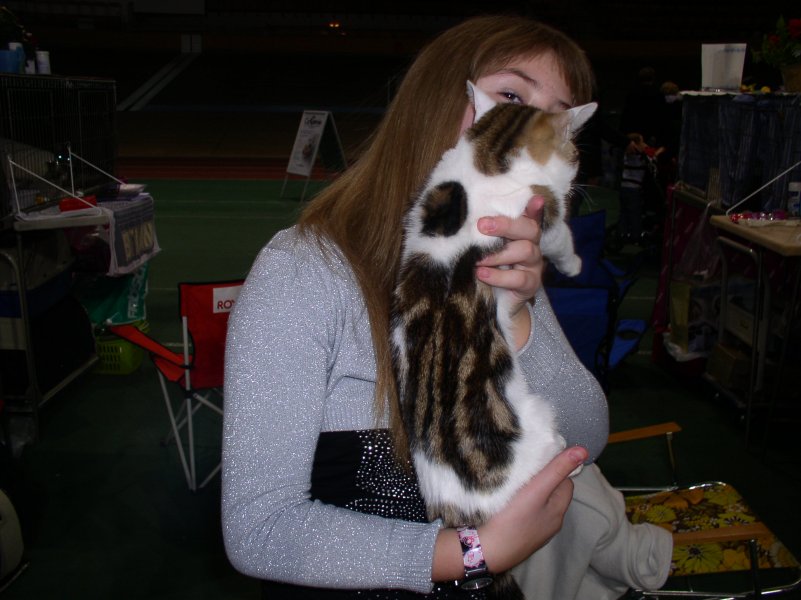 úžastný pattern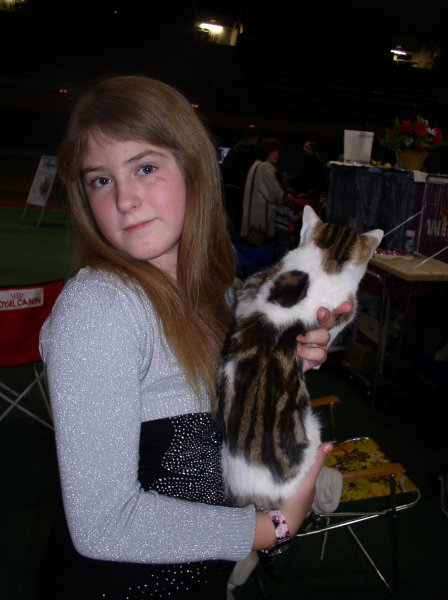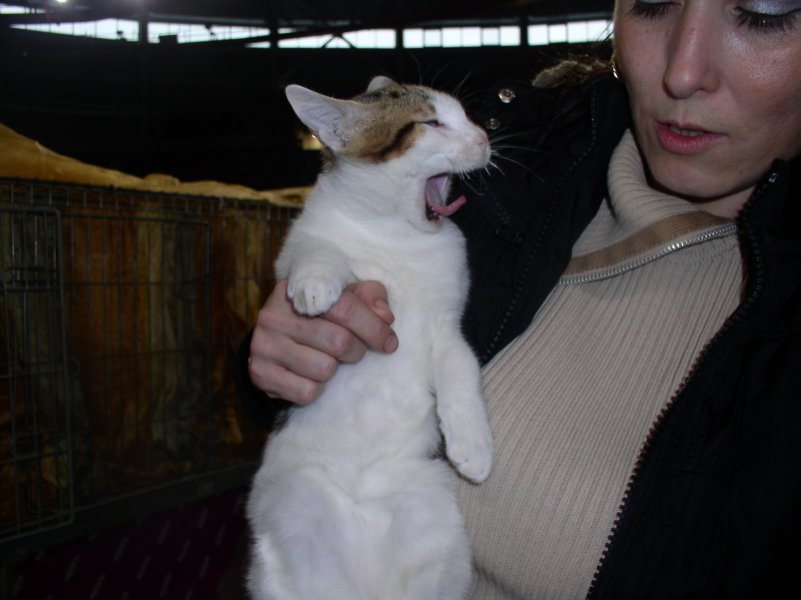 dobre ránečko všetkým ja už som hore !!!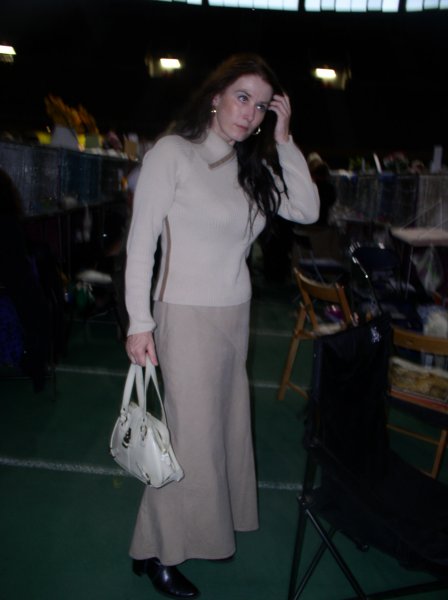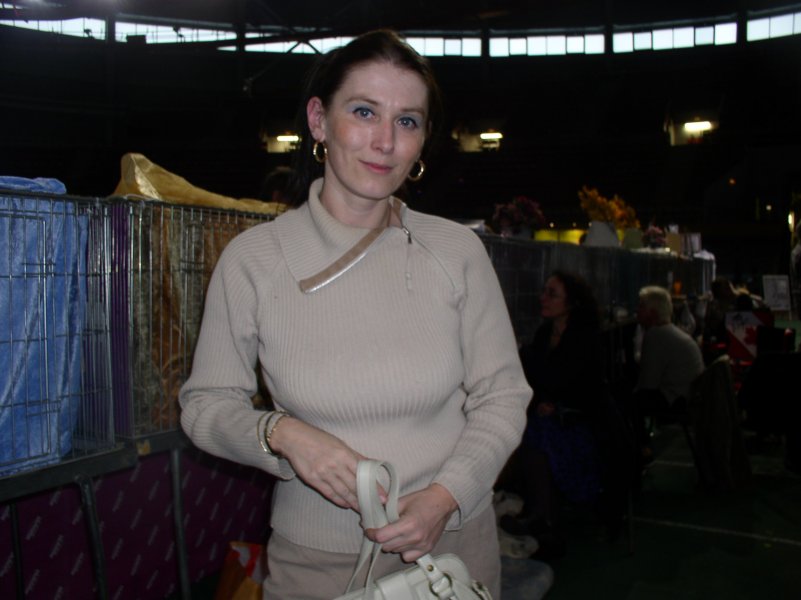 Ideme už konečne ?????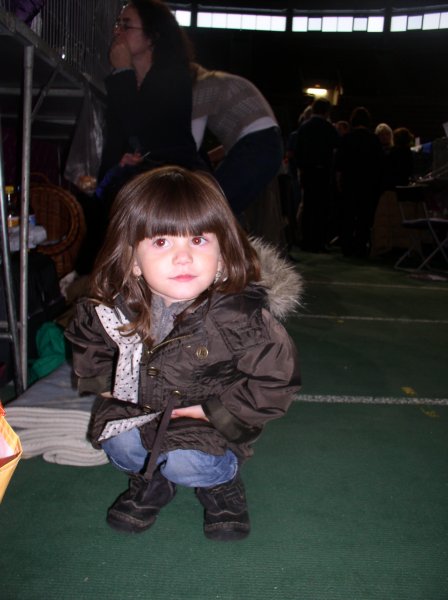 Zamirka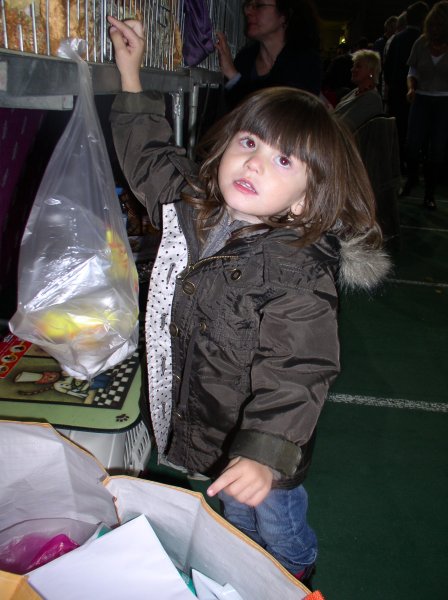 Zami upratuje :-)


Brake during the show - lunch in shopping centre close to show hall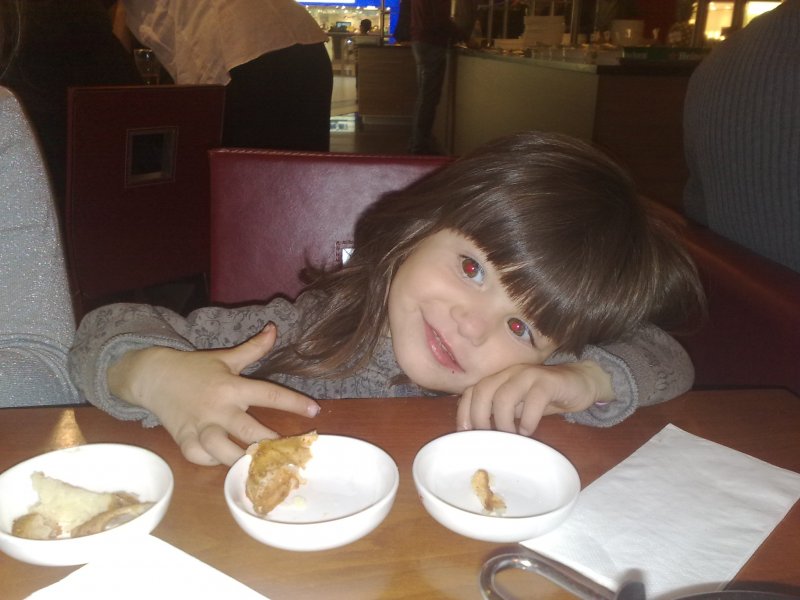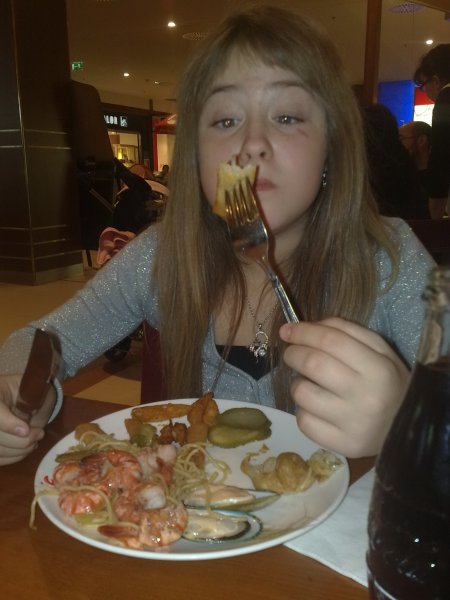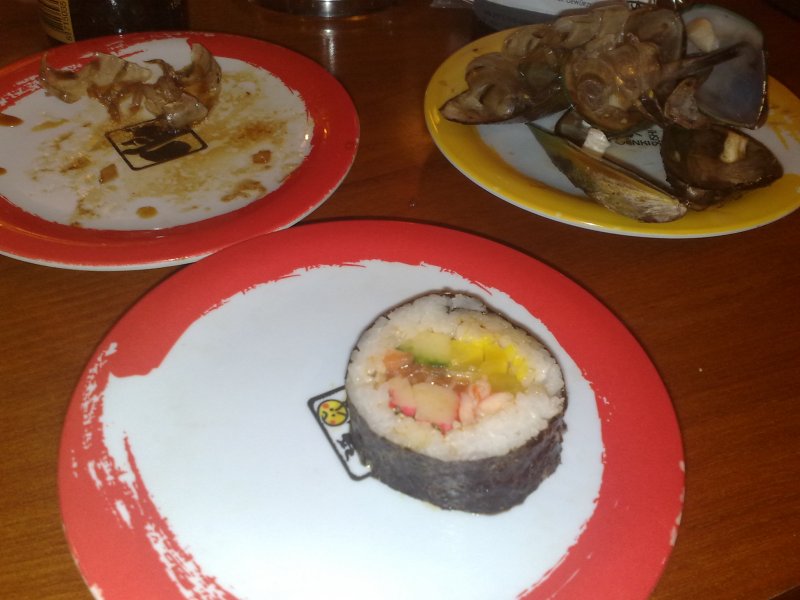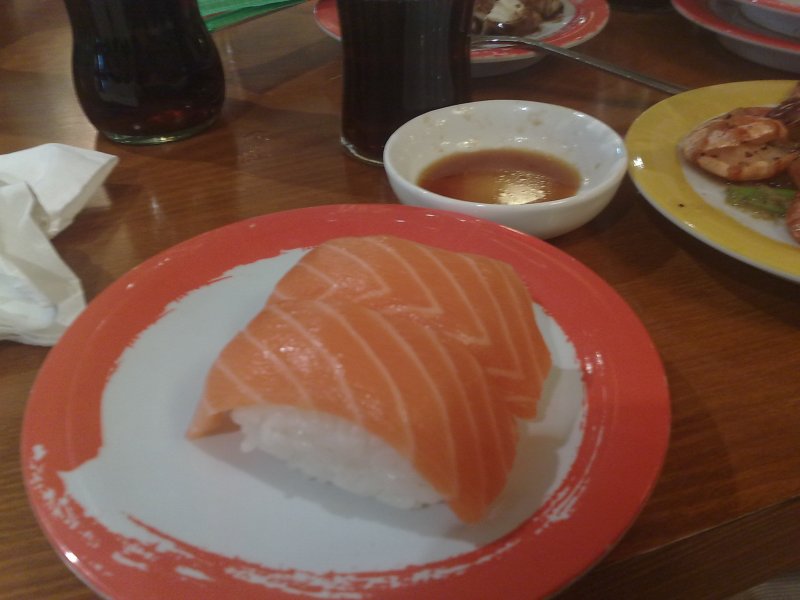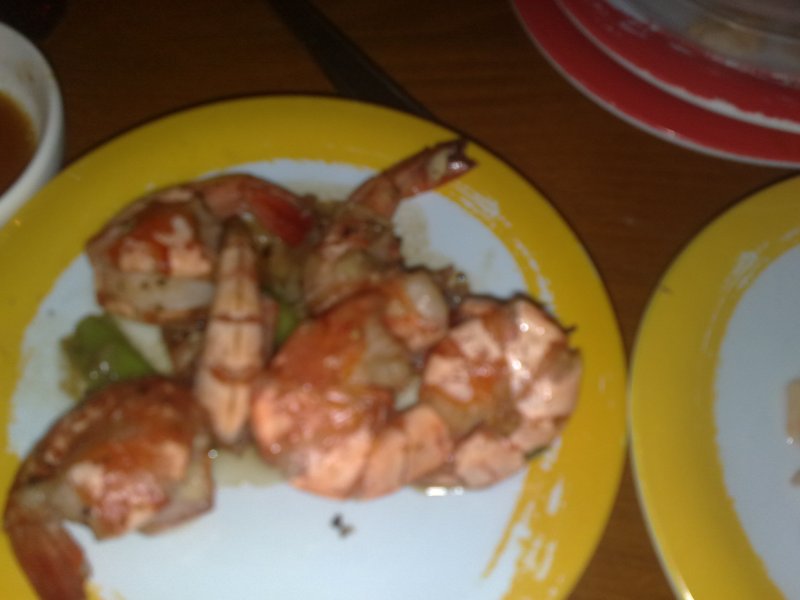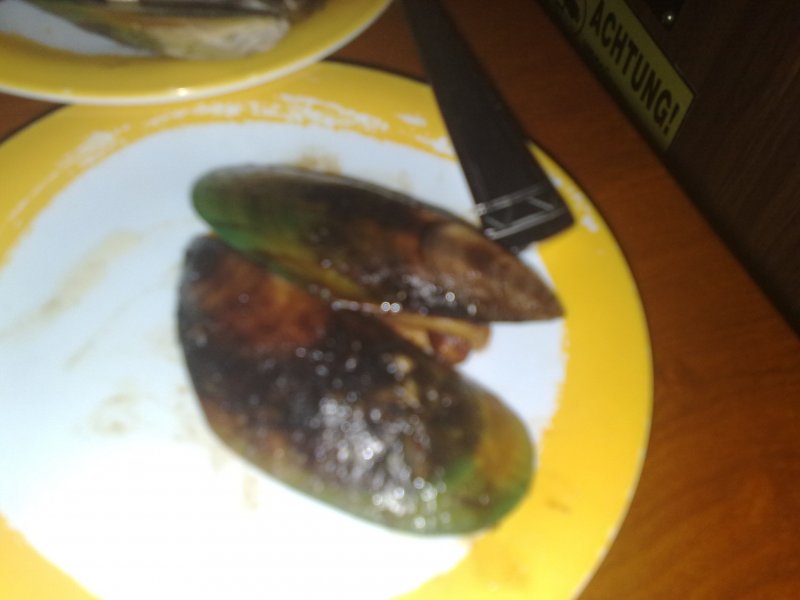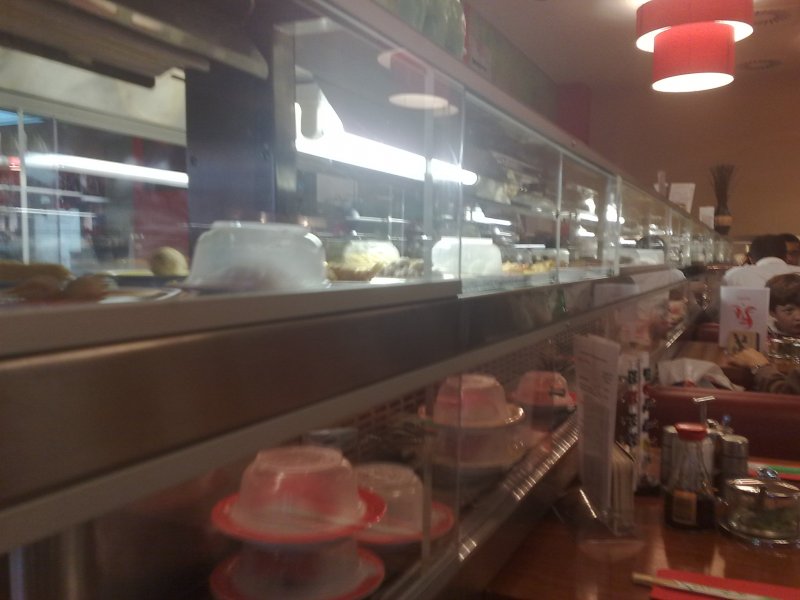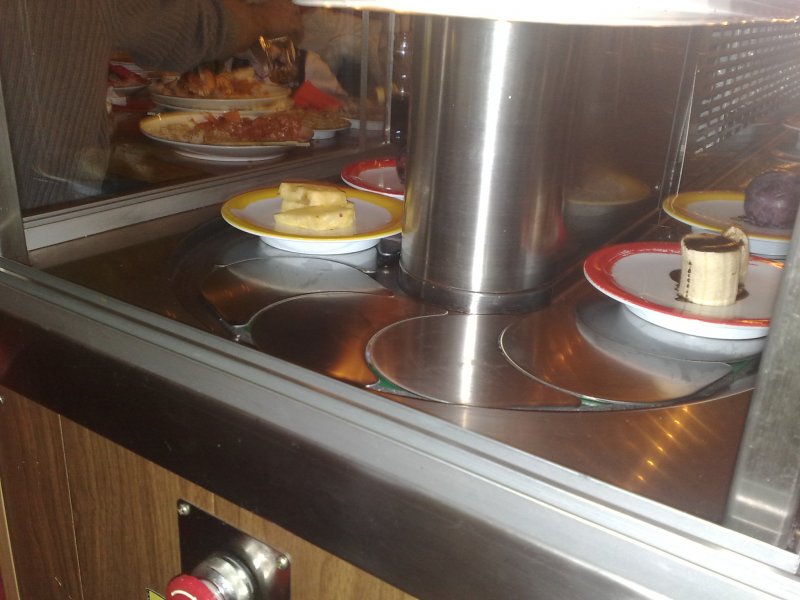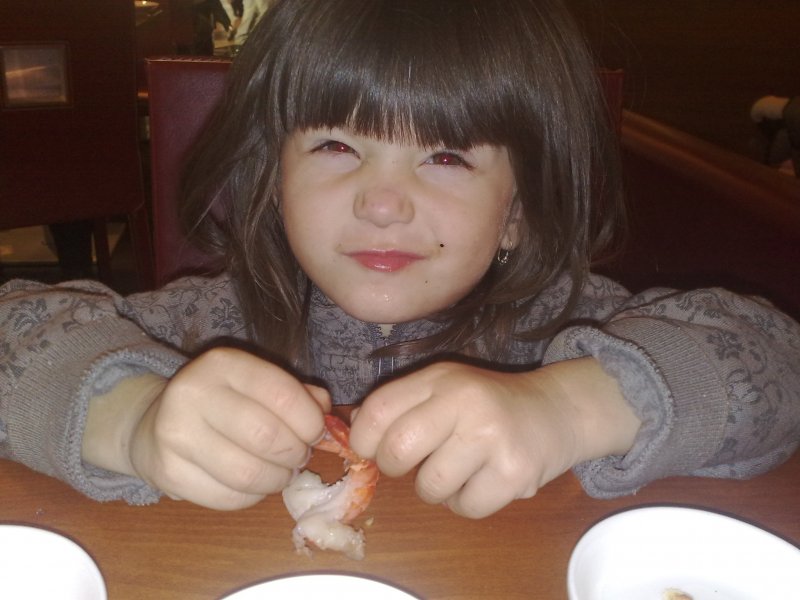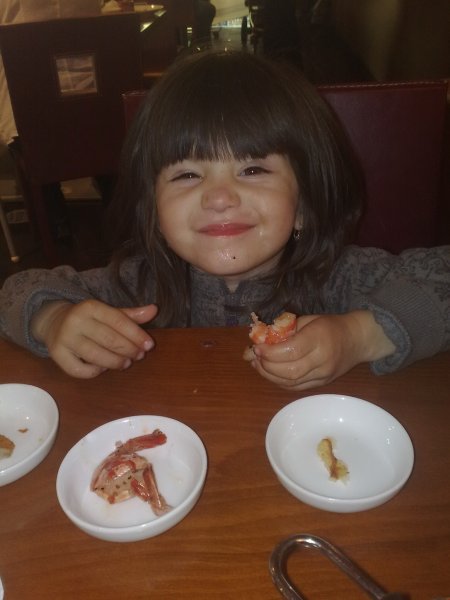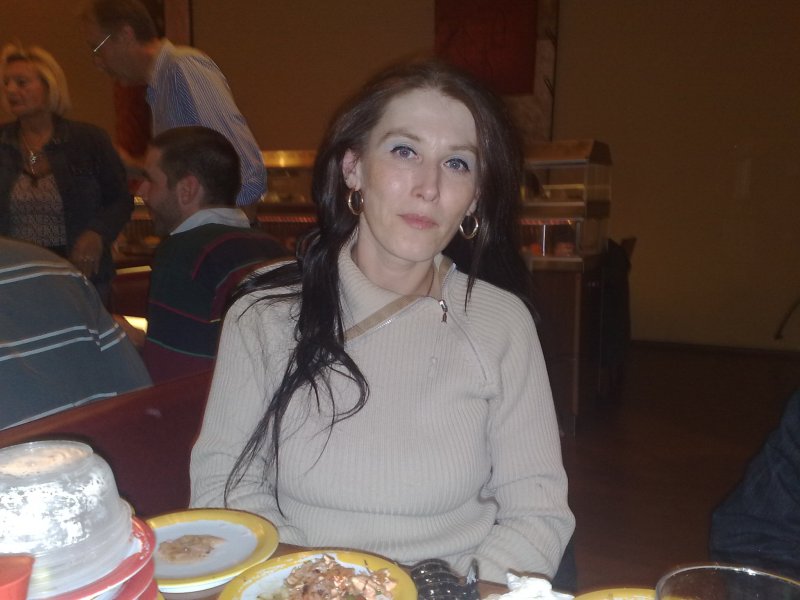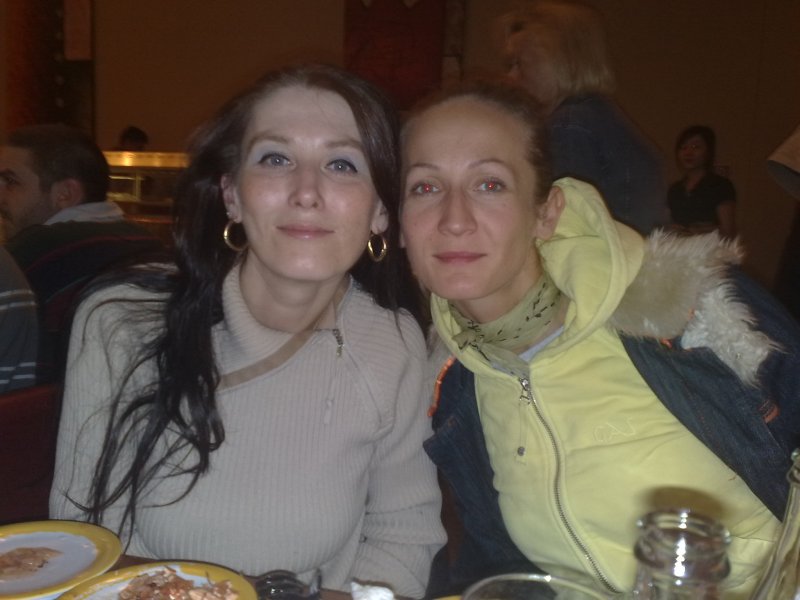 ********************************************************************************************************************************************



FIFe World Show 2009 St. Gallen - Swiss
Otello is World Winner 2009 !!!!!!!!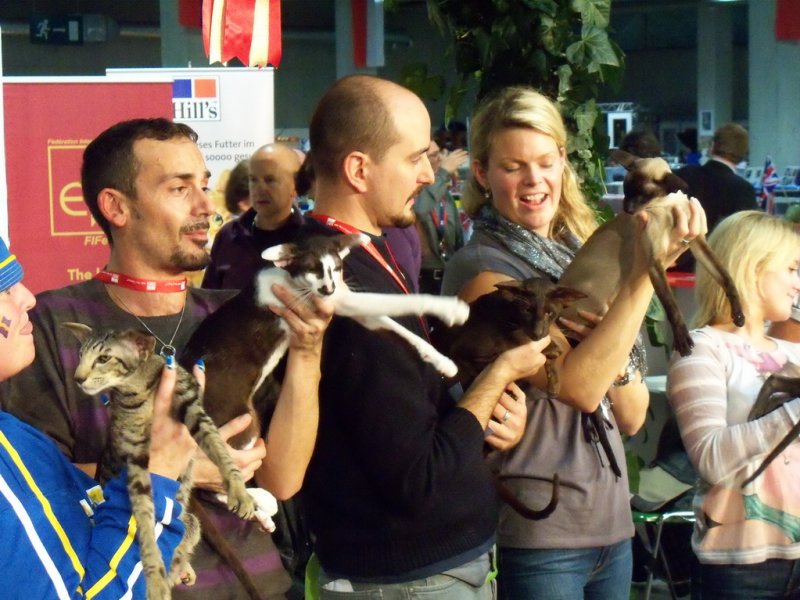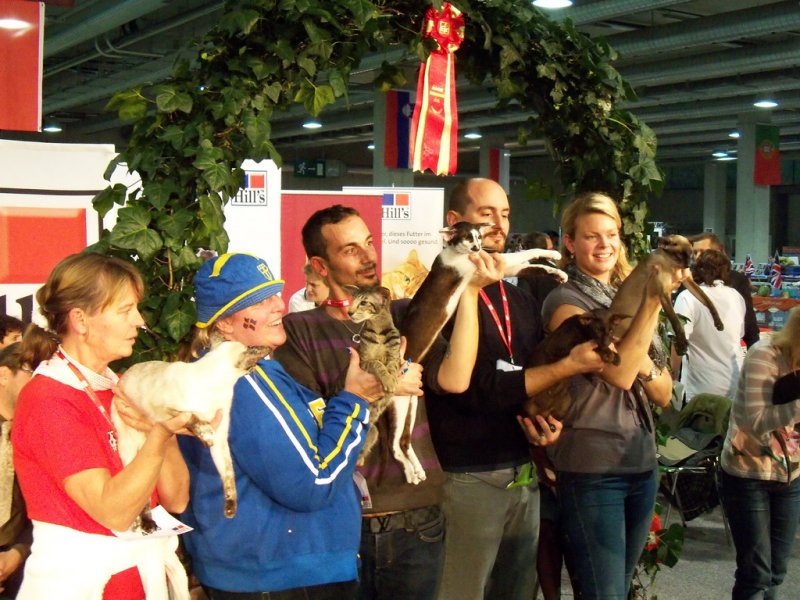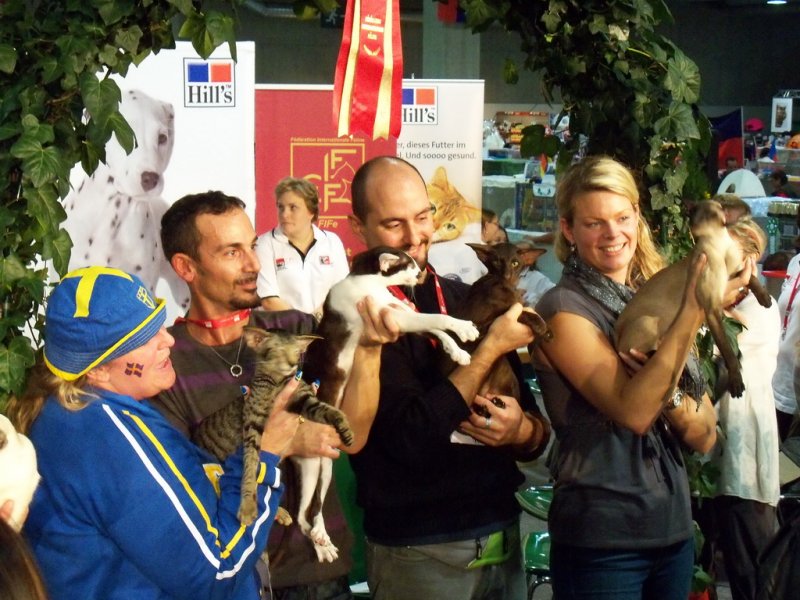 Many thanks for pictures from WS 2009 belongs to my fear friend Lena Venclikova from CZ and to Renatka Polakova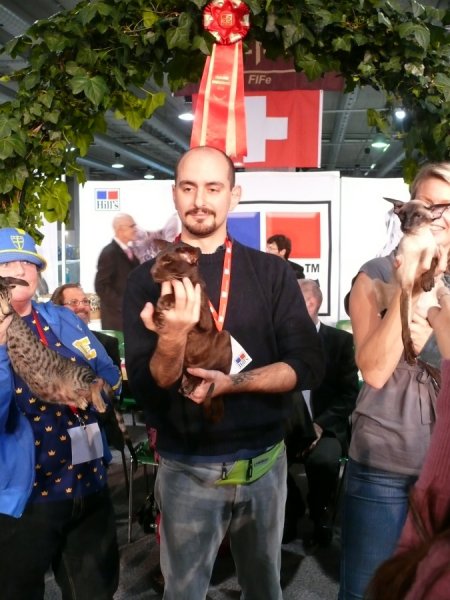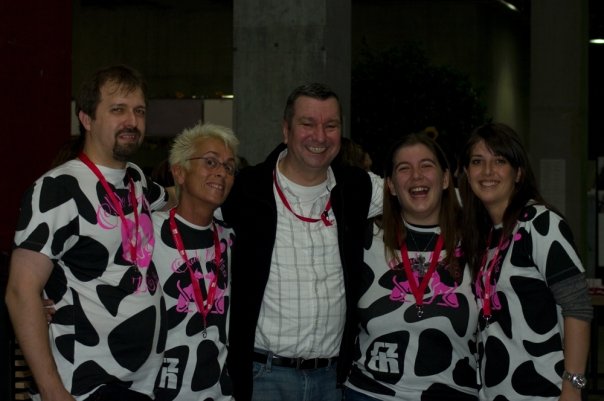 My beautiful members and Mr FIFe - Eric Reijers on World Show 2009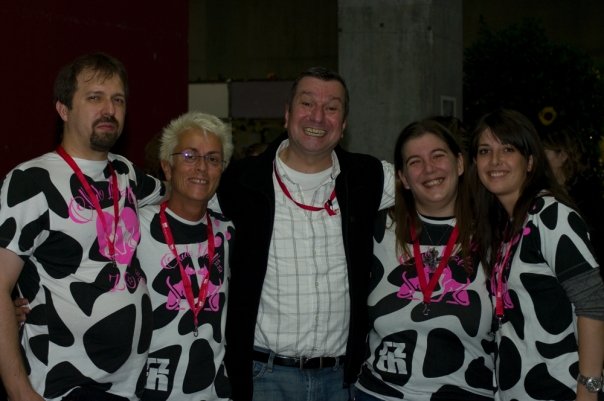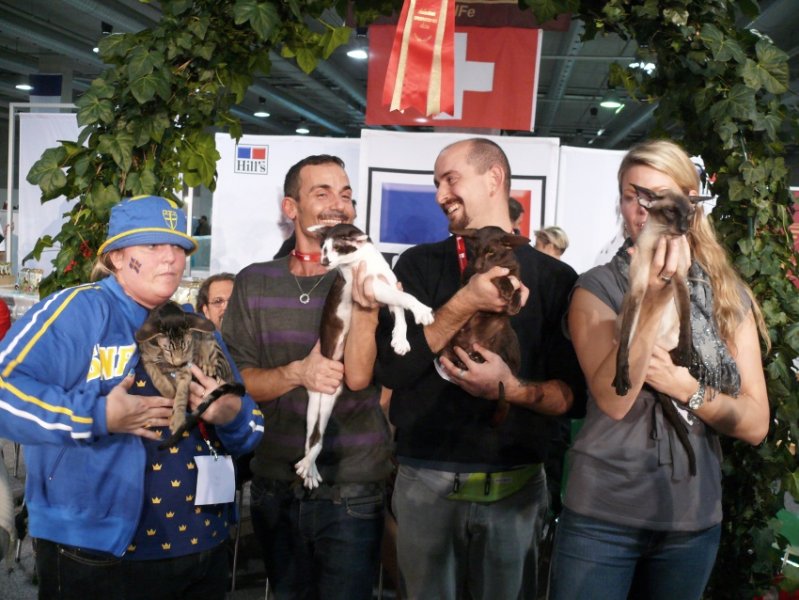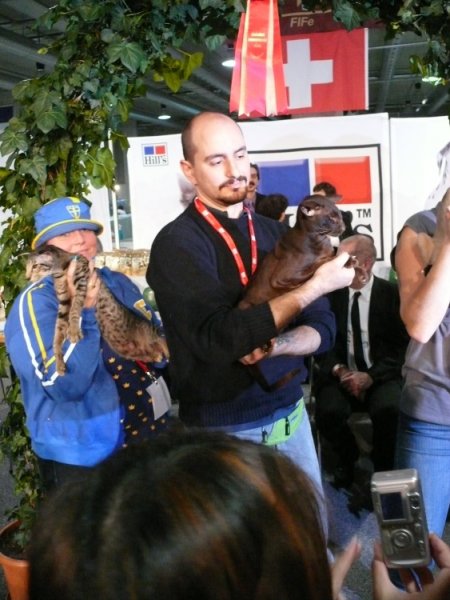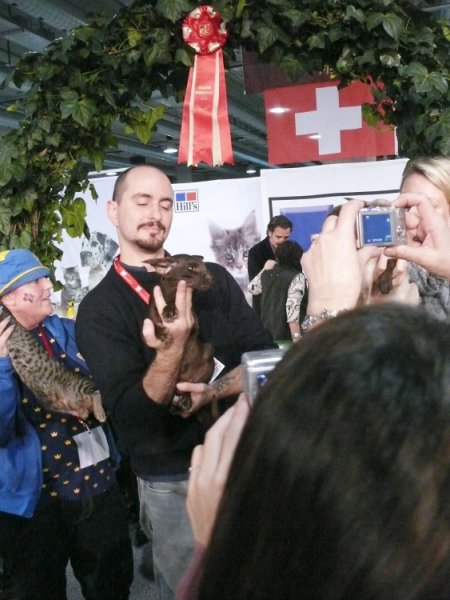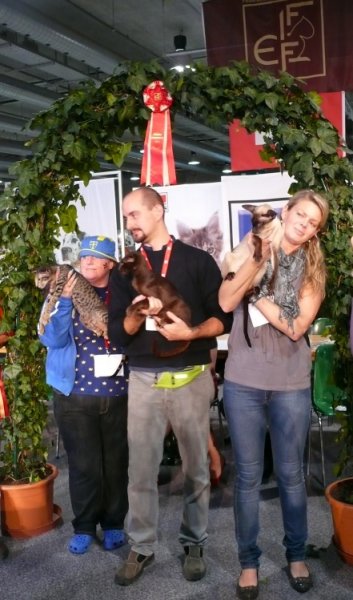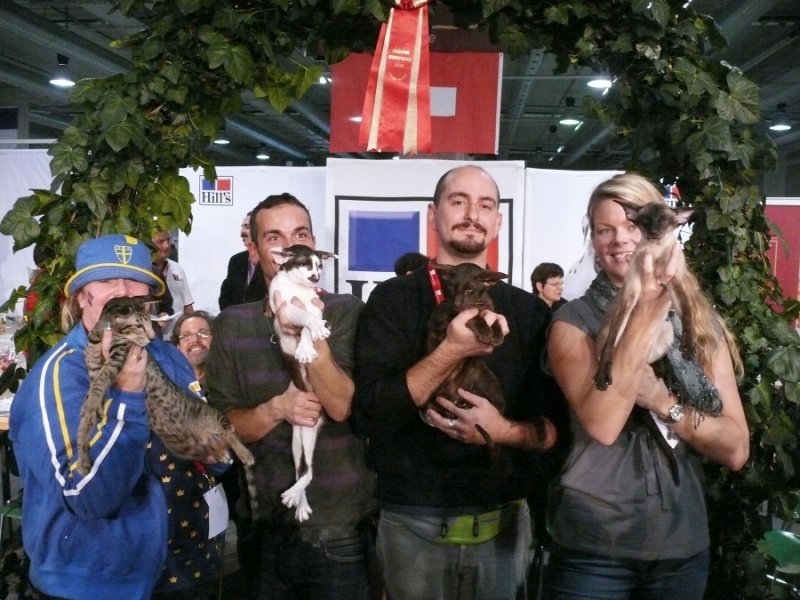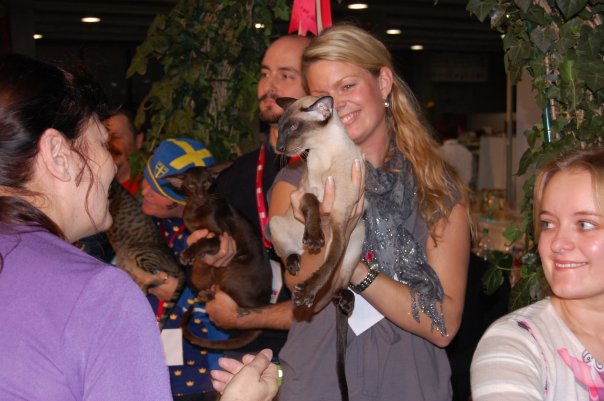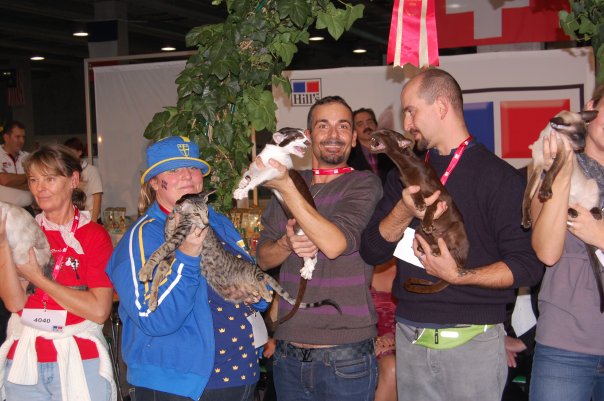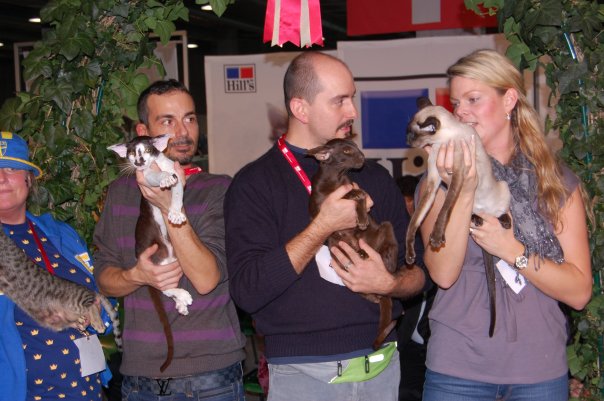 We are showing our male
Otello
on
World Show 09
in st. Gallen, Swiss. Last news from show,
Otello
get
Best in Variety
and became
world winner in colour
,
was
also
nominated
toBest in Show
. we will know results tomorrow evening. Congratulations to
Otello
and his breeder
Simone Caratozzolo
from Italy . Many thanks to our friend
Renata Polakova
from Austria which drived my cats ti Swiss and is taking care of both males during the stay in hotel. Boys
Ettore
and
Otello
are showed by their daddy Simone. ... I am very proud and happy :-)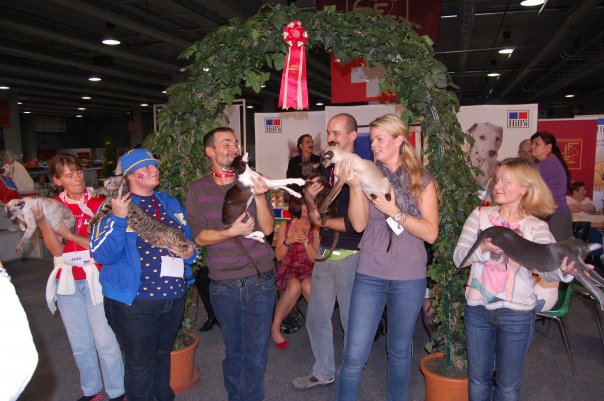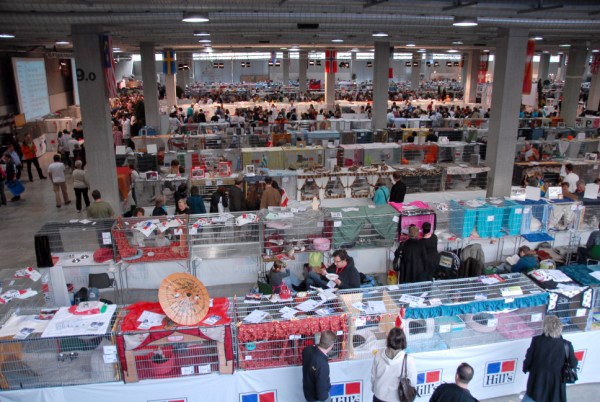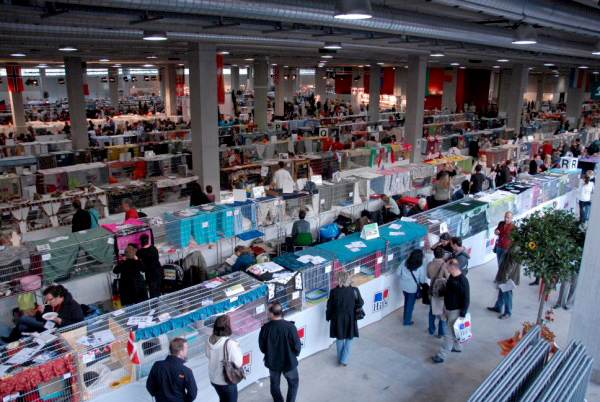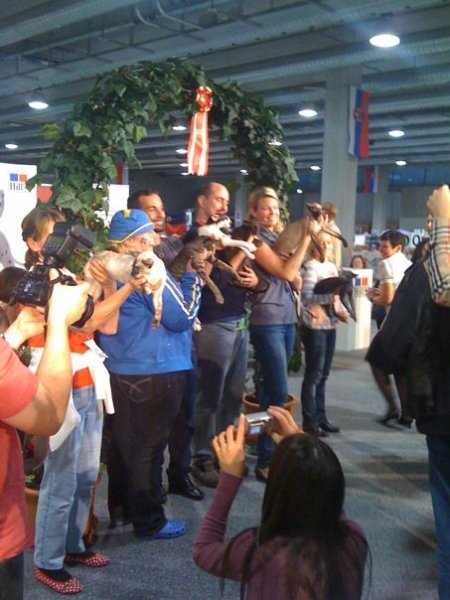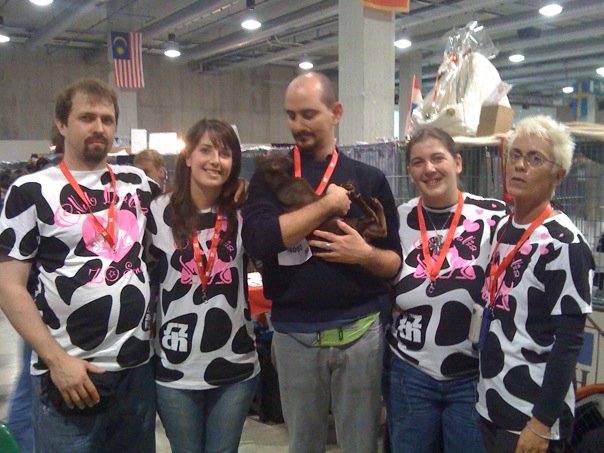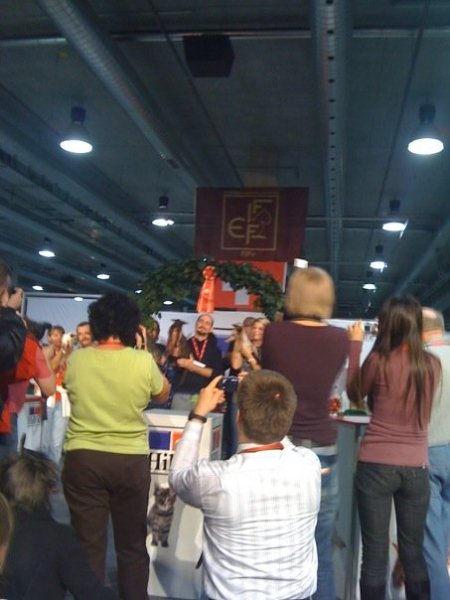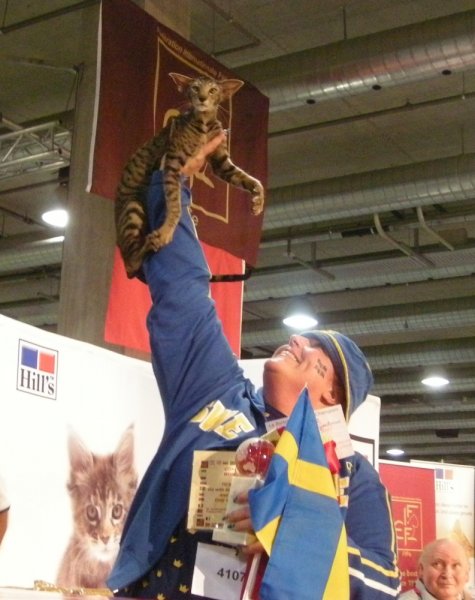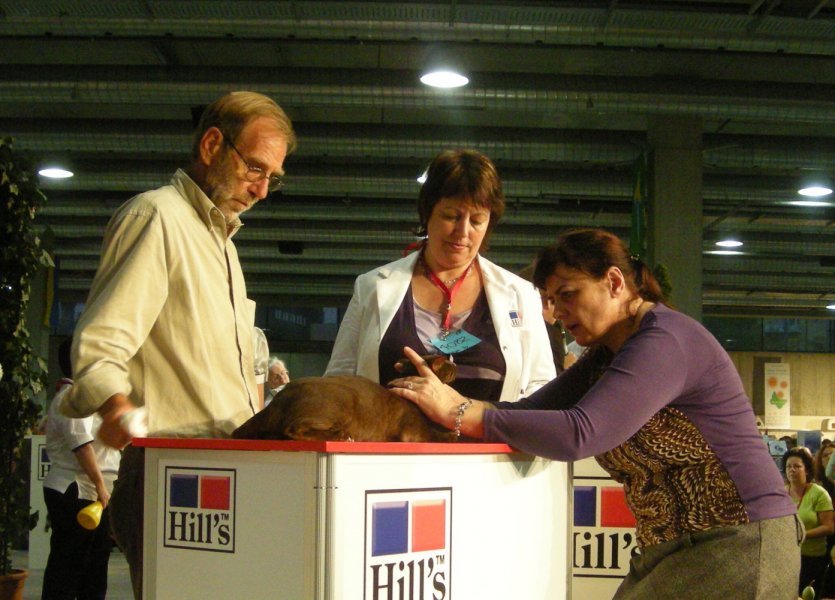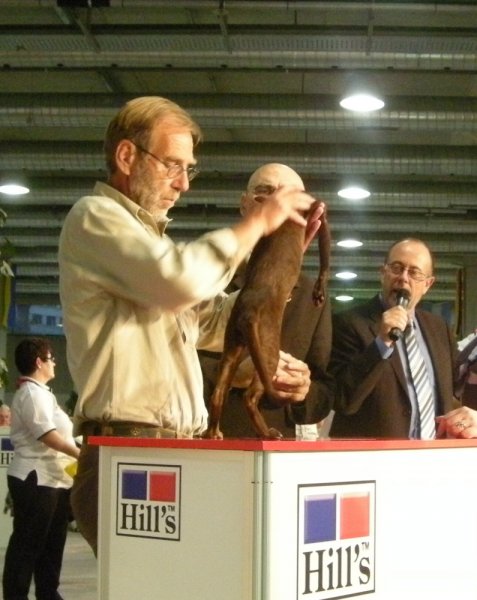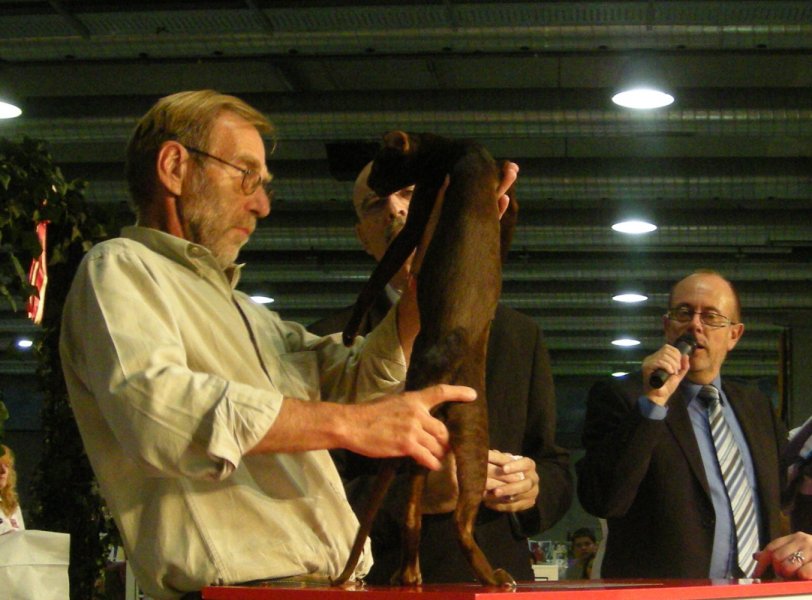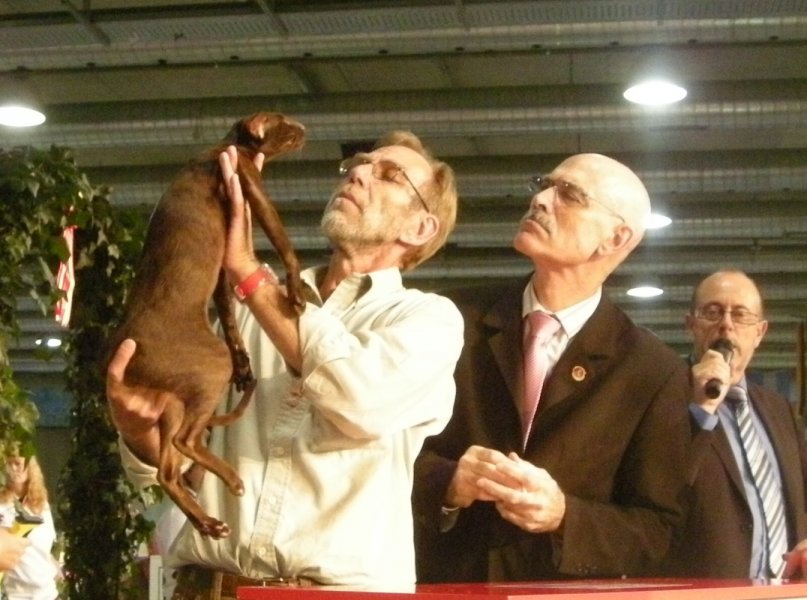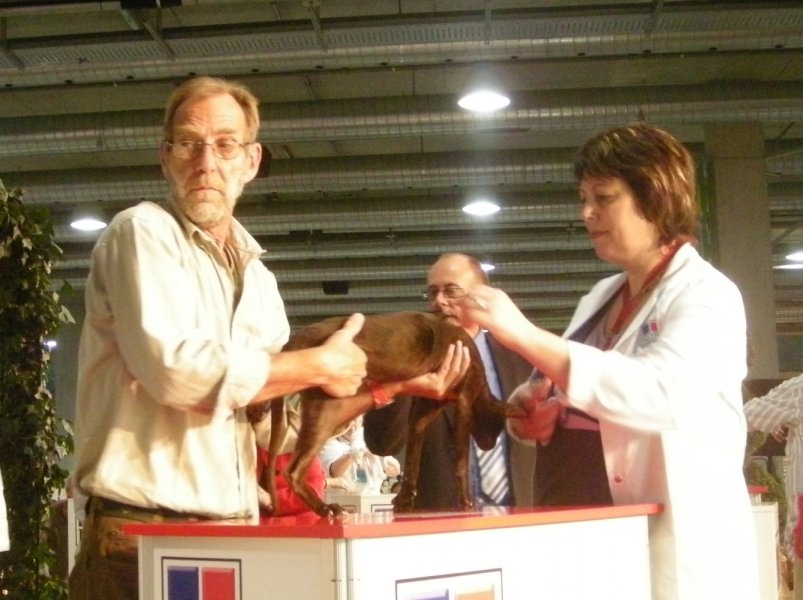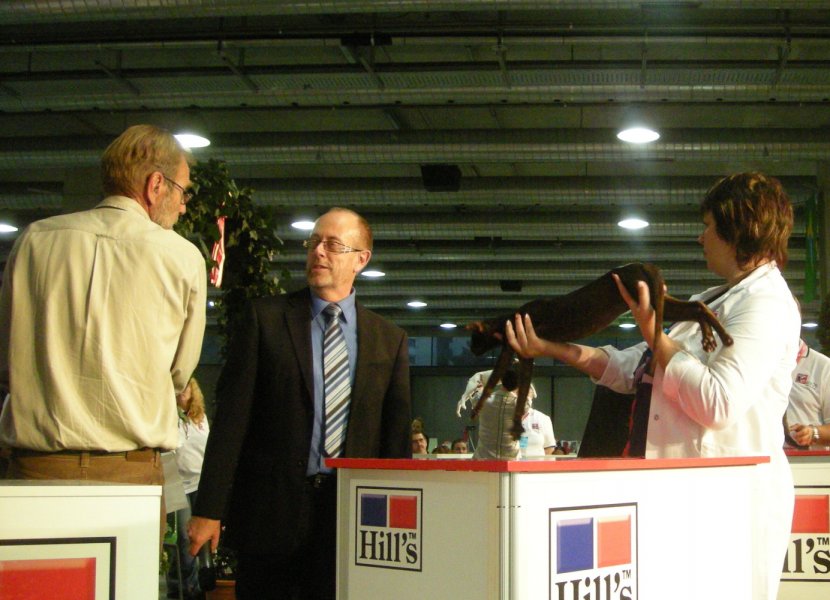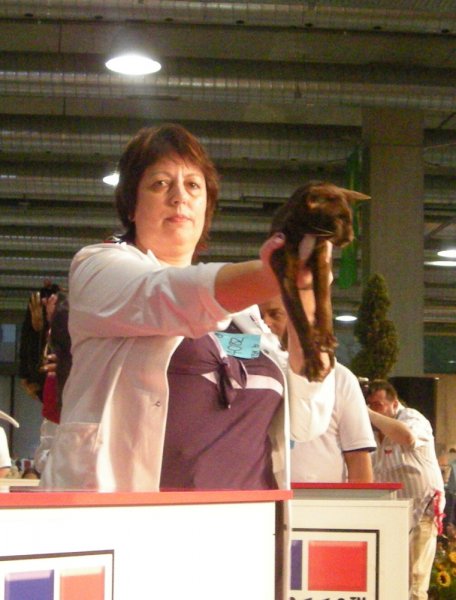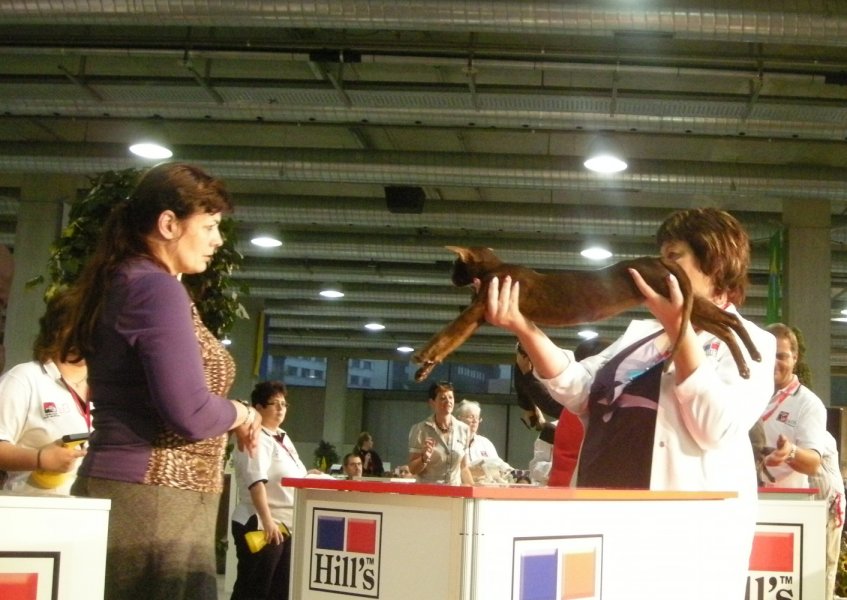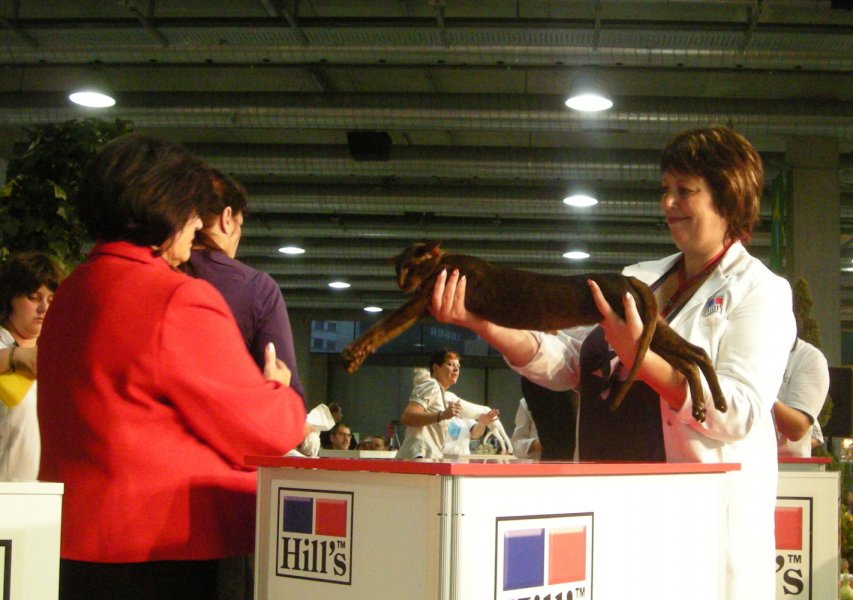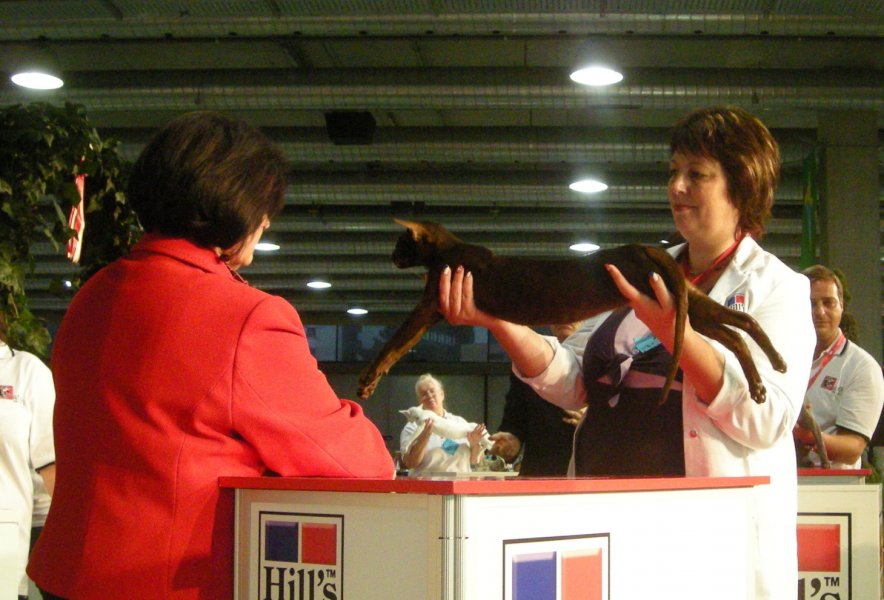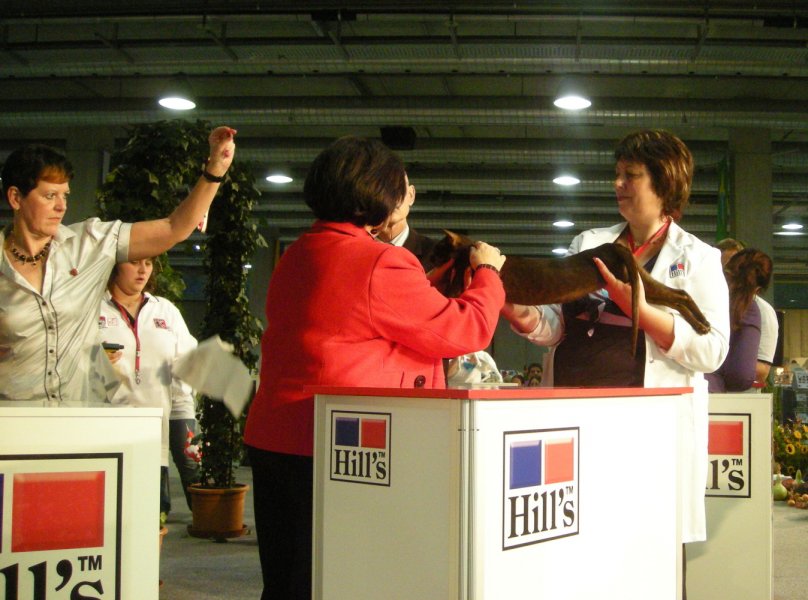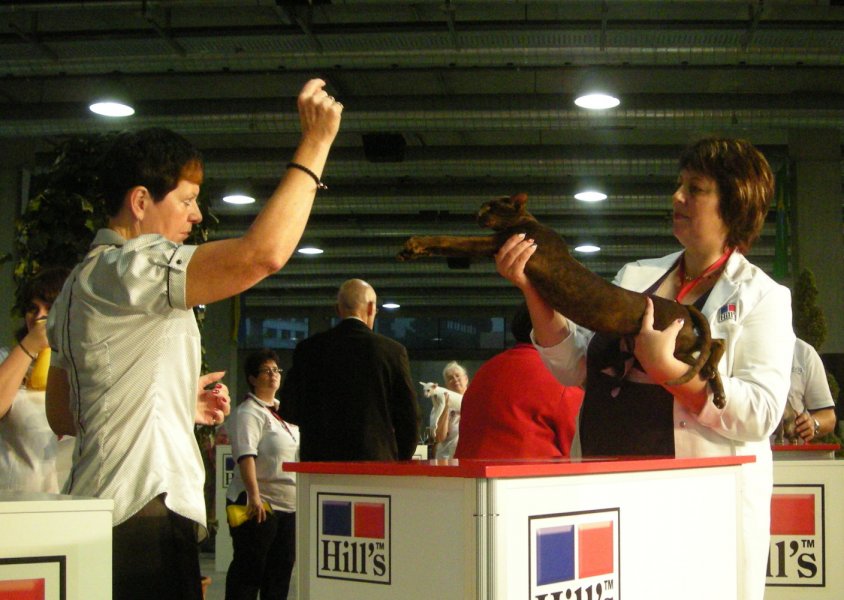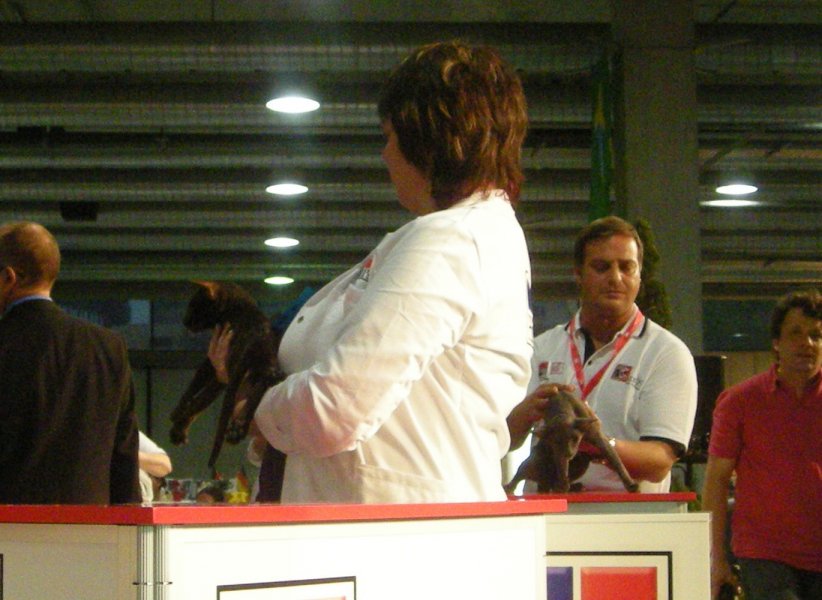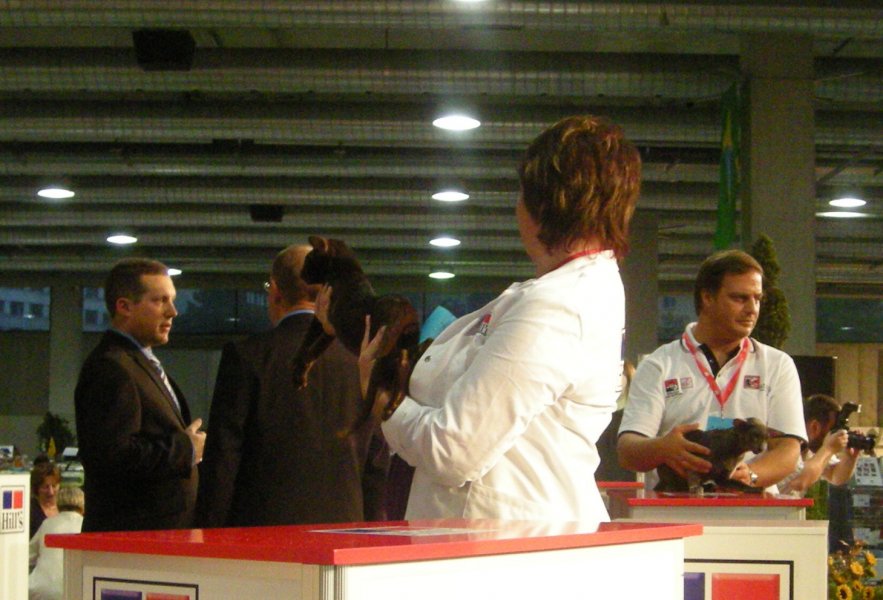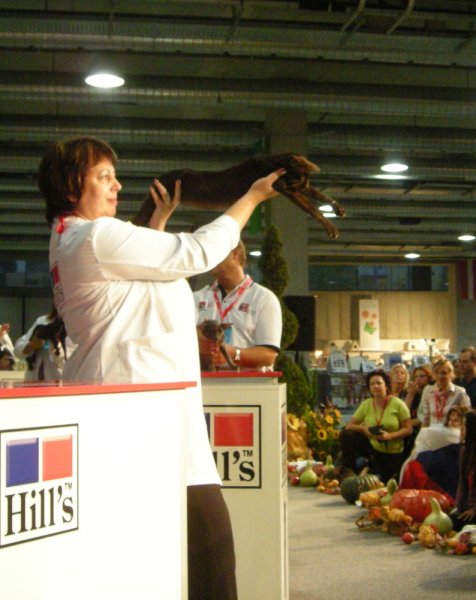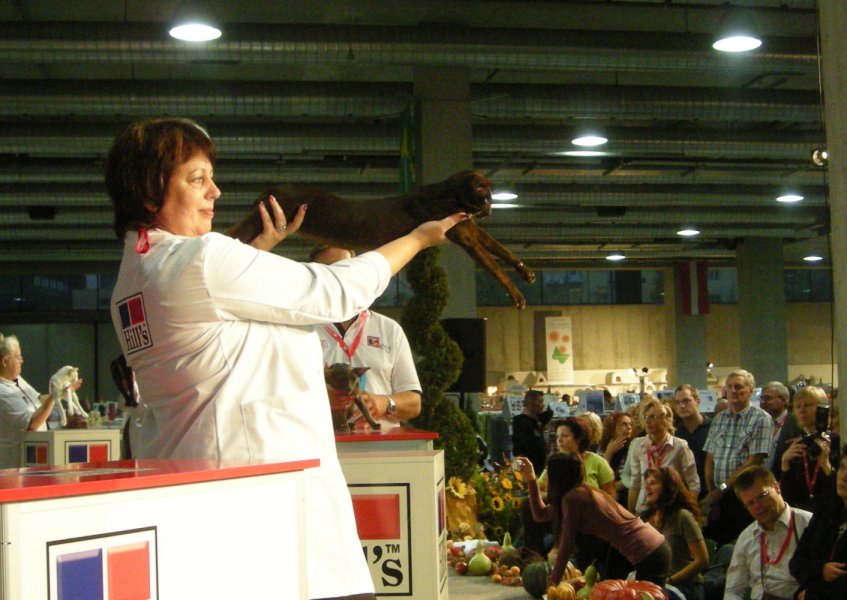 SHOW Tulln - Austria - 3.10 2009
Ettore, SIA d - nomination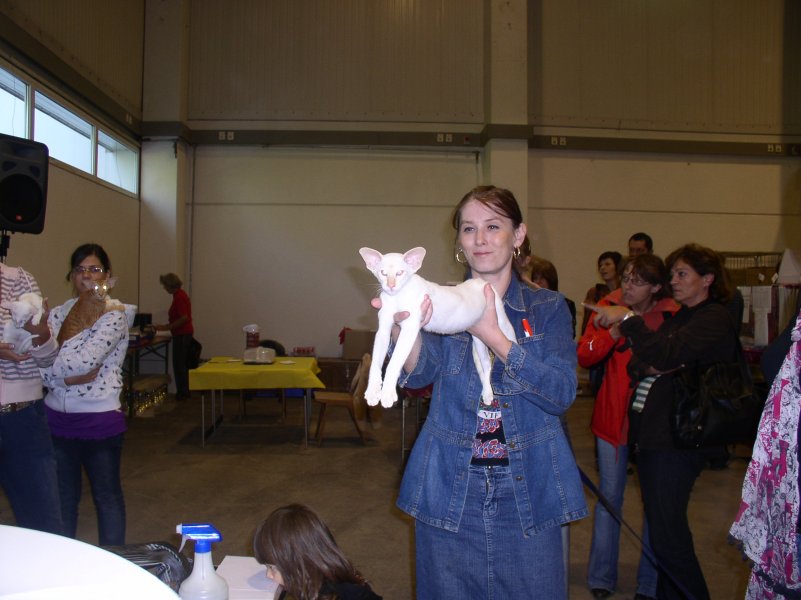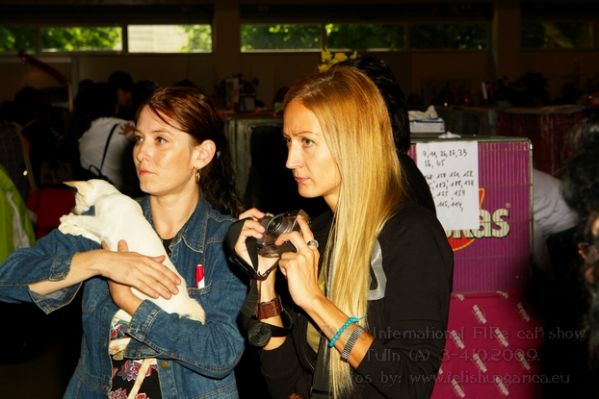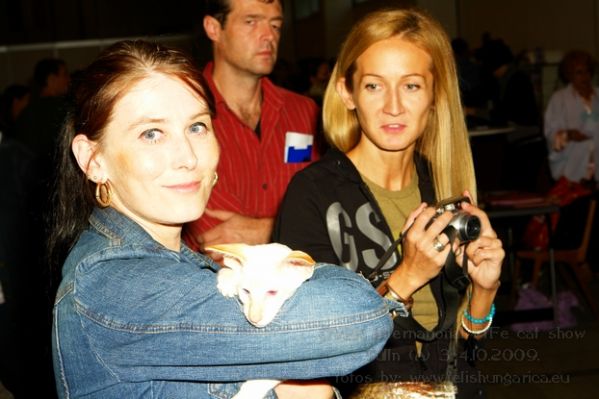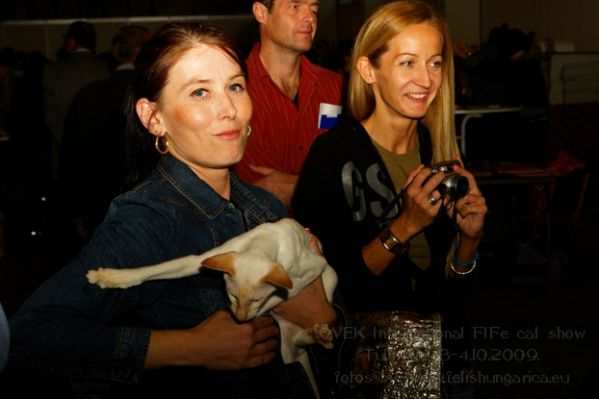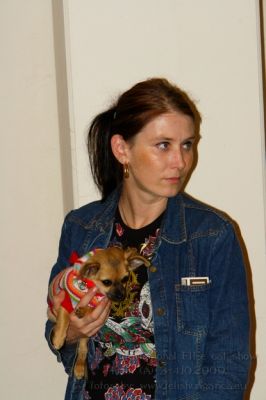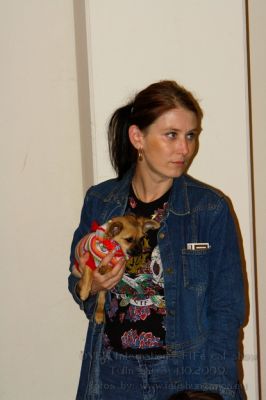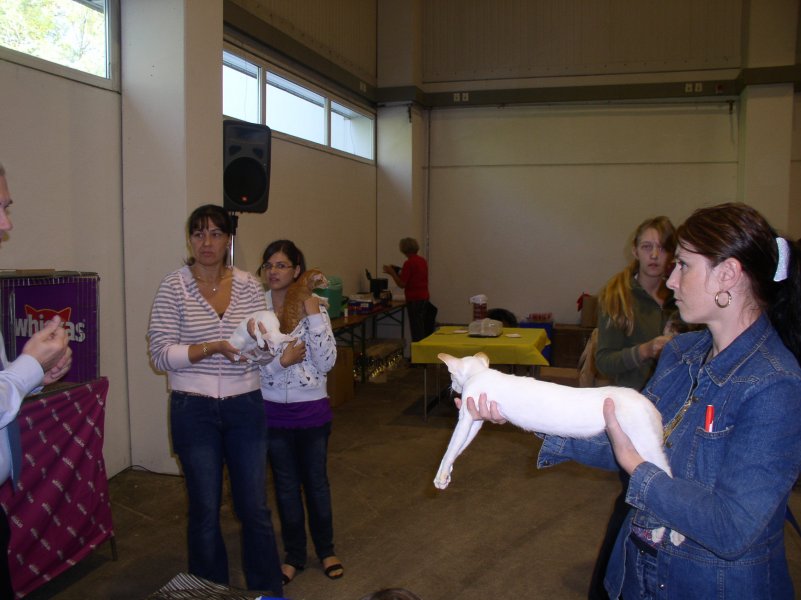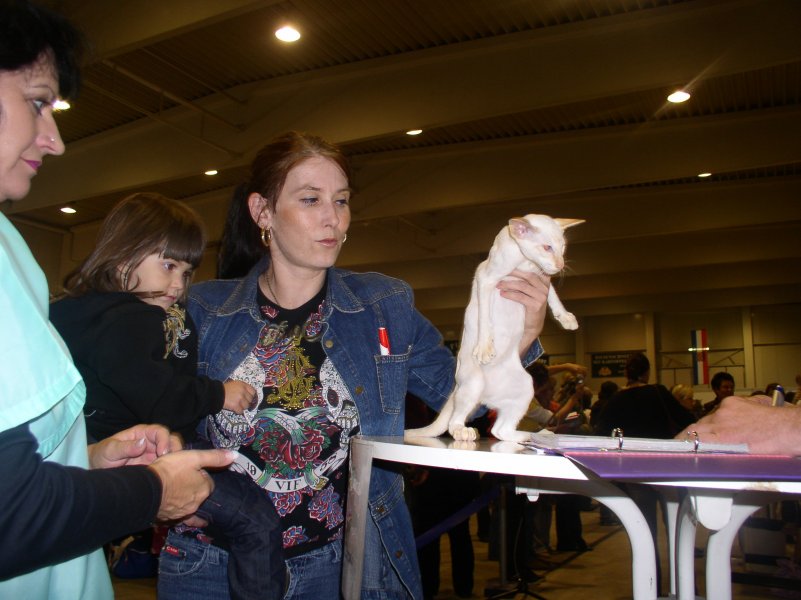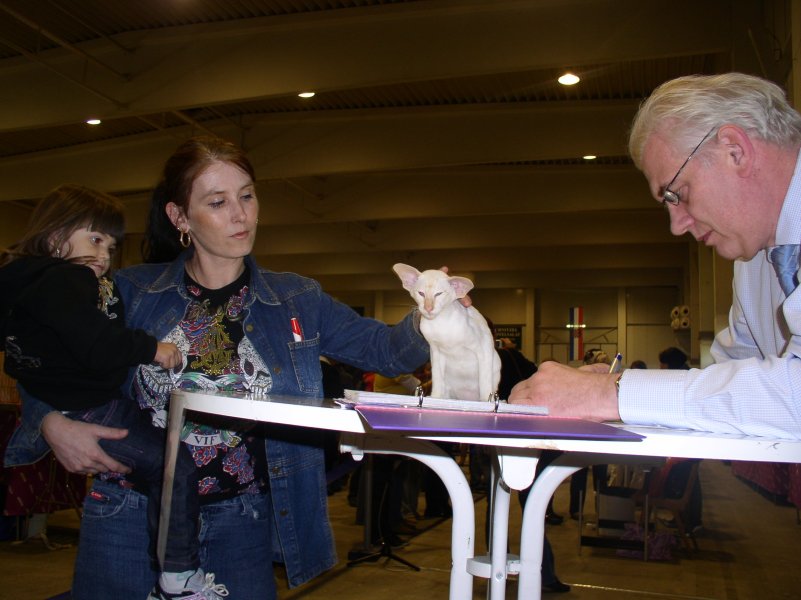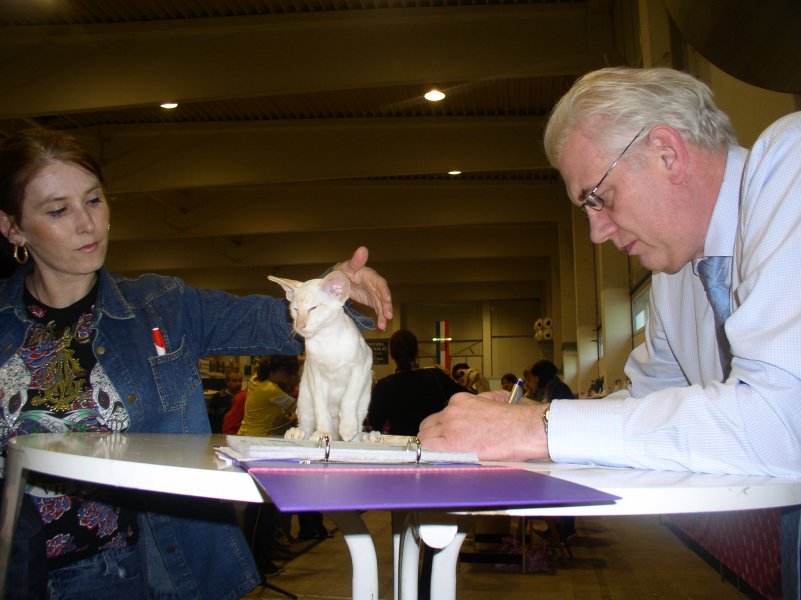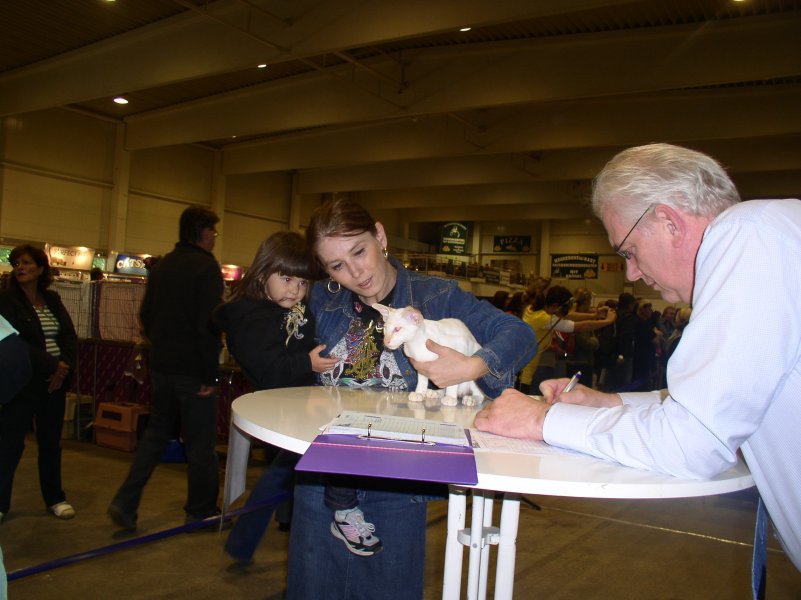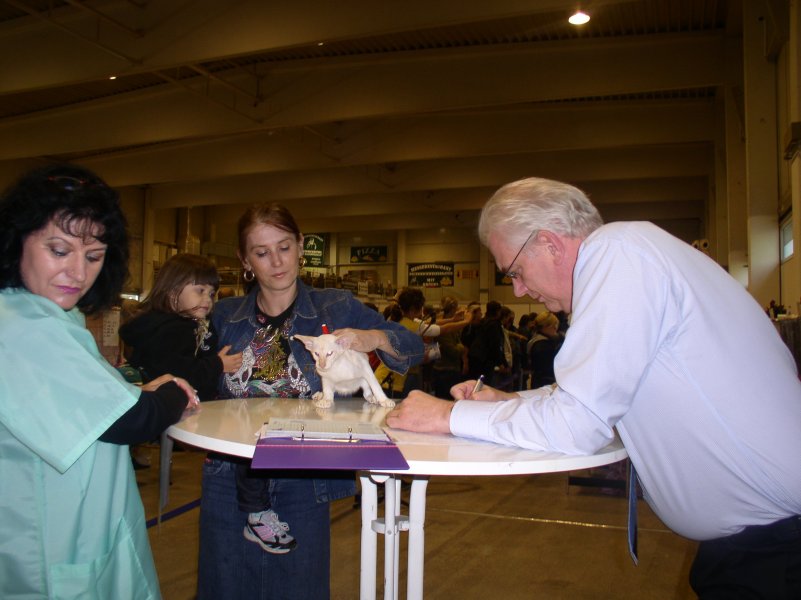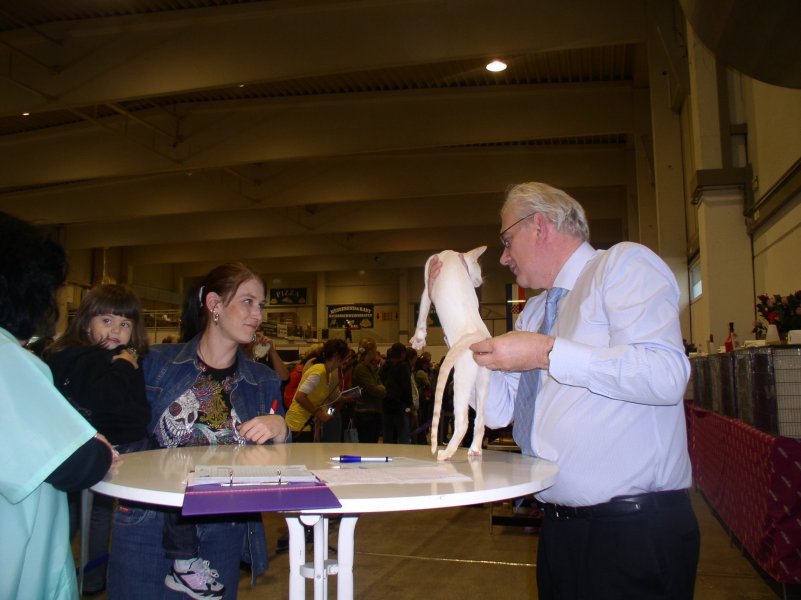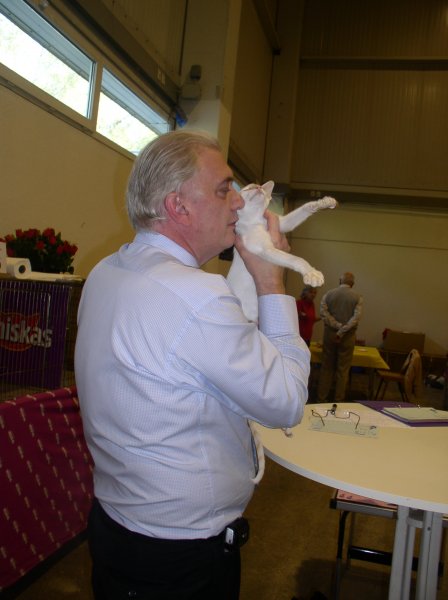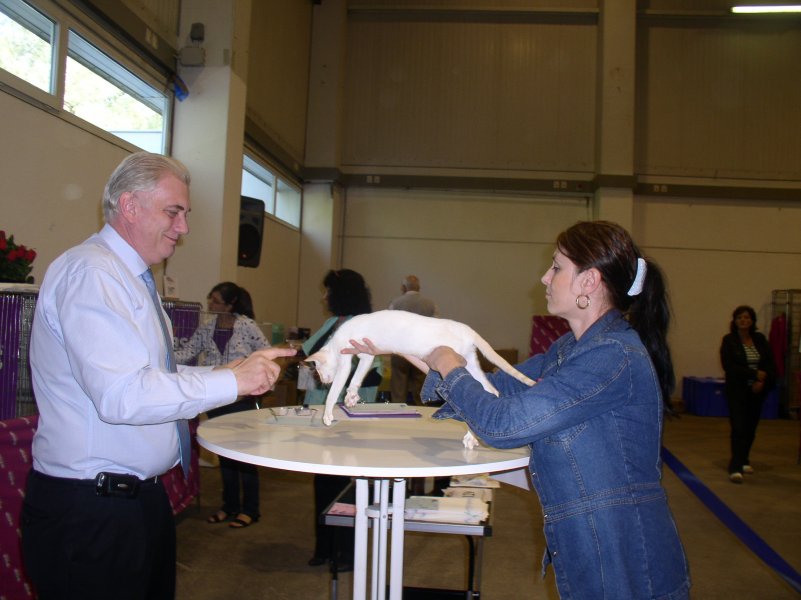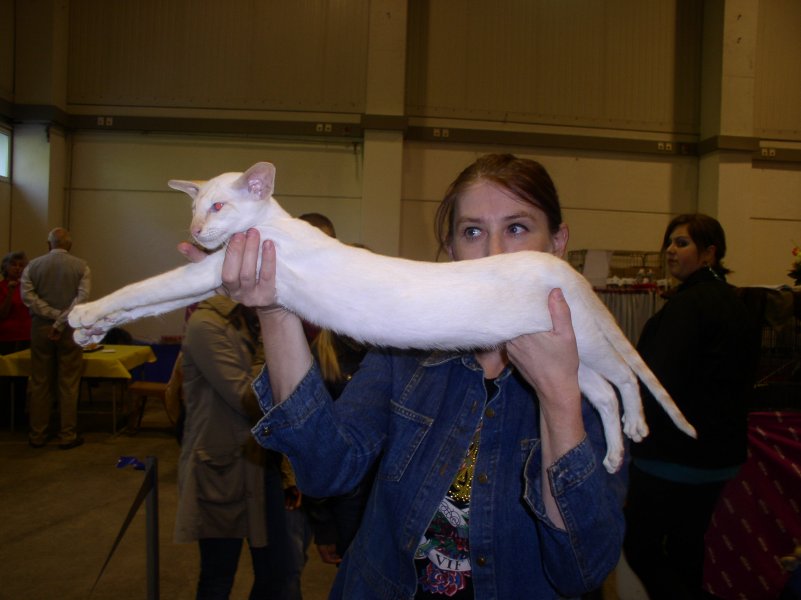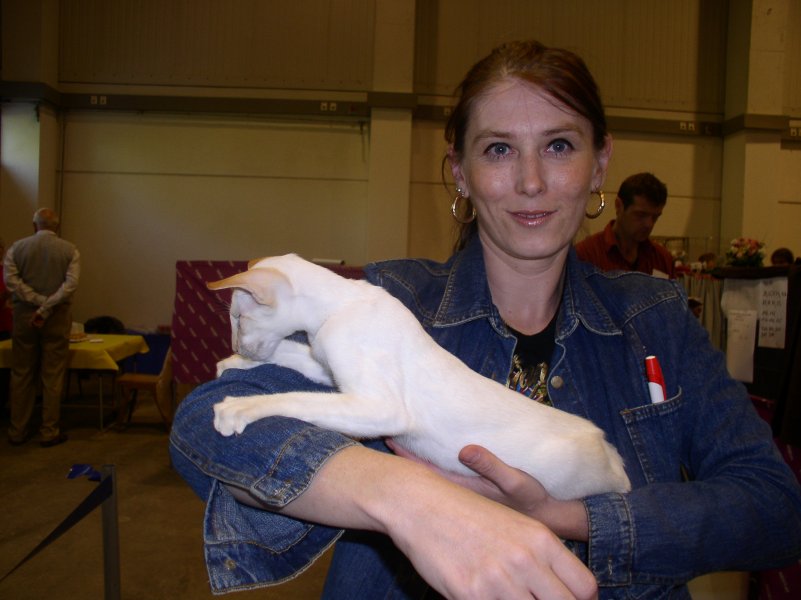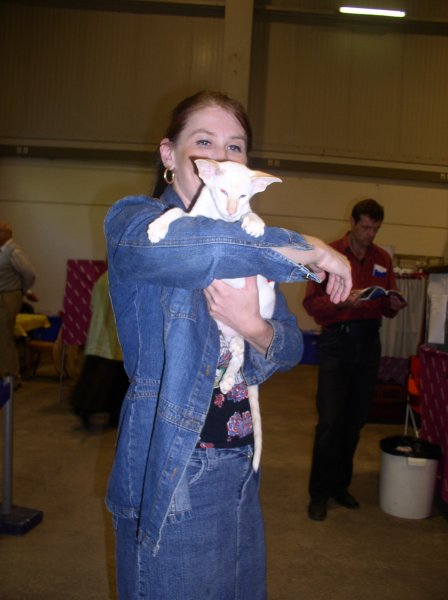 SHOW BRATISLAVA 5-6 SEPTEMBER 2009
Results : Our male Blero Bon Voyage OSH n - BIS 3-6 on sathurday and became JW
Our male Ettore D´Oltremare SIA d BIS 3-6 both days and won also BOB I both days
Male owned by our member Magda Kmoškova EC Quite Special Strieborná Ruža*SK JW won BIS neuters and BOB IV on sunday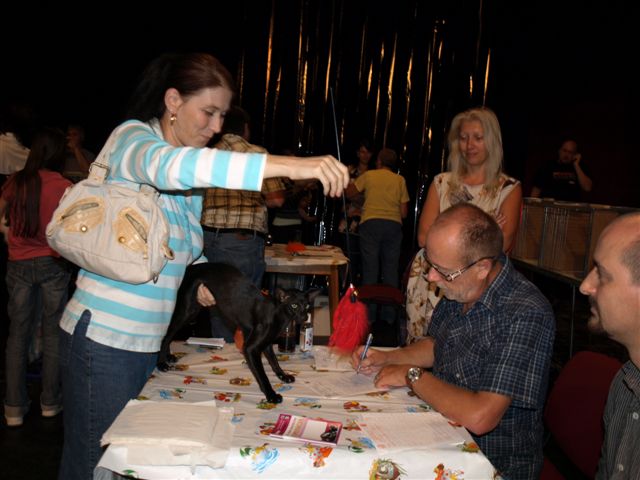 Blero Bon Voyage*SK OSH n - judged by Mr Wittich , get nomination, Best in Show and became Junior Winner !!!!!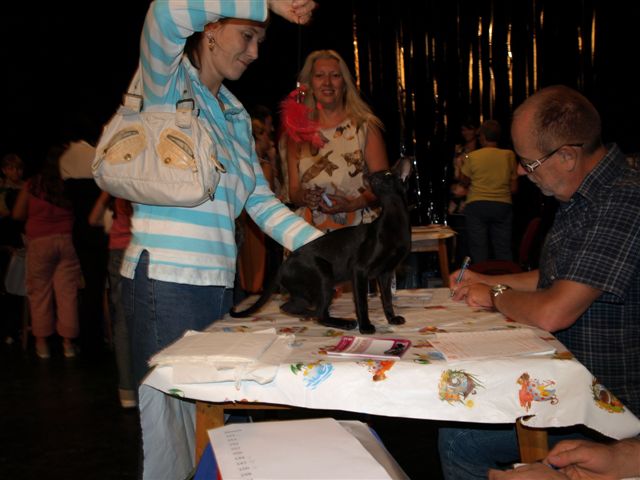 Many thanks for pictures to his breeders, congratulation for success too, they bred JW :-)))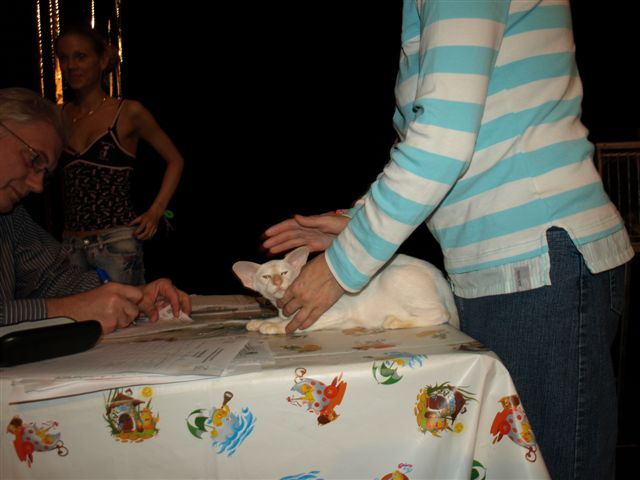 And here he is :-)) My new baby from Italy, Ettore D´Oltremare SIA d, We never had one red point, Alessia is in LOVE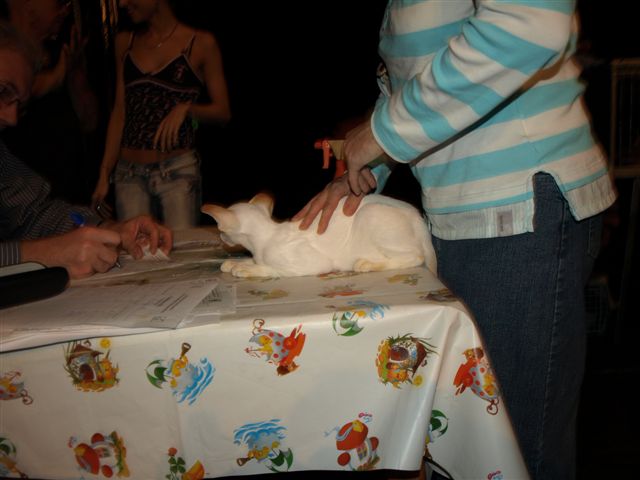 Baby with folded ears... ormai in Italia nasce un nuovo modello di siamese e orientale, italian fold :-)))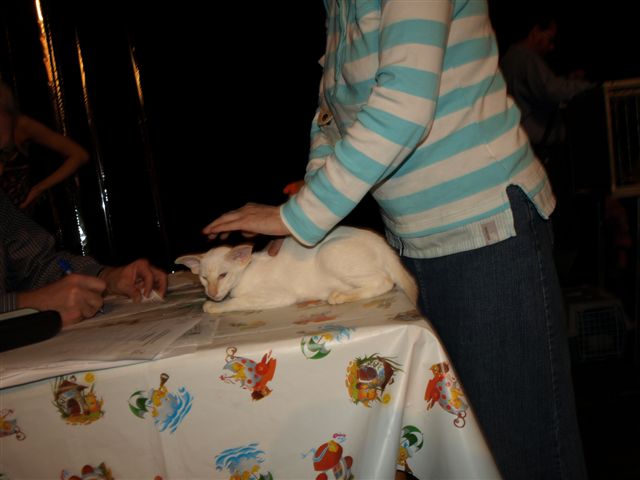 Naše nové miminko z Talianska - Ettore D´ Oltremare, siámsky červený kocúr. V našej stanici sa už niekoľko
červených siamáčkov narodilo, úplne prvý bol náš Maxík ktorý býva u Hedky v Bratislave, ale nikdy sme si žiadneho
nenechali. Musím priznať, nikdy sa mi červená nepáčila, Ettore je výnimka, Alessia sa zamilovala okamžite :-)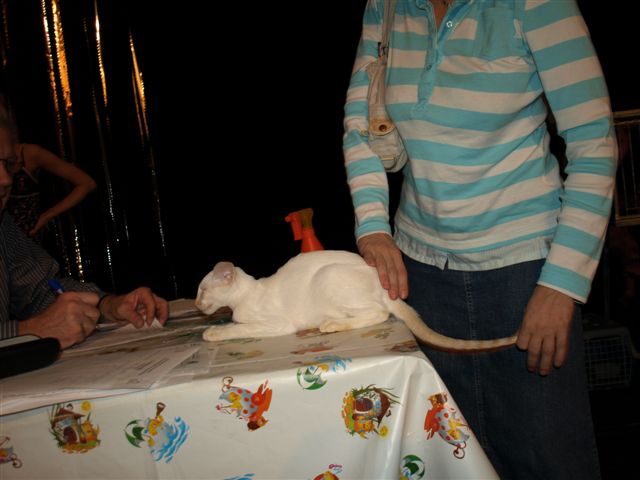 Otello has very nice streight profile, strong chin and very long tail, for red point also beautiful short coat......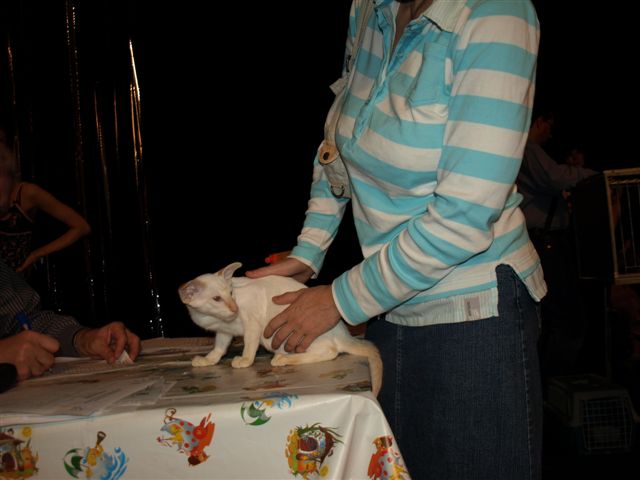 This face we already know, Micky, otello, Mambo and other have the same lion look :-) I love it... this is look I want at home :-)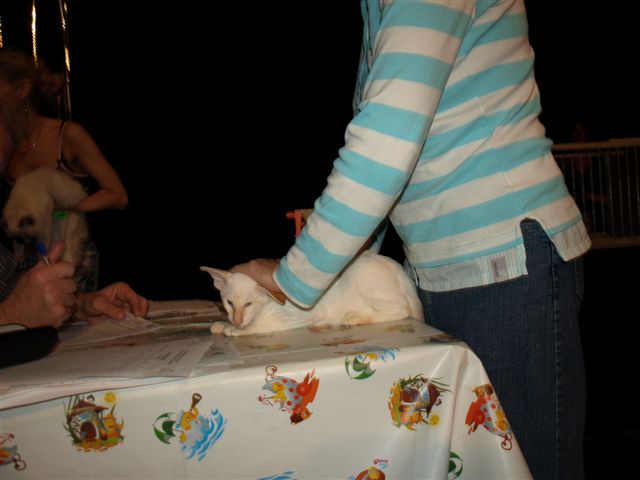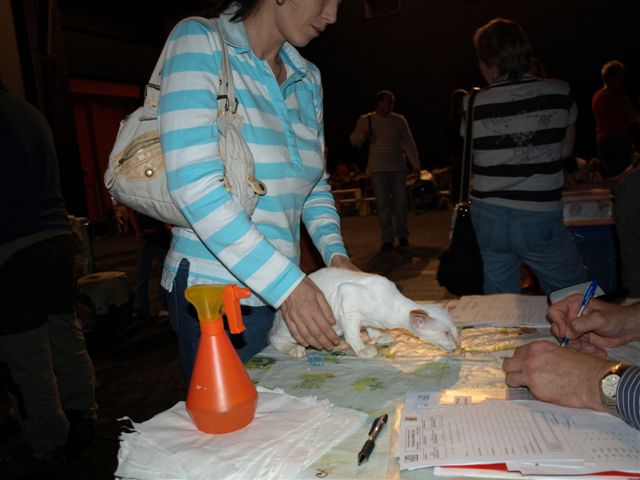 s novým babatkom :-) Ettore bol na prvej výstave úplný flegmatik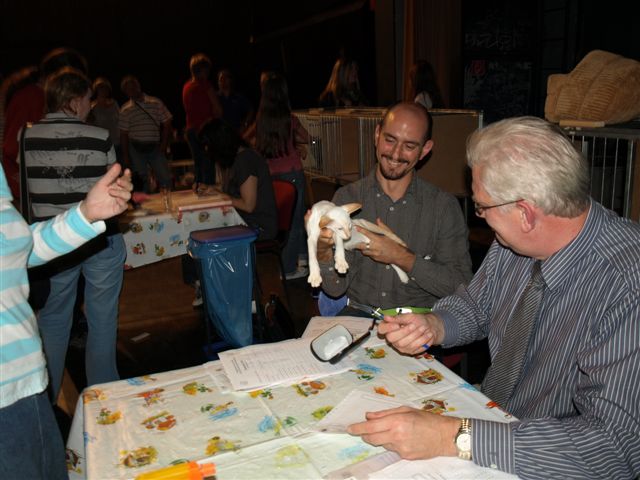 Ettore s hrdým tatíkom. Na fotke posudzovateľ p Sagurski z Nemecka a Ettoreho chovateľ Simone Caratozzolo z Talianska
On the picture judge Mr Sagurski from Germany and proud daddy of Ettore, his breeder Simone Caratozzolo from Italy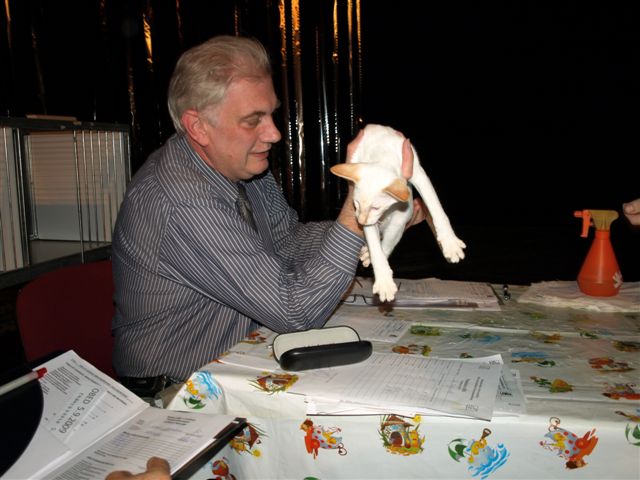 Ettore and Mr Sagurski - he loved Ettore, Ettore won both days Best of Best 1 and became best cat of Bratislava show both days
Ettore vyhral oba dni Best of Best 1 a stal sa tak po oba dni najlepšou mačkou celej výstavy. Na fotke s p Sagurskim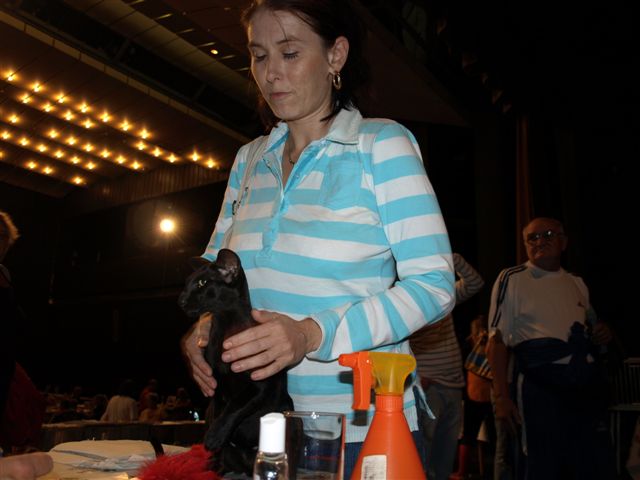 Blero - tentokrát sa správal veľmi slušne, v Ostrave sa mu nepáčilo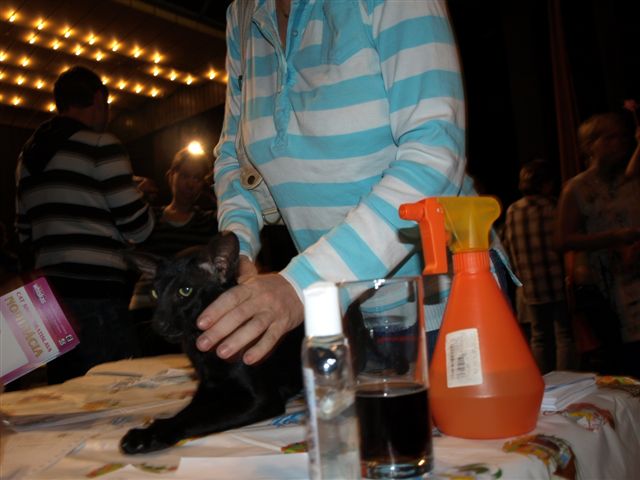 Krásne zelené oko...potrebujeme :-))) kto nie :-)))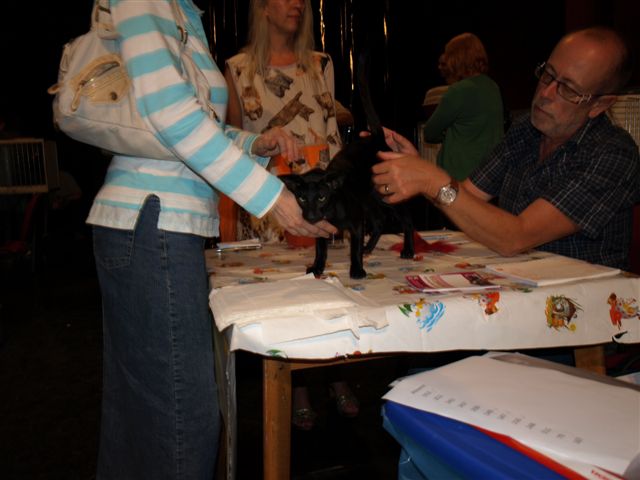 Blerovi sa veľmi páčil p posudzovateľ, boli fakt kamoši :-)))
Blero loved the judge they were real friends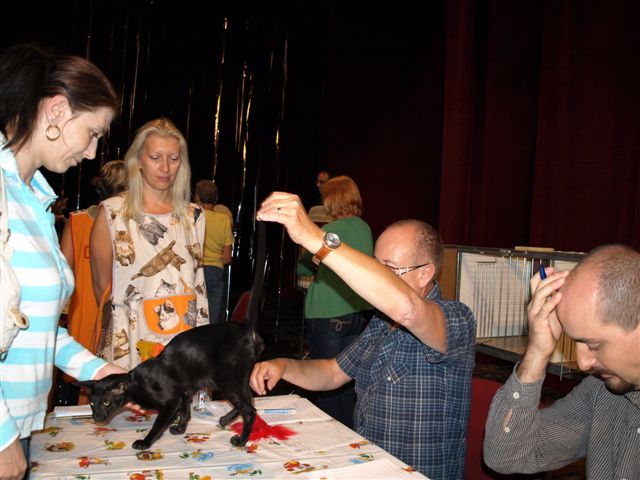 Tail :-)) Good enough ?????????? Mr Wittich from Swiss and his student judge, Simone Caratozzolo from Italy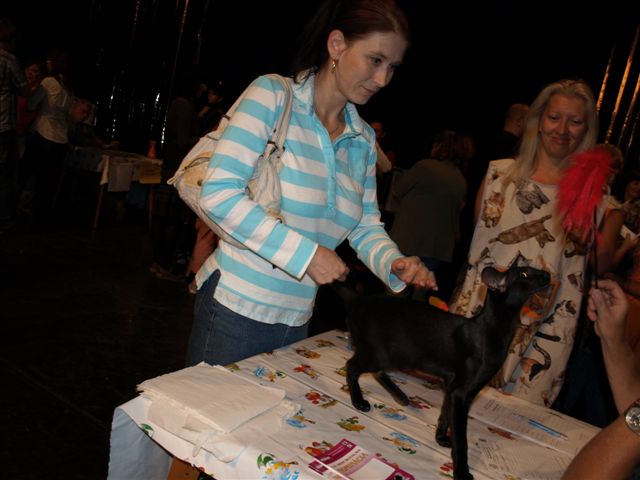 Elegant boy, isn´t he ???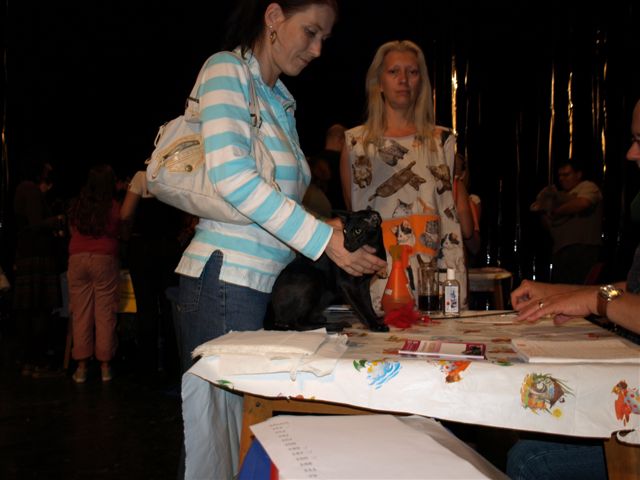 náš zvedavý chlapec ...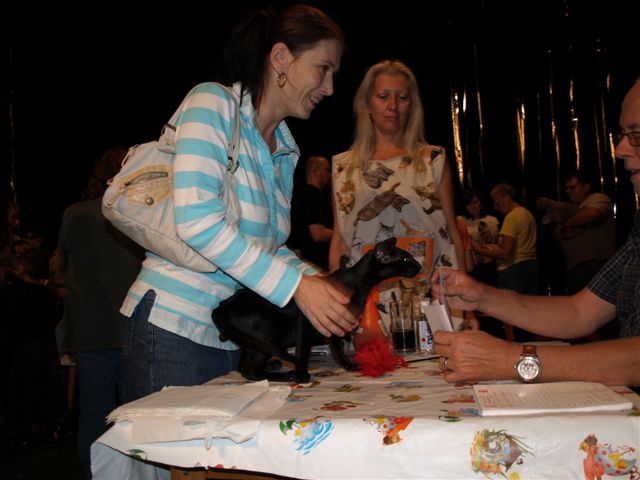 Blero trhaj !!! :-))))))))))))
SHOW OSTRAVA 15. AUGUST 2009
We showed our kitten Blero in classe 11 and he won Best in Show
some pictures here: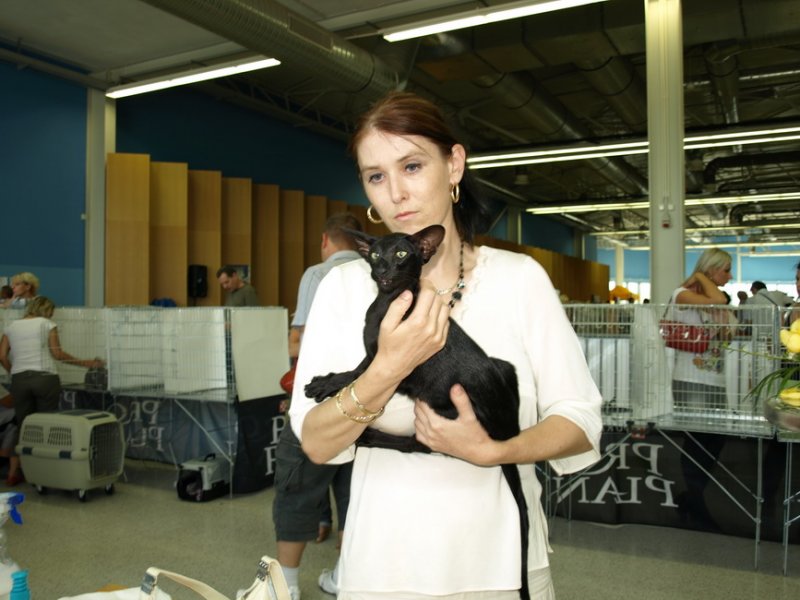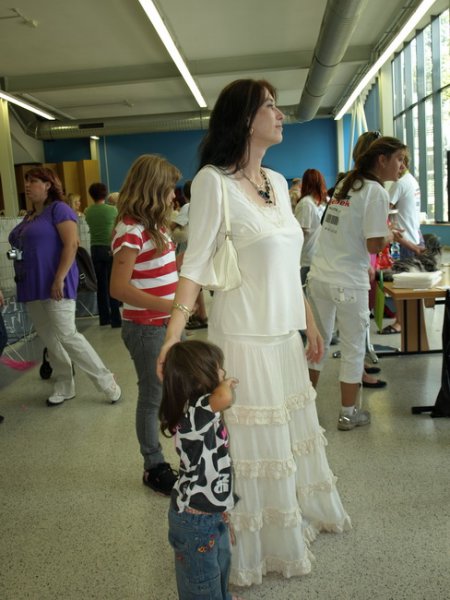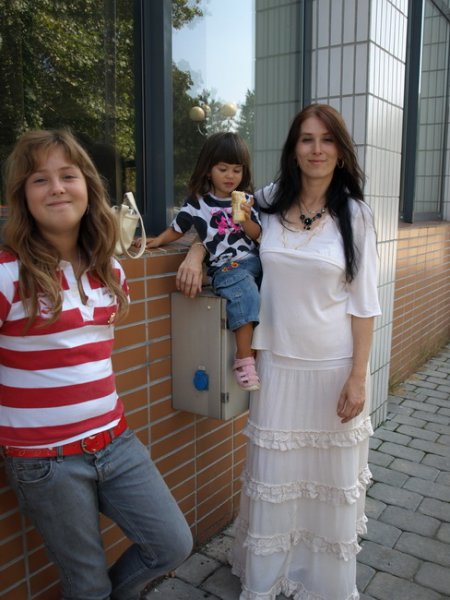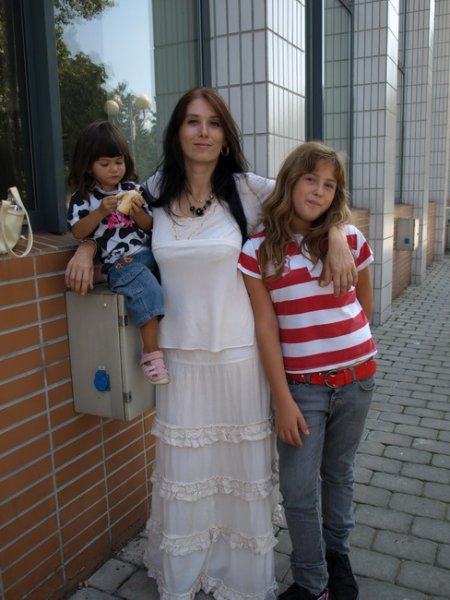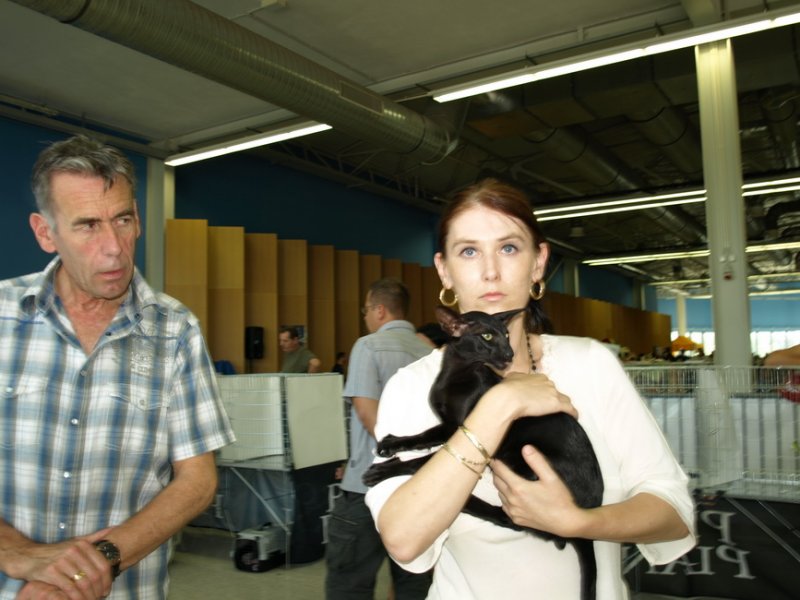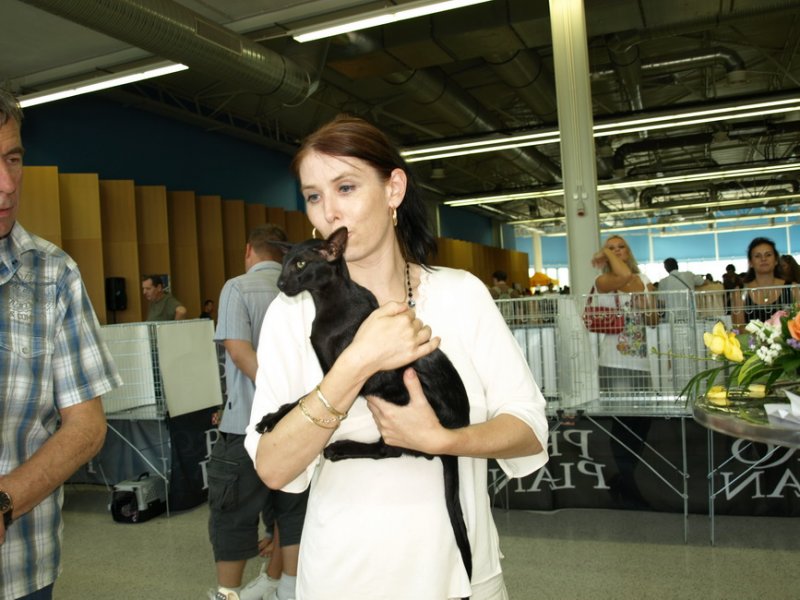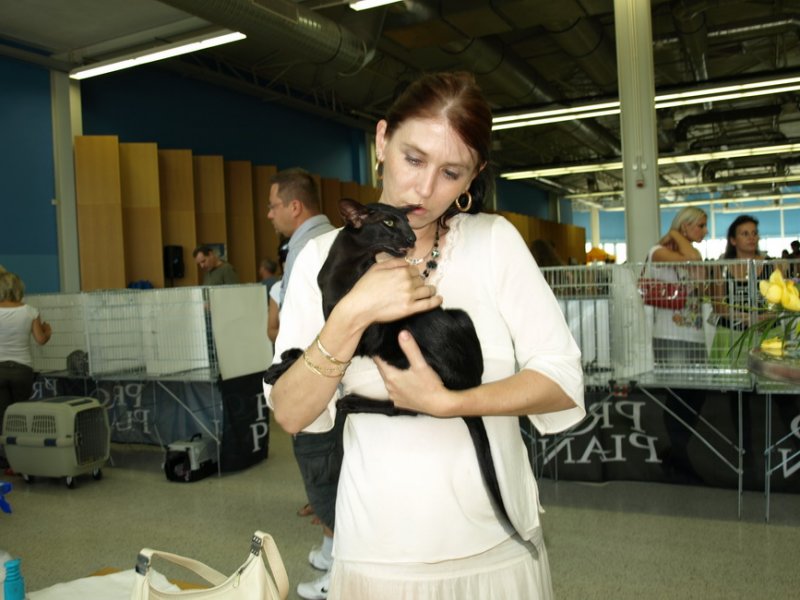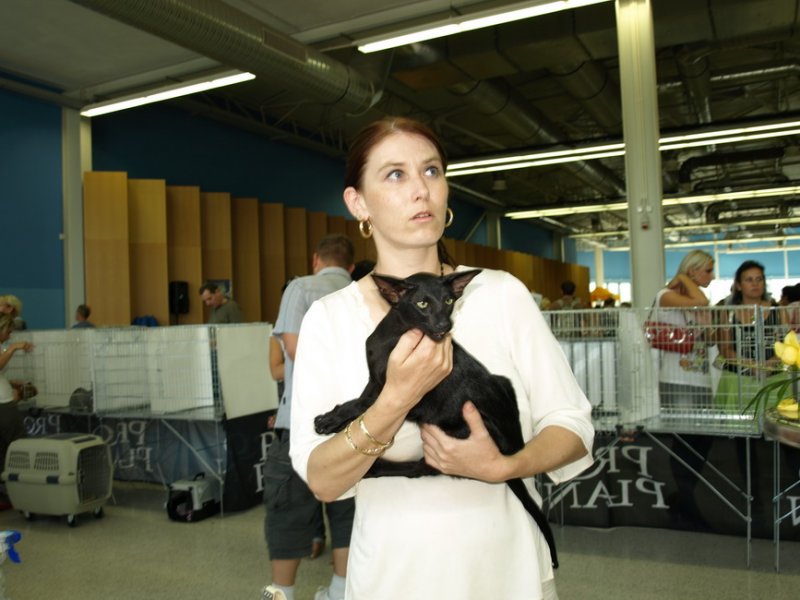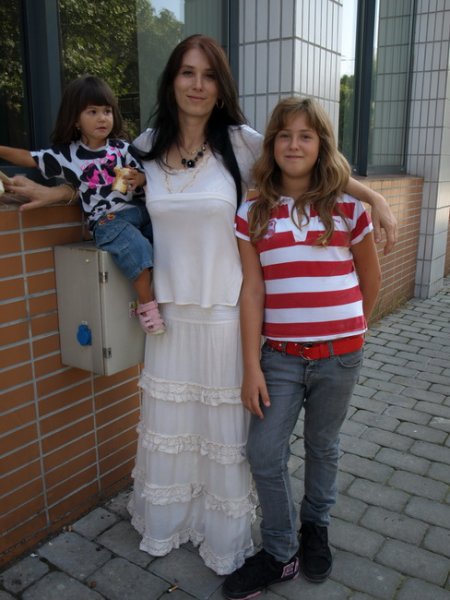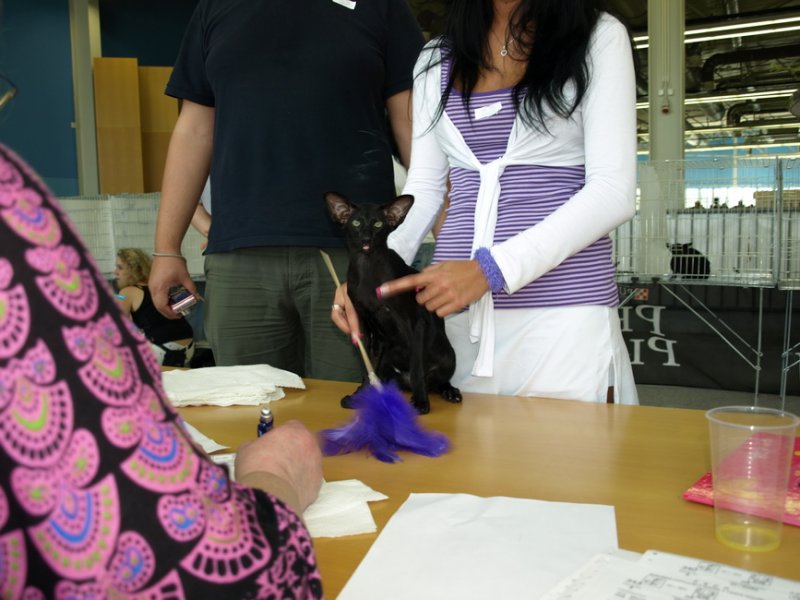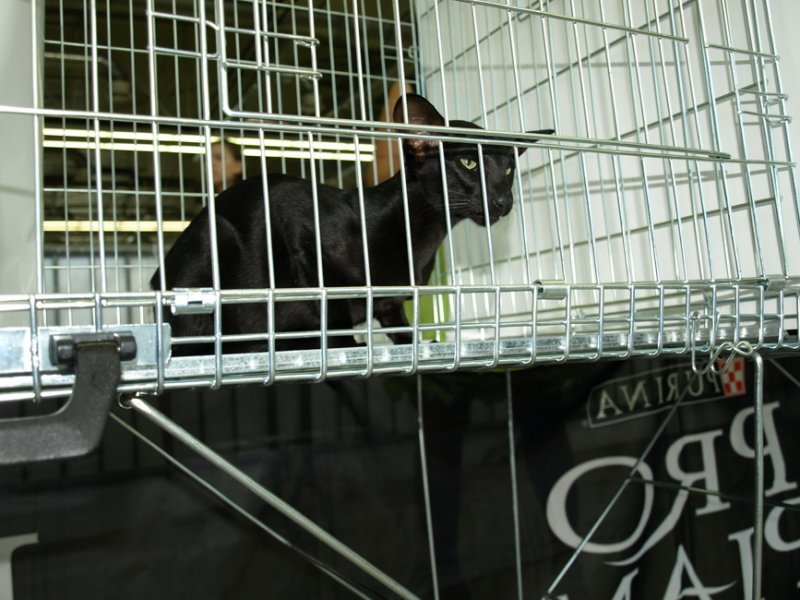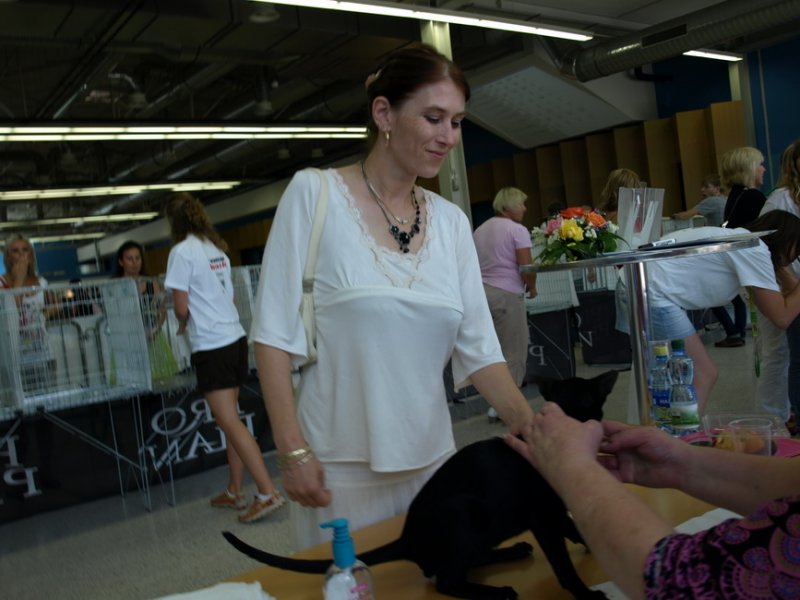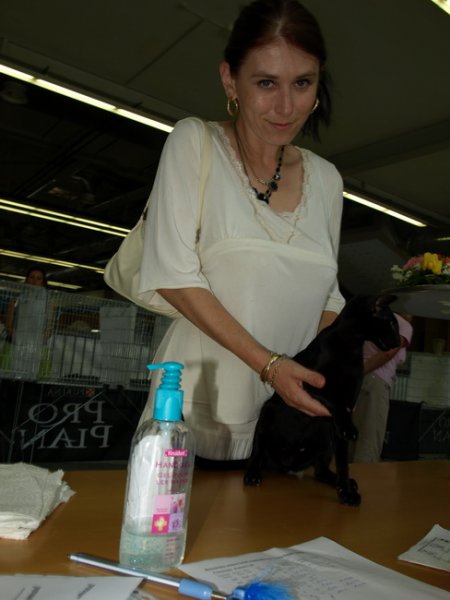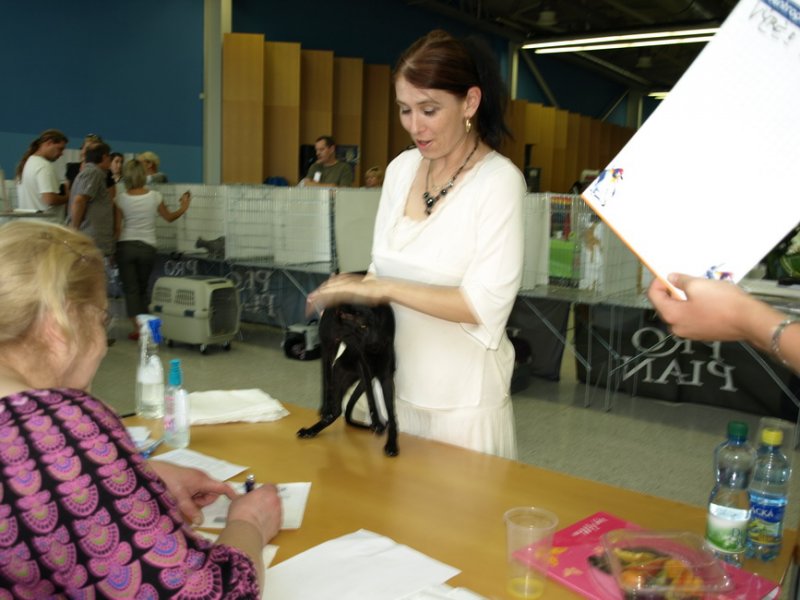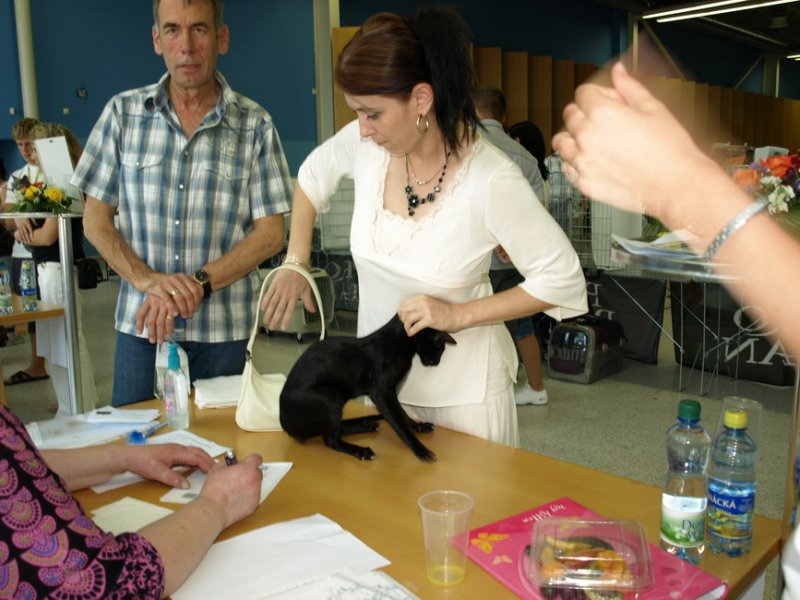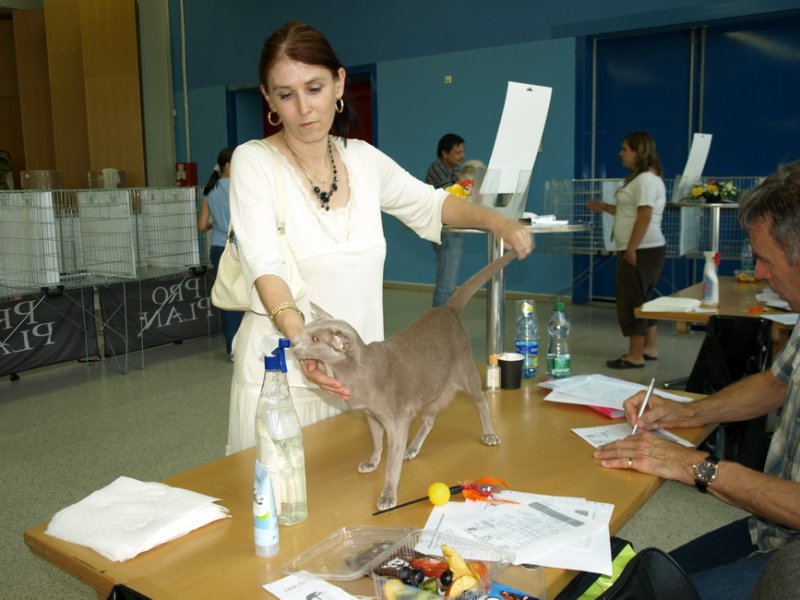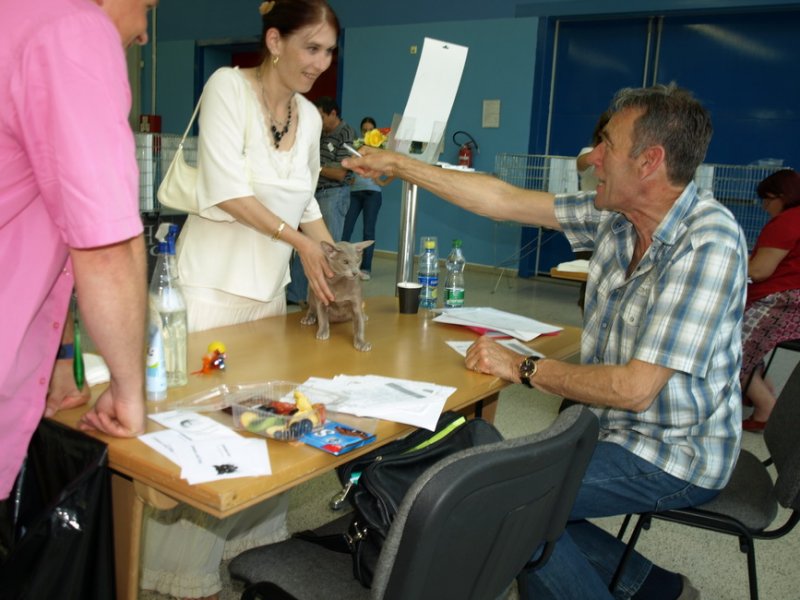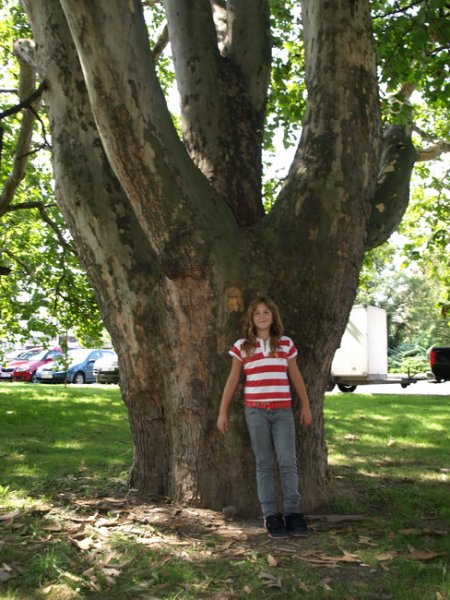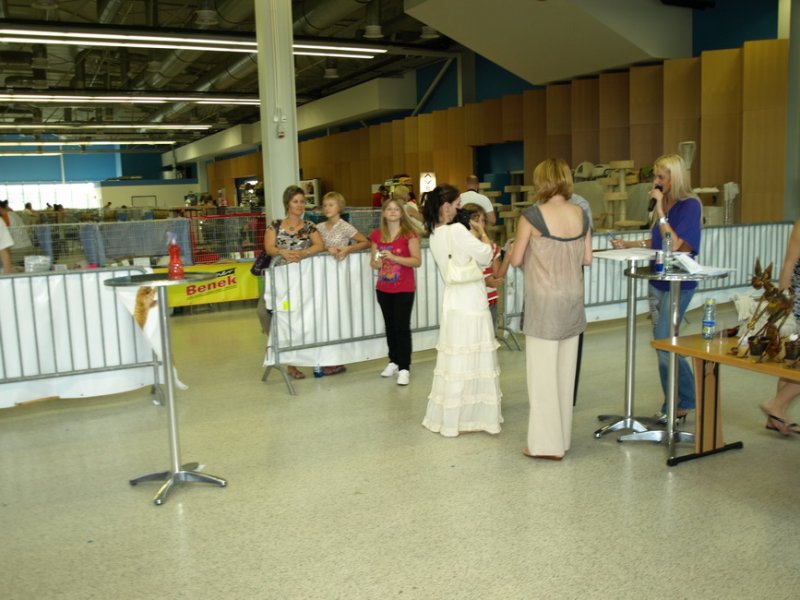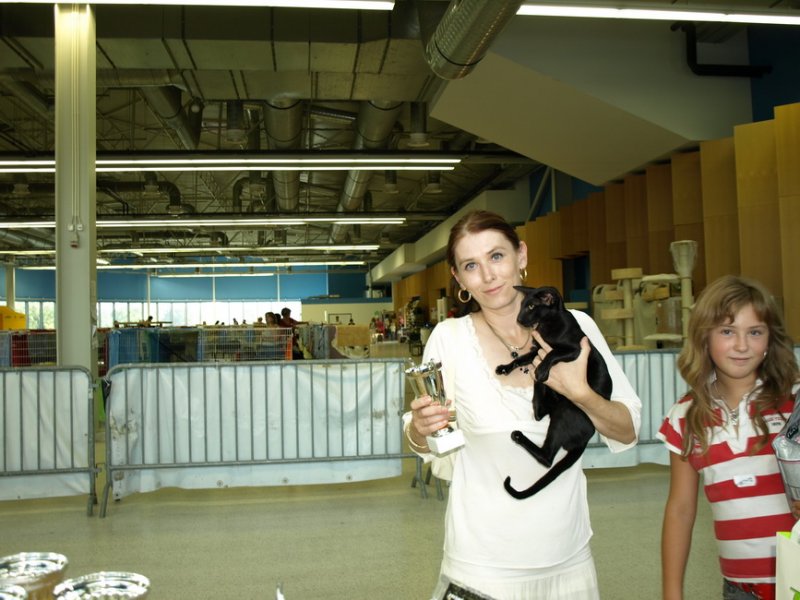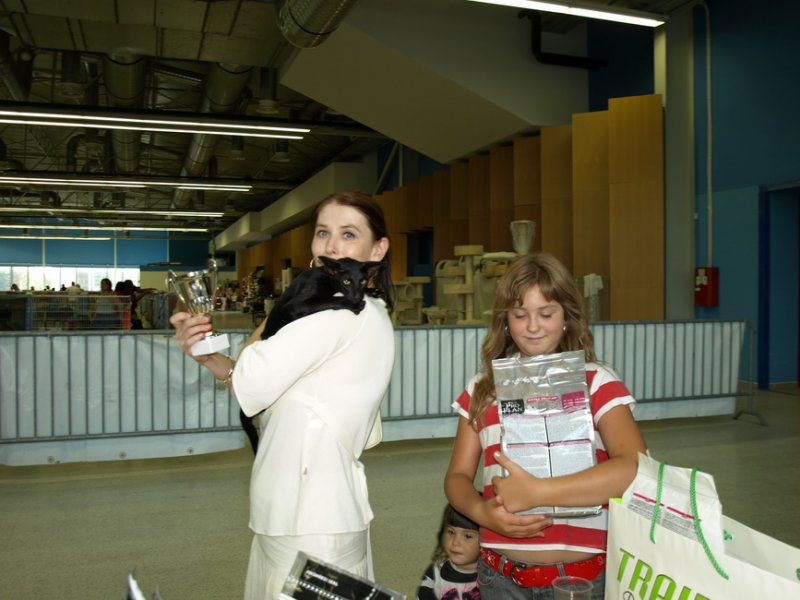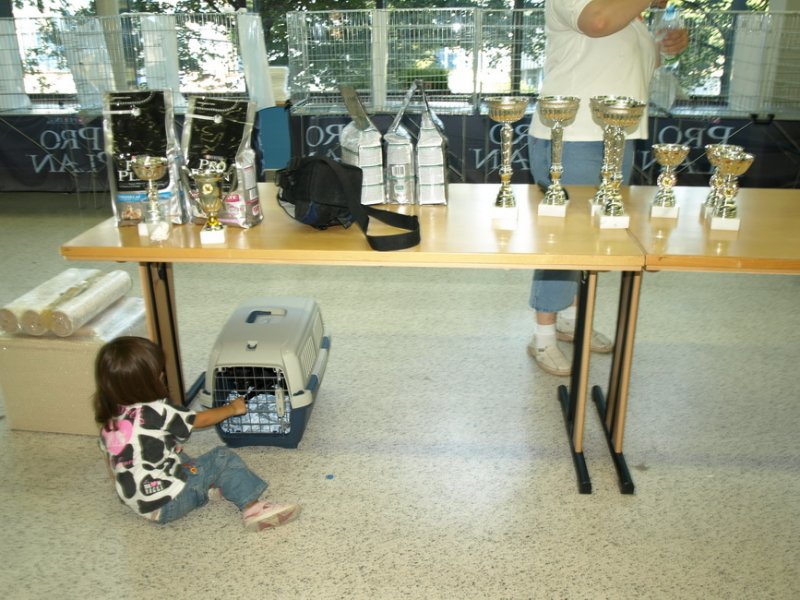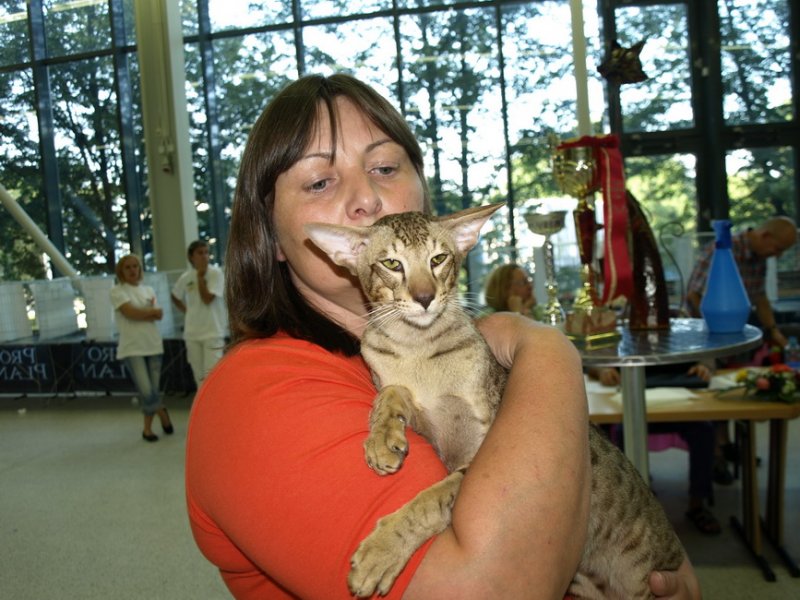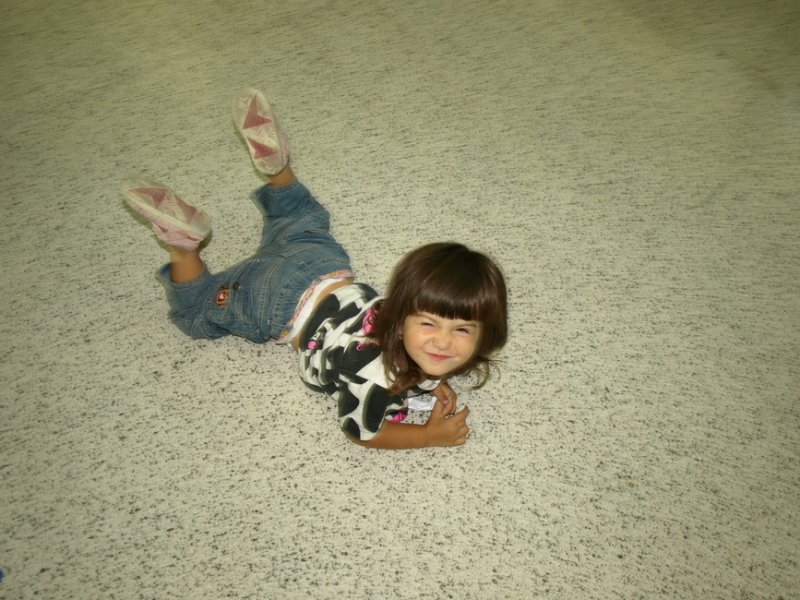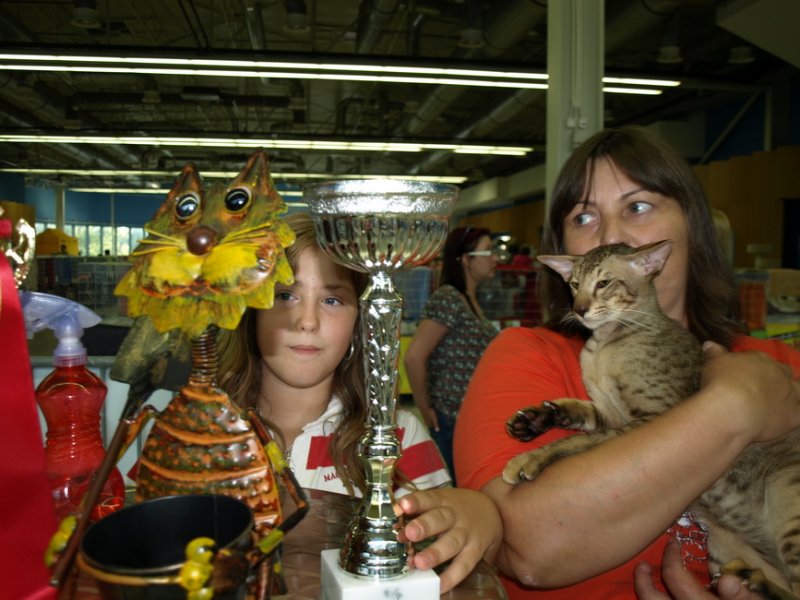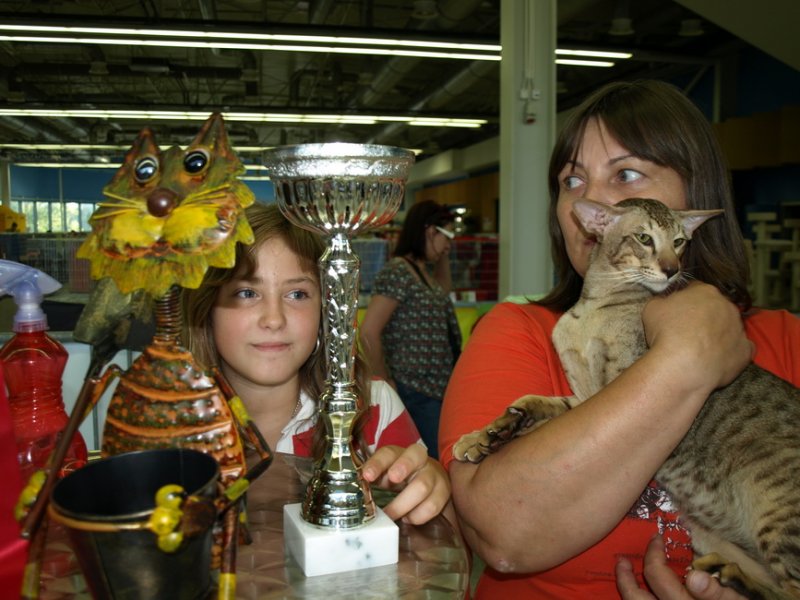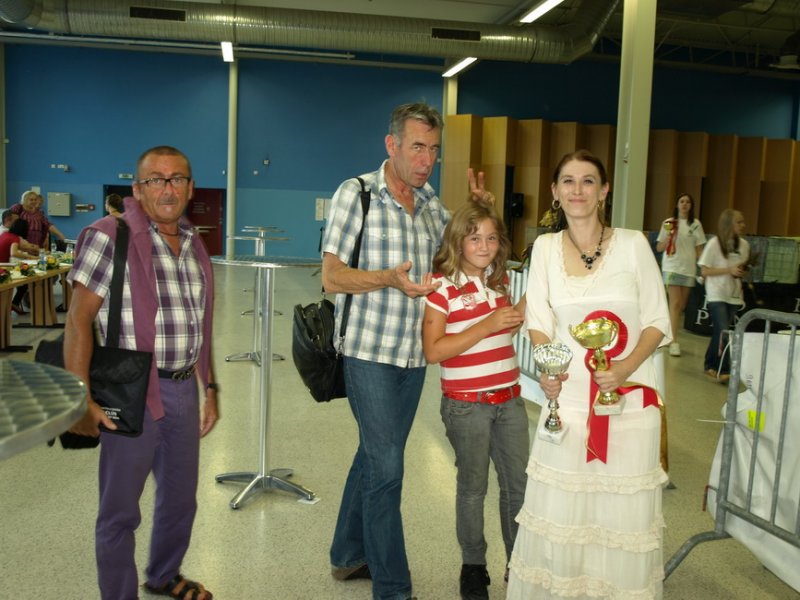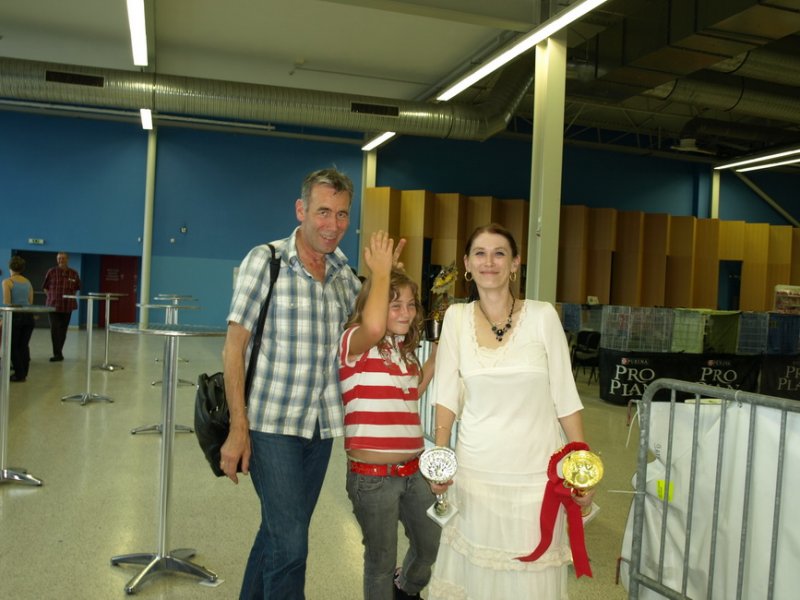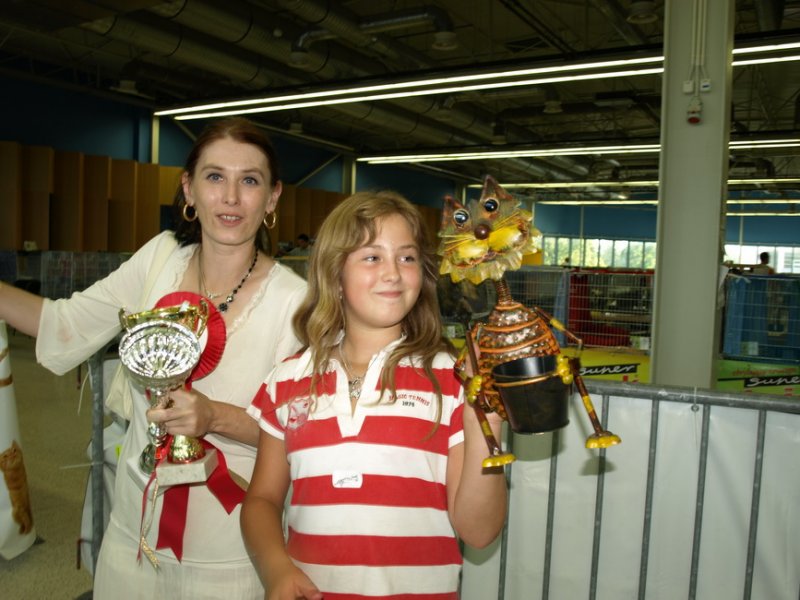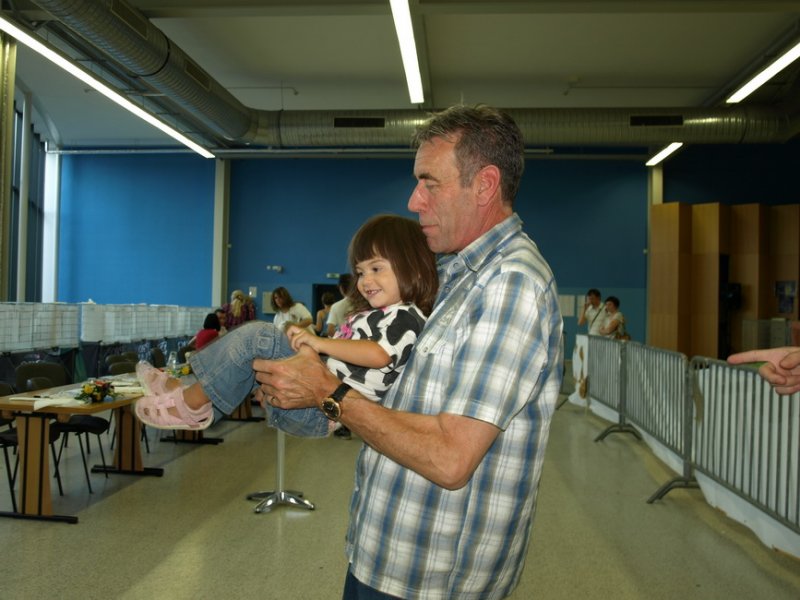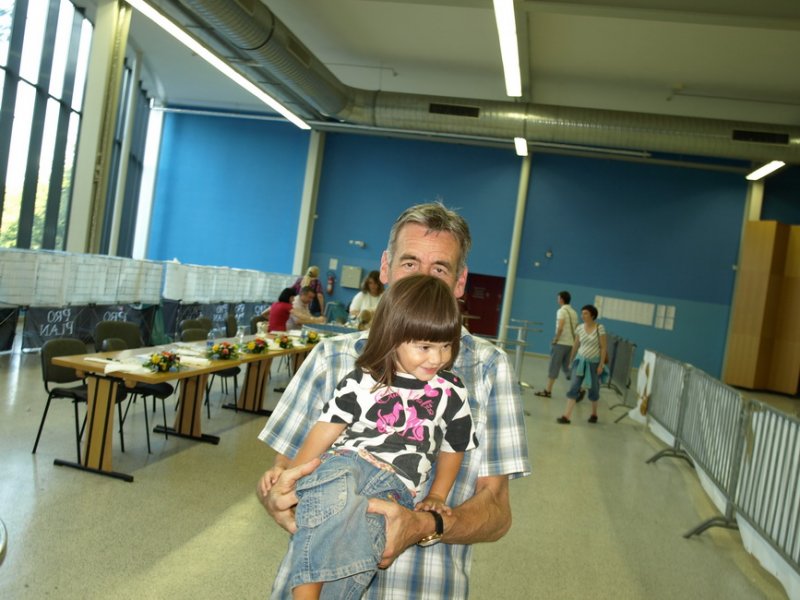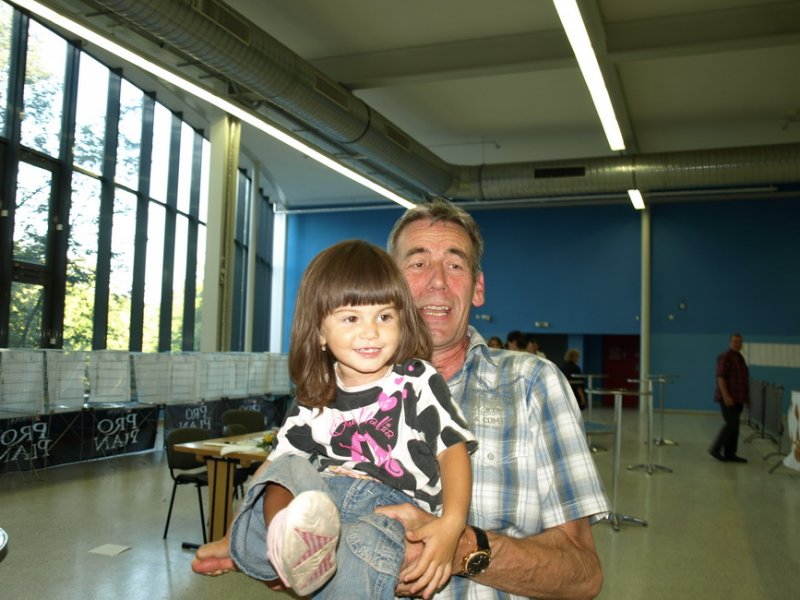 SHOW : BRATISLAVA - DK RUŽINOV 1. and 2. AUGUST 2009
VIDEO from SHOW : http://www.youtube.com/watch?v=mxDsIuoD-CY
on this video : " M " Litter Sultan Chan also WW 06,07 GIC Michelangelo D´Oltremare
Sathurday and Sunday results of Club Italia :
CAT IV
BEST LITTER cat IV
Litter " M " Sultan Chan * SK out of Otello x Manar
BEST KITTEN 3-6
both days
MAMBO SULTAN CHAN * SK OSH b 24 ( There were beautiful kittens from DK Felihanhats Rosamunde SIA b , daughter of Michelangelo D´ Oltremare - owner Edoardo Spirandelli from Italy and from Germany came Kawesico´s Carlotta SIA w 67, daughter of OKonor Tejfel - owner Katrin Kriener
BEST KITTEN 6-10
both days
BLERO BON VOYAGE * SK OSH n ( Owned by Sultan Chan cattery. There was beautiful oriental kitten from Germany, Imperator Bon Lozana OSH n 24, son of Hollywood Capri Jungle, owned by Stephanie Meisner, also kitten Quin Daisy Chain*SK SIA c, son of Miracle, qwned by our member Edoardo Spirandelli from Italy.
BEST MALE and also BOB 2
both days
WW06,07 GIC Michelangelo D´Oltremare JW * I OSH n 24 ( owned and bred by Simone Caratozzolo from Italy. There was showed also Otello, son of Michelangelo, get nominaion and last CACIB, became ICH )
Otello was showed only on sathurday.
BOB 3 on SUNDAY
ISCHA Fiordaliso EXO fs 22 (owned by our member Magda Kmošková and future member Renáta Poláková ) Breeders of this special little girl with enormous eyes are our friends Massino Sorbini and his wife Fiorella. CONGRATULATIONS !!!!!!!!!!!!!!!!!!!!!!!!!!!!!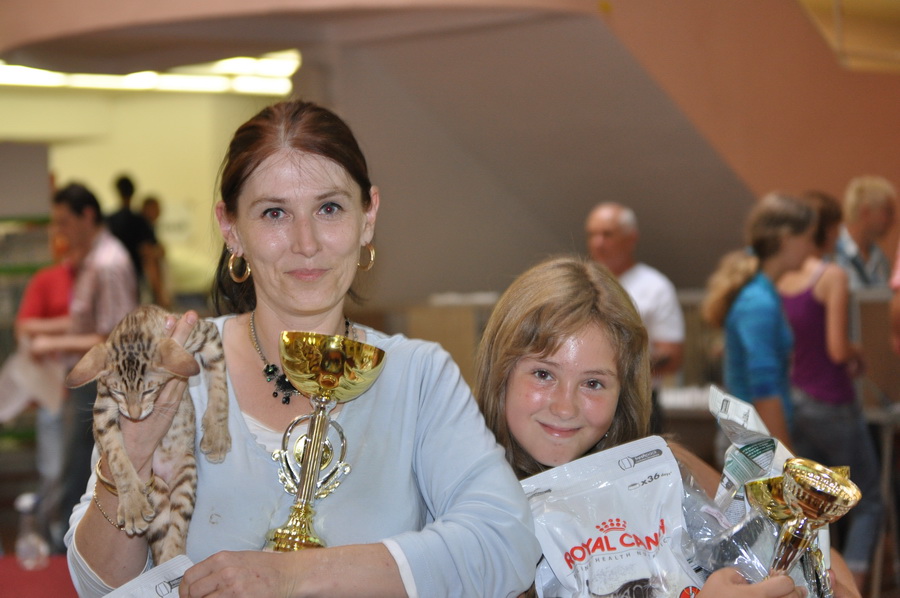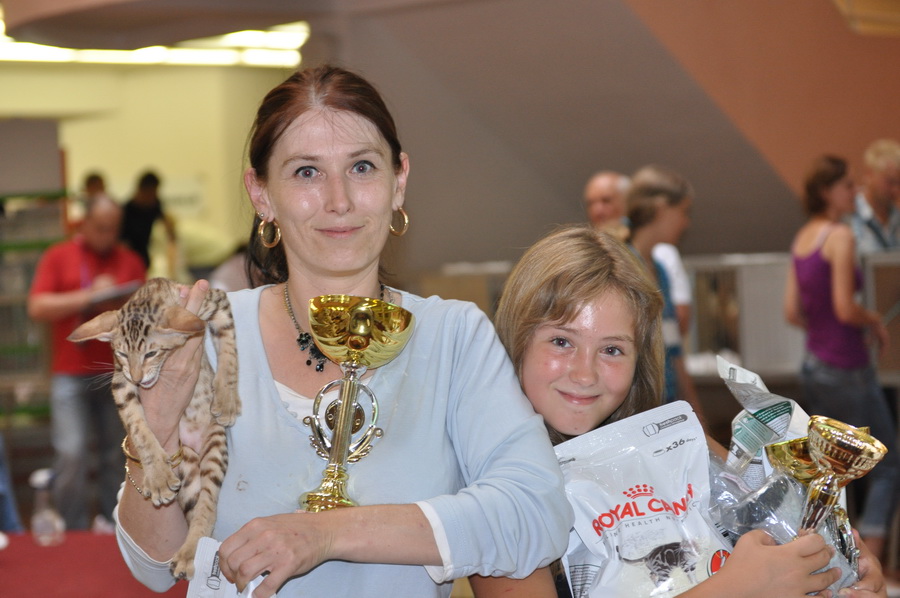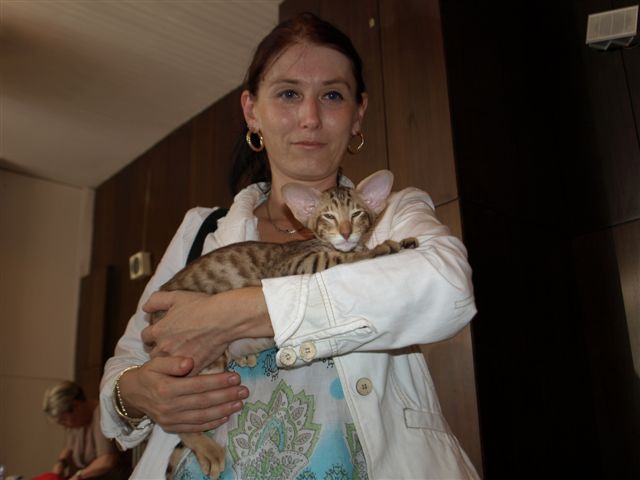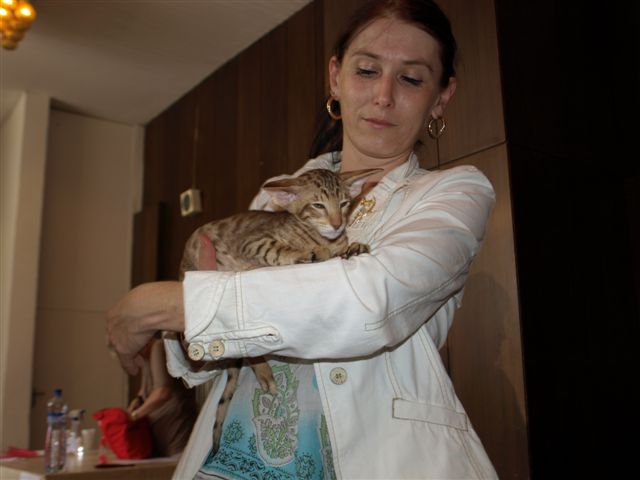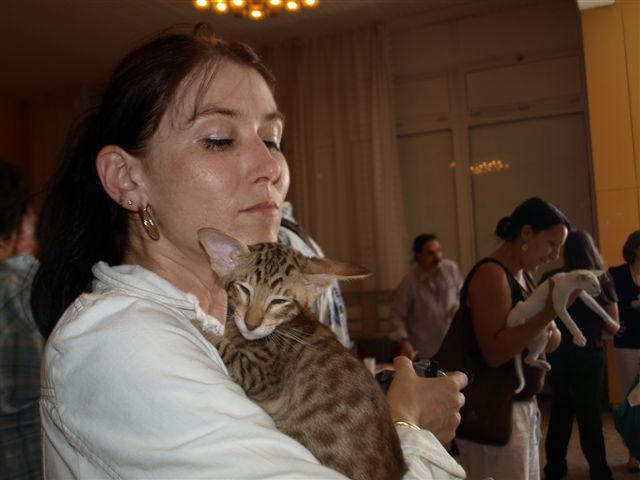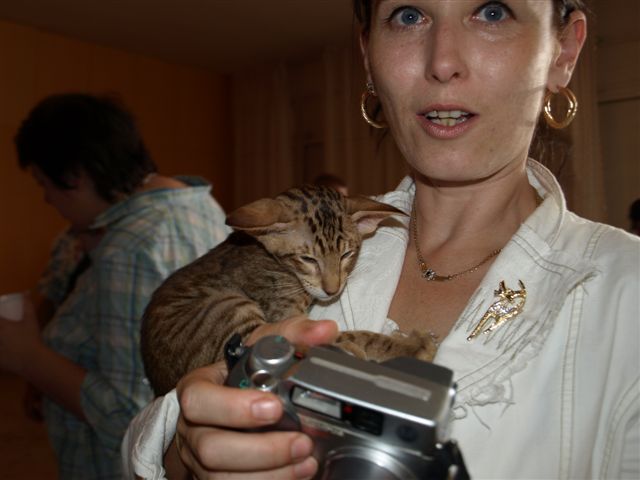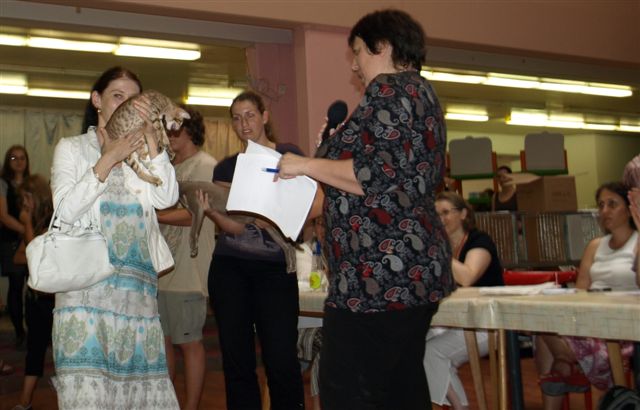 And our baby Mambo won, mummy taking Mambo from BIS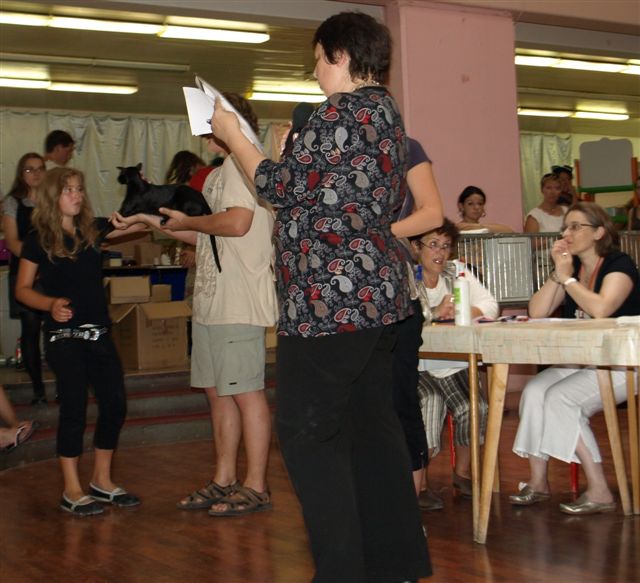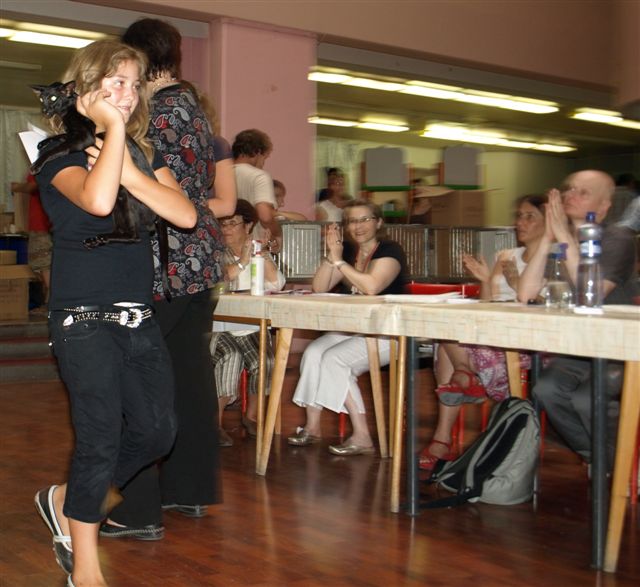 Blero won !!! Alessia taking Blero home from BIS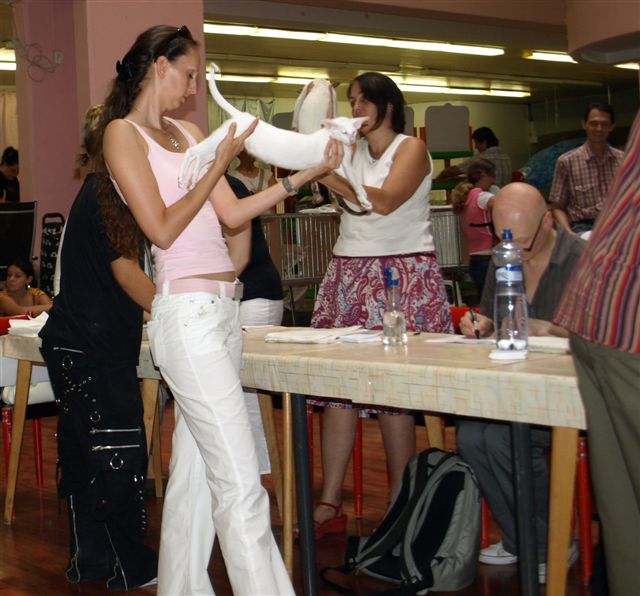 white kitten - classe 12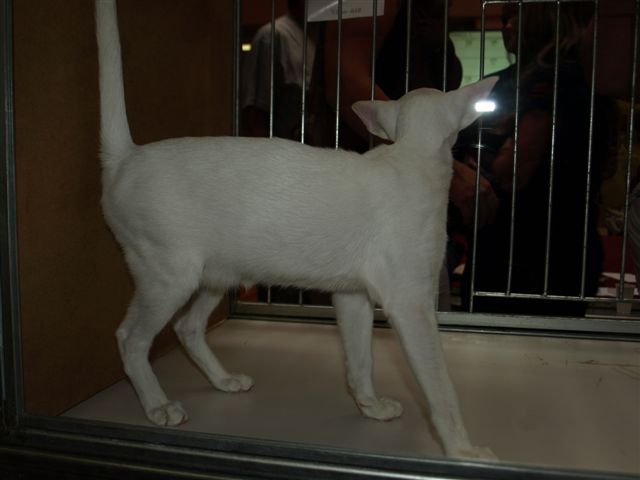 malá biela netopierka v tr 12, Mambova súperka :-)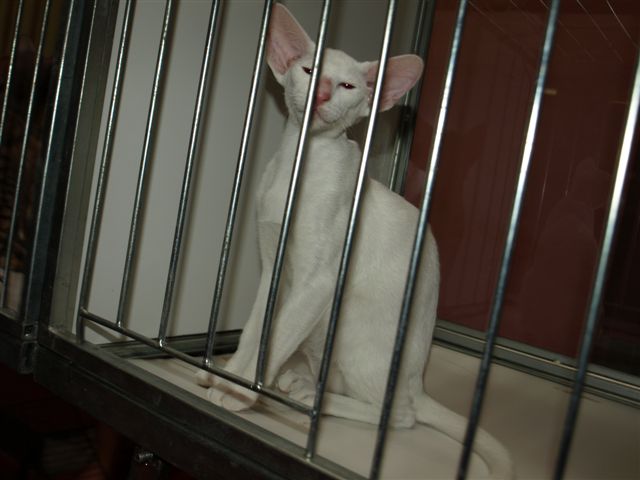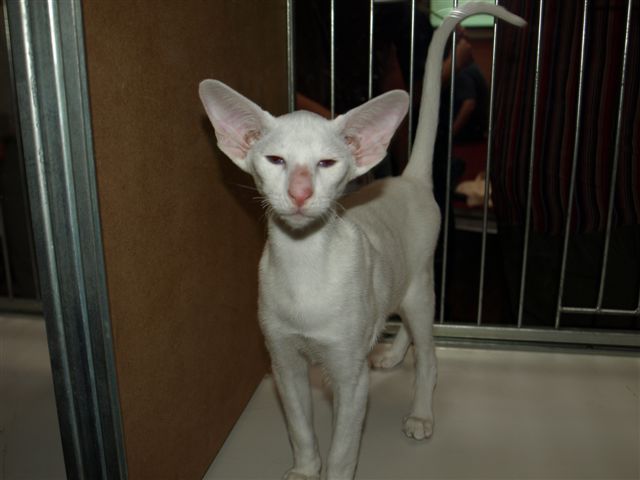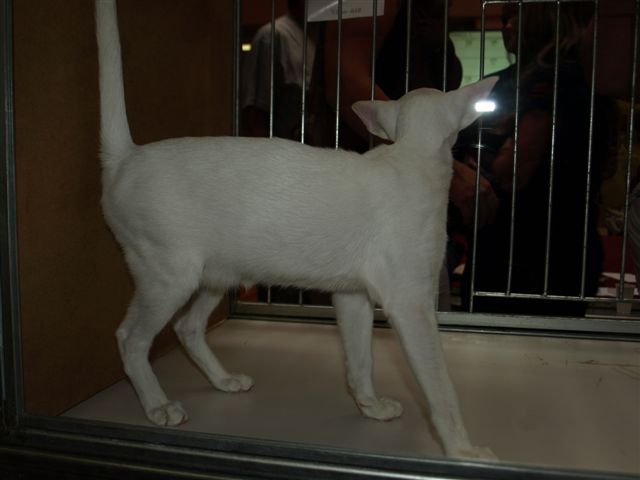 white female in classe 12 bred and owned by Katrin Kriener from Germany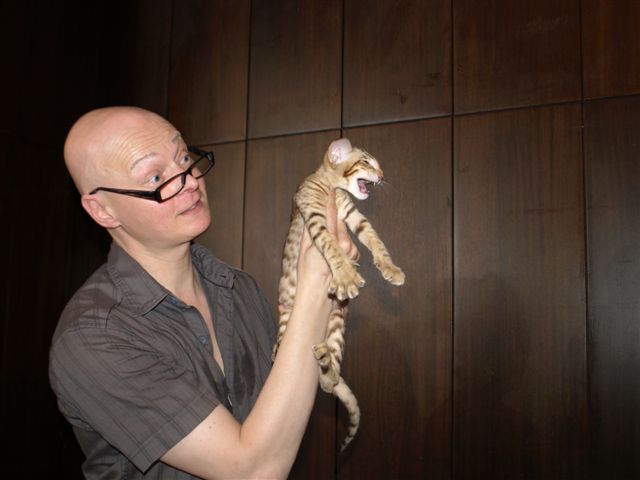 singing Mambo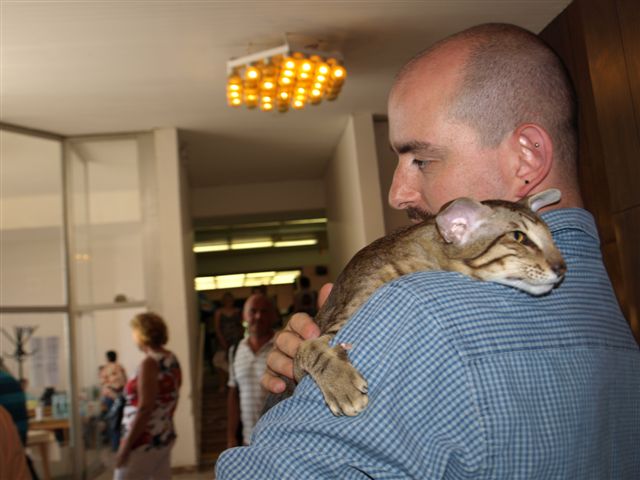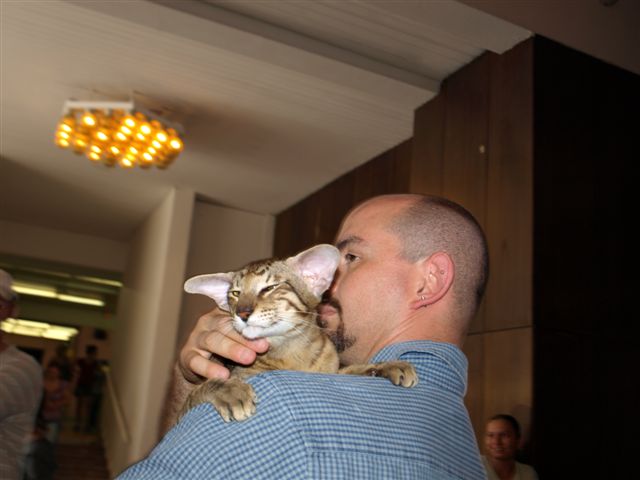 Star Michelangelo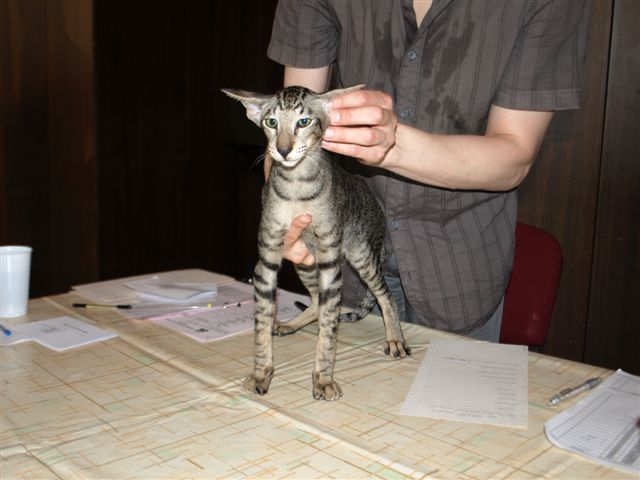 Imperator - son of Hollywood Capri Jungle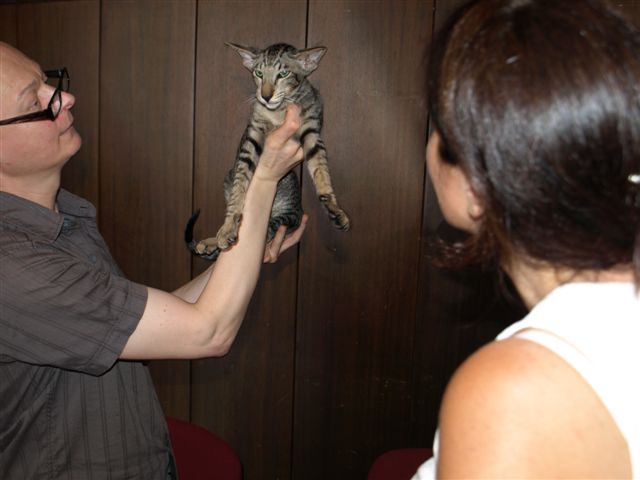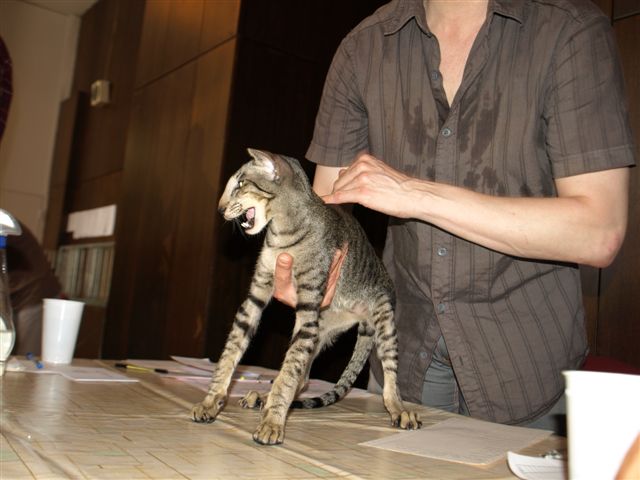 boy OSH n 24 from Germany, kitten in classe 11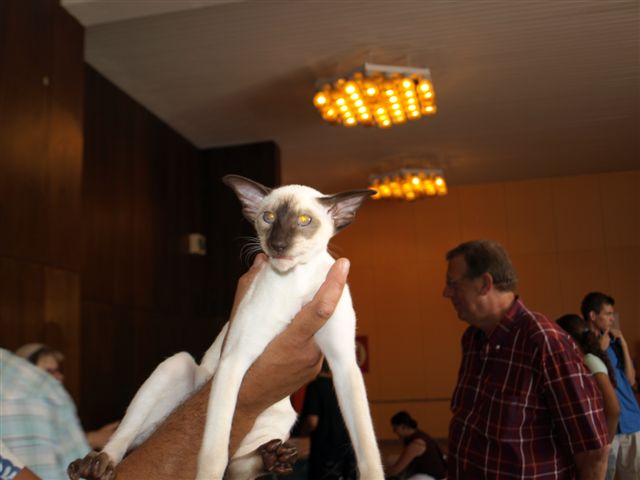 FIN* Filihancats Rosamunde, SIA b kitten in classe 12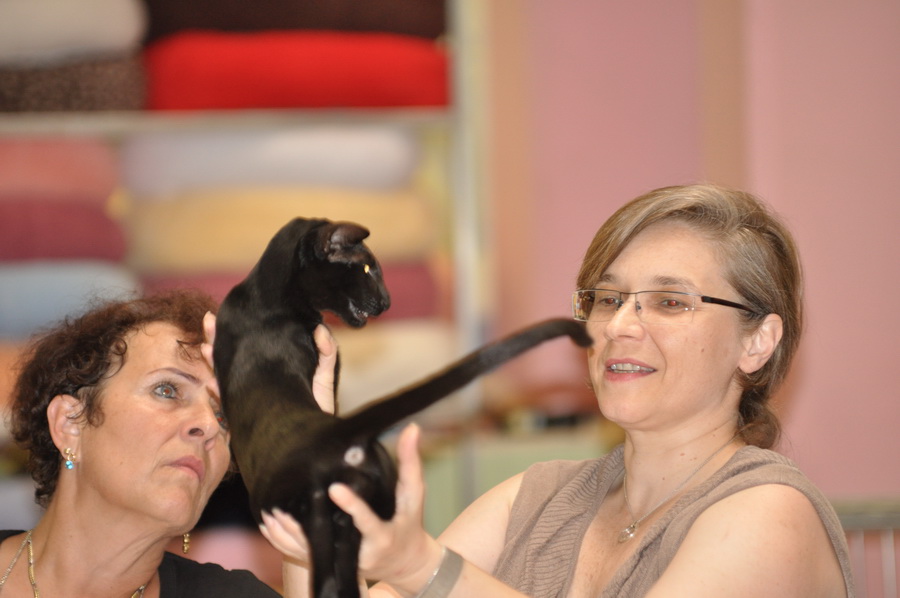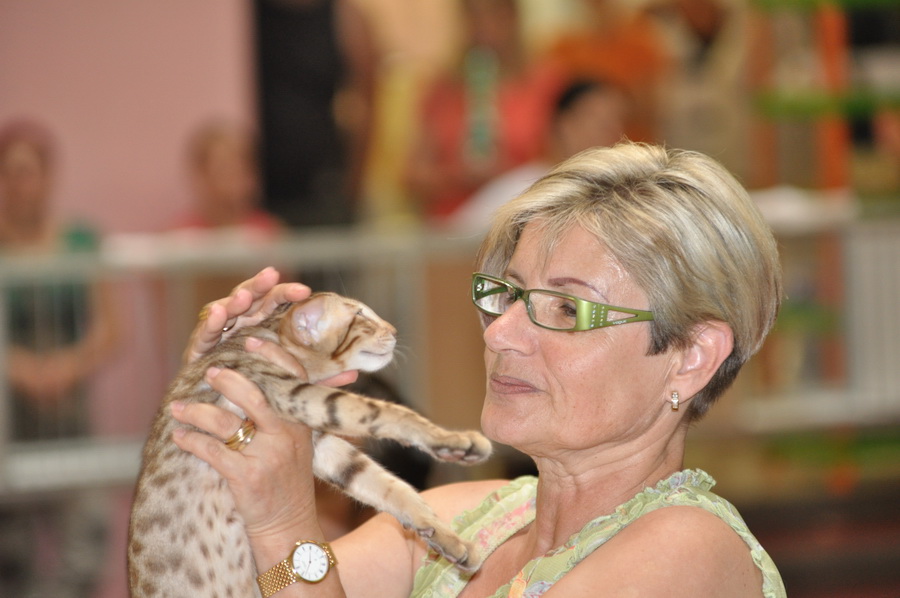 Mambo and Gina Grob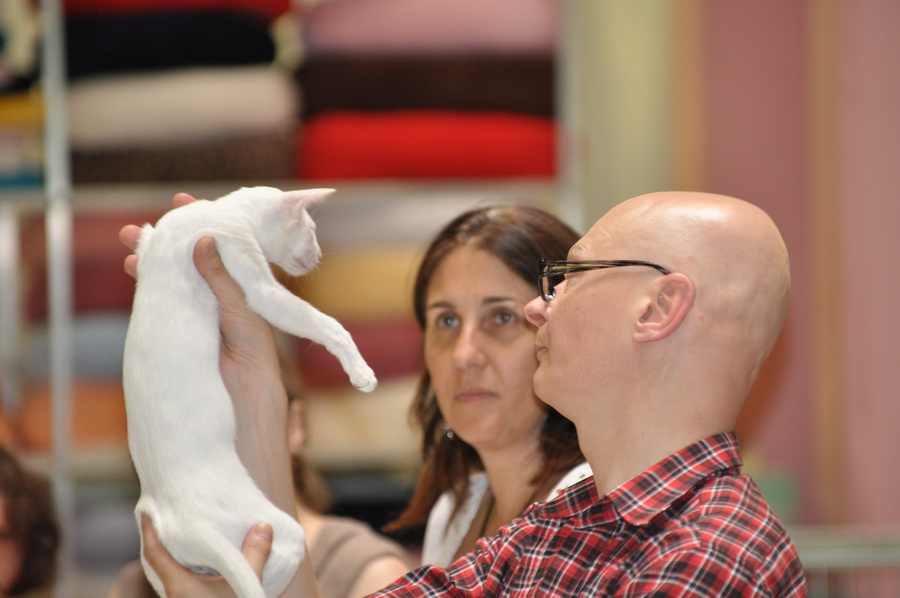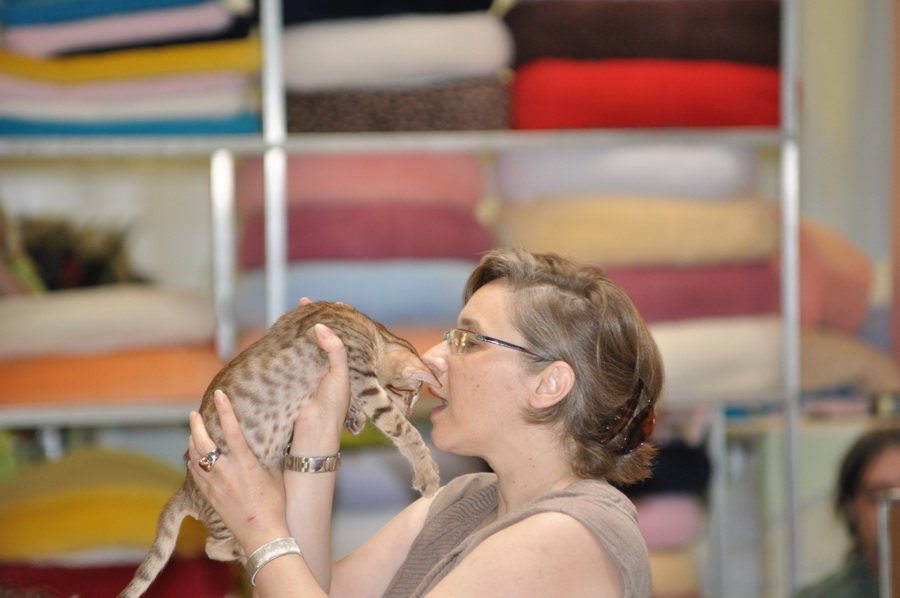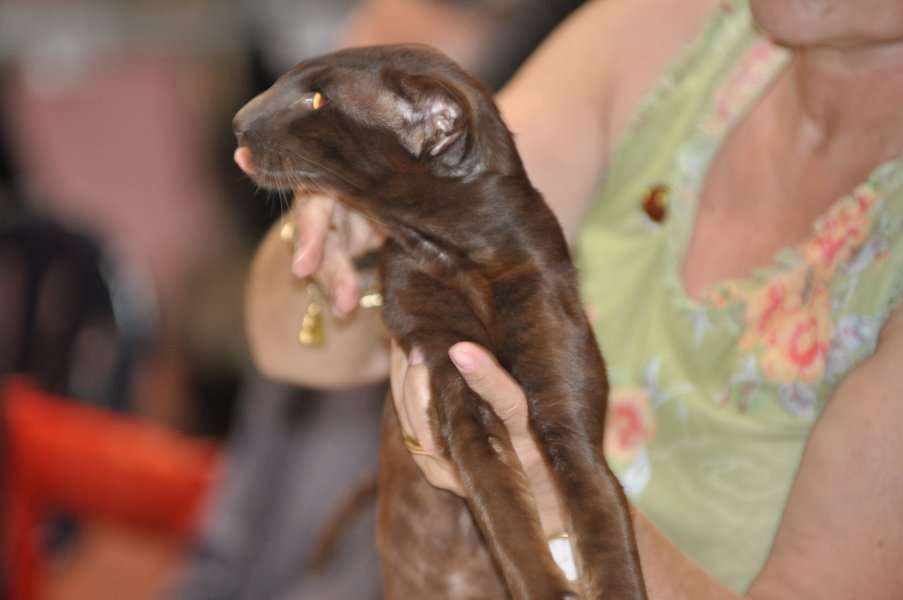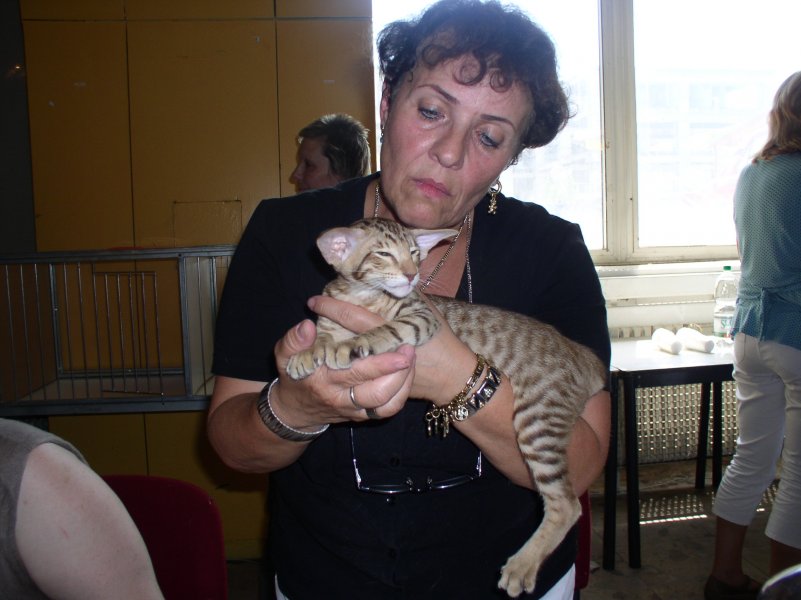 Our baby boy Mambo Italiano OSH b 24 with student judge Mrs Helene Reiter from Lichtenstein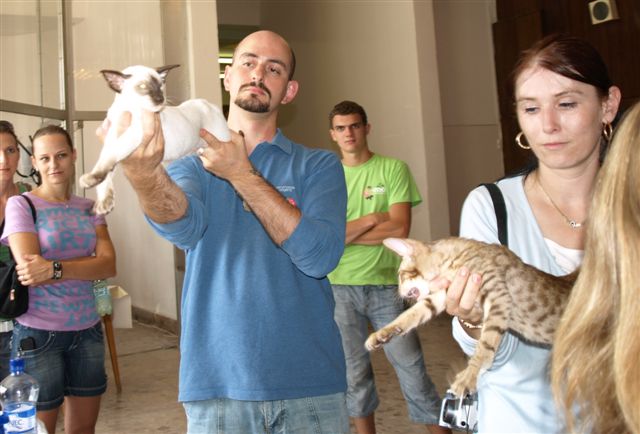 Felihanhats Rosamunde SIA b - 6 mths old ( with Simone Caratozzolo ), owned by our member Edoardo Spirandelli
and Mambo OSH b 24 which won and get nomination for Best in Show !!! Thank you Donatella !!!!!!!!!!!!!!!! :-) she needed
almost 10 minutes for right decision.....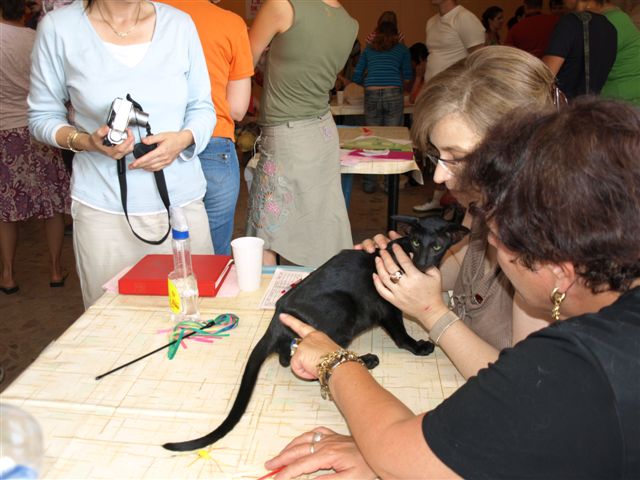 Our black star Blero Bon Voyage*SK bred by Barbora Krčmárová and Ingrid Butyková, judged by Donatella Mastrangelo
in classe 11 ( 6-10 mth) Blero growed a lot and now looks like a real macho :-)))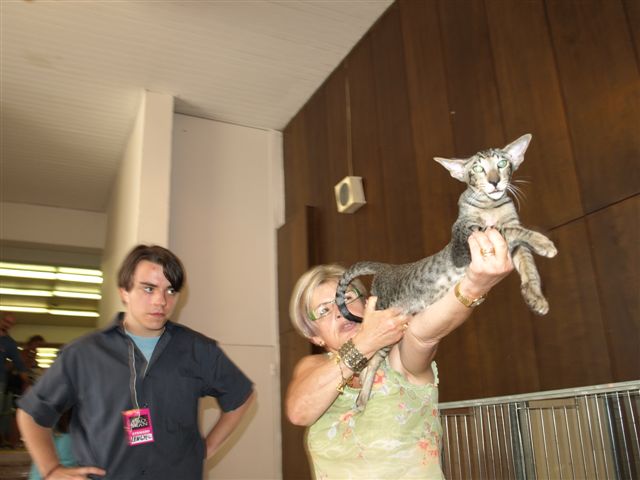 Imperator Bon Lozana OSH n 24 came from Germany, boy in classe 11 judged by Gina Grob All round judge from
Lichtenstein. Very elegant young male out of Jungle lines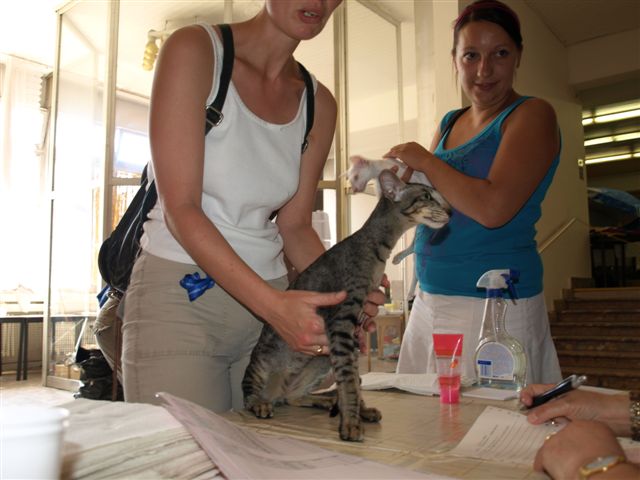 Yes, this is profile and long head we admire on Svetlana´s Jungle web site :-) Finally, sow one of these cats in real :-)
On the picture : right side, Katrin Kriener, Kawesico´s cattery, new owner of my baby boy Megallo OSH c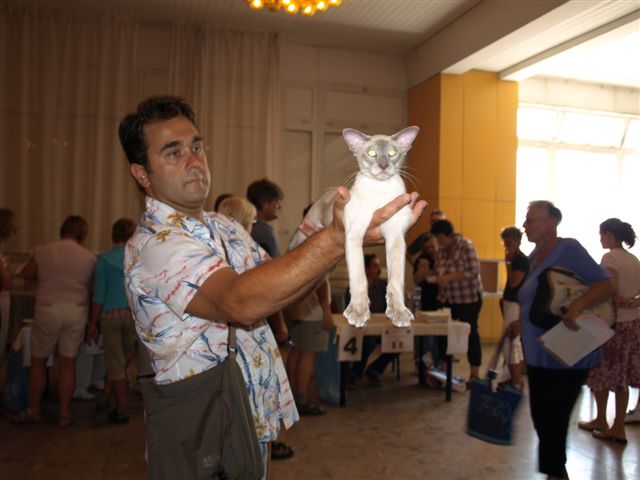 Quin Daisy Chain*SK SIA c and our member Edoardo Spirandelli. Kitten judged in classe 11, we met this boy in Best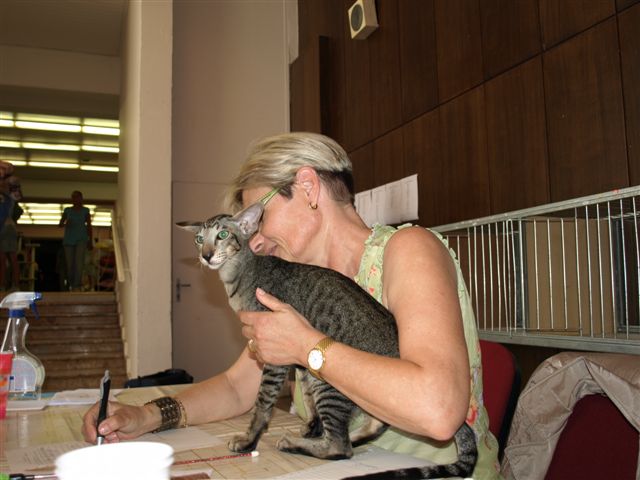 Again boy Imperator - russian import coming from Germany
Our boy Blero and his proud breeder Ingrid Butyková from Slovakia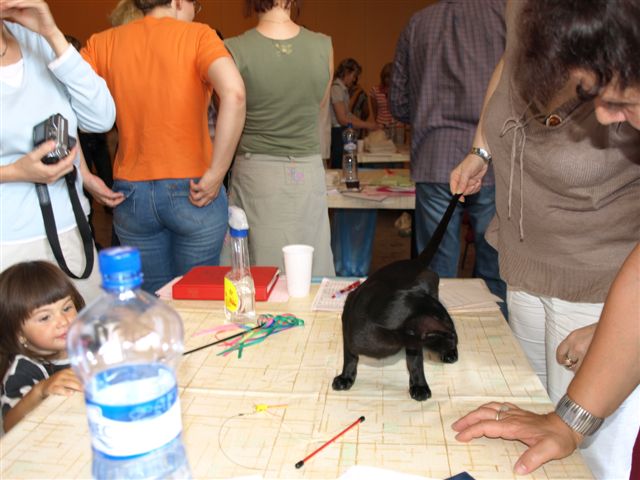 Blero and young breeder - Zamira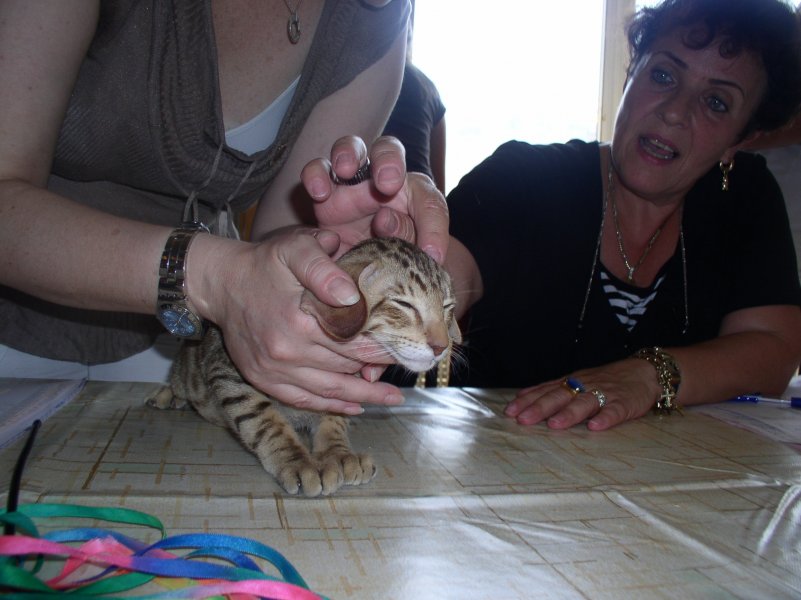 Judge and student judge checking size of ears. Ears cannot be longher than mouth :-)))))))))))))))))))))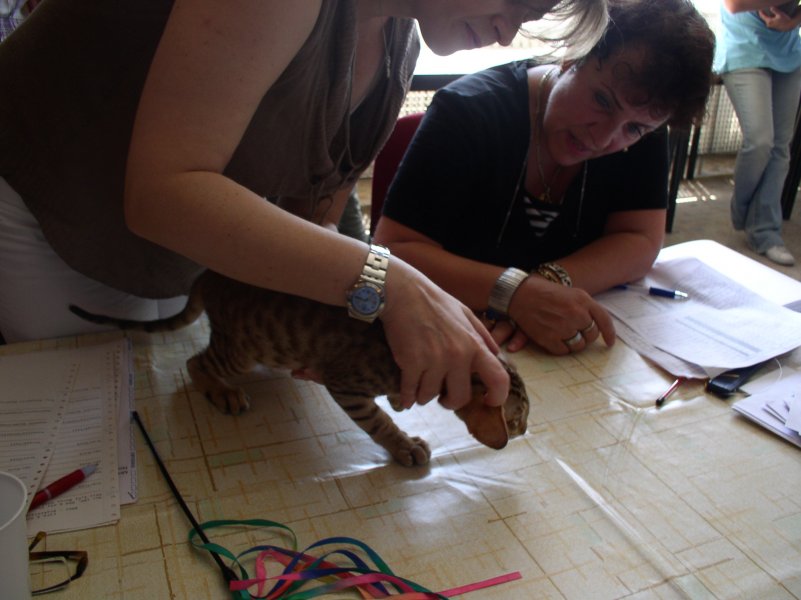 Little Mambo dumbo big and fatt like a elephant, 3 mths and 2200g. Look at his peds :-)) Small german shepard hihihi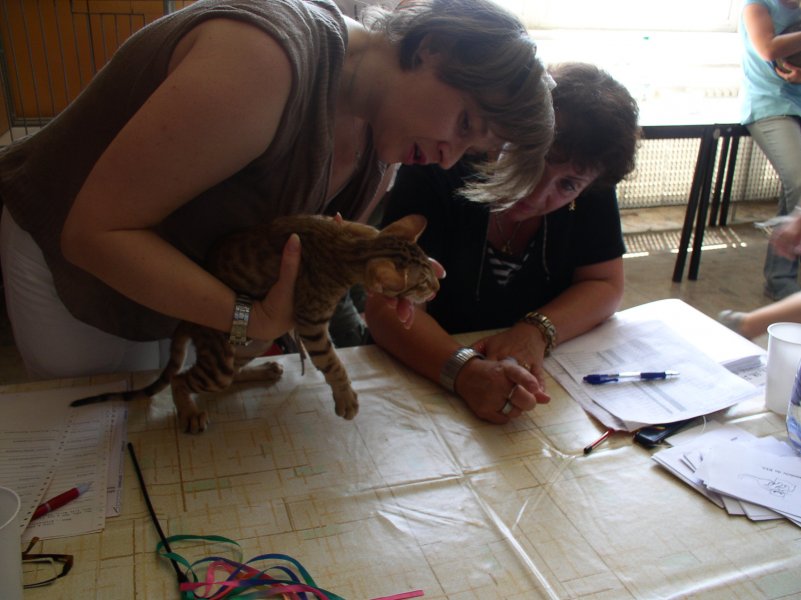 Donatella Mastrangelo, slovak judge from italy .-) Just working.............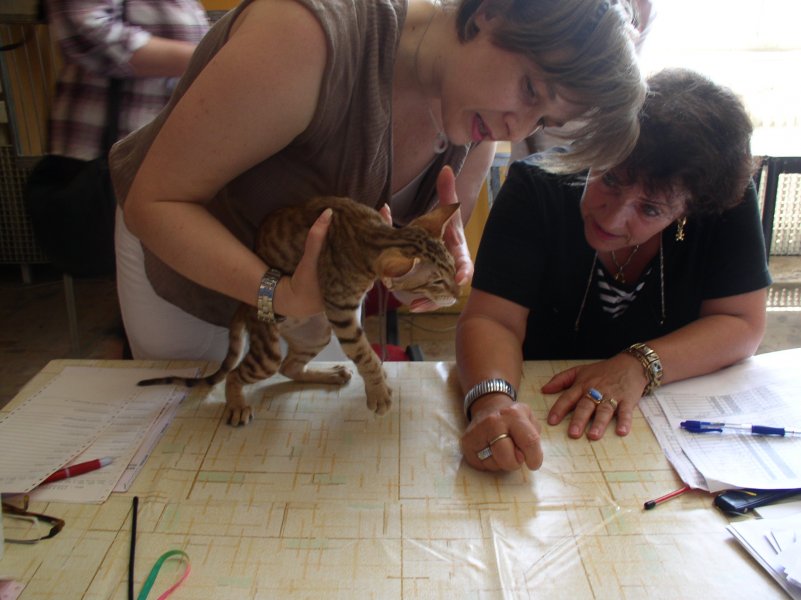 Teaching something about proportions ???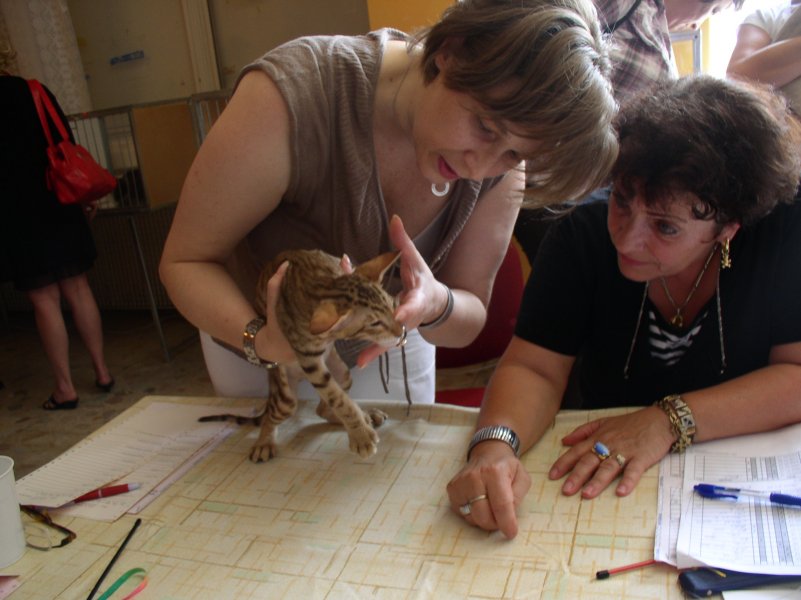 Yes it must be something about mouth and chin and .........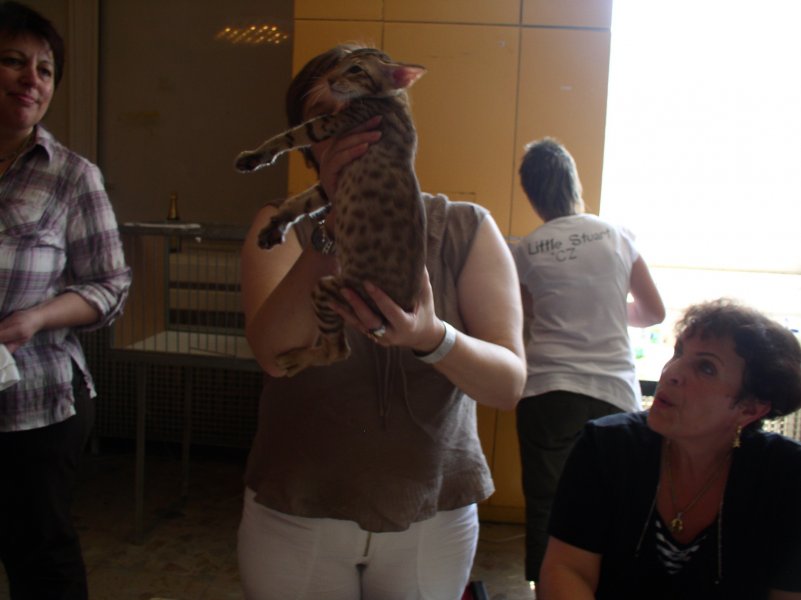 Lenka Venclíkova from CZ stewarding, in good mude as usual. Mambo and his excellent pattern.
Samochvála smrdí ale kresbu má mamo skutočne luxusnú. Donatella síce okomentovala kontrast ale náležite sme kričali :-)))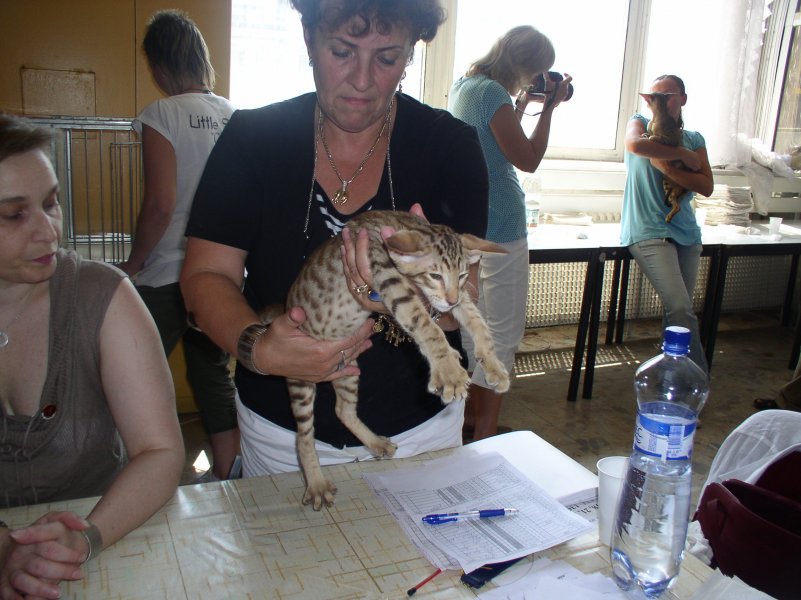 Heavy, yes we know :-))))))))))))))) Walking publicity for humid Royal Canin babykat Instinctive :-))))))))))))))))))))))))))))))))))))))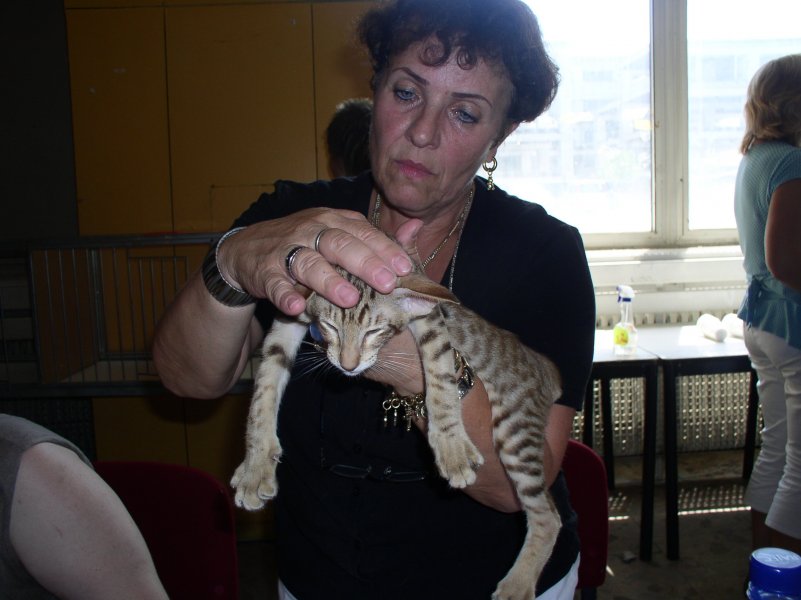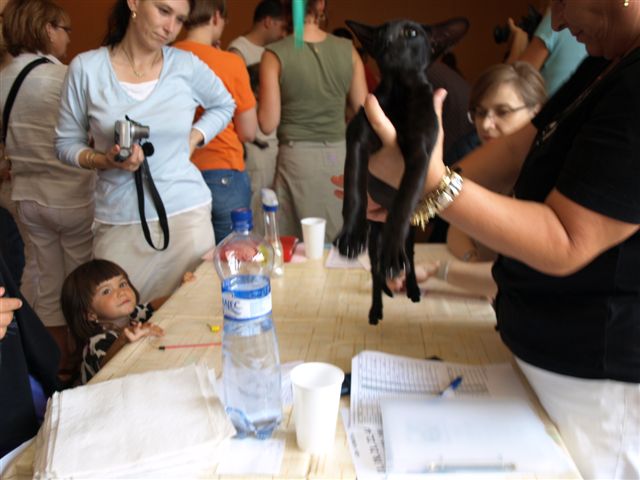 Zamira admiring Blero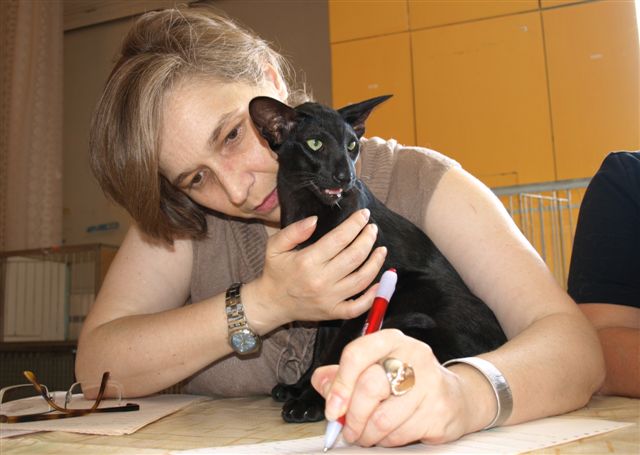 Blero and his beautiful green eyes, with Donatella Mastrangelo which loves solid colours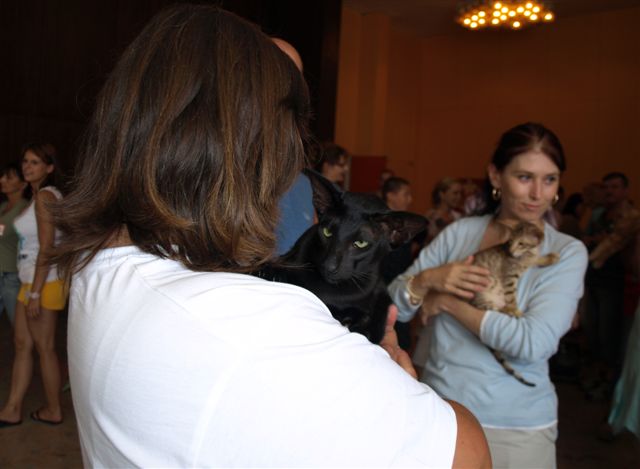 And here he is, with his mummy Inka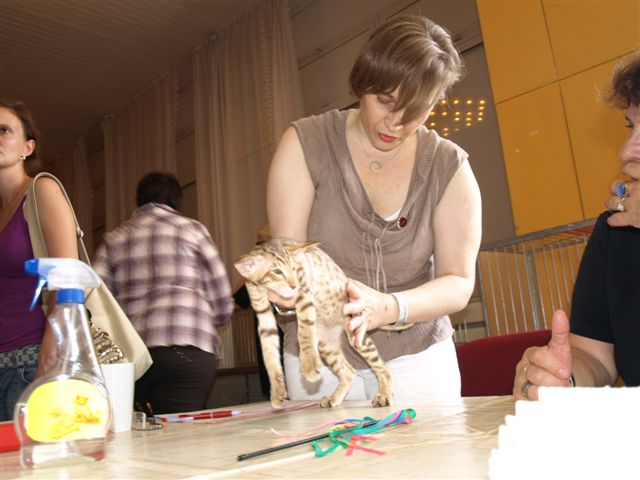 Mambo ,,,,,,,,,,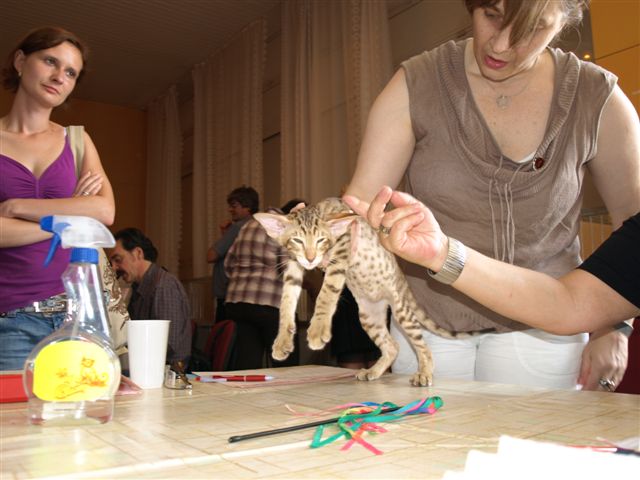 Magda - breeder of persian cats, member of club Italia,Mambo, member of club Italia on 4 leggs judged by
member of club Italia :-)))) we are allways TEAM ,,,,,,,,,,,,,,,,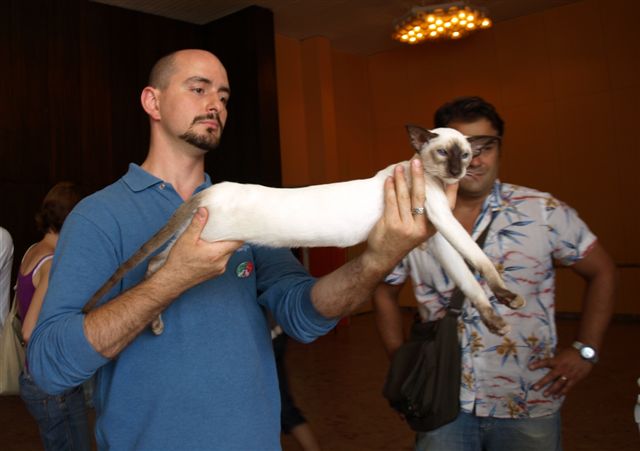 And again Rosamunde, import from Danimark, daughter of WW 06,07 GIC Michelangelo D´Oltremare JW with our members
Simone( my secretary) and Edo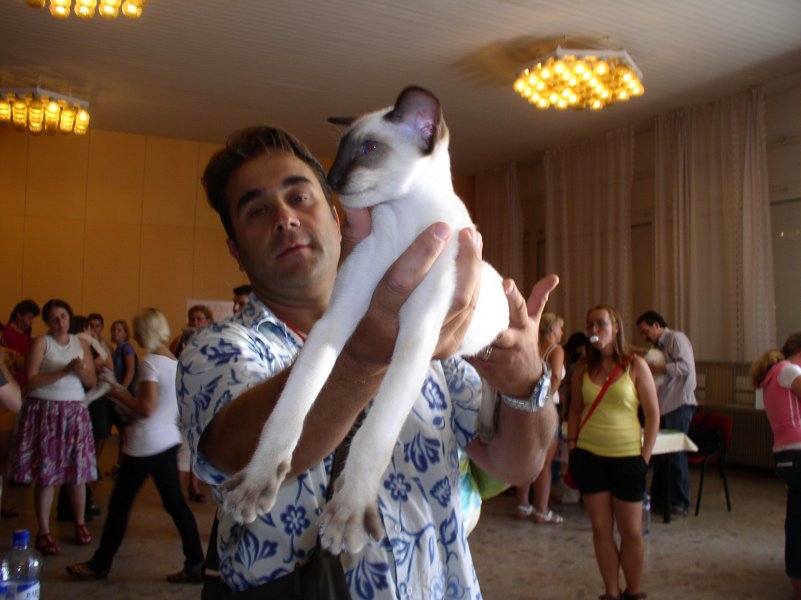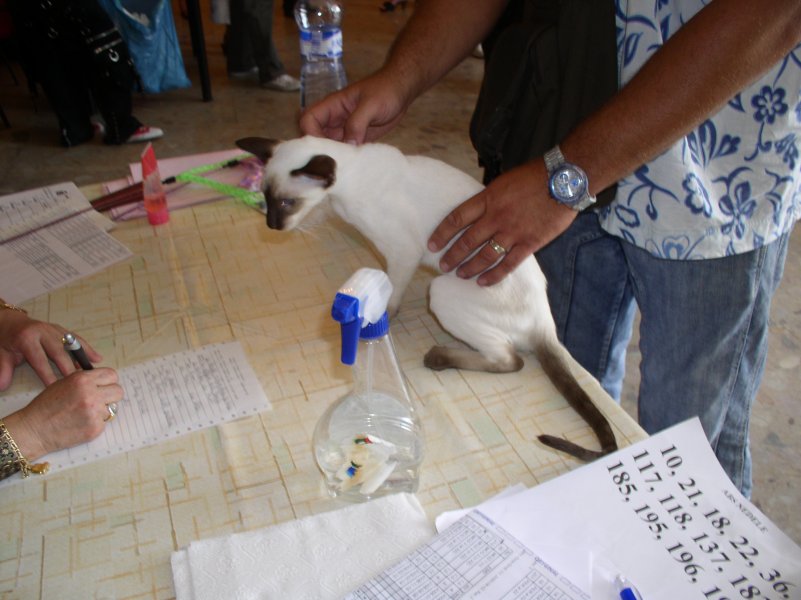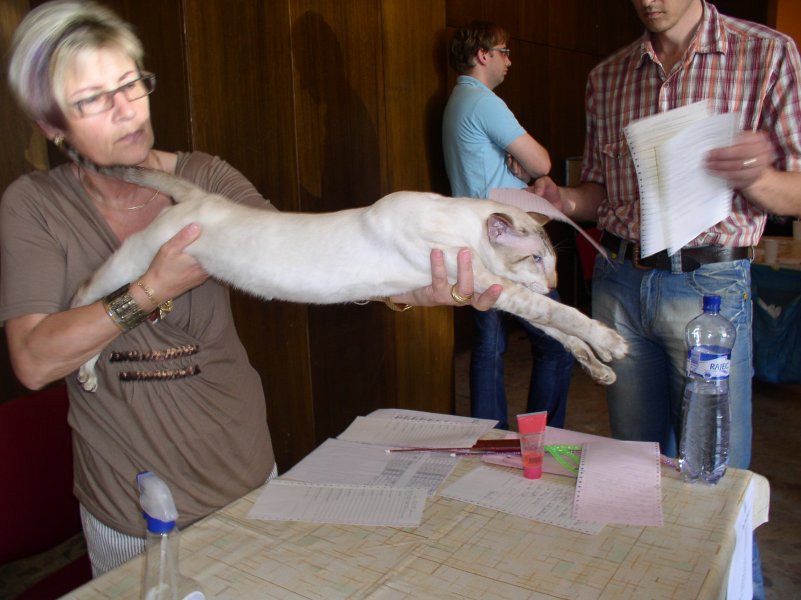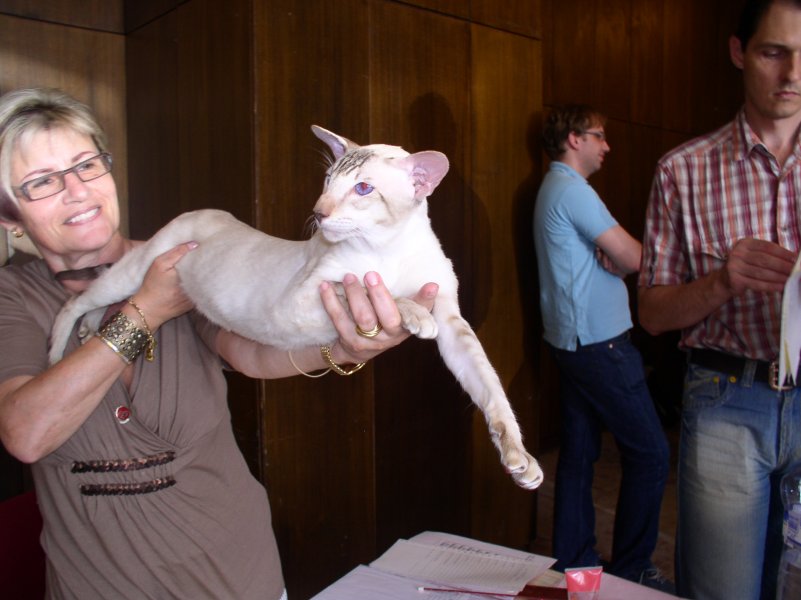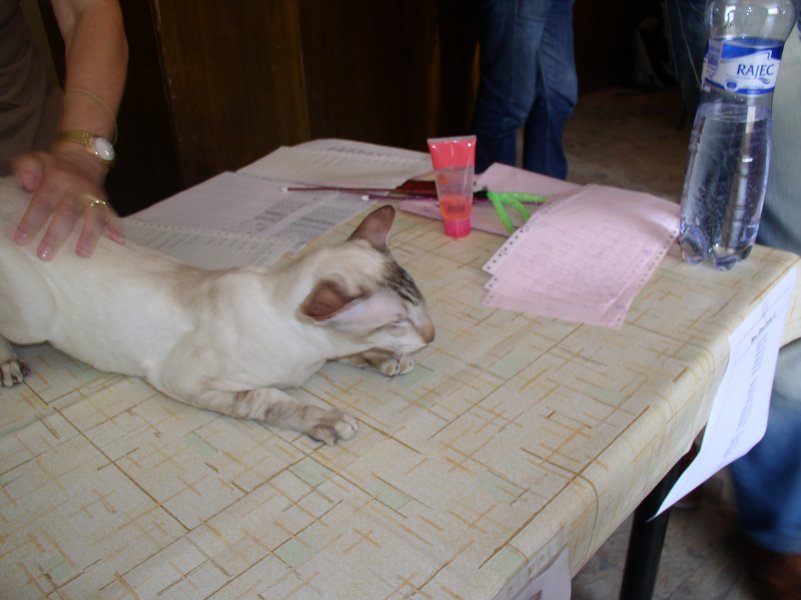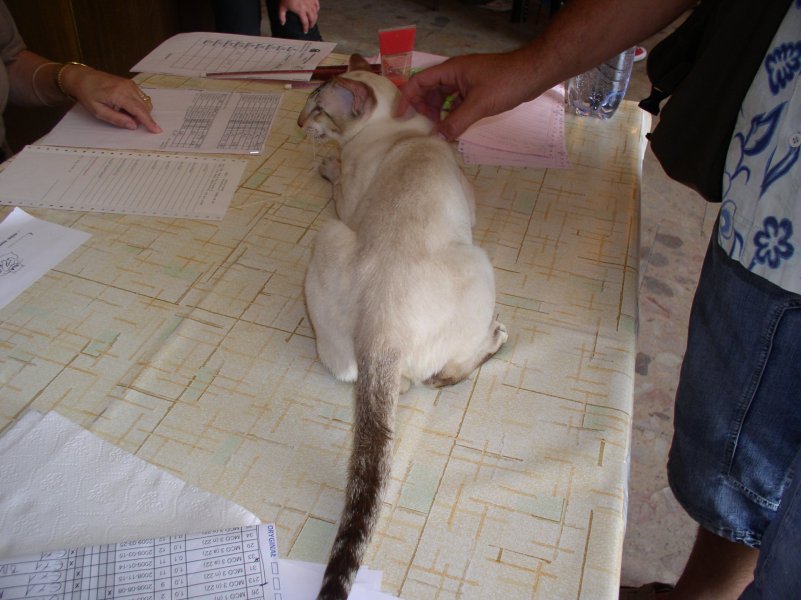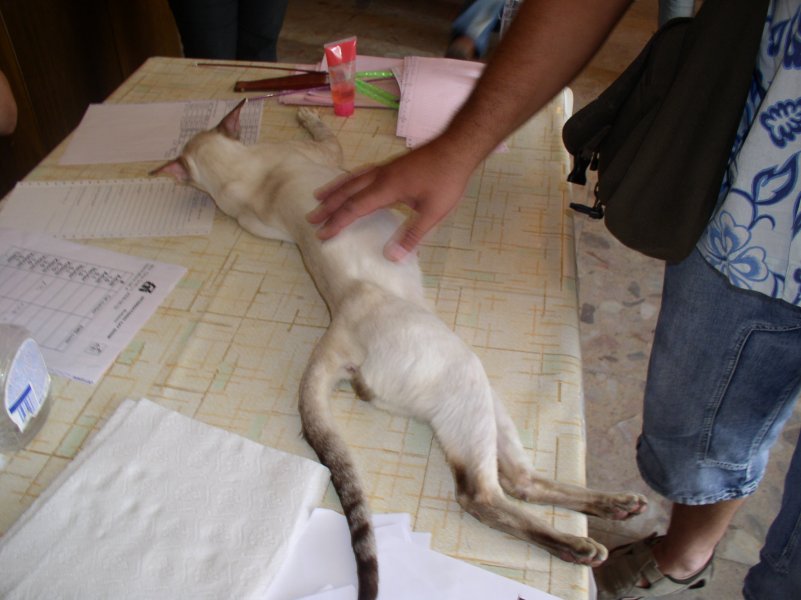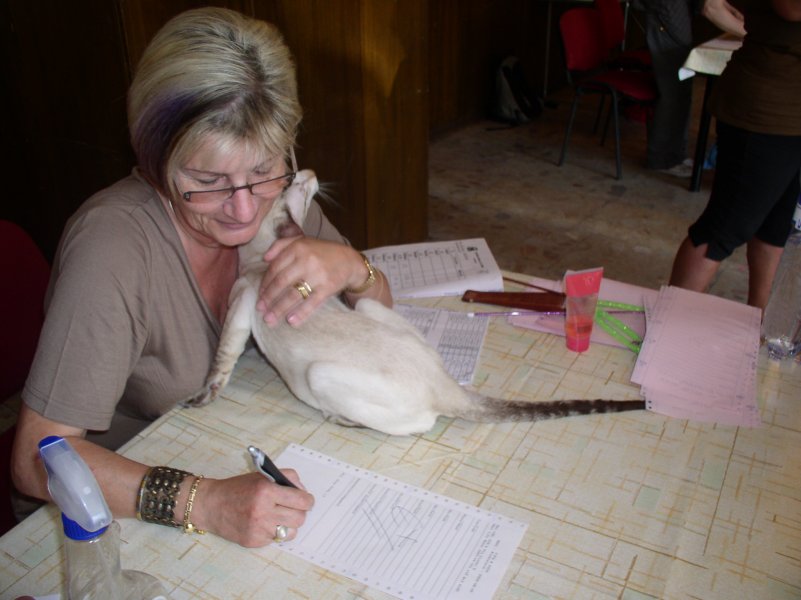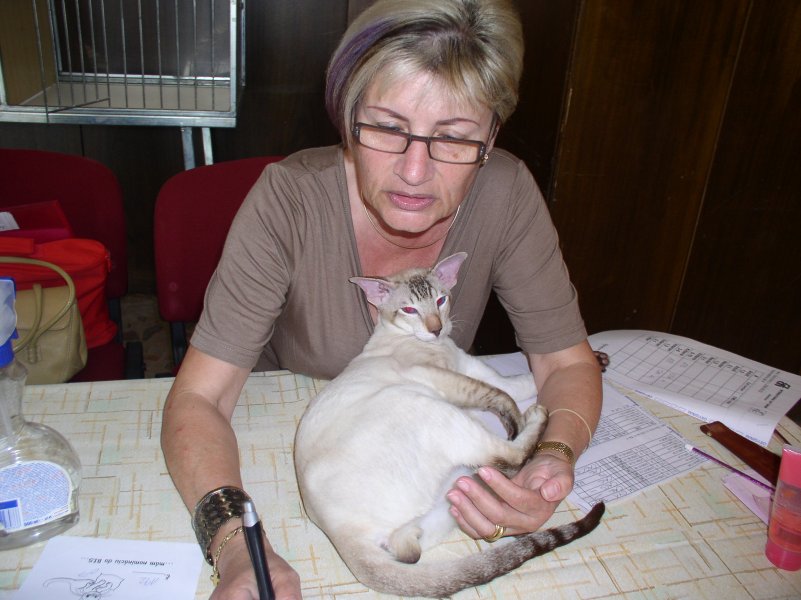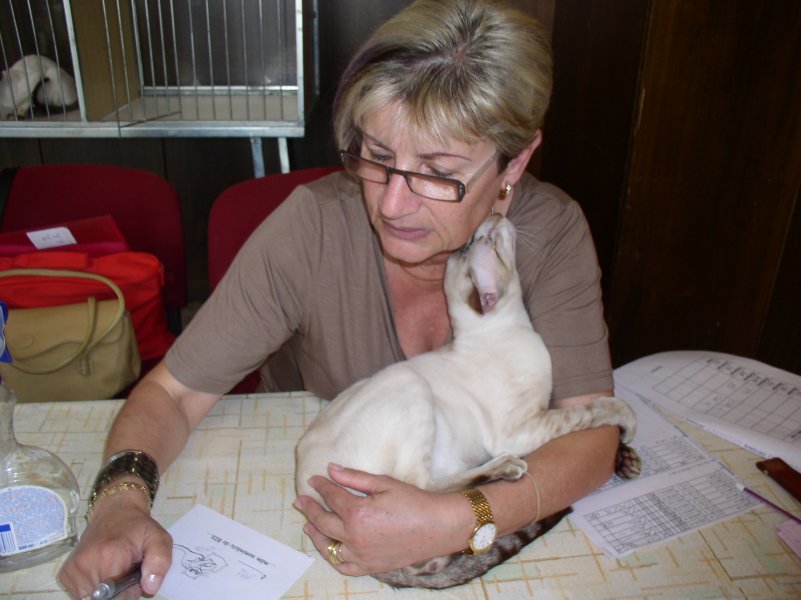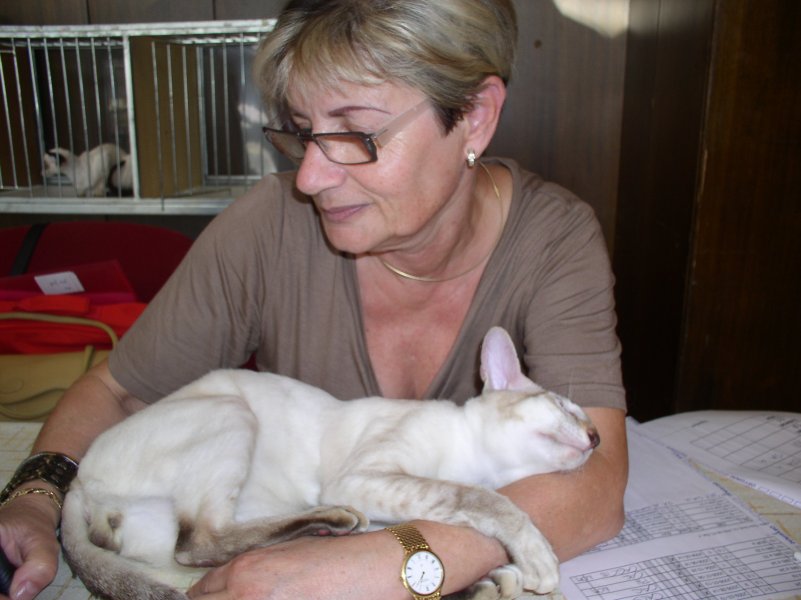 Edo´s adult boy judged by Gina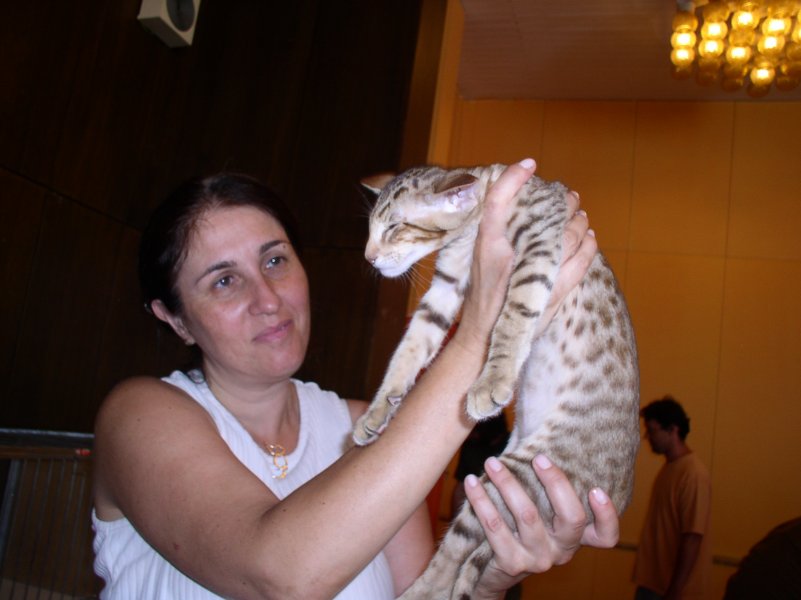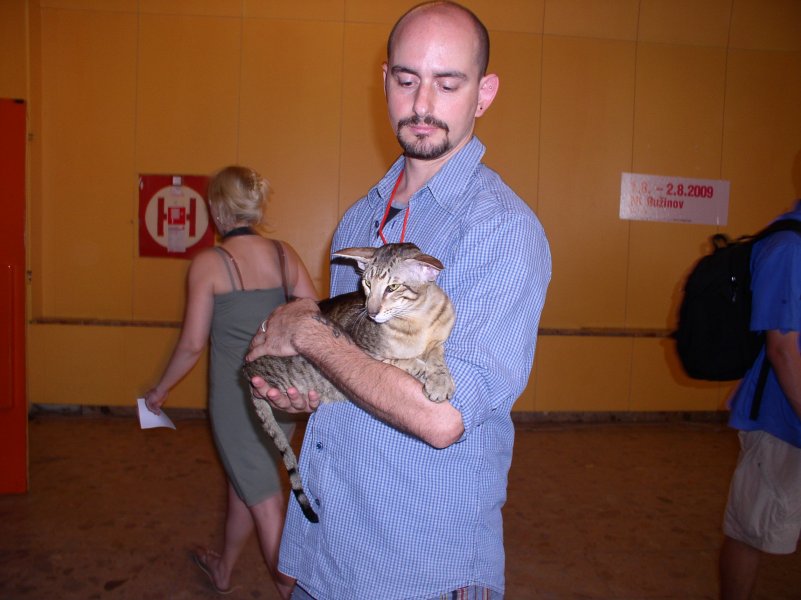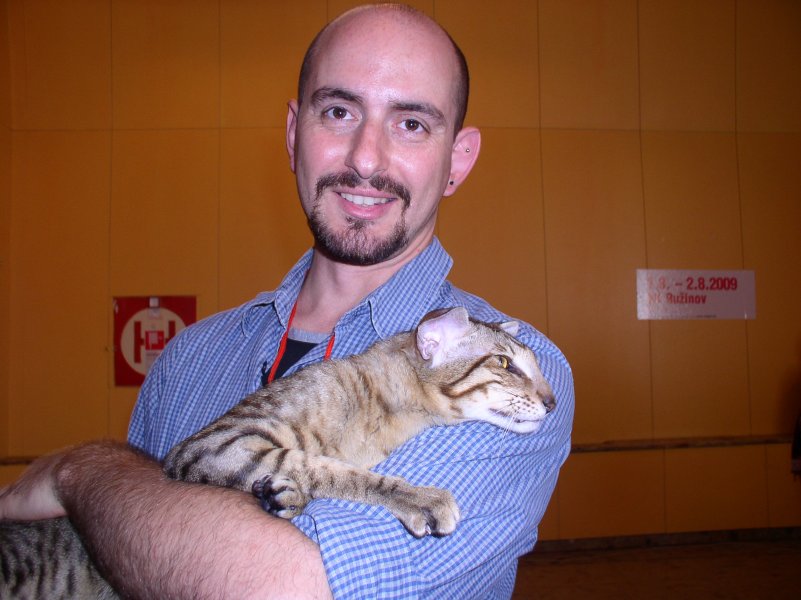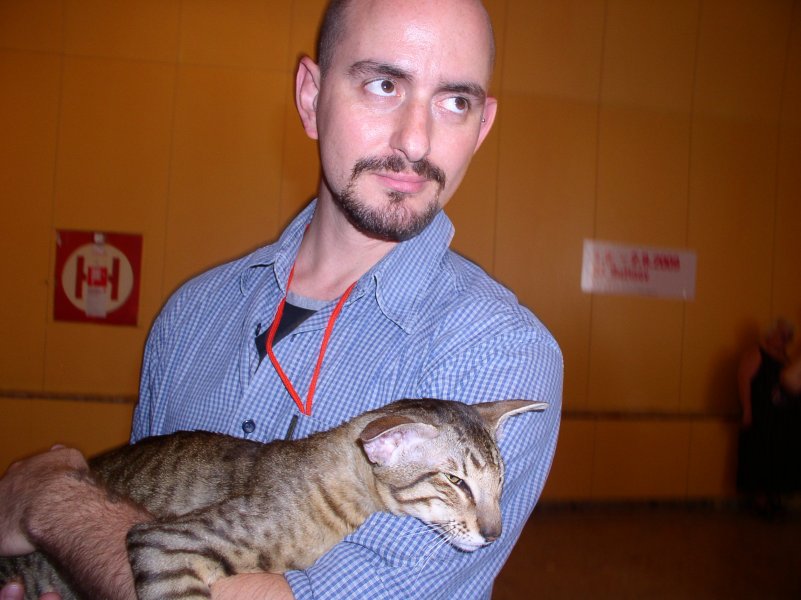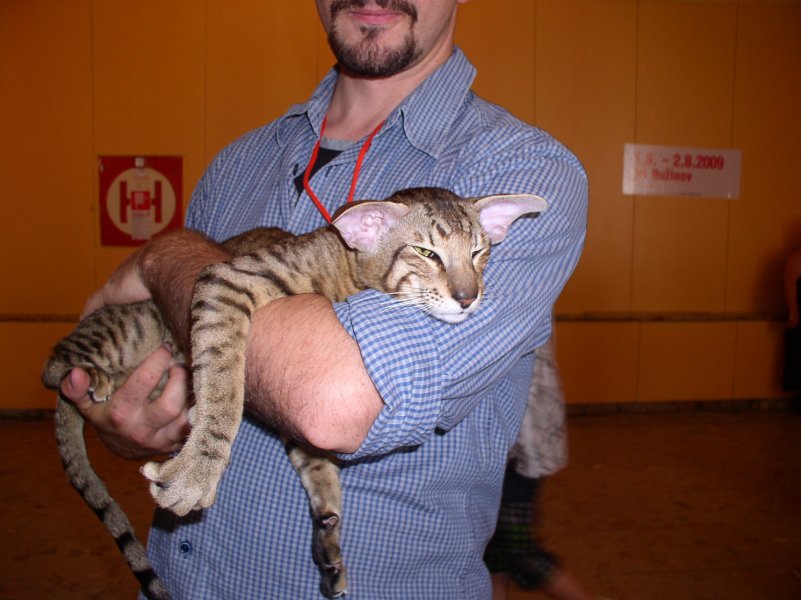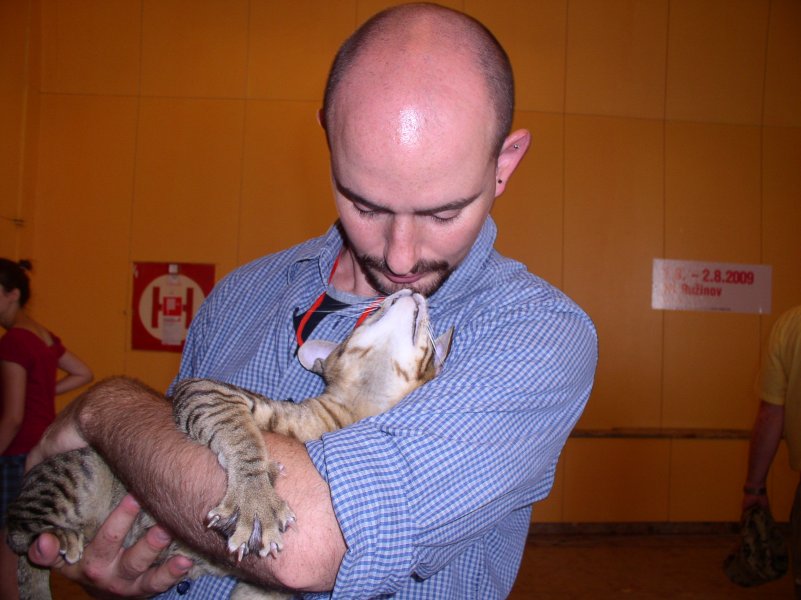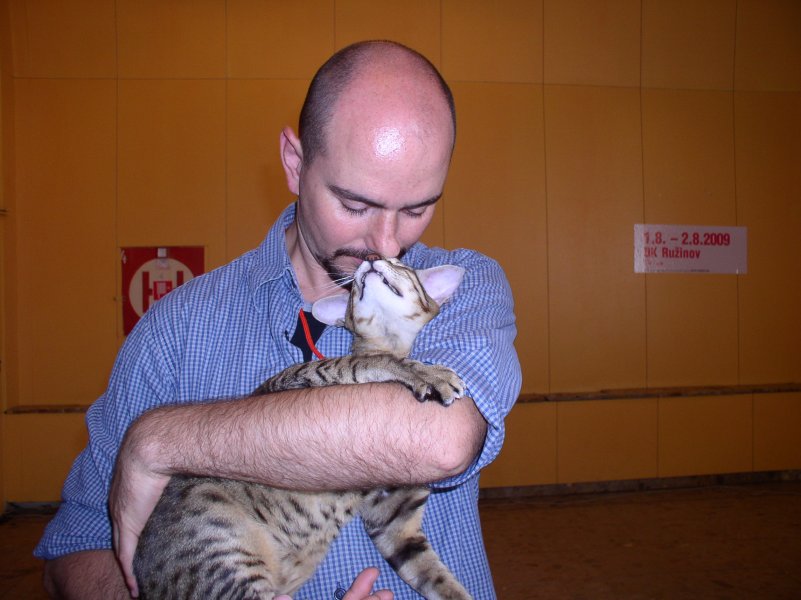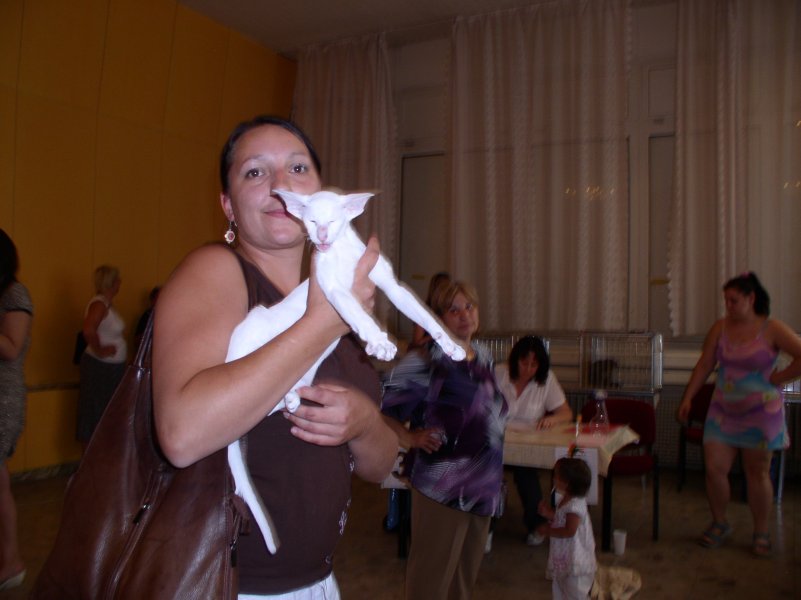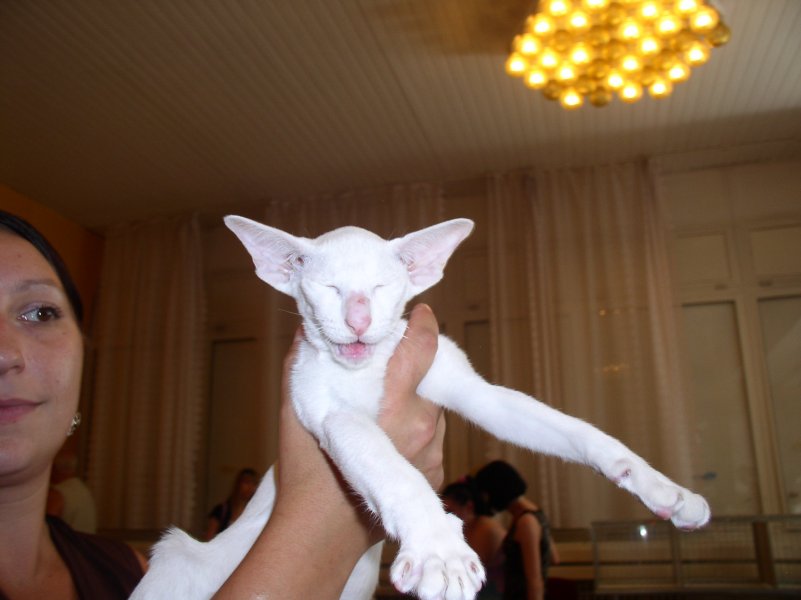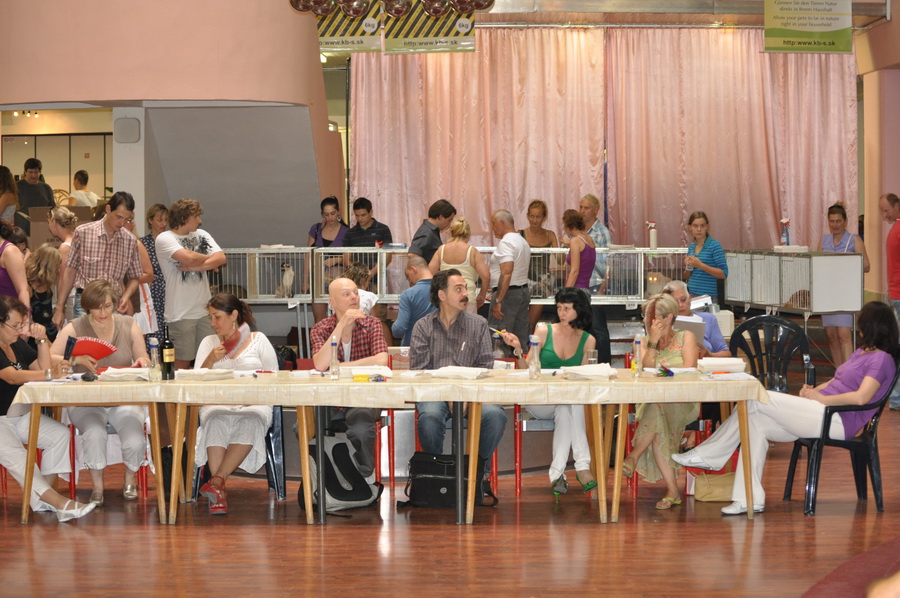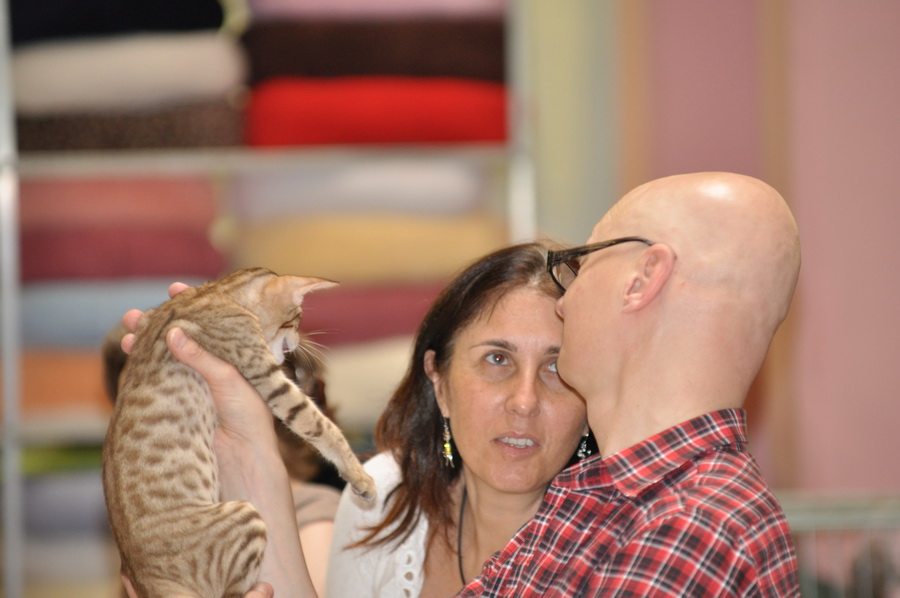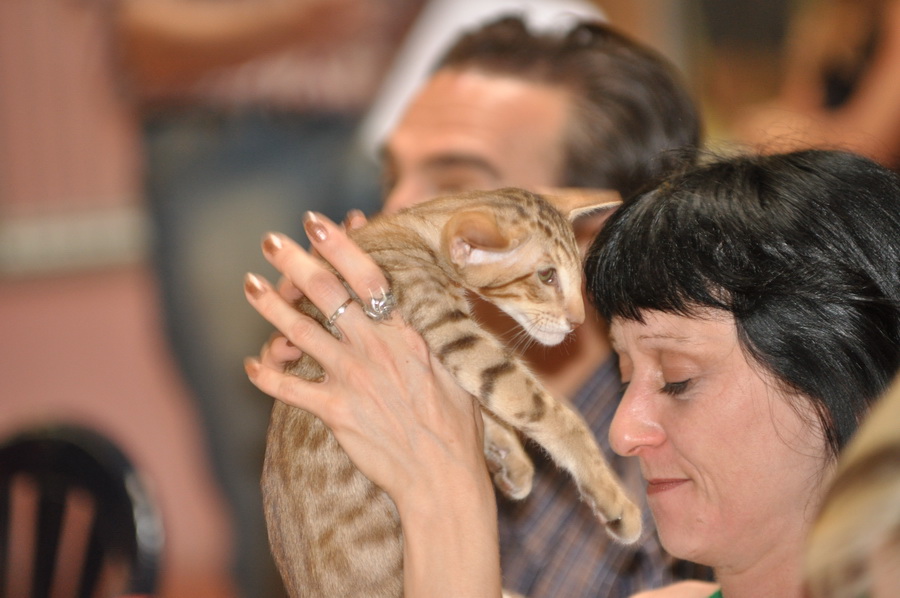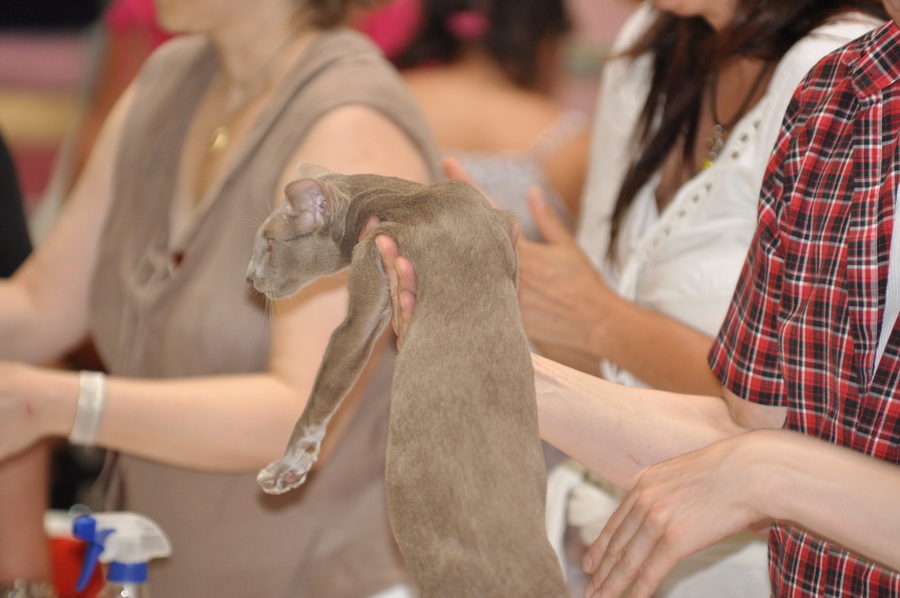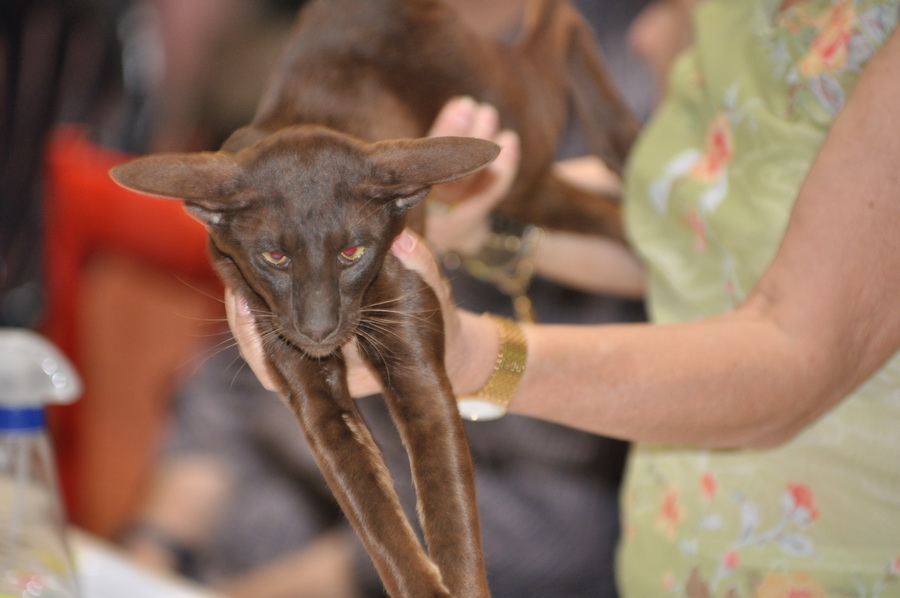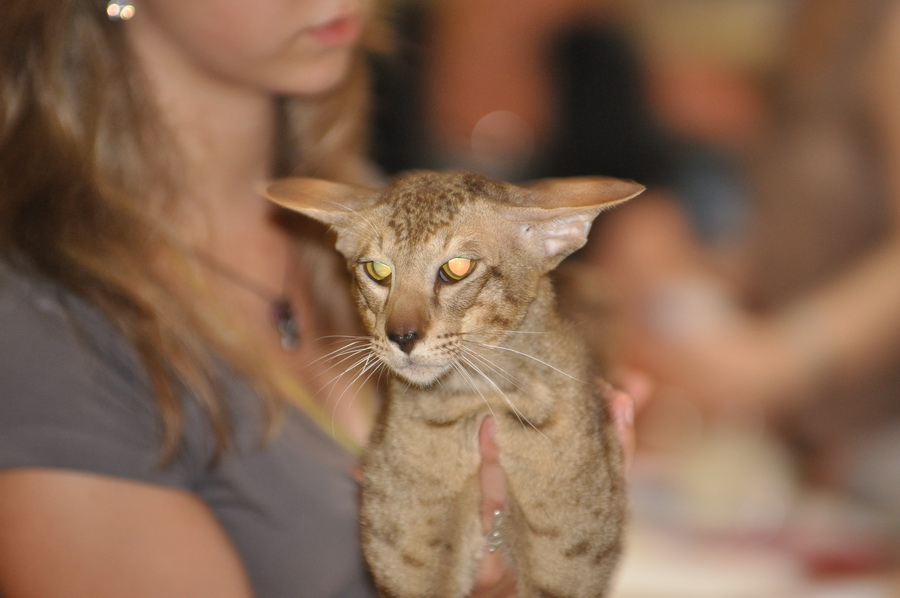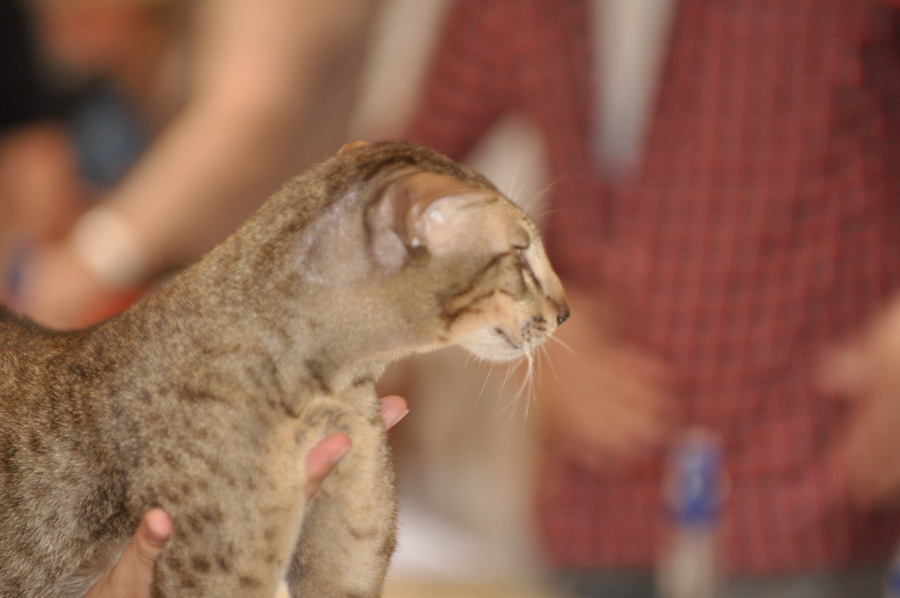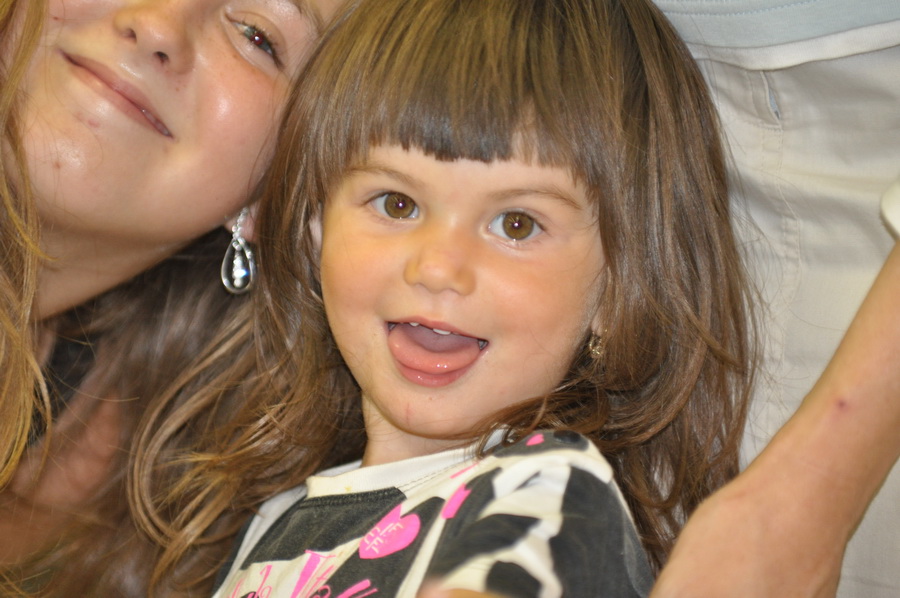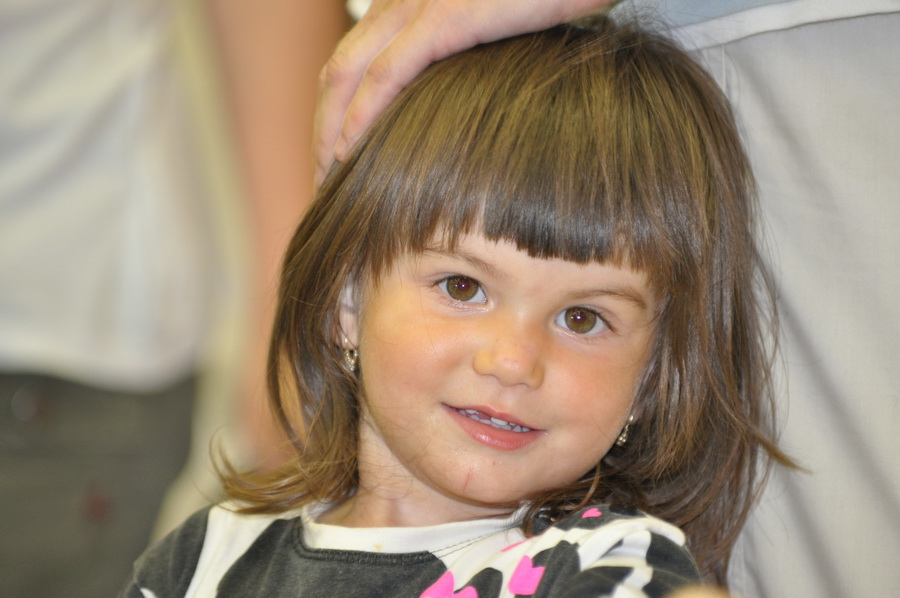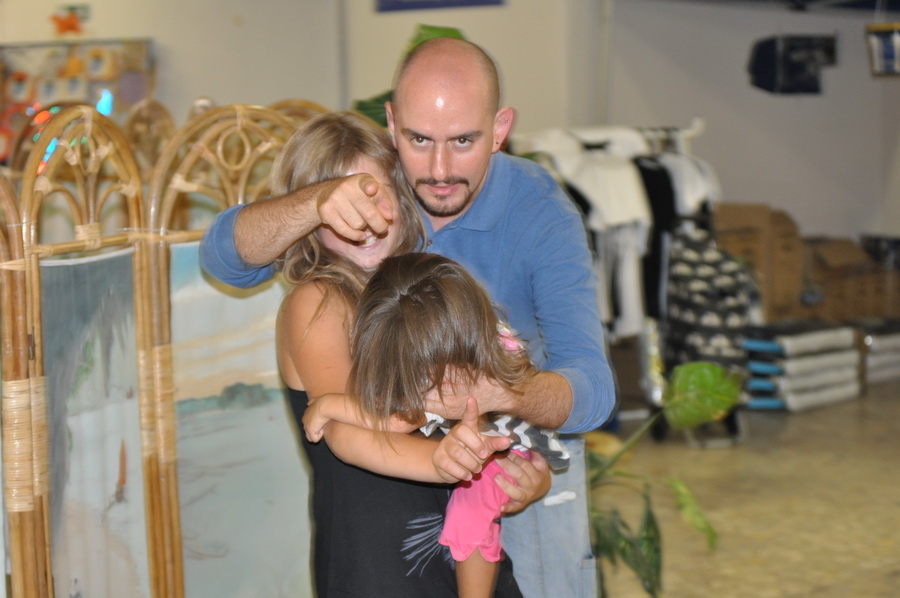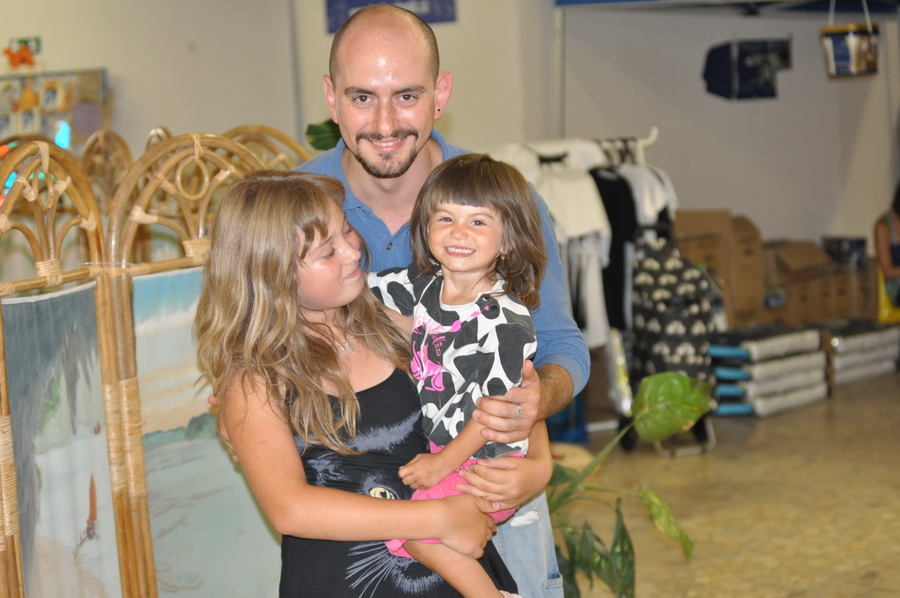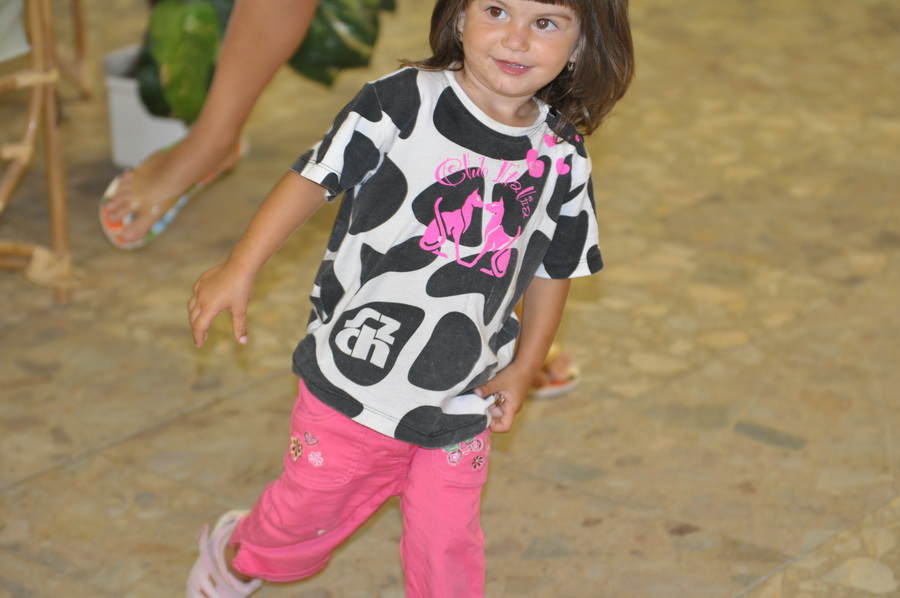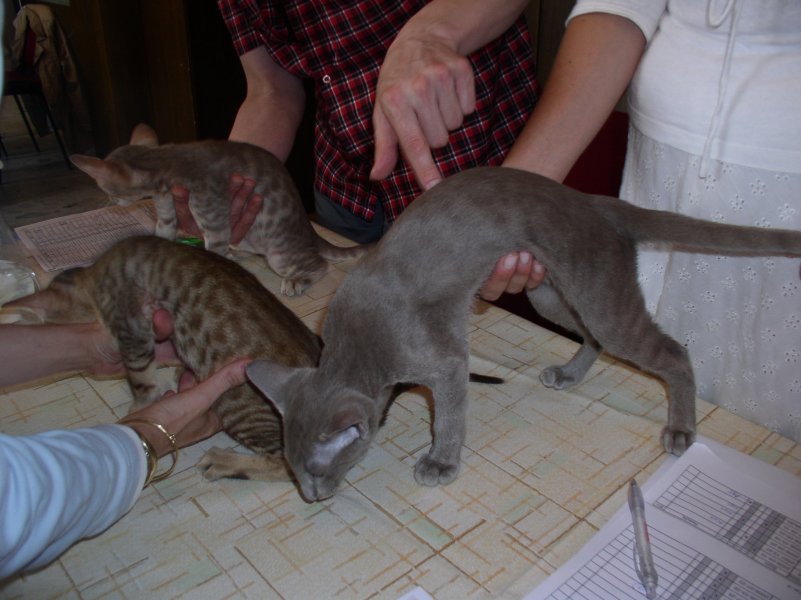 Best litter in cat IV, my litter " M " I am very very proud of these kittens. It is first litter out of my boy Otello.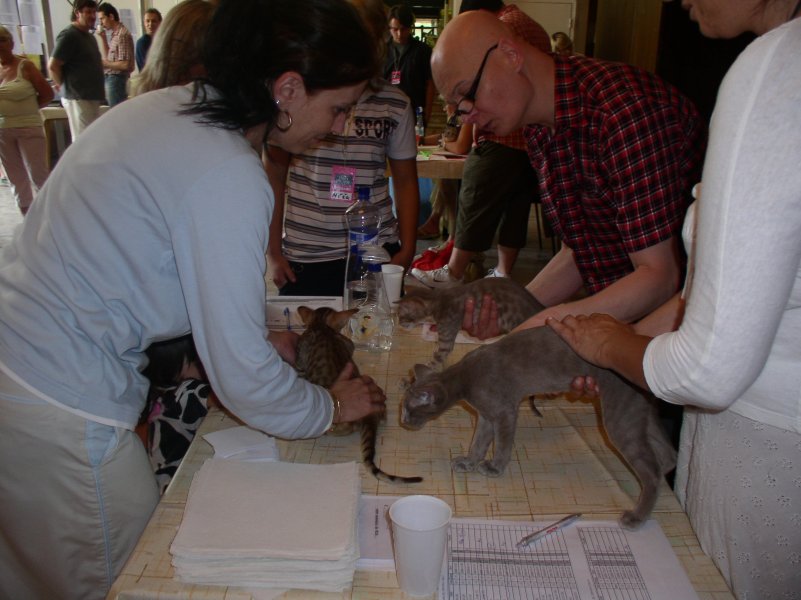 Litter judged by Martti Peltonen - sandinavian judge from Sweden, breeder of cat IV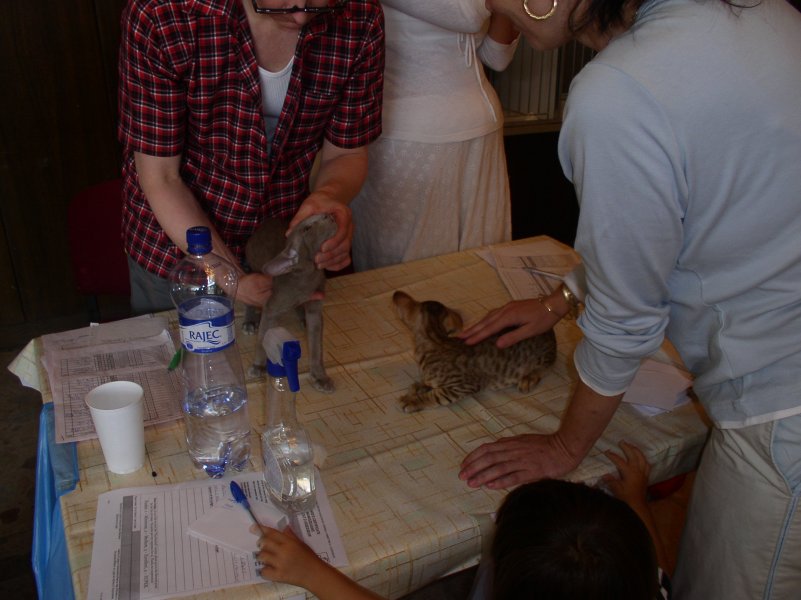 Martti loved my boys, appreciated their sweet temper too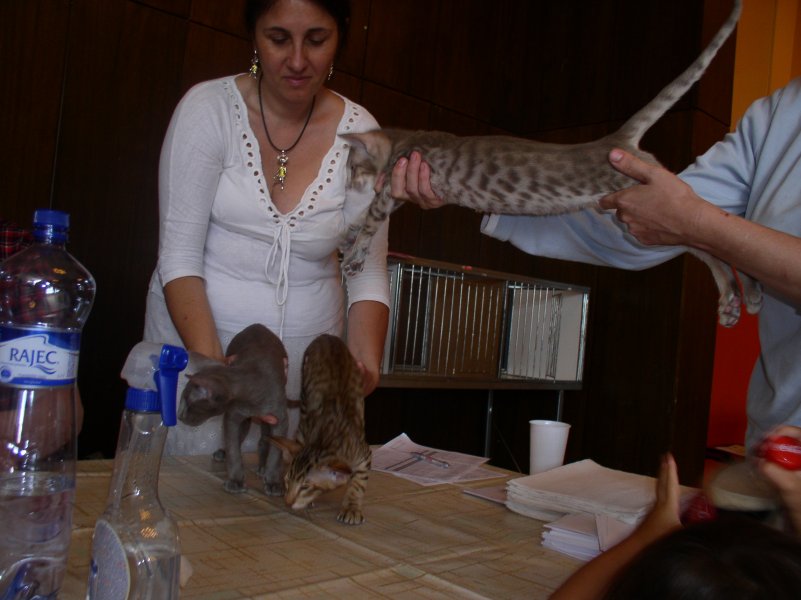 Laura Manunta, member of club Italia, slovak student judge for cat III and IV with my babies. In my hands Muffin, OSH c 24
and his beautiful pattern.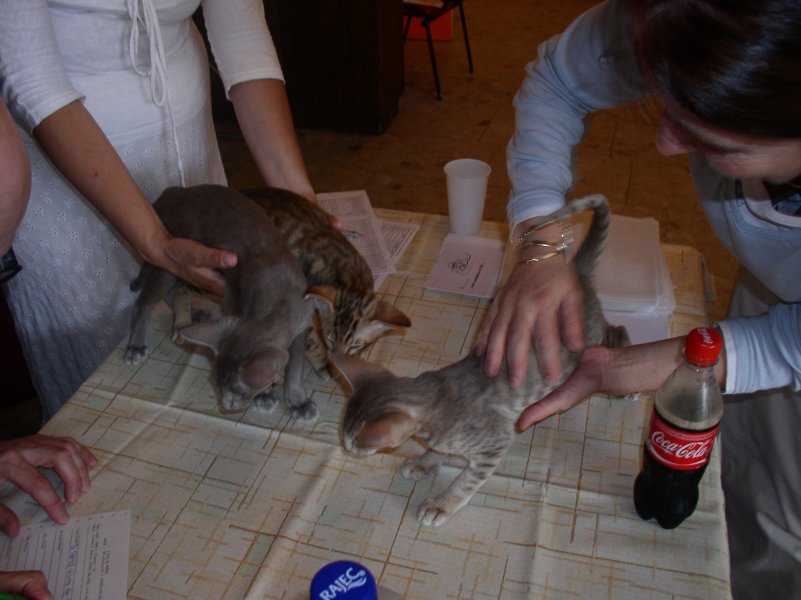 Megallo and his looong head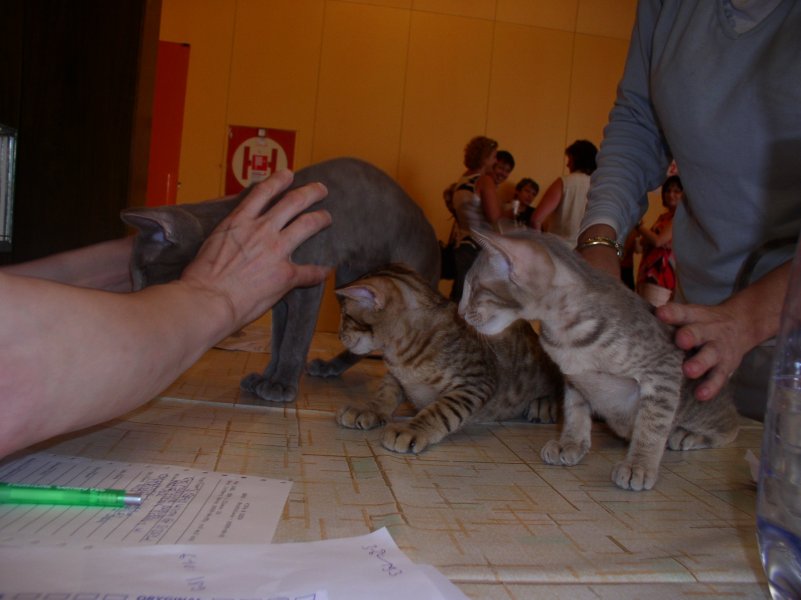 strong chin like their daddy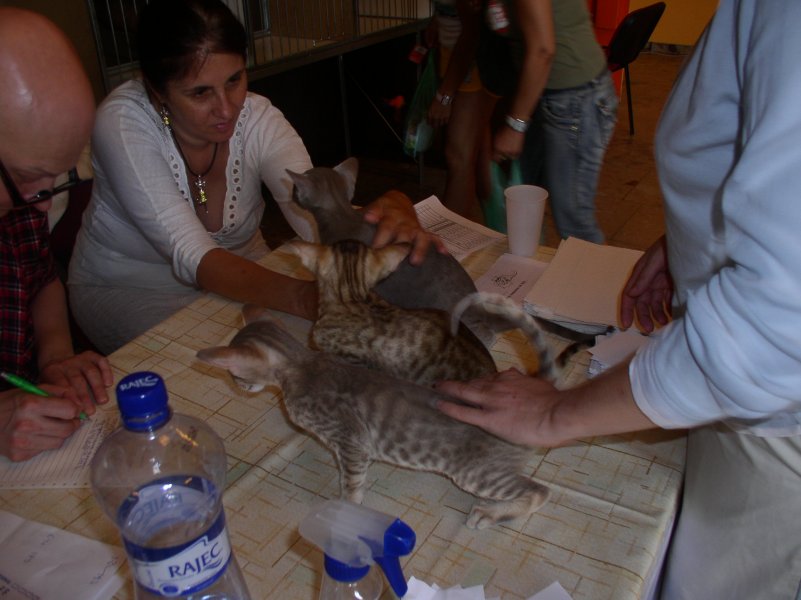 Boys judges before departure. Megallo is going to Germany from show, both tay boys will fly to Finland shortly after show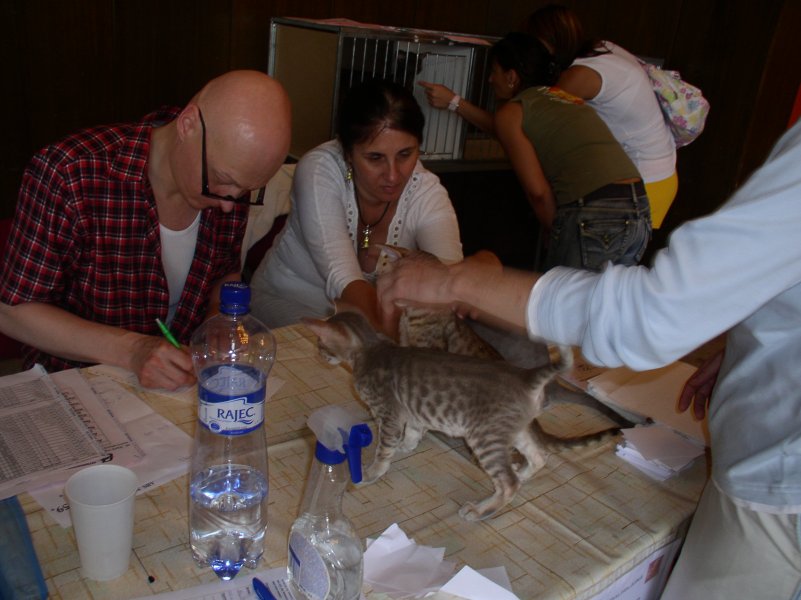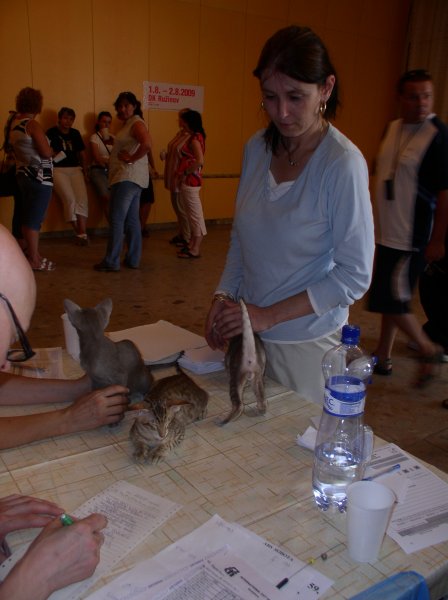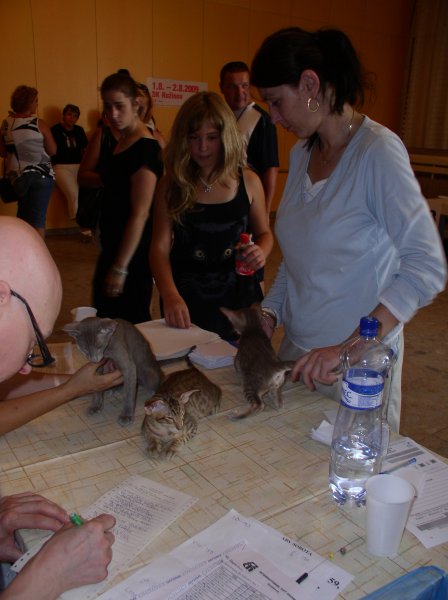 Alessia and her cat T-shirt from Lenka and Bára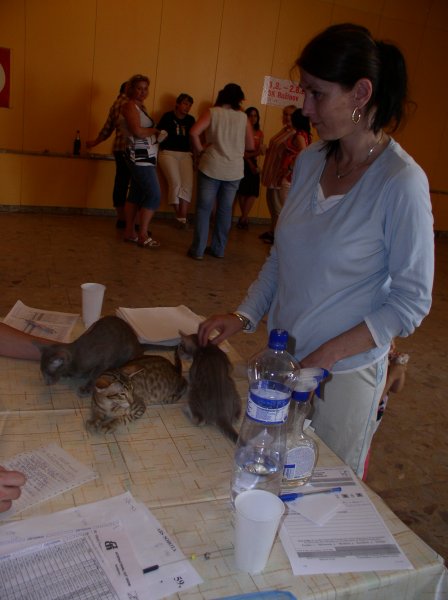 Babies and proud mummy :-))))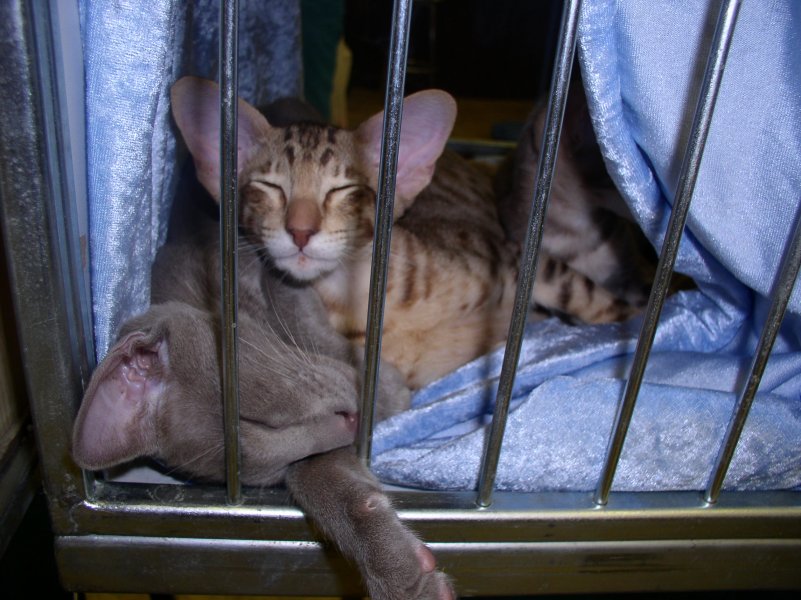 sleeping in cage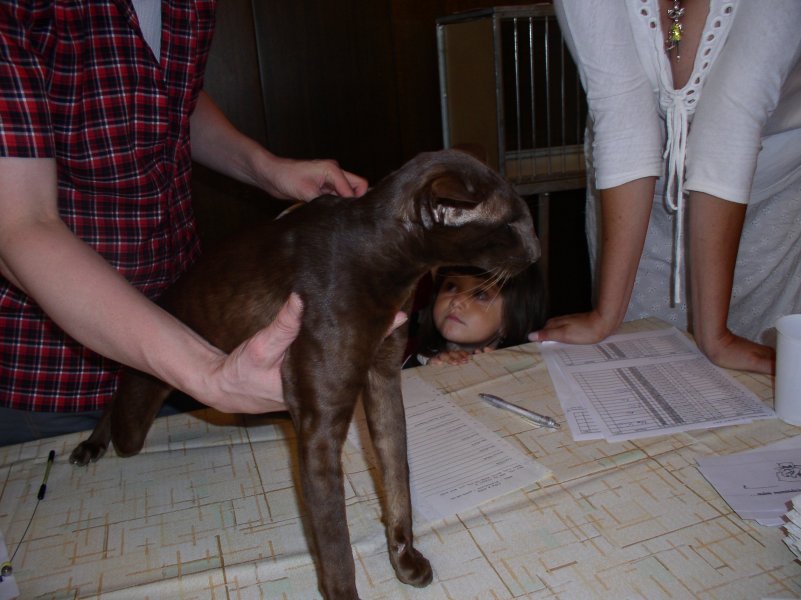 Big mummy´s boy Otello judged first time by Martti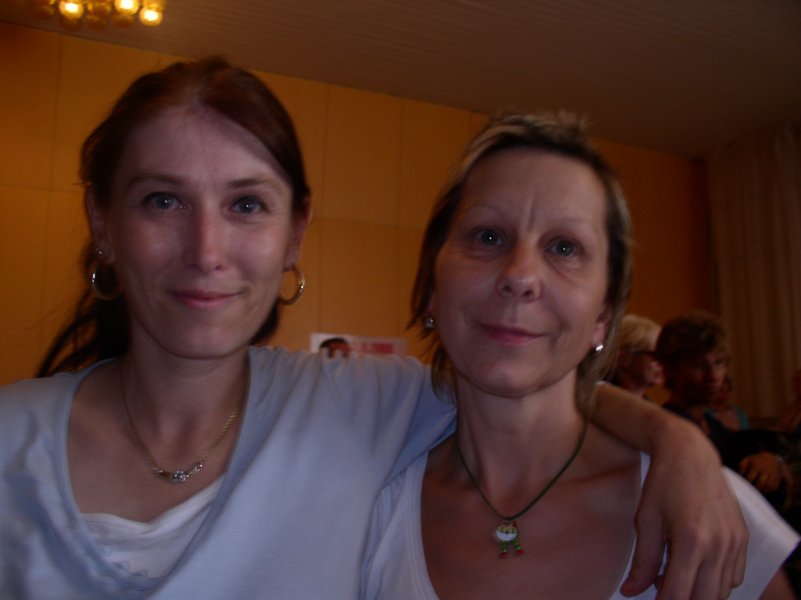 Me and Alena Cukova from CZ cattery Little Stuart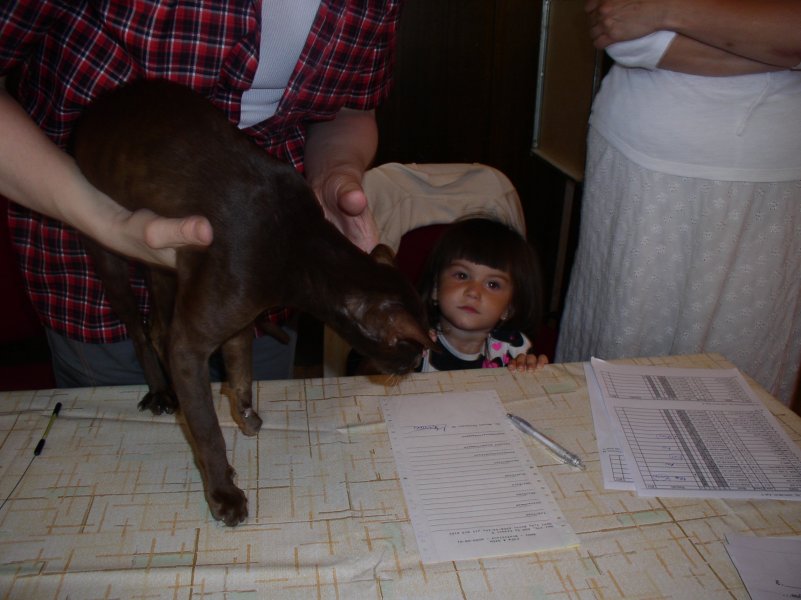 Zamira and Martti judging Otello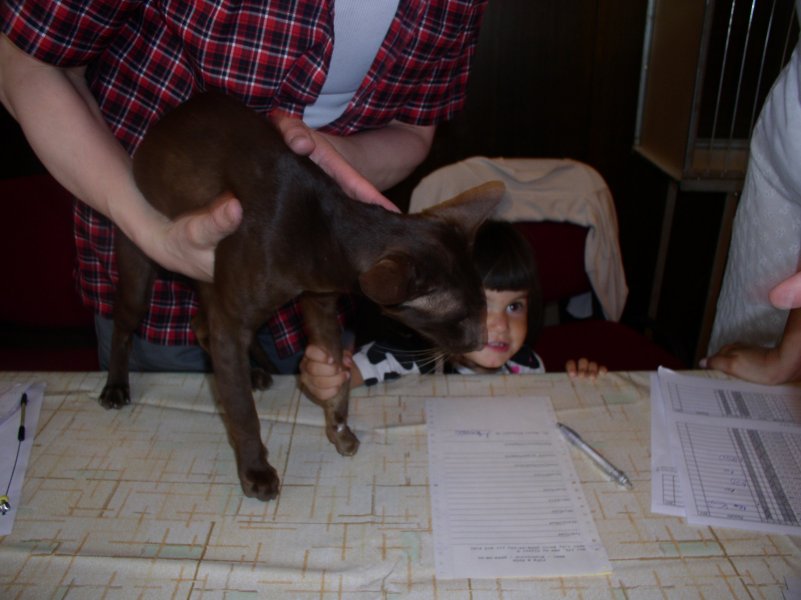 Otello just cannot run away, Zamira is taking care of it,keeping one legg all the time :-)))))))))))))
Zamirka sa stará o to aby Otijjo ako ho ona volá nikam neutiekol, počas posúdenia ho pekne drží za "ruku" :-)))))))))))))))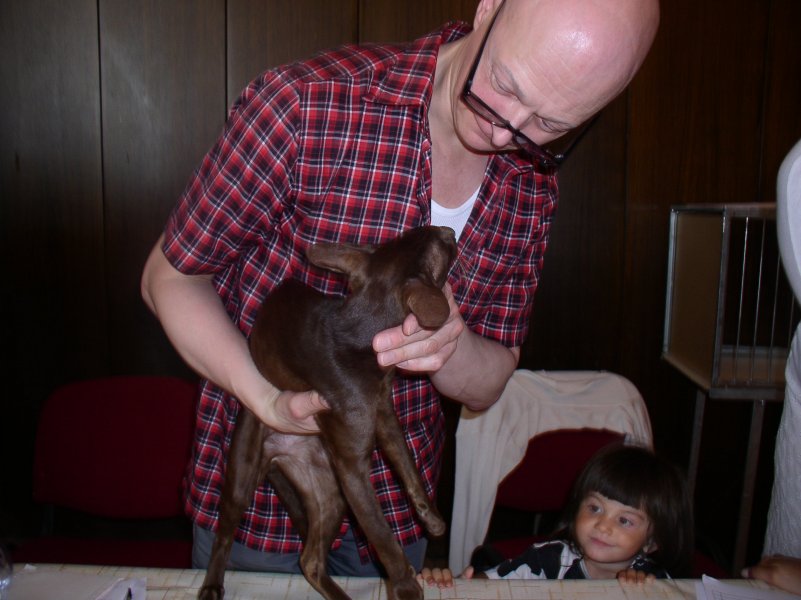 Martti loved Otello and my kitties, I am very happy. One compliment from Martti = 5 compliments from most of other judges
Martimu sa otello veľmi páčil a gratuloval mi i ku krásnemu vrhu na ktorý mám byť hrdá. Veľmi ma potešil,jedna pochvala od
náročného Marttiho = 5 x pochvala od väčšiny iných posudzovateľov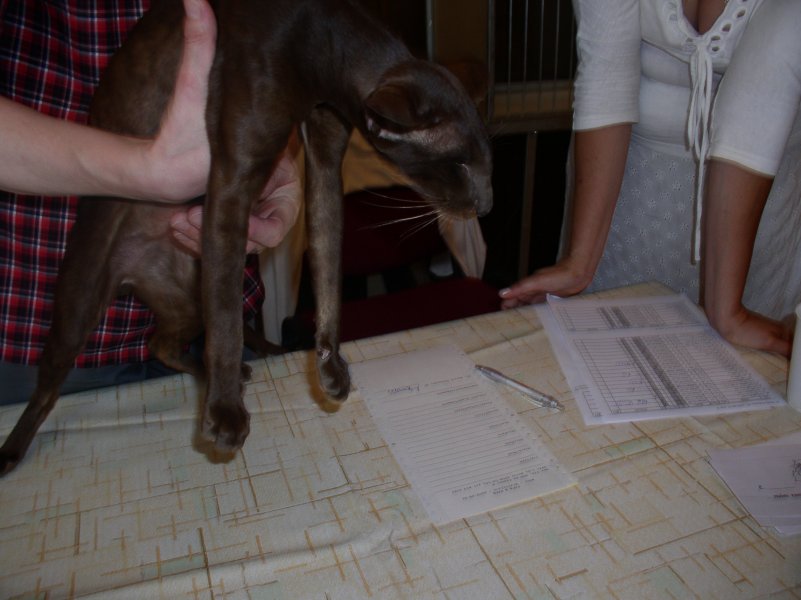 Otellovi sa vylepšil profil a dosť zmužnel, ale pokazila sa mu farba, jeho čokoláda je pekne vyťahaná od slnka,vyzerá skoro
ako OSH h :-)))))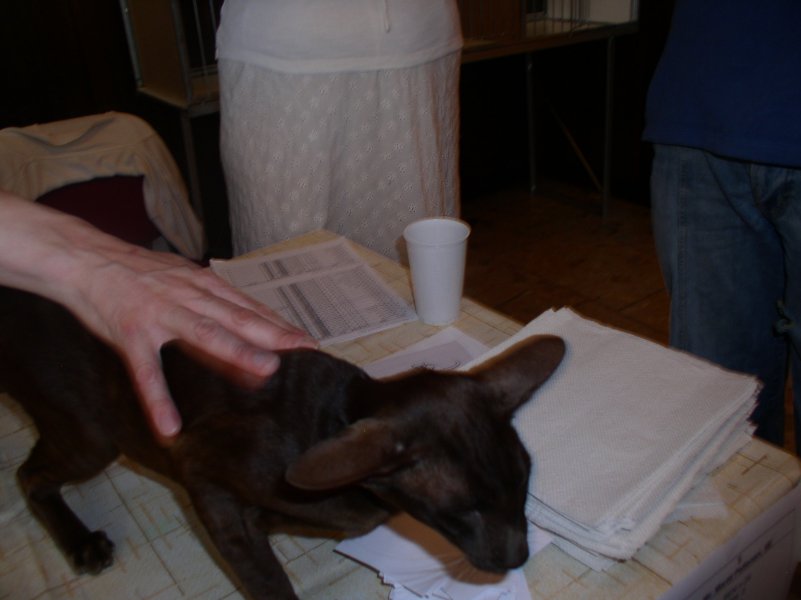 Boening rady 7 :-)))))))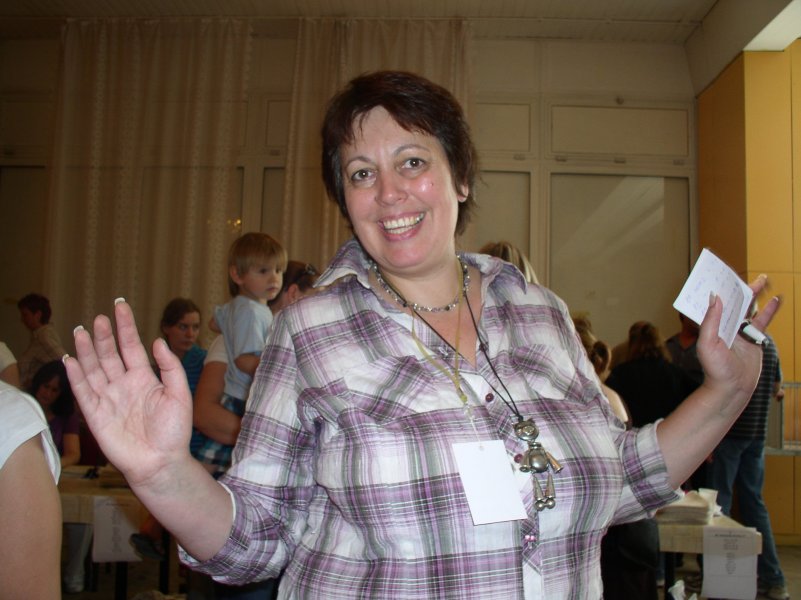 Lenička v náladičke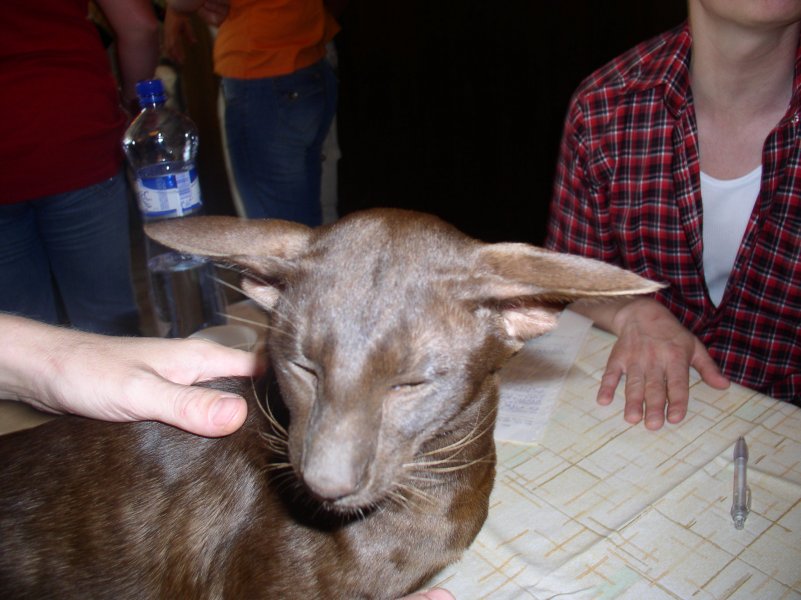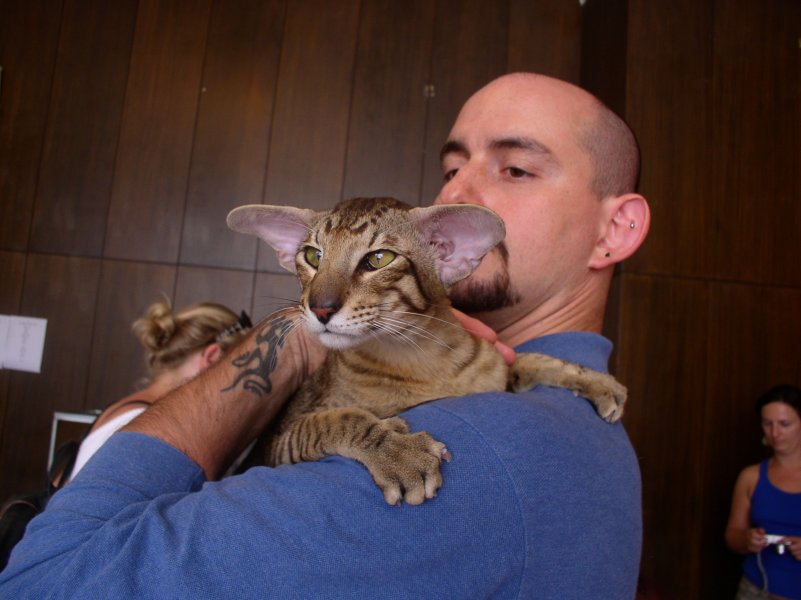 Pán kocúr Michelangelo. Otec nážho otella a dedo nášho malého Mamba. Pokúšali sme sa o trojgeneračnú fotografiu,
o pár týždňov uvidíme či sa fotky vydarili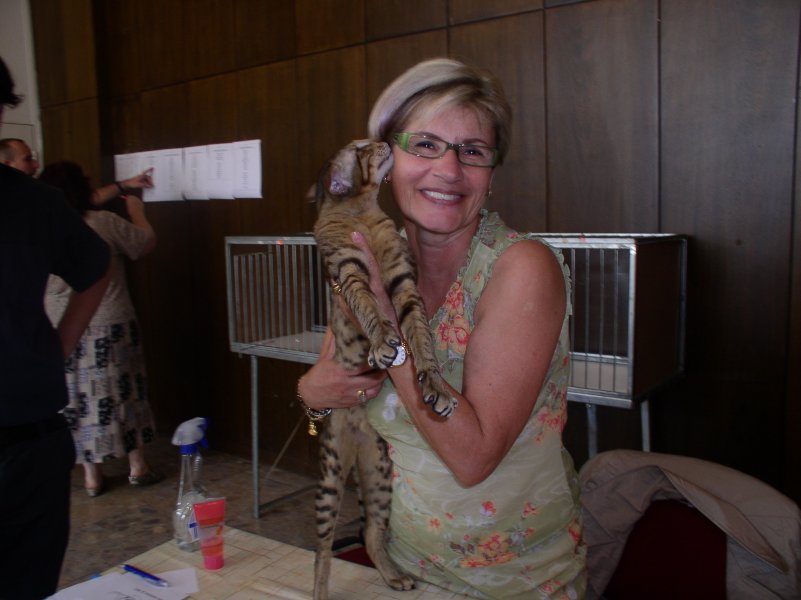 Sweety !!!!!!! Michele and Gina Grob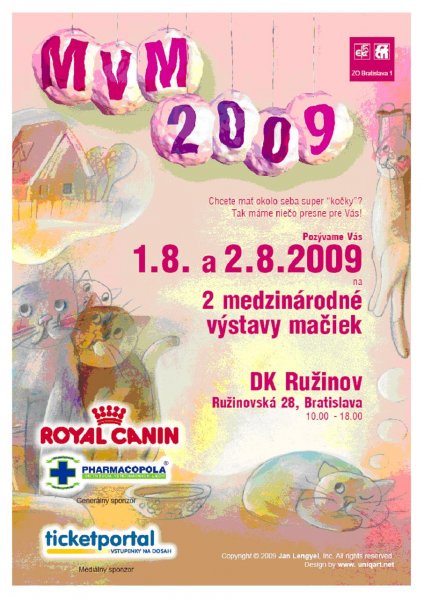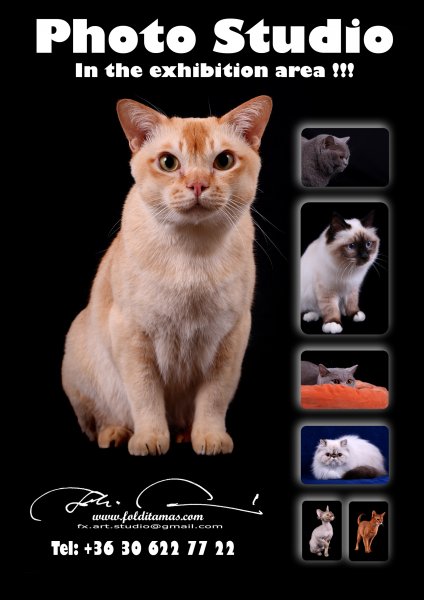 SHOW Bratislava - DK Ružinov - sunday 14.6
video z výstavy na : http://www.animale.sk/video/130-mvm-bratislava-062009
Otello - BOB 3
Blero - BIS kitten 3-6
more pictures coming soon :-)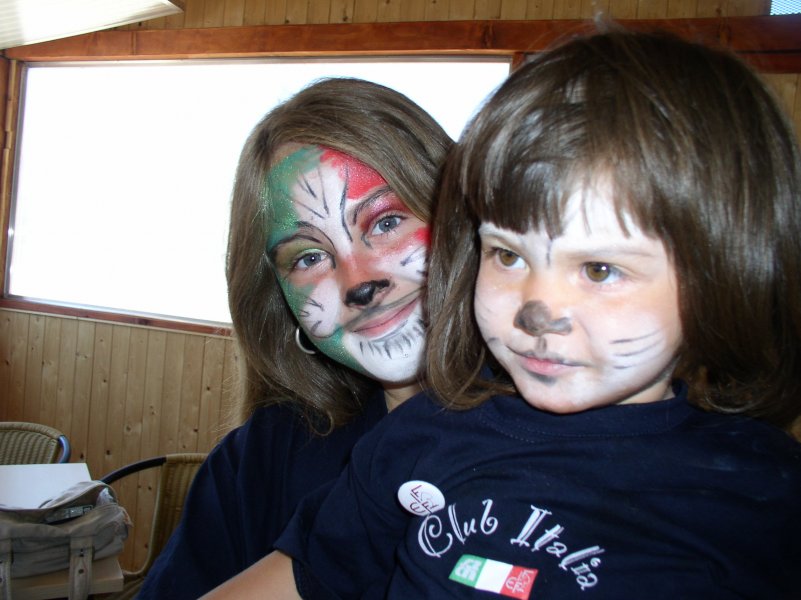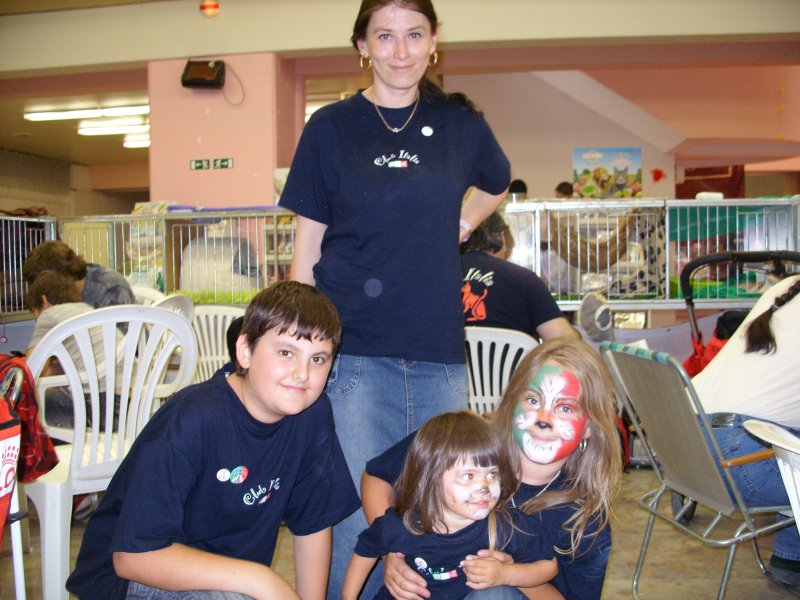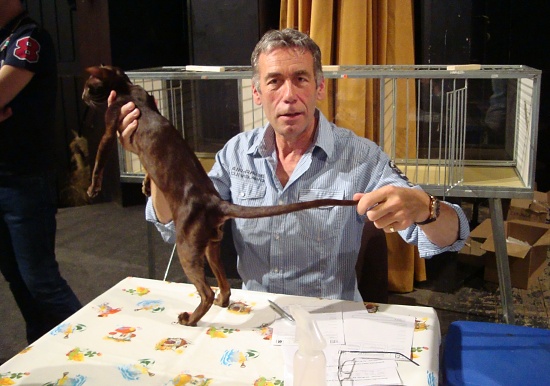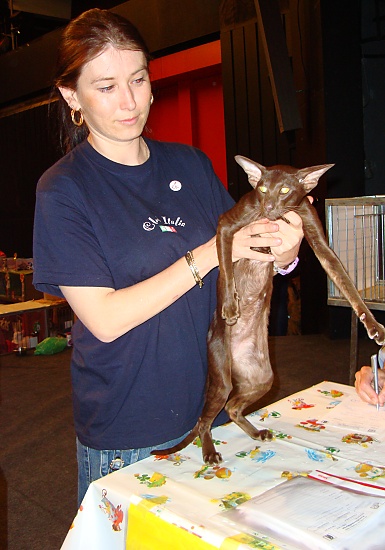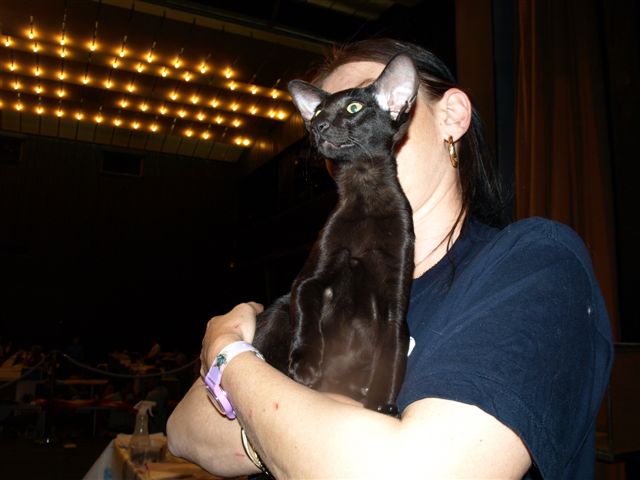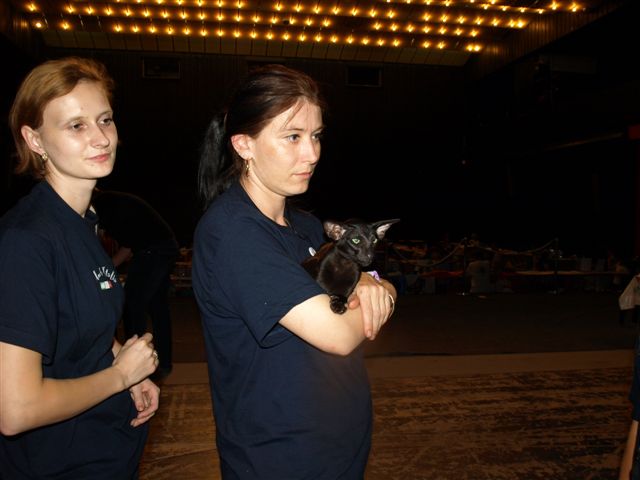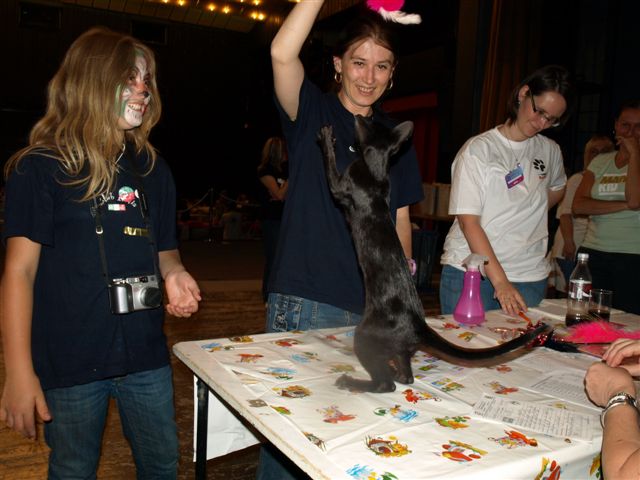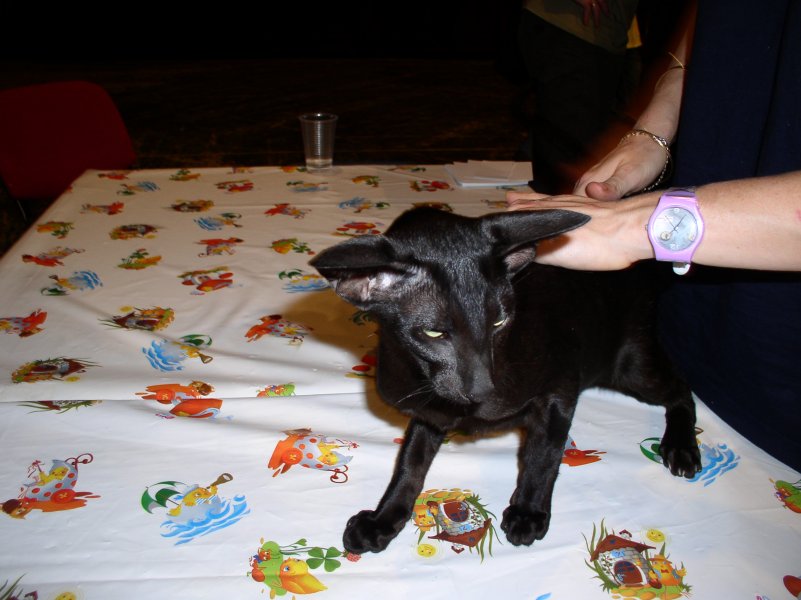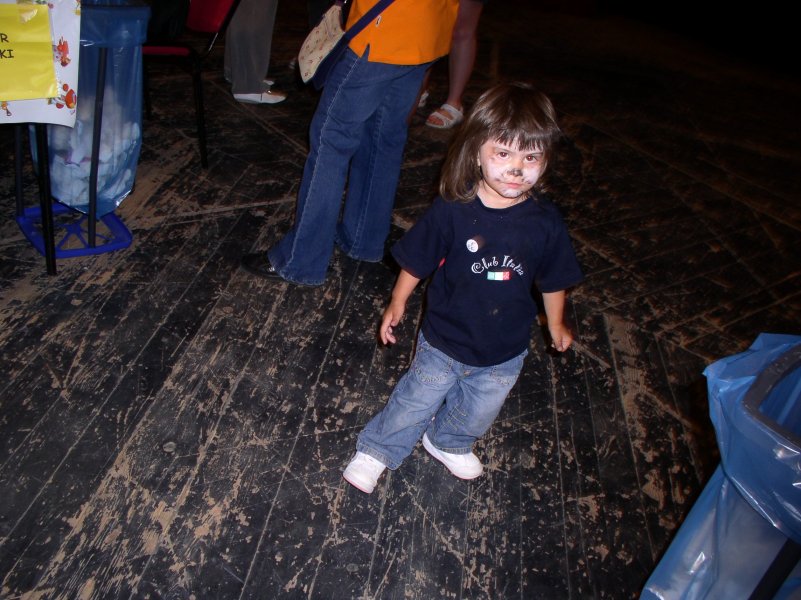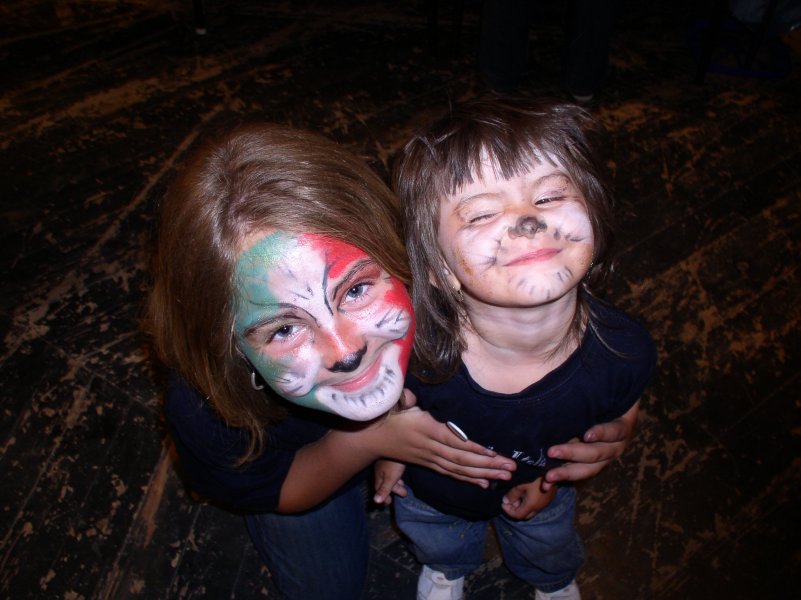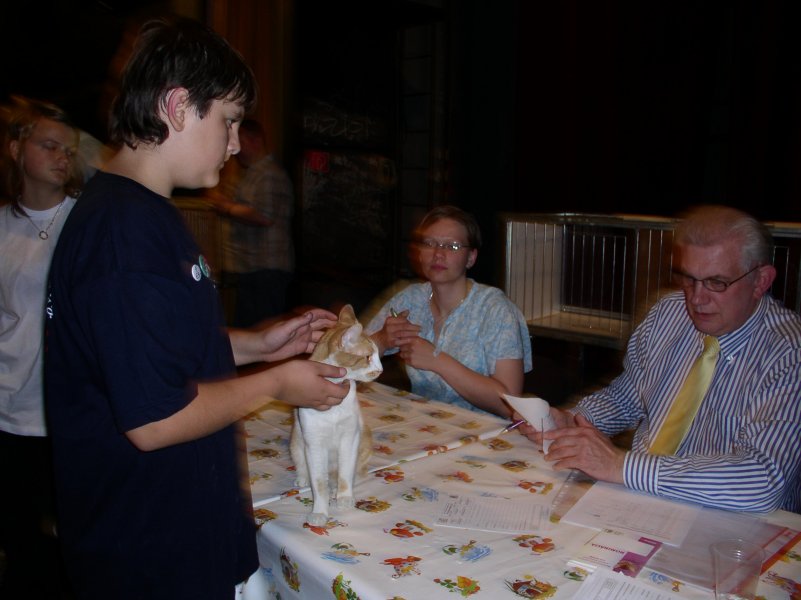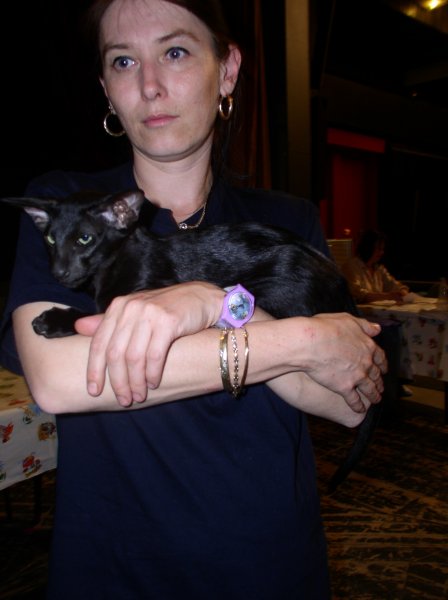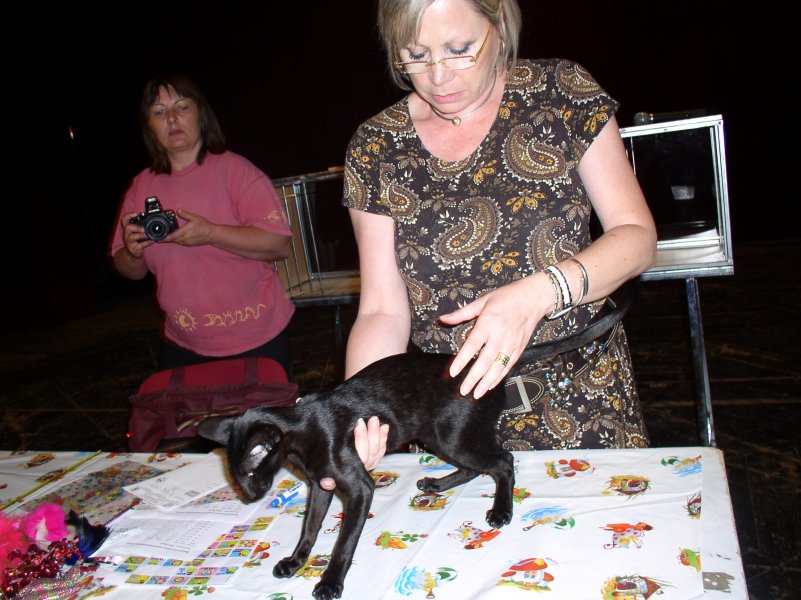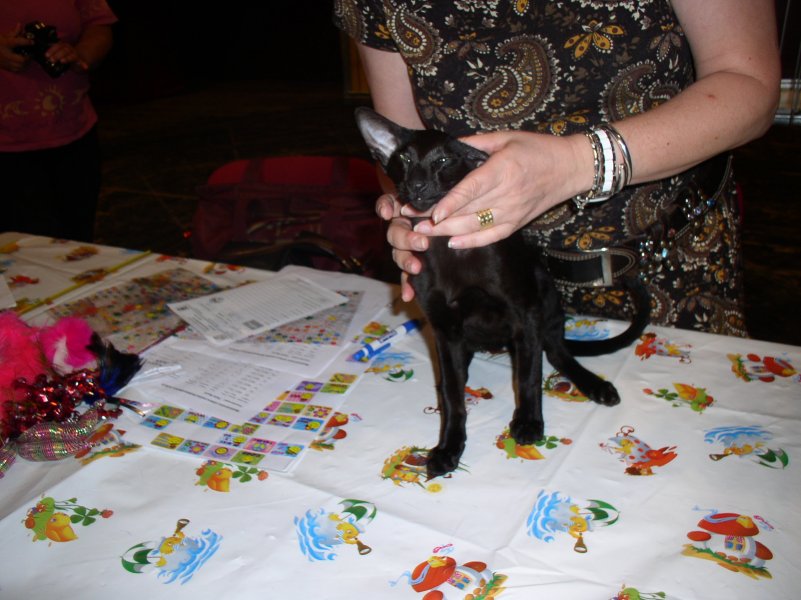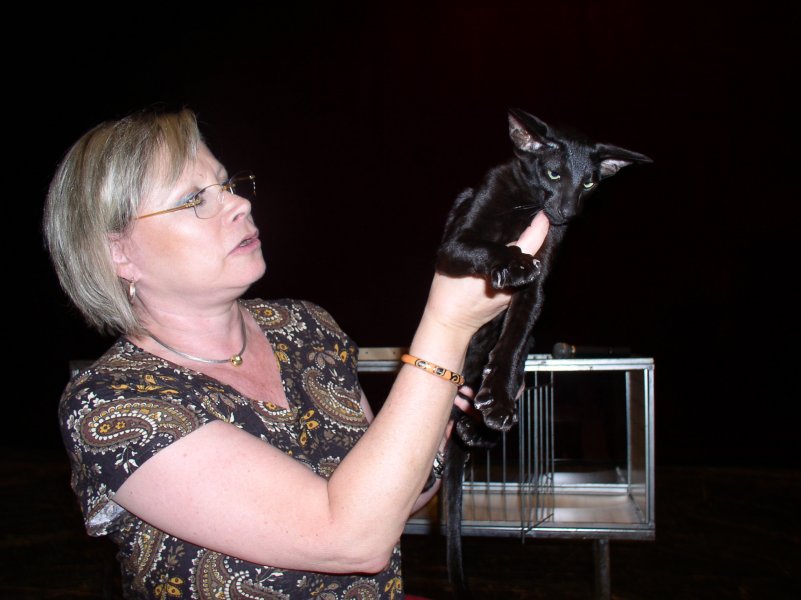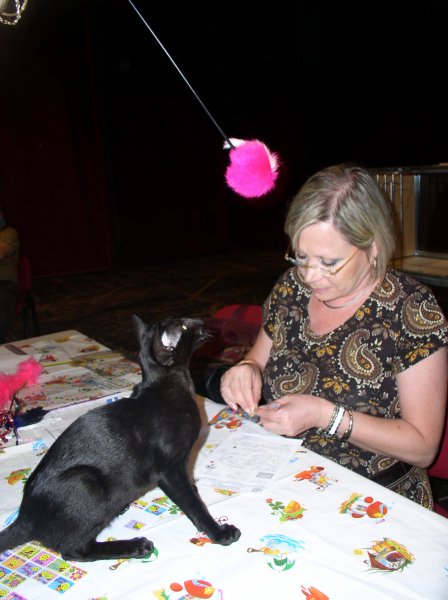 SHOW Wiener Neustadt 7.6 2009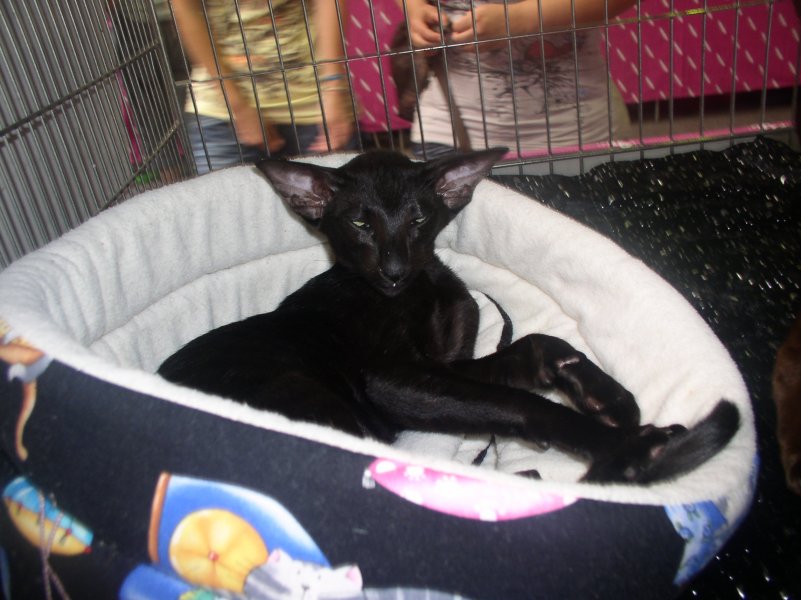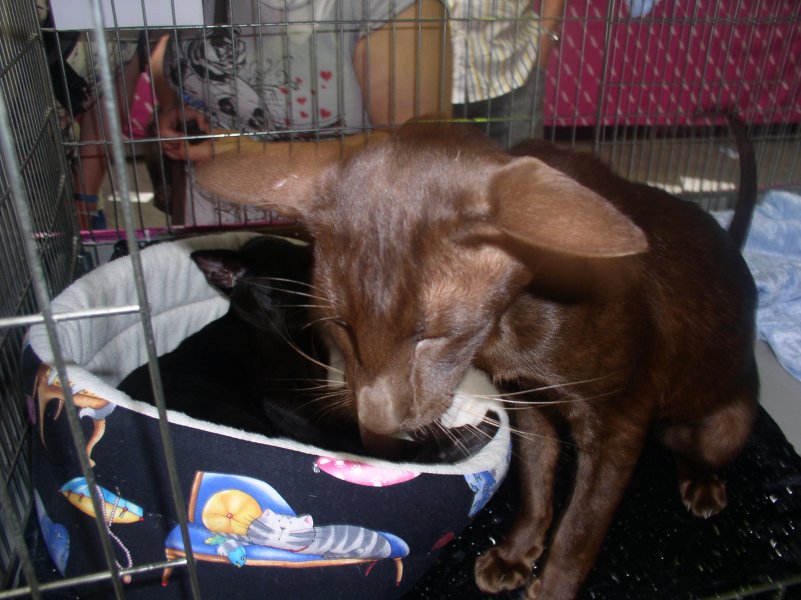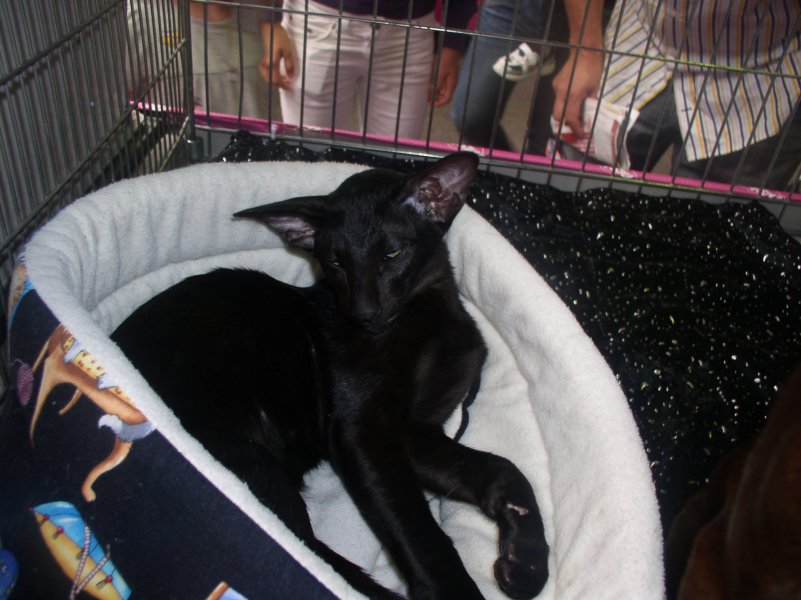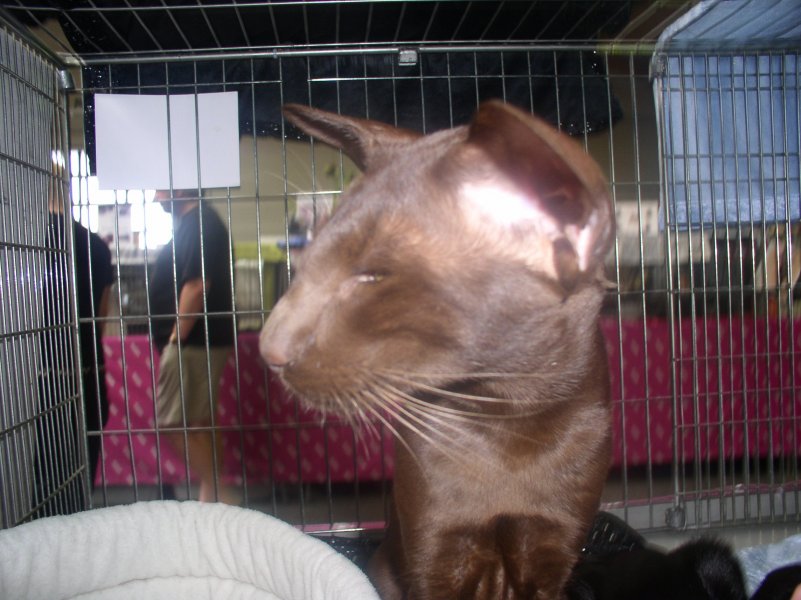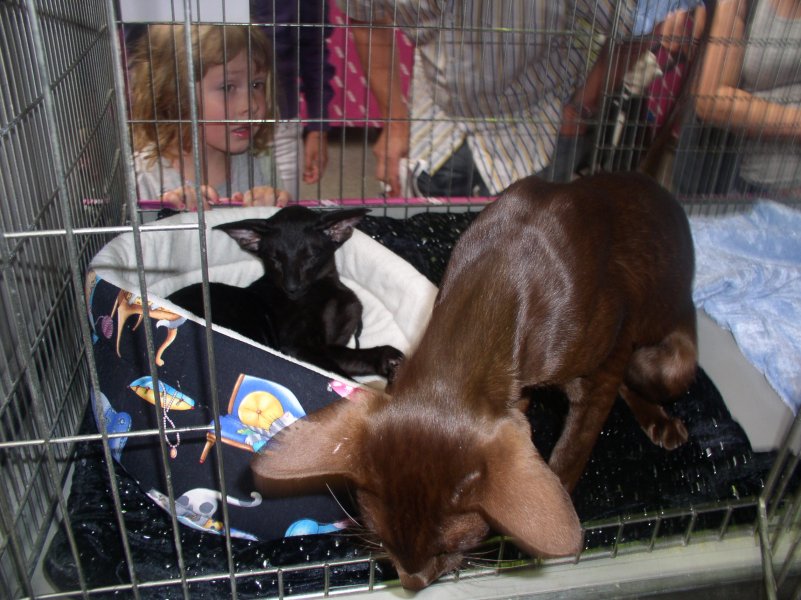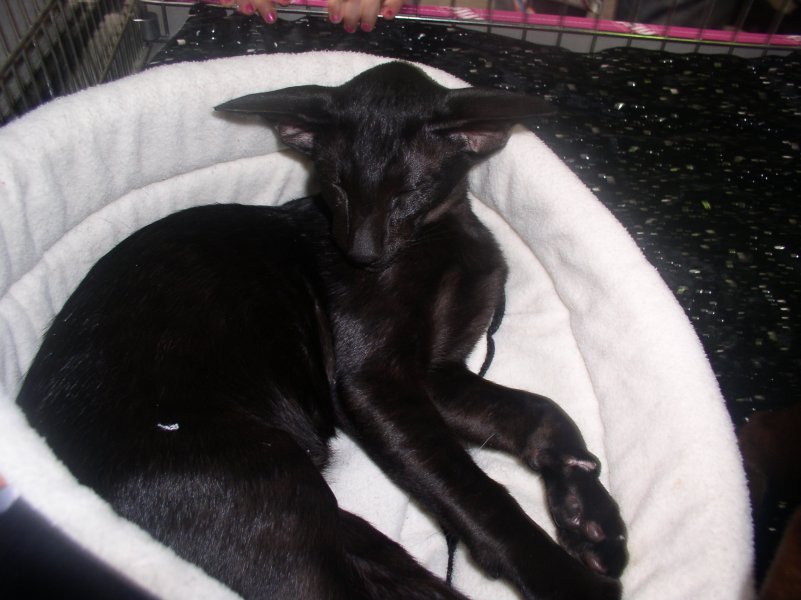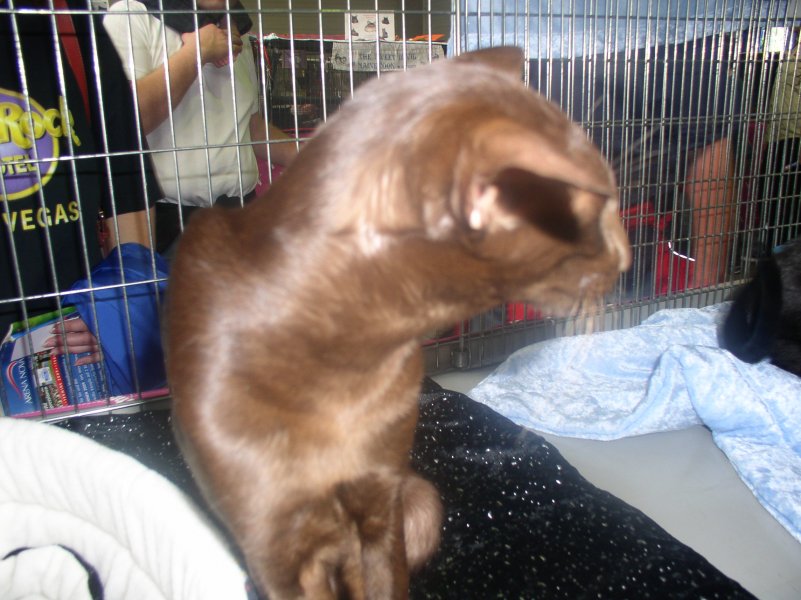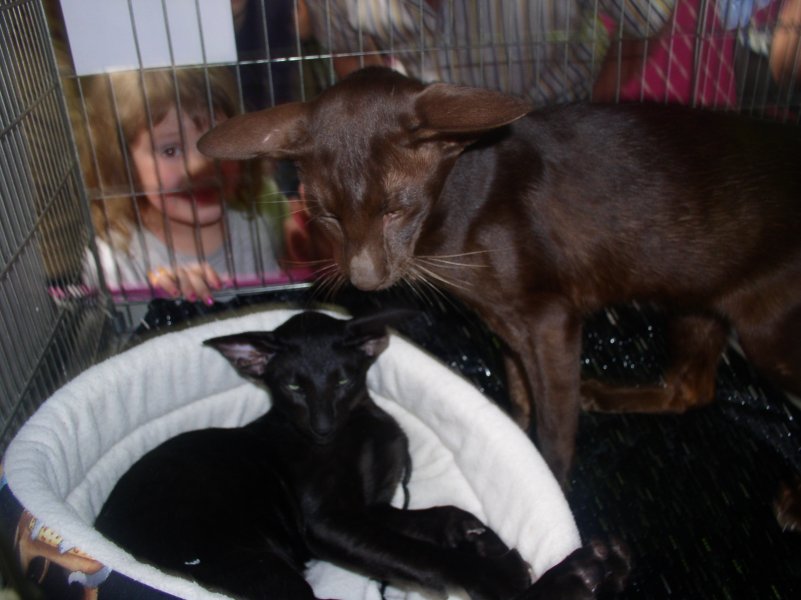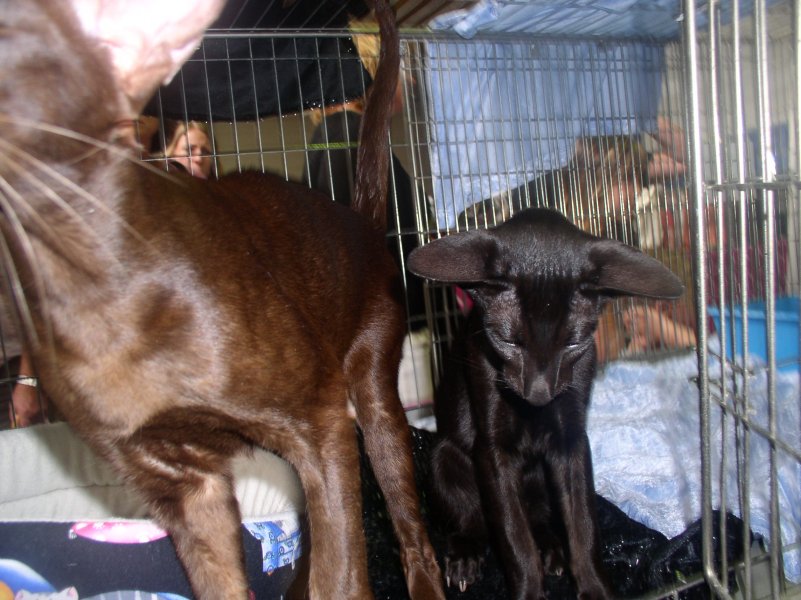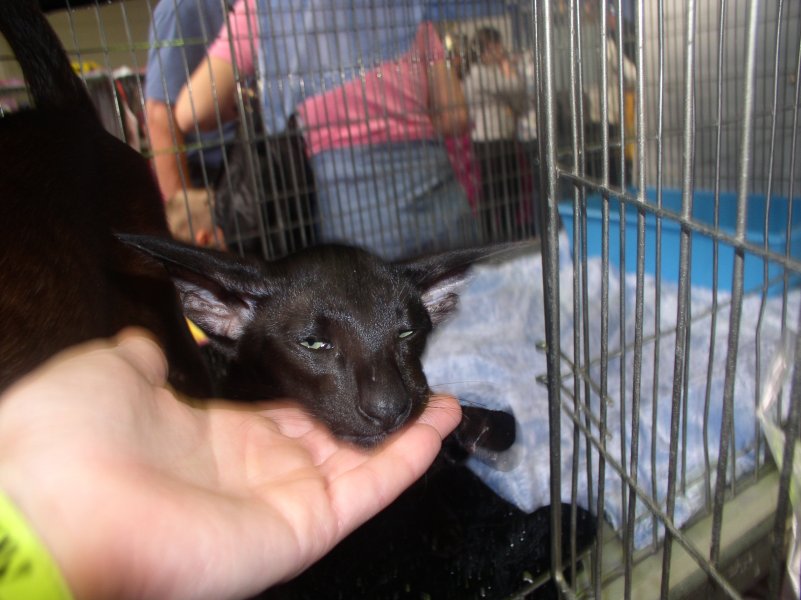 And few pictures of Otello which was breastfeeding Blero :-))) Many thanks to Petra for pictures
A niekoľko fotiek Otella ktorý kojil Blera pred Best in Show :-))))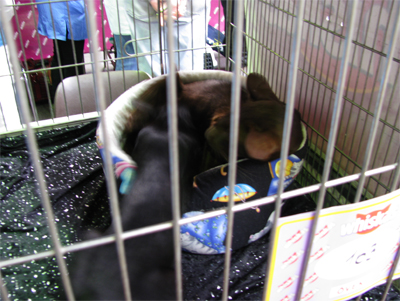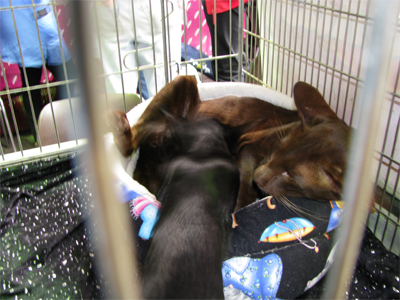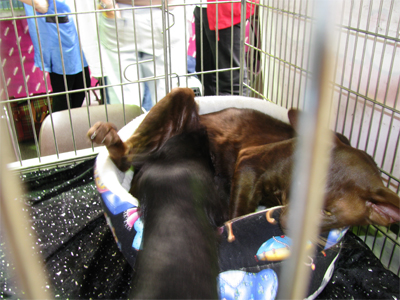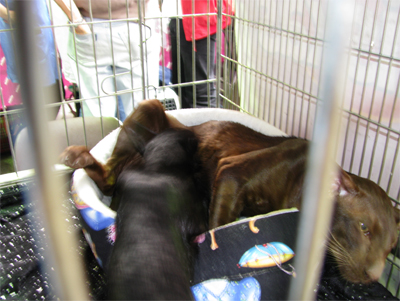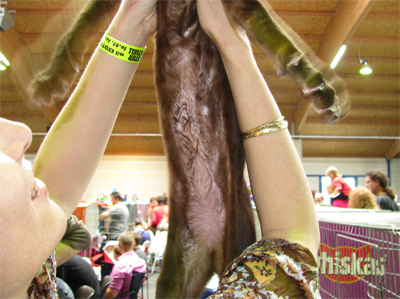 Otello ready for Best in Show :-))))))))))))))))))))))))))
Otello pripravený do BIS :-)))
Some pictures from EXOTICA - Arena Nova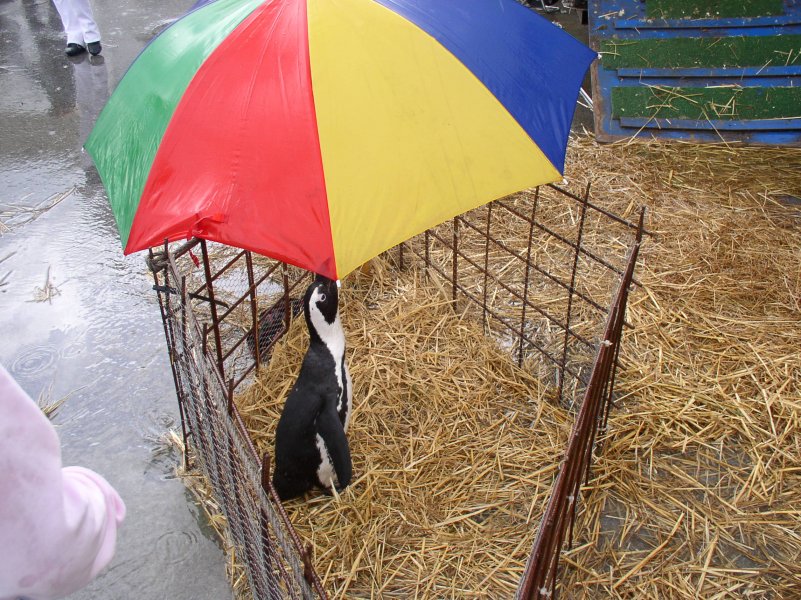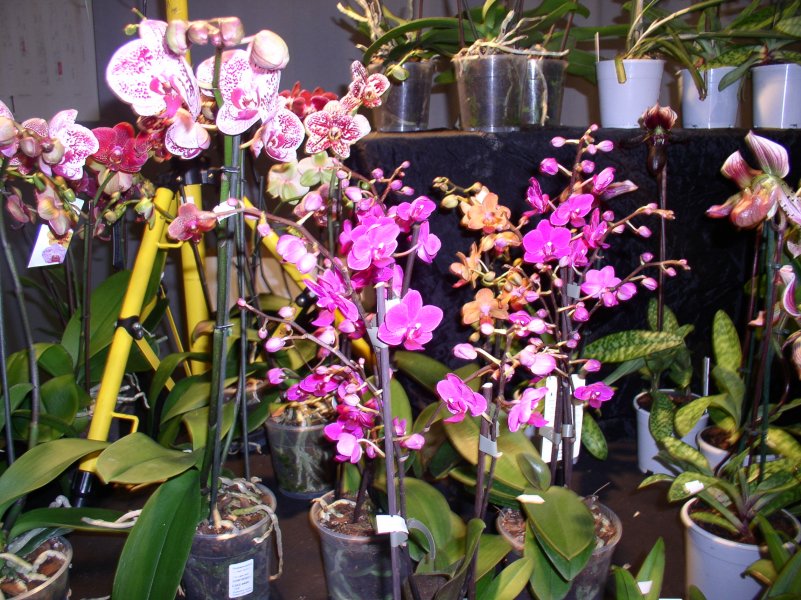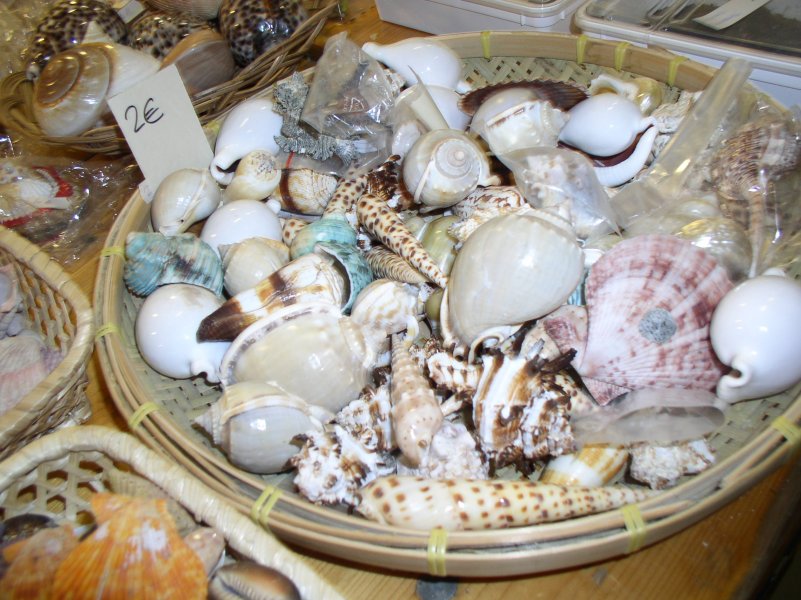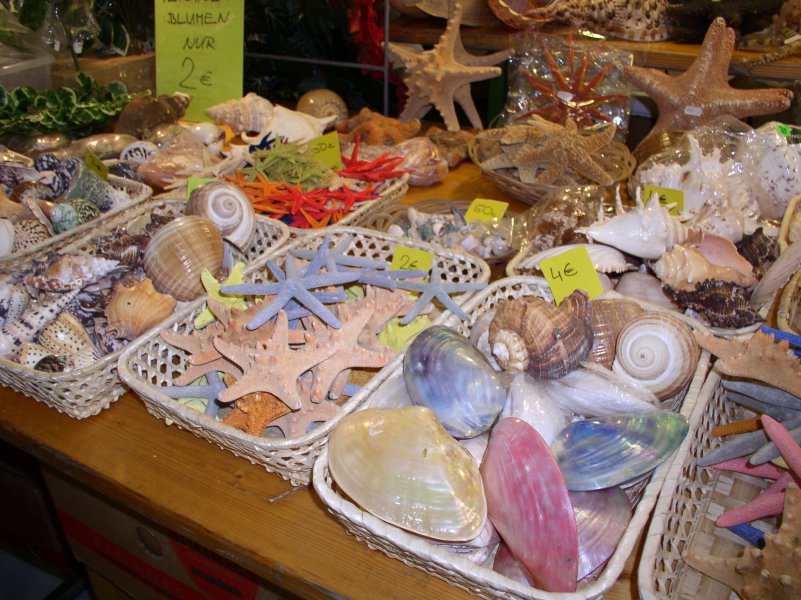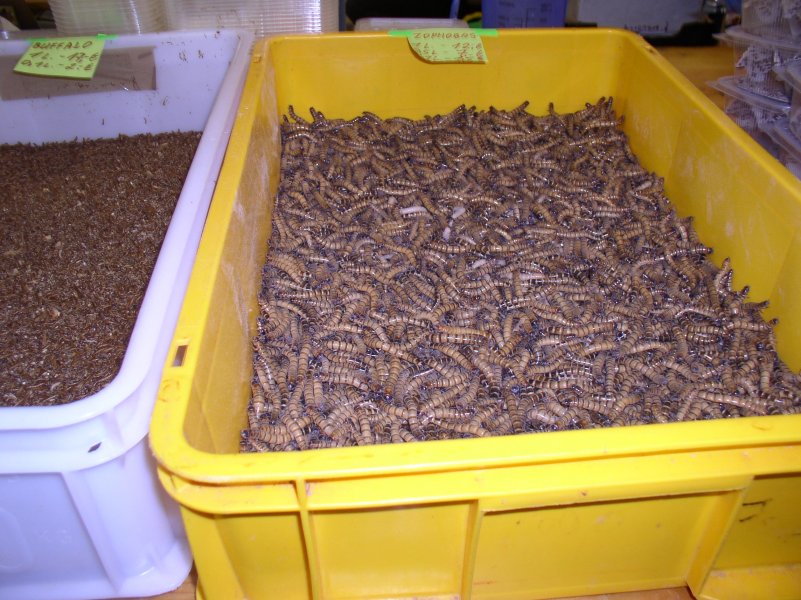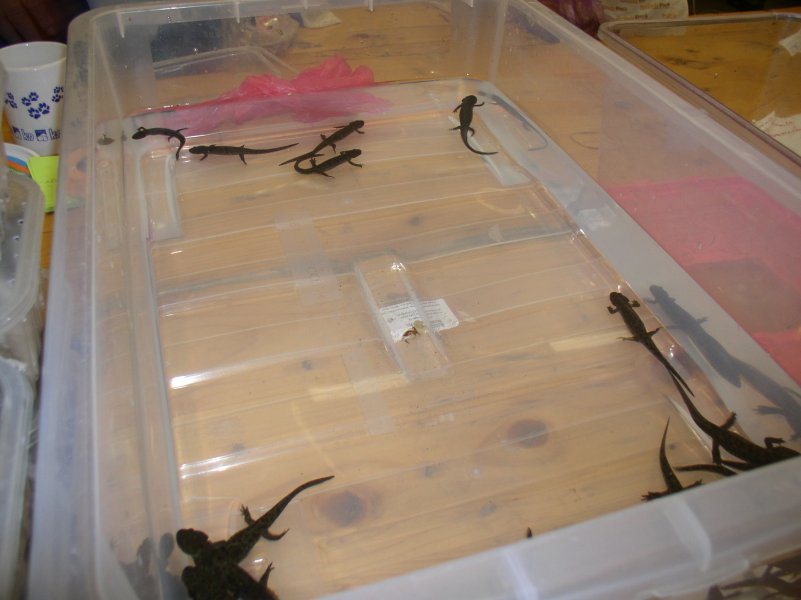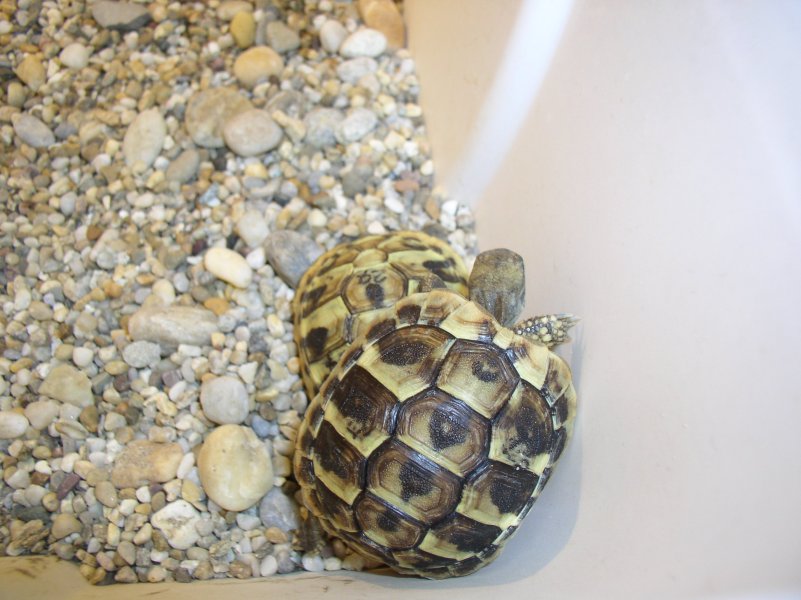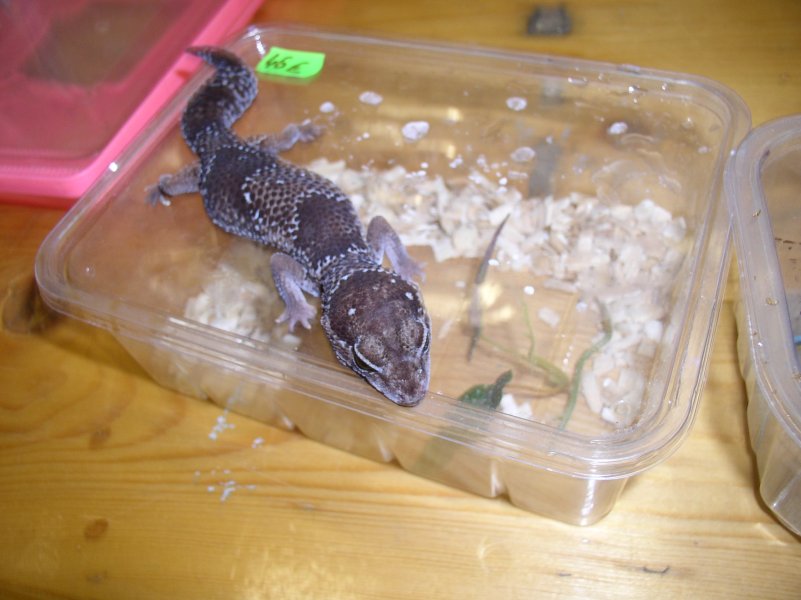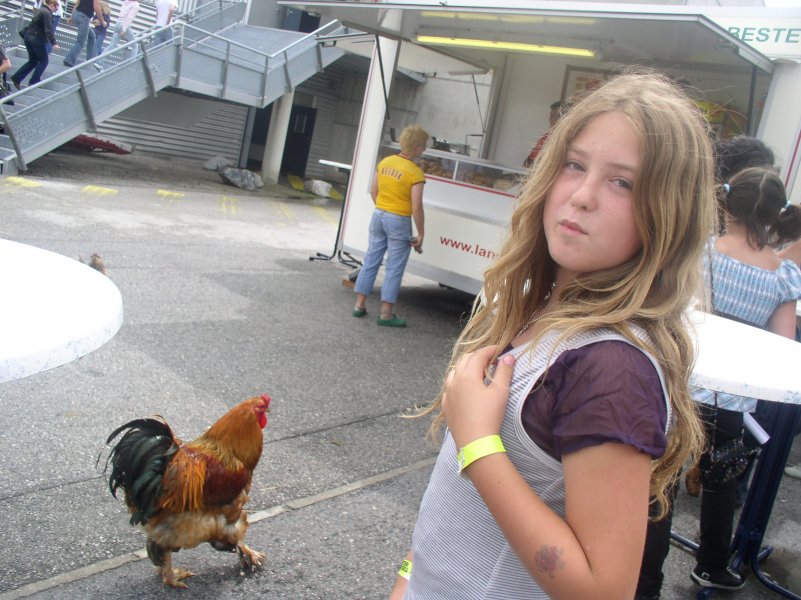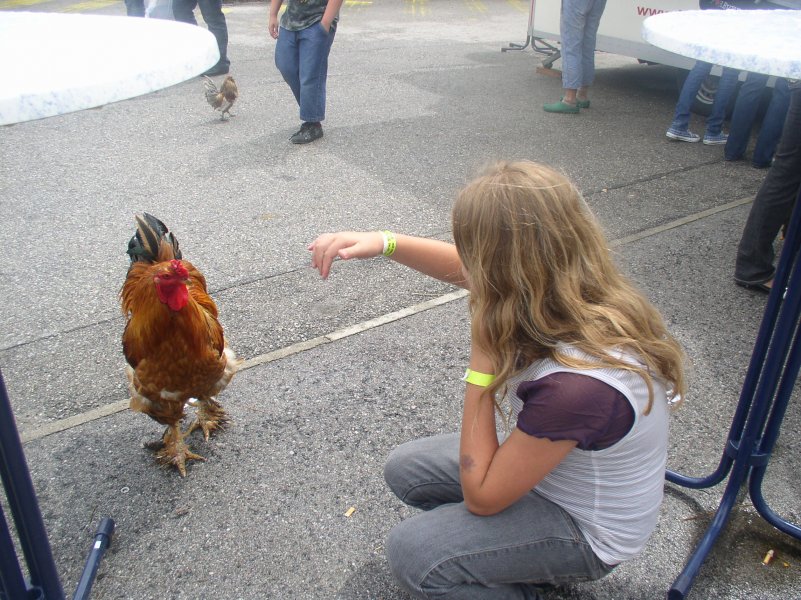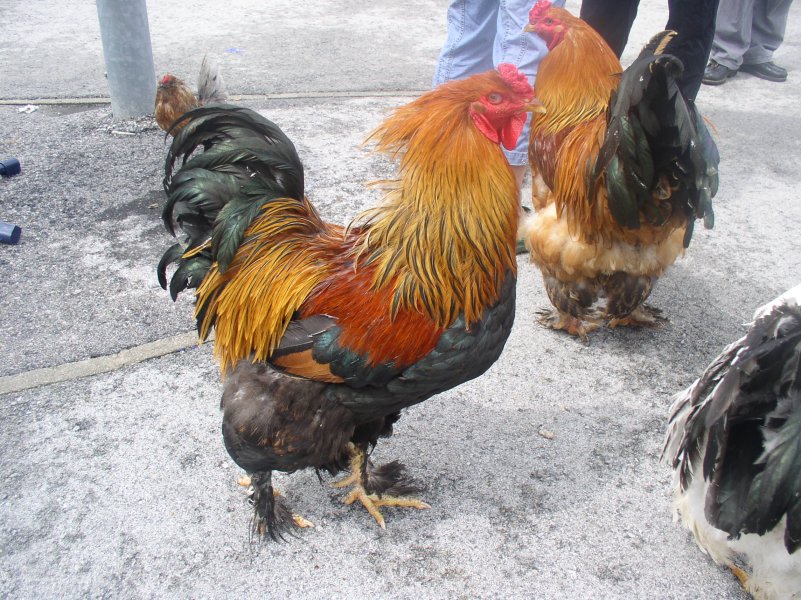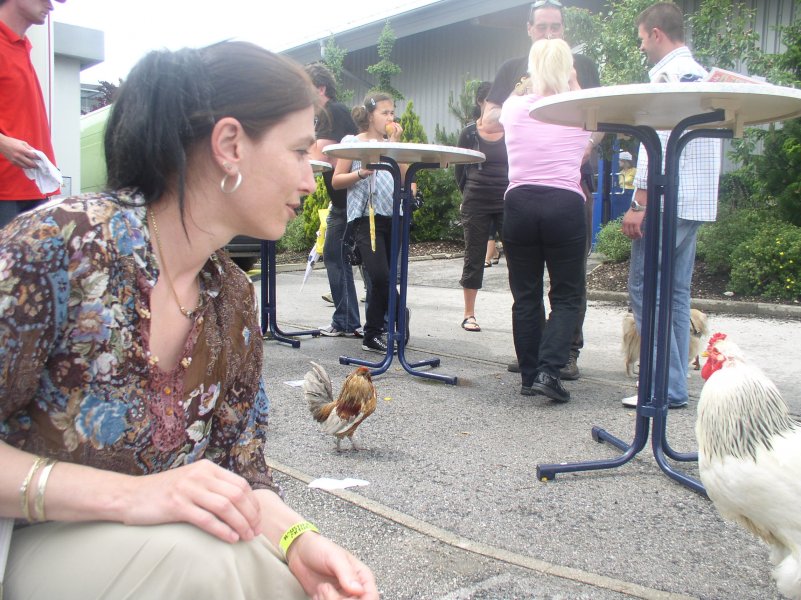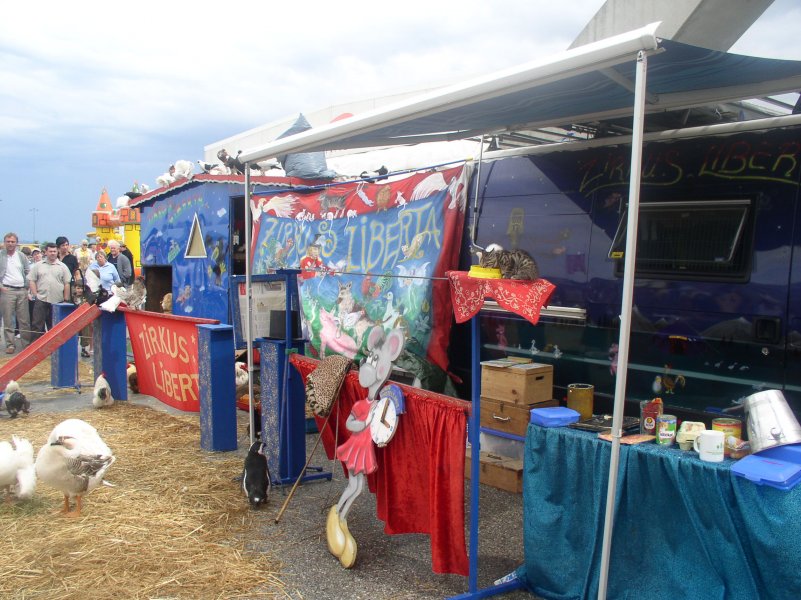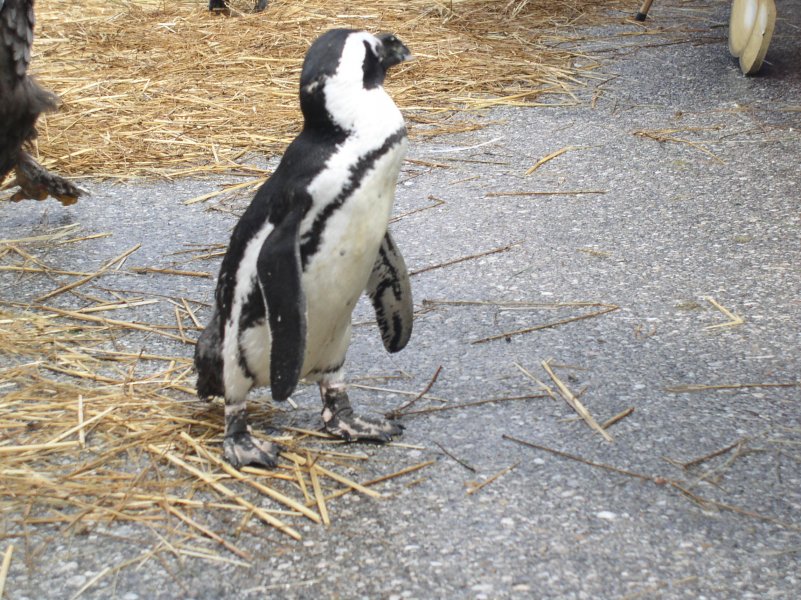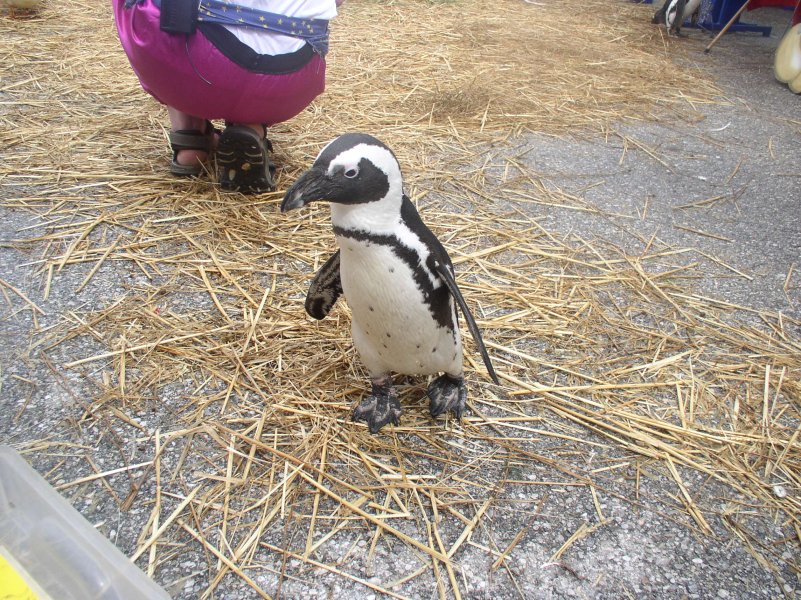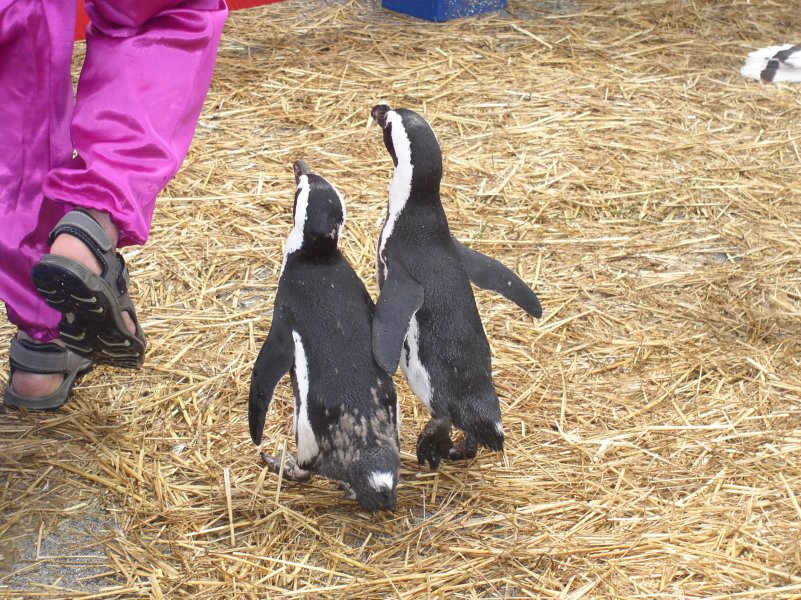 SHOW Žilina 3.5 2009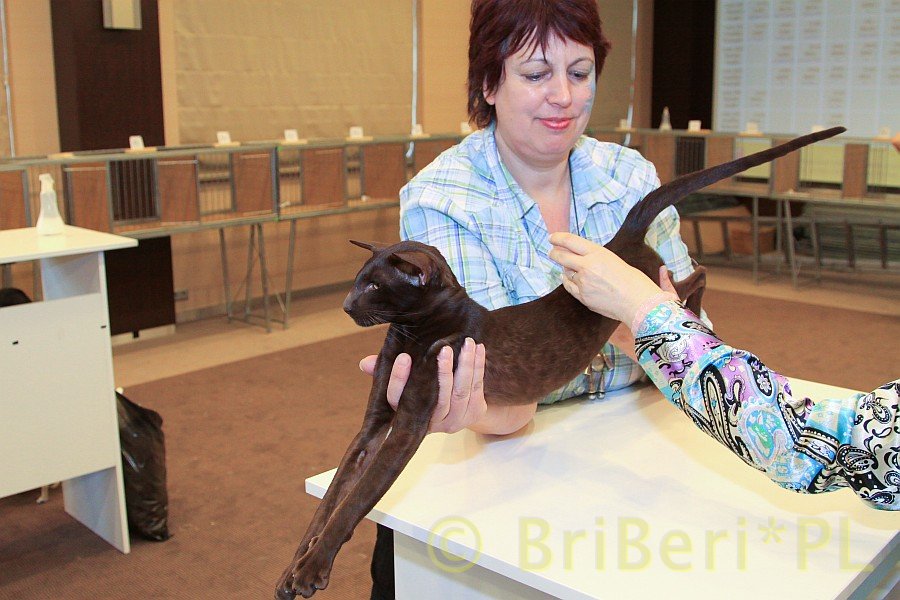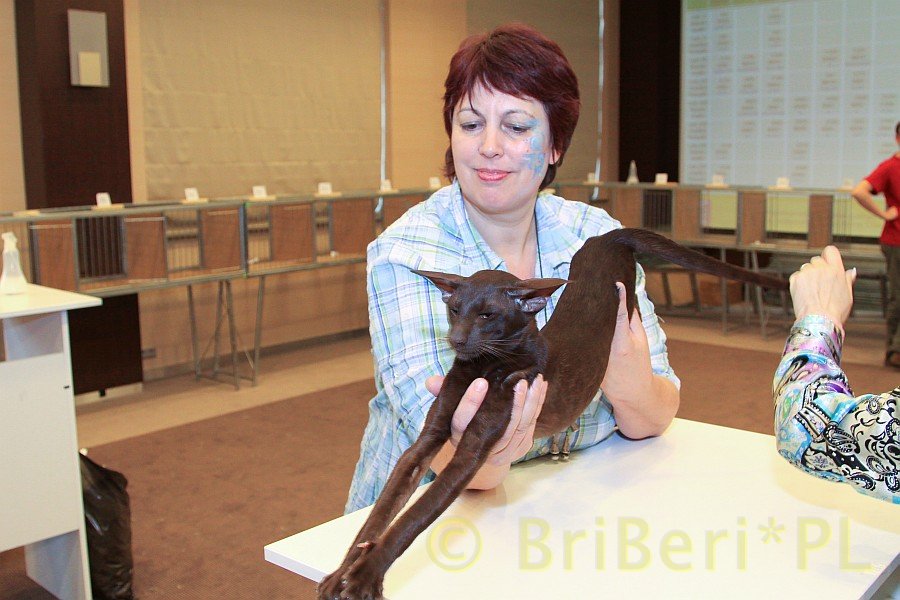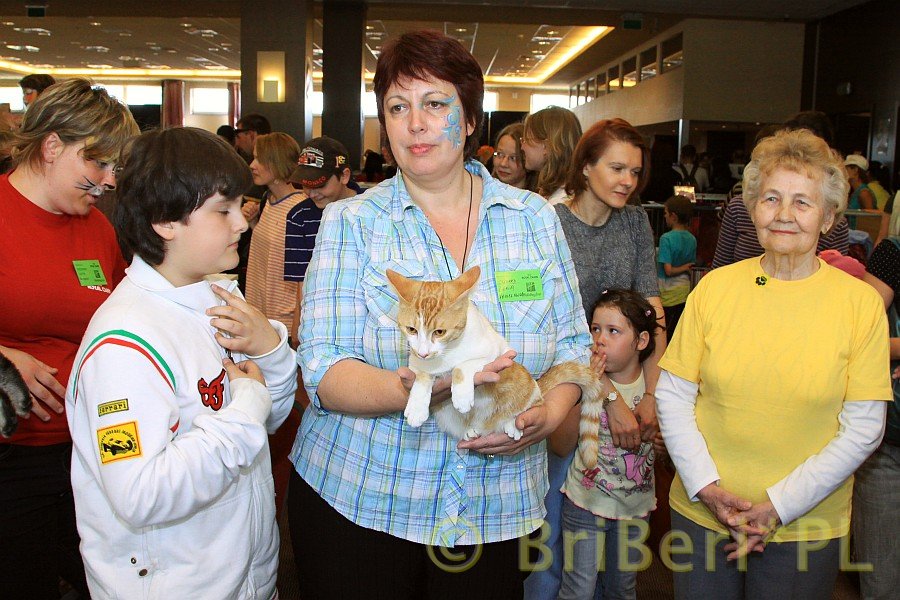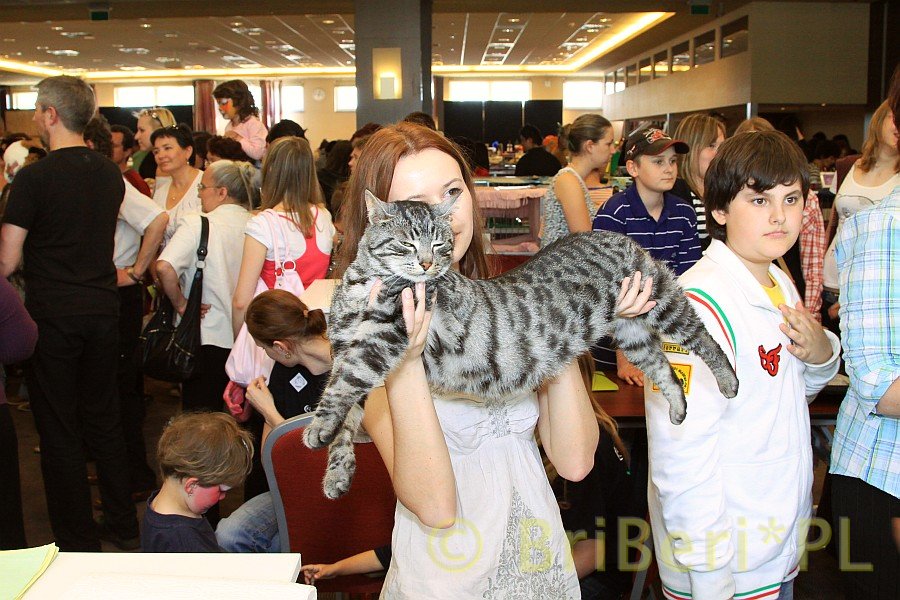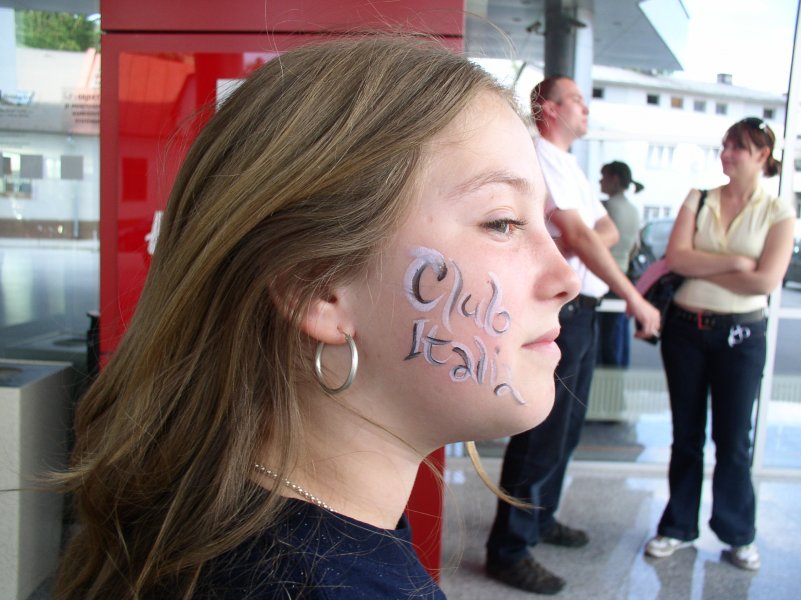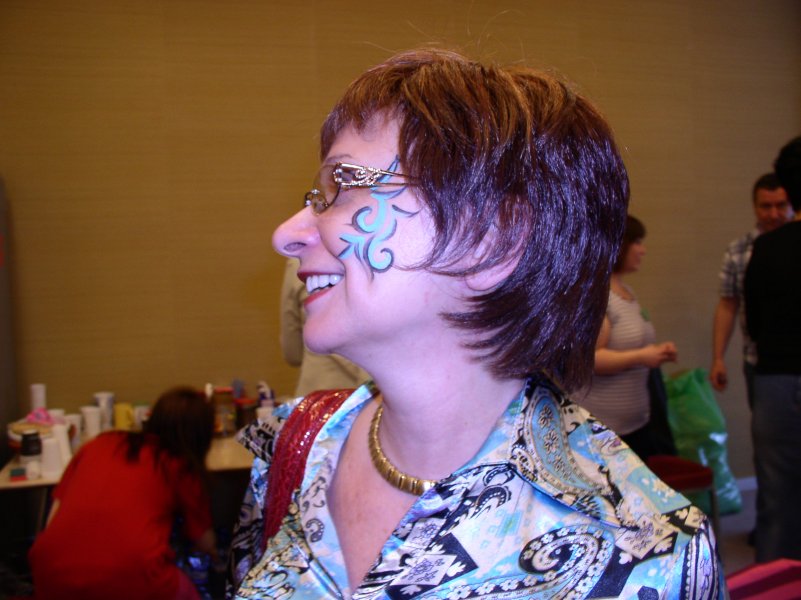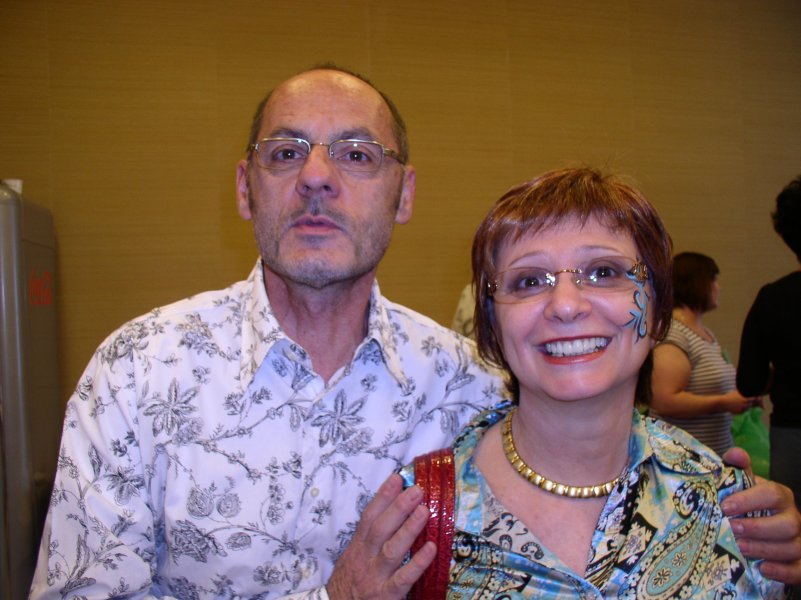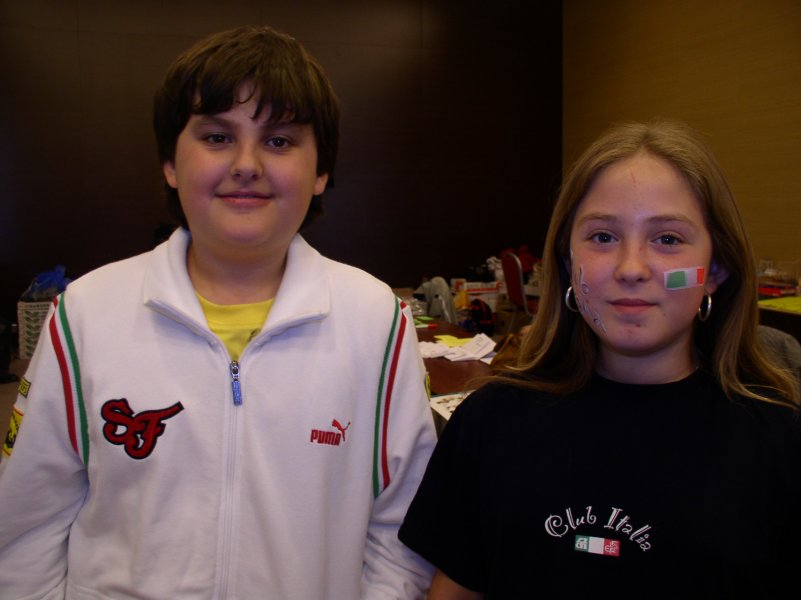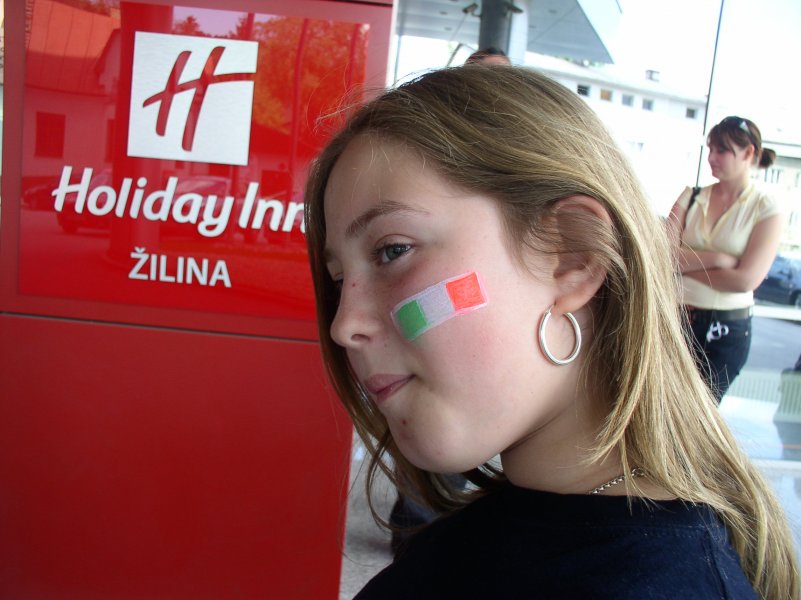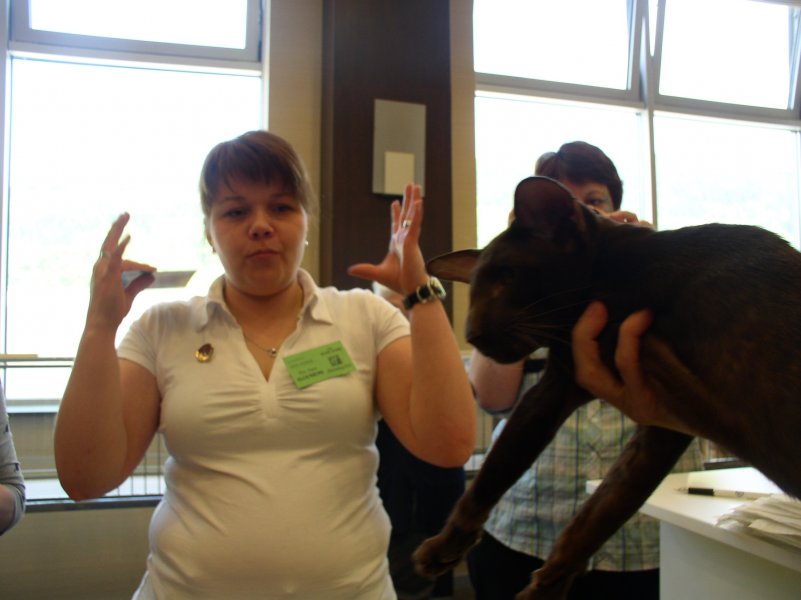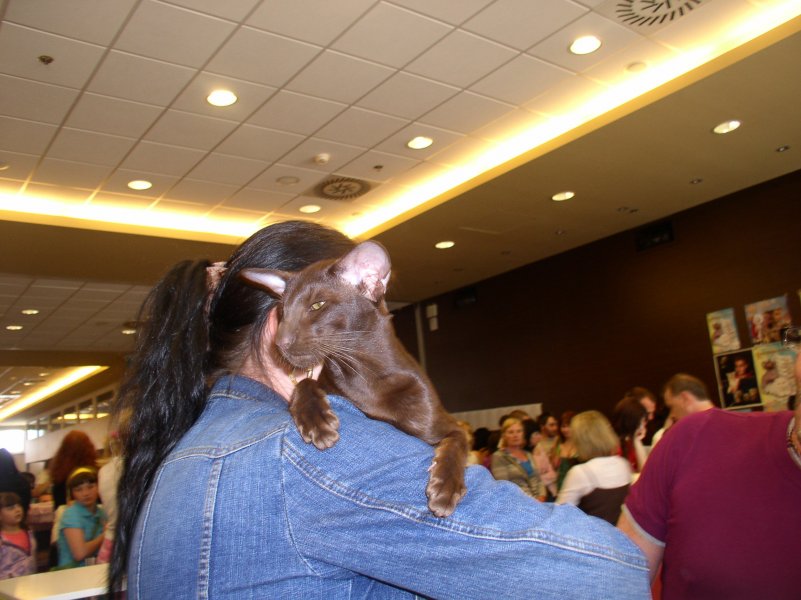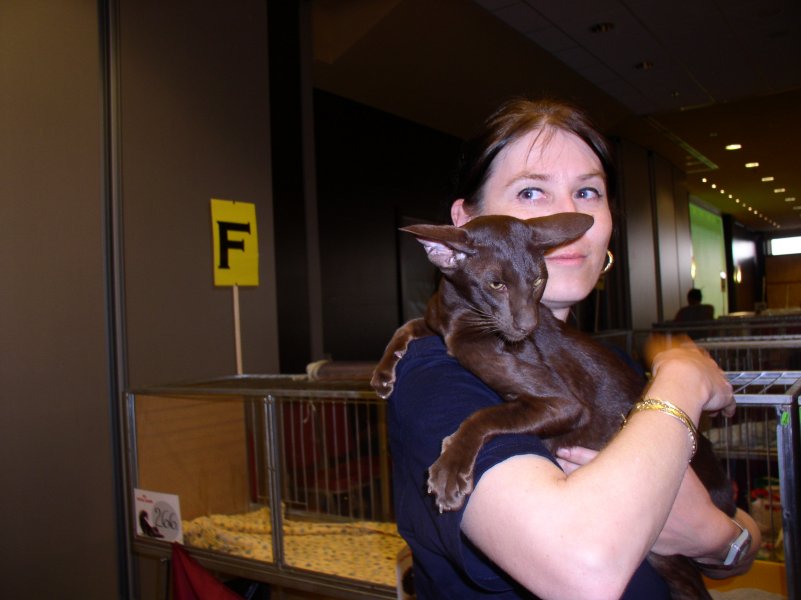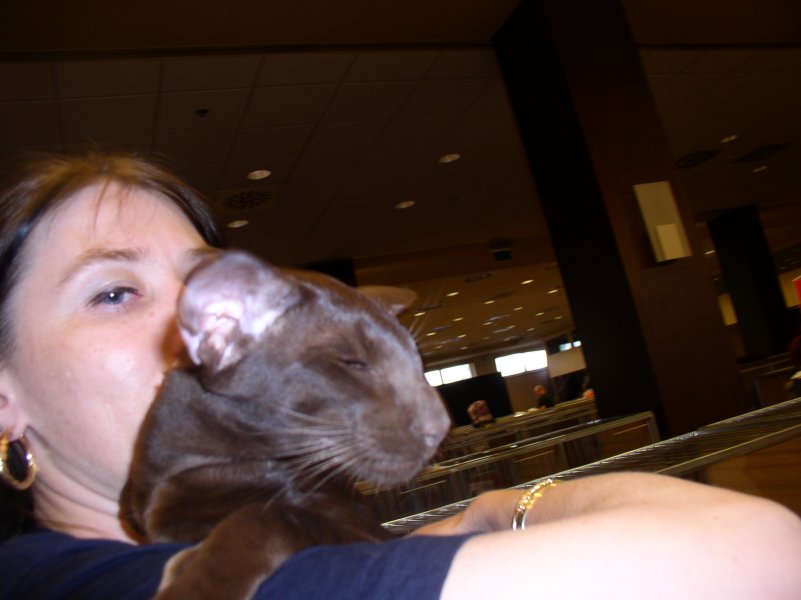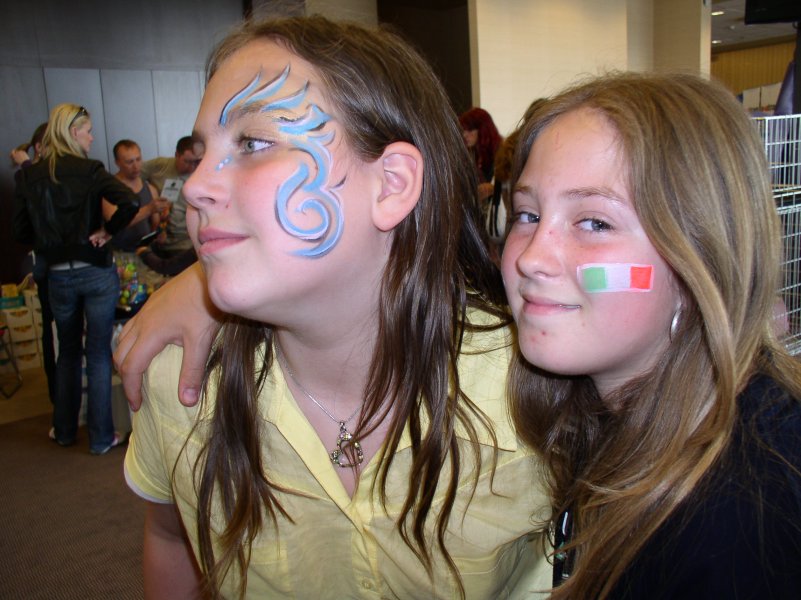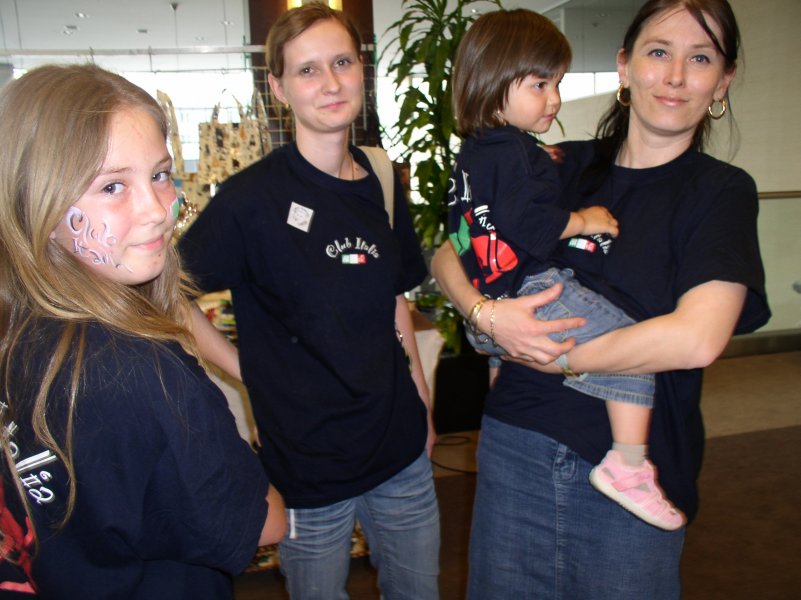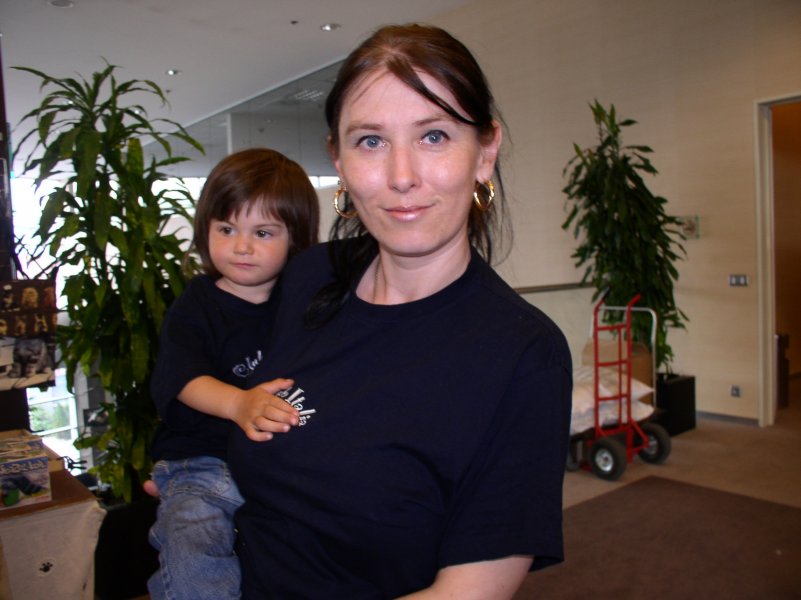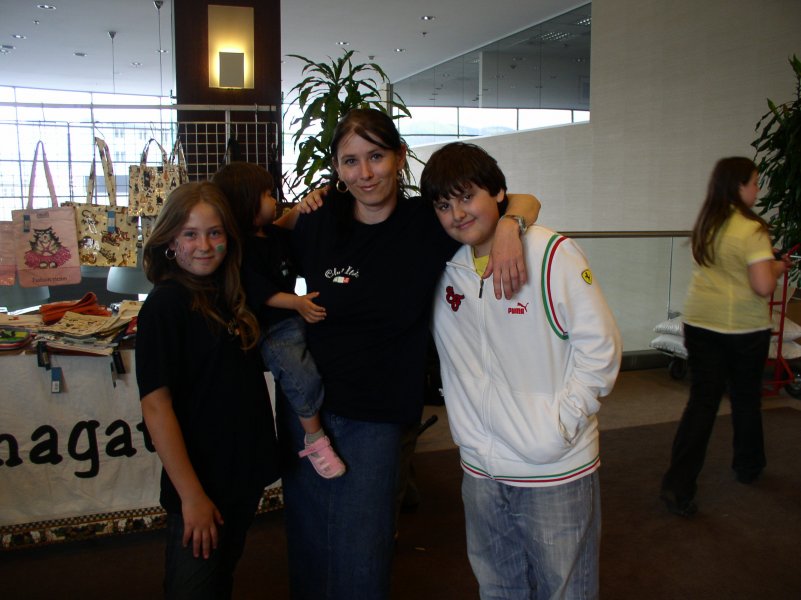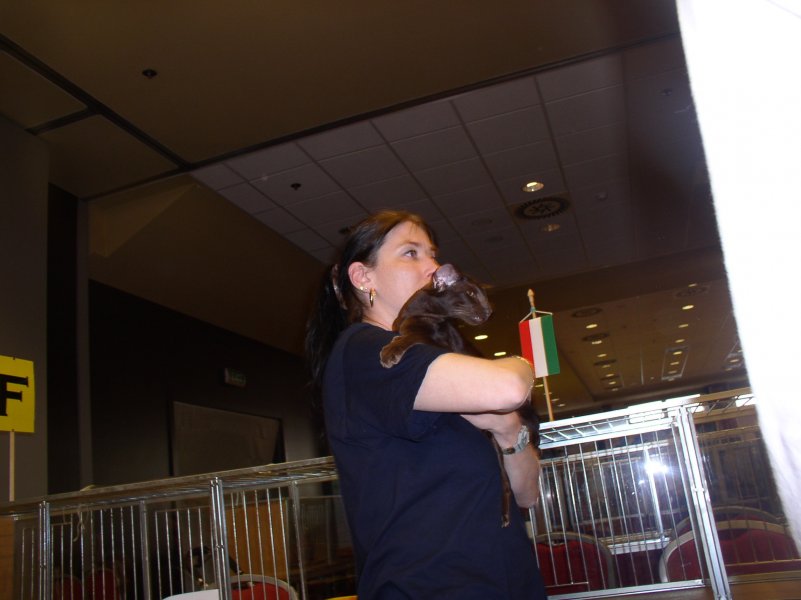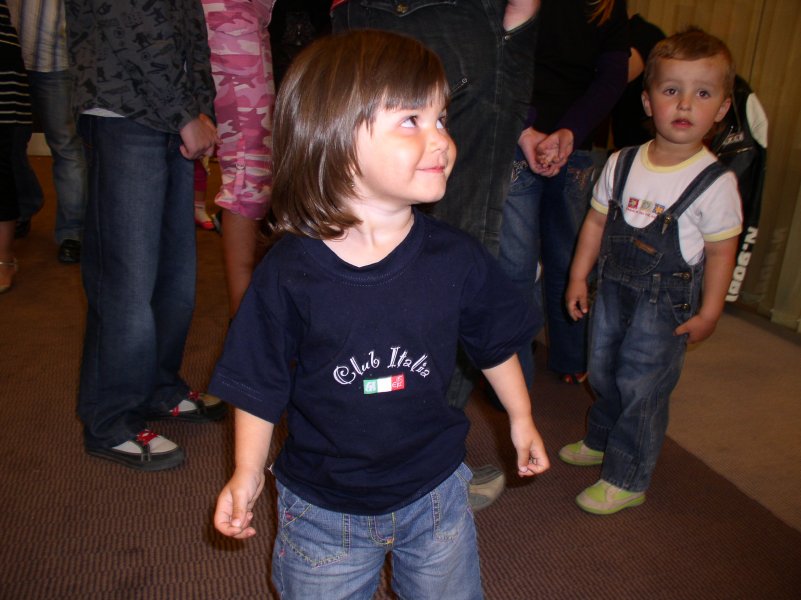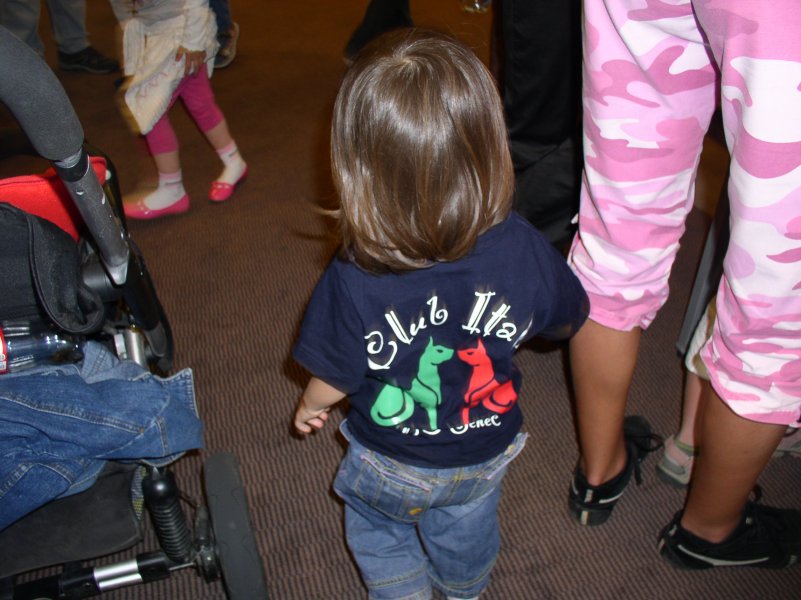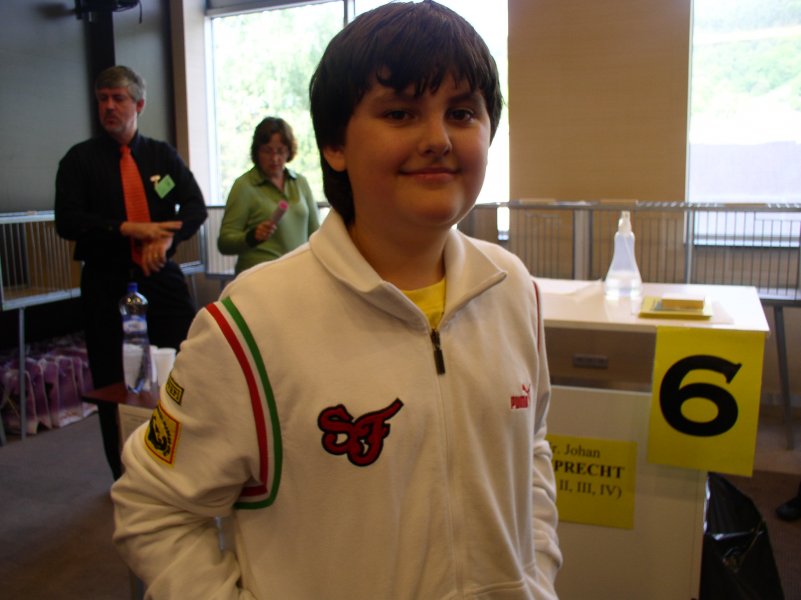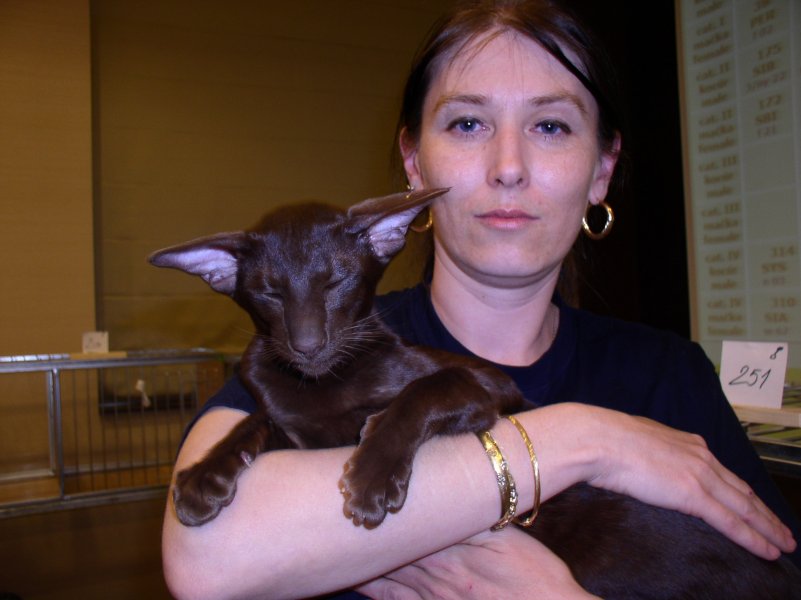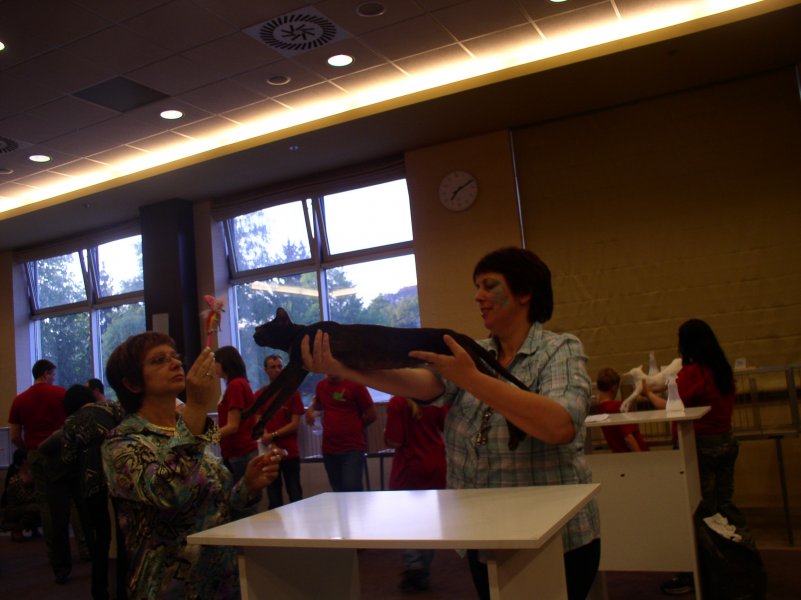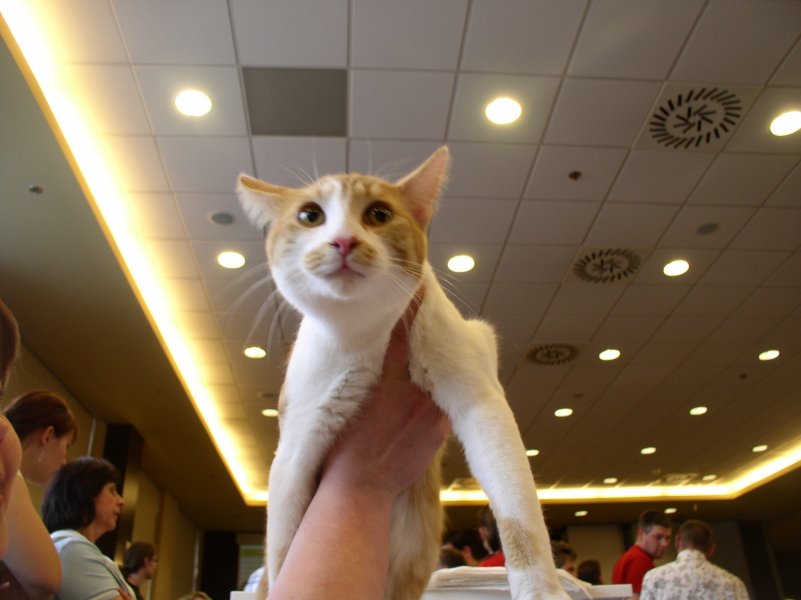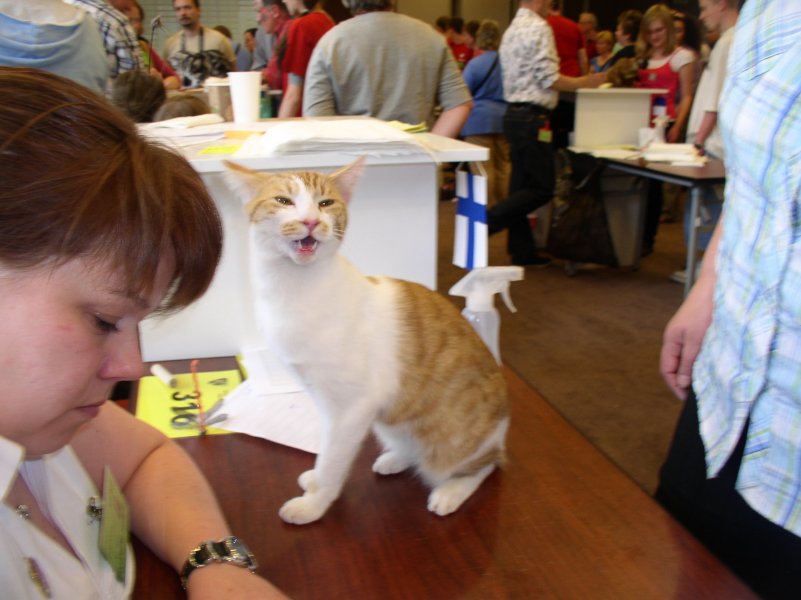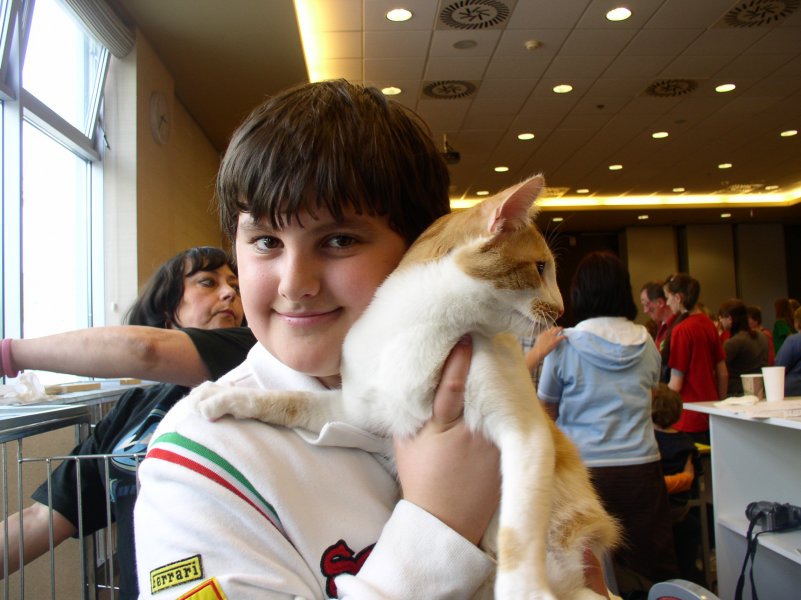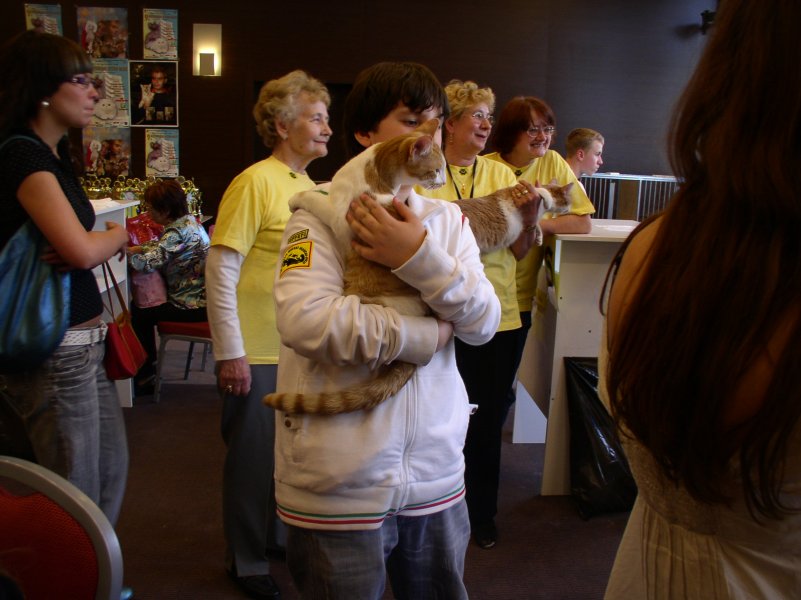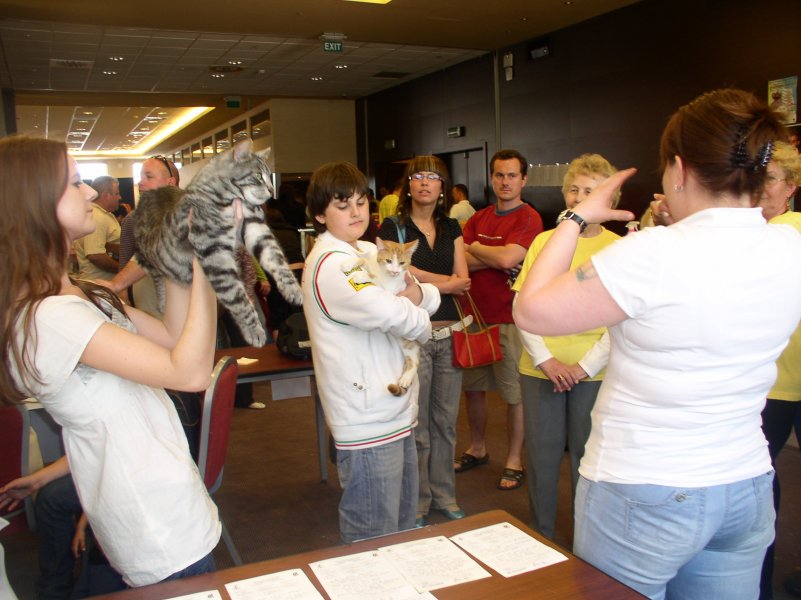 SHOW Bratislava - Ružinov 28.2 - 1.3 2009
Sunday - results of Club Italia : Otello OSH b - BOB 2
Quite Special EXO n 22 - BOB 4
Sofi PER ns 11 - BIS - female cat I
Charly PER n 22 - BIS - neuter male
Naruto - DOM - BIS domestic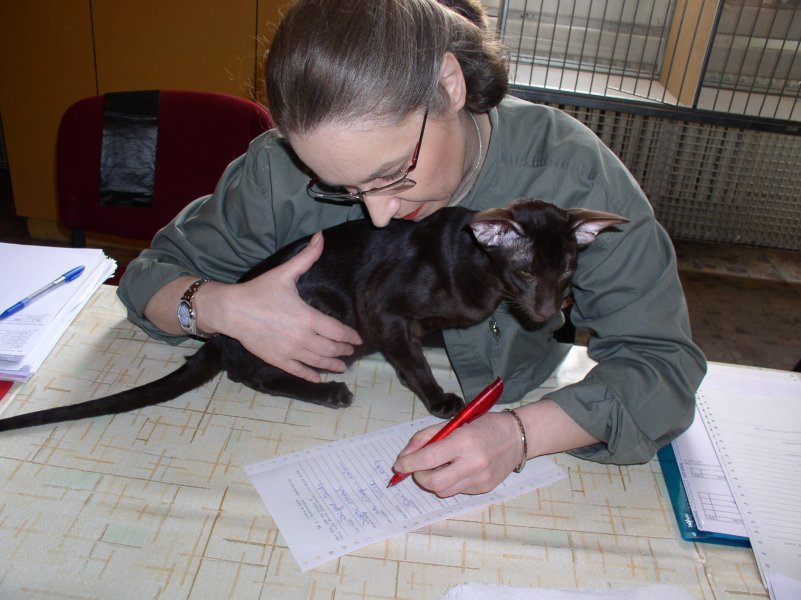 Donatella judging 1.time Otello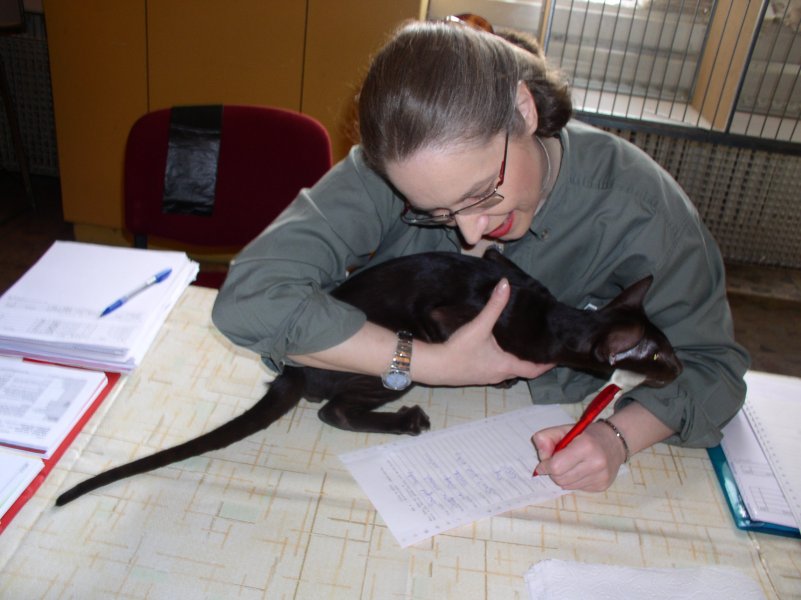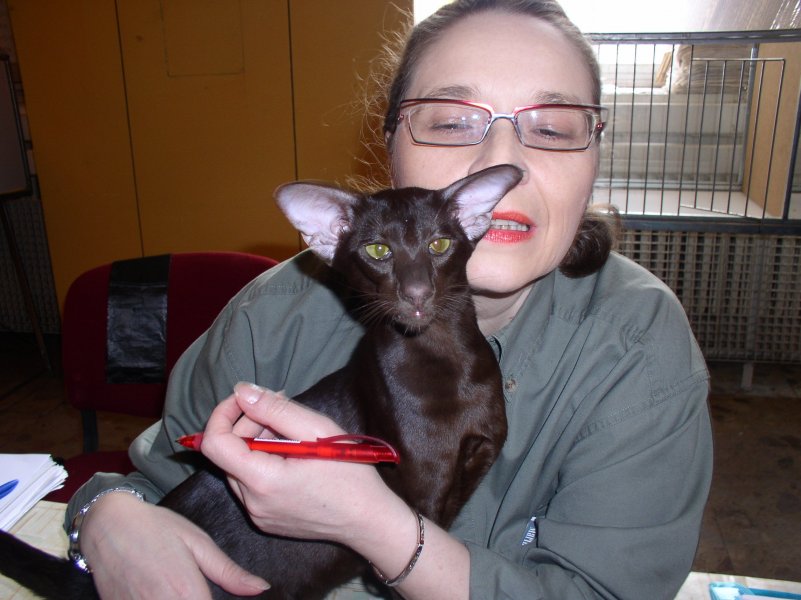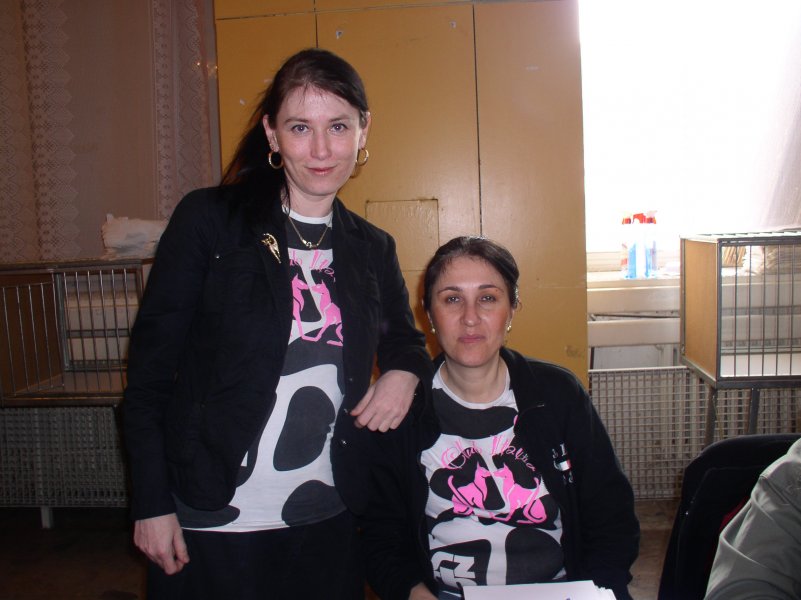 Me and student judge Laura Manunta - members of Club Italia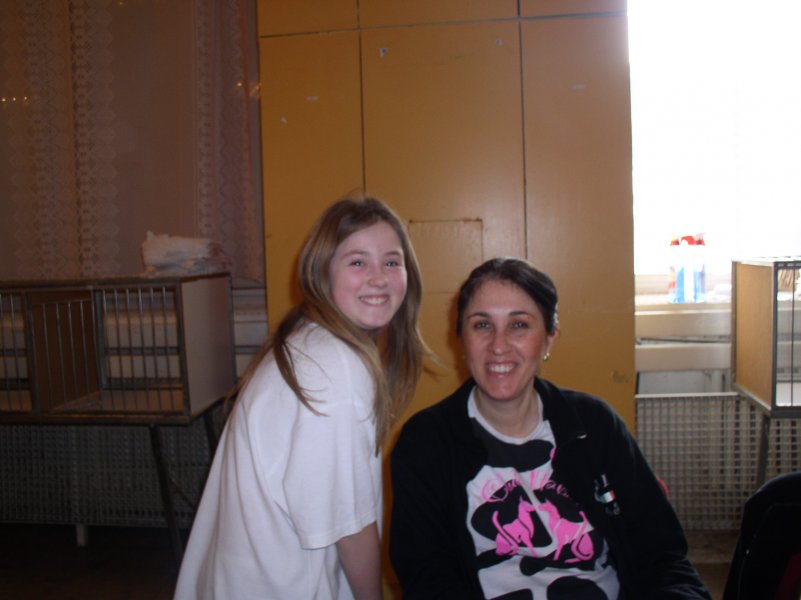 Alessia - steward and Laura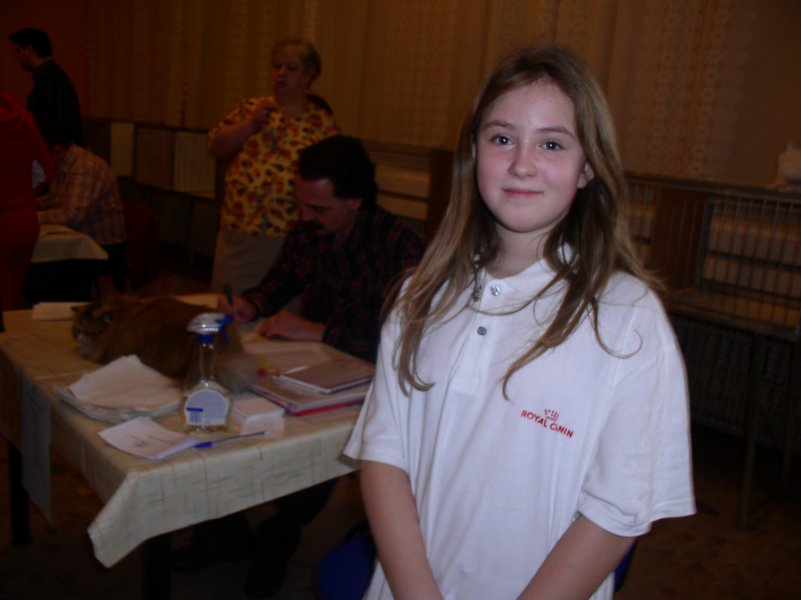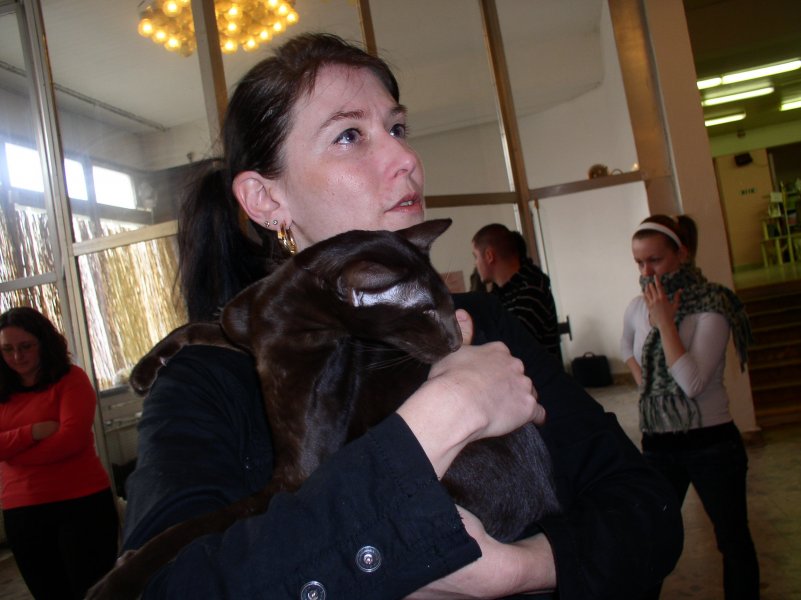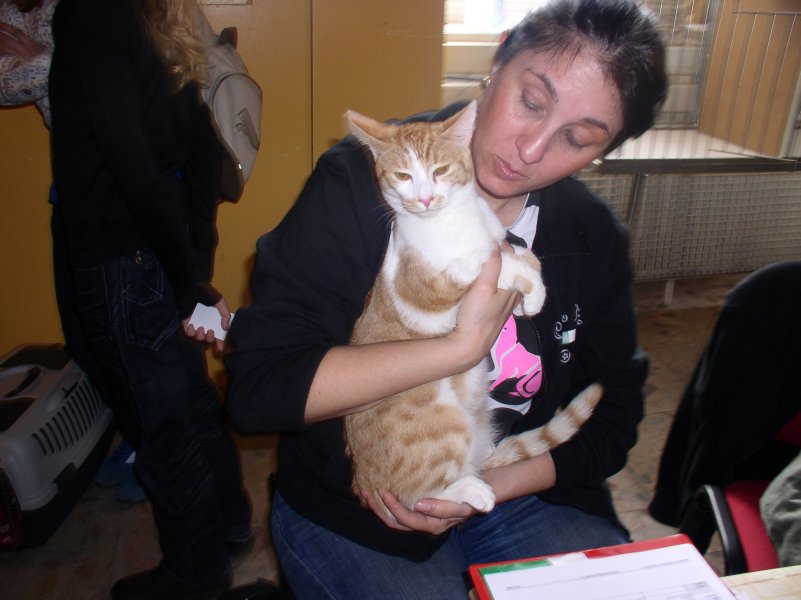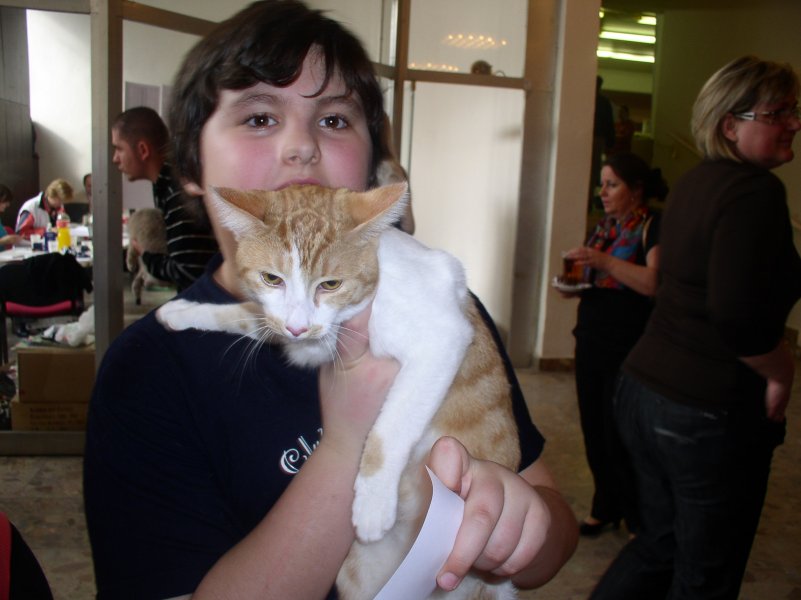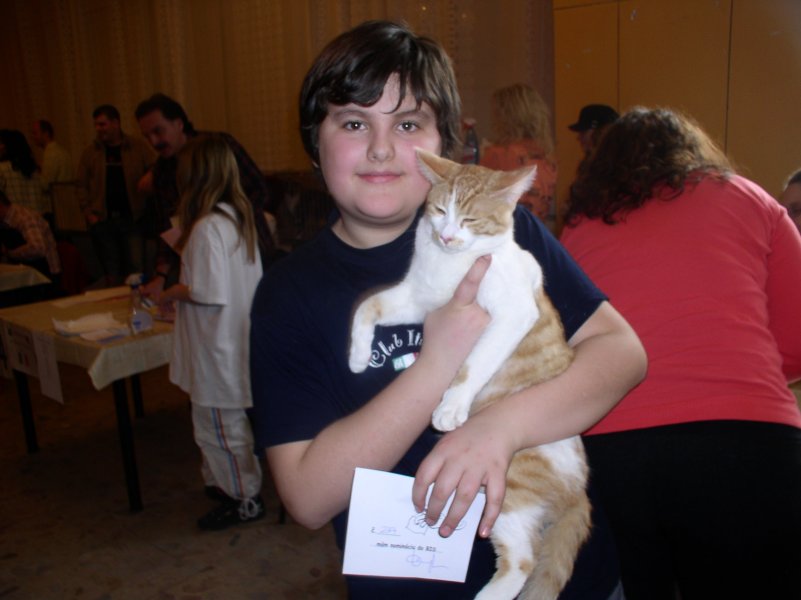 Mirand and Naruto, they get nomination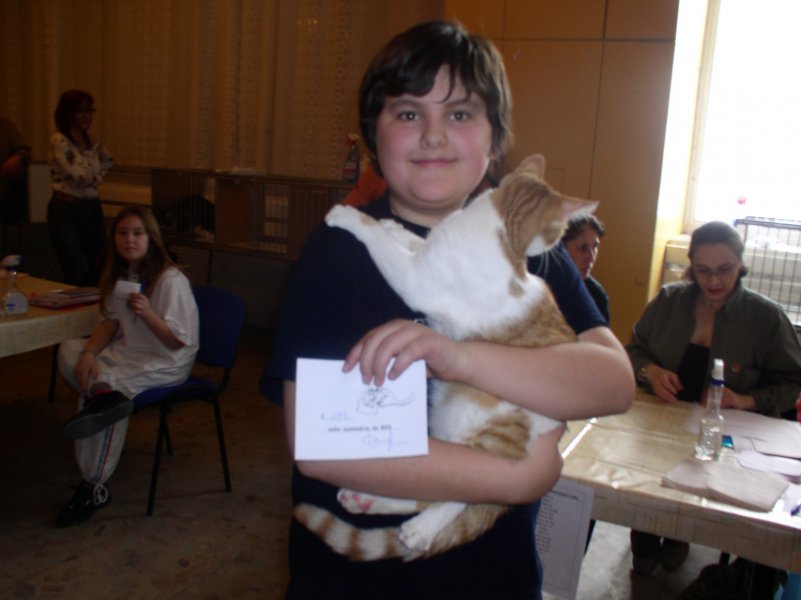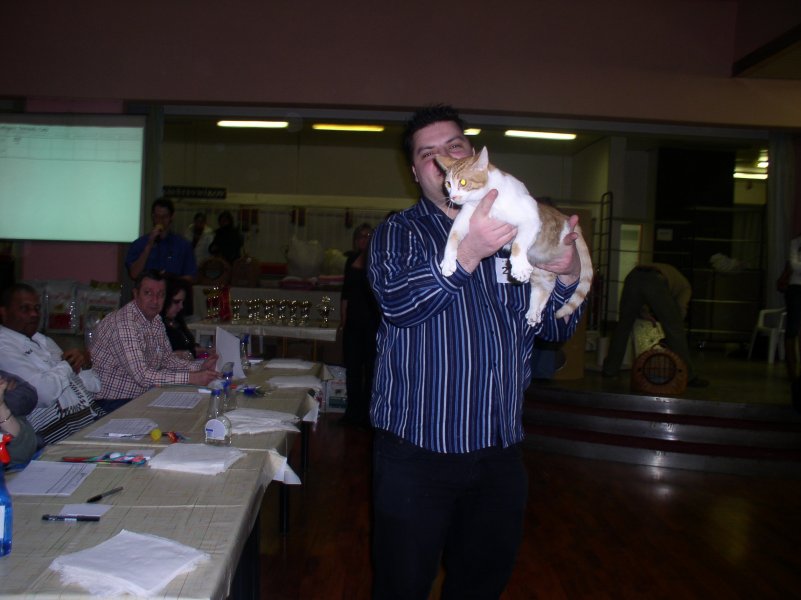 Naruto in BIS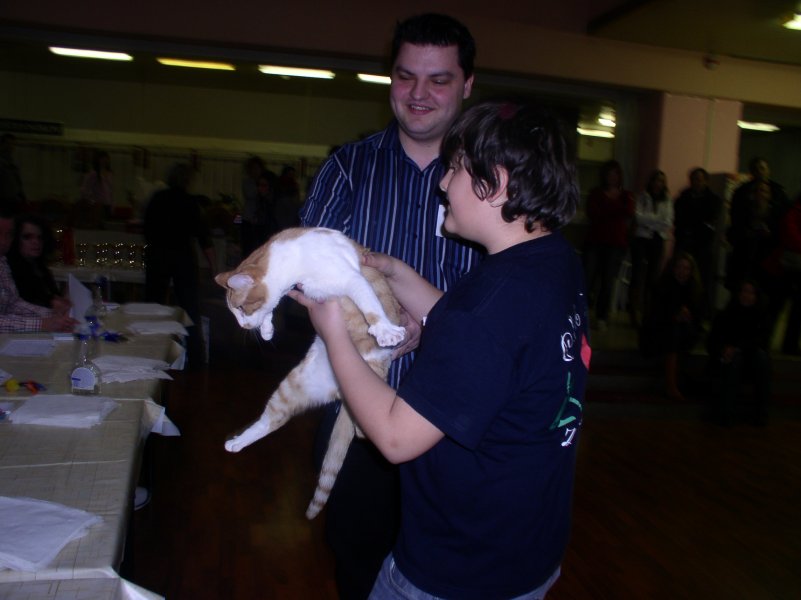 Mirand taking the winner ,,,,,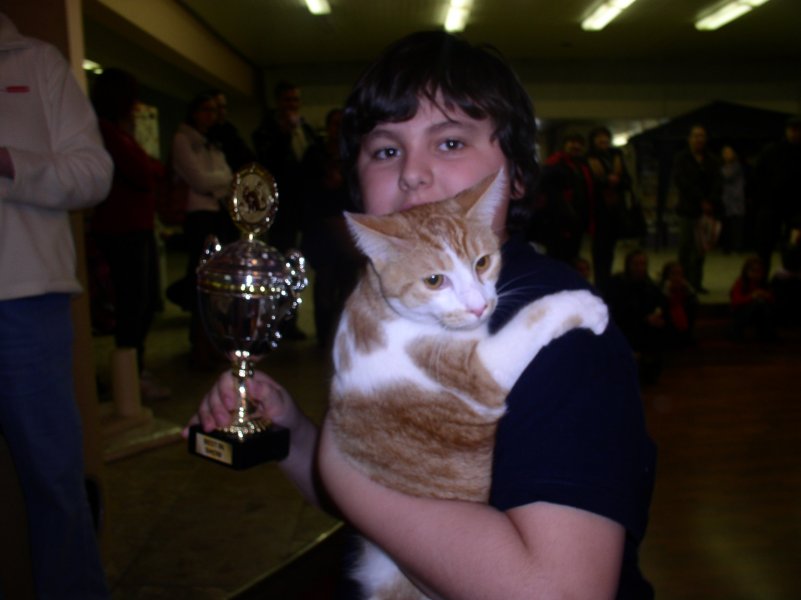 Naruto and his cup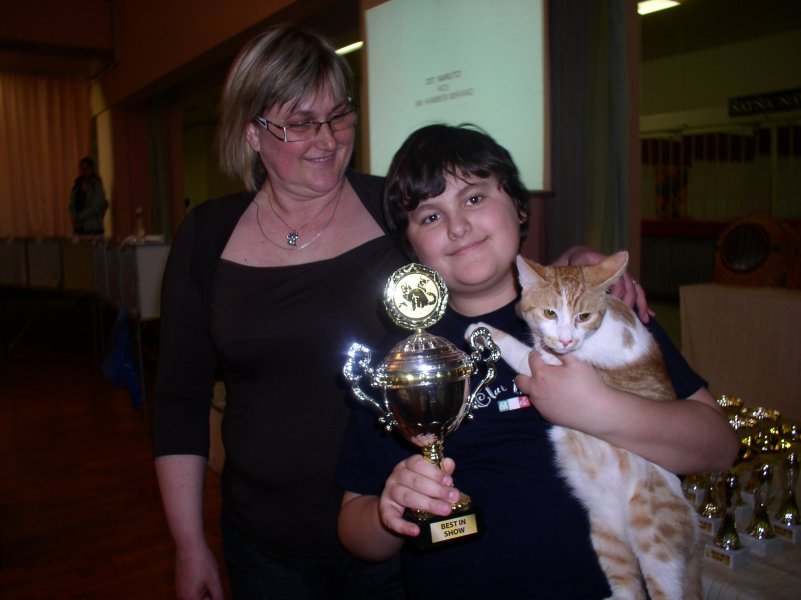 Show director Gabika, breeder of Naruto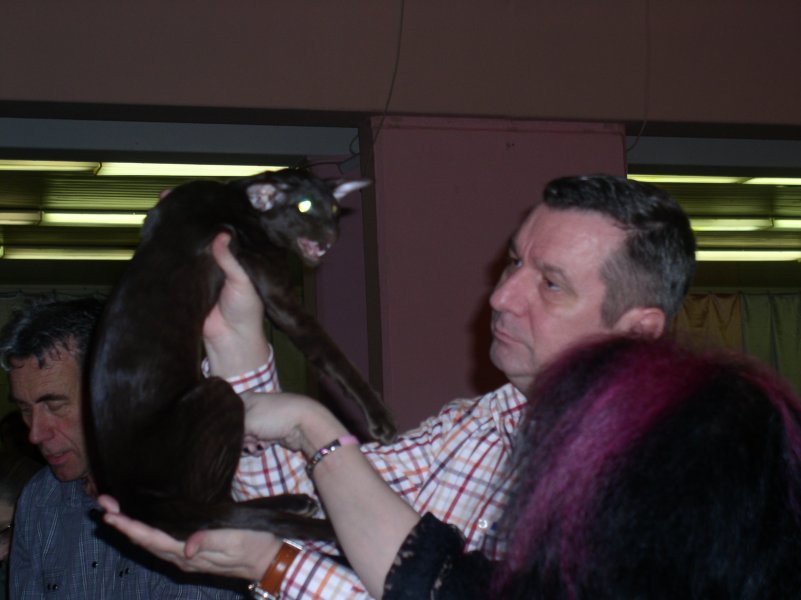 Otello singing like Pavarotti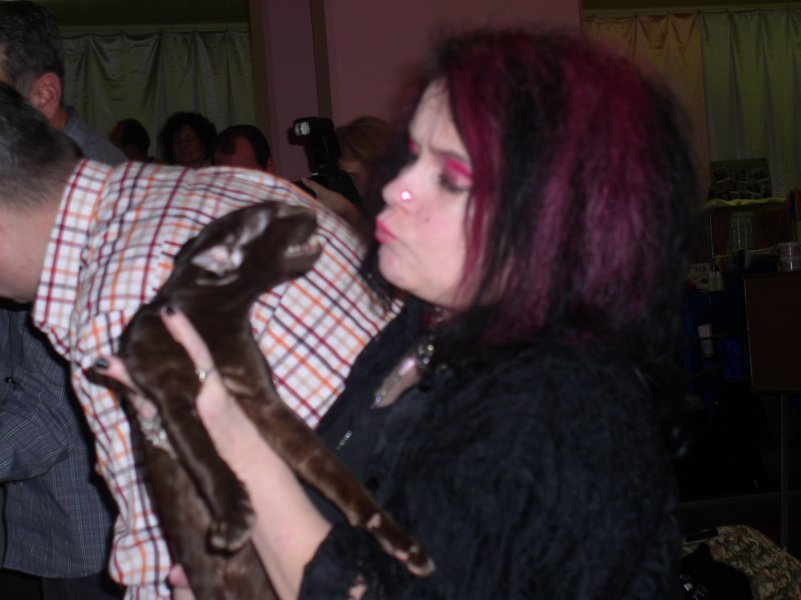 Otello singing : " I love you Kristiina :-))) "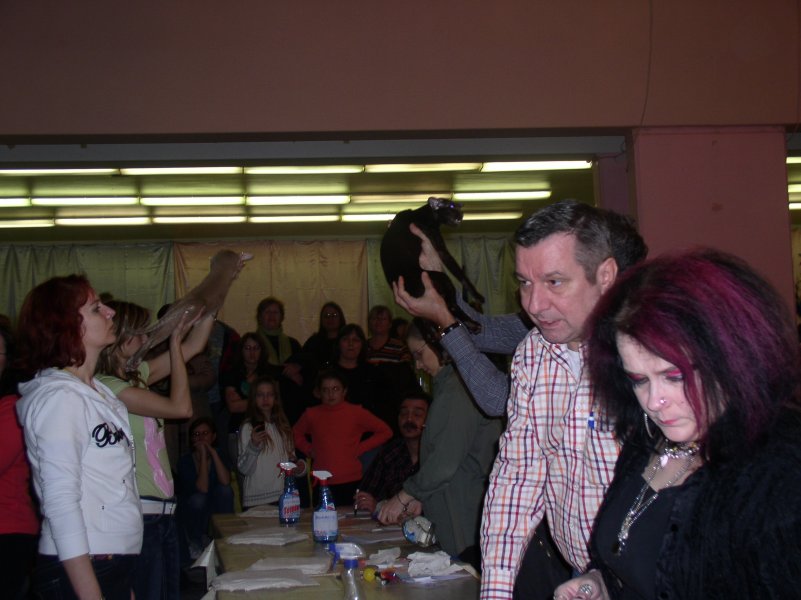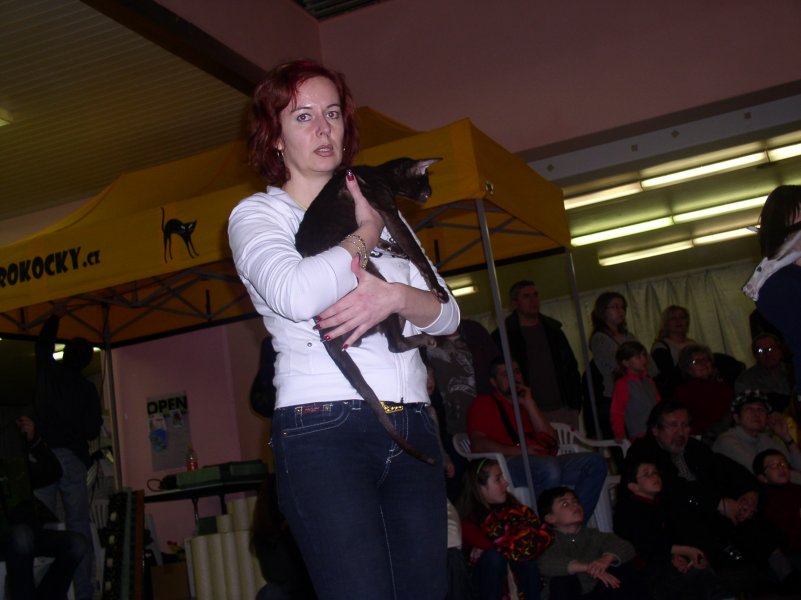 Otello and his steward Slavka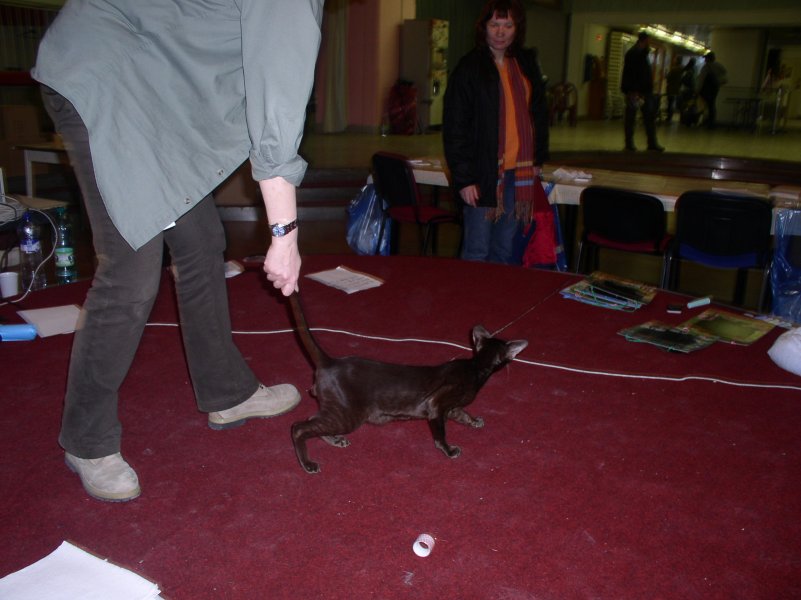 Otello walking after show with Donatella ( on flexi hihihihihi )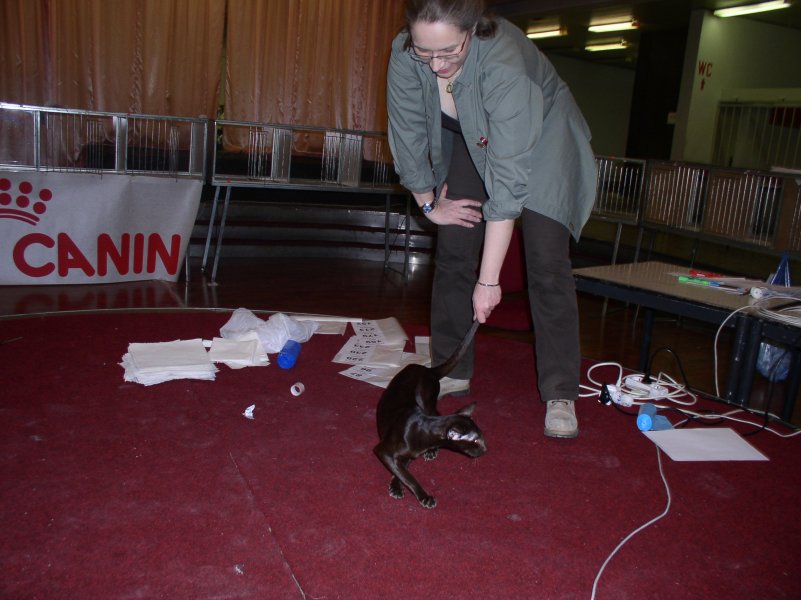 Guardate un po cosa ha inventato Mastrangelo :-)))))))))))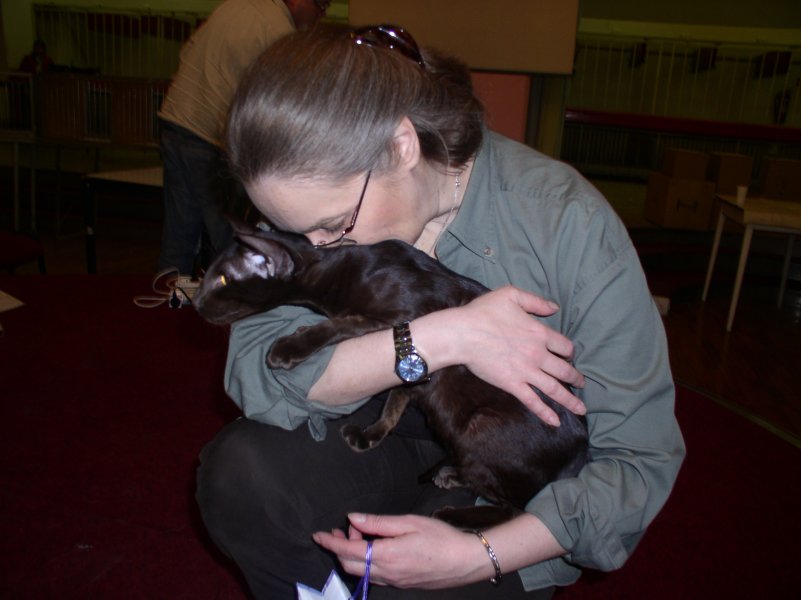 Donatella and Otello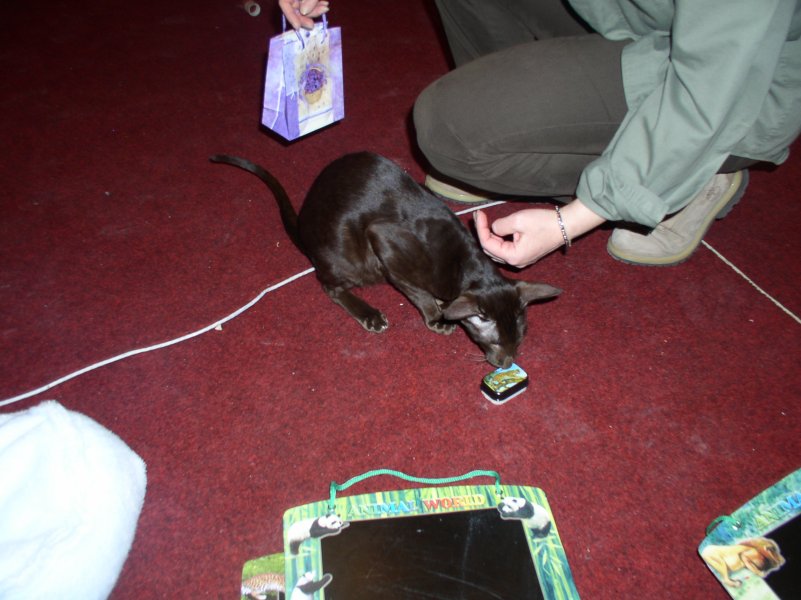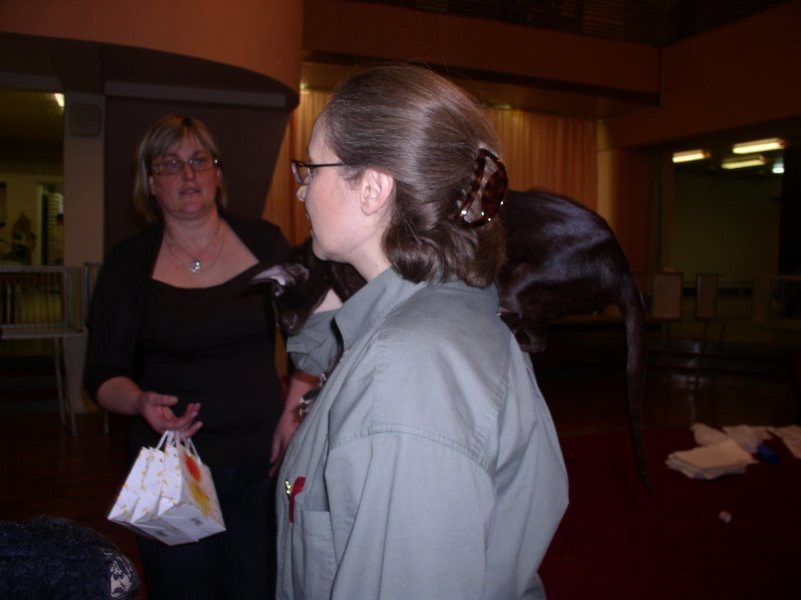 Sathurday show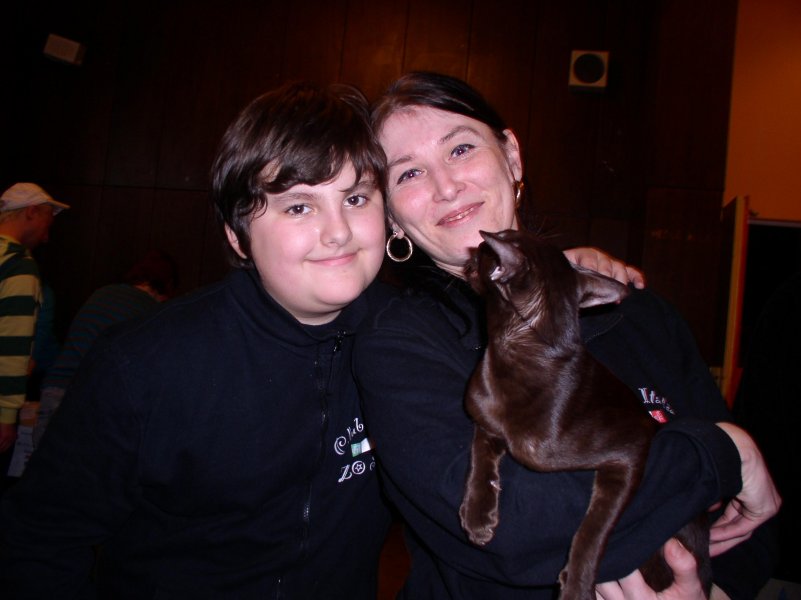 Me,Mirand and Otello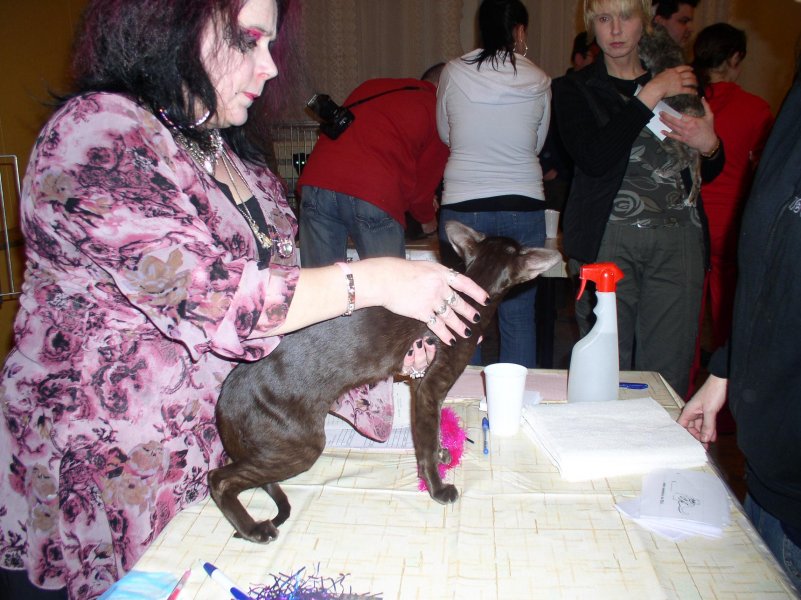 Otello judged by Kristiina Rautio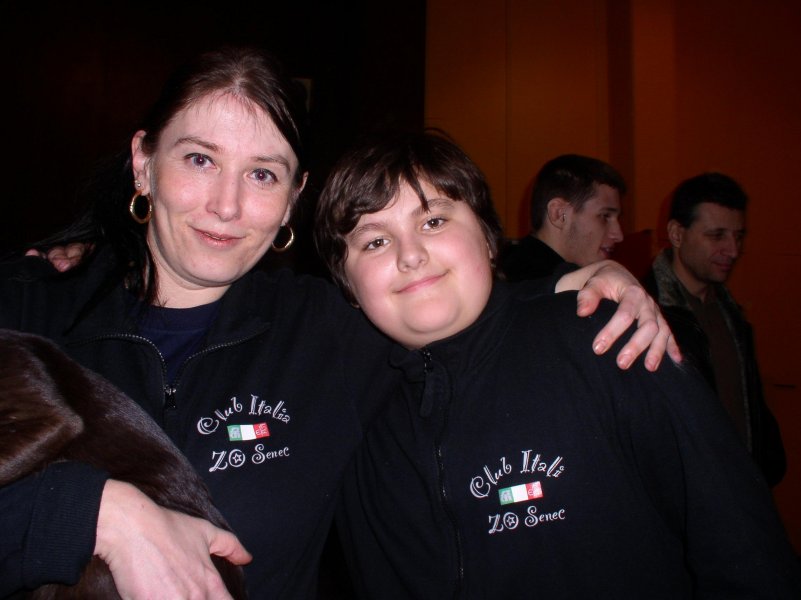 Proud members of Club Italia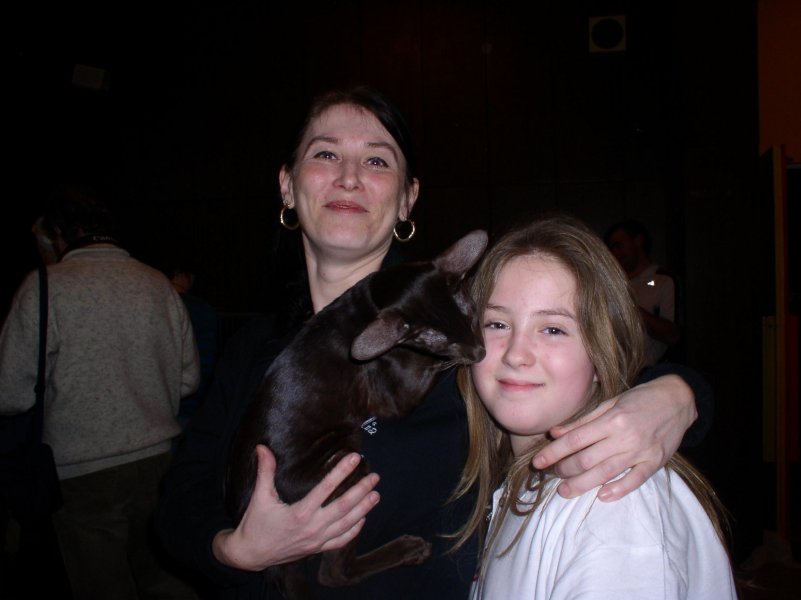 otello kissing Alessia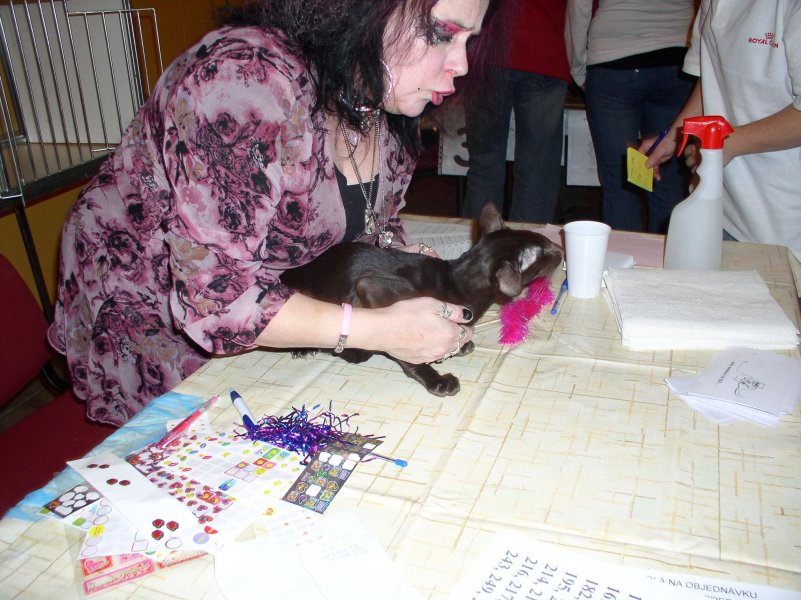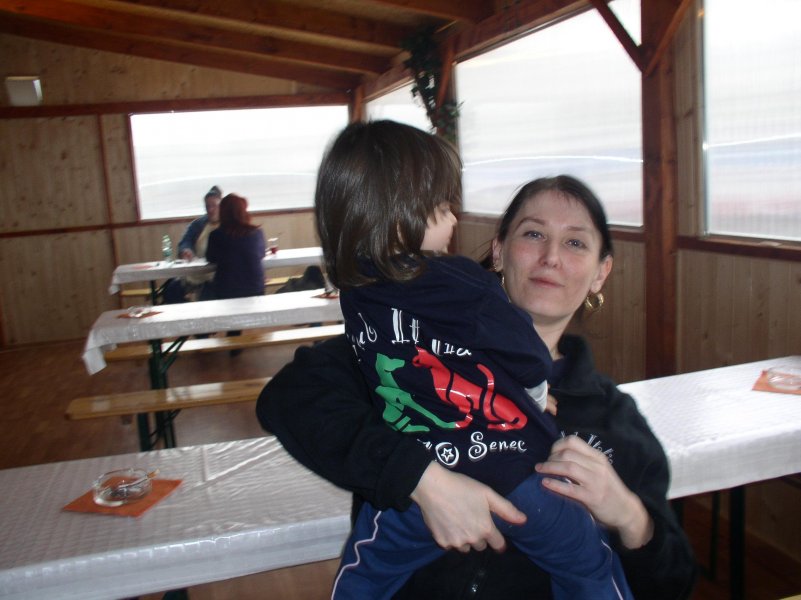 Young member of Club Italia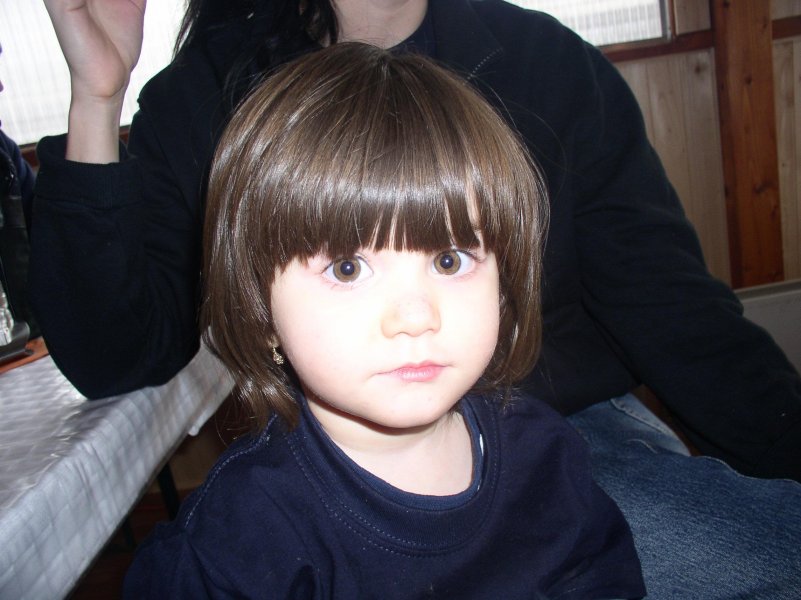 Zamira during the show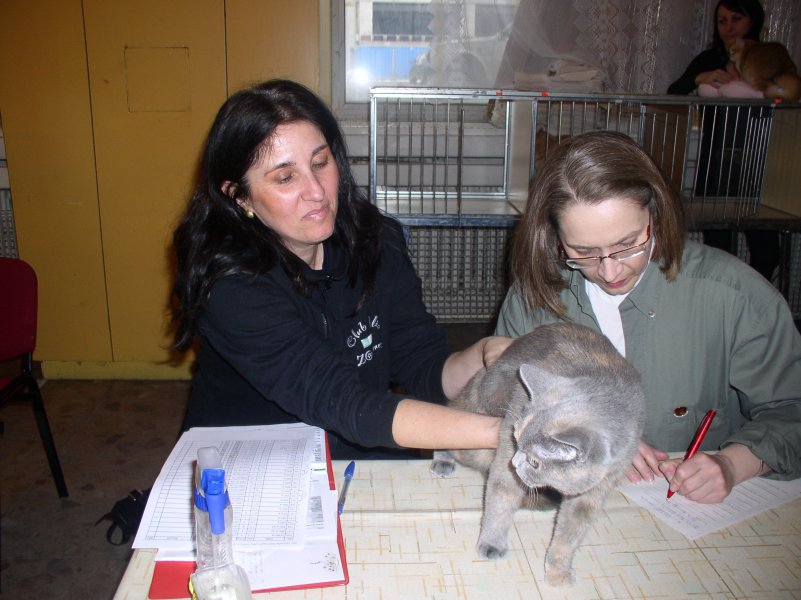 Laura Manunta - NEW STUDENT judge - member of Club Italia, with Donatella Mastrangelo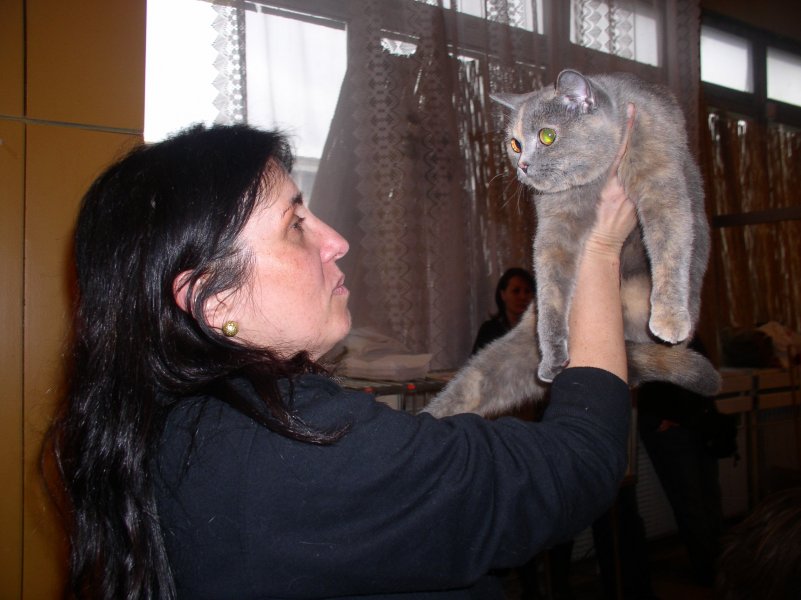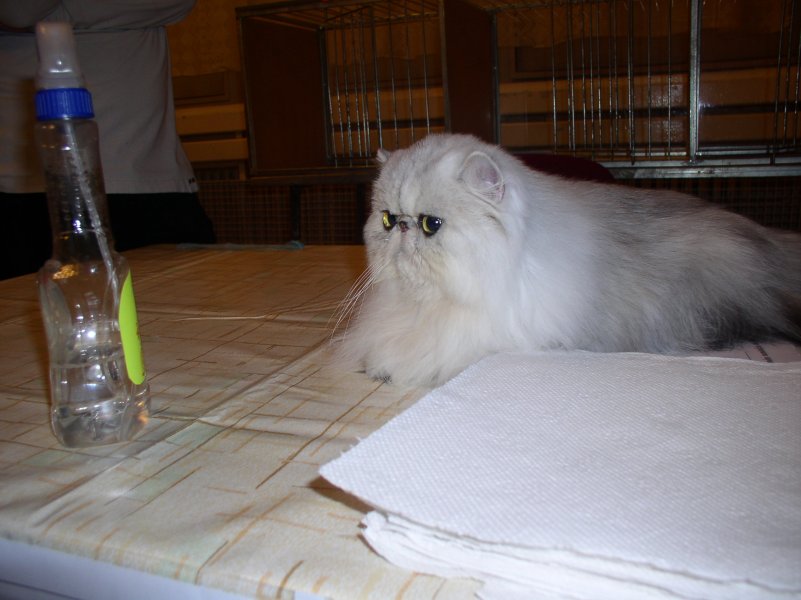 PER ns 11 Sofi female of Magda Kmošková - member of Club Italia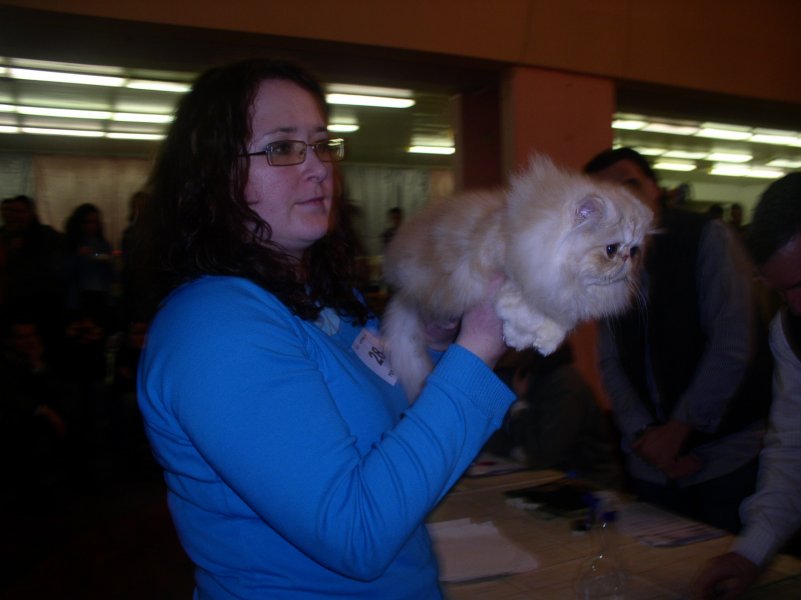 Ischa Ember PER ds 22 kitten female - cat of our member Magda Kmošková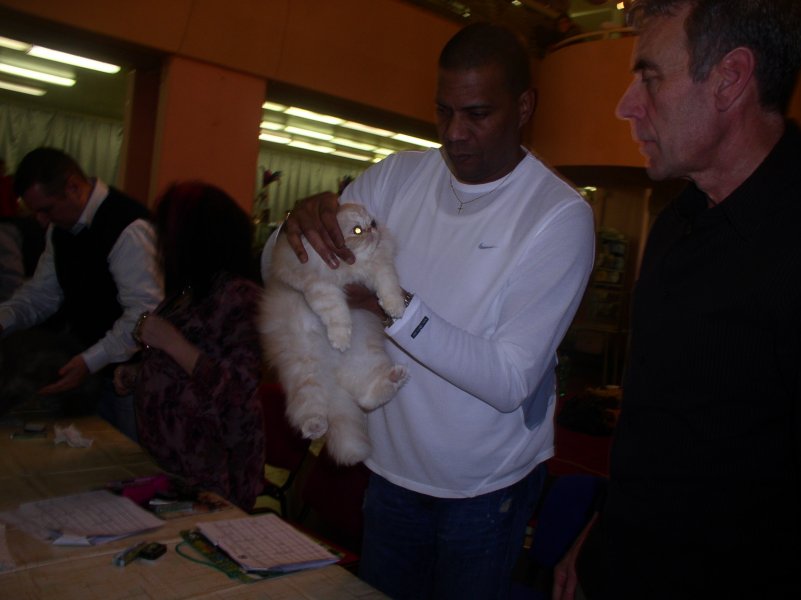 Ember again - breeder Massimo Sorbini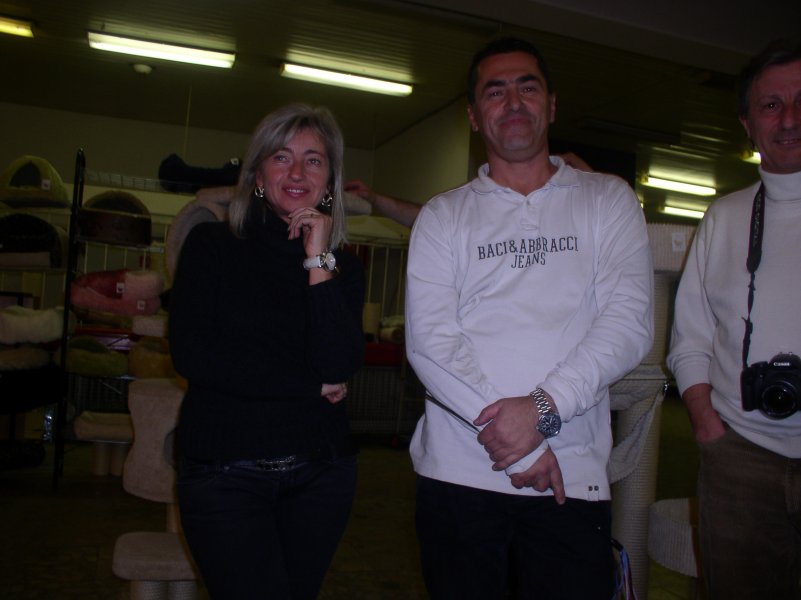 My friends from italy - Fiorella and Massimo, breeders of Ember and Ettore, also owners of BOB I PER n male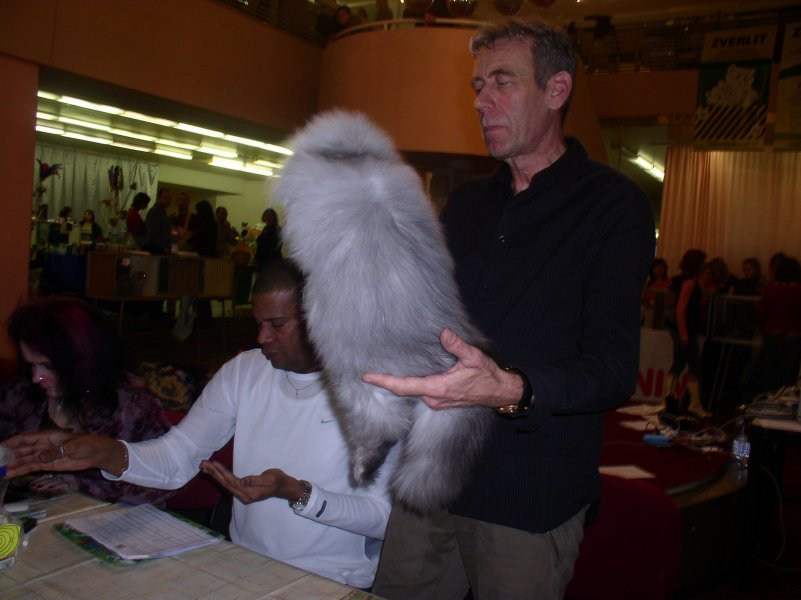 Ischa Ettore bred by Massimo and Fiorella, PER ns 24 BIS kitten 6-10 owner - Magda Kmoškova member of Club Italia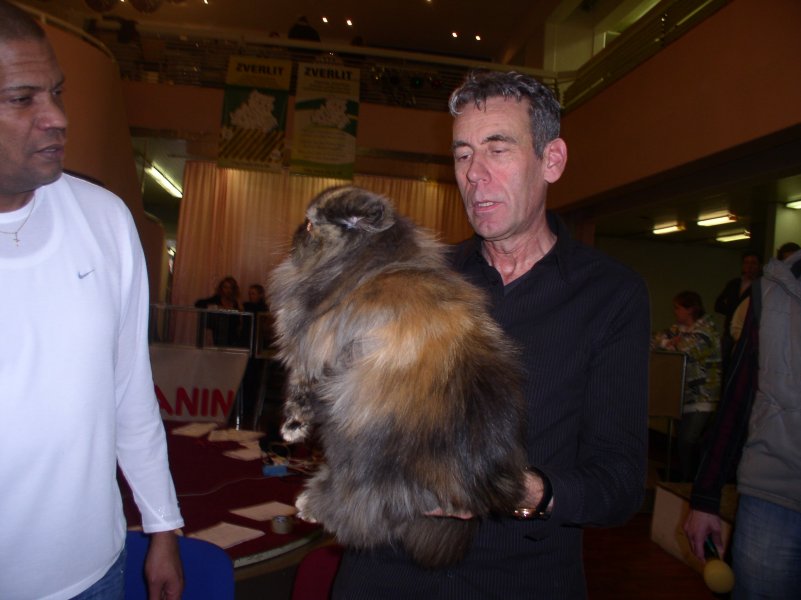 Ischa Dalia - cat of Massimo and Fiorella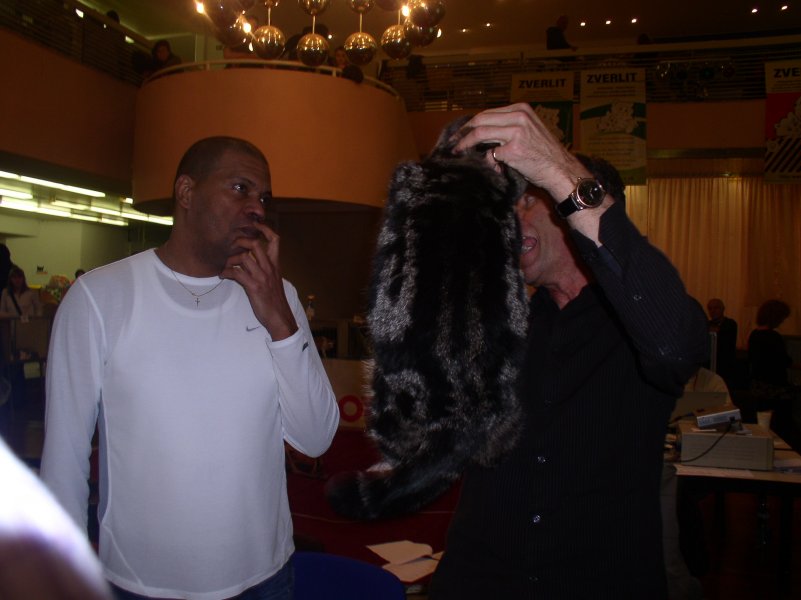 EC Quite Special Strieborna Ruža JW - EXO n 22 male bred by our member Magda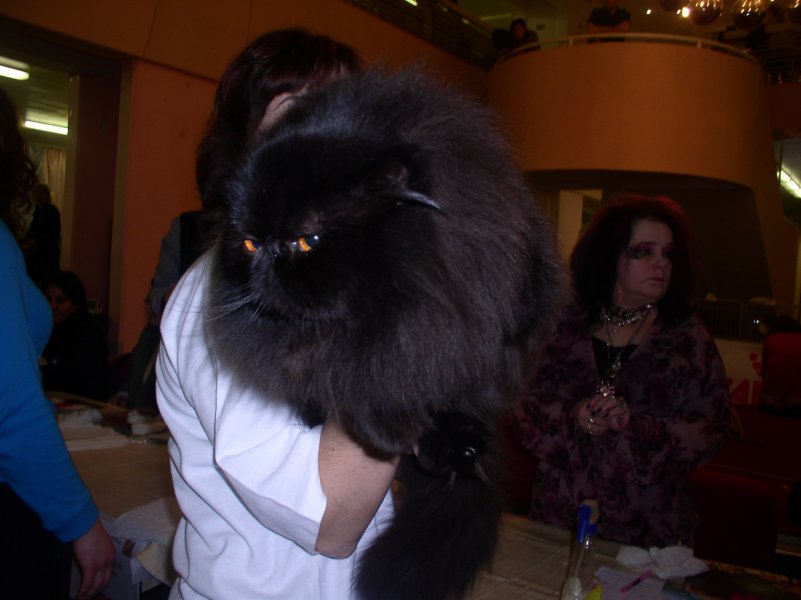 Male PER n BOB I - owner Massimo Sorbini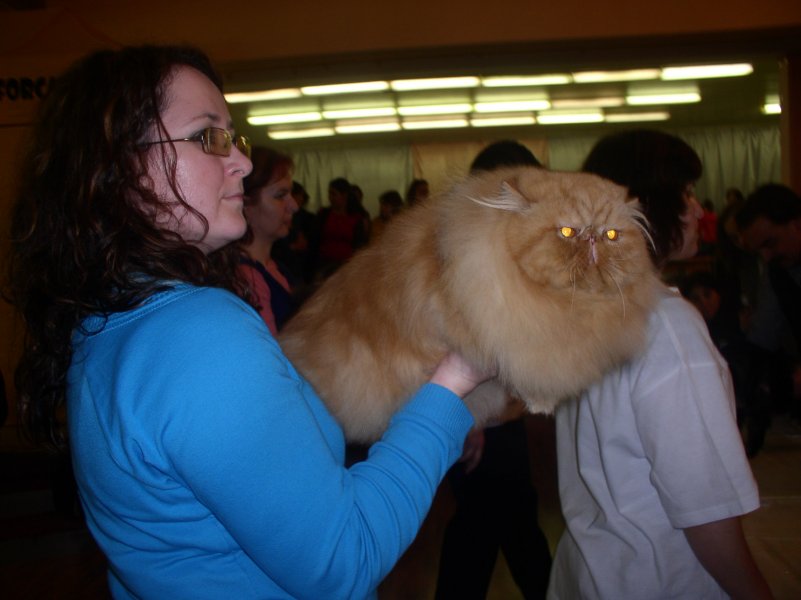 Konquistador della Primavera PER d male - owner - Sorbini Massimo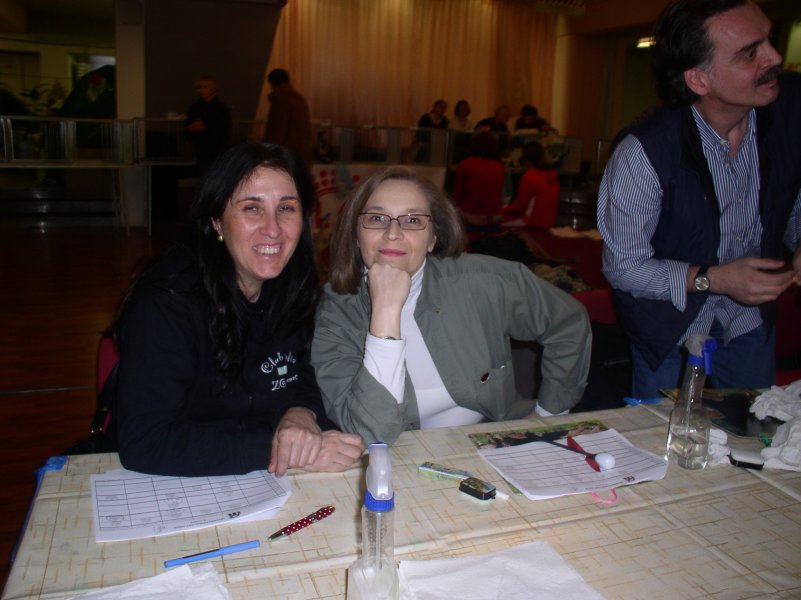 Laura Manunta, Donatella Mastrangelo, Alessandro di Chio during the Best in Show