Litter " R "
We have kittens out of :
WW09 IC Otello D´Oltremare*I JW OSH b X Dunja Al Arab Sultan Chan*SK OSH f
6th November - 8 beautiful kittens were born
3 OSH f, 1 OSH h,1 OSHn, 2 OSH b 1 OSH d
we have one boy and 7 females.
Dunja is excellent mum and taking care of her 8 babies alone and well. All my russian females and females out of russian queens
are very protective with wild instincts. It is great fun, we are spending evenings looking at Dunja doing mum :-))) Better than Ozzy
reality show, she is crazy :-)))) Whole litter is healthy, growing well, babies are eating Royal Canin Instinctive ( humid royal kittne food )
and part of them is already eating babycat dry food. For now, any faults in this litter. ...
Sorry, I am very busy mum, no time for pictures, babies are three mths old, all very healthy, doing well, ready to new homes.
We are already vaccinated, waiting for second shot. Babies are learning german, italian, czech, dutch,finnish and swedish.
New mums preparing transport, buying tickets and counting days :-))))))))))))))))))
This litter is really special, we call them agents 001-008 black agent is No1 never sitting , she has 220 V under tail :-)))))
Two choccolate ladies are also quick and clever, I have big flower ( palma) in my bedroom and tortie Glassis with the red
nose are living there. My older daughter was laughing like mad when could hear mum saying : Glassis, you black monkie,
you are going to Finland not to Zimbabwe, go and play under balkoon door ( there is cold ) yes yes palma and heating hahah
forget it hahahaha. Romeo is Sir, never scary, walking like aristocrat, doing all with own really calm style. Very special is also
blacktortie Rock n Roll Doll which is called here with name of the future new mummy :-) SORRY !!! we loves owners name :-)
She have own style,
don´t trust to anyone ...very friendly, funny but allways check all around, control situation and must say, very very intelligent one.
When I take deworming cream and coming to take kitties, she disapear for some hours, don´t have to show it, she see from
other room whats going on !!! But when there is some food to be served, I take spoon and this one is screaming first, funny is,
that she never scream when I take spoon 30 times to give food to Zamira or Alessia, she know when is their time or...... clever one !!!
Best story with this litter are : Our agents drinking water from aquarium of my turtle and than,
taking turtle and playing futbal with her around the living room :-))))))))))))))
Kittens are sleeping, eating and playing with my daughters, little puppy of chiwuawua and used to noices,
used to new people coming over, used to different animals in our home.
They have very friendly temper as all our kittens which went to new homes last year, none hiding himself under sofa,
behind wardrobe or crying in some corner for days, not our kittens !!!!!!
No agresive behaviour, kittens get shots without saying : A or B just calm almost sleeping on veterinarian´s table.
When food have to be served mum screams only : " DETI " !!! What mean " kids " and they run soo fast to get bigger piece of meat !!!
This is kow it looks like when mummy call kids ::::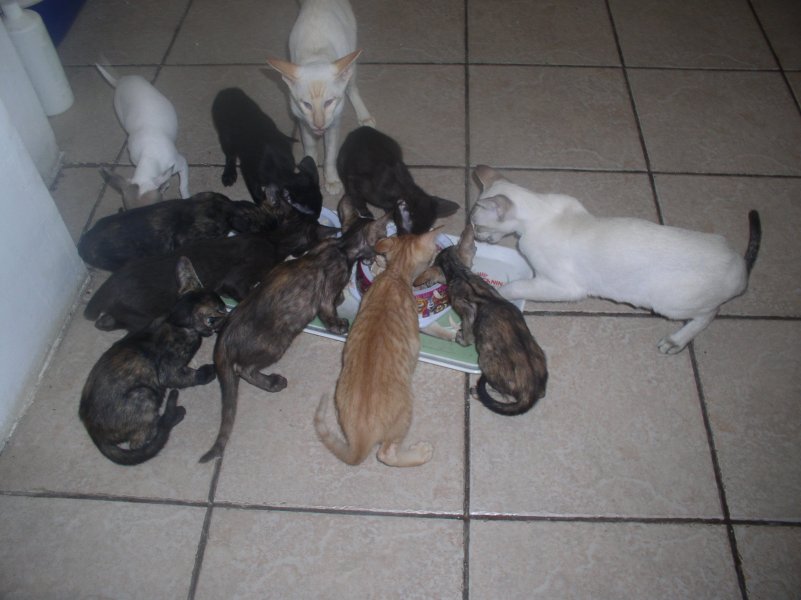 Boiled chicken of 1400g disapear in 10 minuts :-)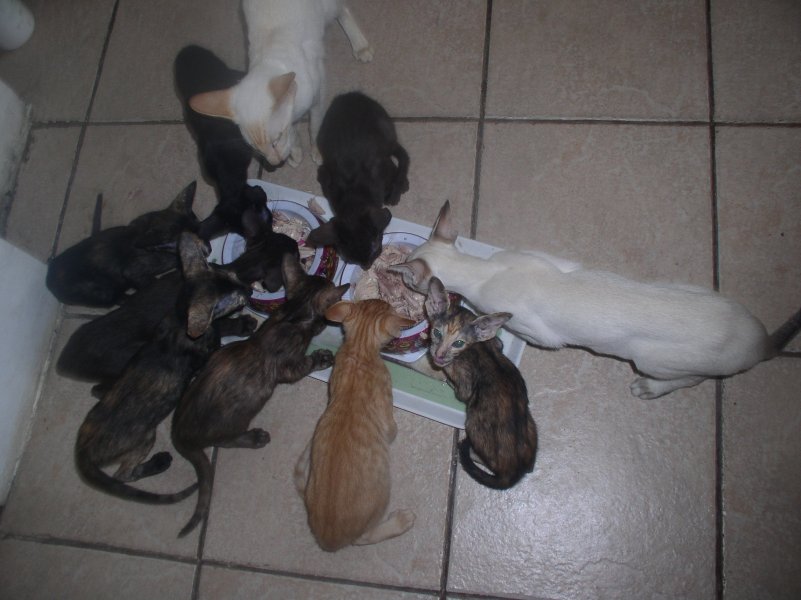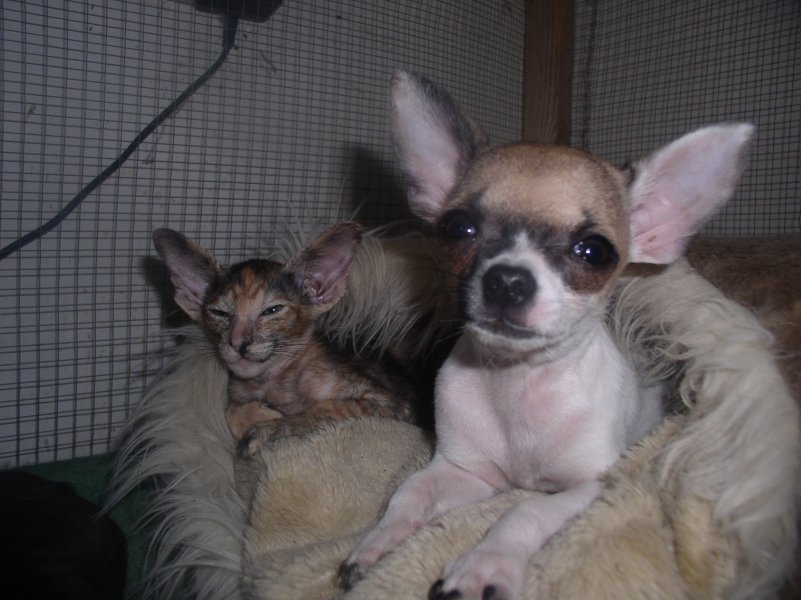 Who has bigger ears ????? Red Nose or Laura ??? :-))))
Here are few pictures of almost three mths old kittens..........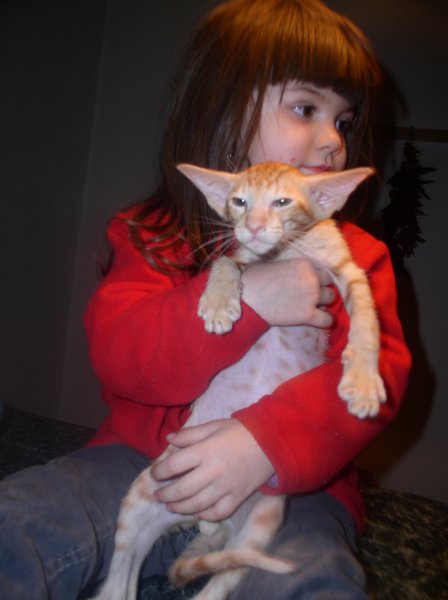 ROMEO ... and Julia :-)))))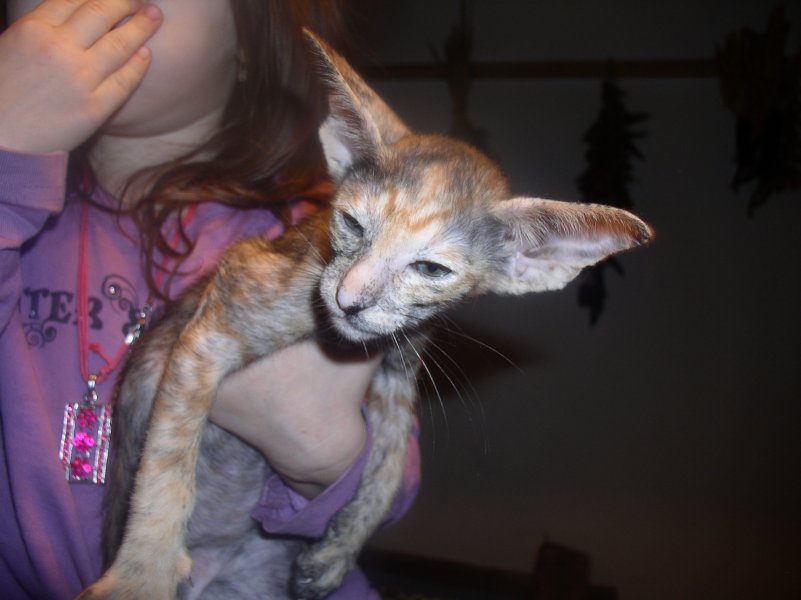 Red Nose OSH f girl, learning italian......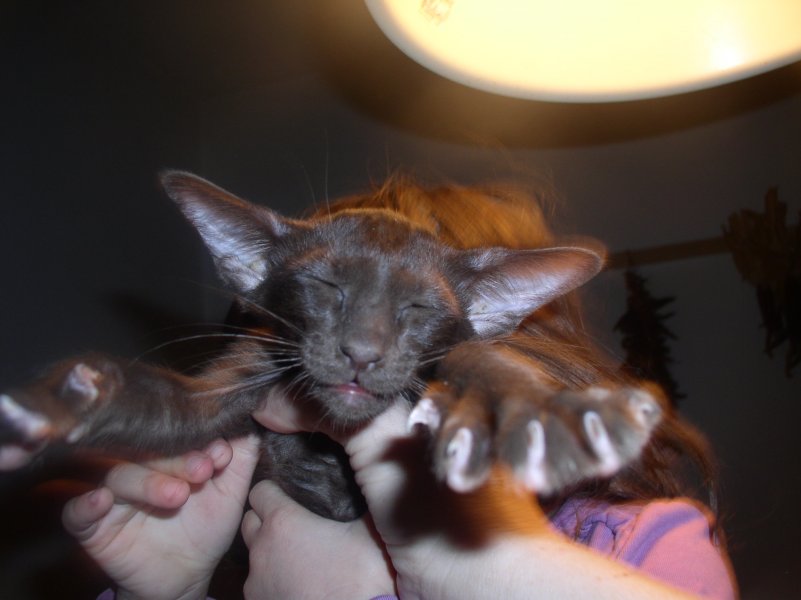 one of havana girls, took pictures of both, if you believe or not, I am unable to recognise them on pictures, they are twins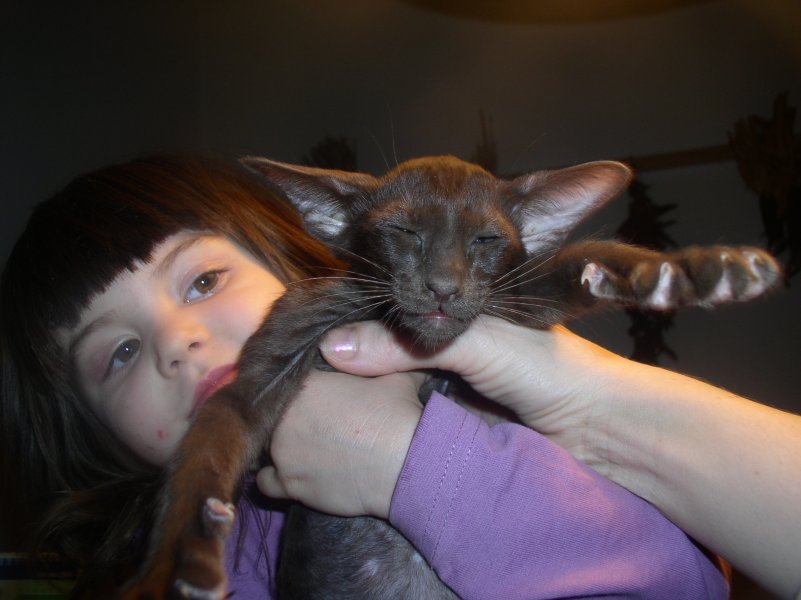 one egg twins but this is probably one which is learning german :-)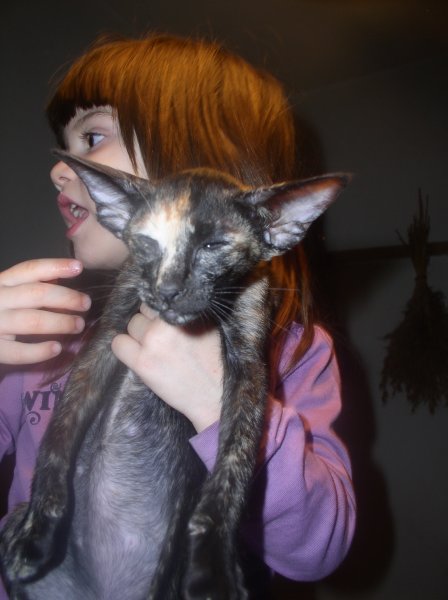 and here she is, our H................ heheeh ok Rock n Roll Doll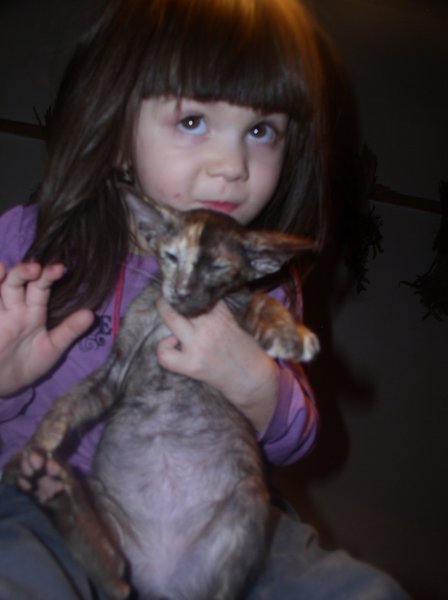 and futt tummy of pregnant Ryoko :- ))))))))), no time to learn dutch, all the time with head on the plate ....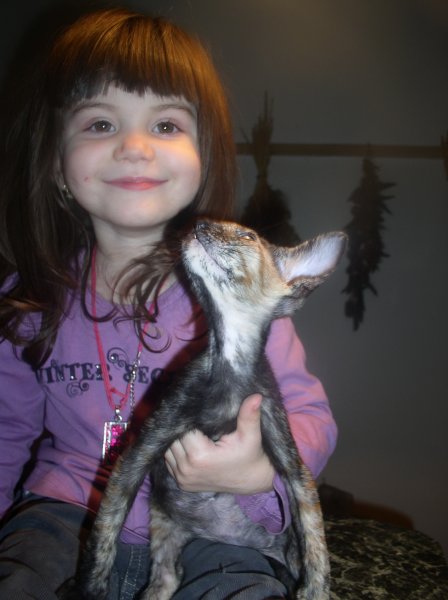 Re-choose looking at my baby girl Zamira...she is on each picture, we just cannot touch kittens without her controlling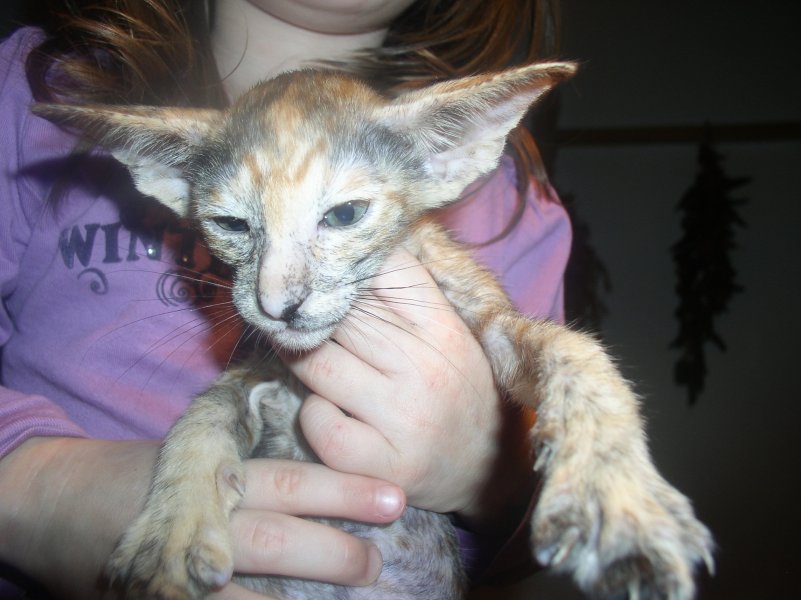 red nose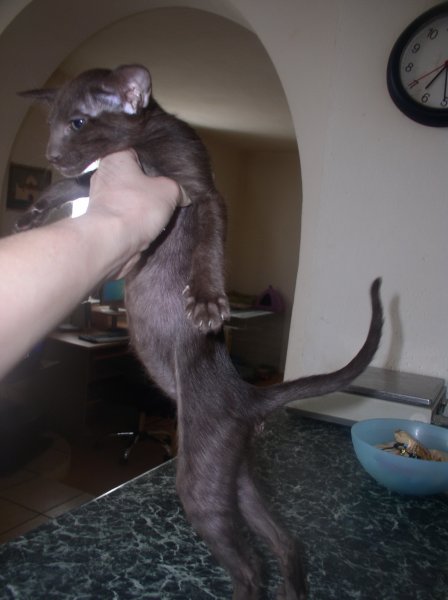 strong chin !!! love it :-))) modell in choccolate solid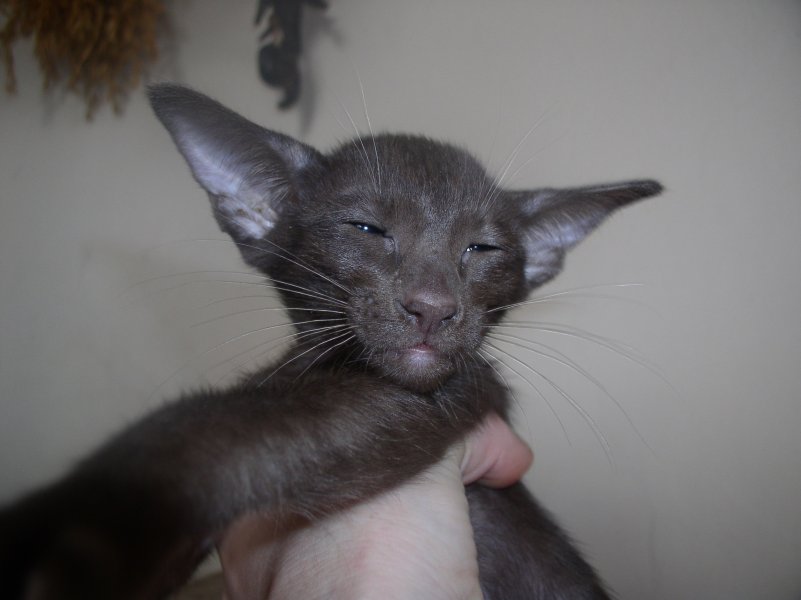 this should be italian lady Revolution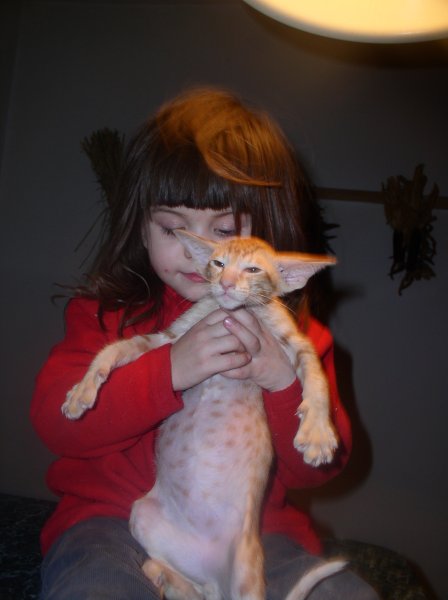 fatt and heavy, Romeo is slim, elegant on high leggs, his fatt tummy is really funny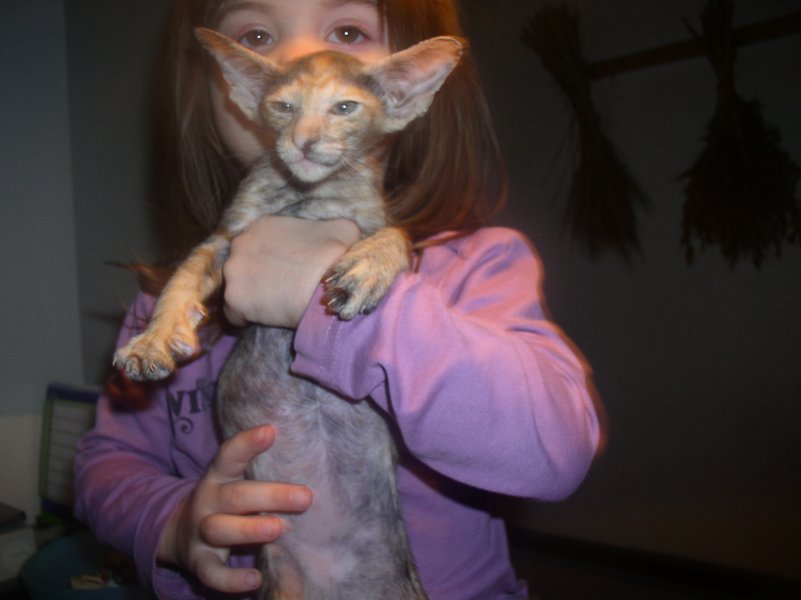 italian tortie red nose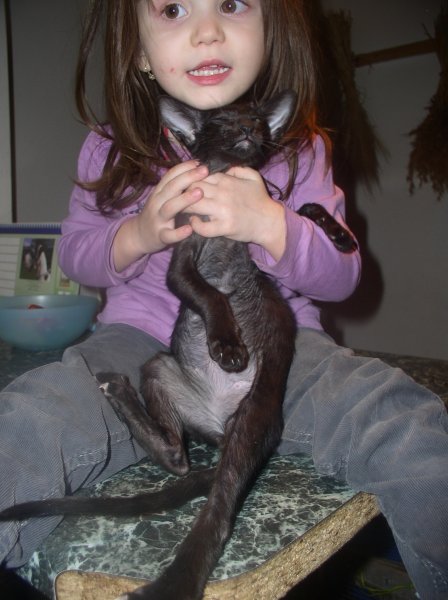 Zamira with elegant slim black lady,this girl has most beautiful tail born in my cattery since I am breeding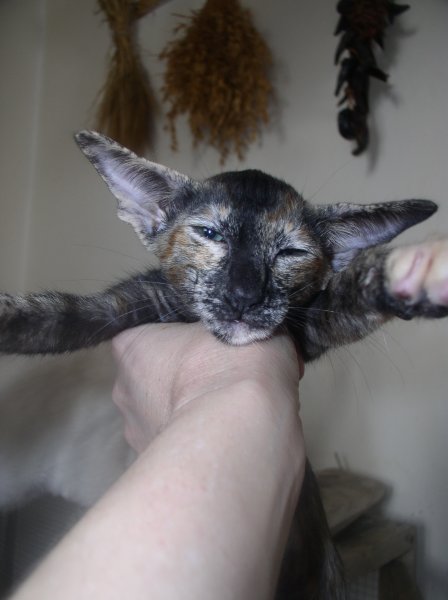 Re- Choose and her tortie face :-) she is much , much nicer in real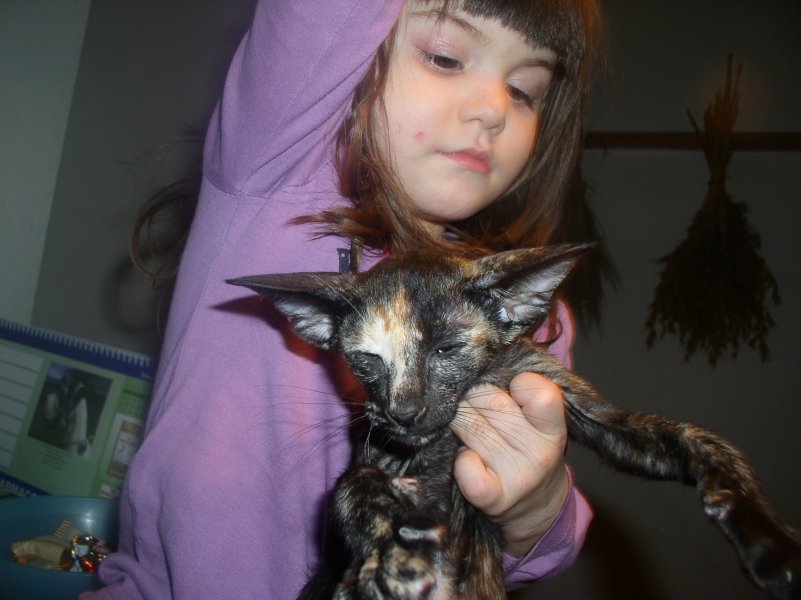 this Doll is such a beauty !!!!! impossible to take one nice picture of her, allway close ears and look to the floor, toys
are not helping, she know what we want, her looking at them so she will not ..........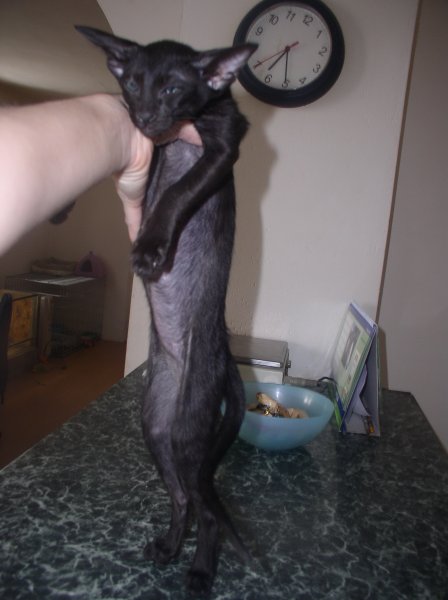 ebony, modelka :-) No idea if you can see her eye colour, on my screen super green and in
real even best. Ebony is watching tv with us and learnig czechish...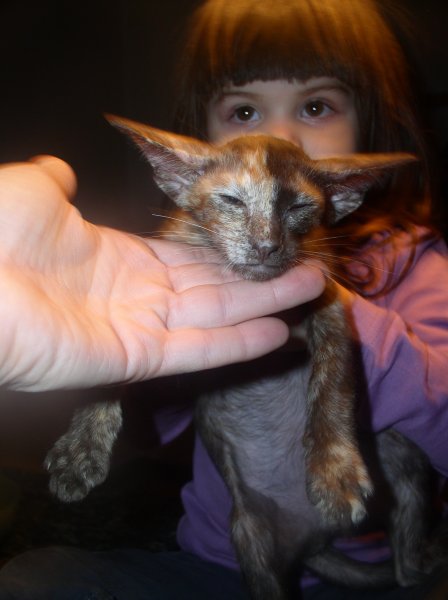 Ryoko , she has less pictures from all kittens, simply because when we take them, she disapear :-)))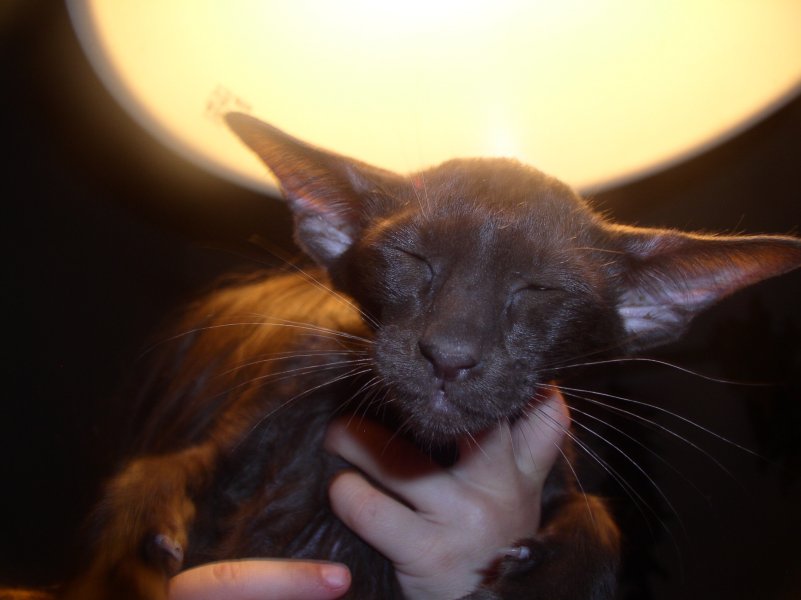 Daddy´s girl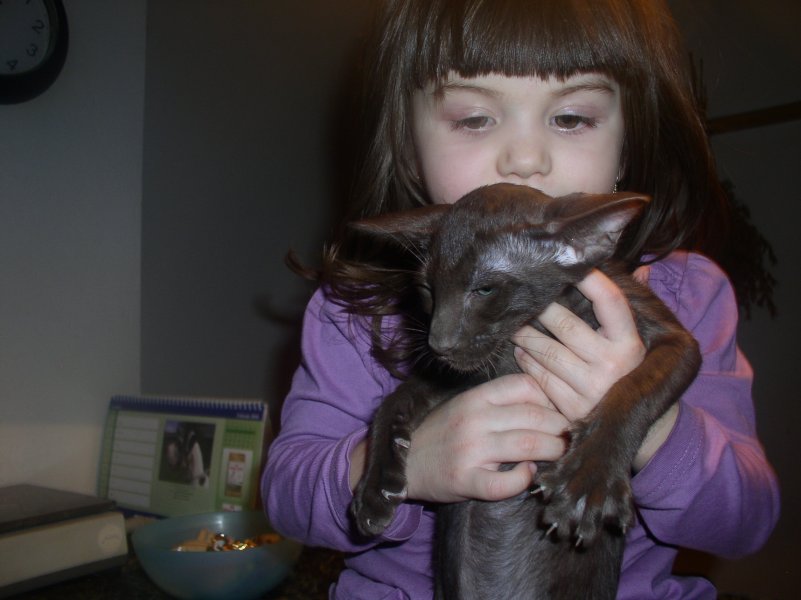 yes this is chocco girl which goes to Germany :-)))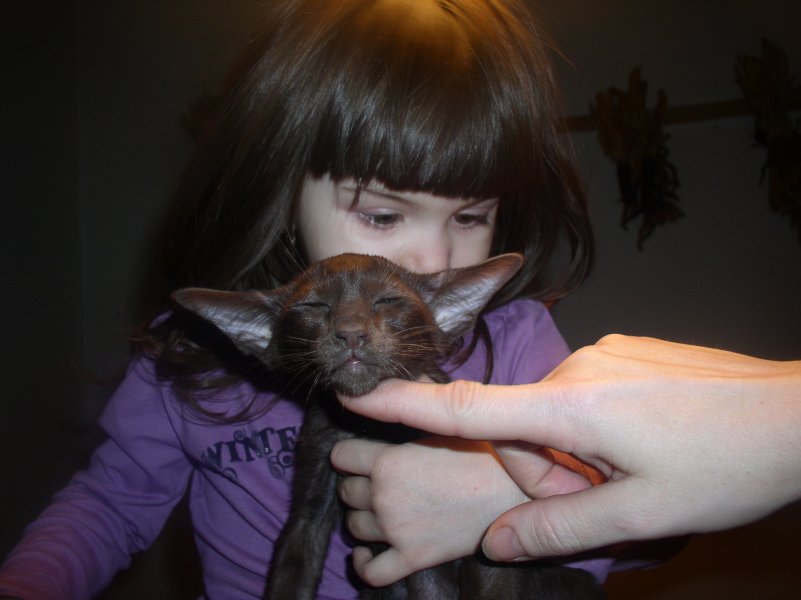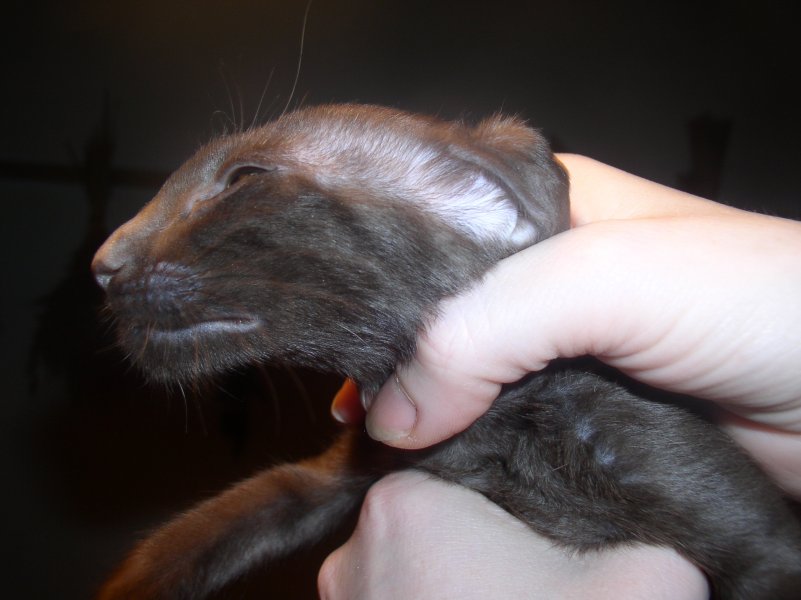 her profile as requested from new mummy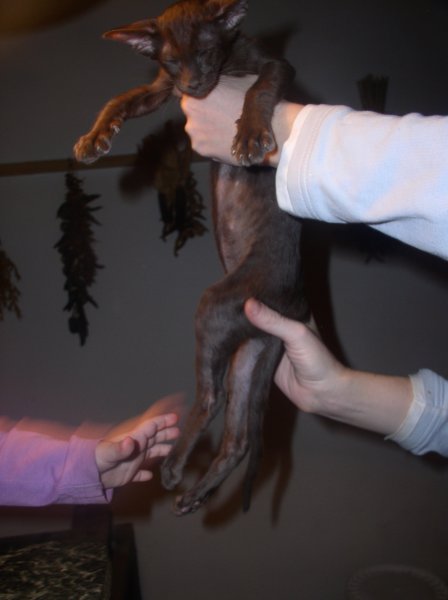 and tail lenght :-) as promised
other havana girl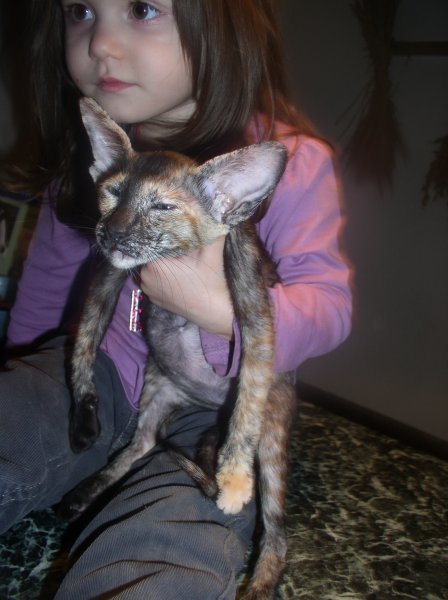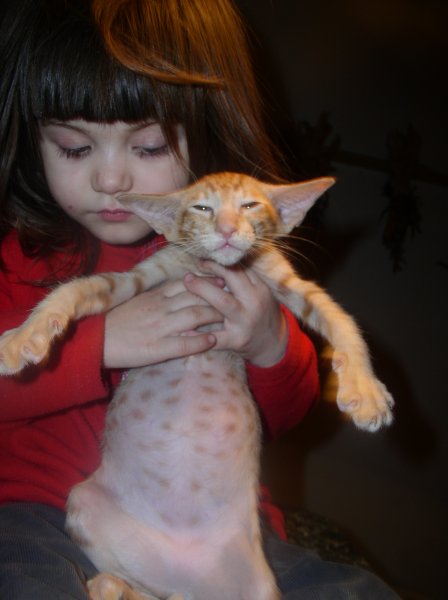 cutieee isn´t he ? I love him, boys looks sometime sooo stupid hiihih.. thats why we love them so much ?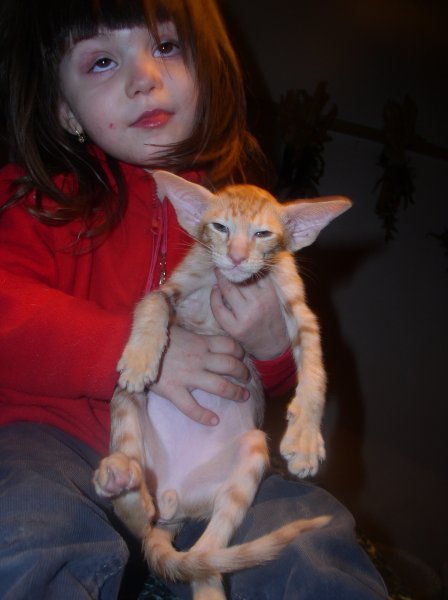 Romeo´s tail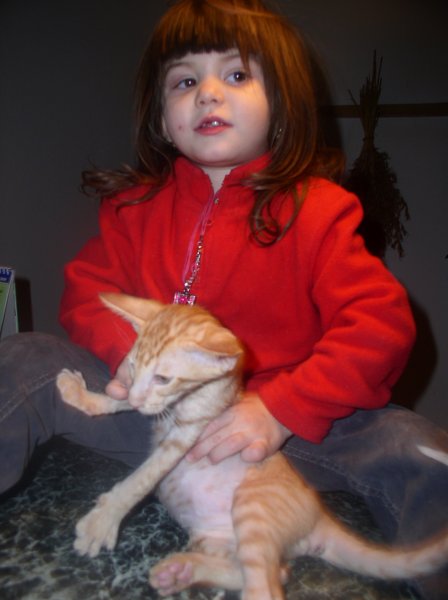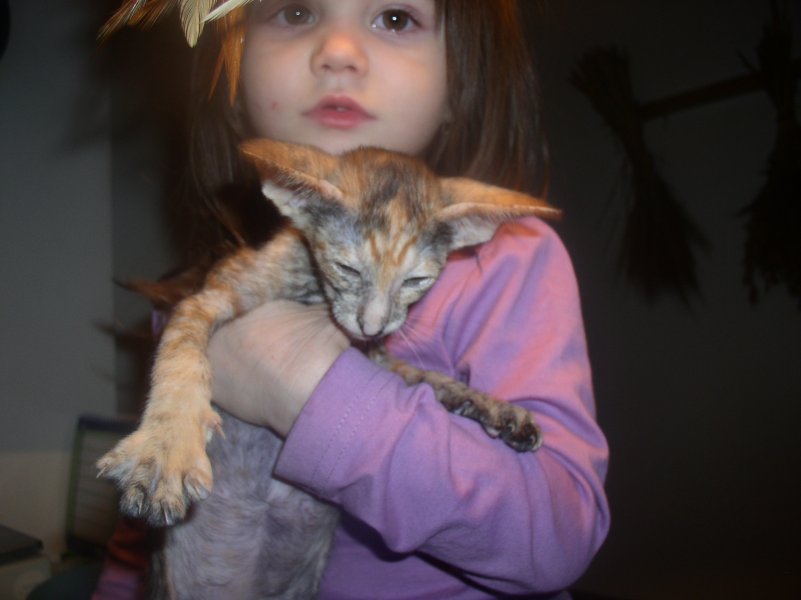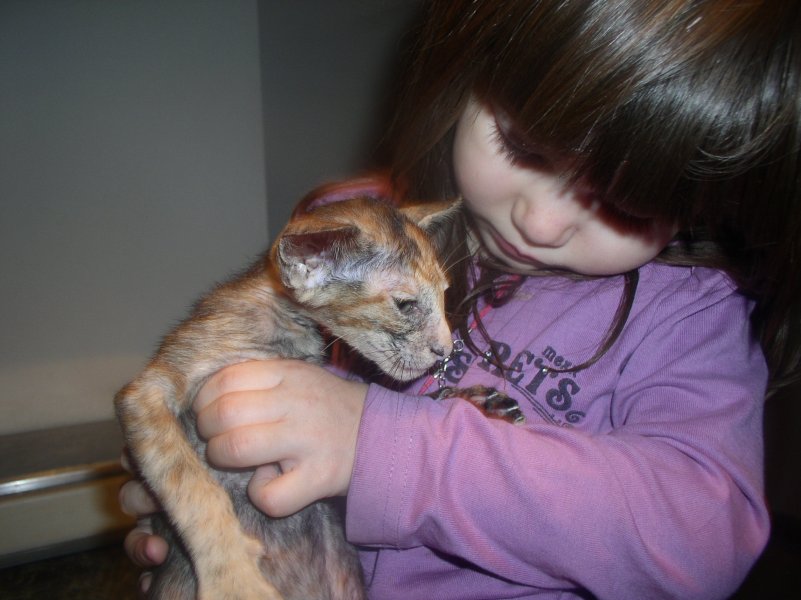 strong chin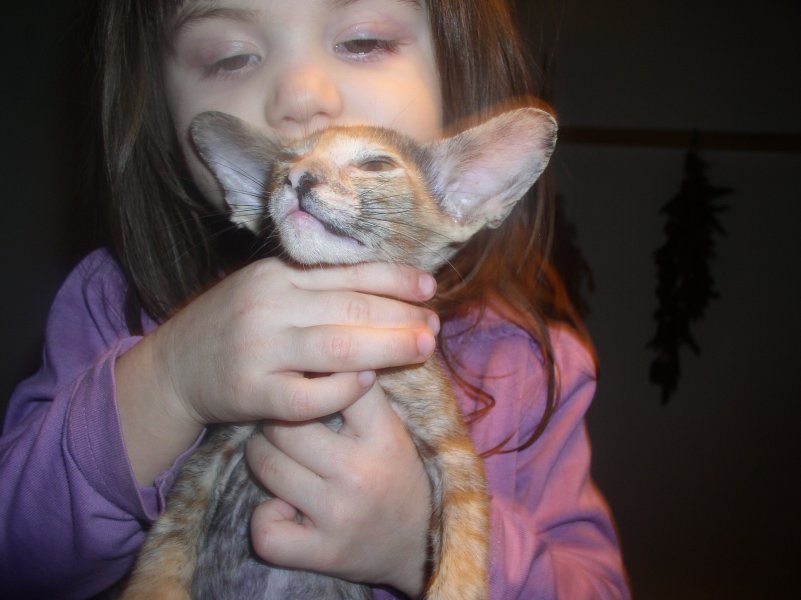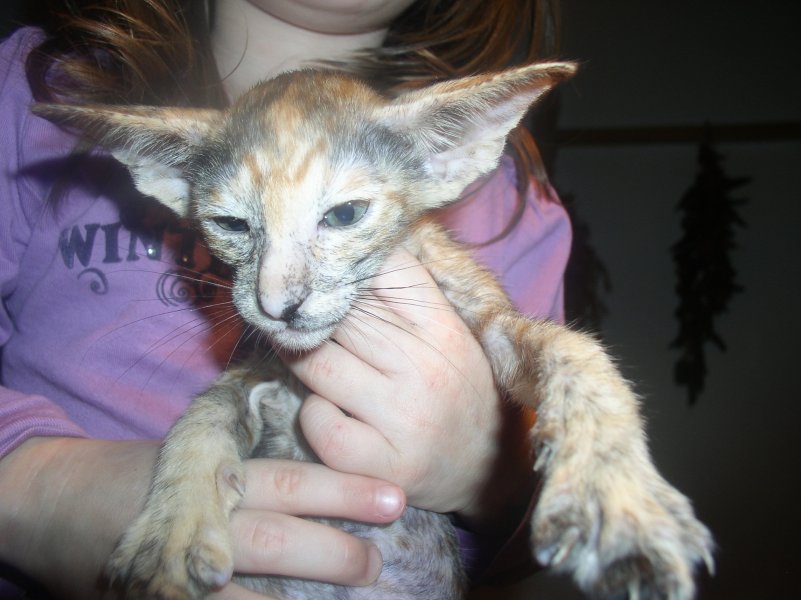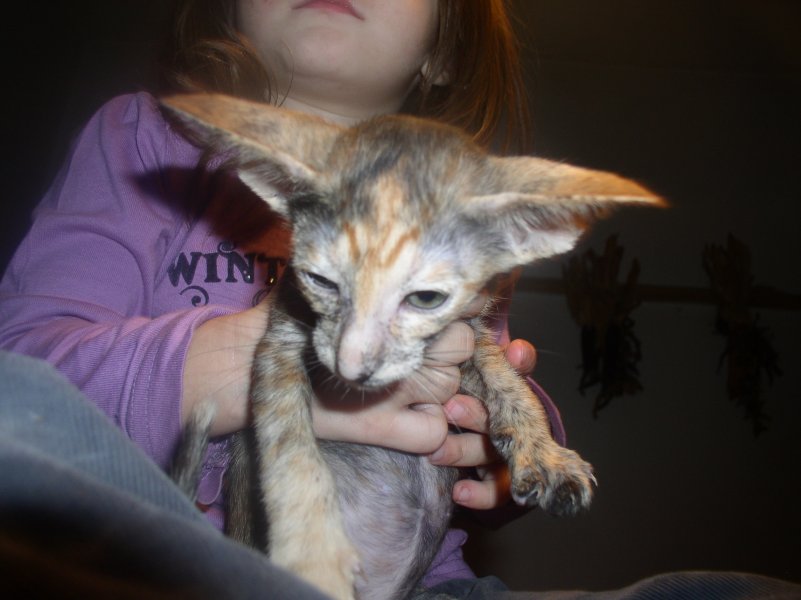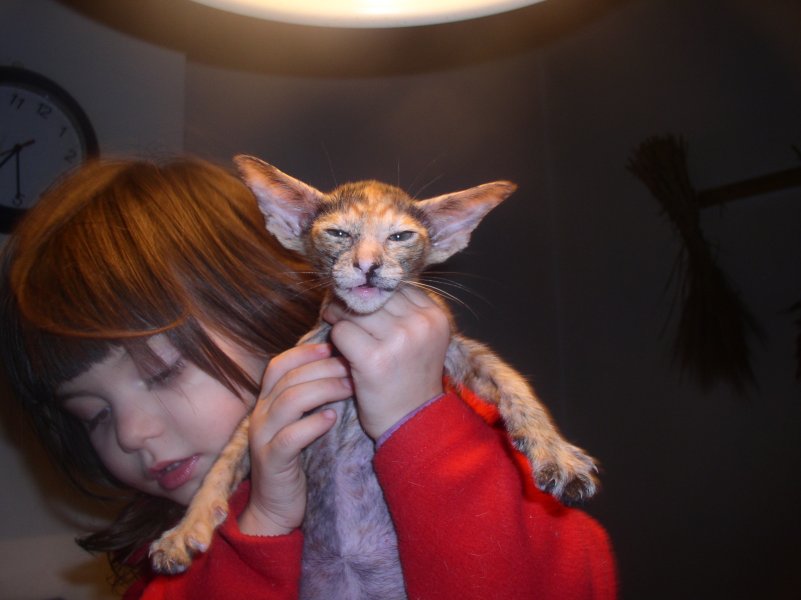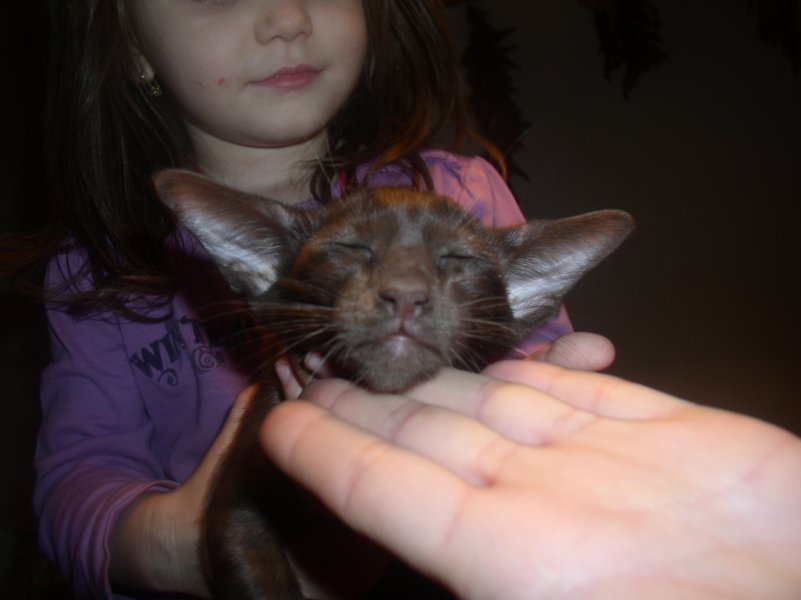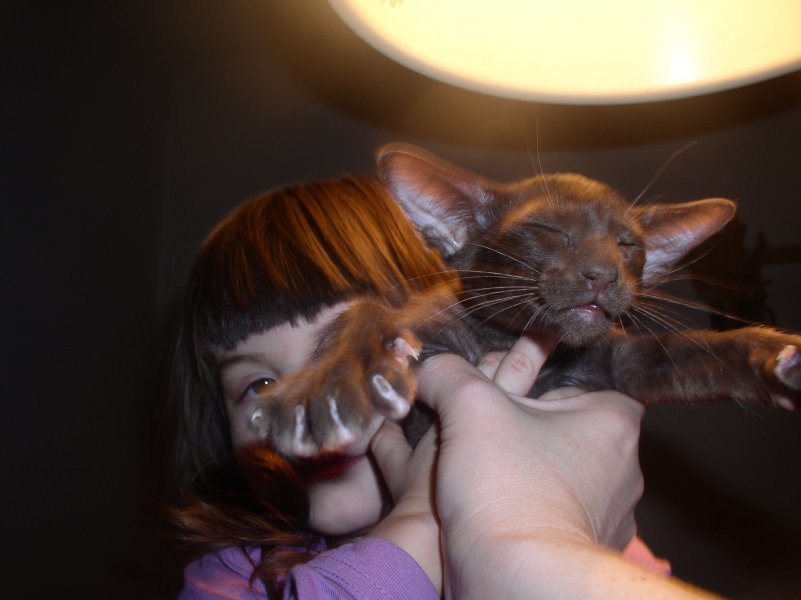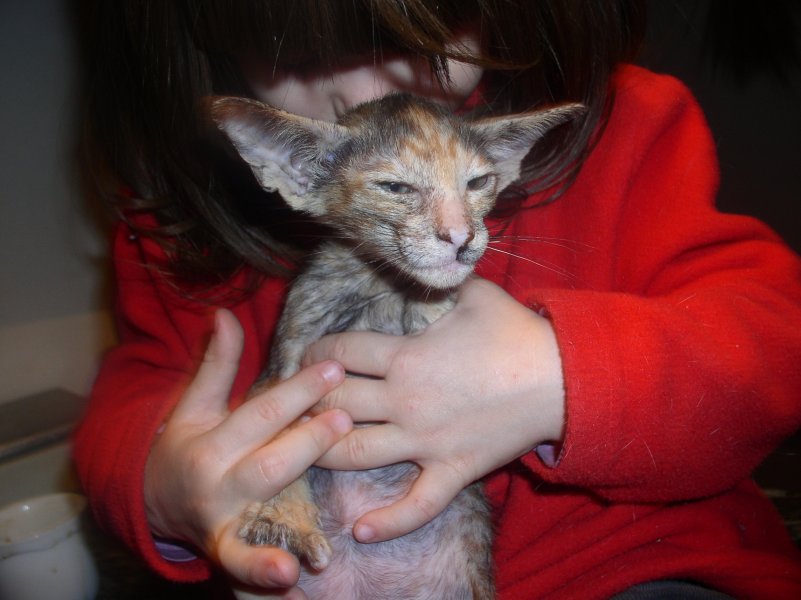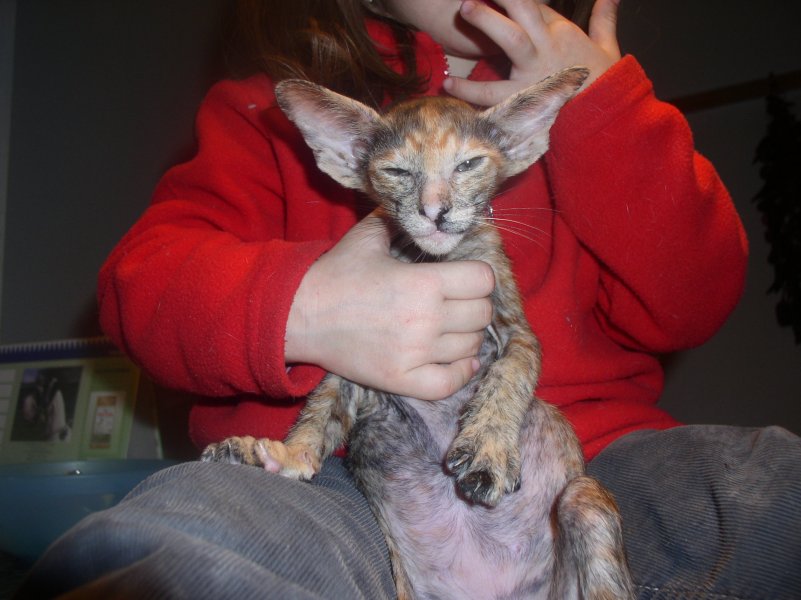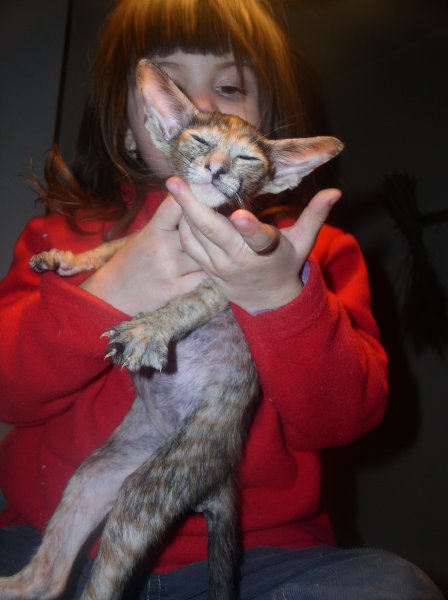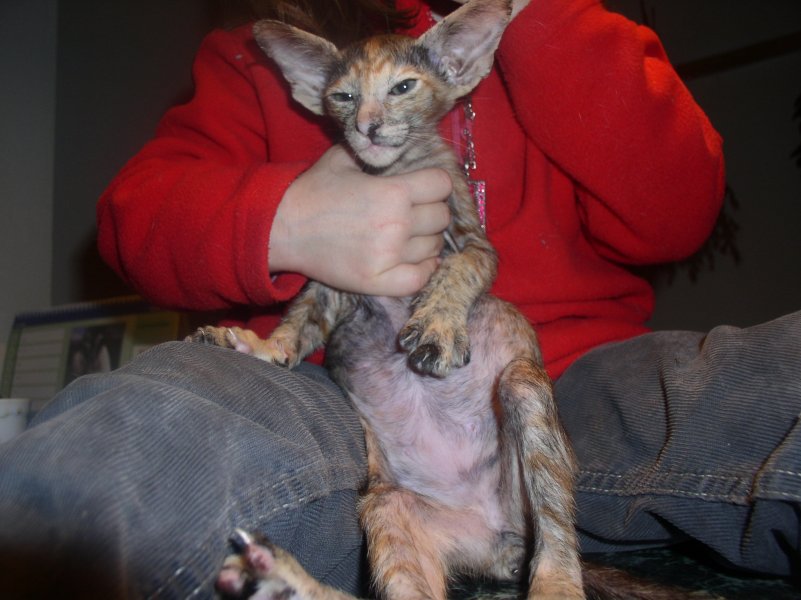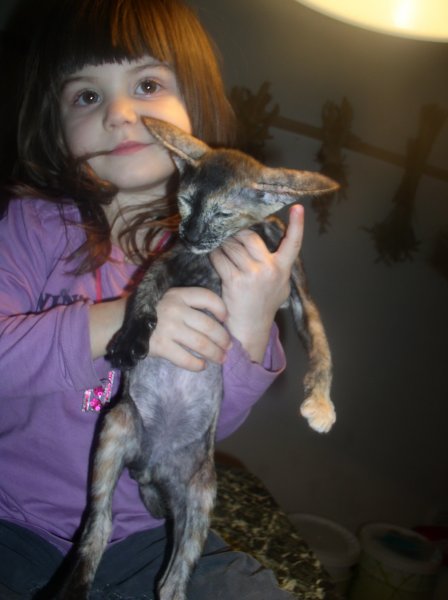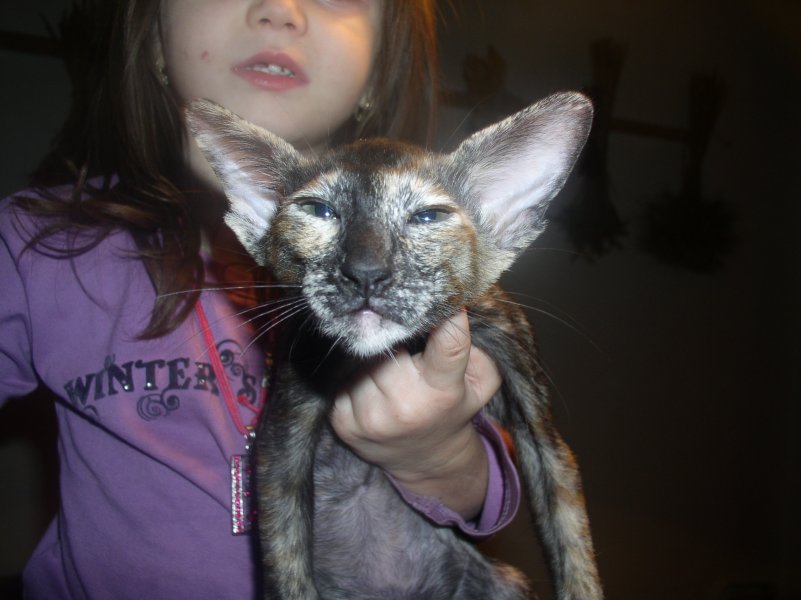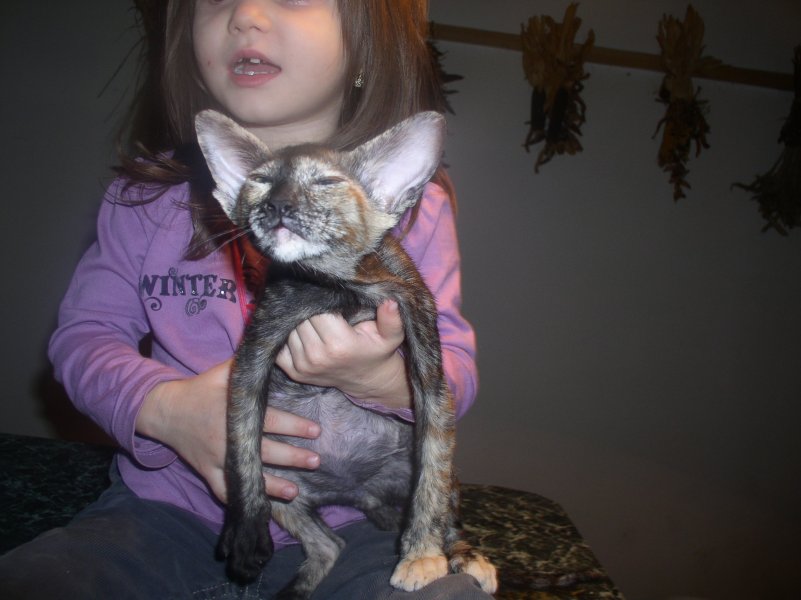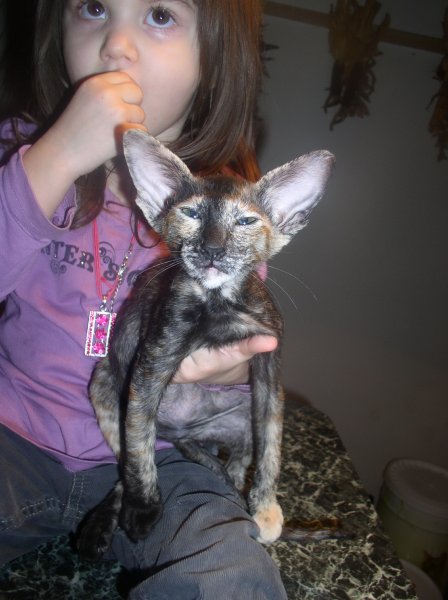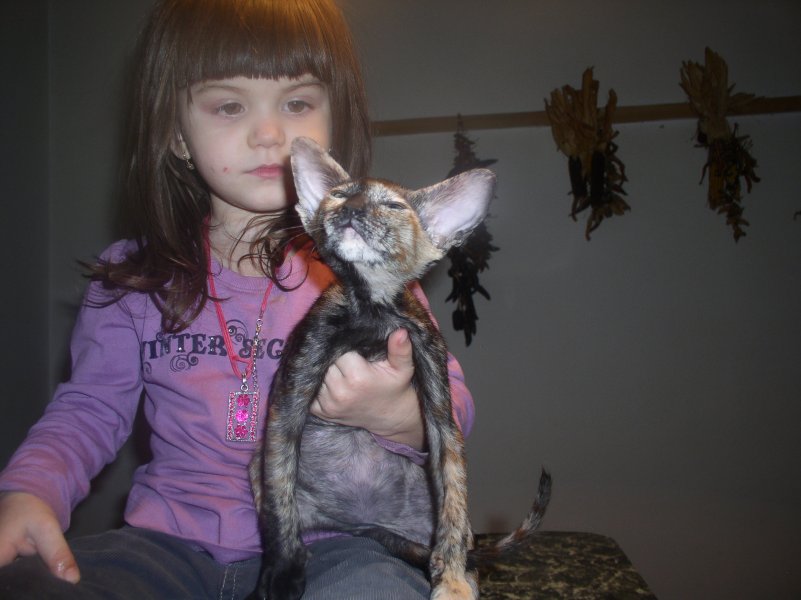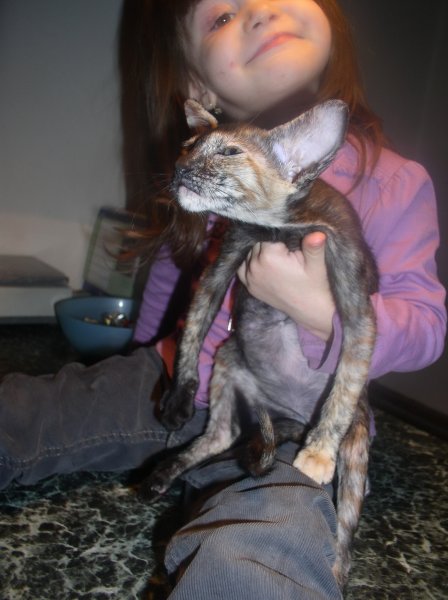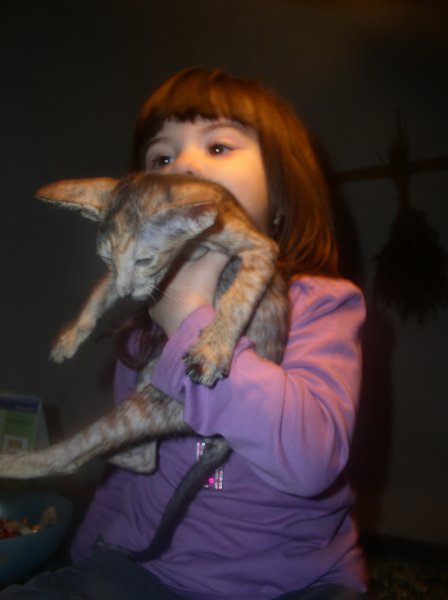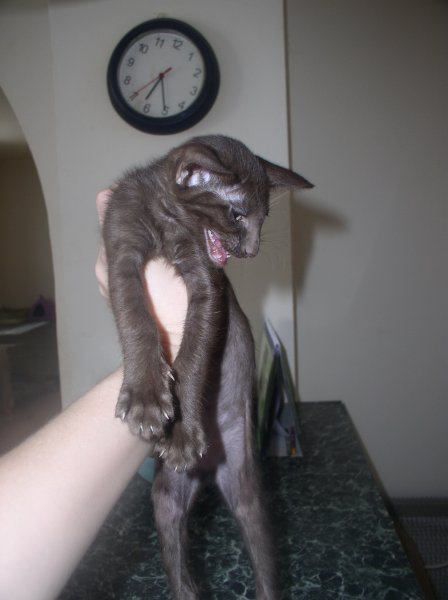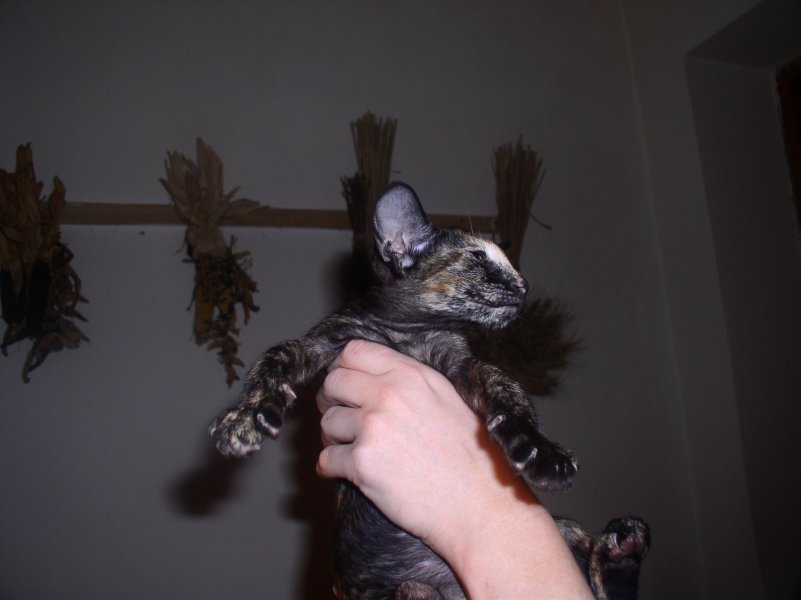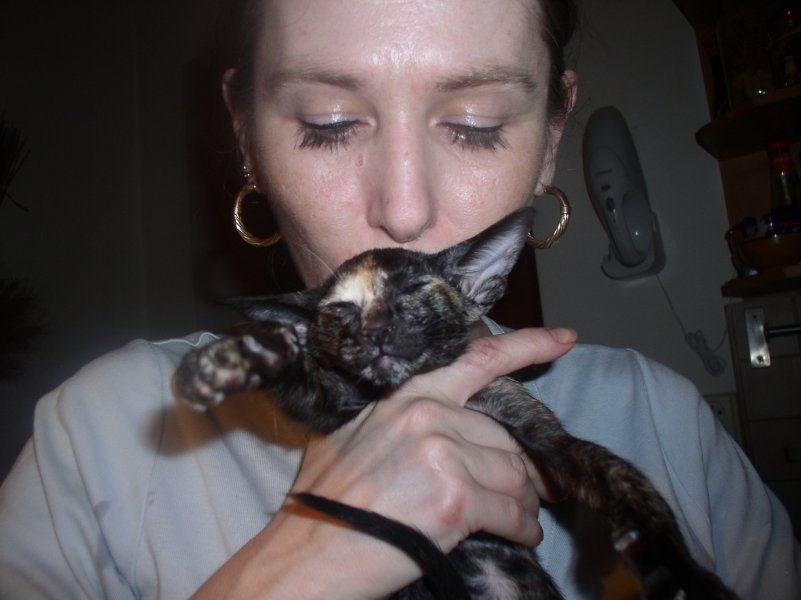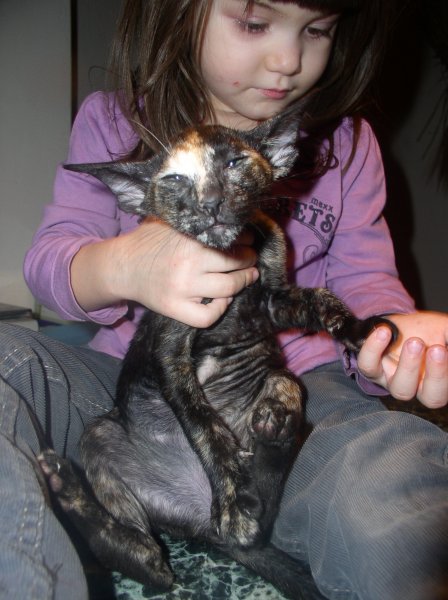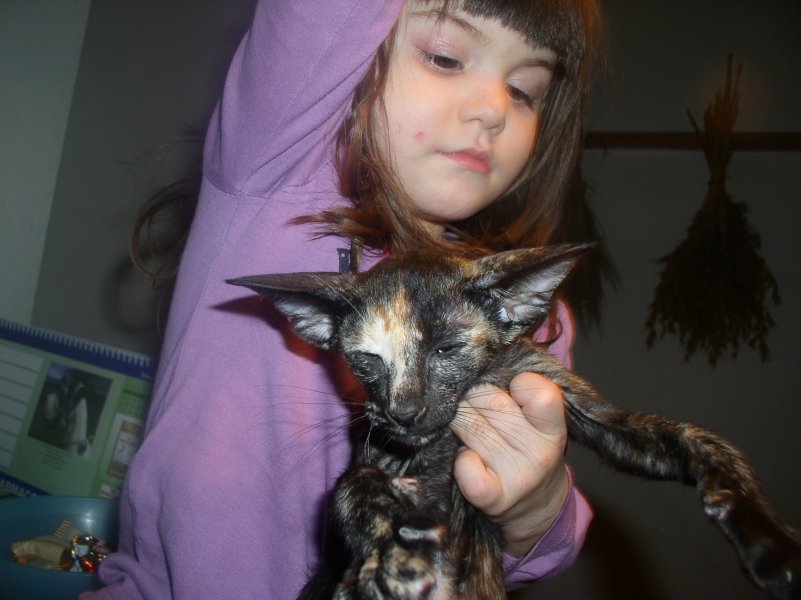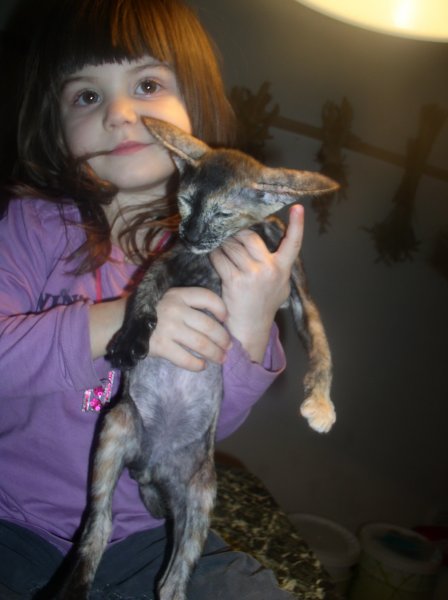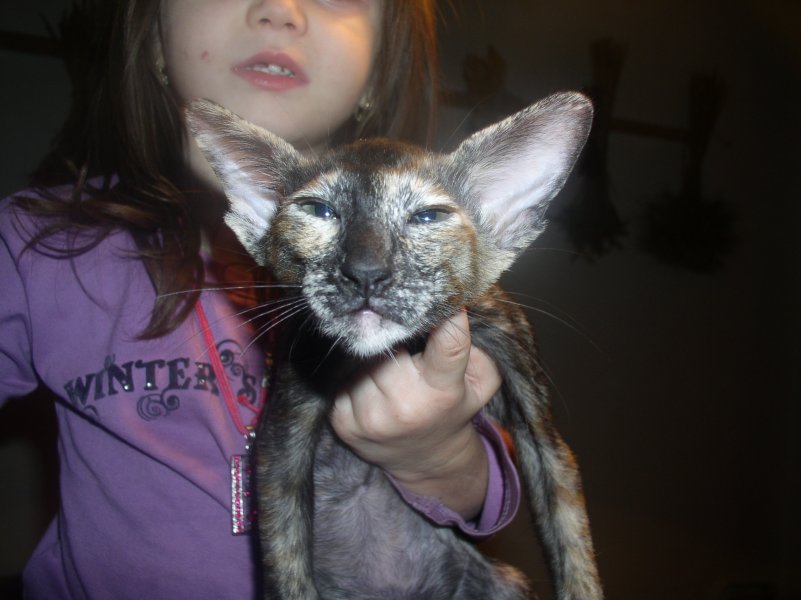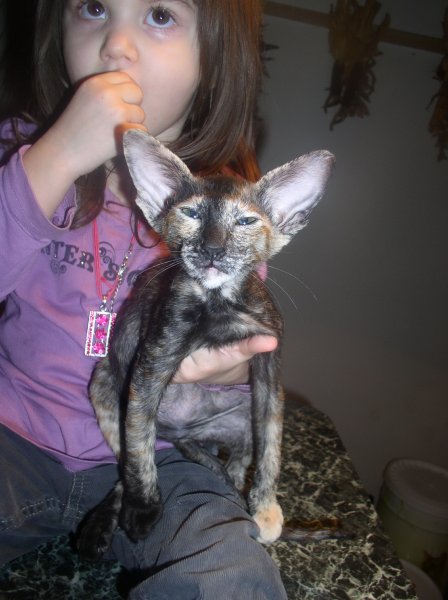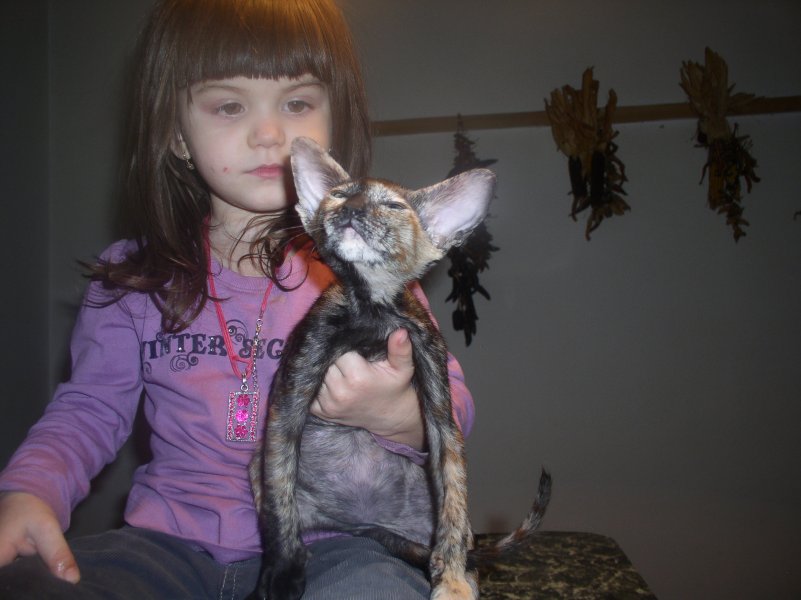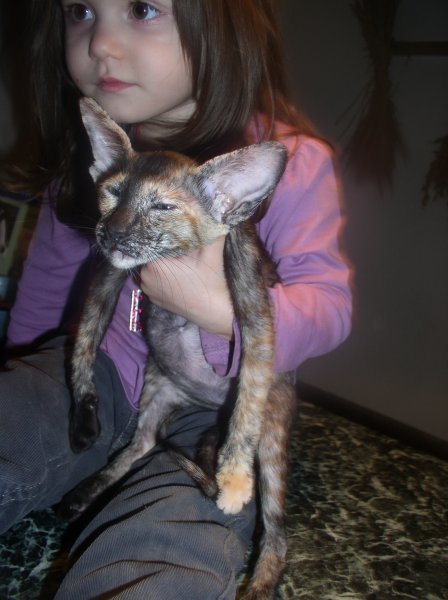 7 weeks.... no time for pictures, kittens are ok and growing well, we have avaiable last baby, oriental choccolate tortie female...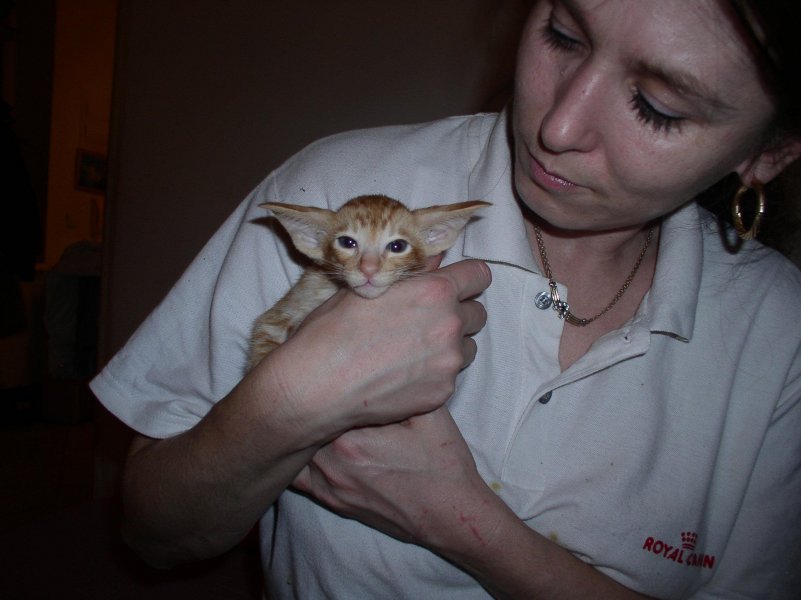 Romeo - OSH d boy - sold to Holland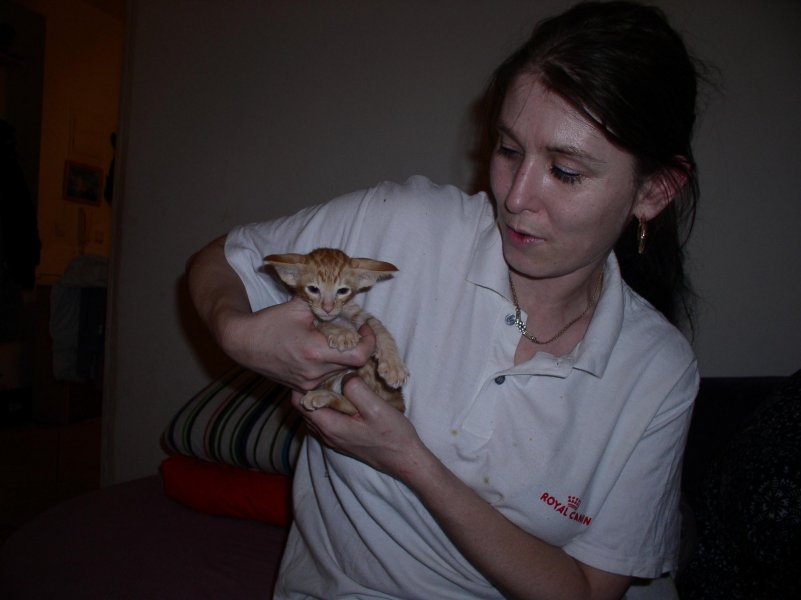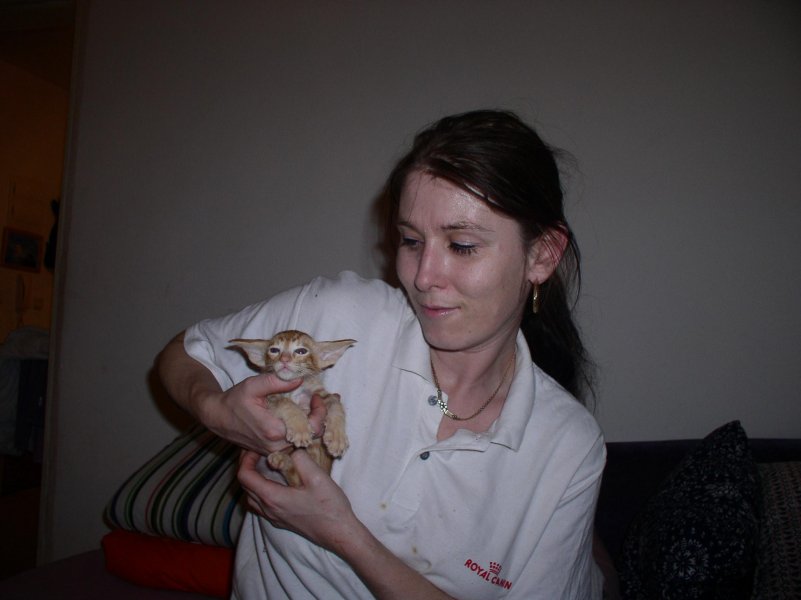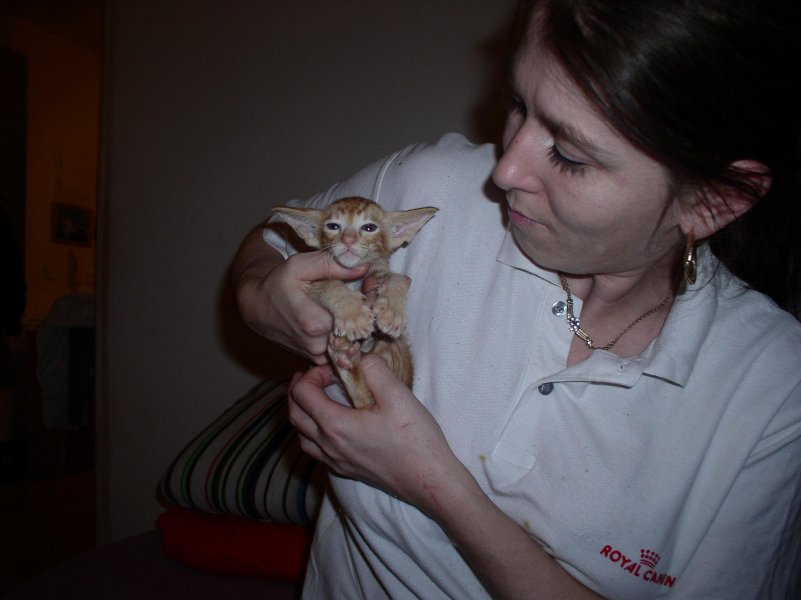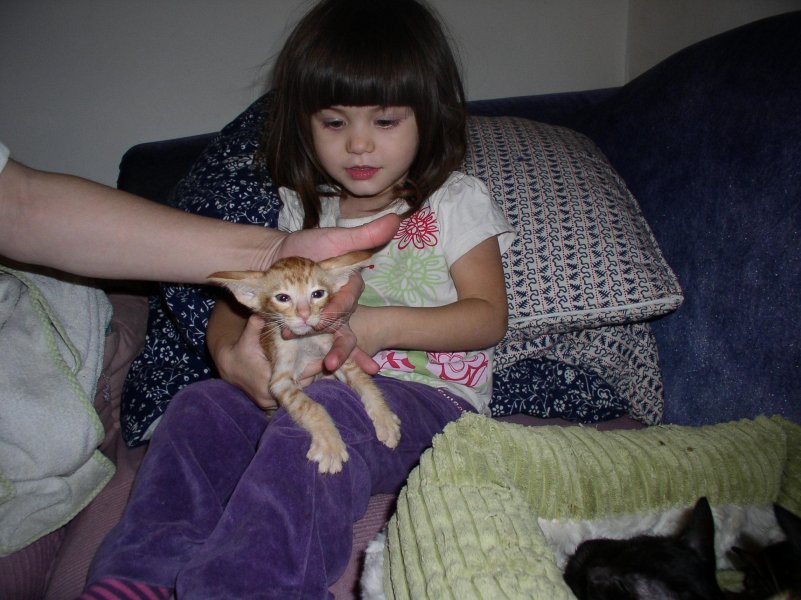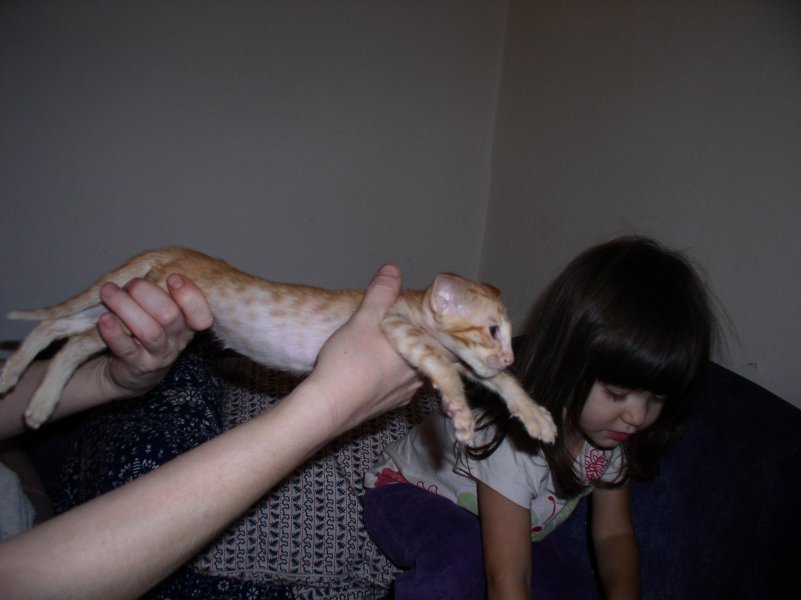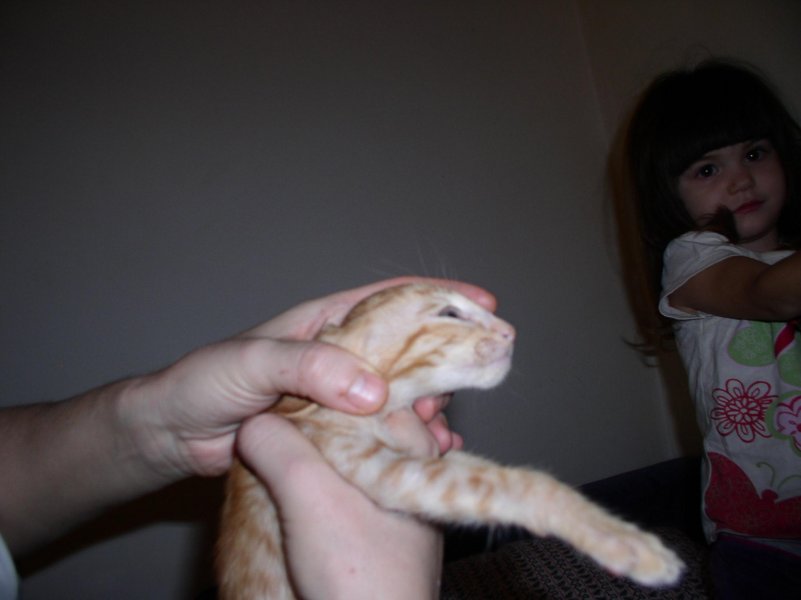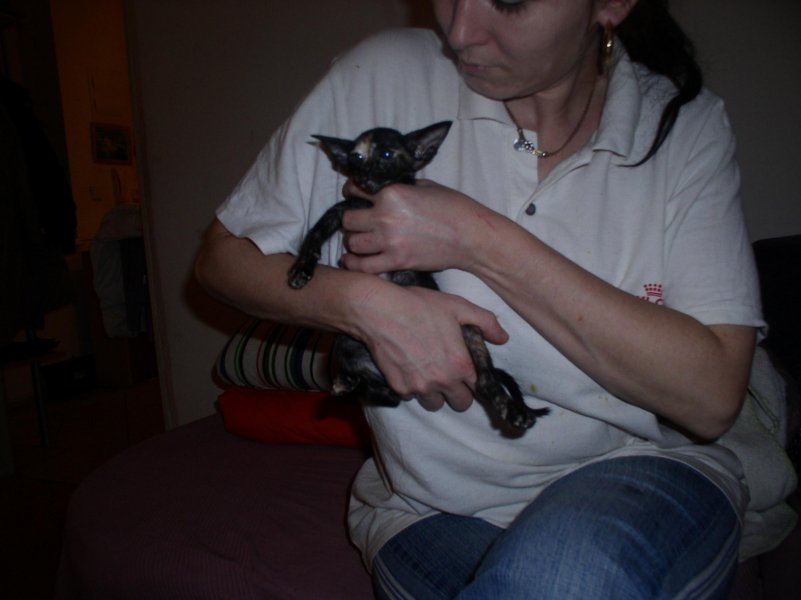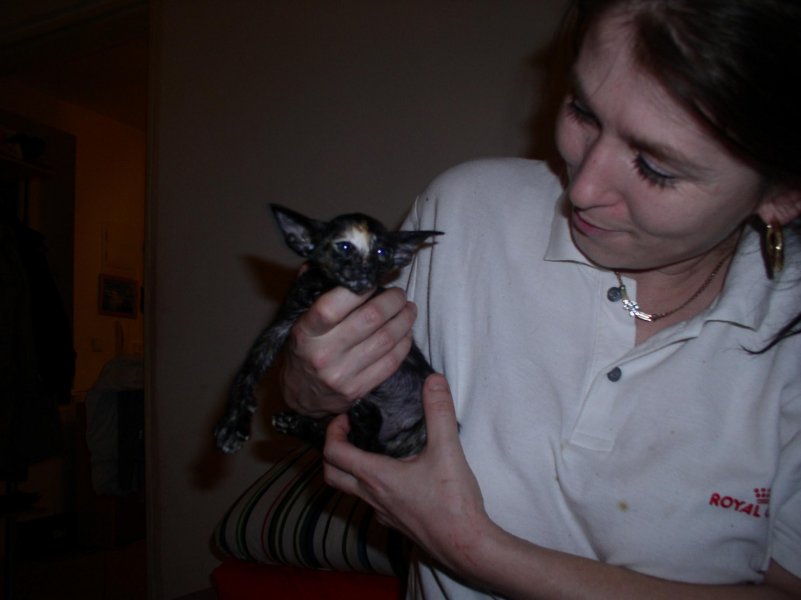 Rock n Roll Doll - OSH f female - sold to Sweden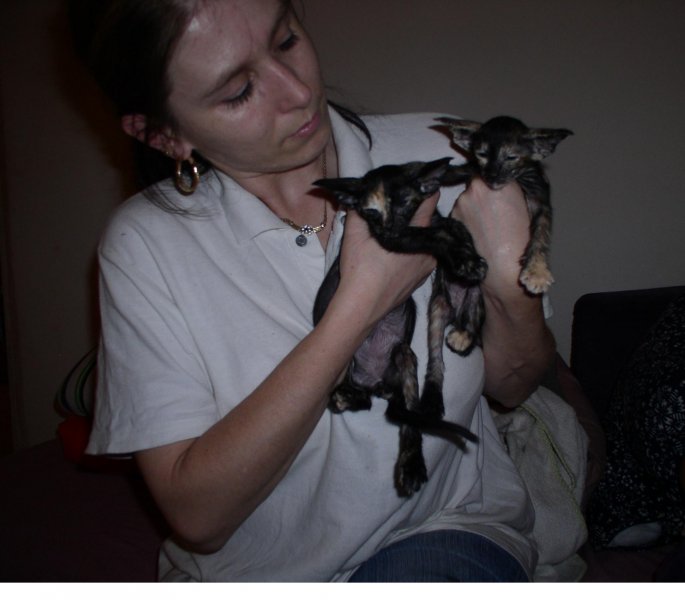 Rock n Roll Doll and " Glassis "
Treining :-) Thats why are sultan chan kittens used to all :-)) Zamira 2 y old - excellent steward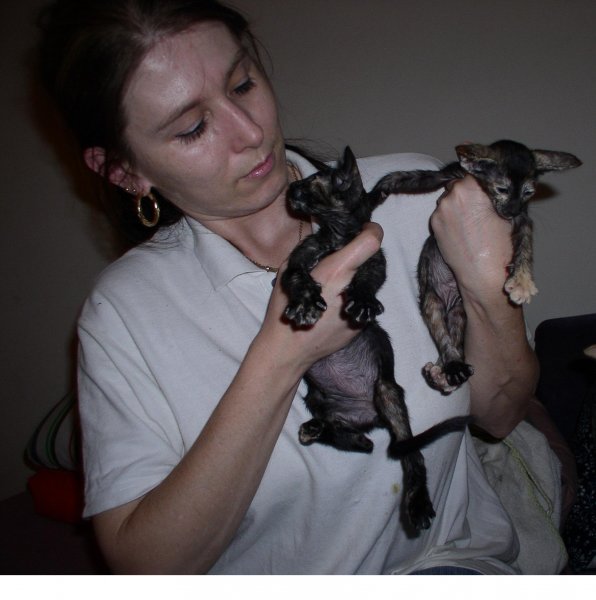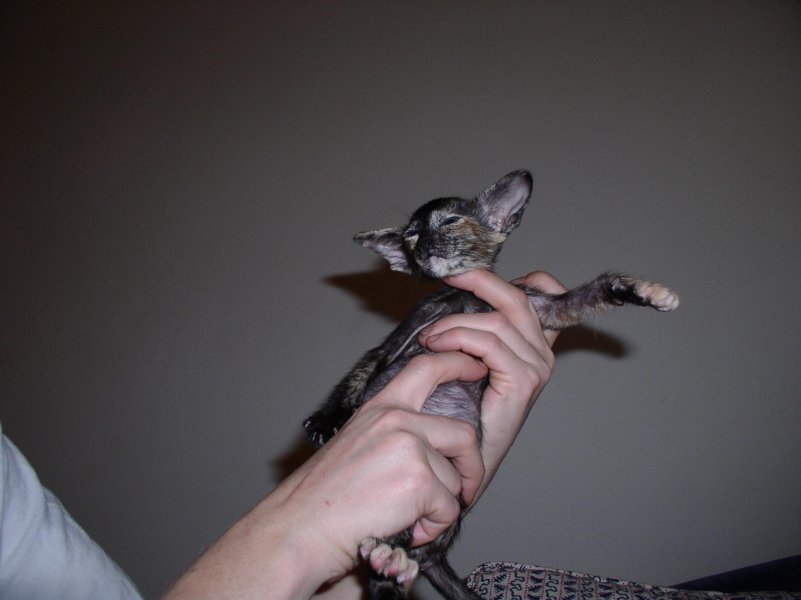 "Glassis " - black tortie female - reserved for Simone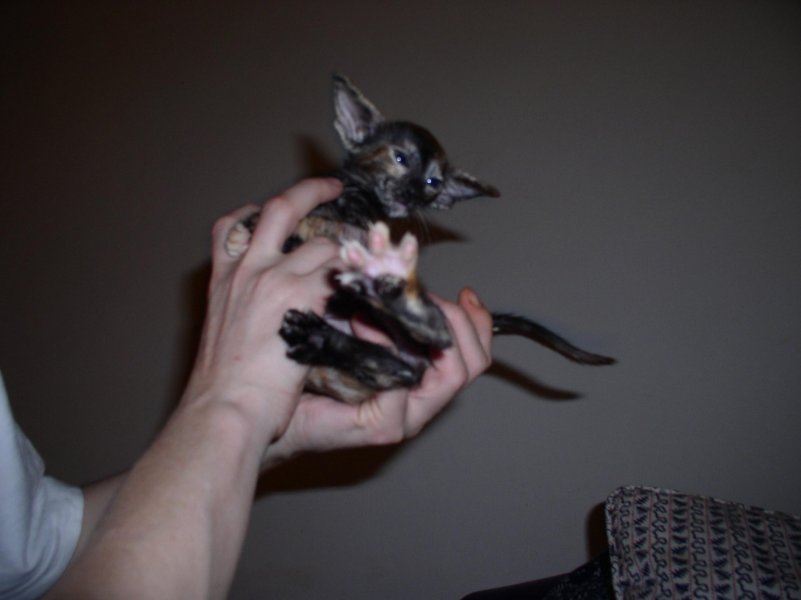 OSH f female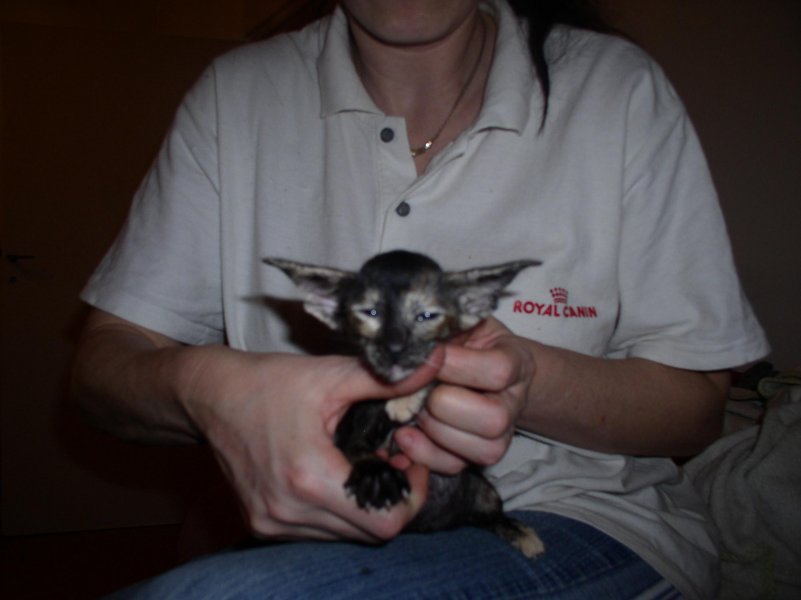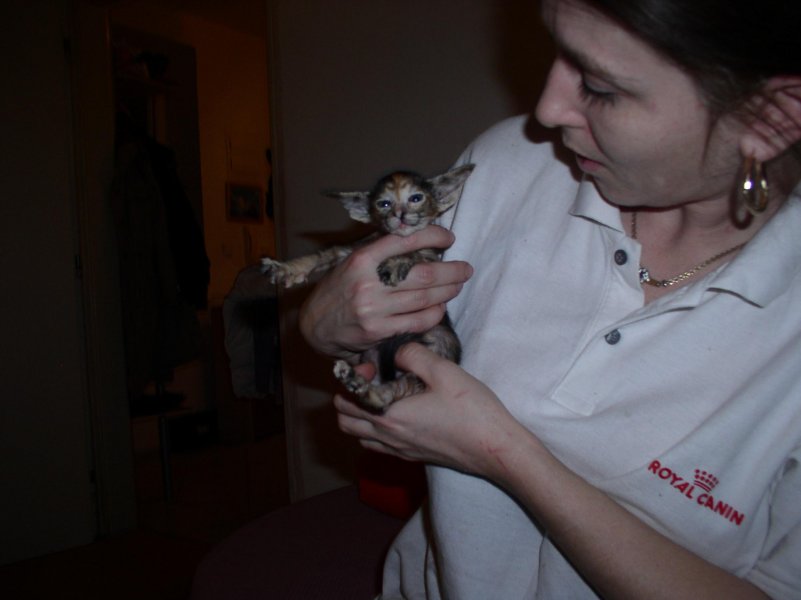 Rush of Oya ?? - OSH f female - sold to USA ??? We will find out soon which of two torties will go to Oltremare
and which one to USA OYA cattery. Glassis and Red Nose will be showed to Simone and he decide :-)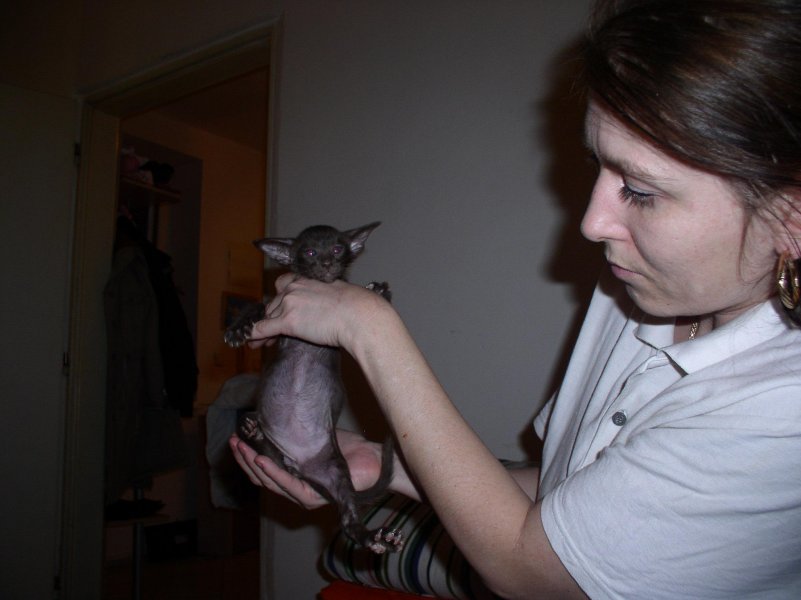 Havana female No 1 - sold to Germany, we are waiting for new name from mummy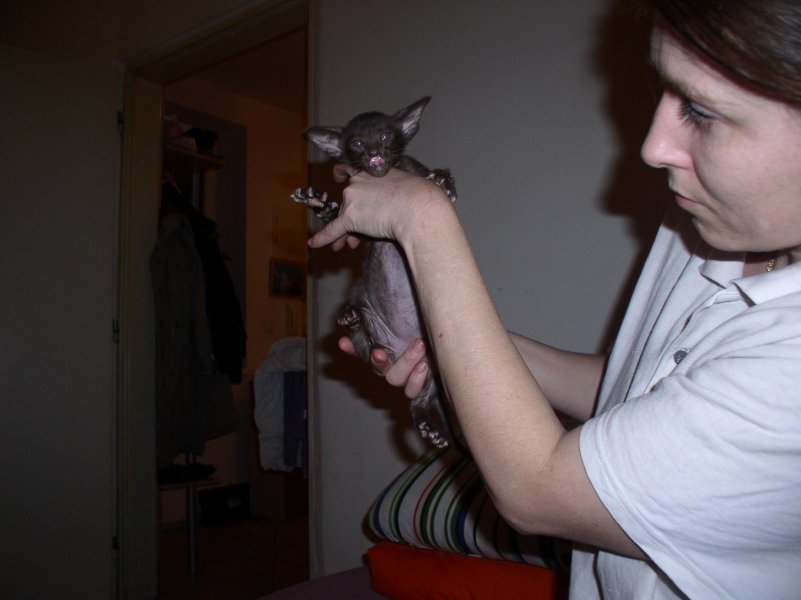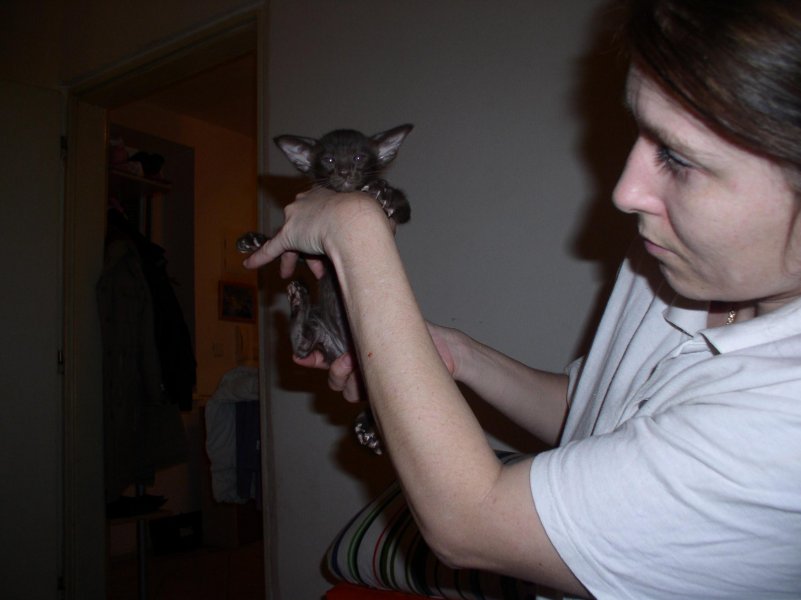 I am big girl, counting days and learning german :-)))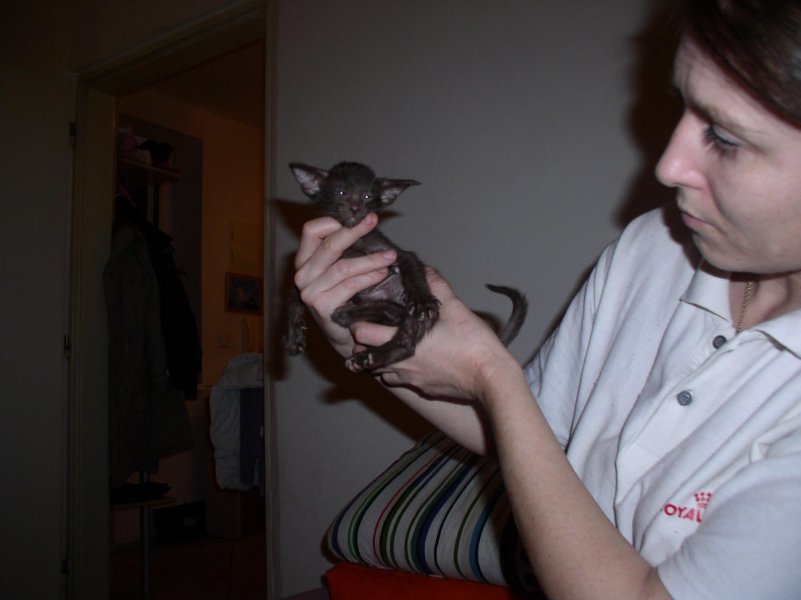 havana girl No 2... - sold to Italy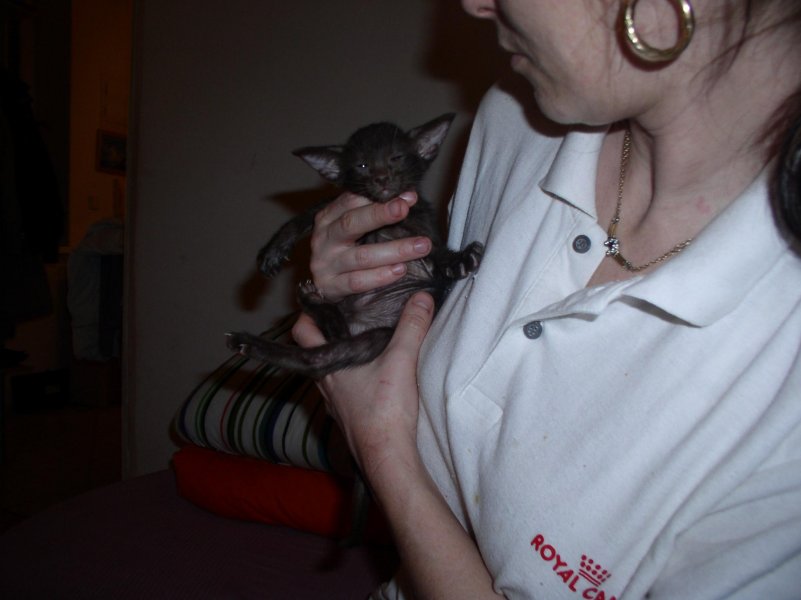 I am also counting days and learning italian, ciao mamma !!!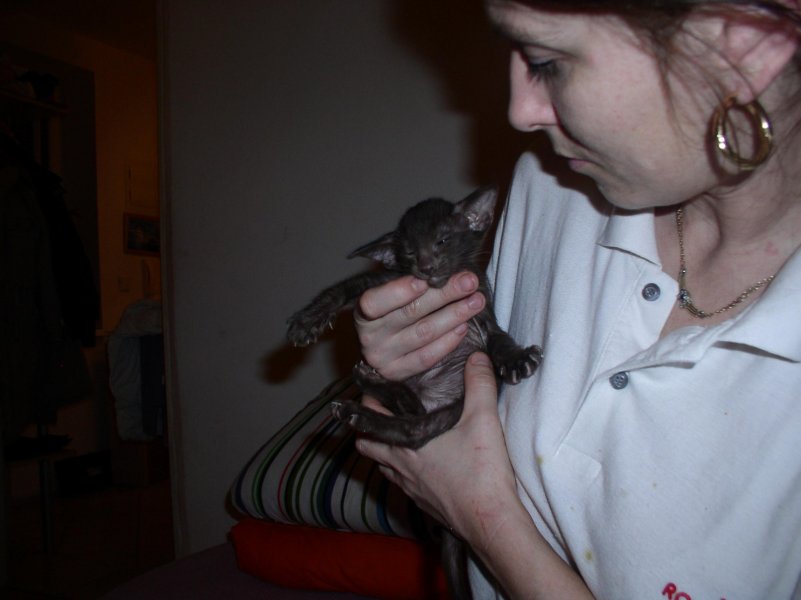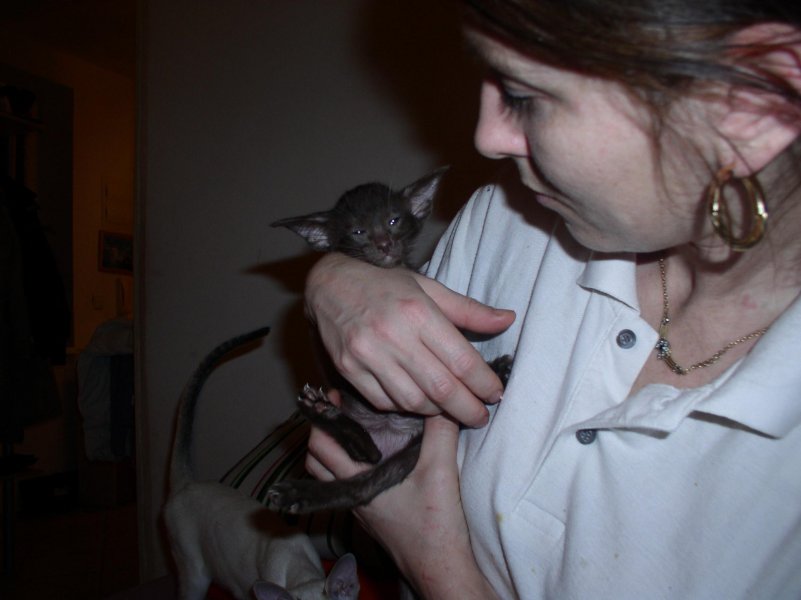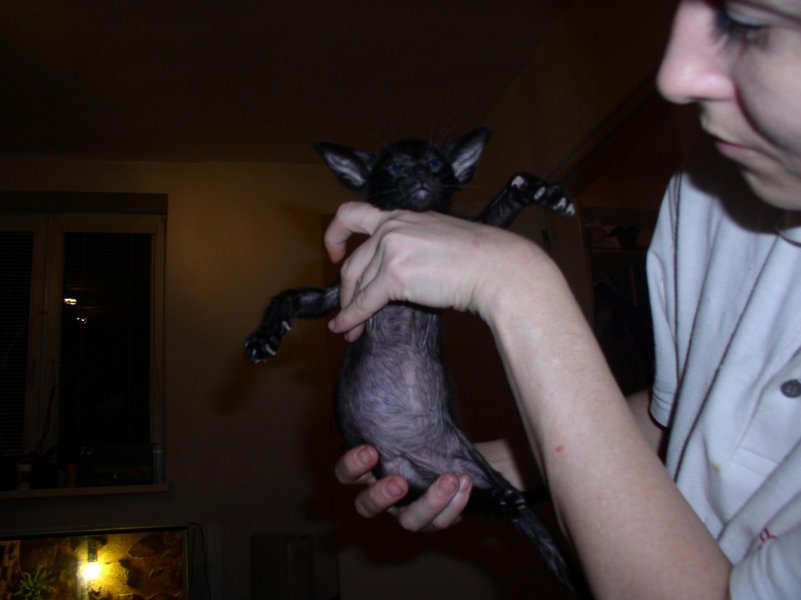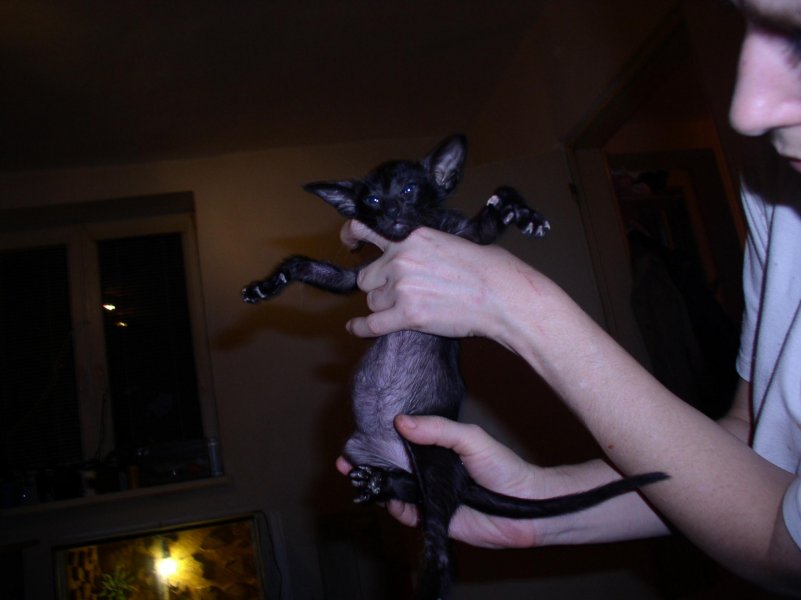 this beautiful elegant ebony female is sold to czech Republik. Girl was sold as pet (no faults )
Tato krásna elegantná čierna kočička bude od února bývať v CZ s novou maminkou. Kočička bola predaná ako mazlík,
možno výstavný kastrát. Kočička nemá žiadne vady a deformácie, máme na ňu dosť ponúk od chovateľov,
tešíme sa že našla úžasný domov. Čakáme na meno ktoré zatial nová maminka neposlala :-)))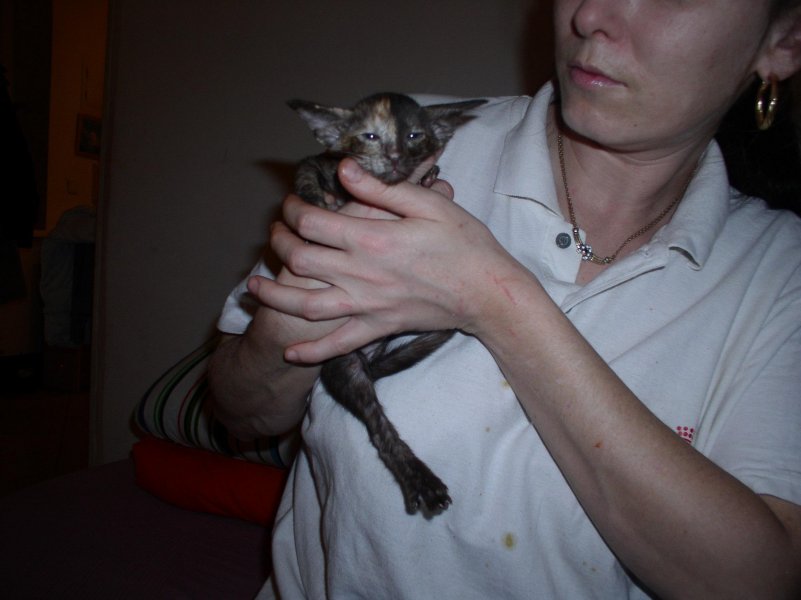 Chocco tortie girl named Ryoko - SOLD to Holland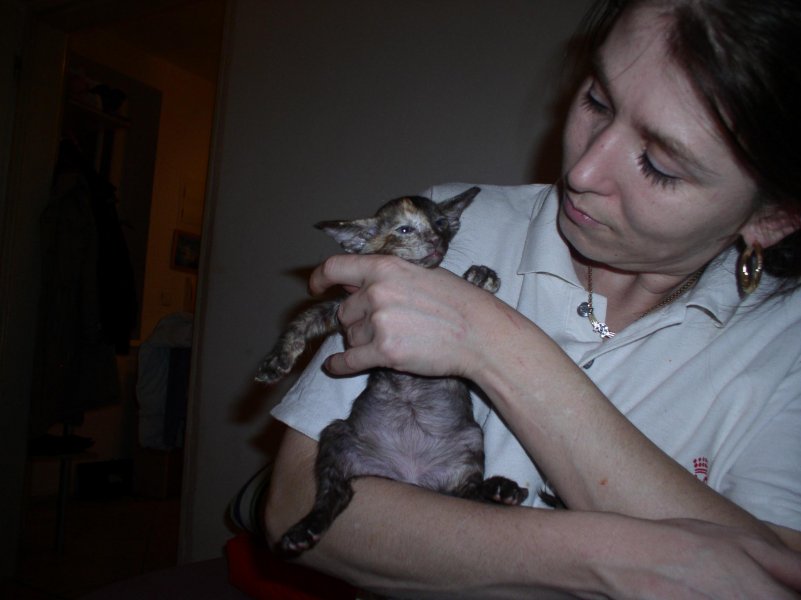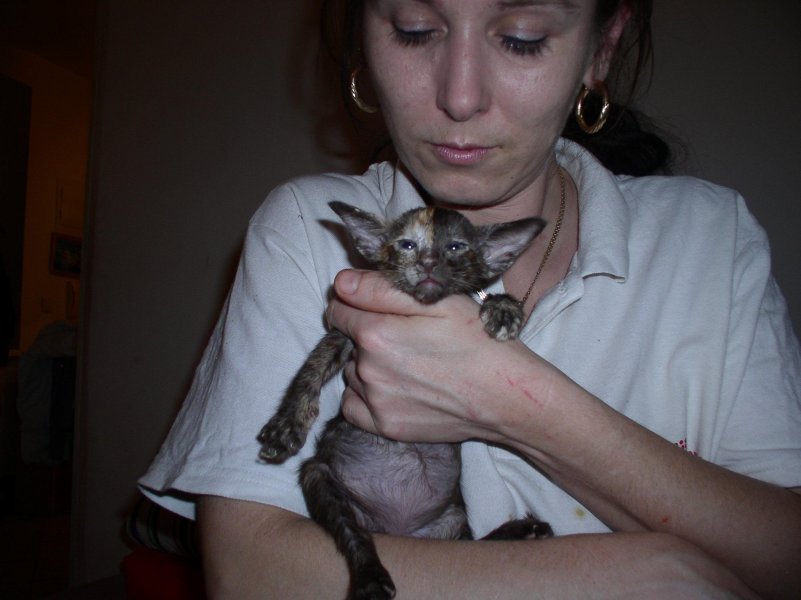 6 weeks old kittens ( sorry, no time, more pictures soon ...)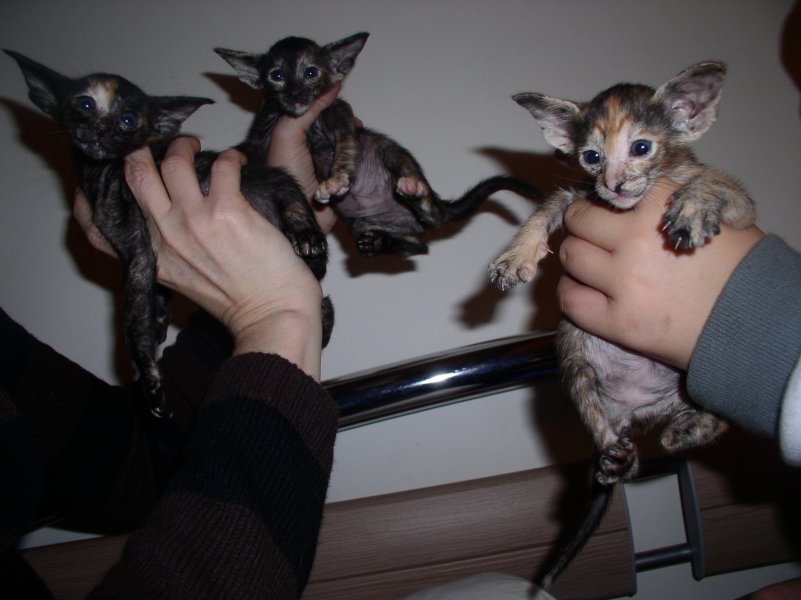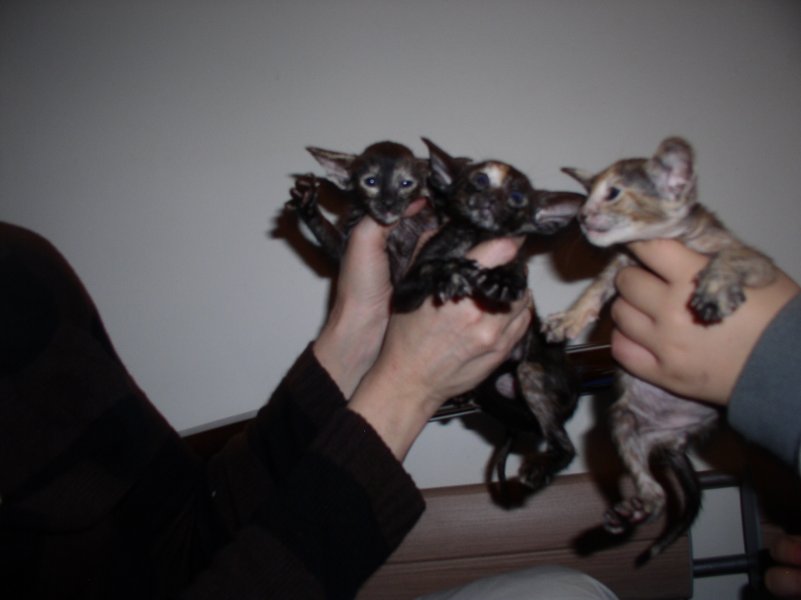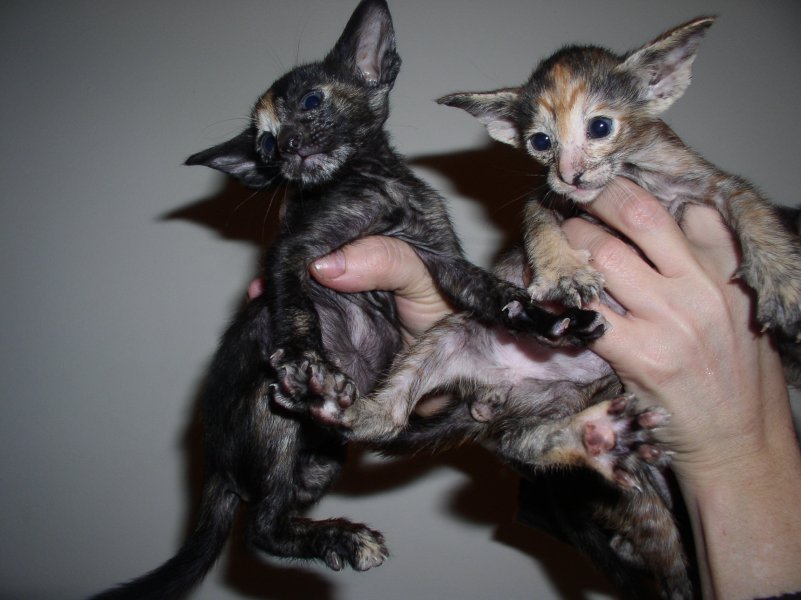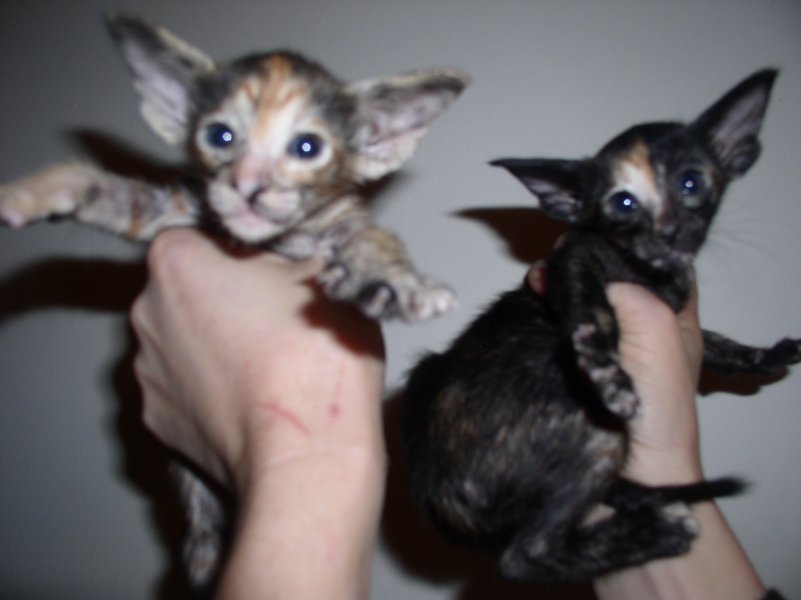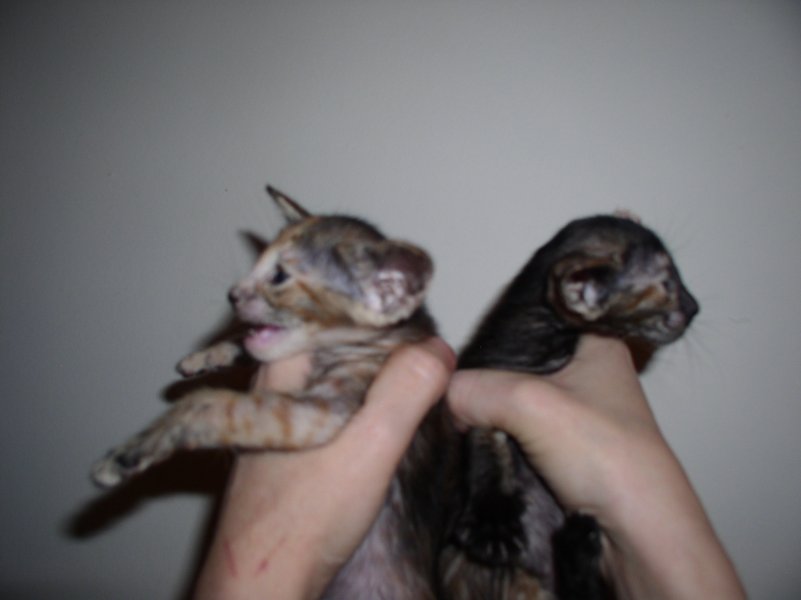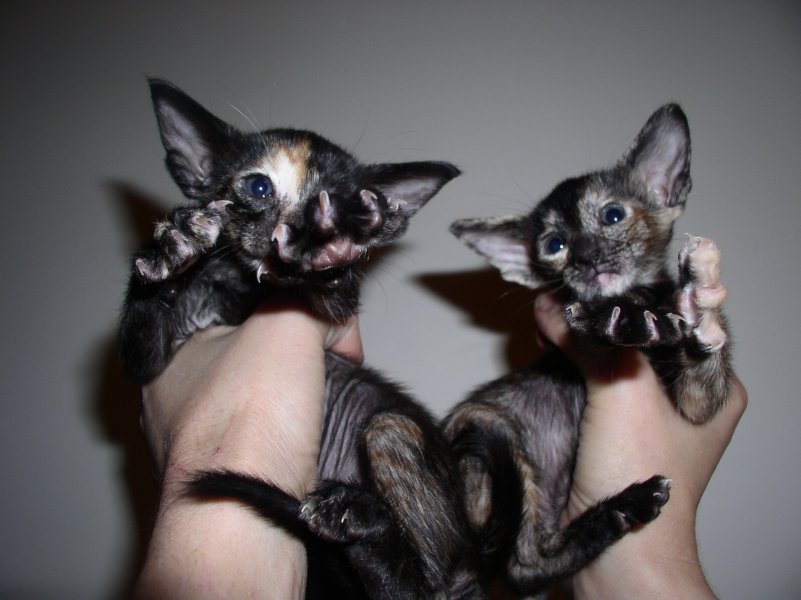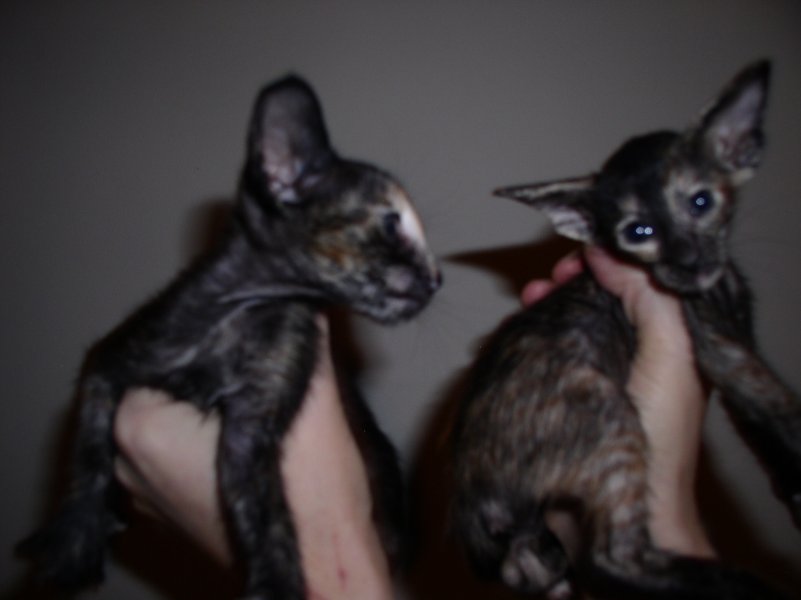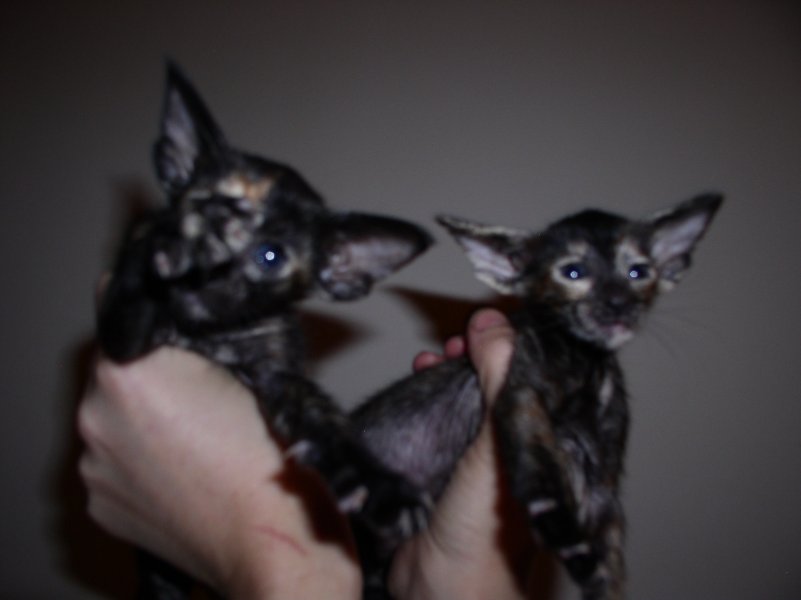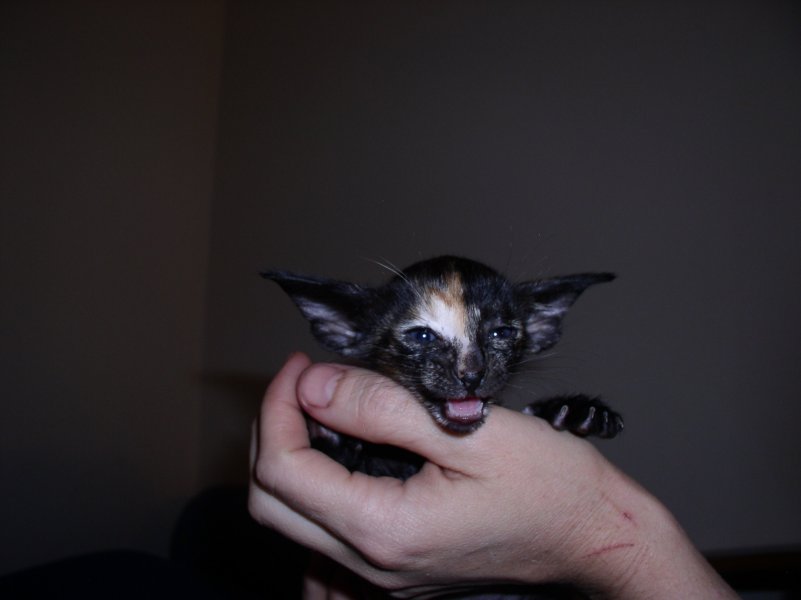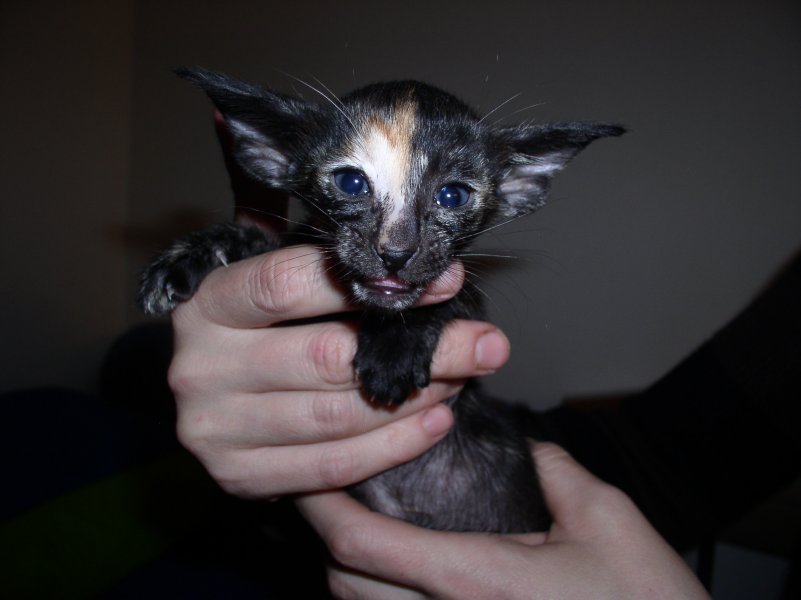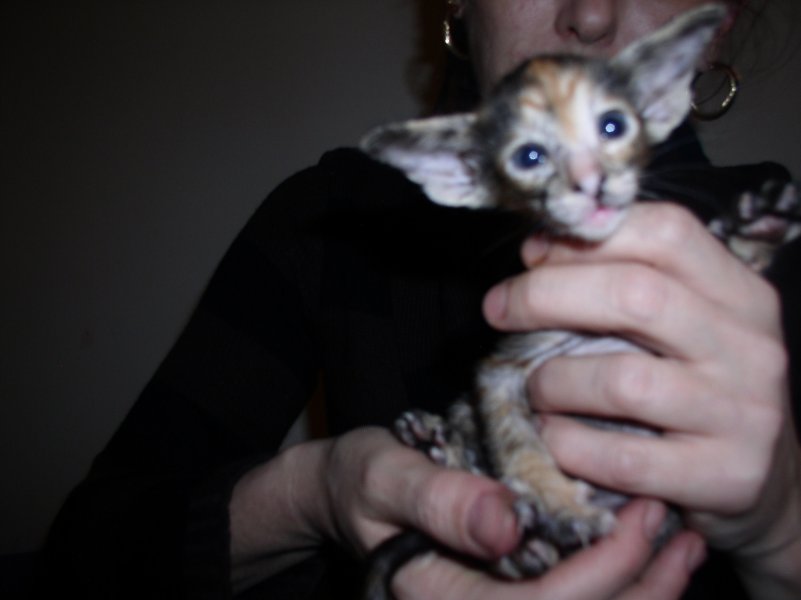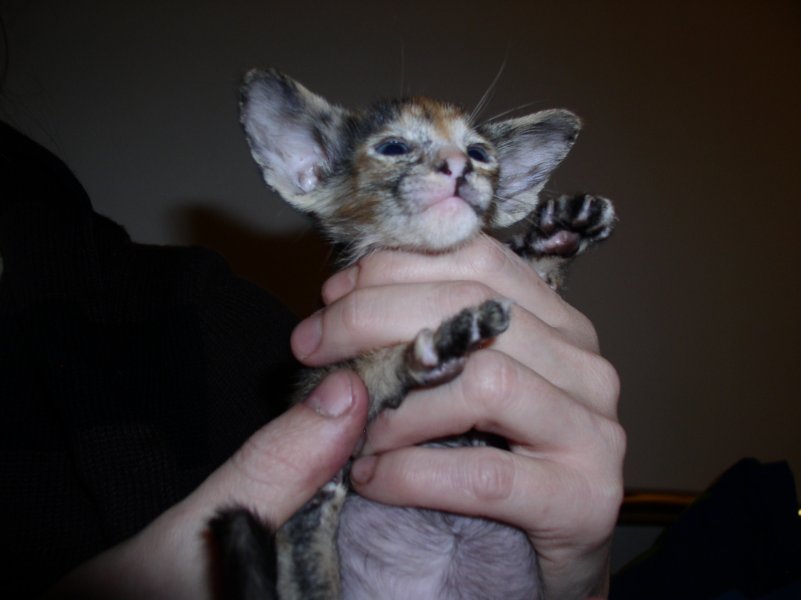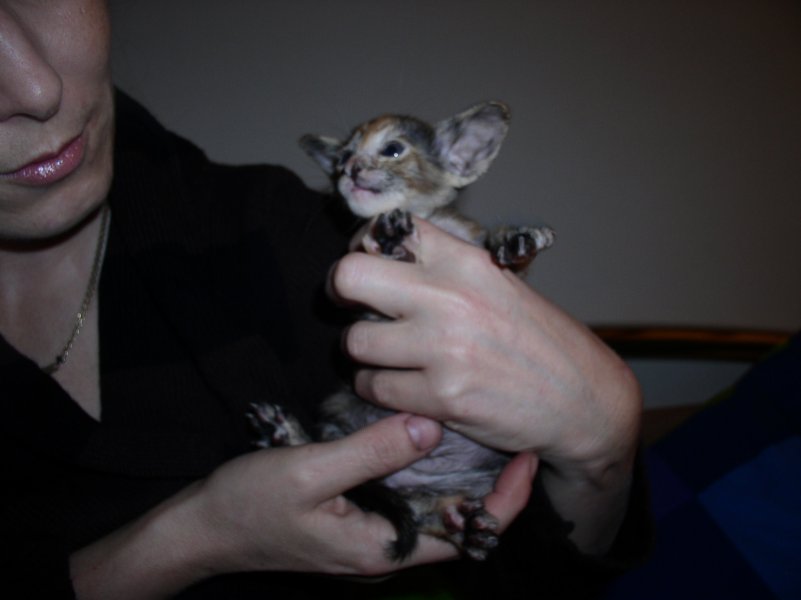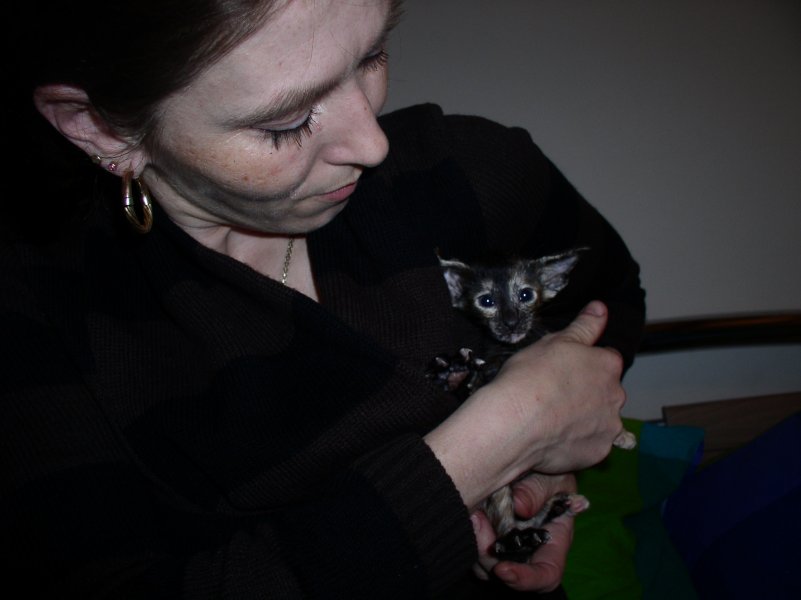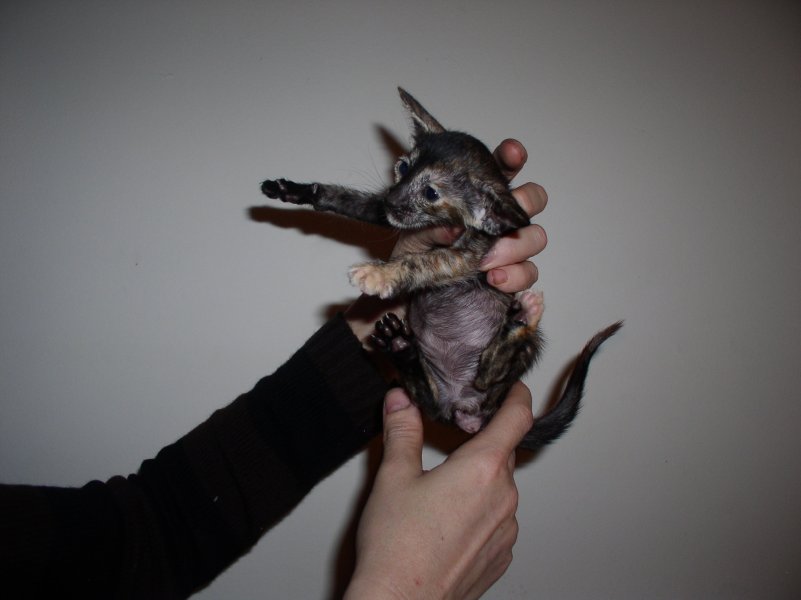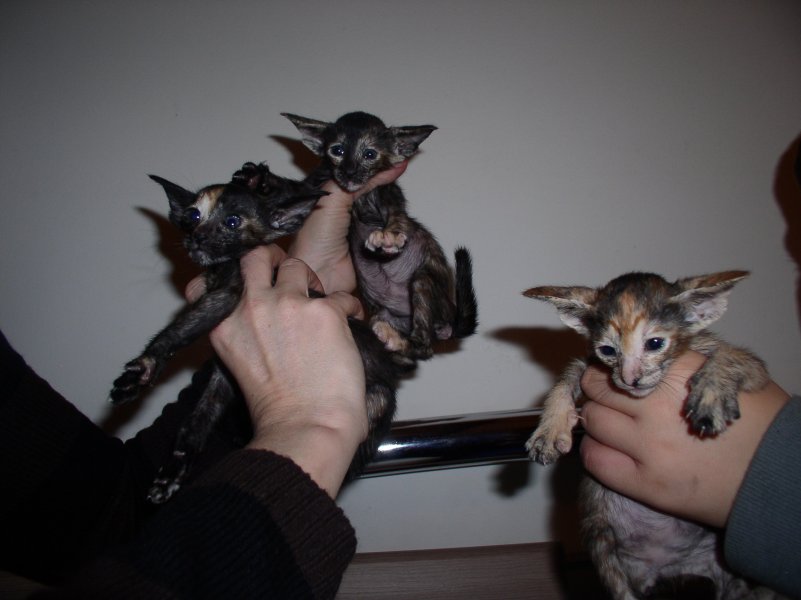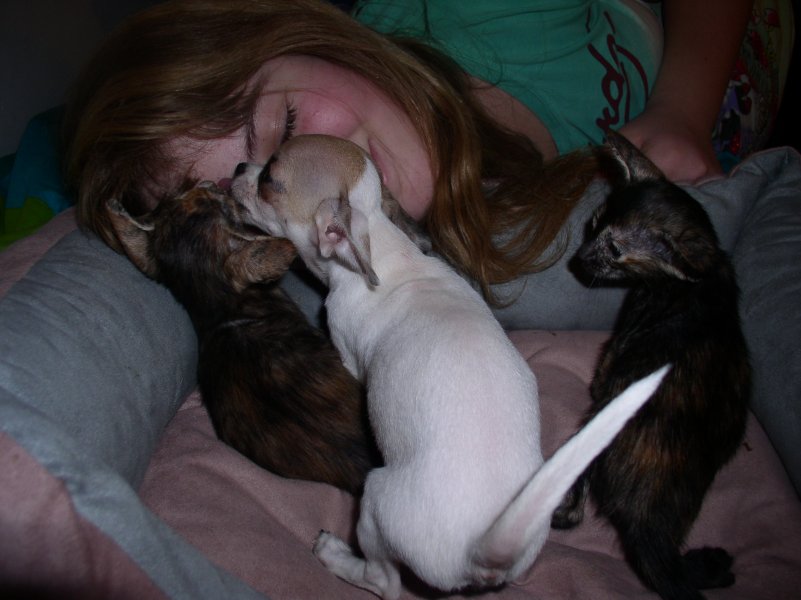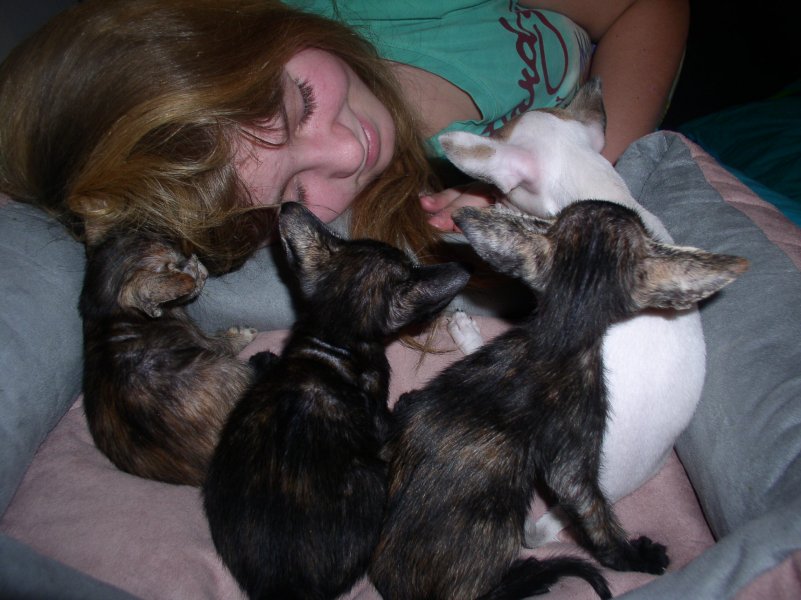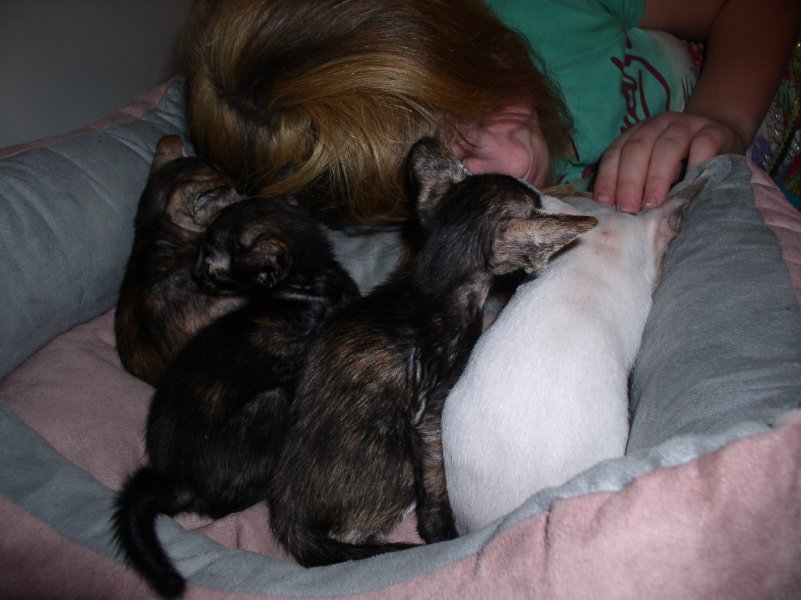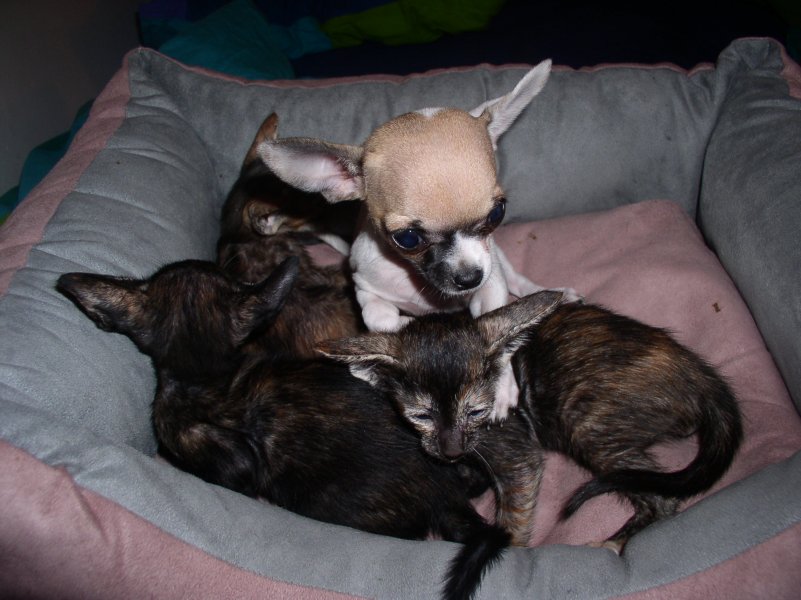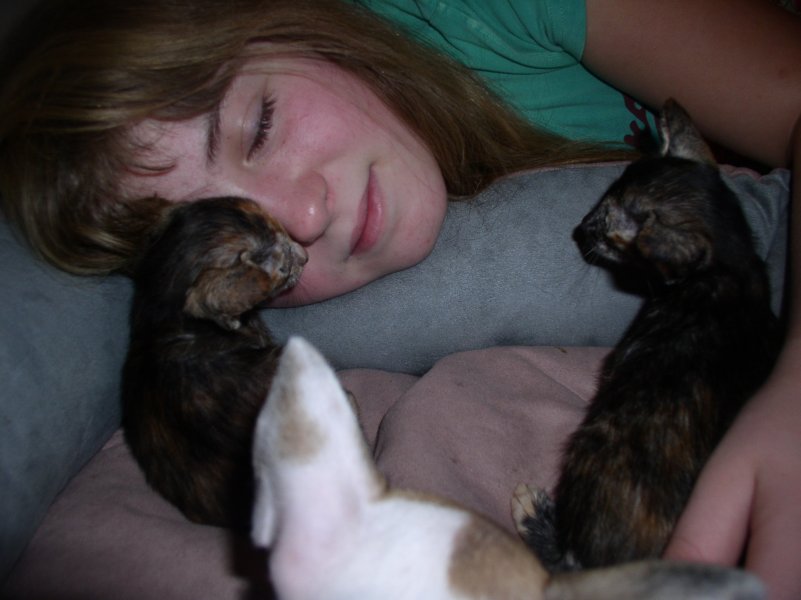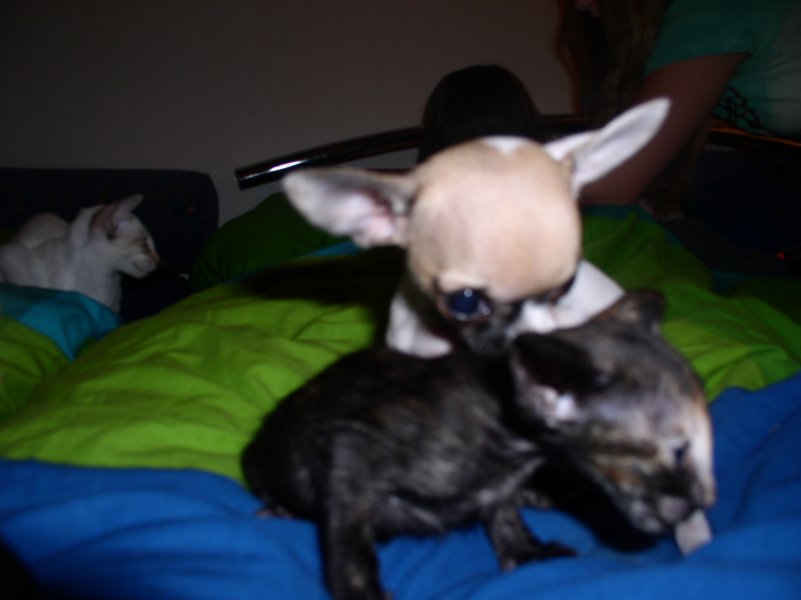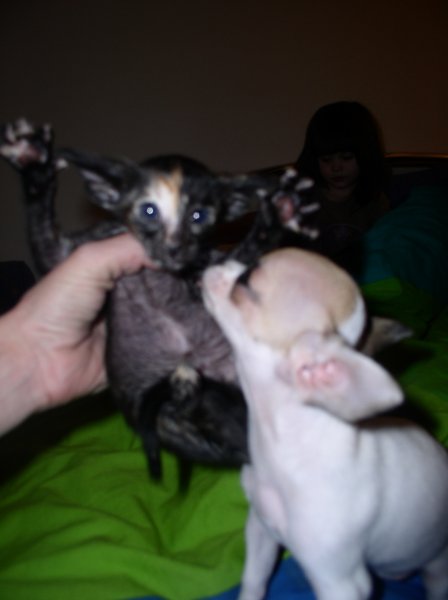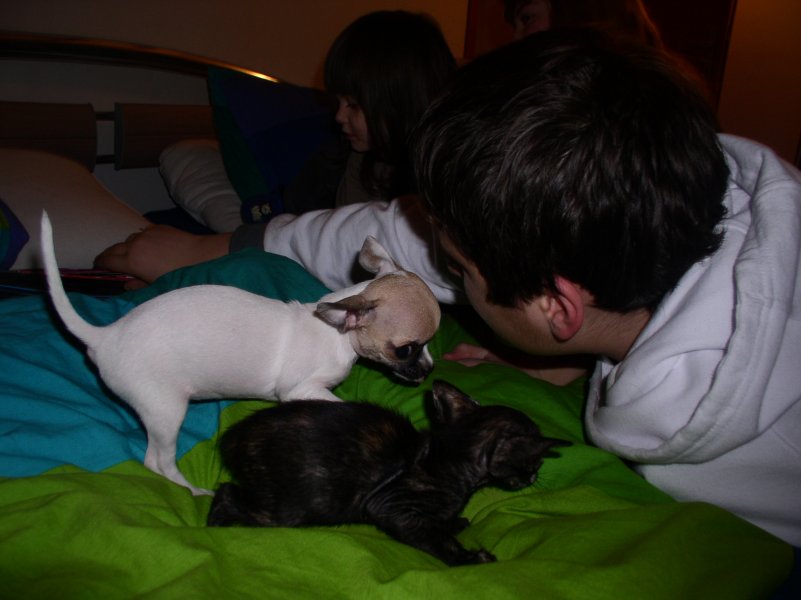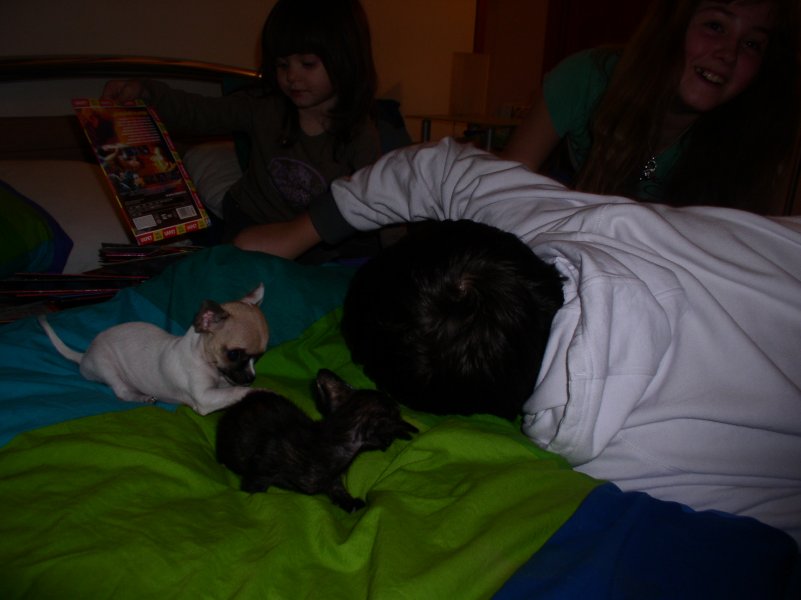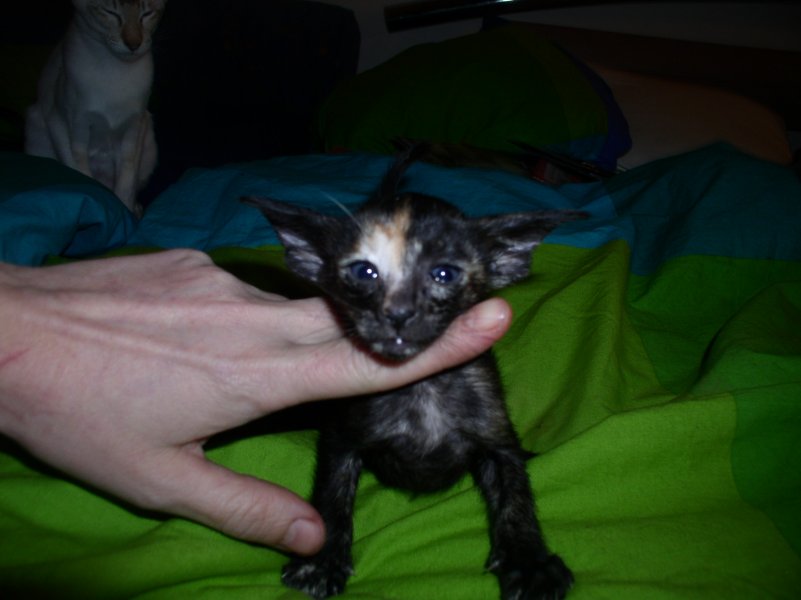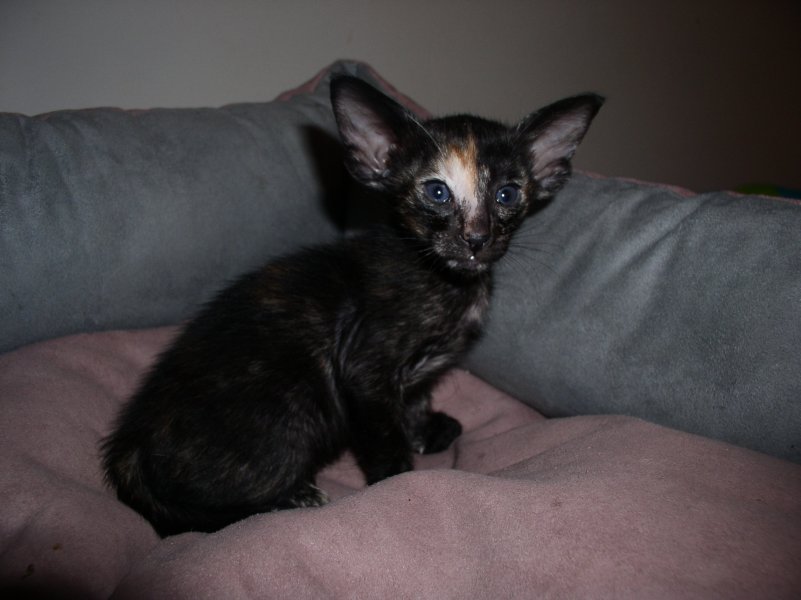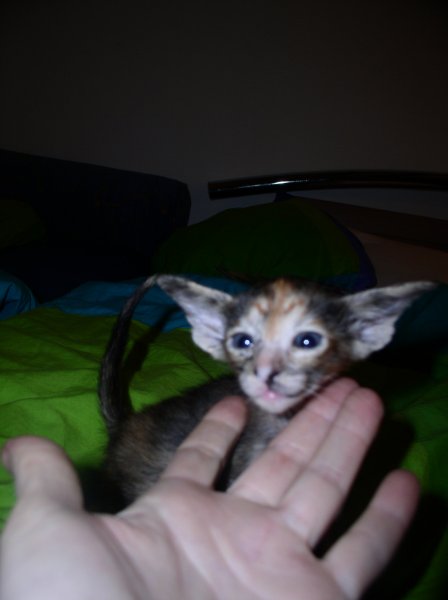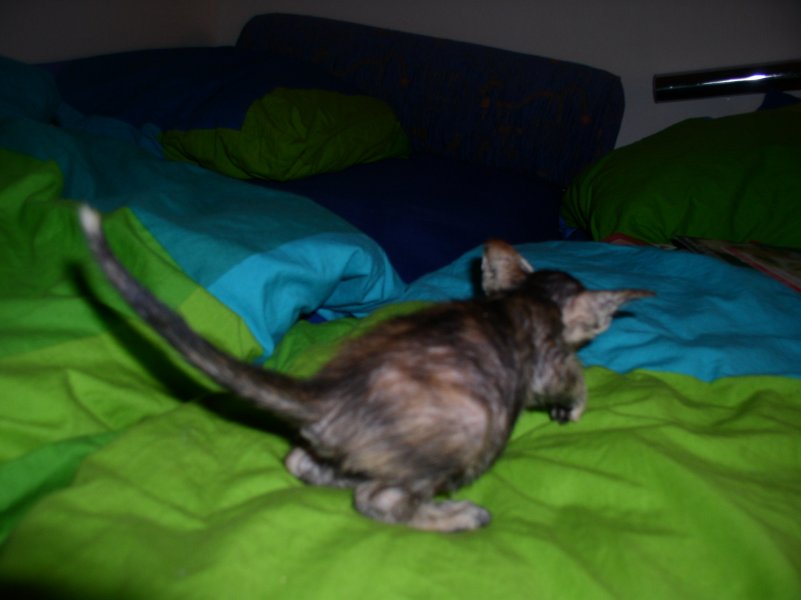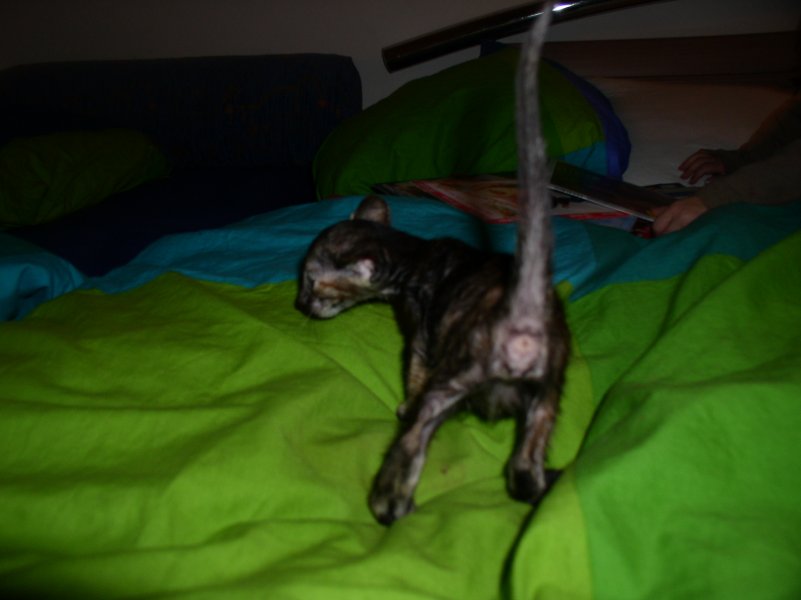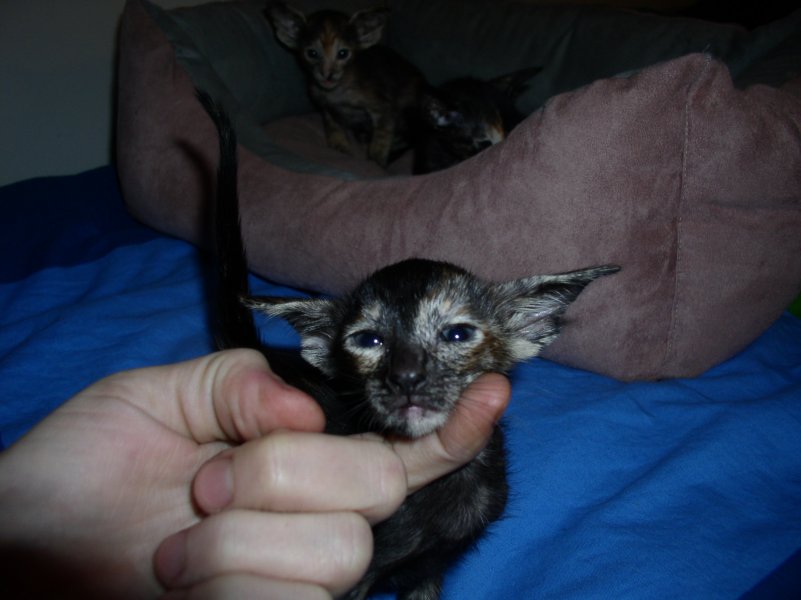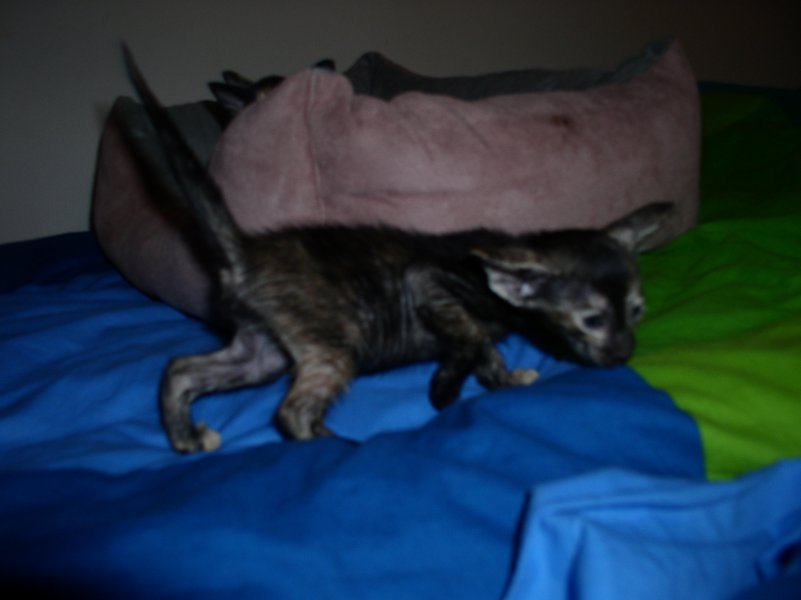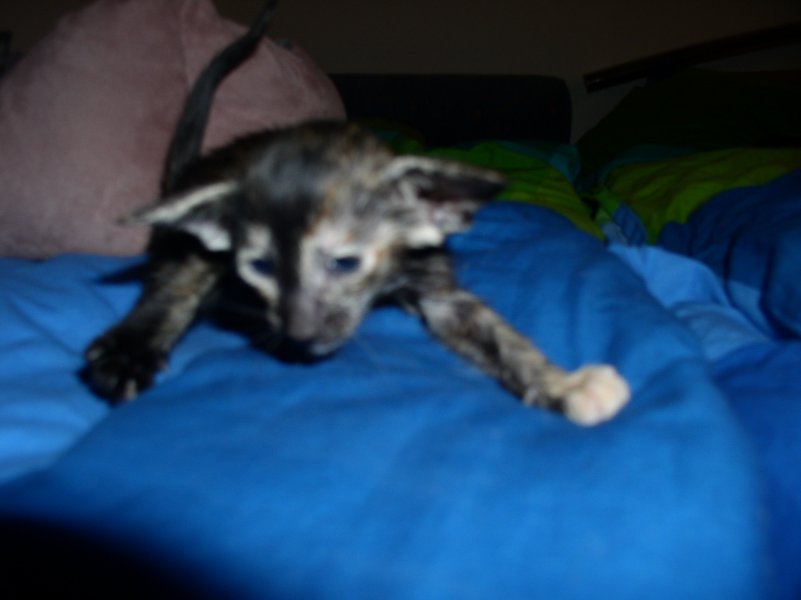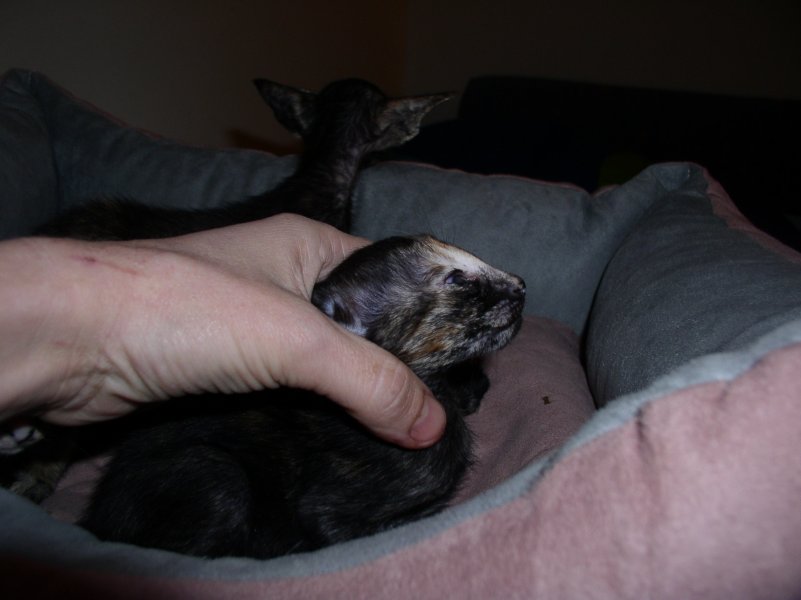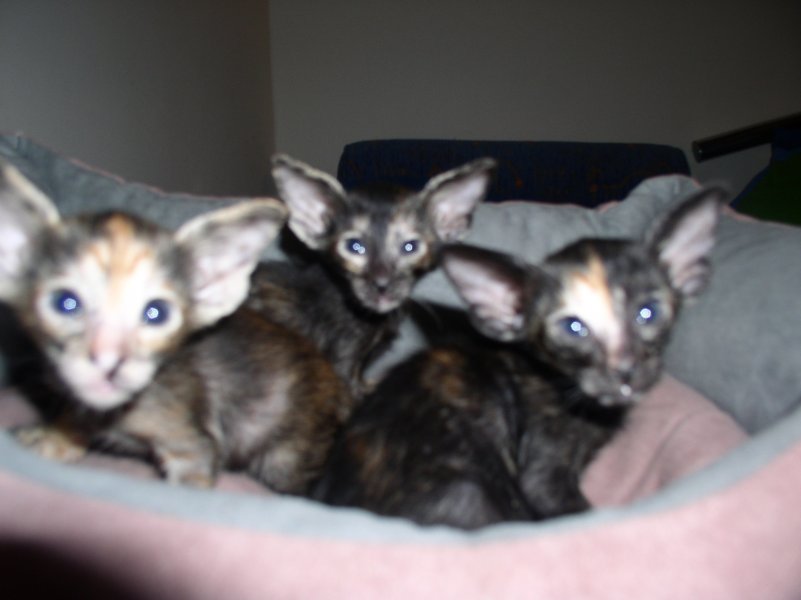 25 Days :
Blacktortie No 1 - reserved for Simone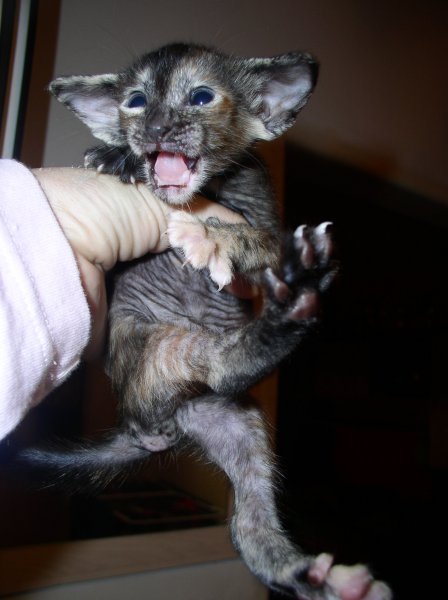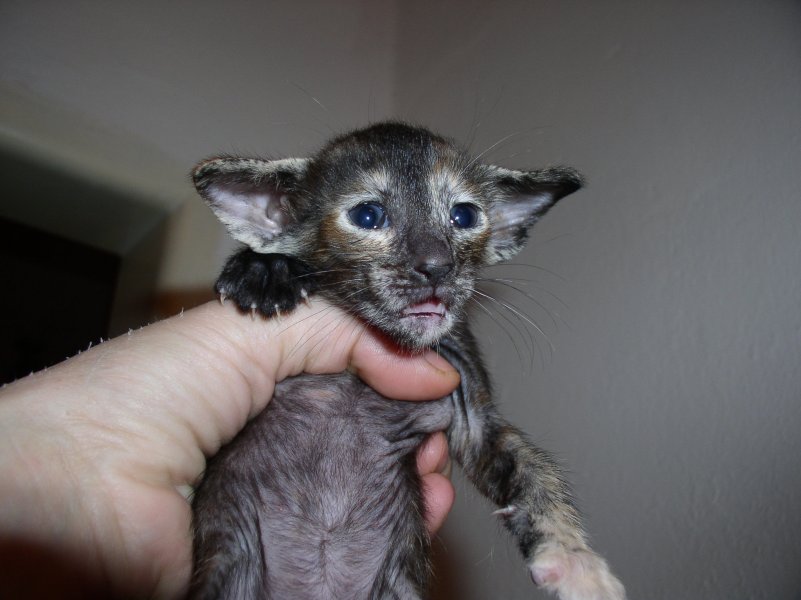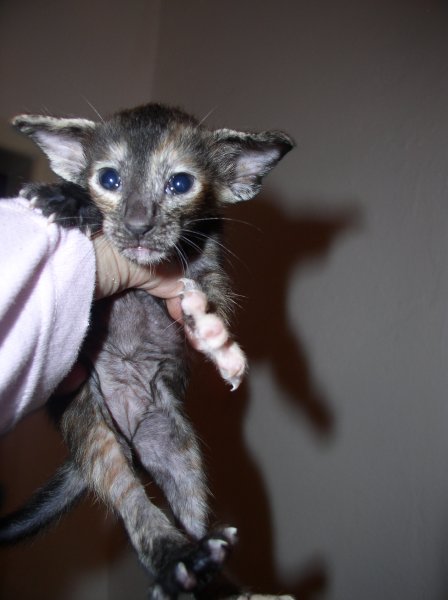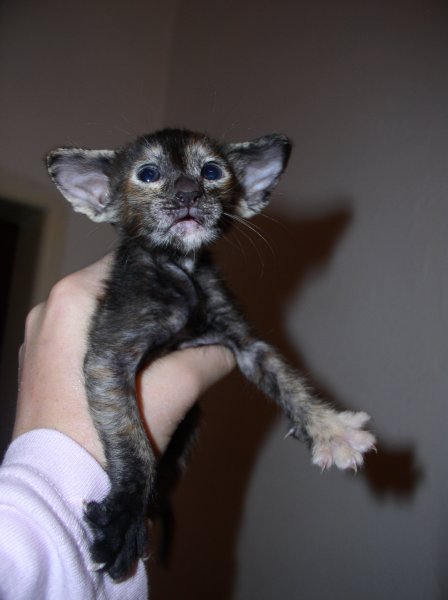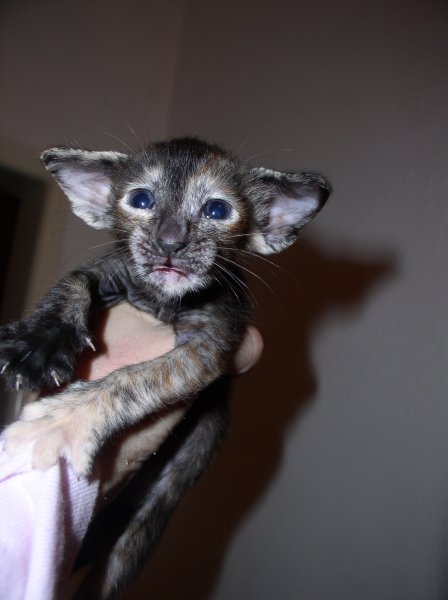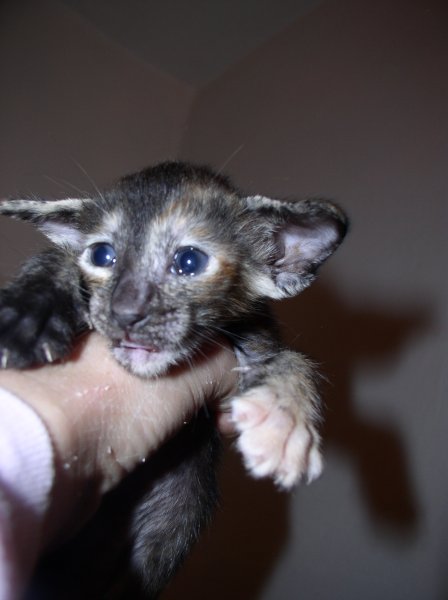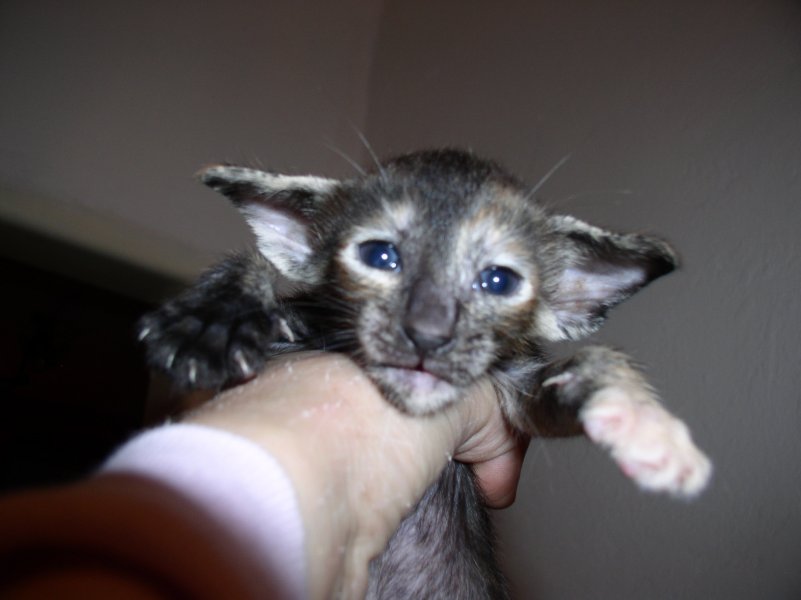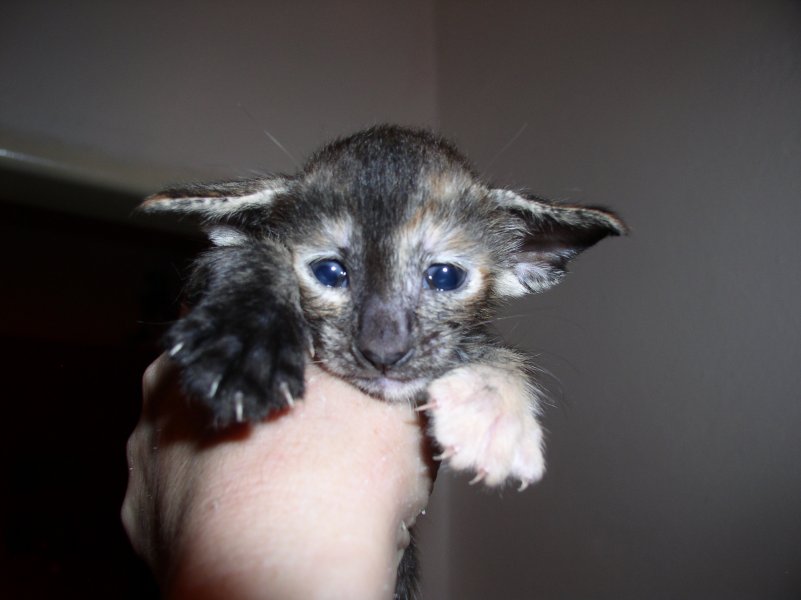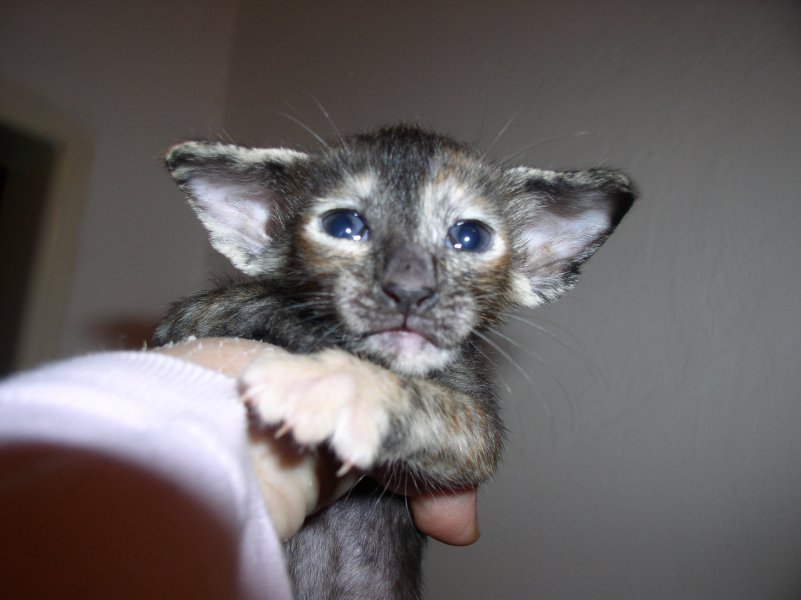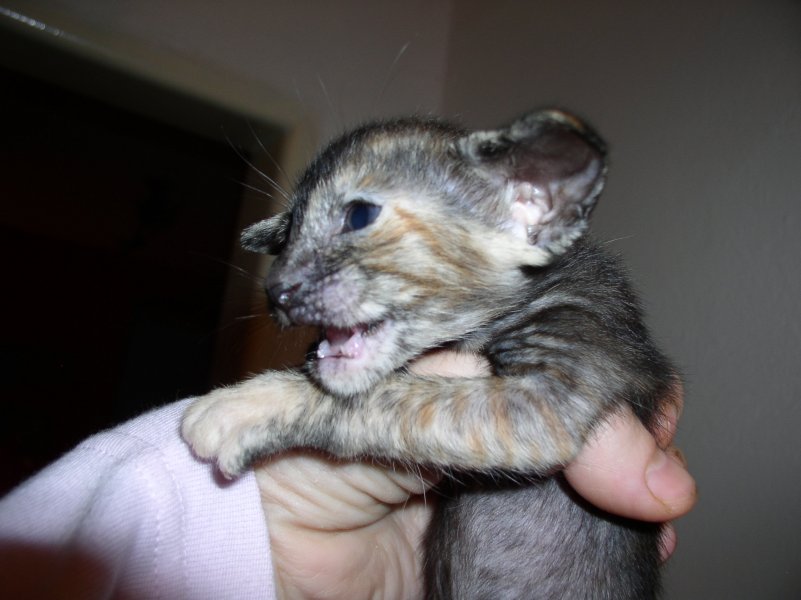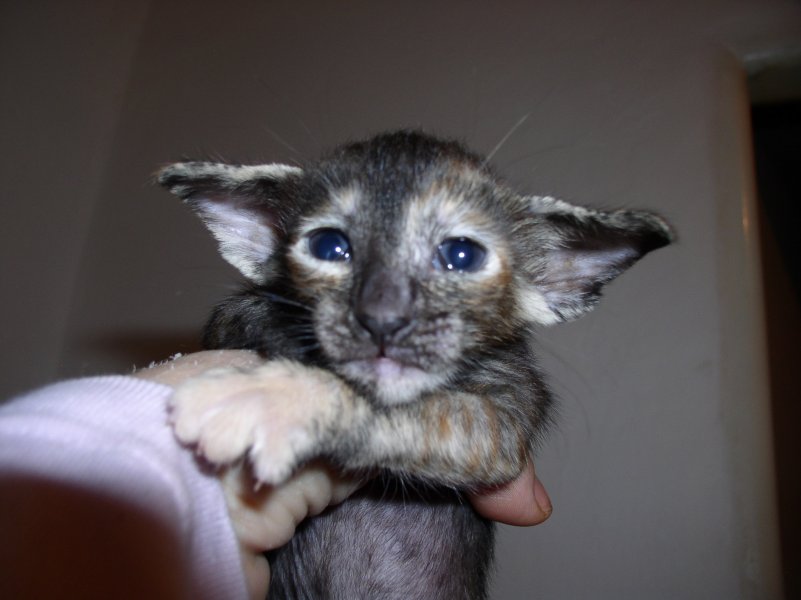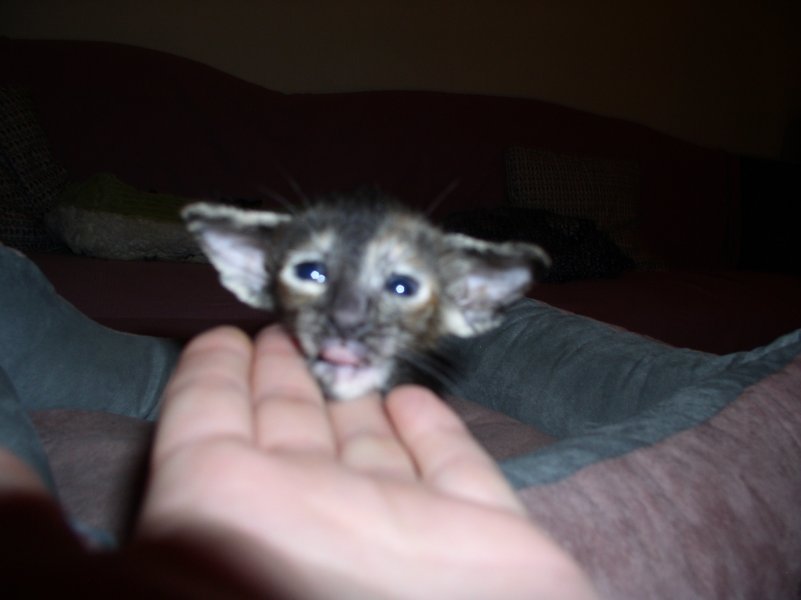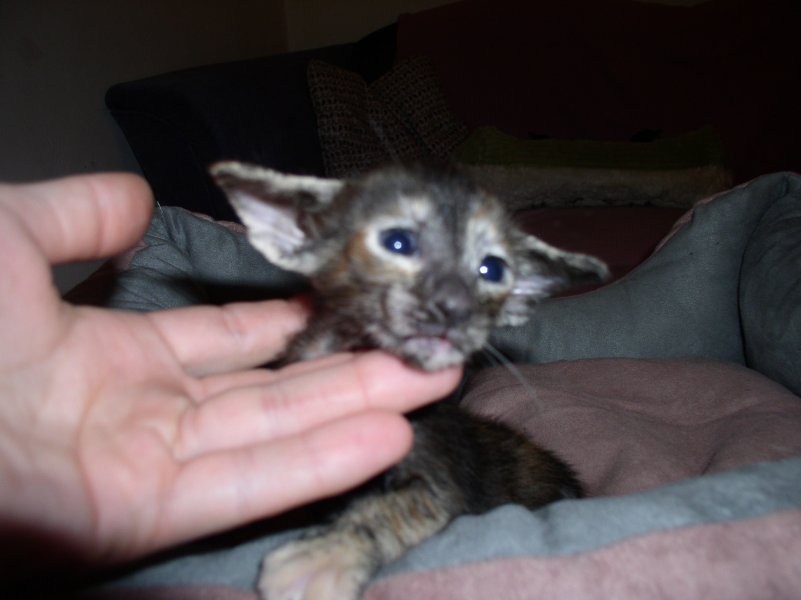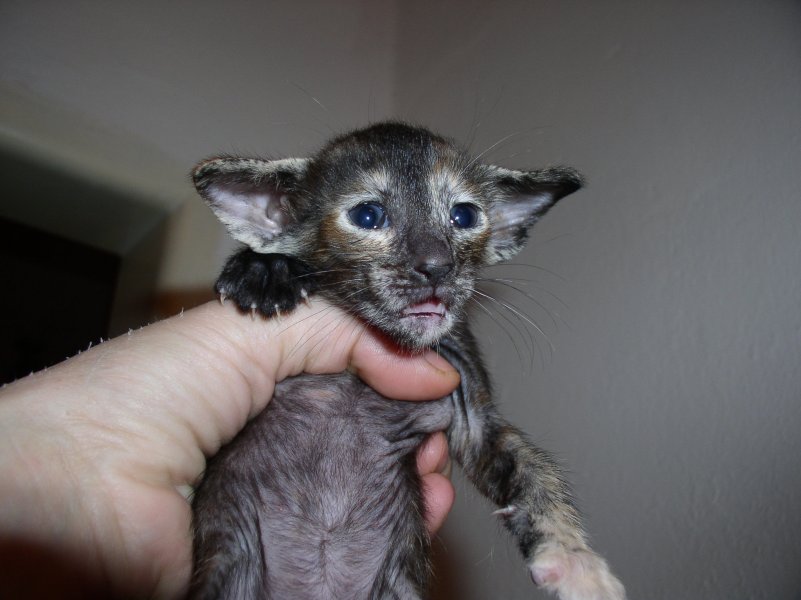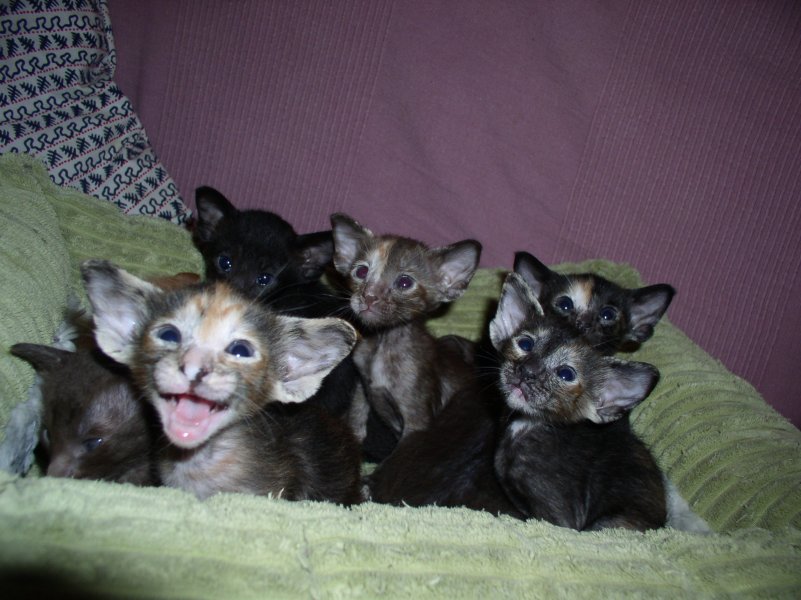 Blacktortie No 2 - reserved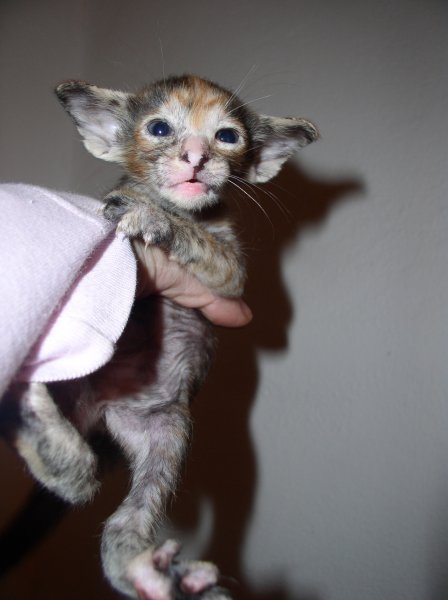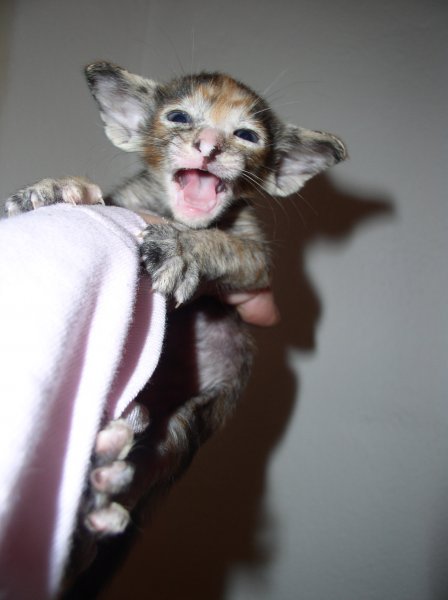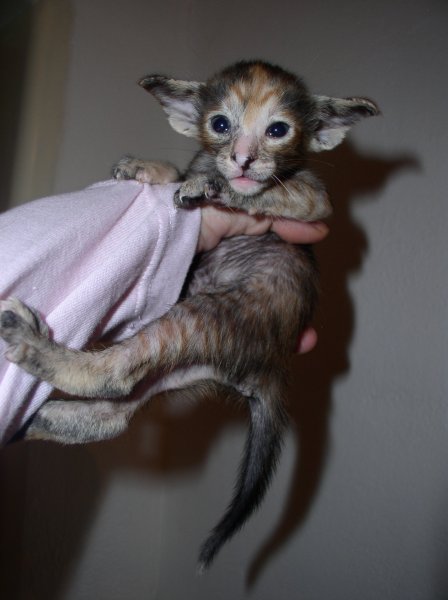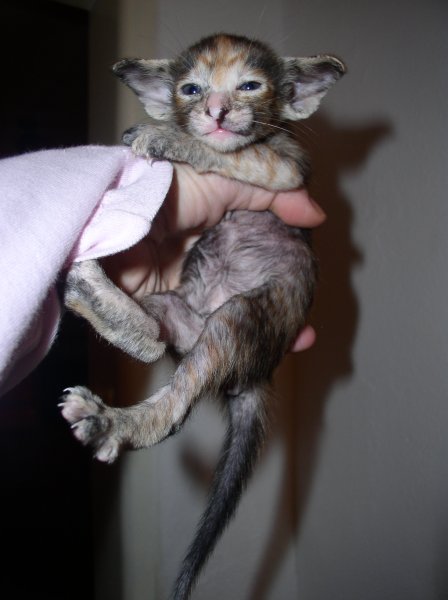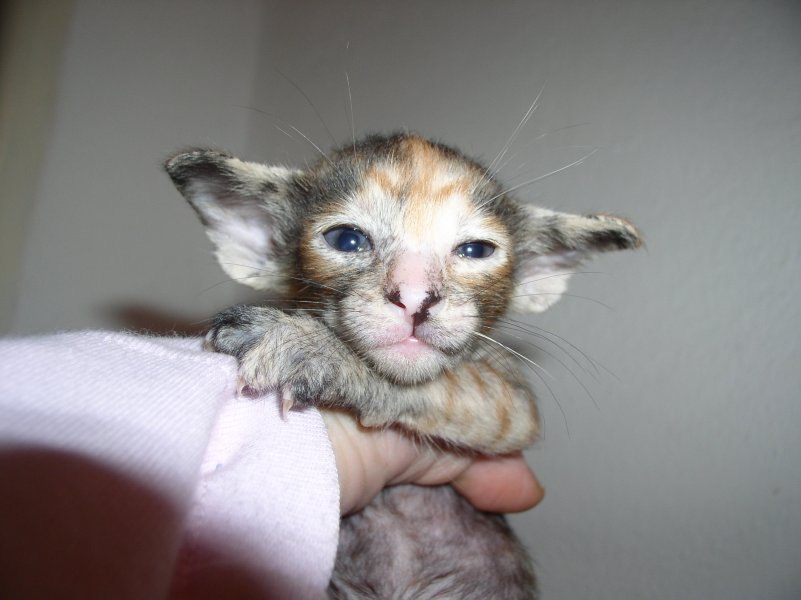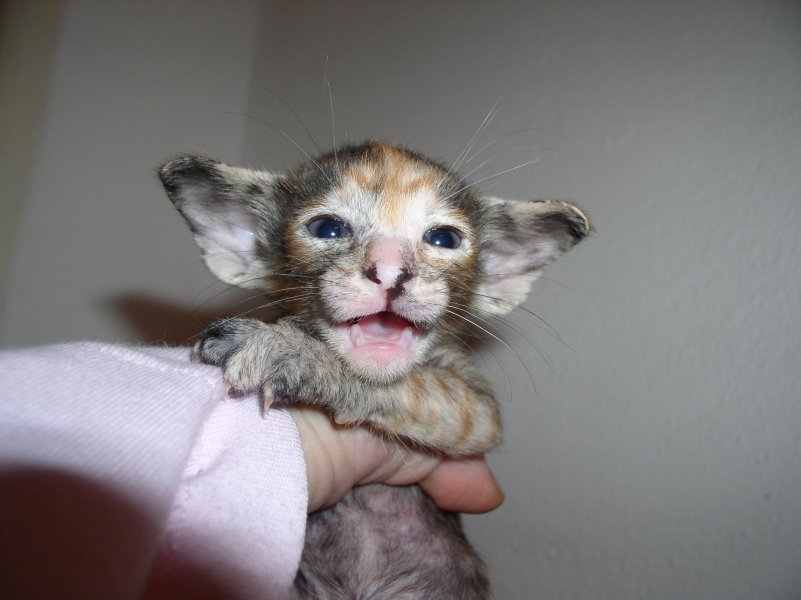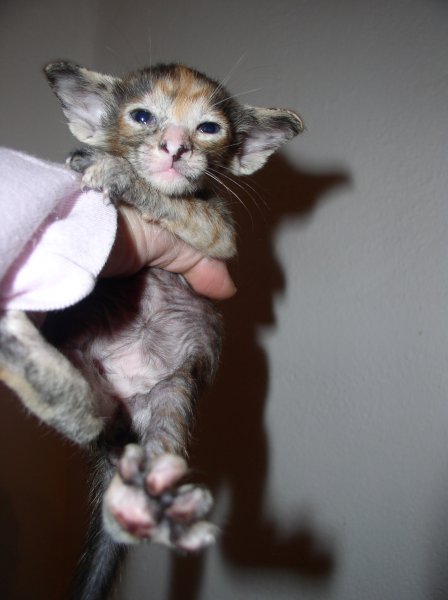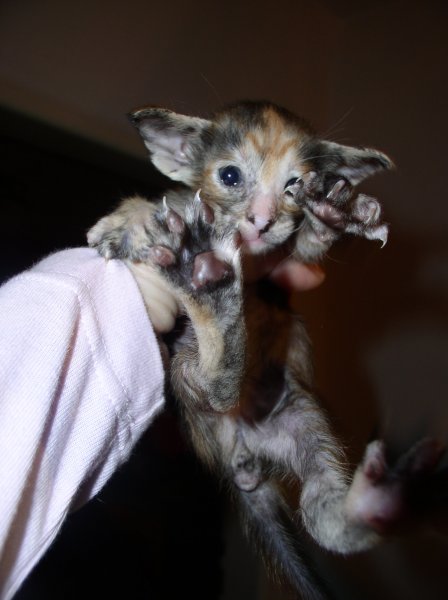 Blacktortie No 3 - Sold to Sweden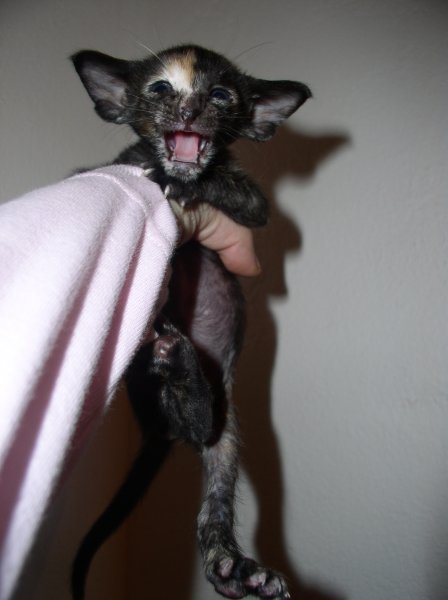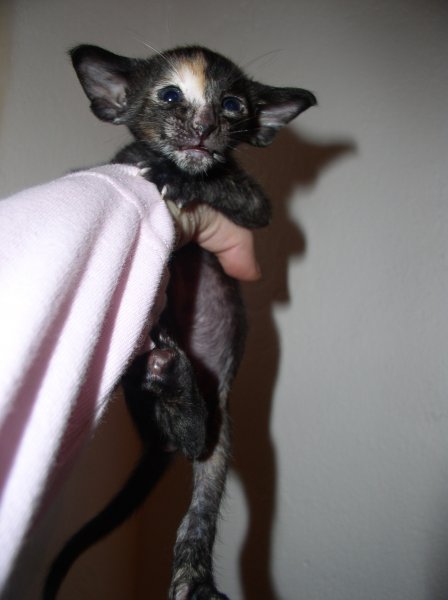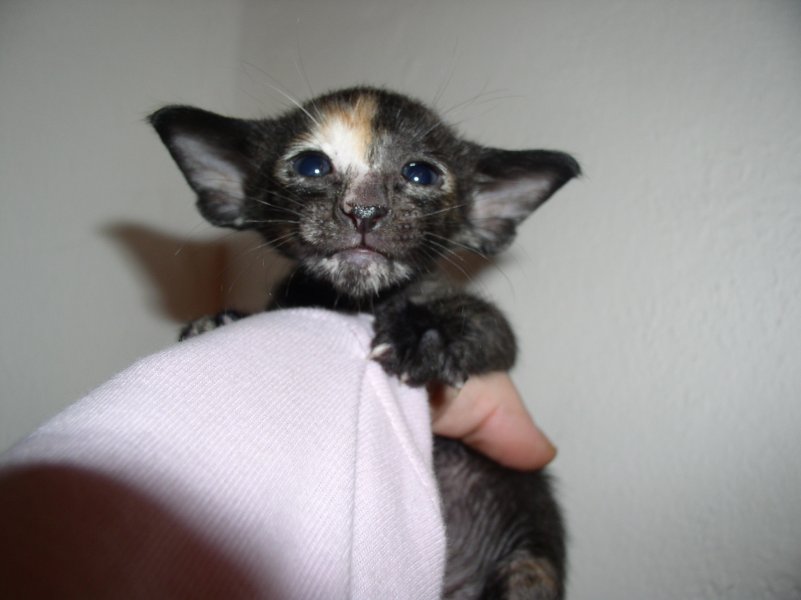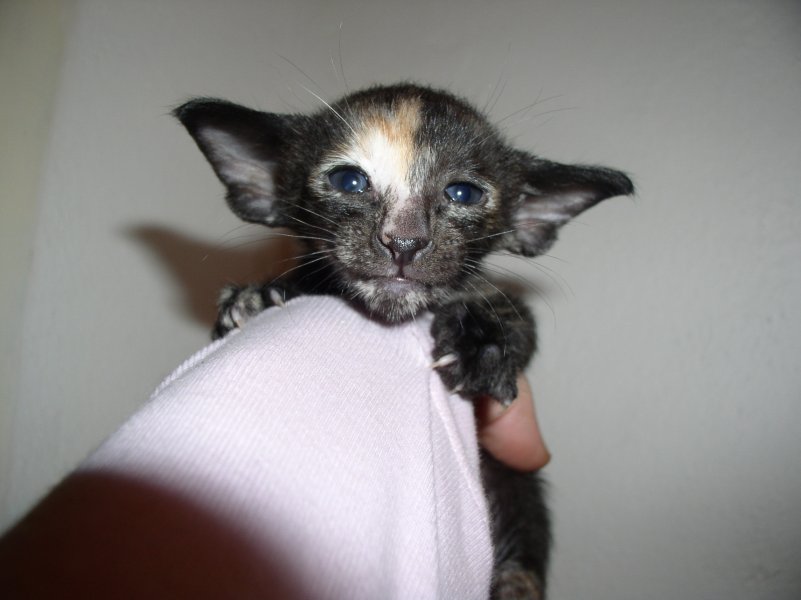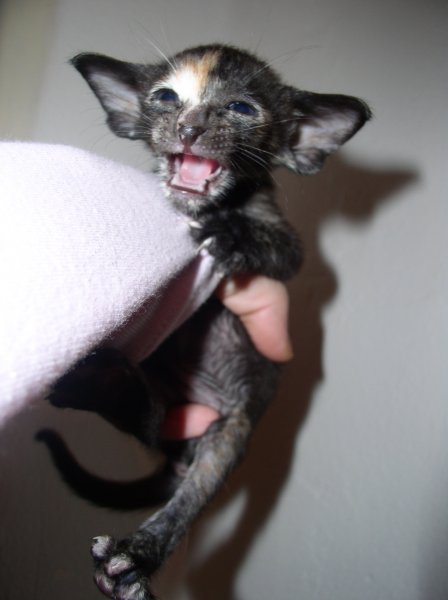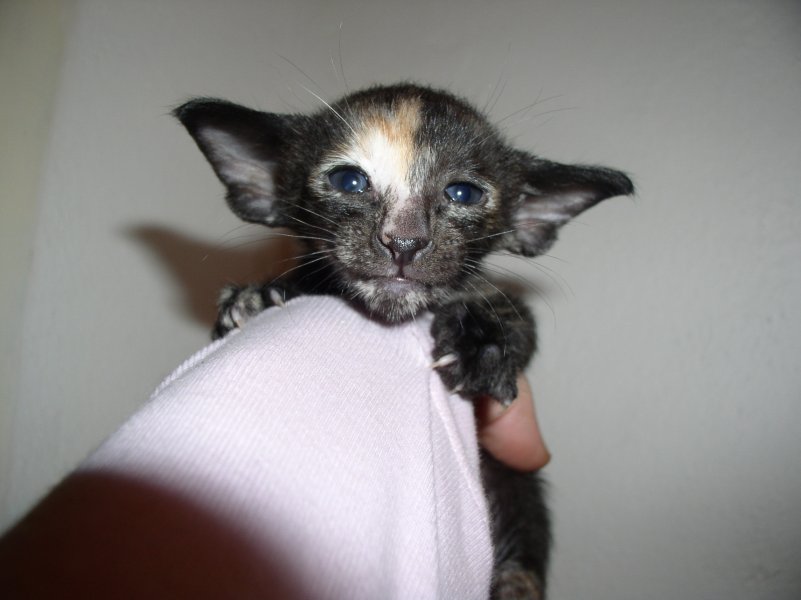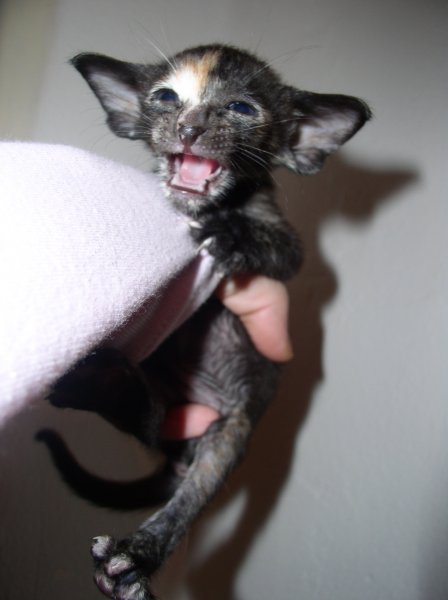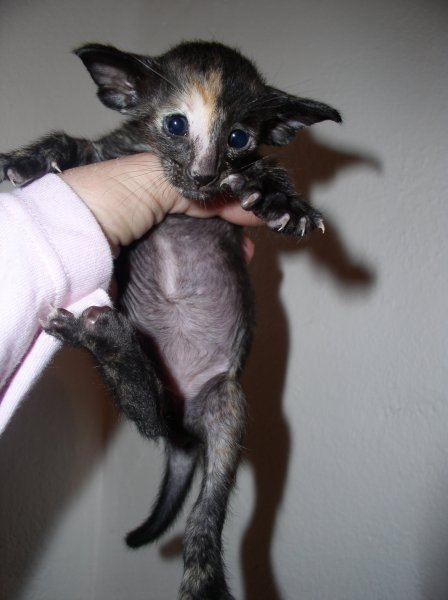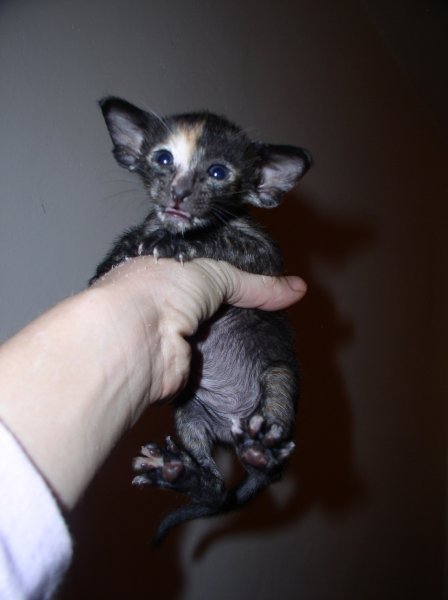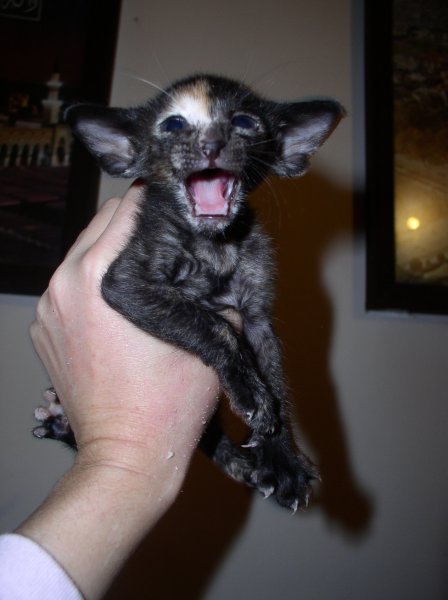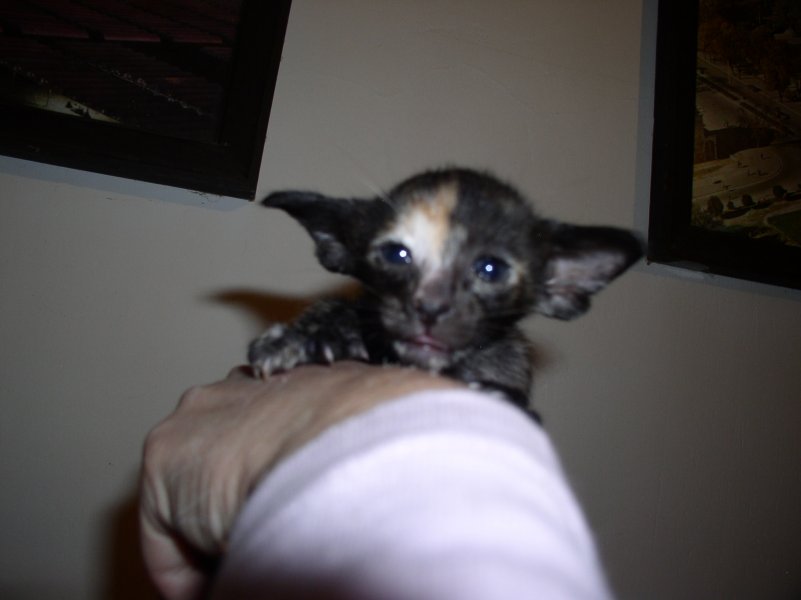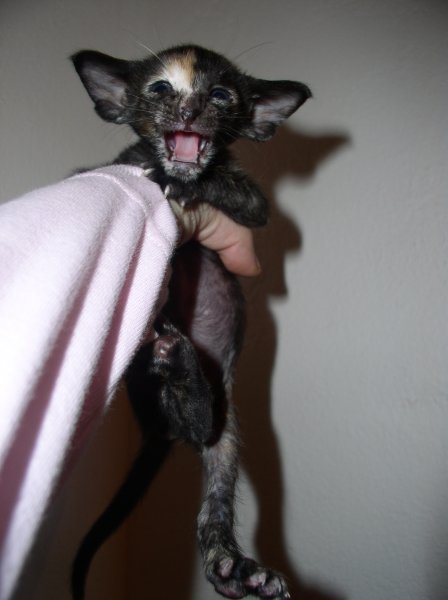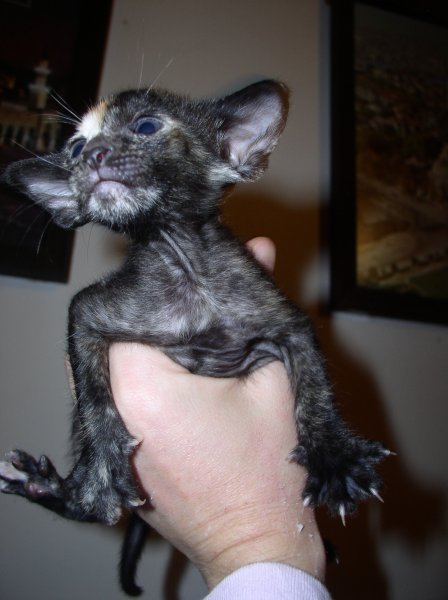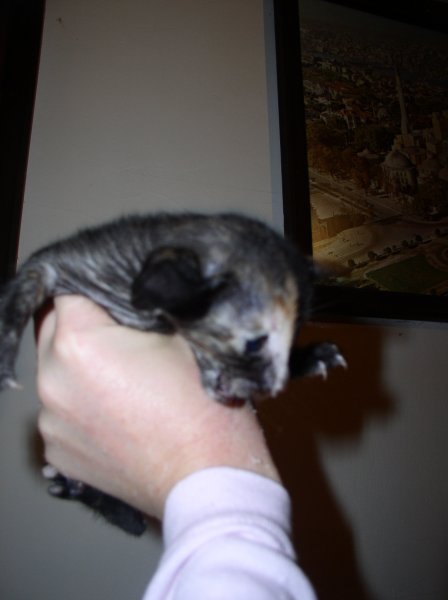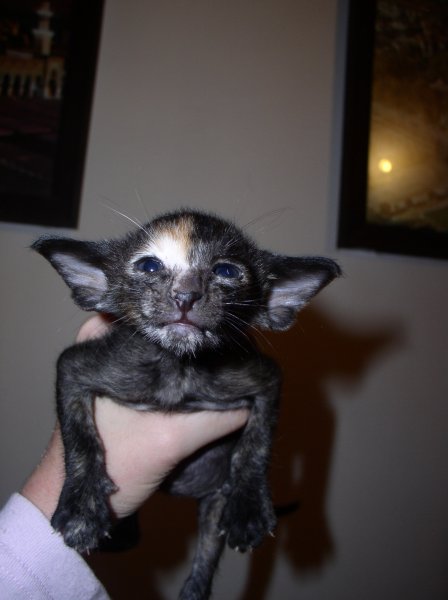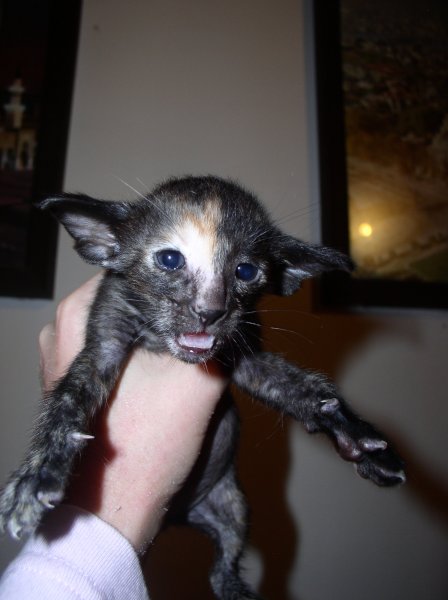 Two havana girls - Sold to Italy and Germany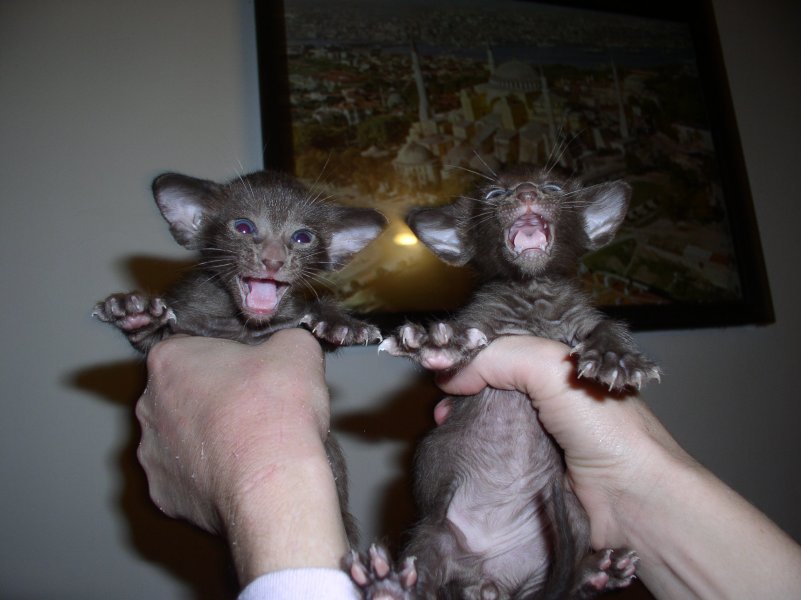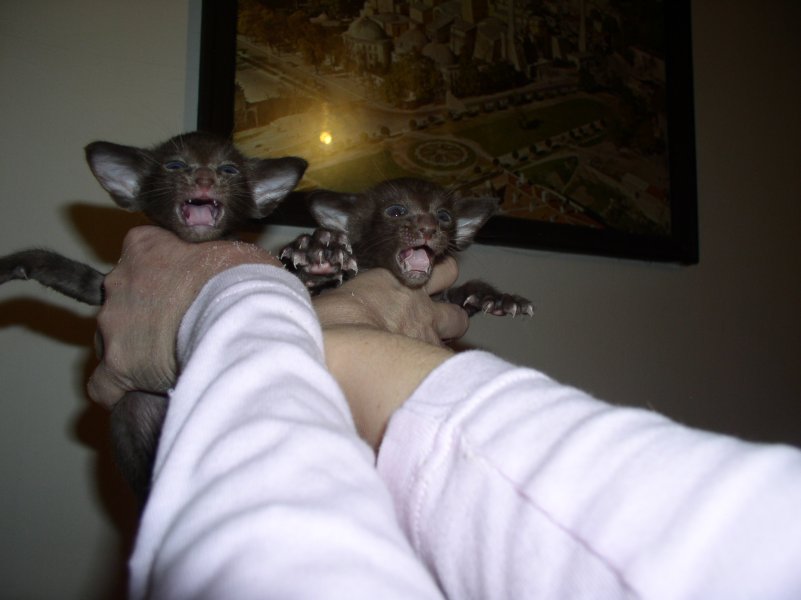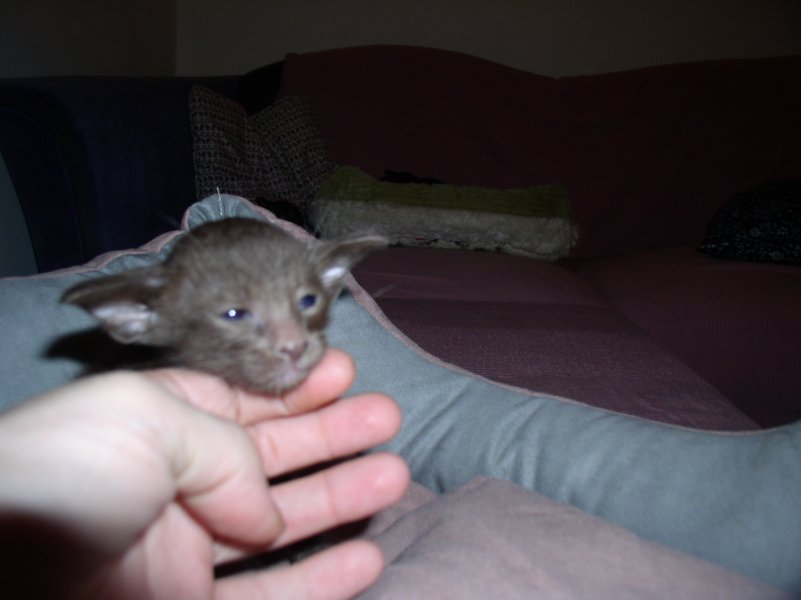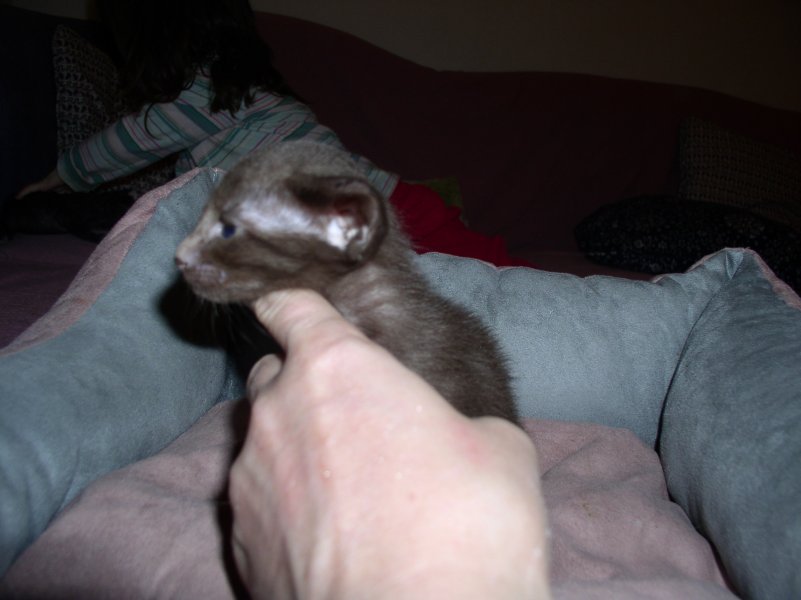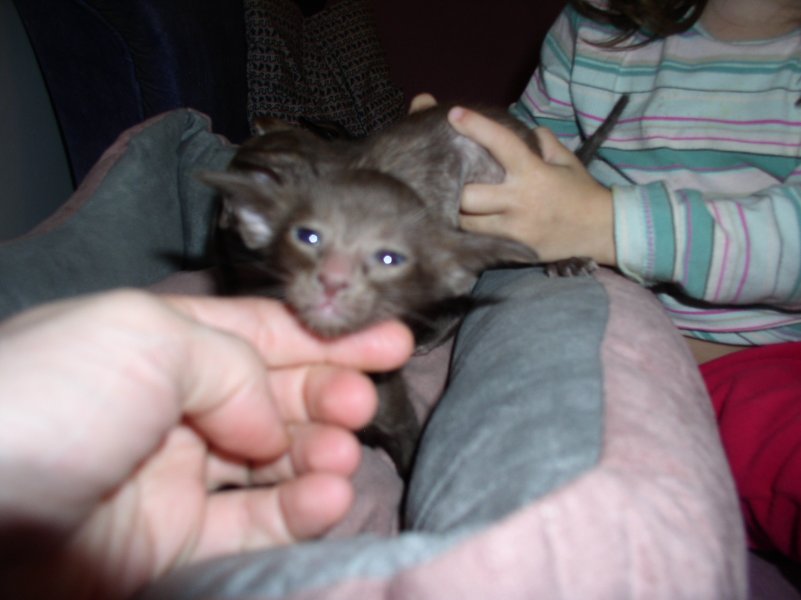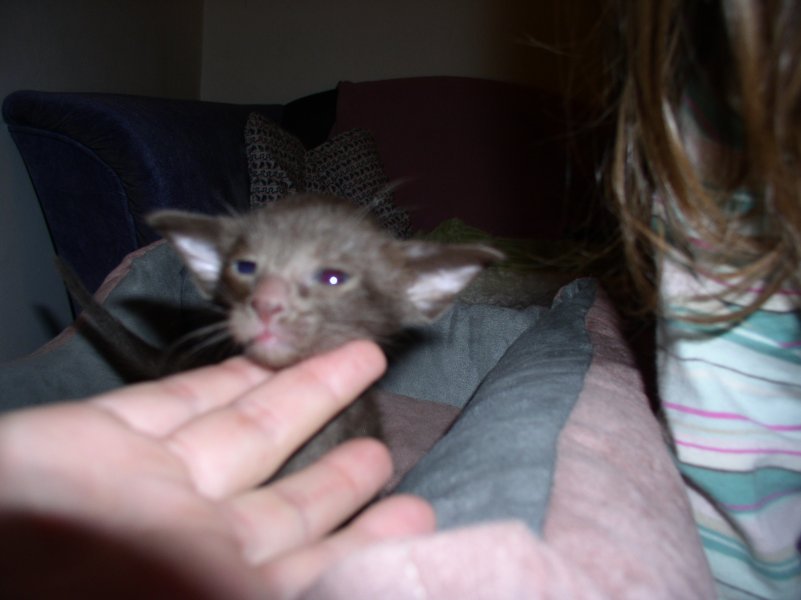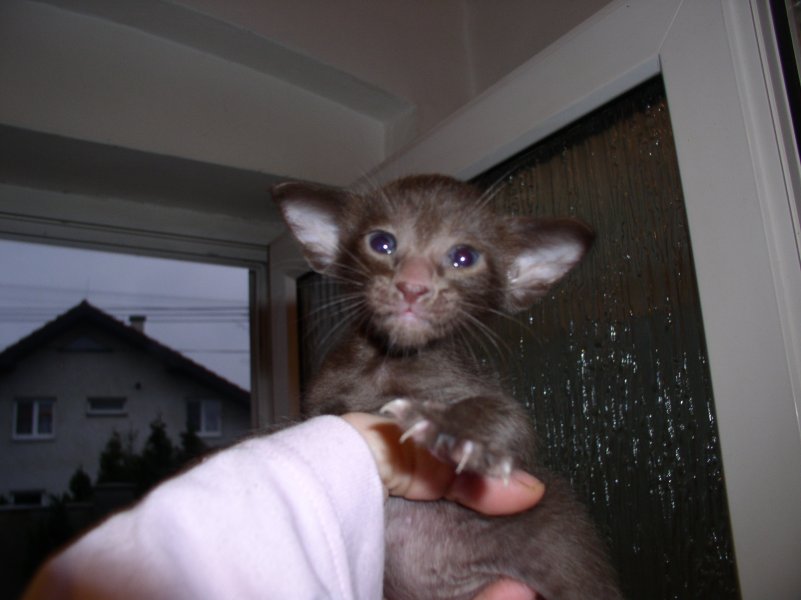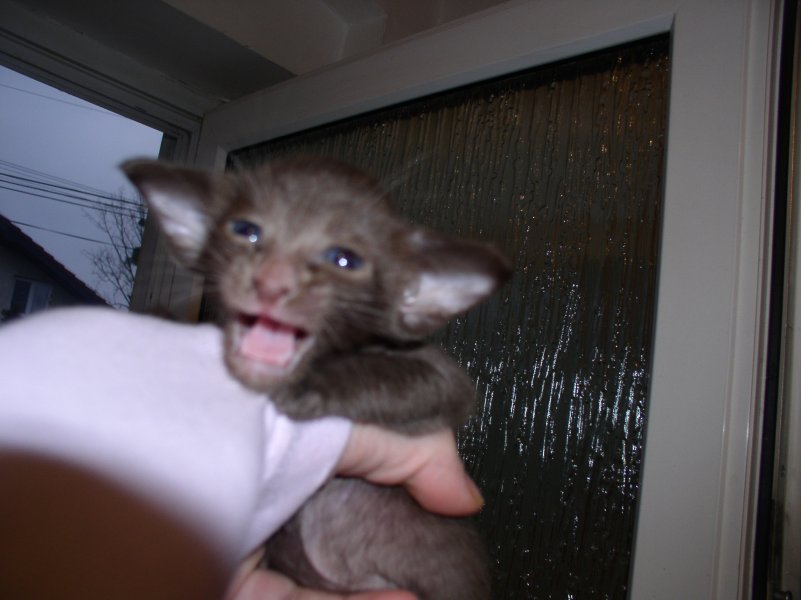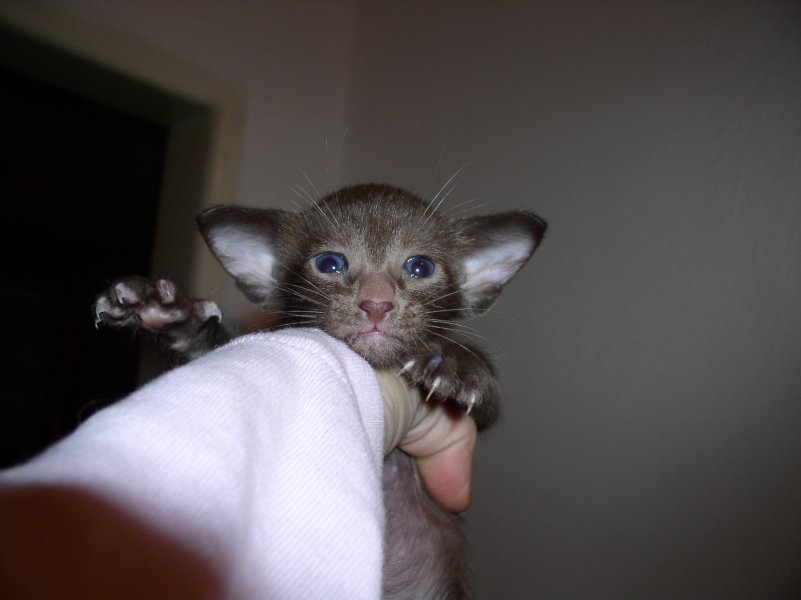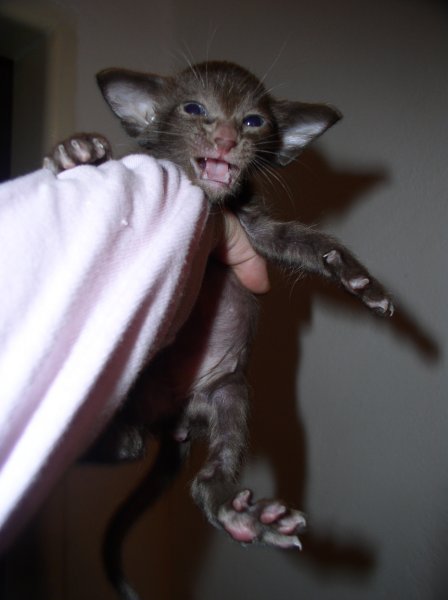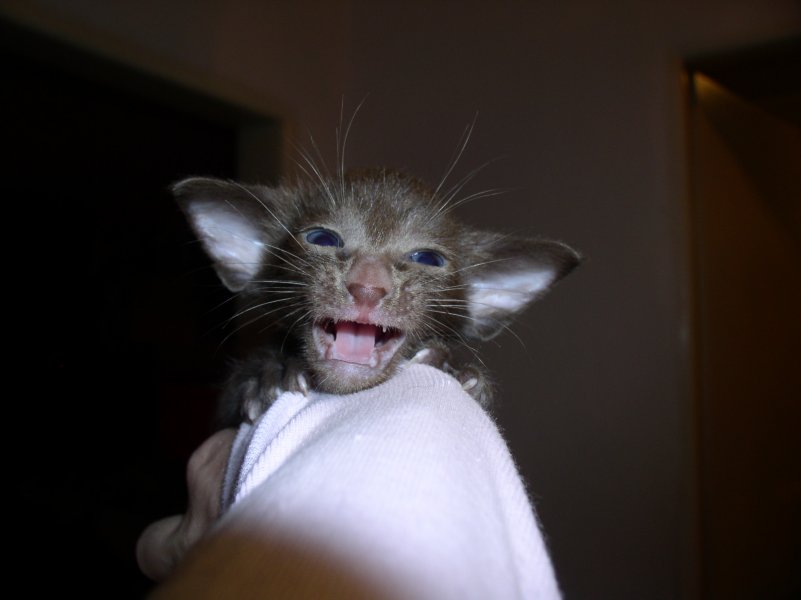 Red boy named Romeo - Sold to Astrid from Holland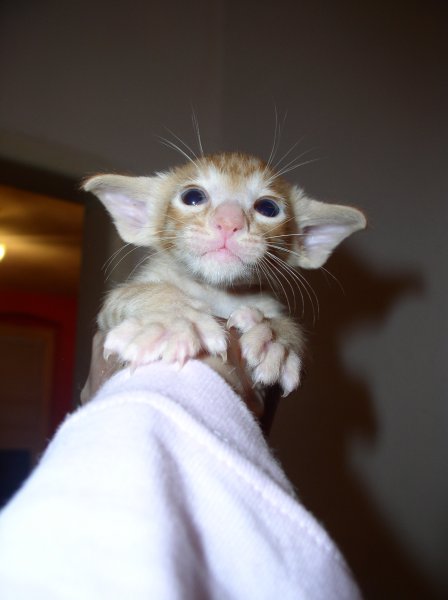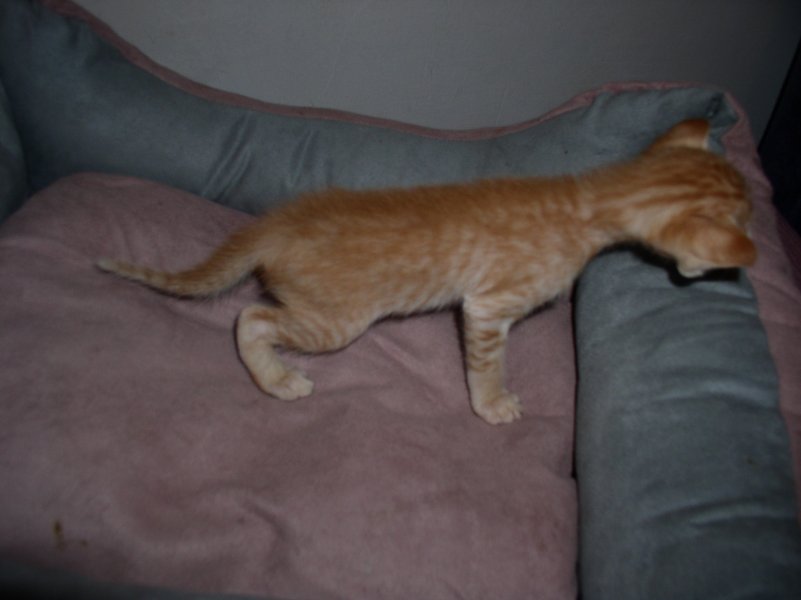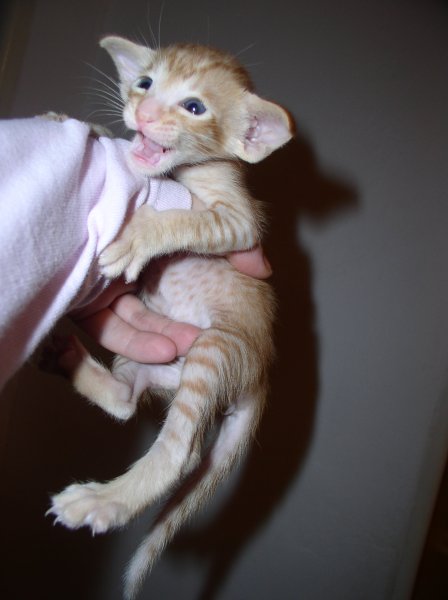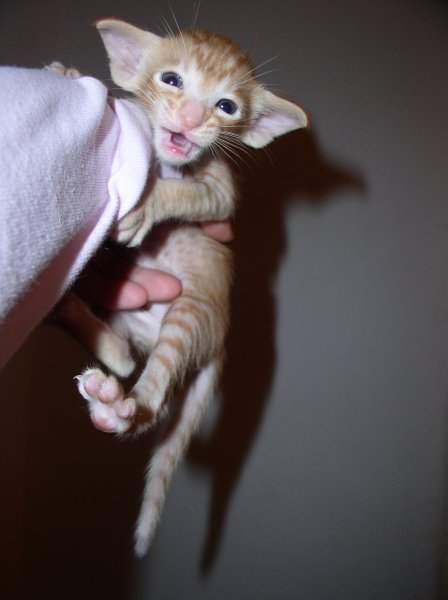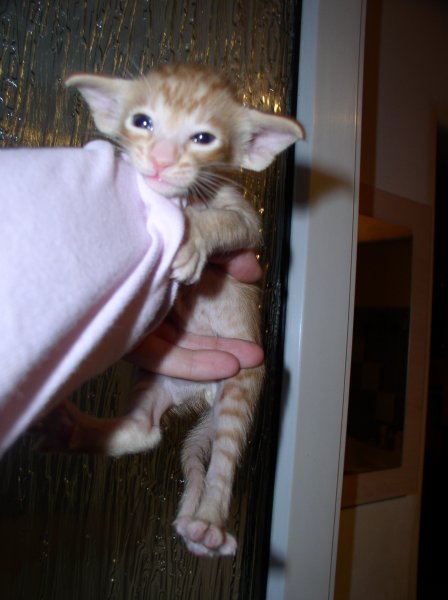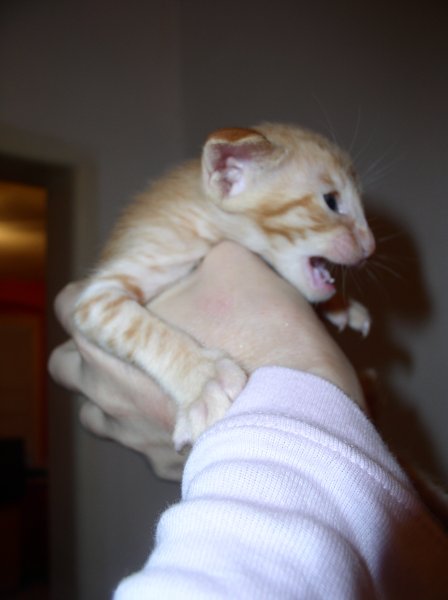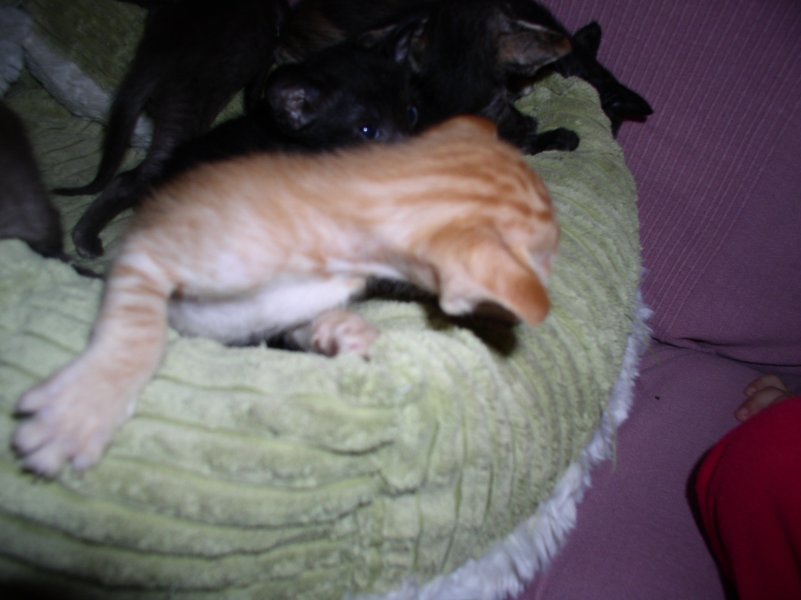 Bluetortie girl -
AVAIABLE
(6th december) !!!!!!!!!!!!!!!!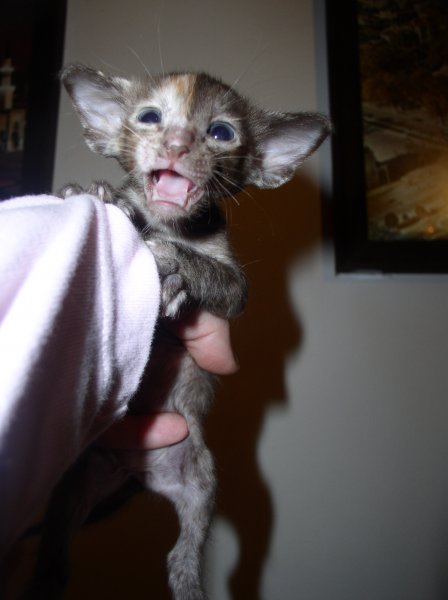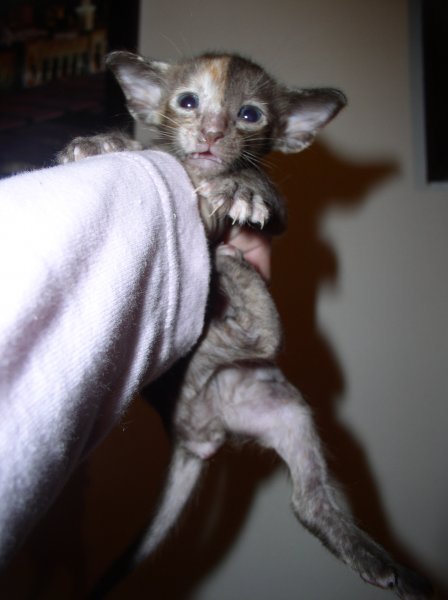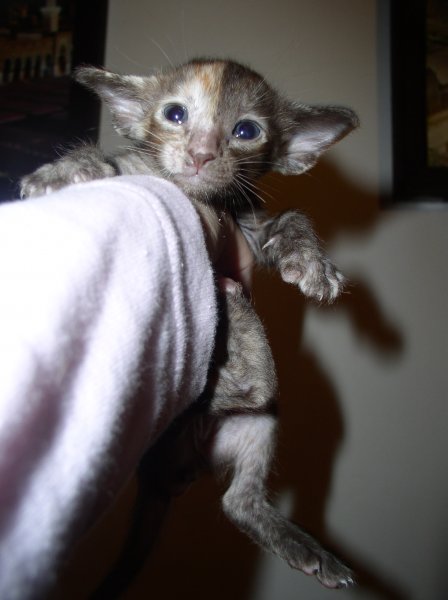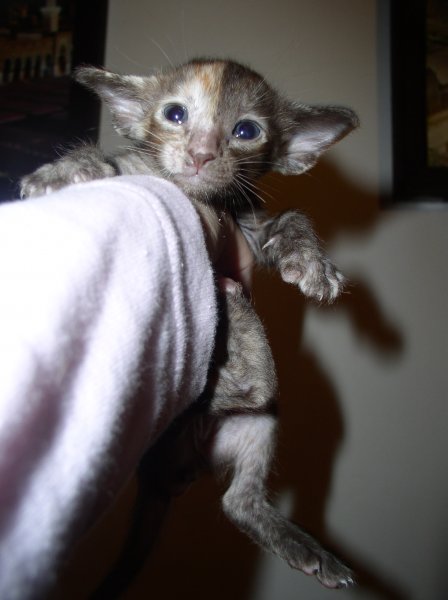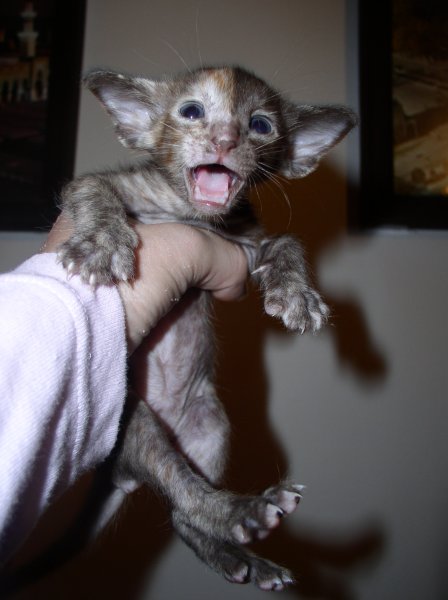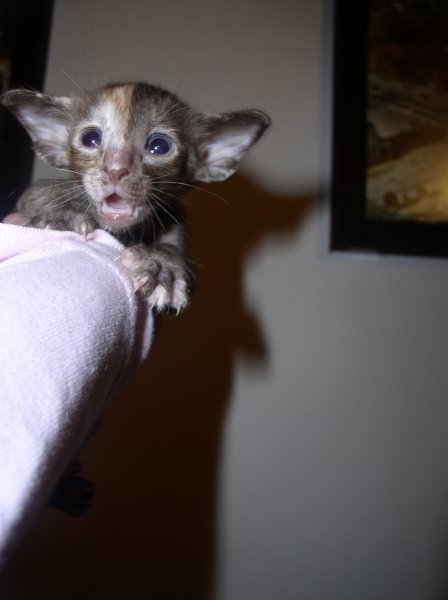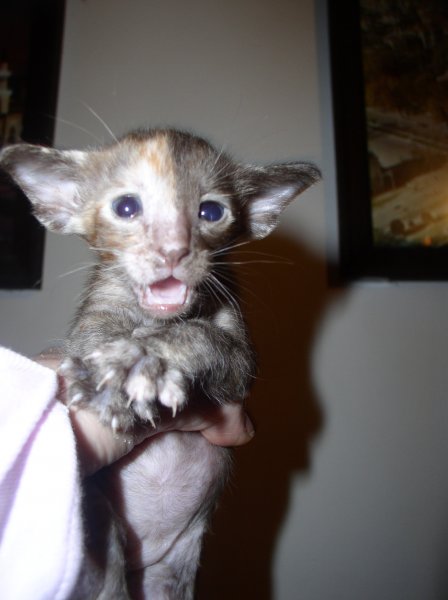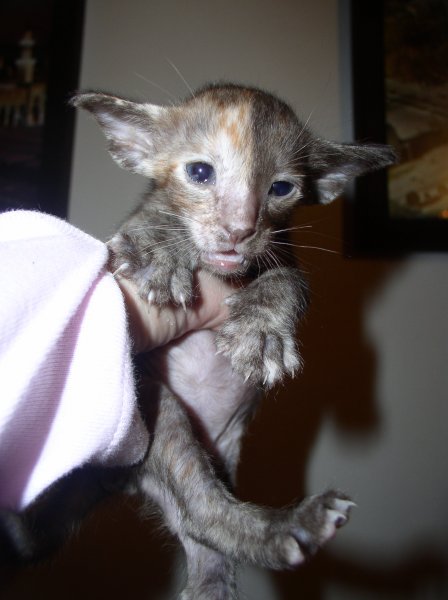 Ebony girl - Sold to Dominika from Czech Republik as pet - show neuter ( kitten is without fauls )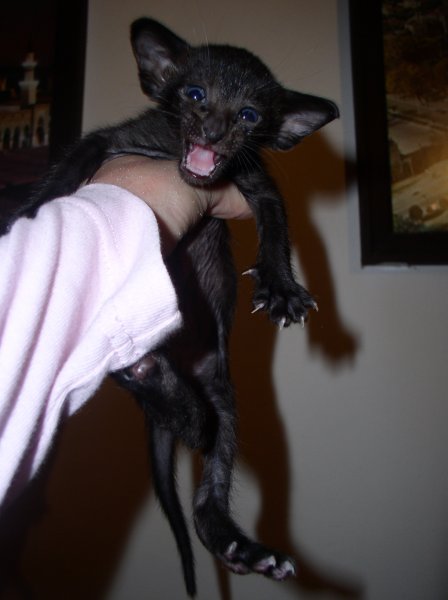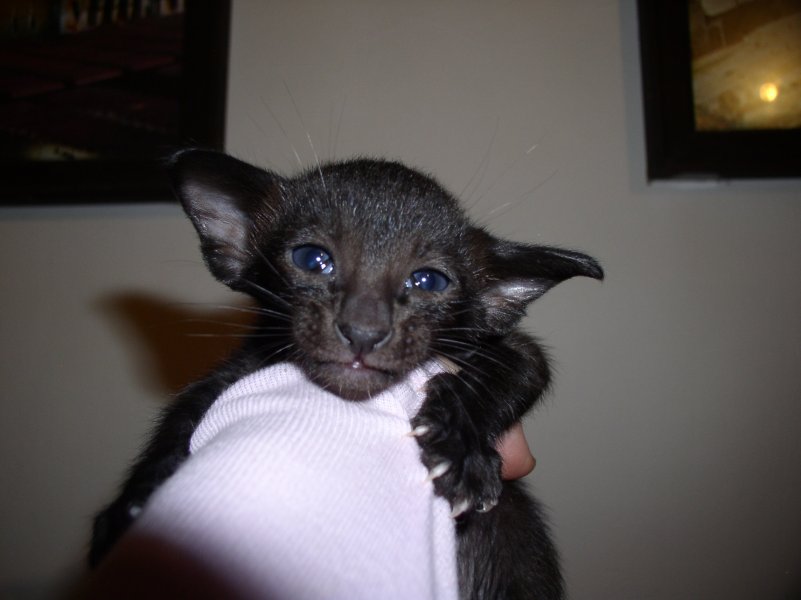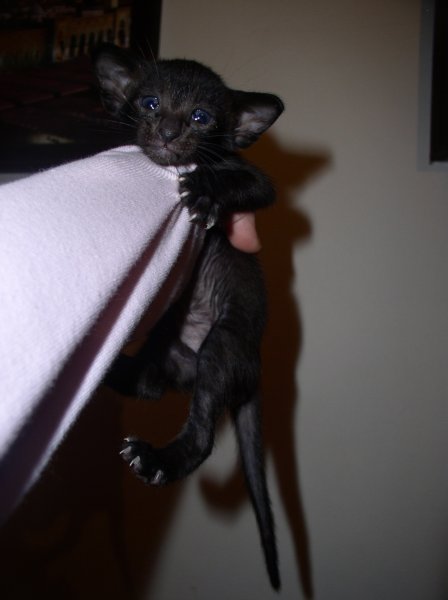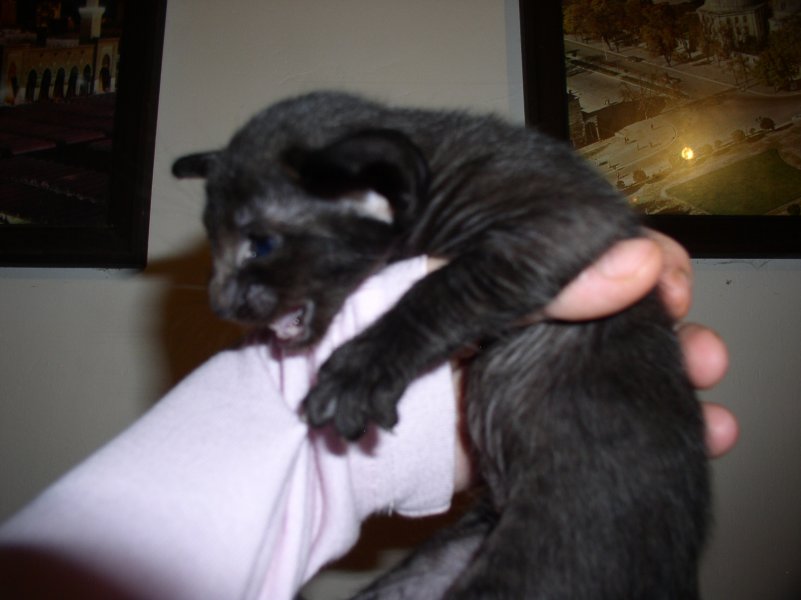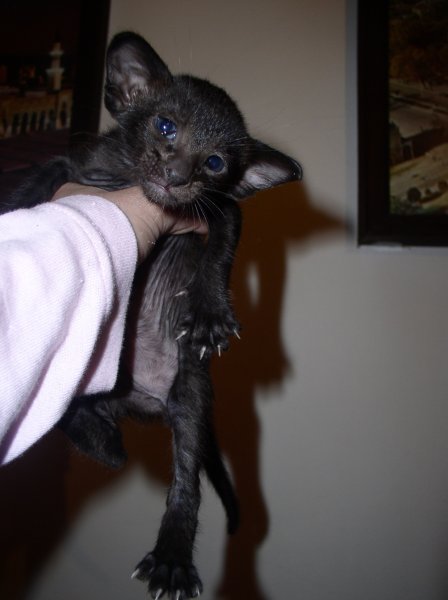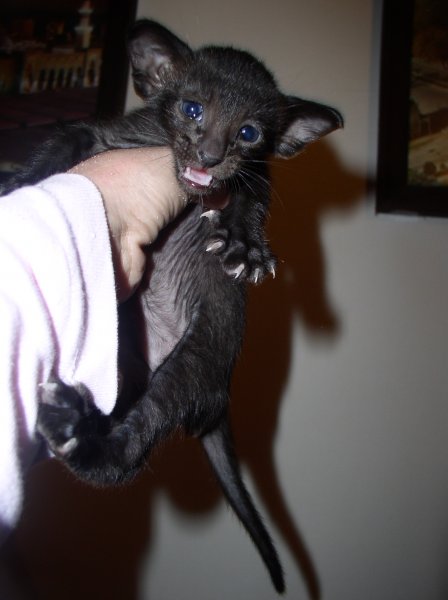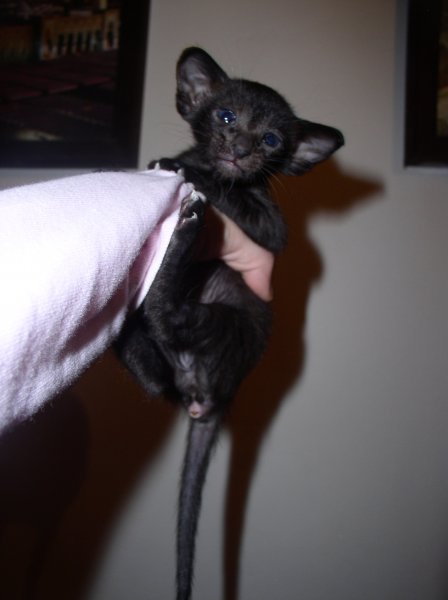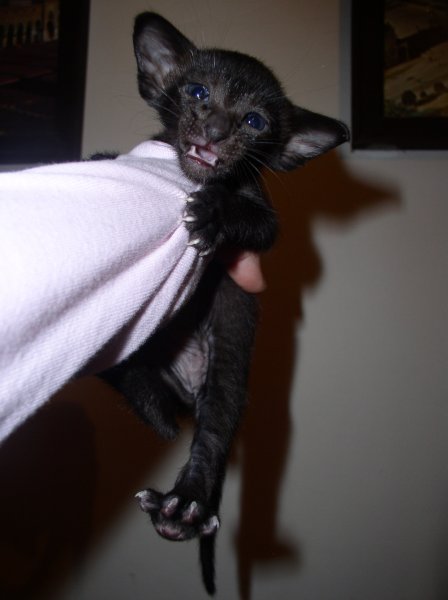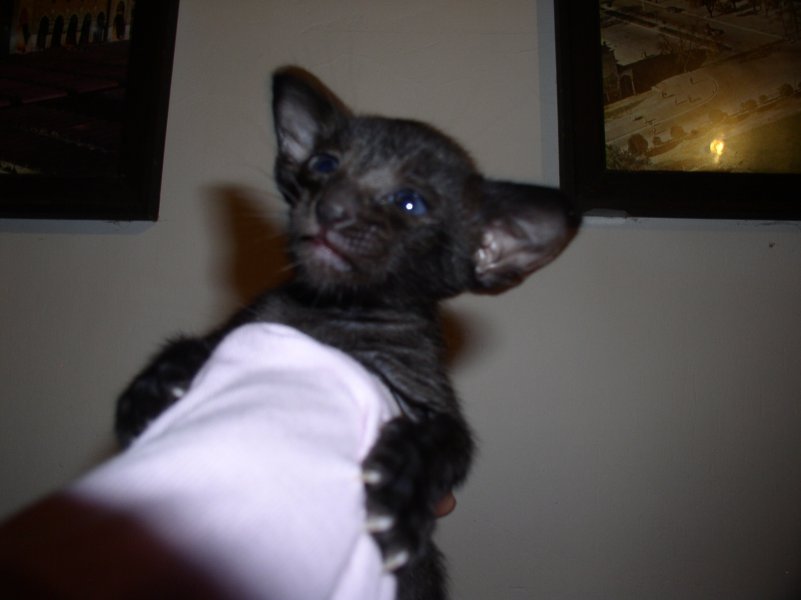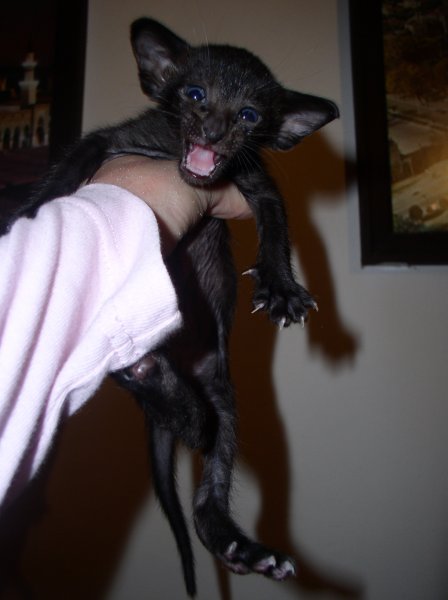 15 Days :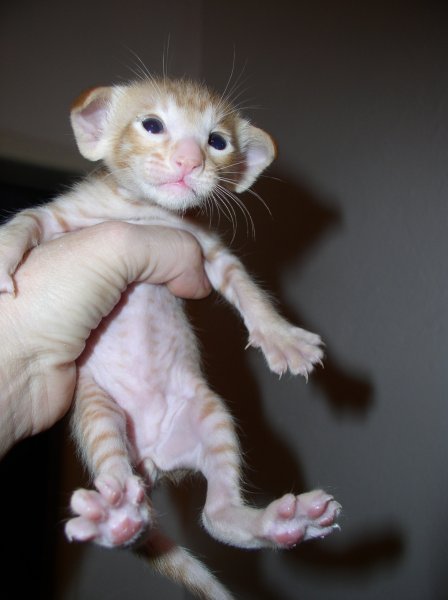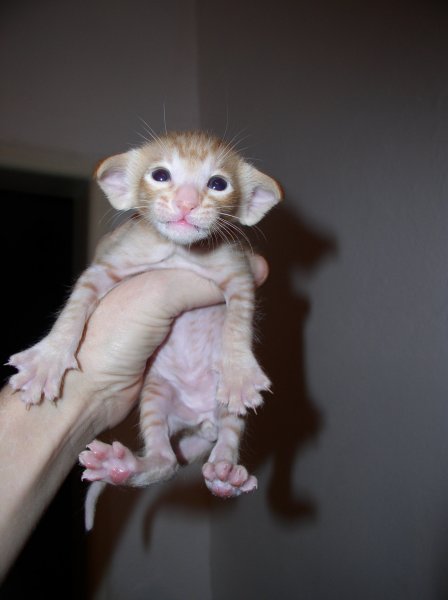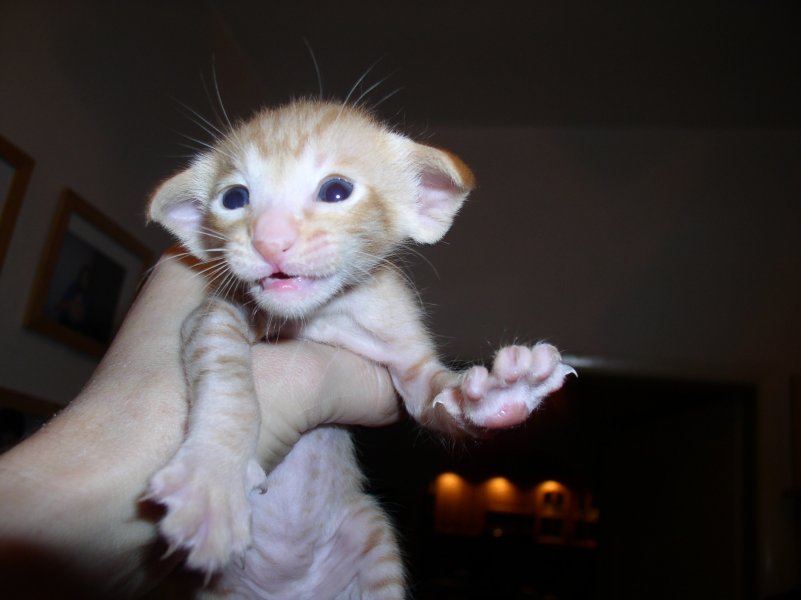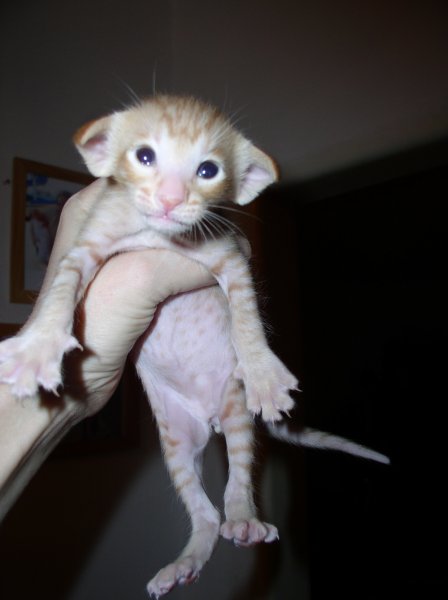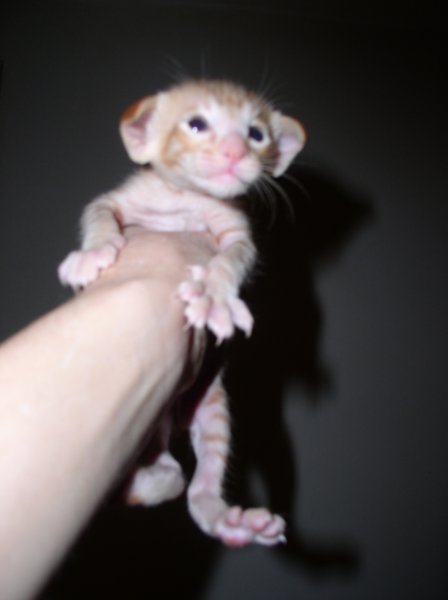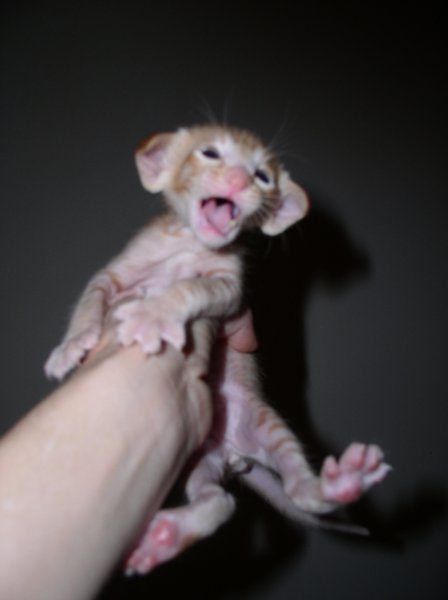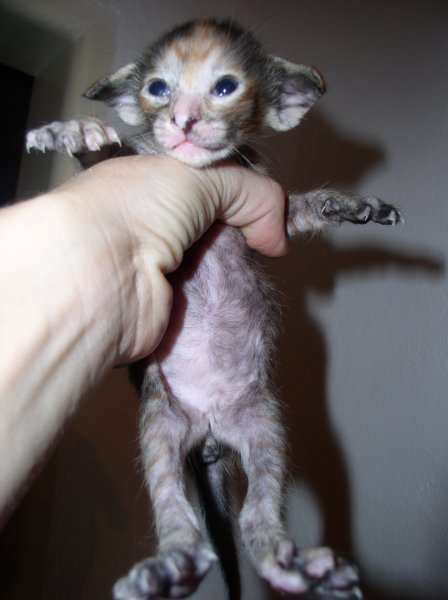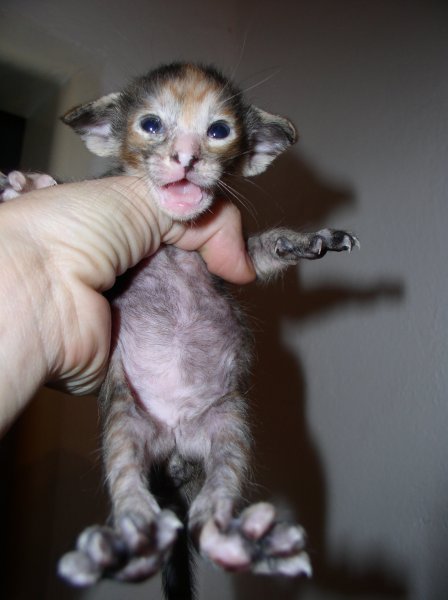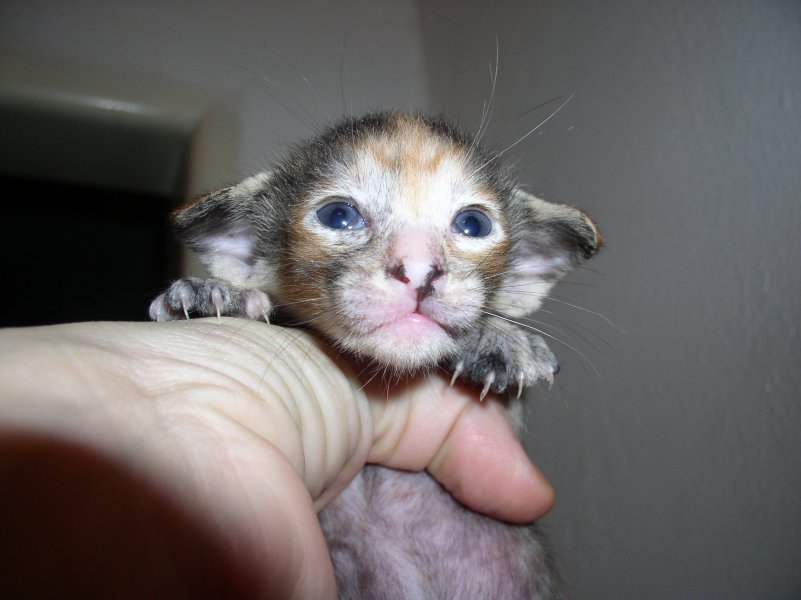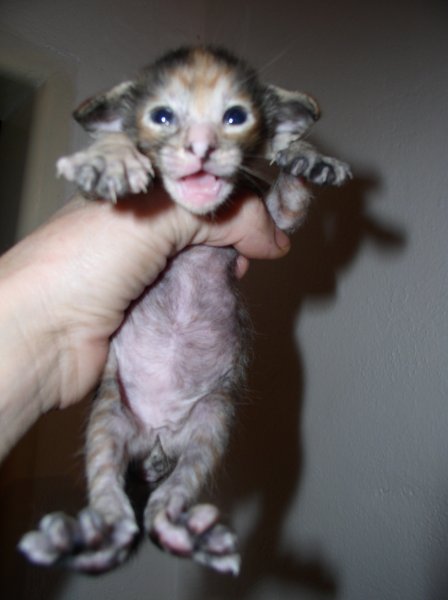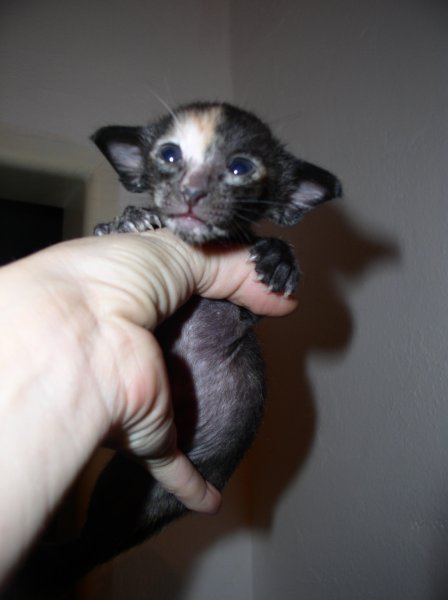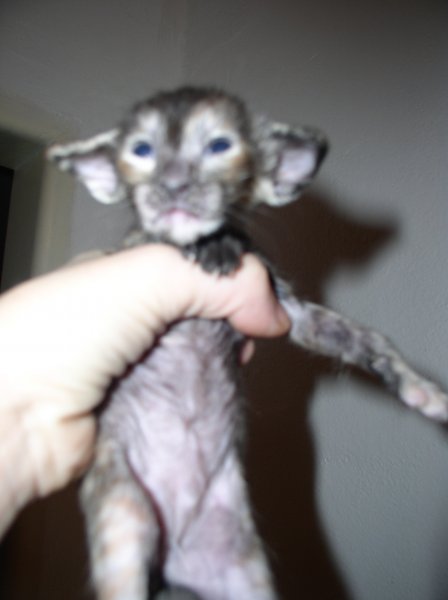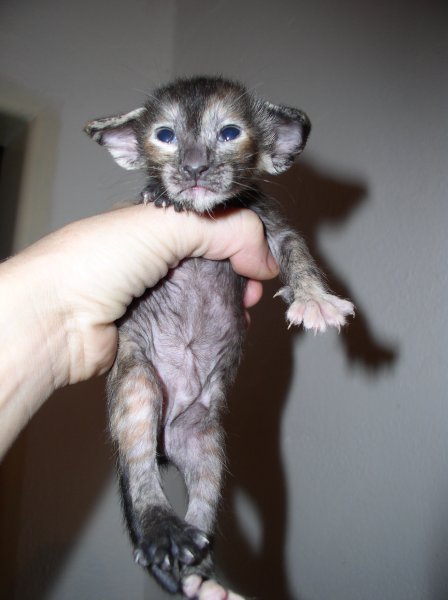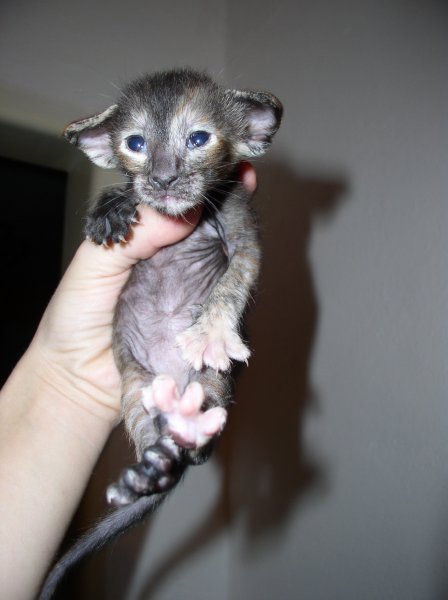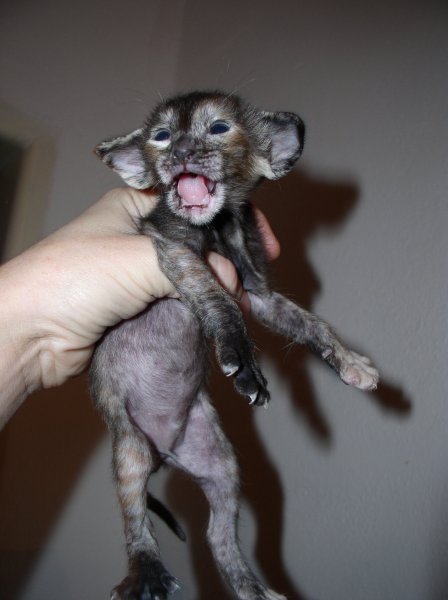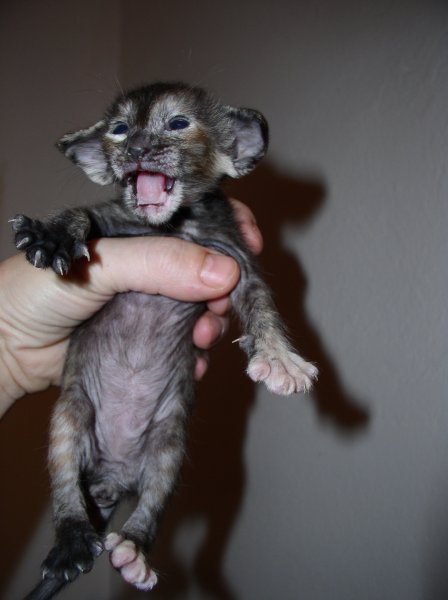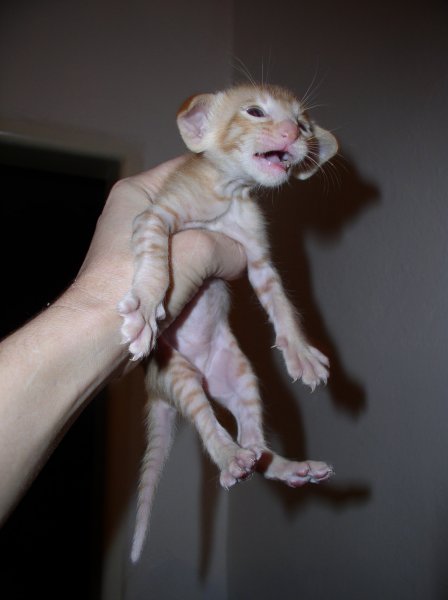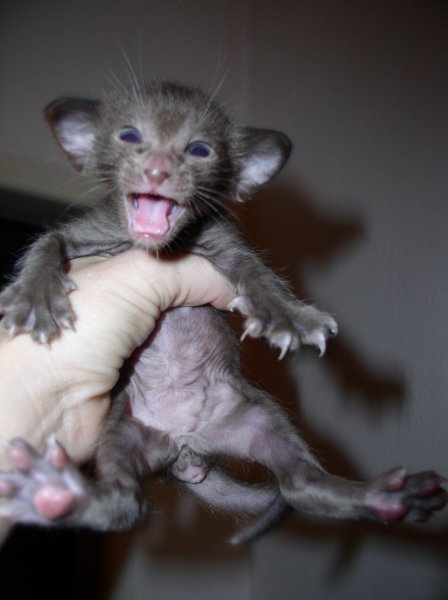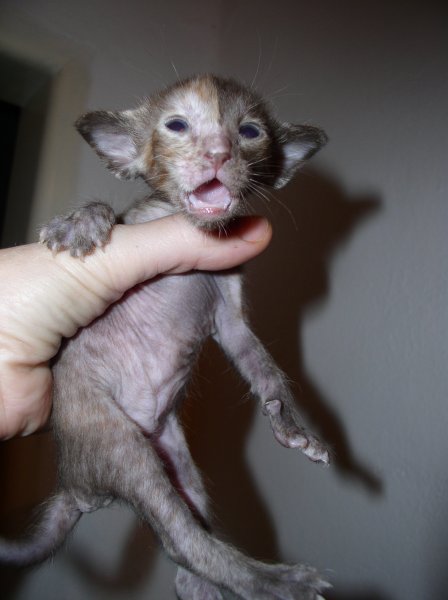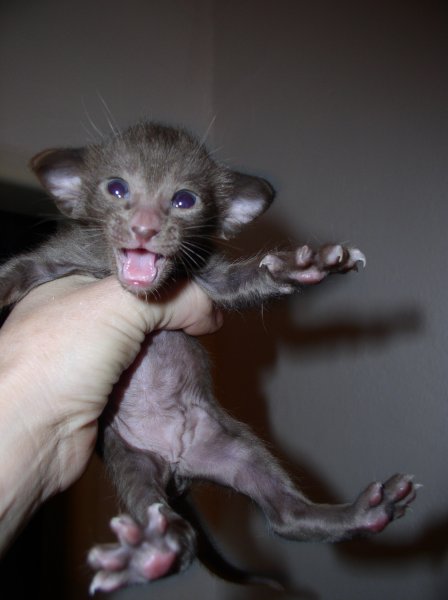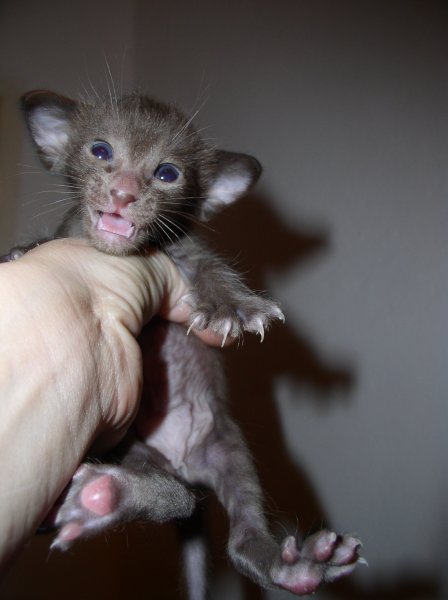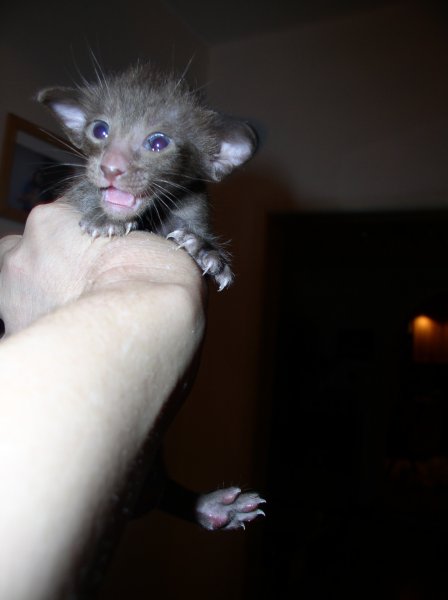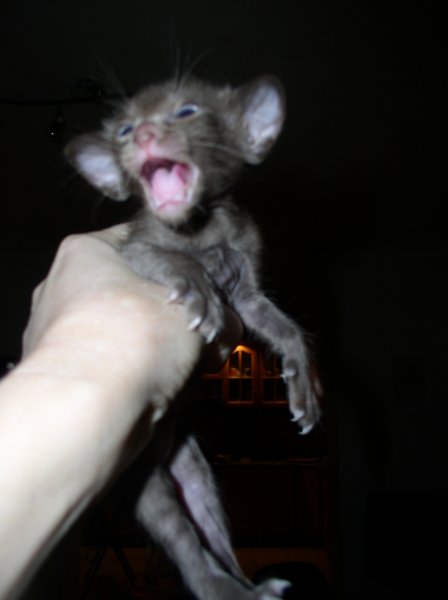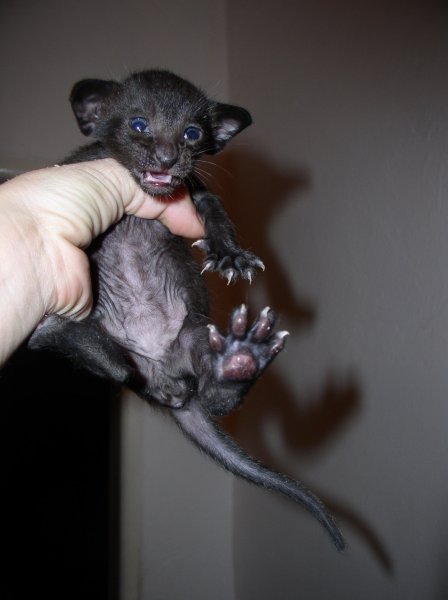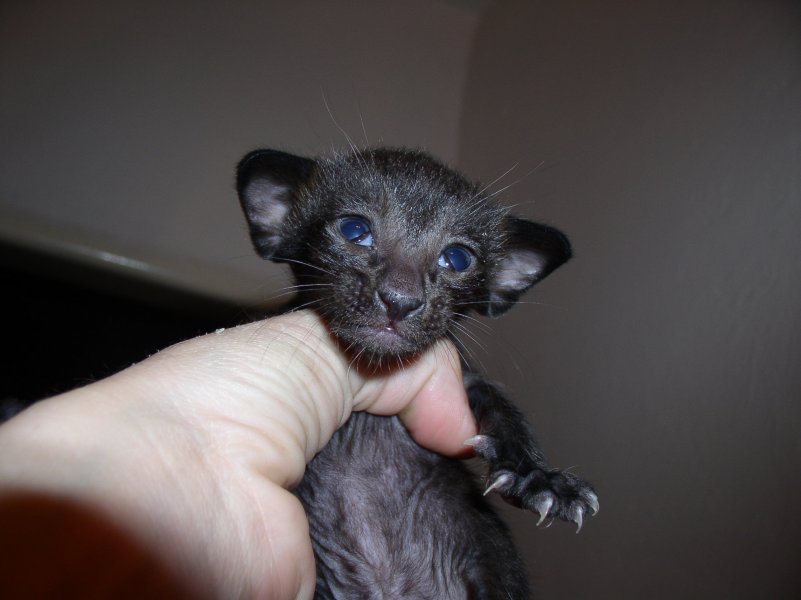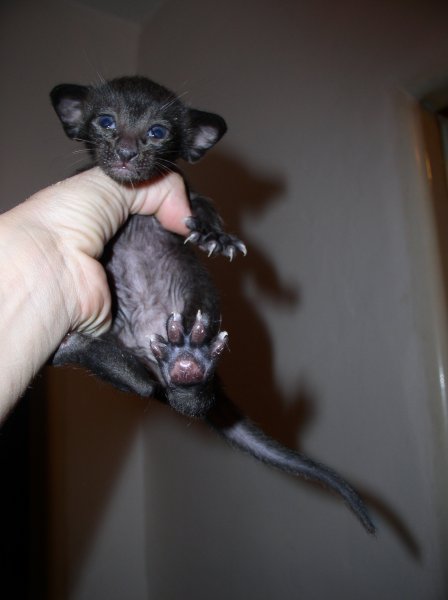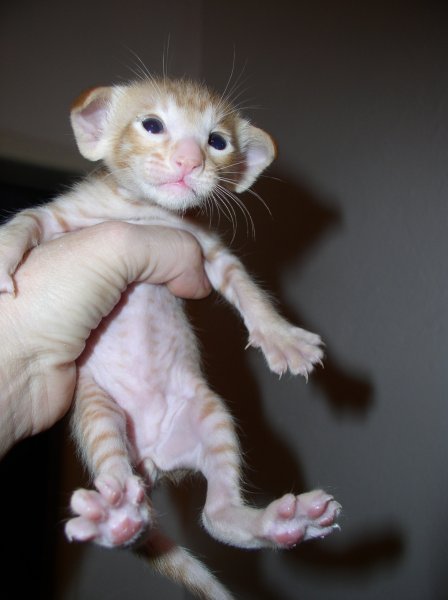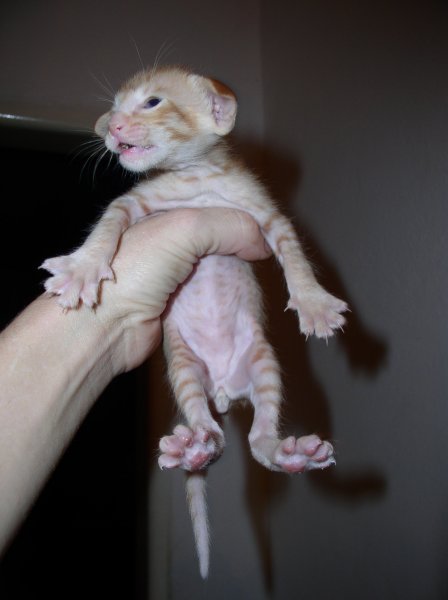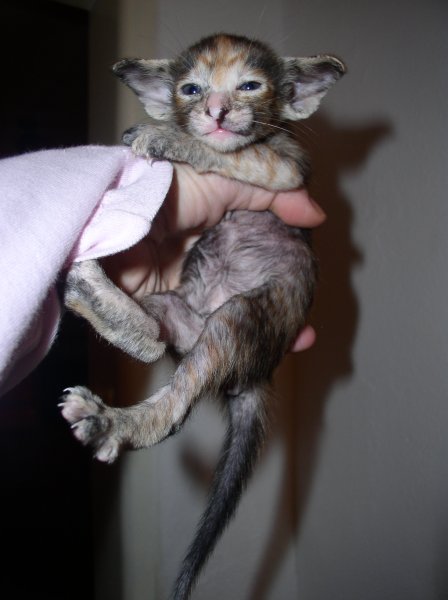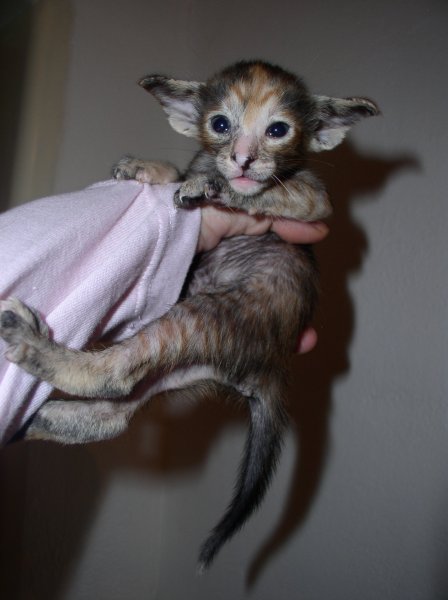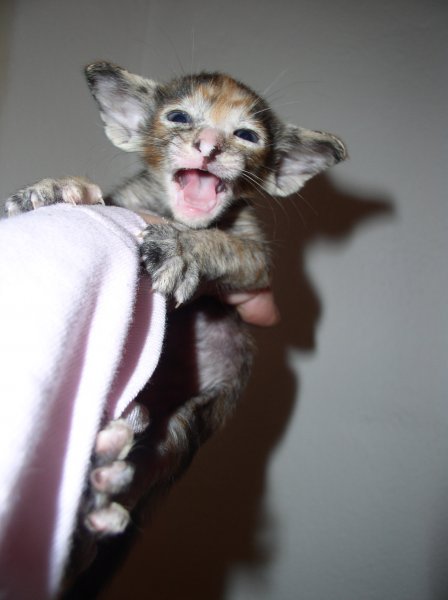 12 days :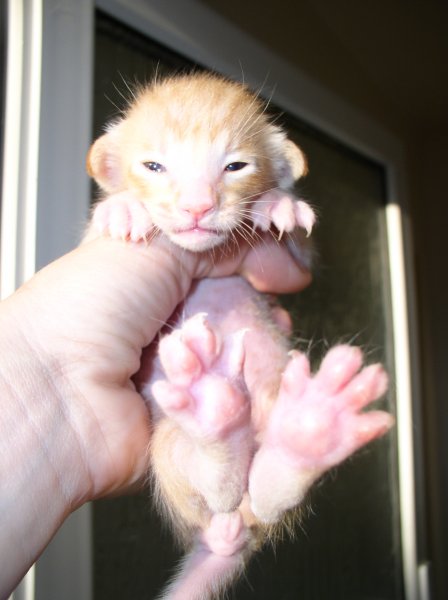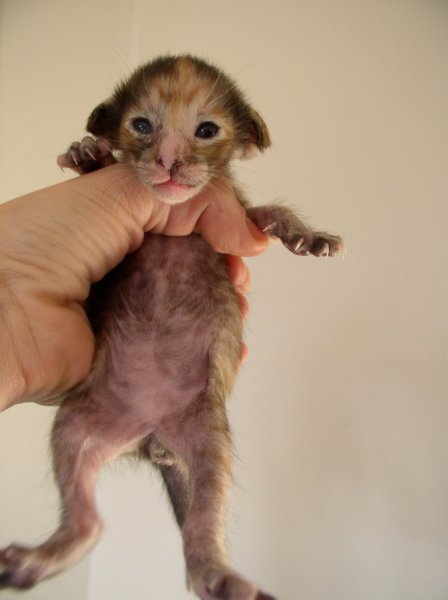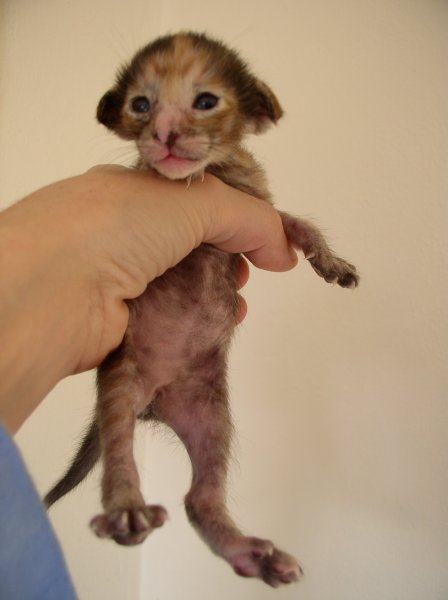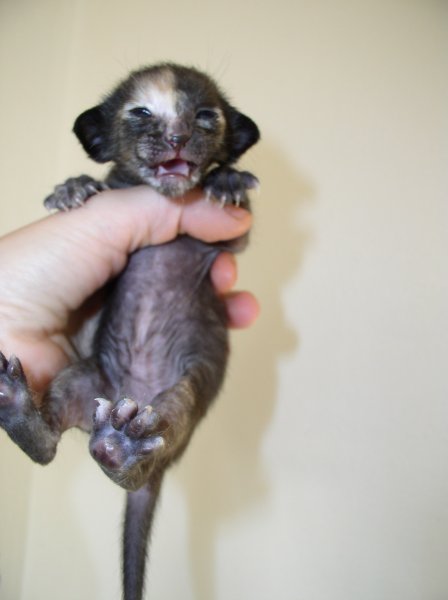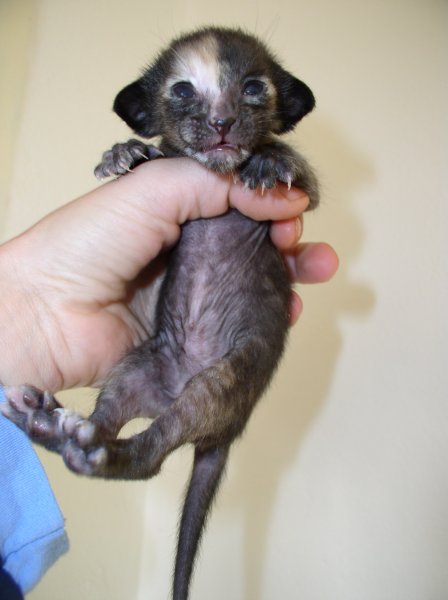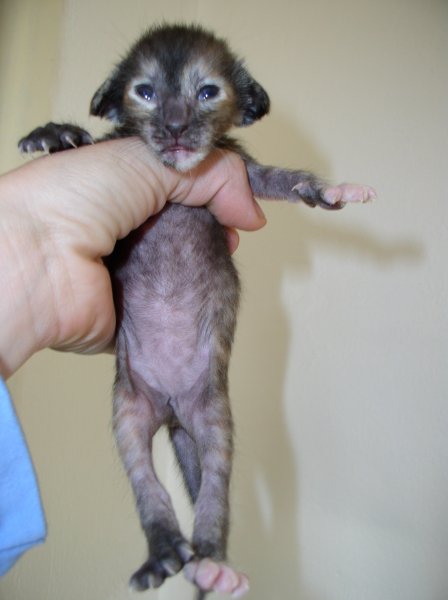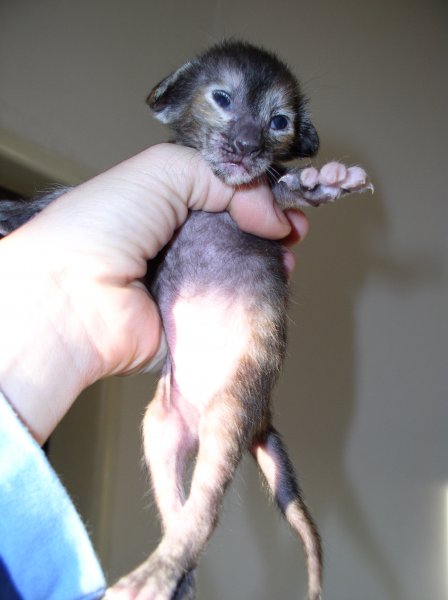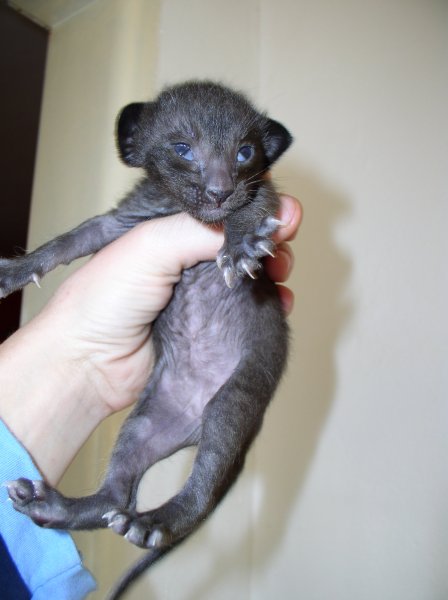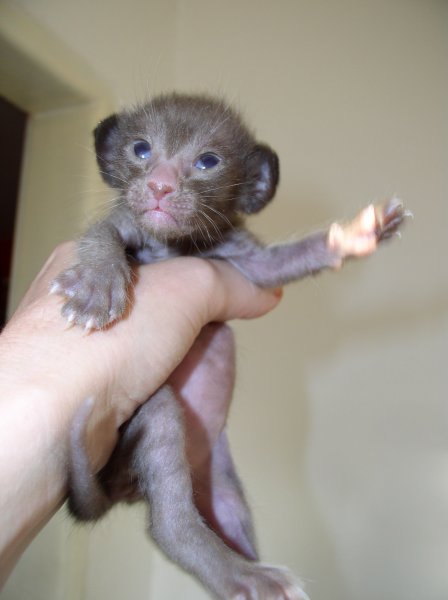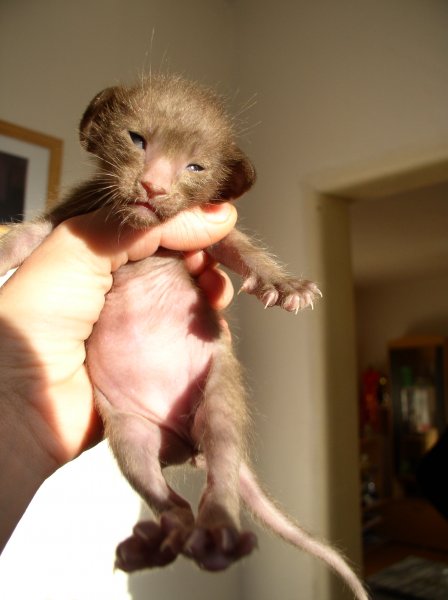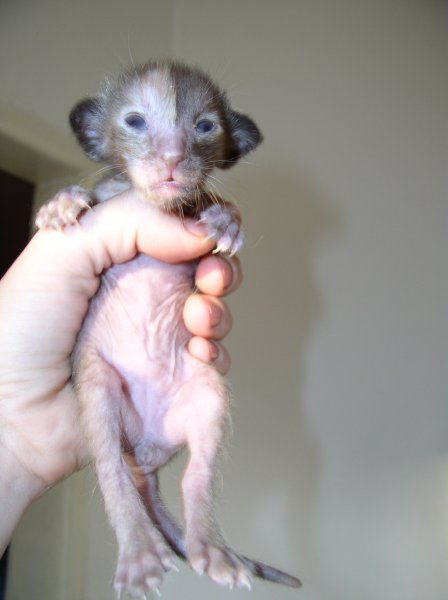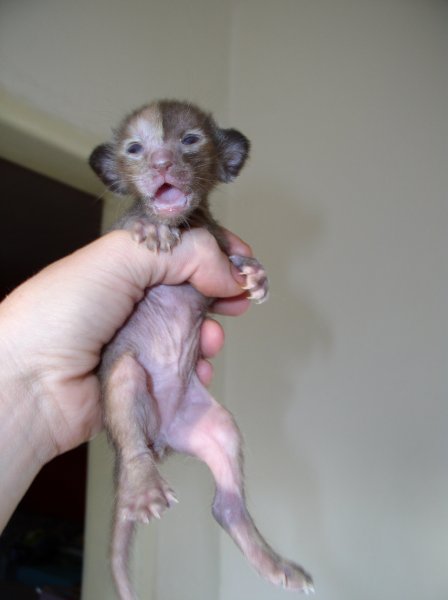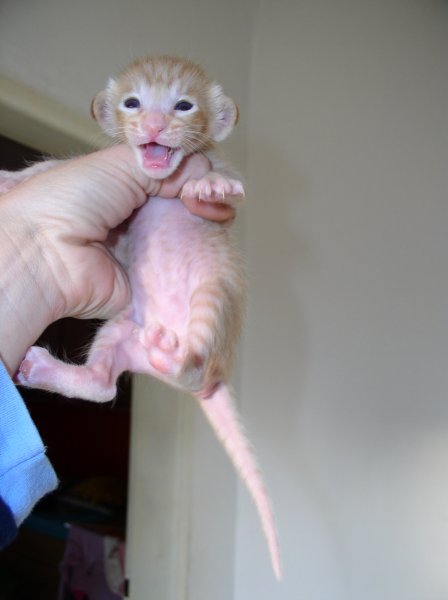 11 days :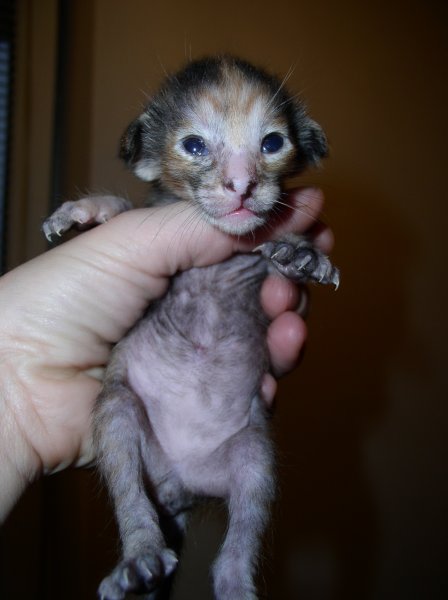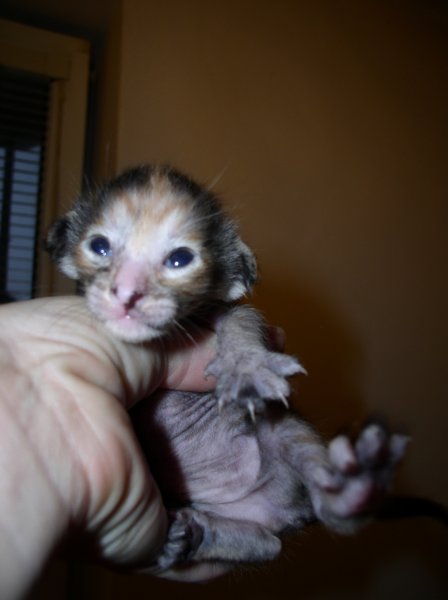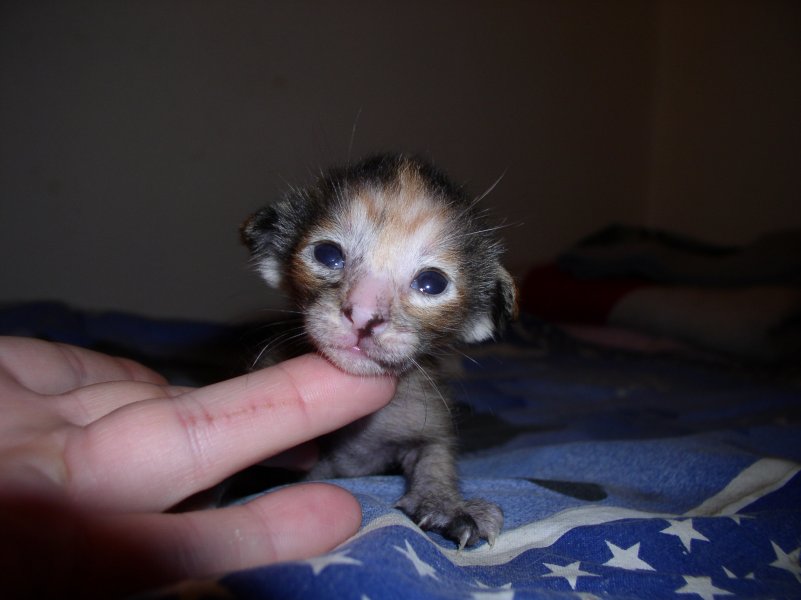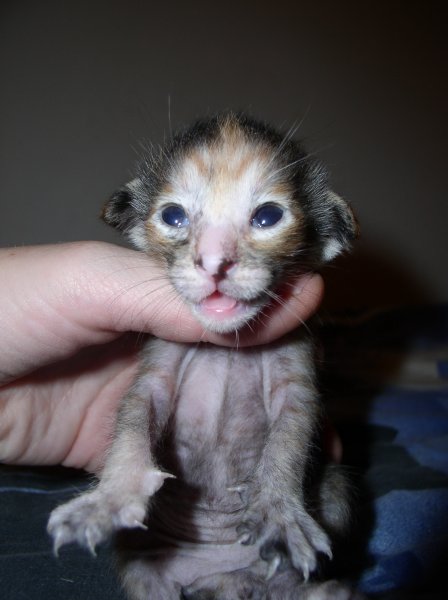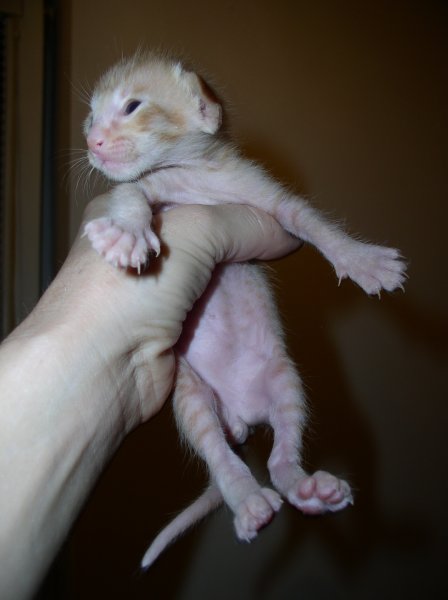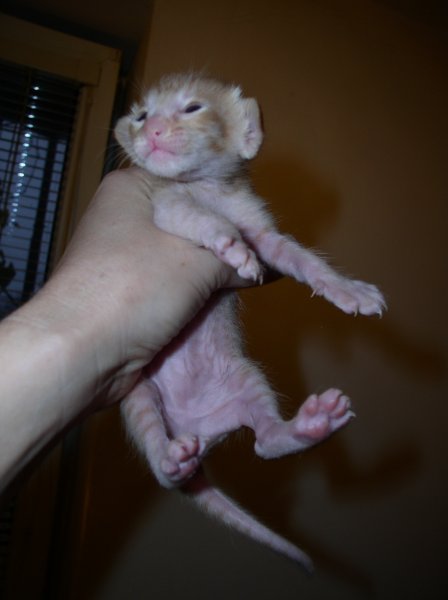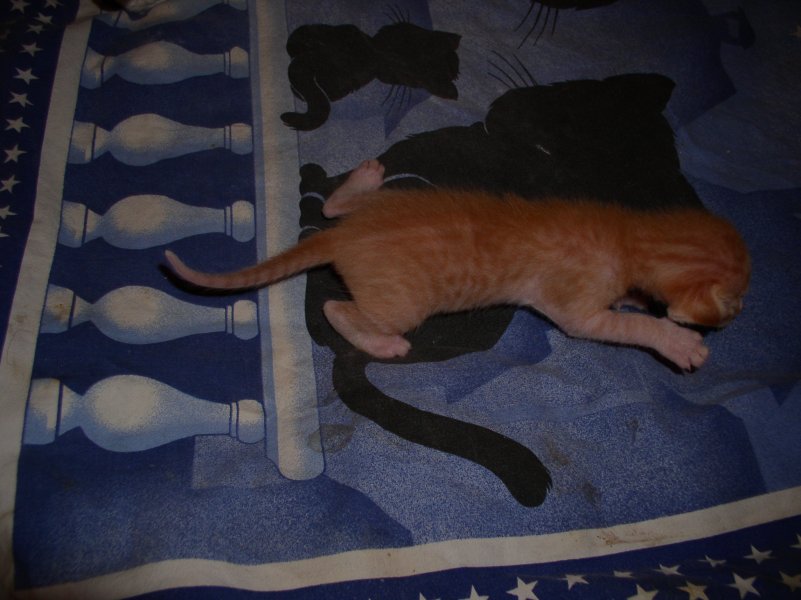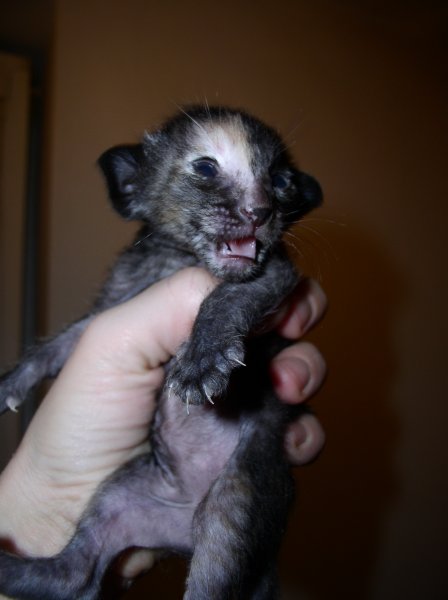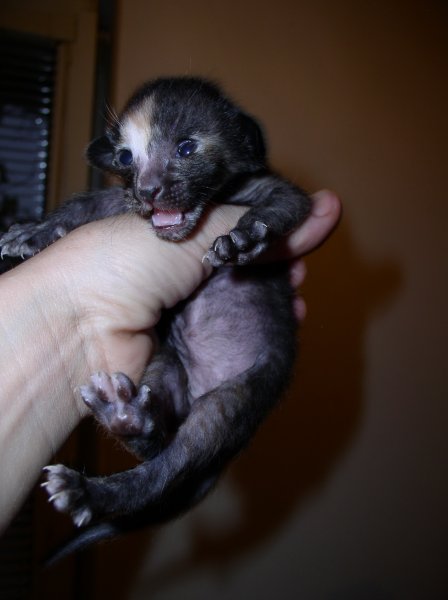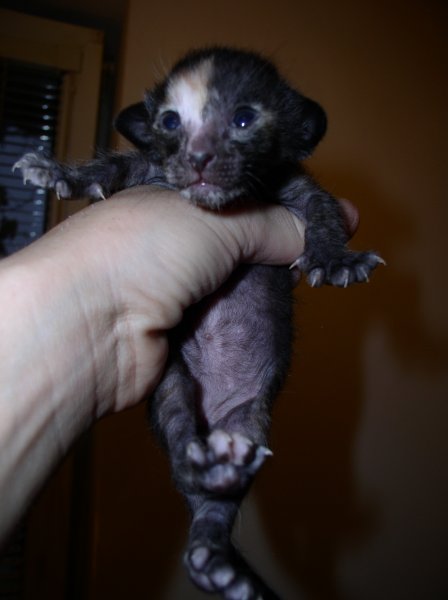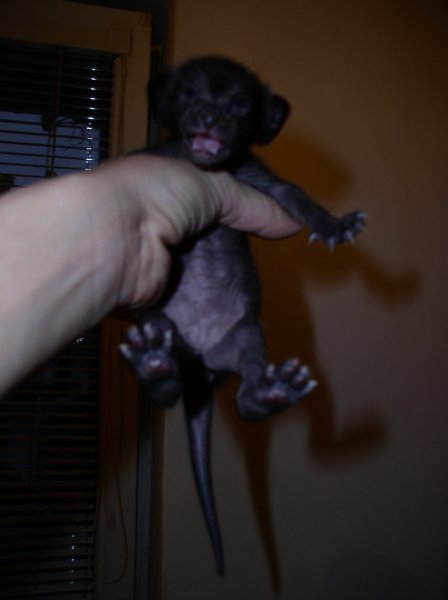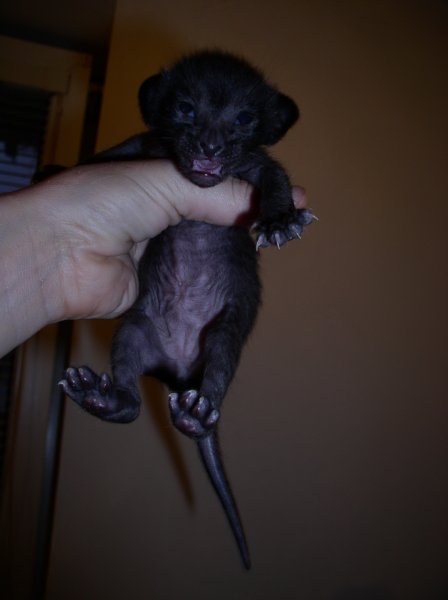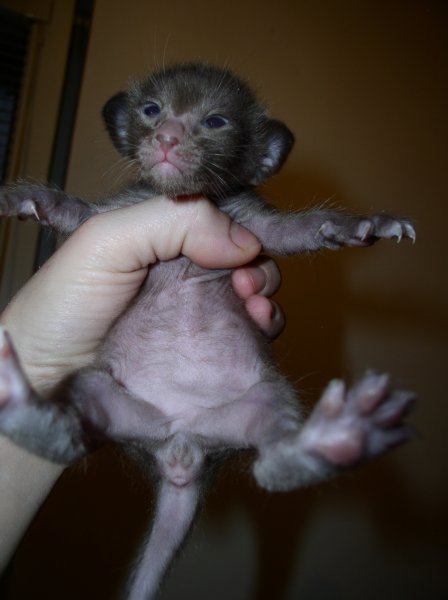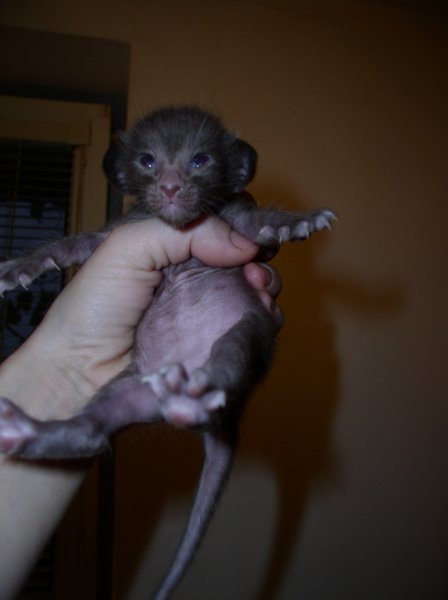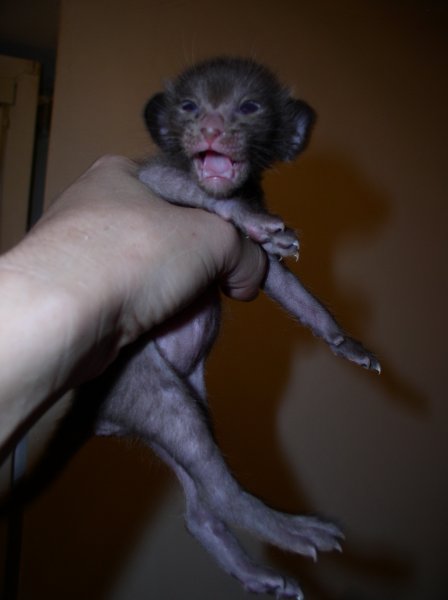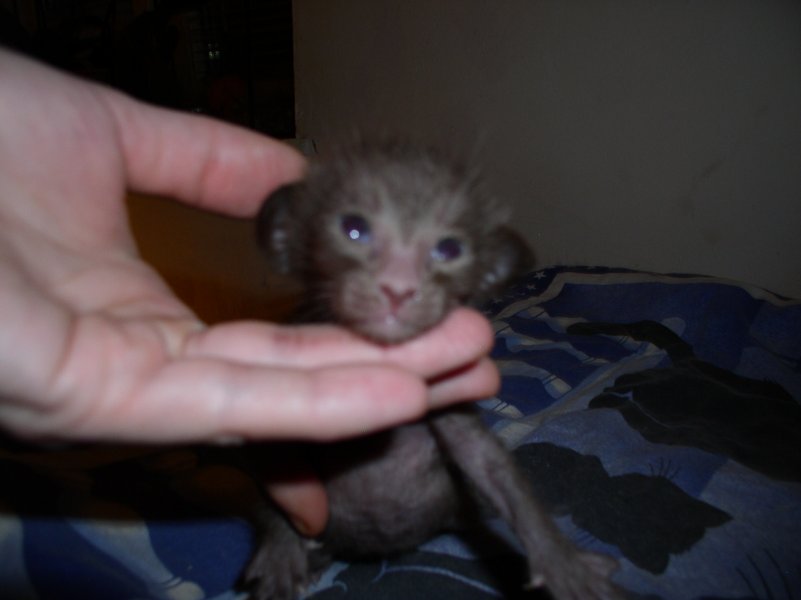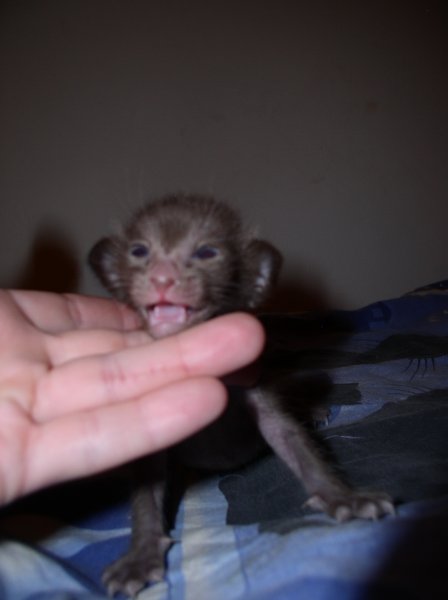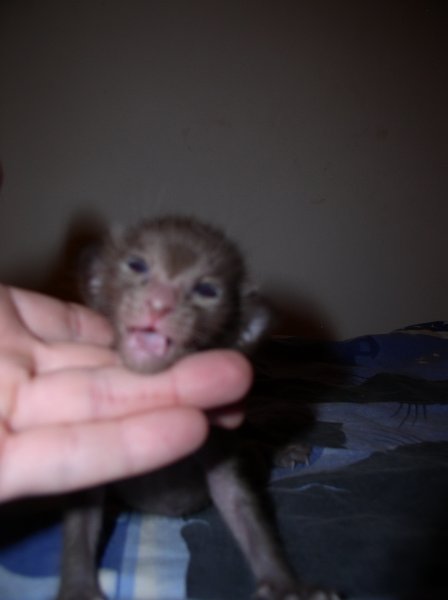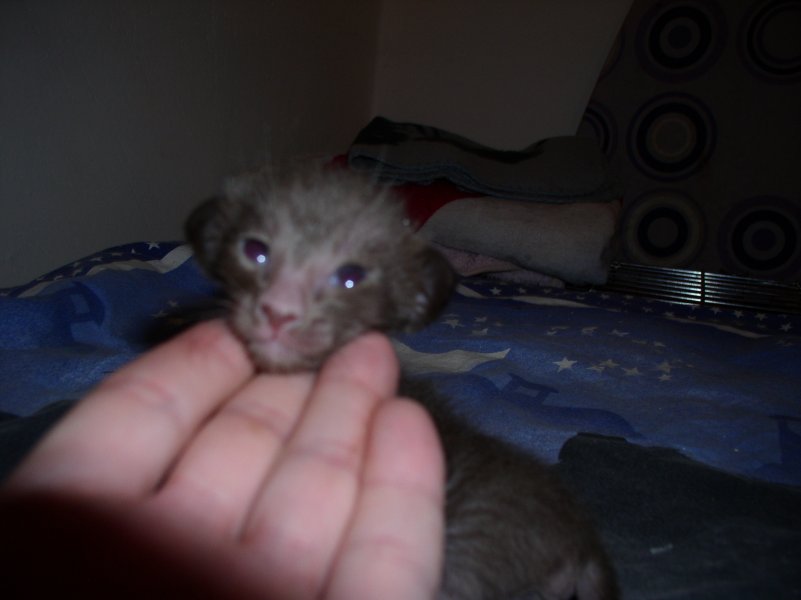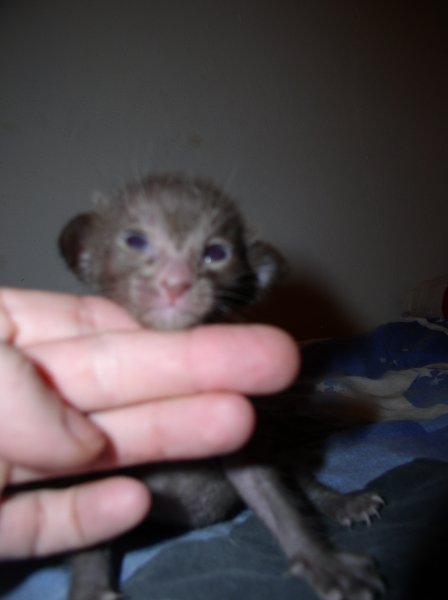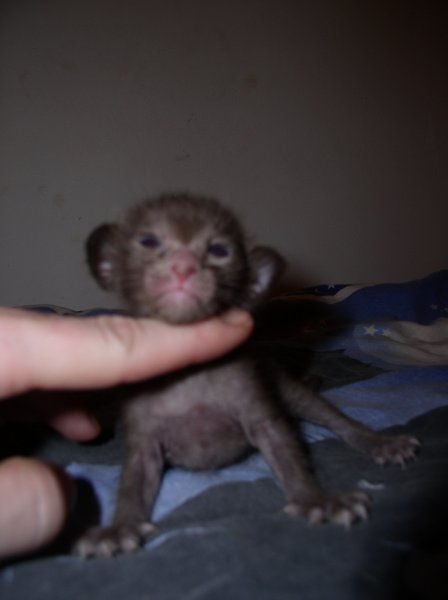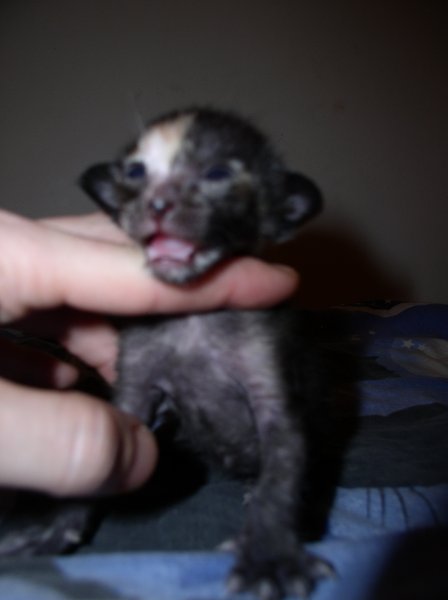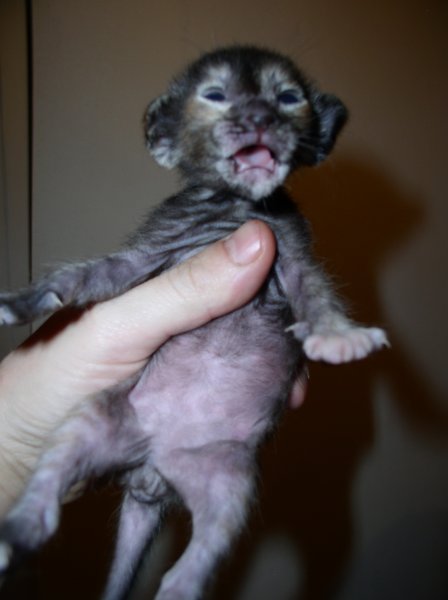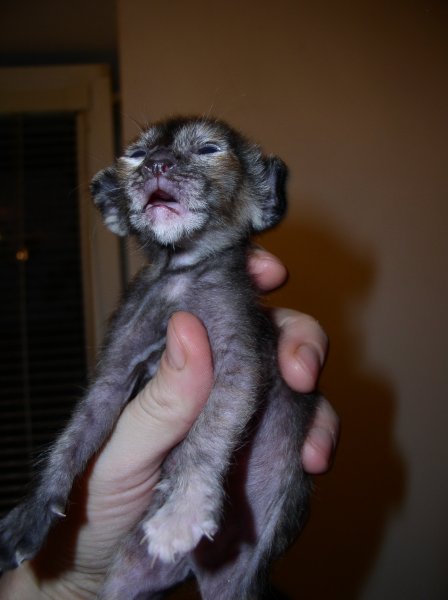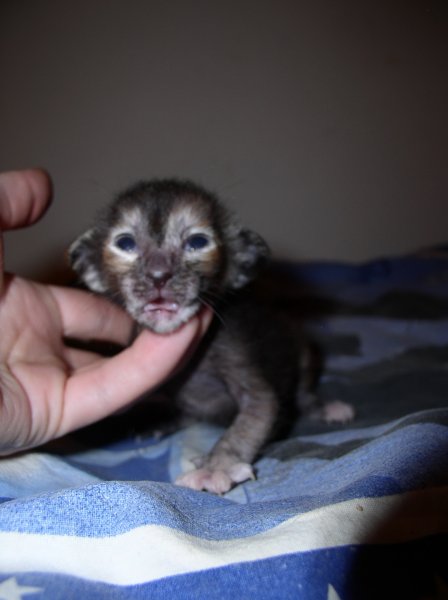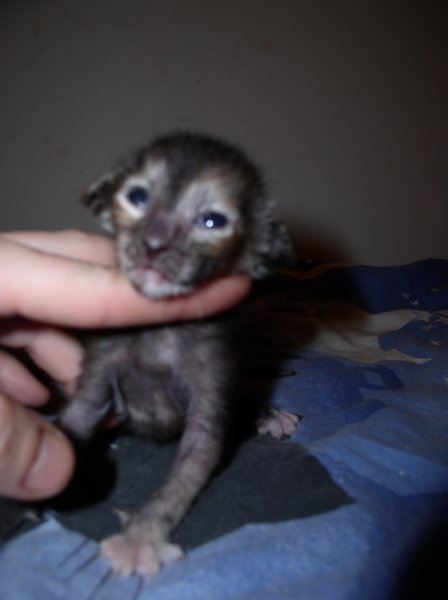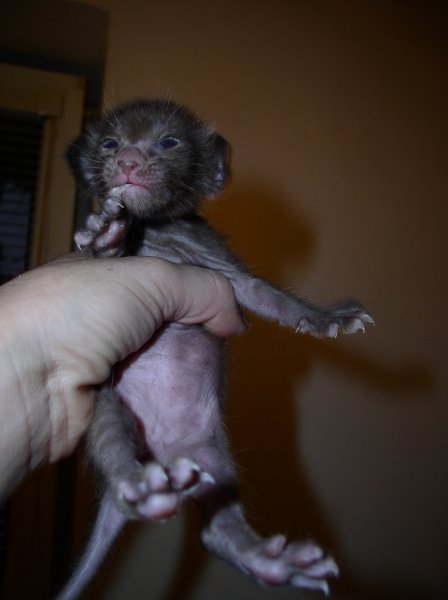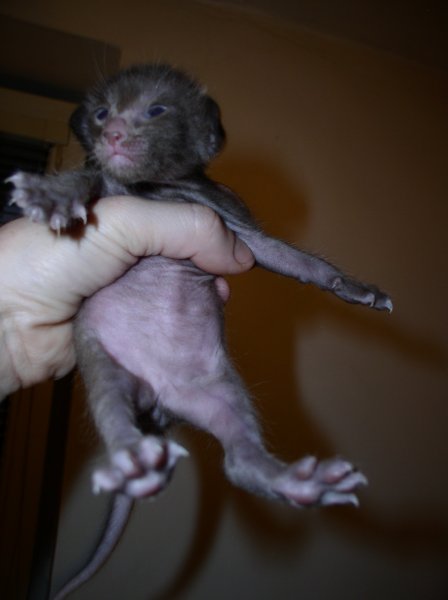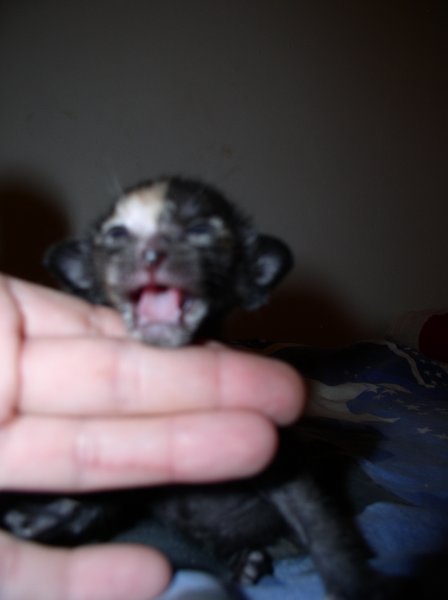 6 days :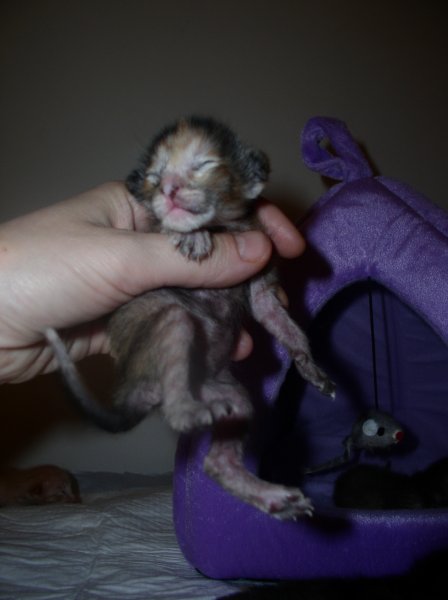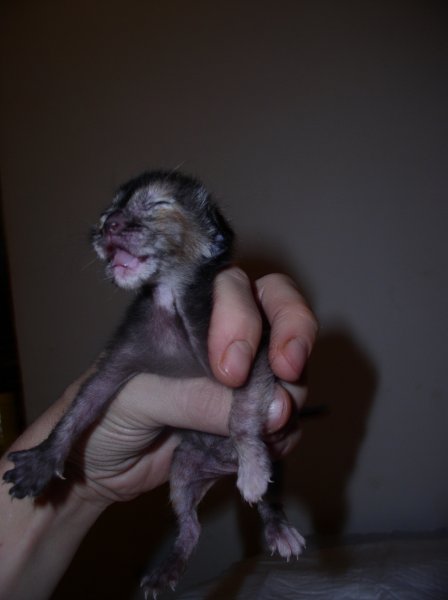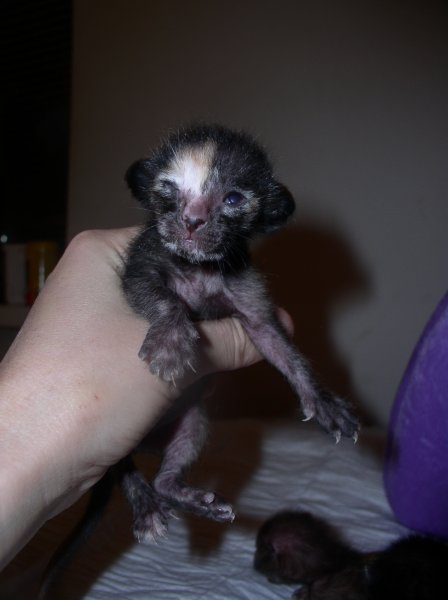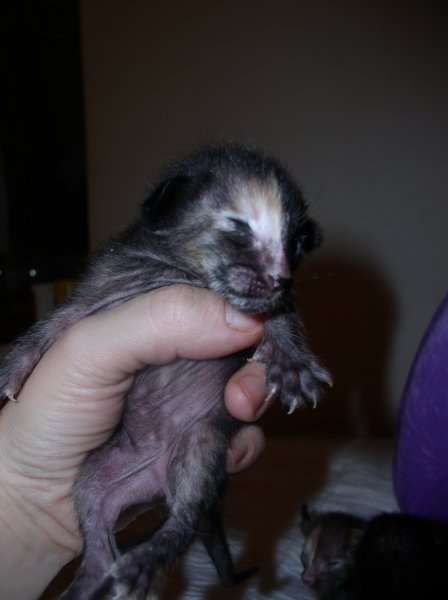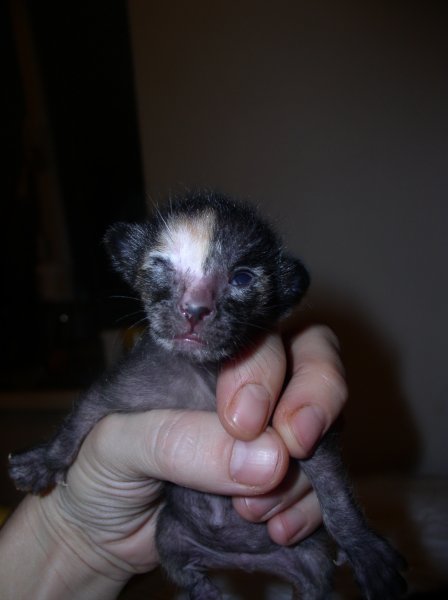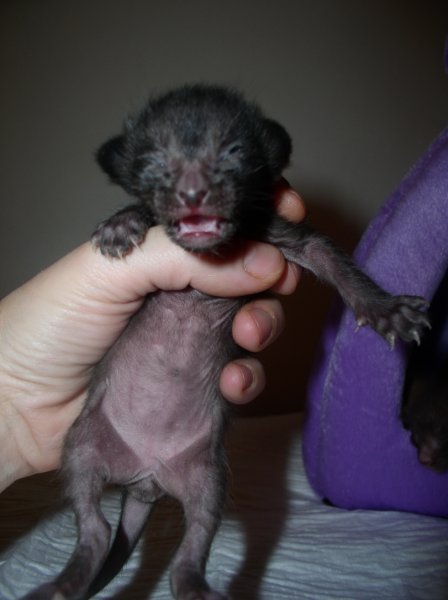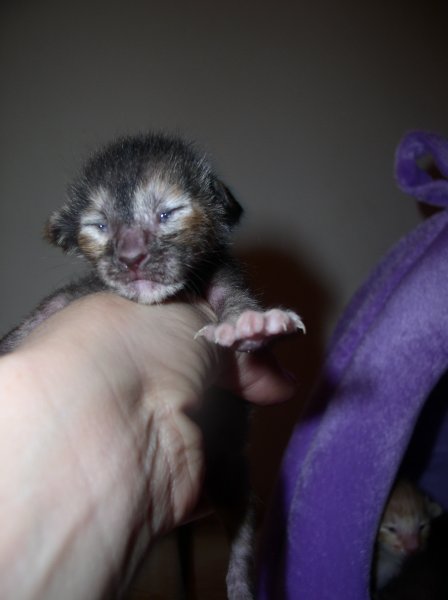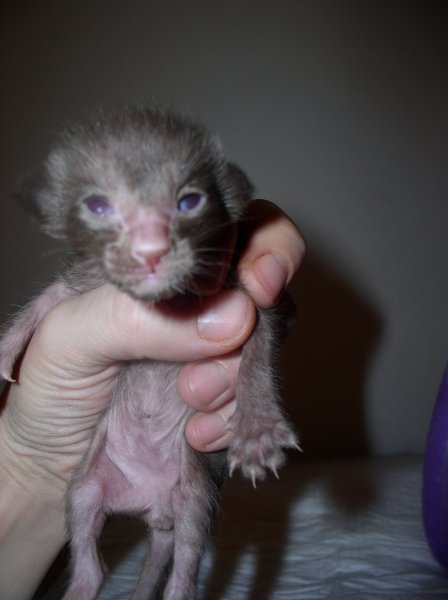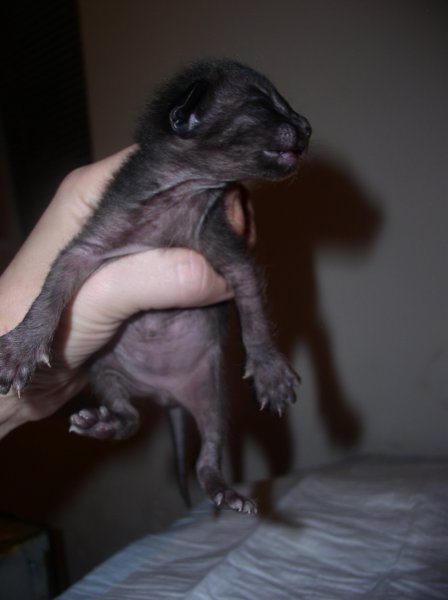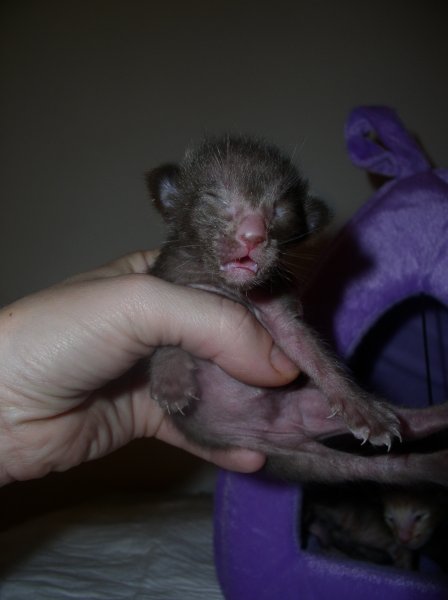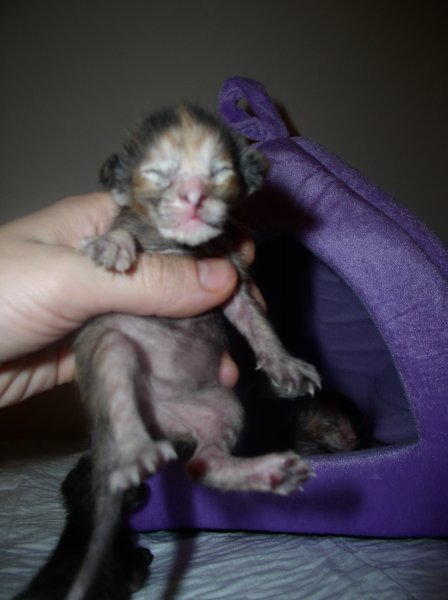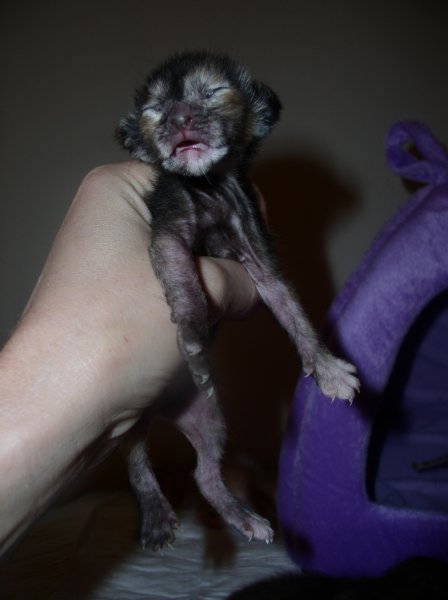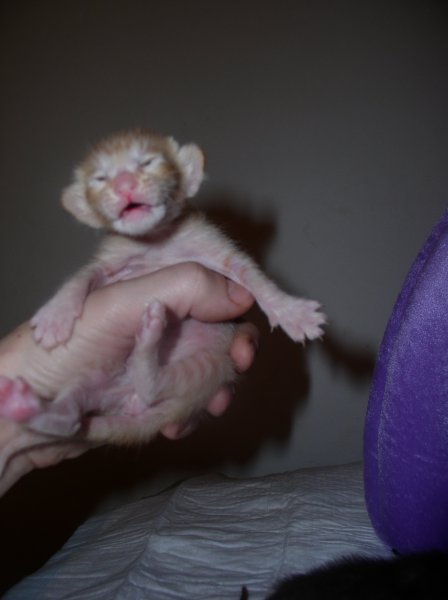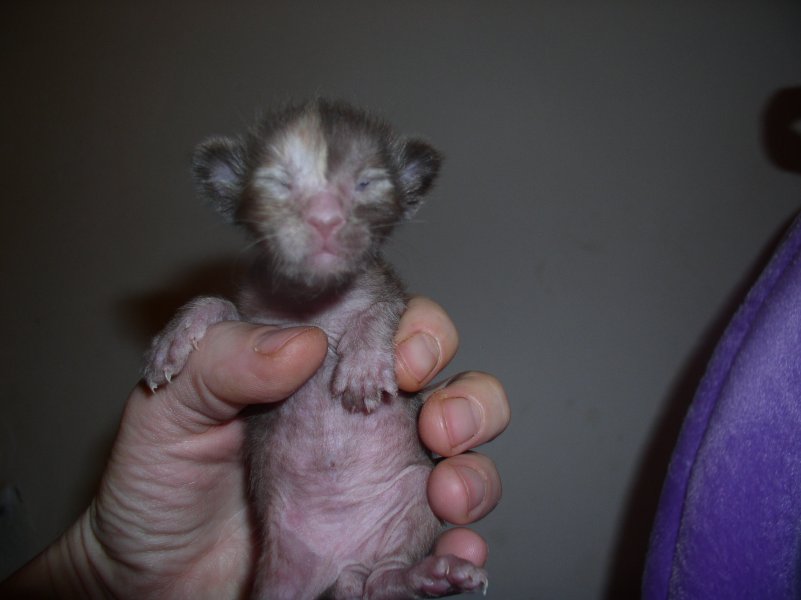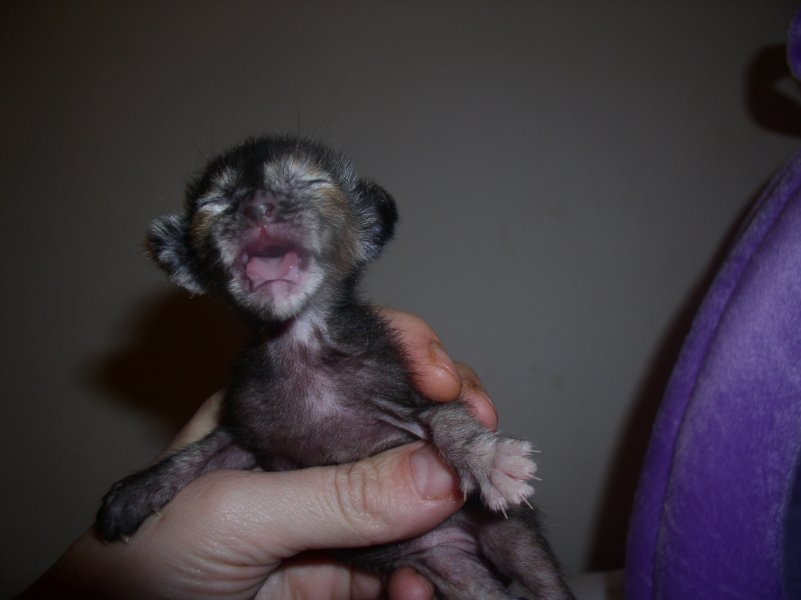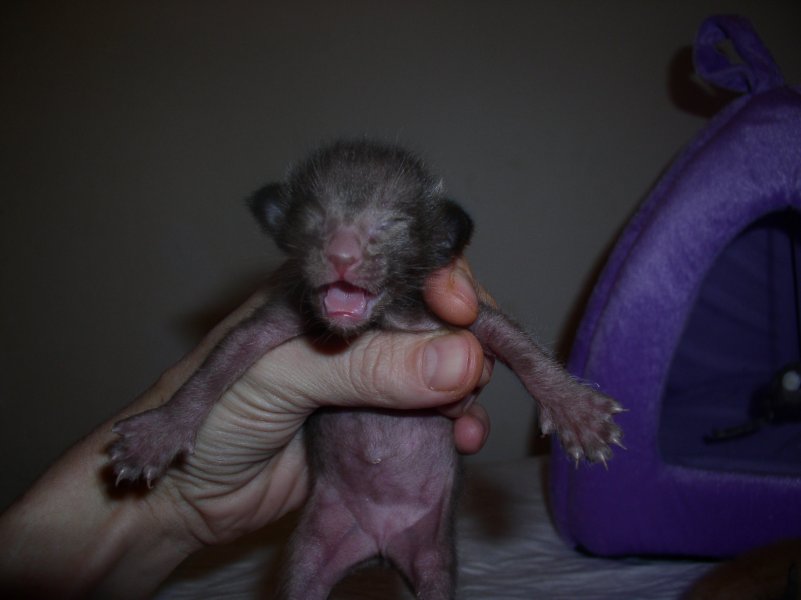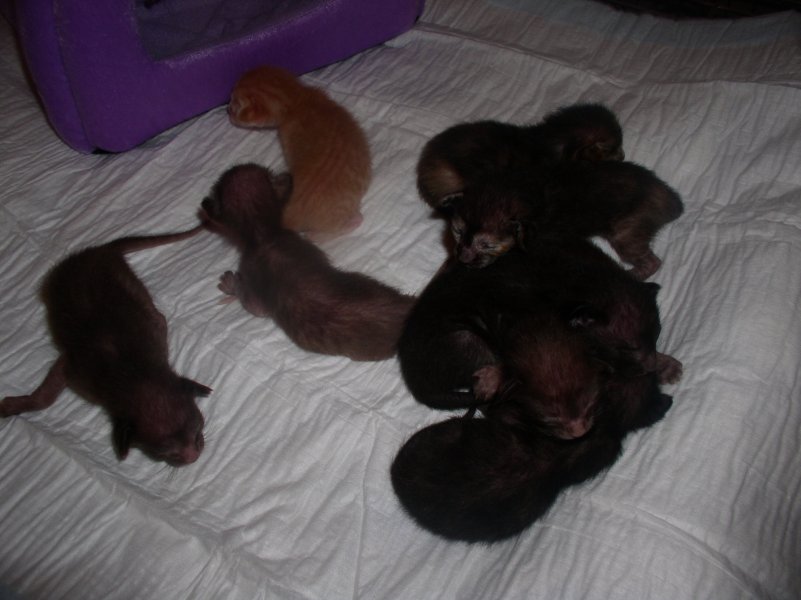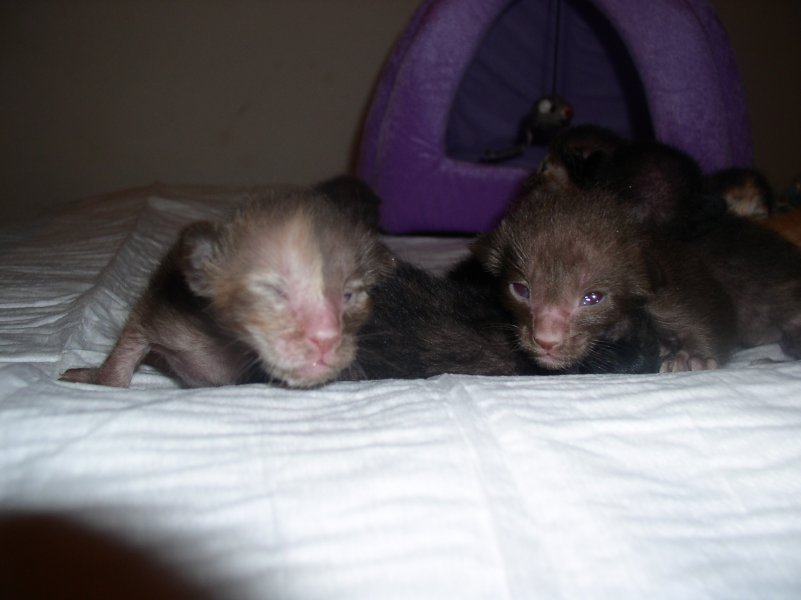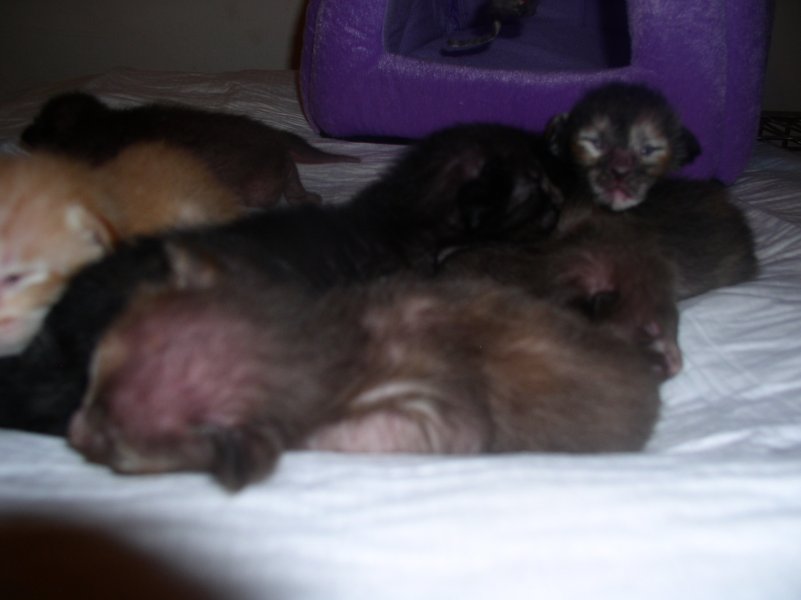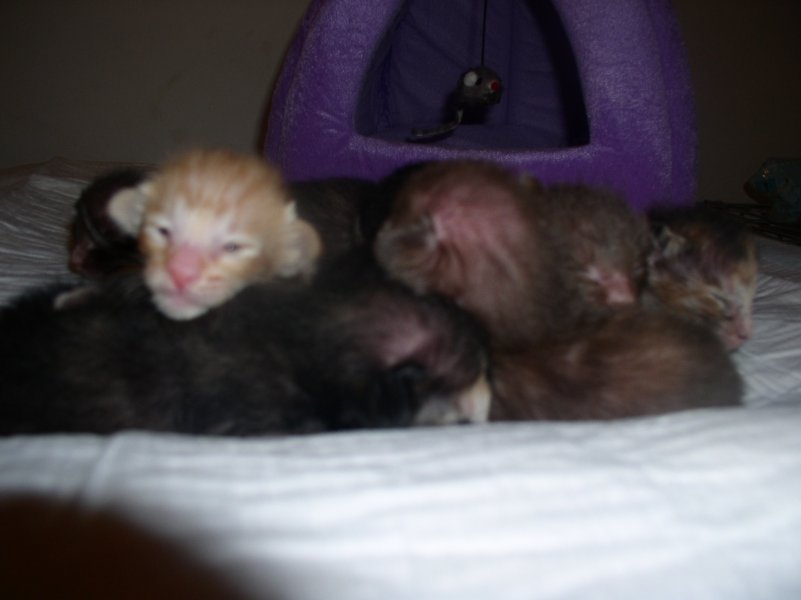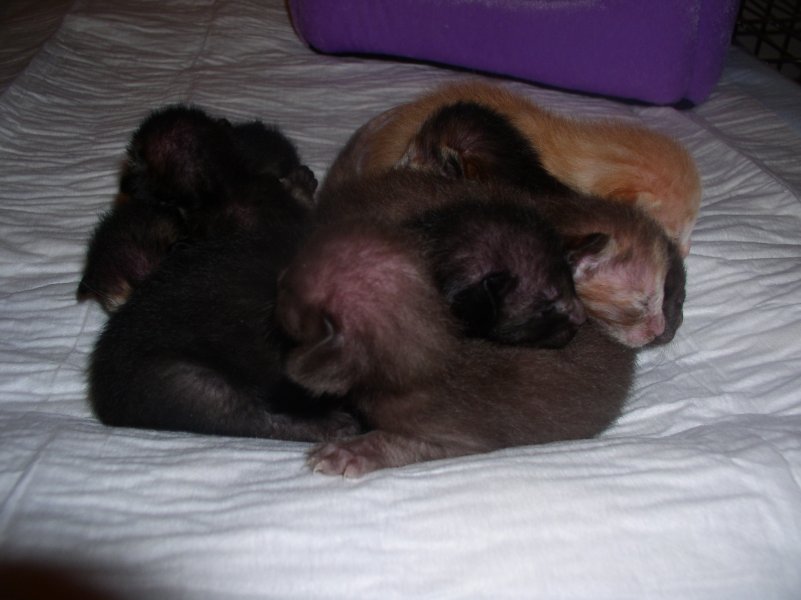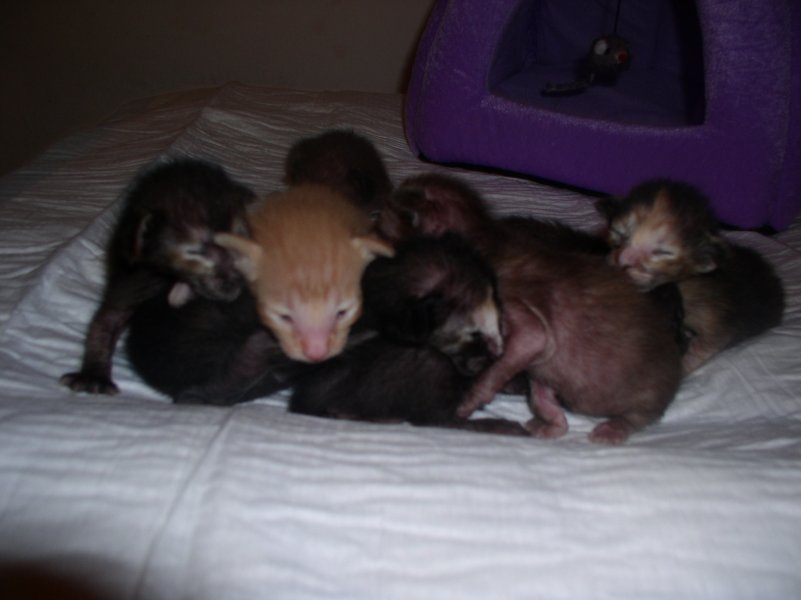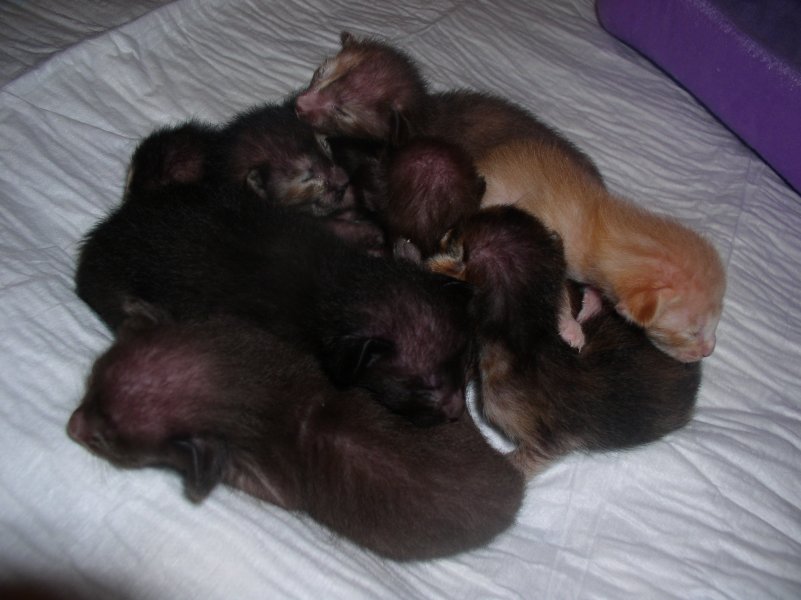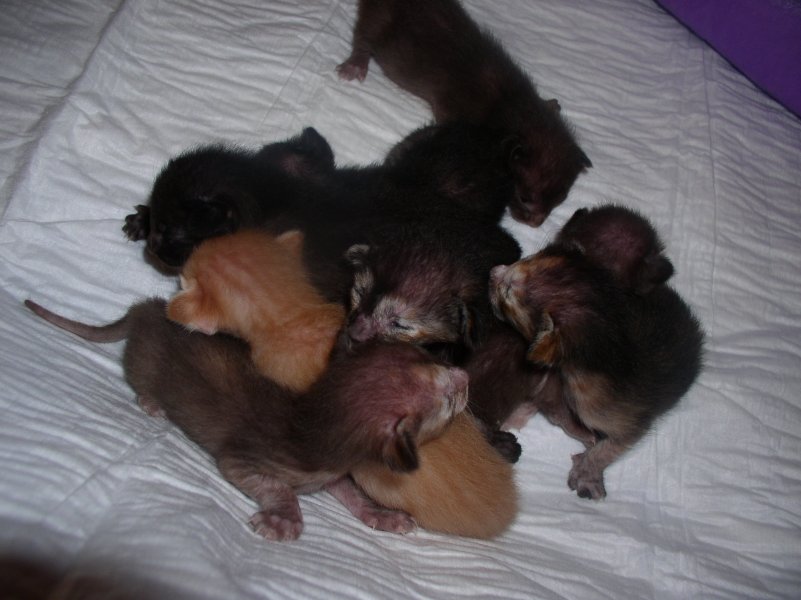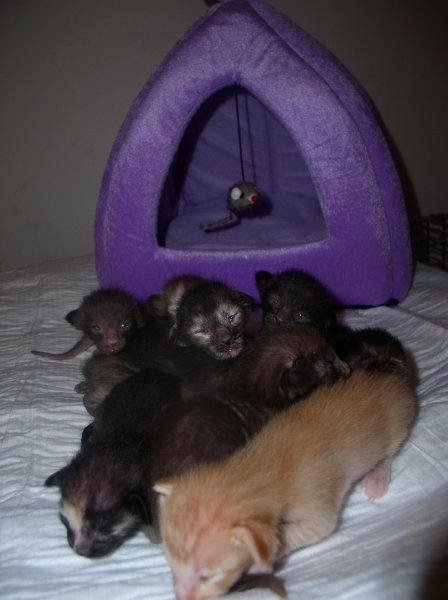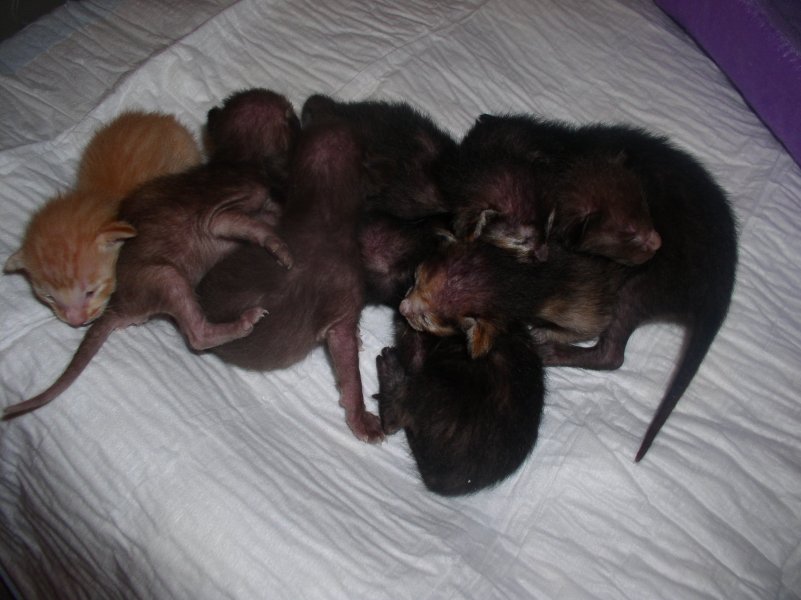 First pictures here: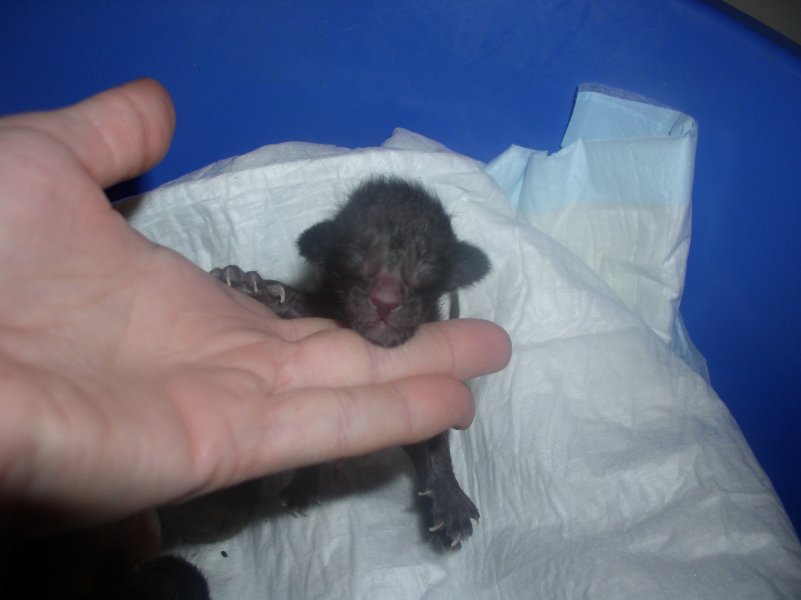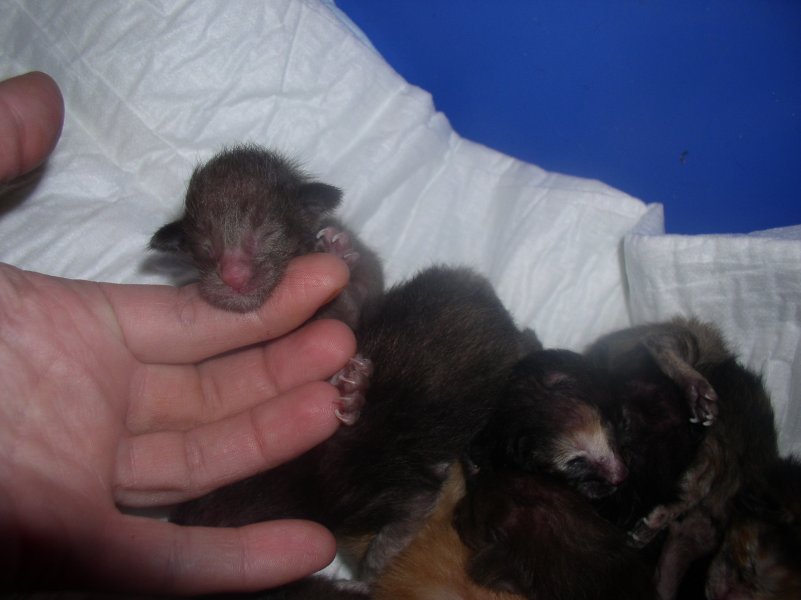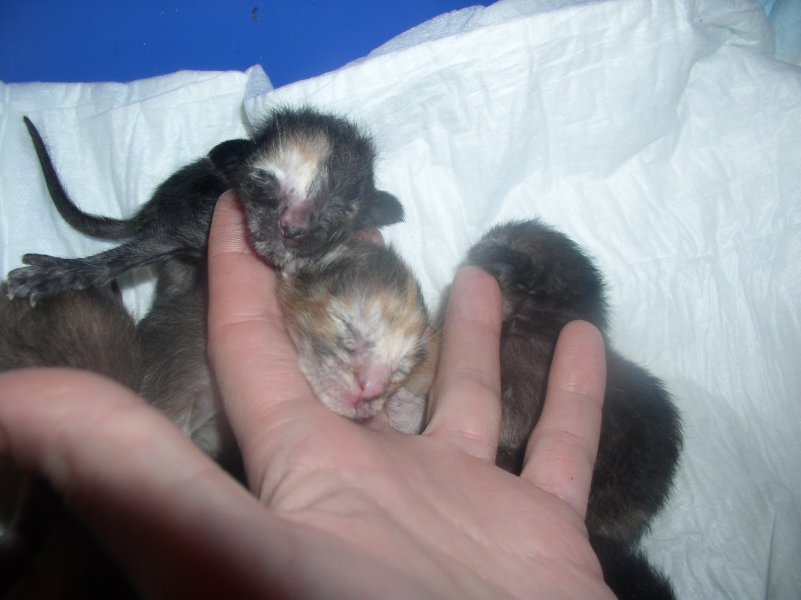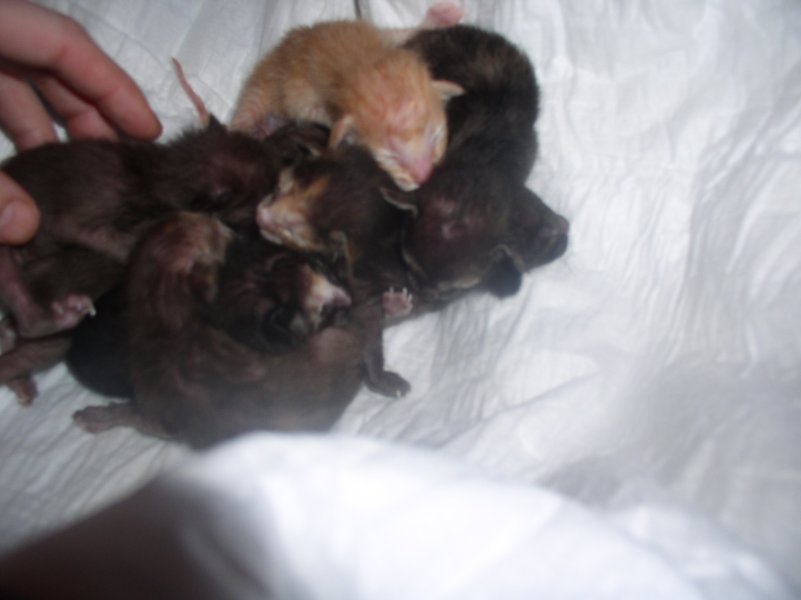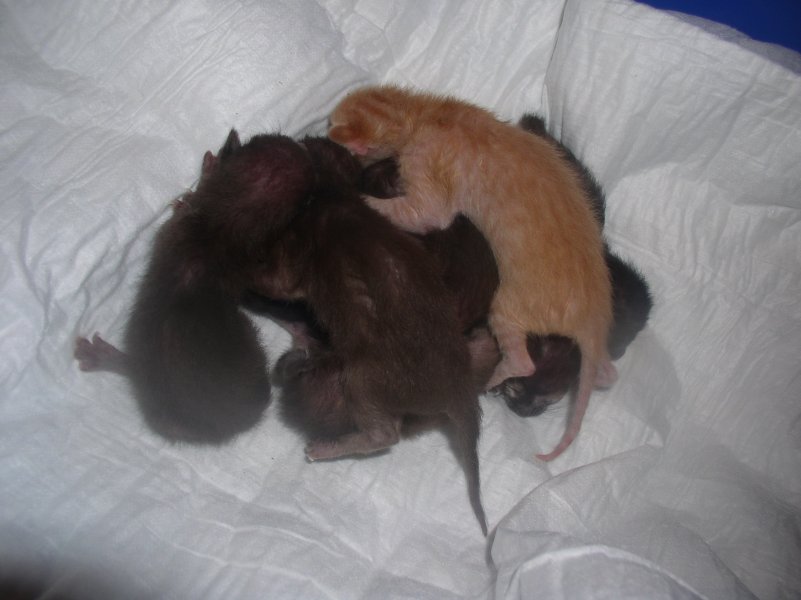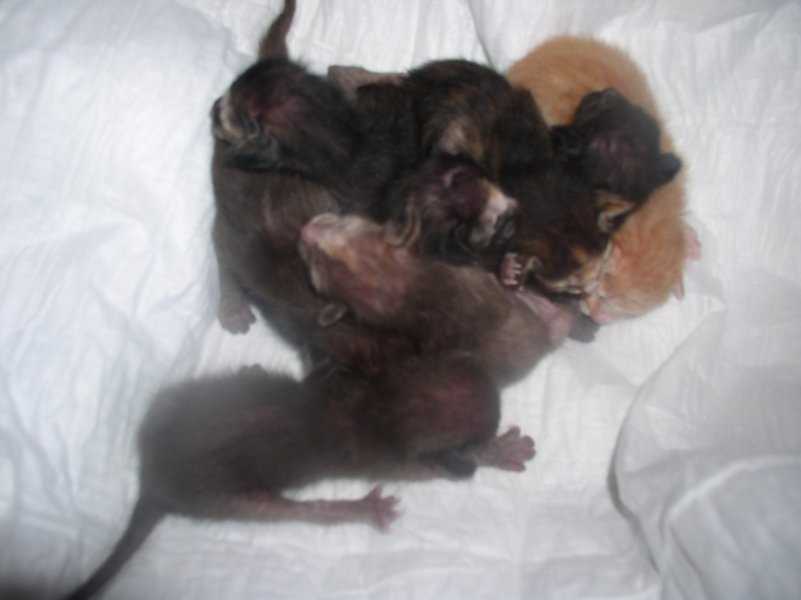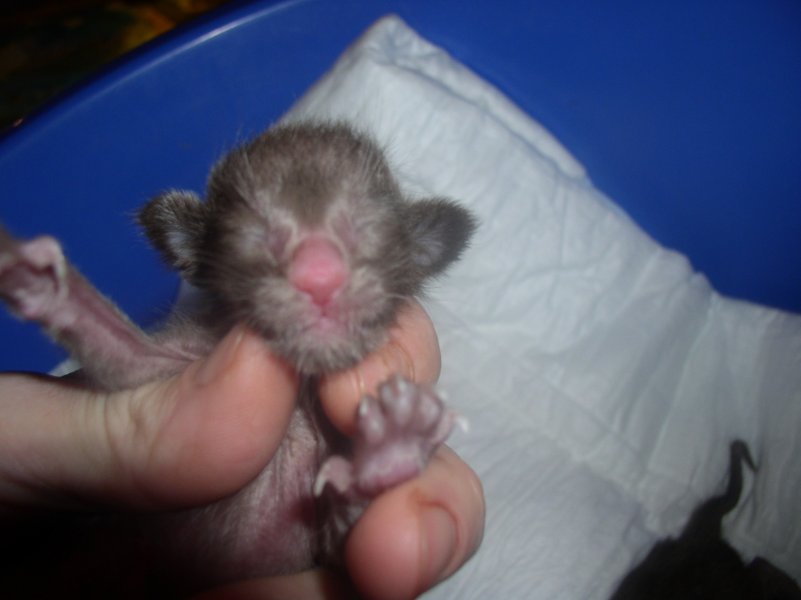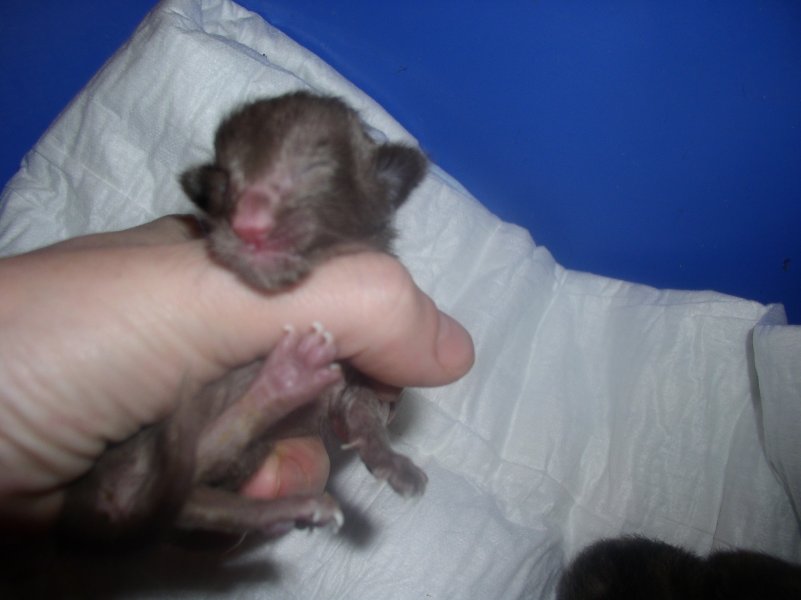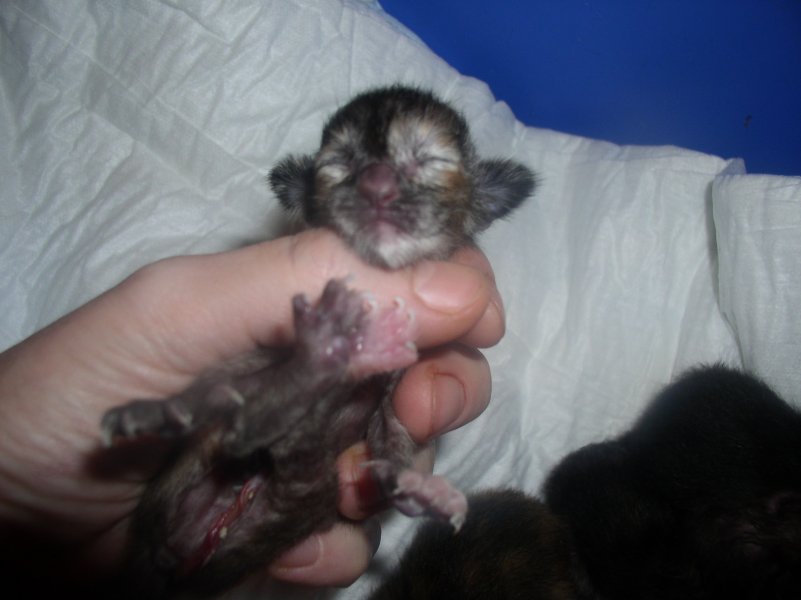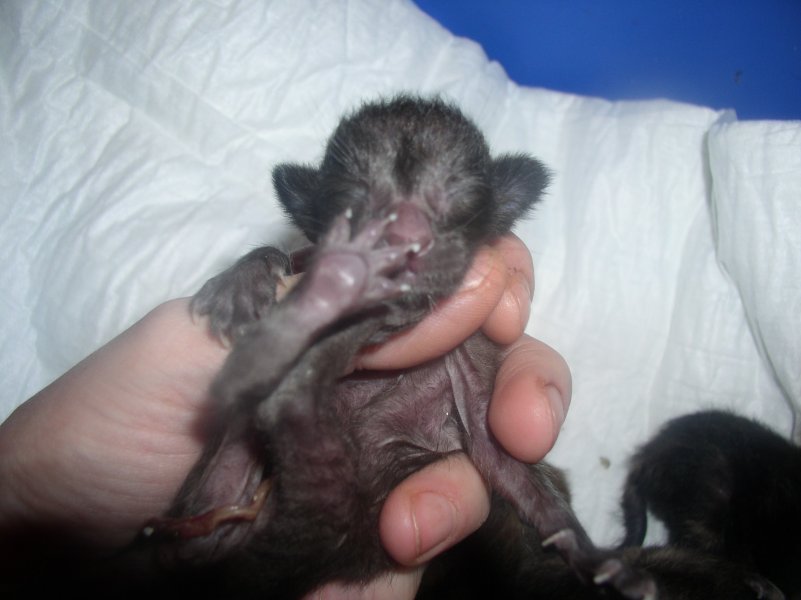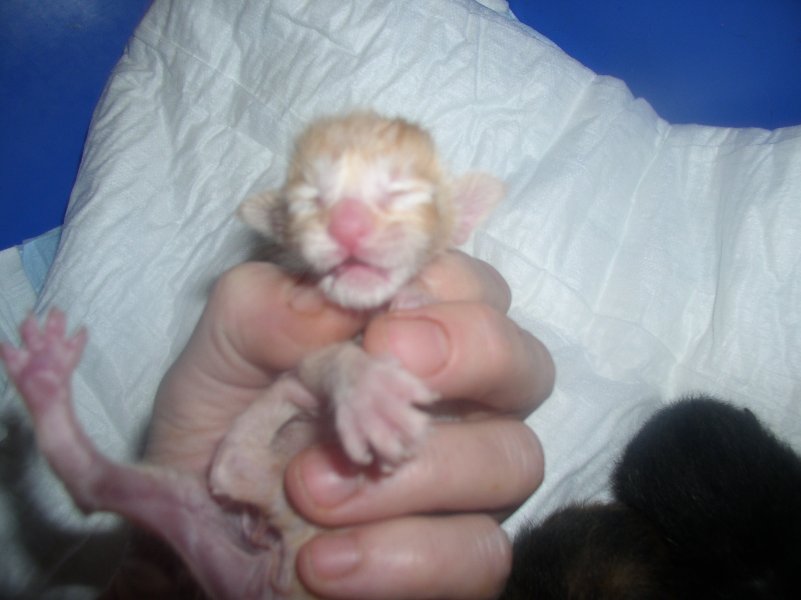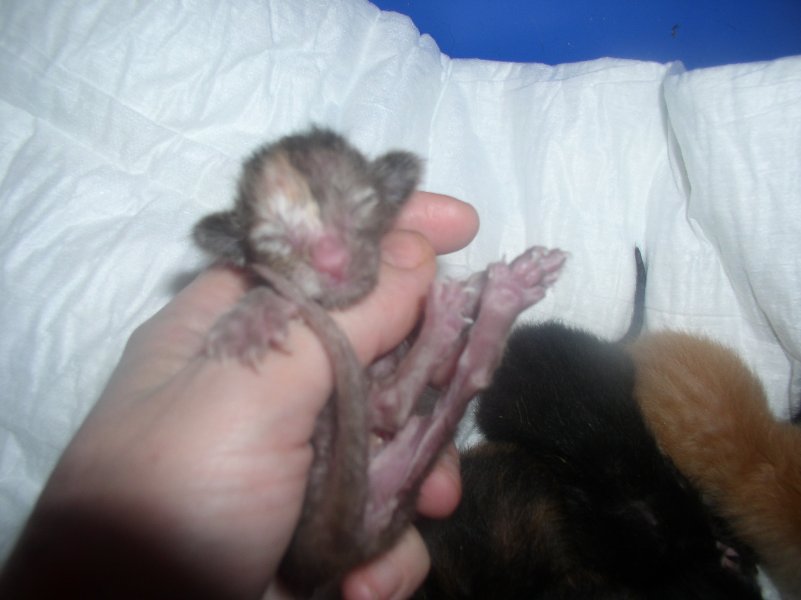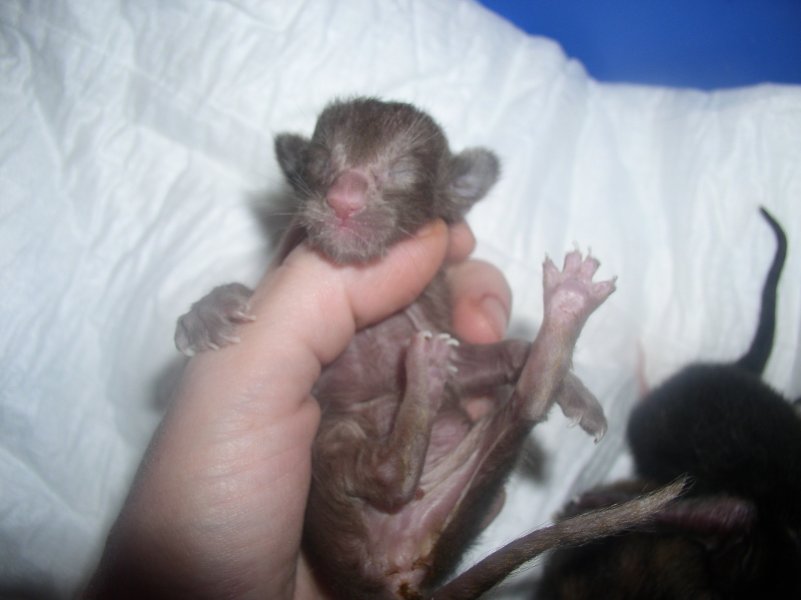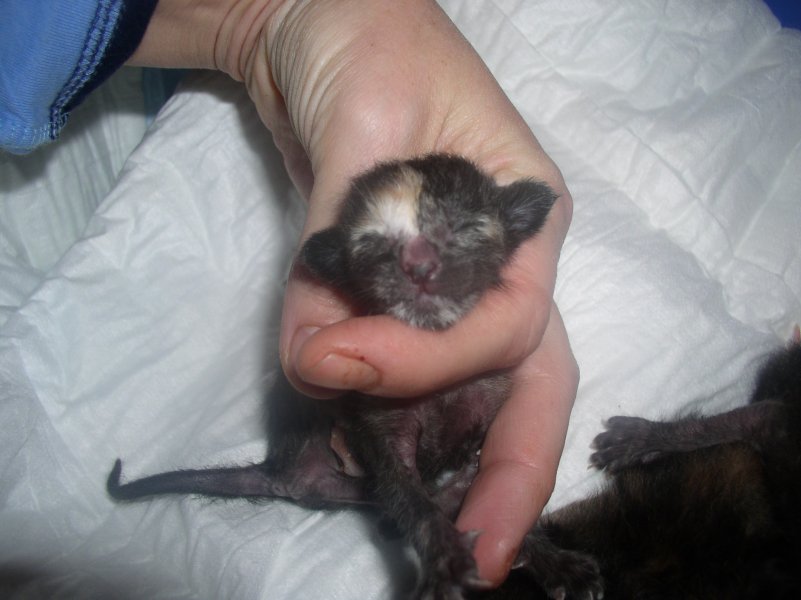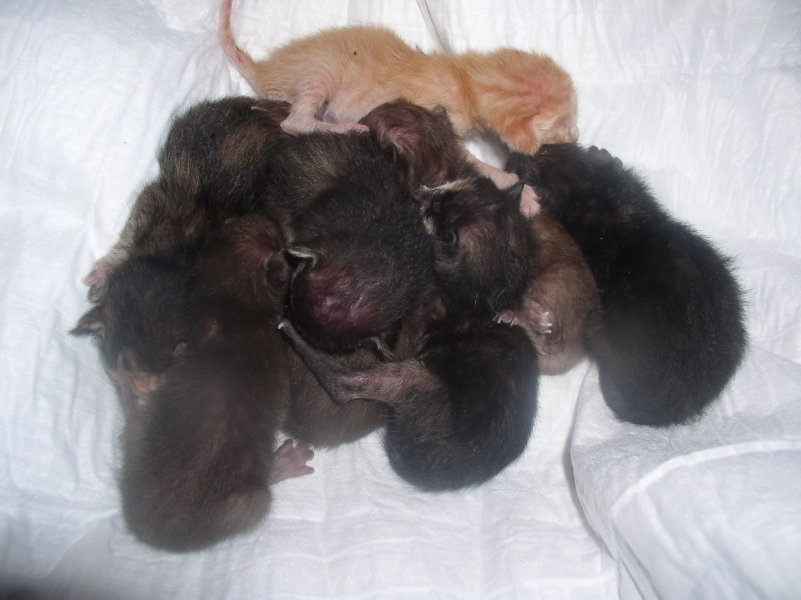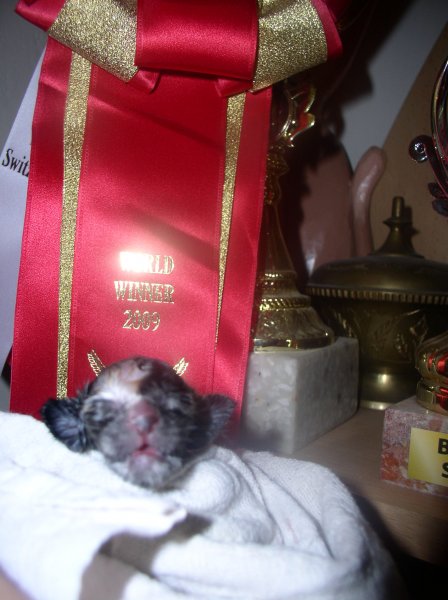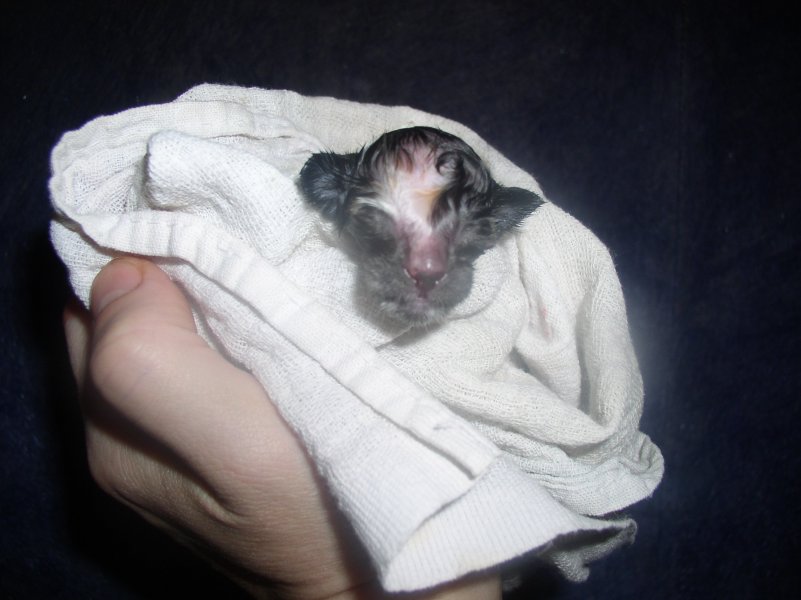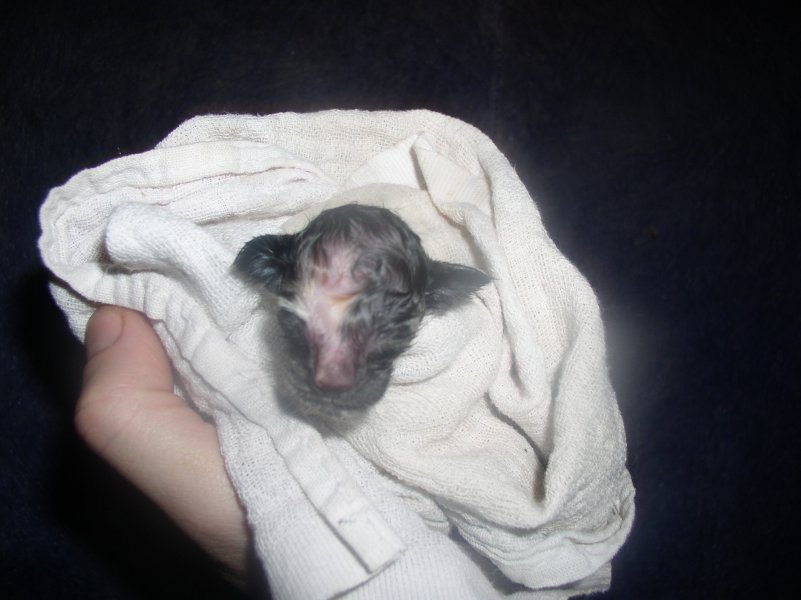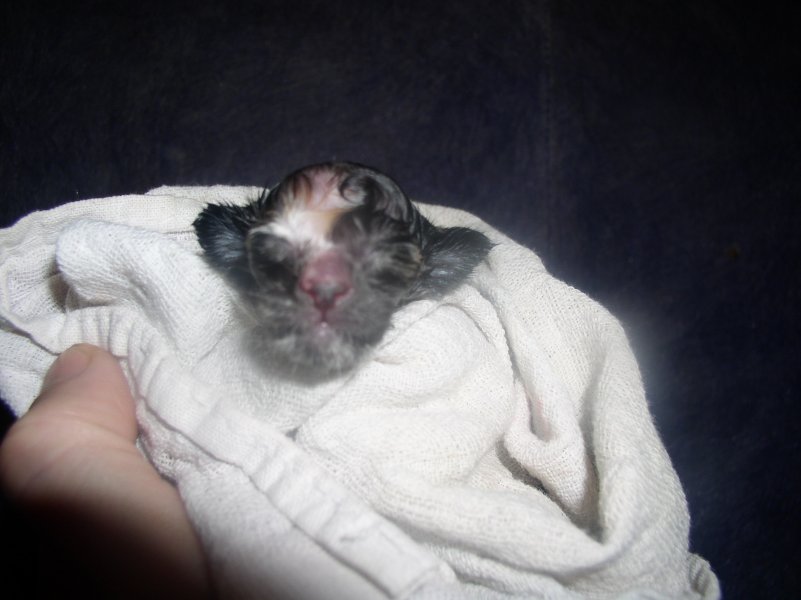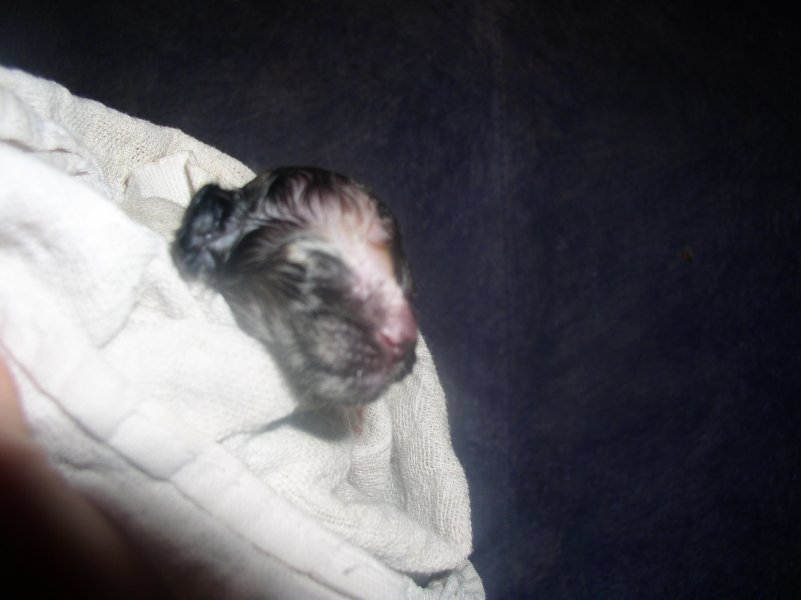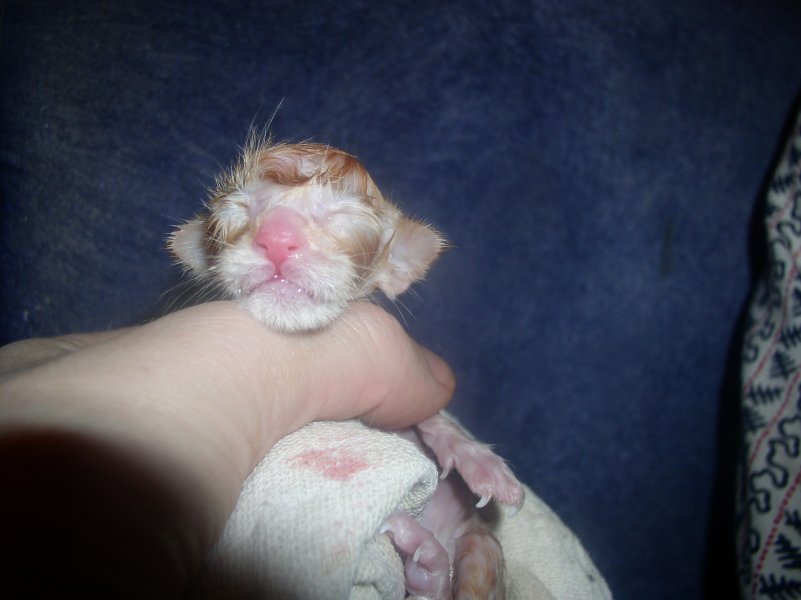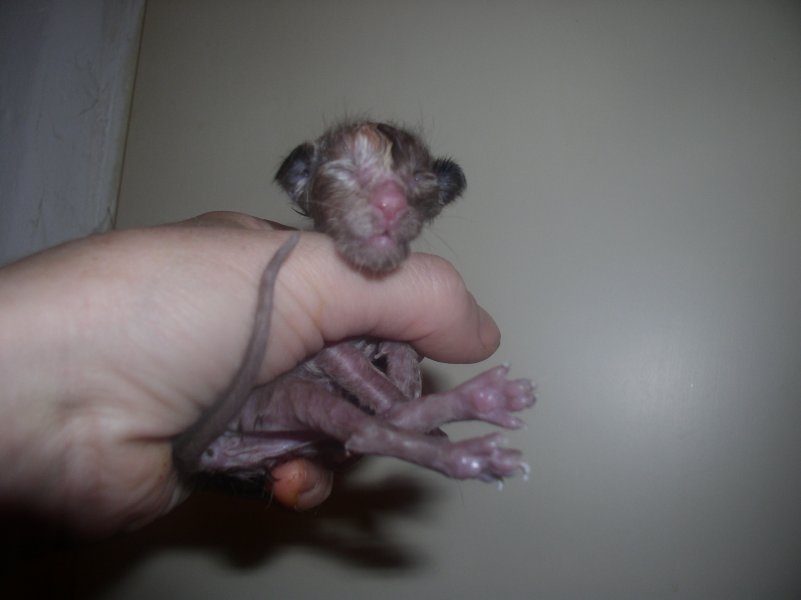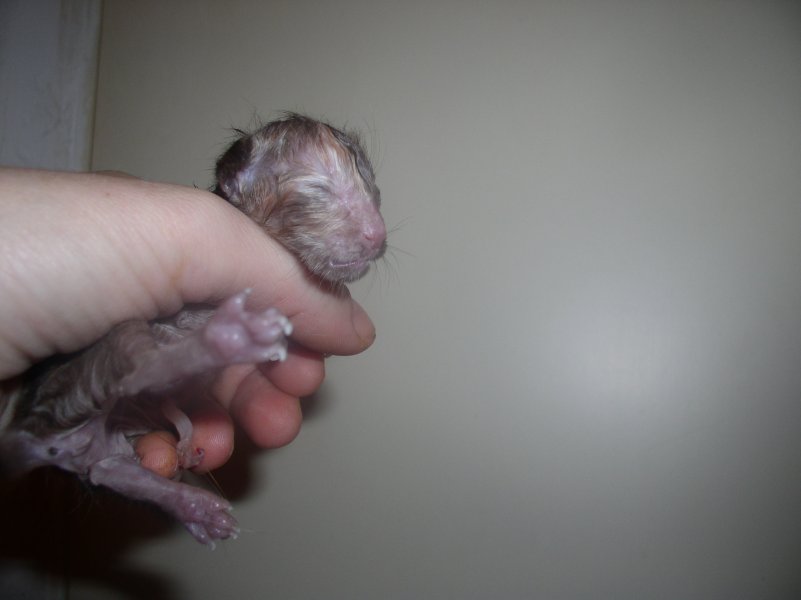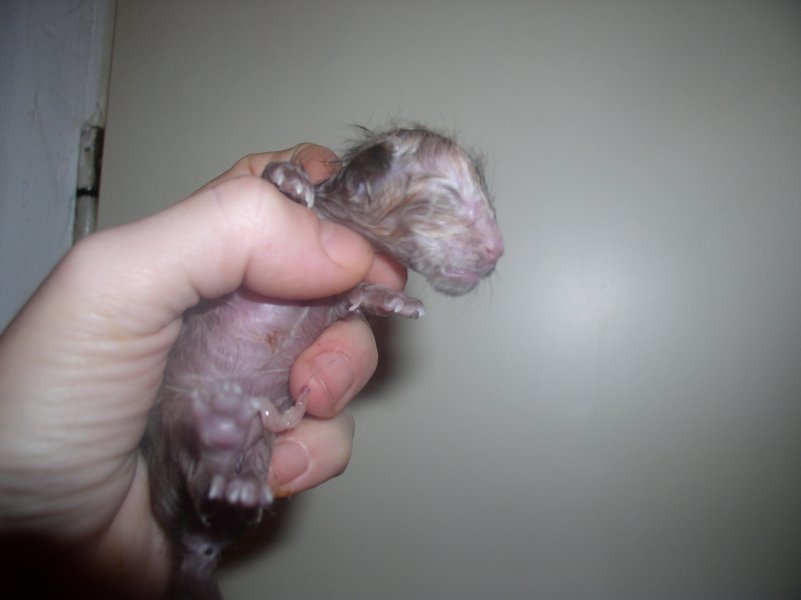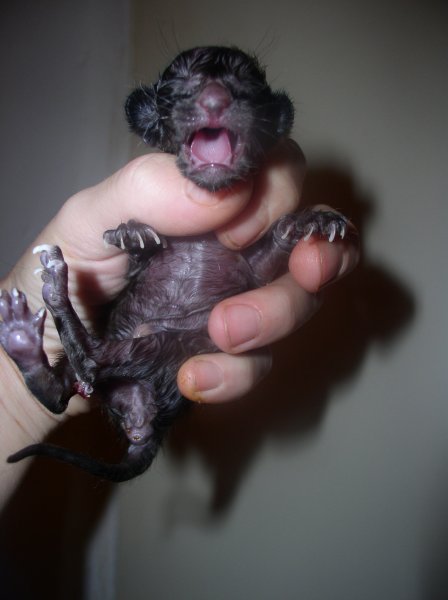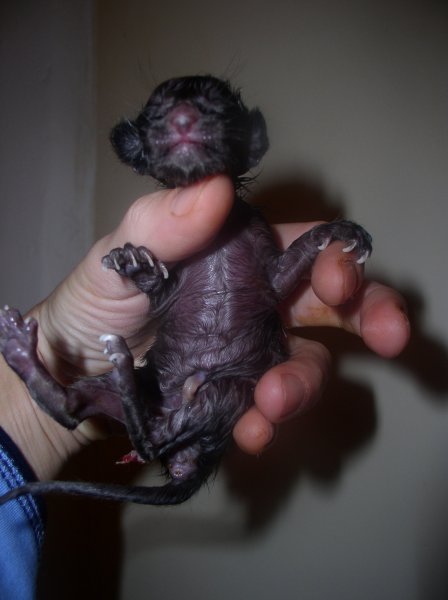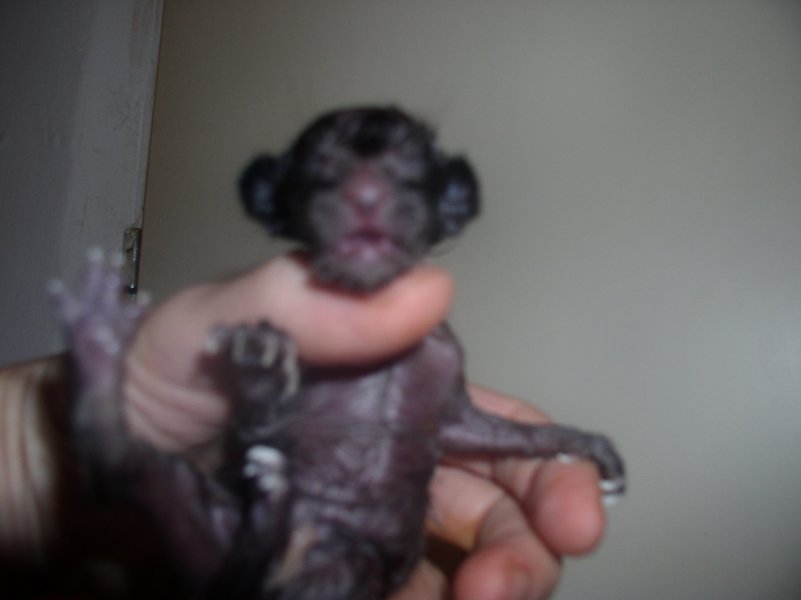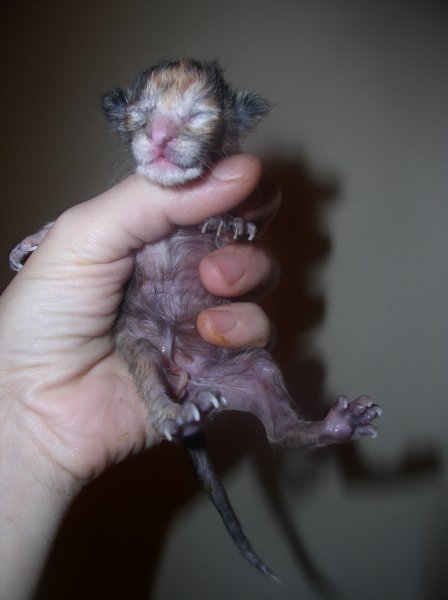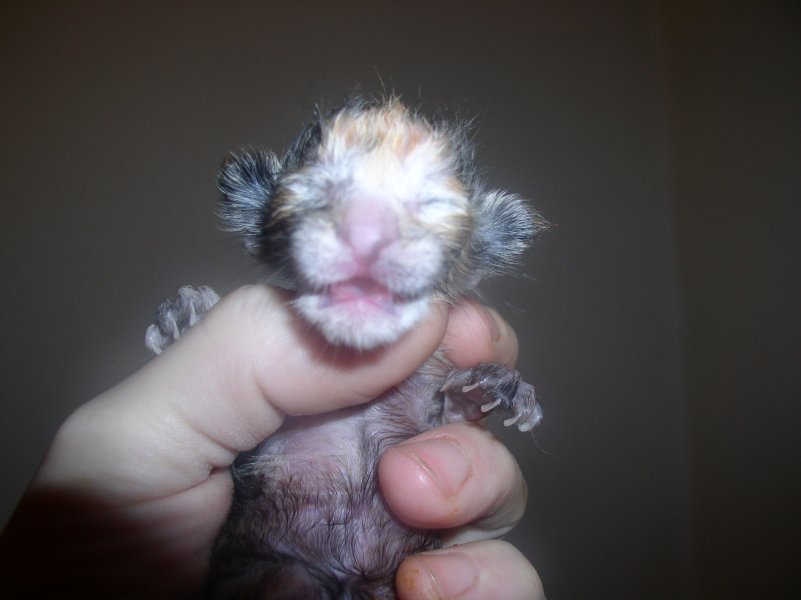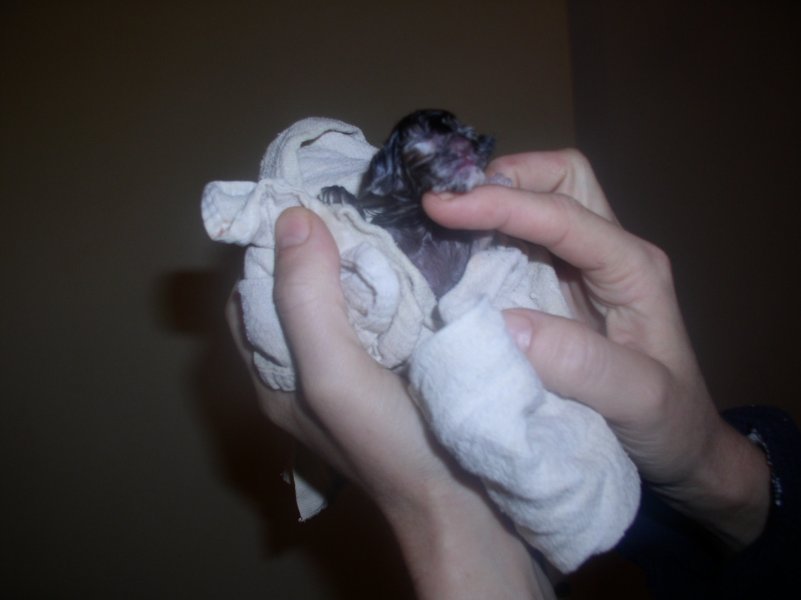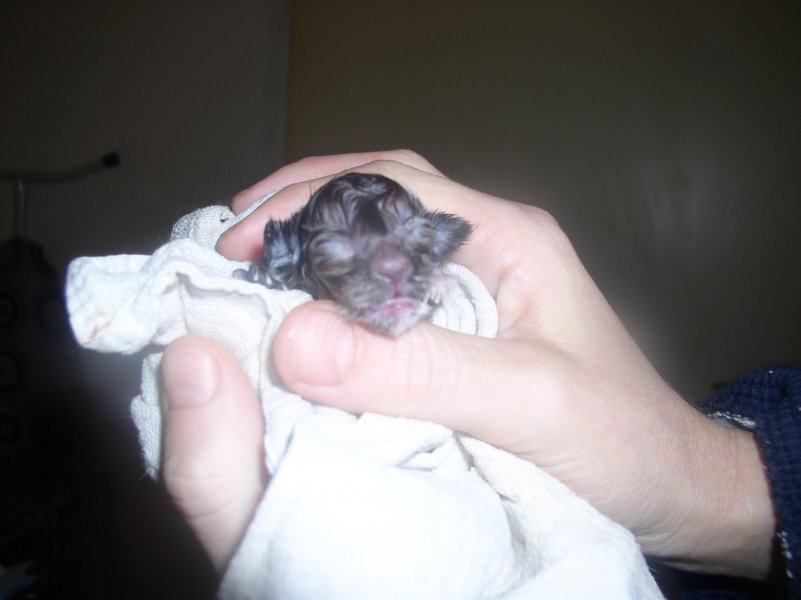 Proud mummy